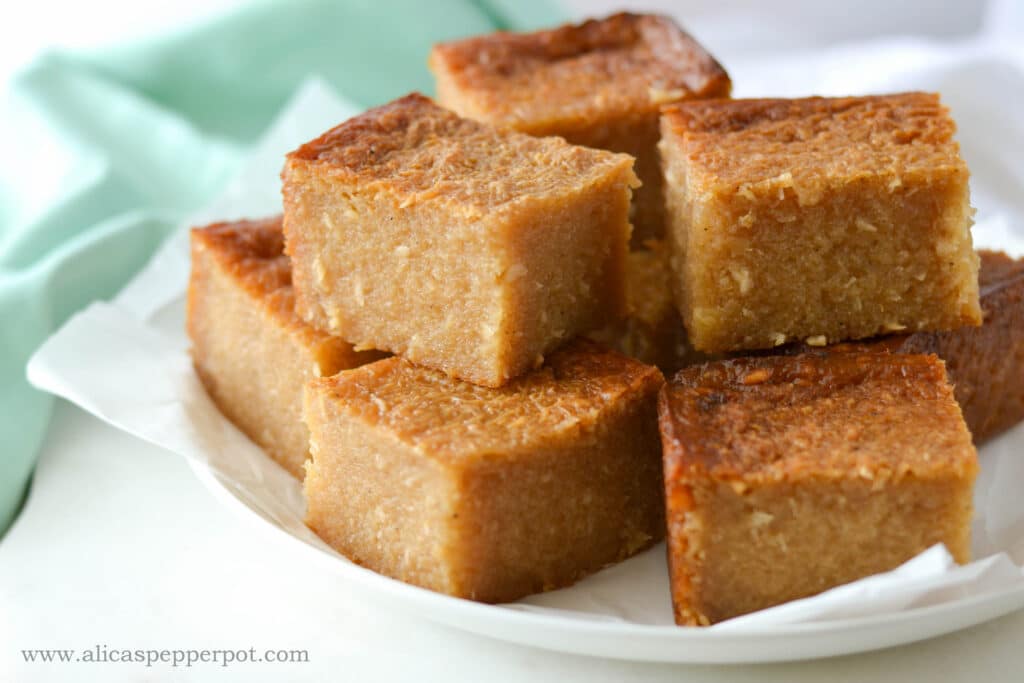 One of my favorite eat-at-any time Guyanese snacks is this decadent cassava pone; a popular snack that can be made at home or purchased at a West Indian bakery. Cassava or yuca root (read more about here), is grated and mixed with coconut, spices, milk, and sugar then baked until golden-dark brown. My uncle, Junior, is the pone man in our family. Whenever he baked a tray, he would always swing by our house to drop off our share. I'd find myself picking at it little by little. In part to savor, but also because it was too heavy of a snack to just gobble up in one sitting. Pone is a popular dessert among many tropical countries that produce cassava root, so don't be surprised if you find varying recipes for this online. Today I'll show you my way of making this absolutely decadent snack. I would say my recipe is a combination of both my mother and uncle's version.
About the Texture
When writing recipe posts, I always consider, "how can I describe this dish to someone who has never tried it before?" Cassava pone has a dense and gummy texture, which does not resemble what one would think of when they hear "cake." There is no crumb to this, I'd say there's more of a jelly-like consistency; it's just something you have to taste to experience. The starch given off by the cassava during the cooking process is what aides in the gelatinous nature that's become iconic to pone.
I particularly LOVE the center part of the pone- where it is most sticky and gooey. I really enjoy the texture, as I pull pieces off little by little to savor. I'm well aware that I am in the minority on this one because of the responses I received from a photo I posted on instagram a couple of months ago. I thought that was the end of my relationship with my instagram followers, haha! People couldn't believe I preferred the center over the edges- almost anyone you ask will tell you they are edge lovers and I totally get why. The edges are more caramelized, resulting in a delightfully chewier and sweeter experience, but hey, we like what we like.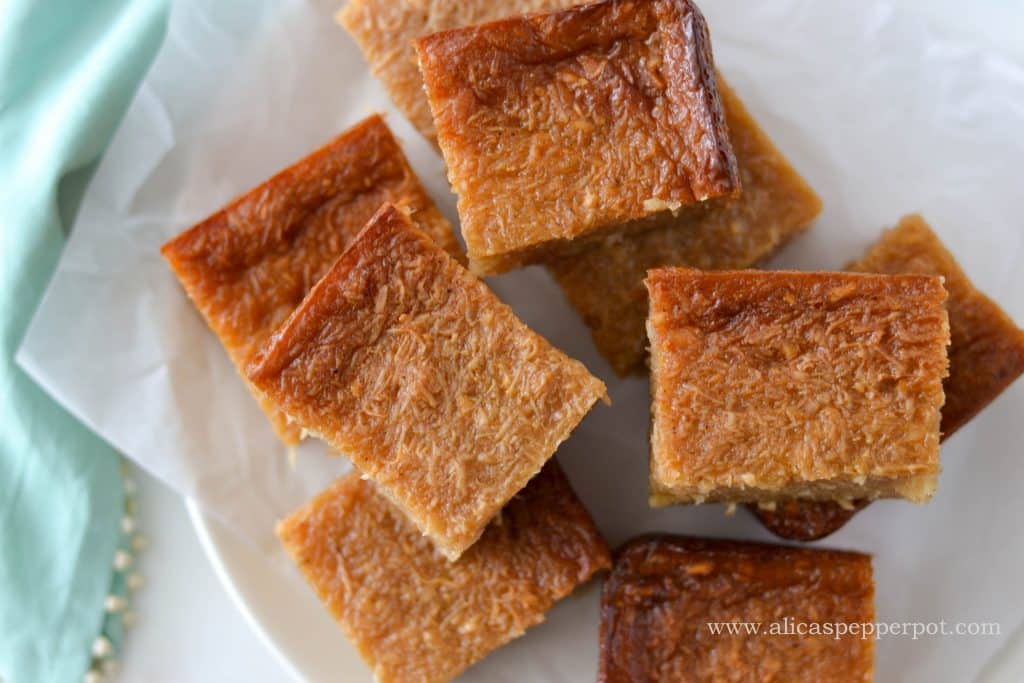 The Way I like It
We all have our preferences for food and when it comes to pone, I know what I want. I prefer it made with only cassava and a handful of grated coconut. Leave out the pumpkin, carrots, and raisins; I'll enjoy that version on my next trip to Trinidad. Lastly, black pepper is a must; gotta have that tiny bit of burn after each bite. Did I mention I love a thicker pone?
Method
I used four long, medium sized cassava roots. When I weighed this cassava in the store it was 4lbs. After peeling, chopping ends off and discarding of any rotten pieces, the weight naturally decreased. After grating it, it resulted in 4 1/2 cups which is what is needed for this recipe. If you have a little more or less than 4 1/2 cups, it should work just fine. Pone is very forgiving when it comes to measurements.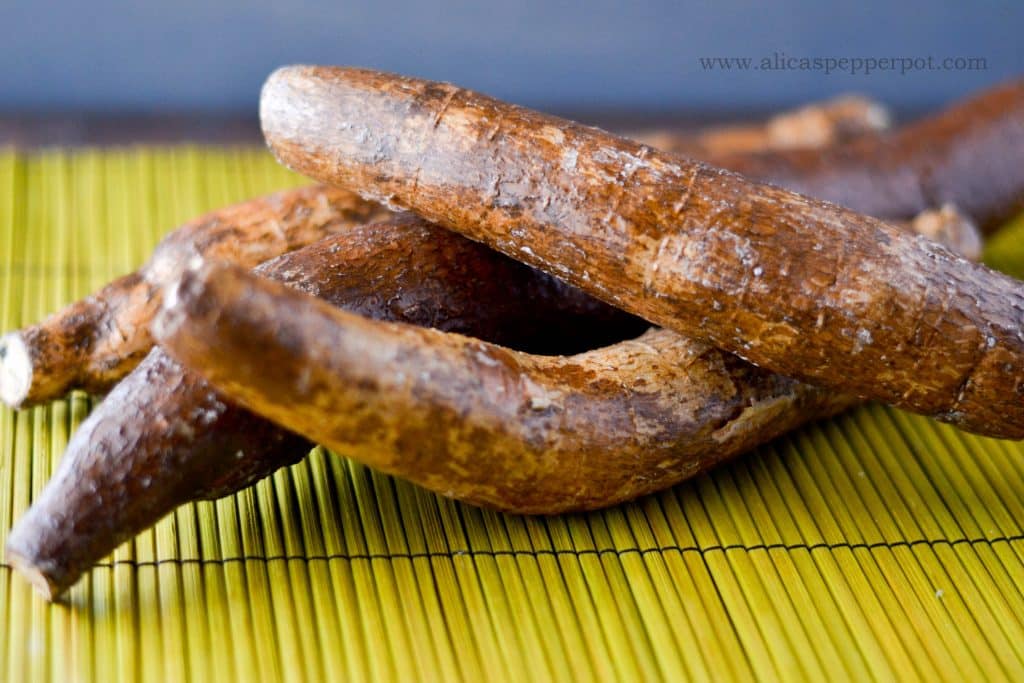 Chop into smaller pieces. Run a knife gently down the center to make a slit. Insert knife under the slit and lift away the skin.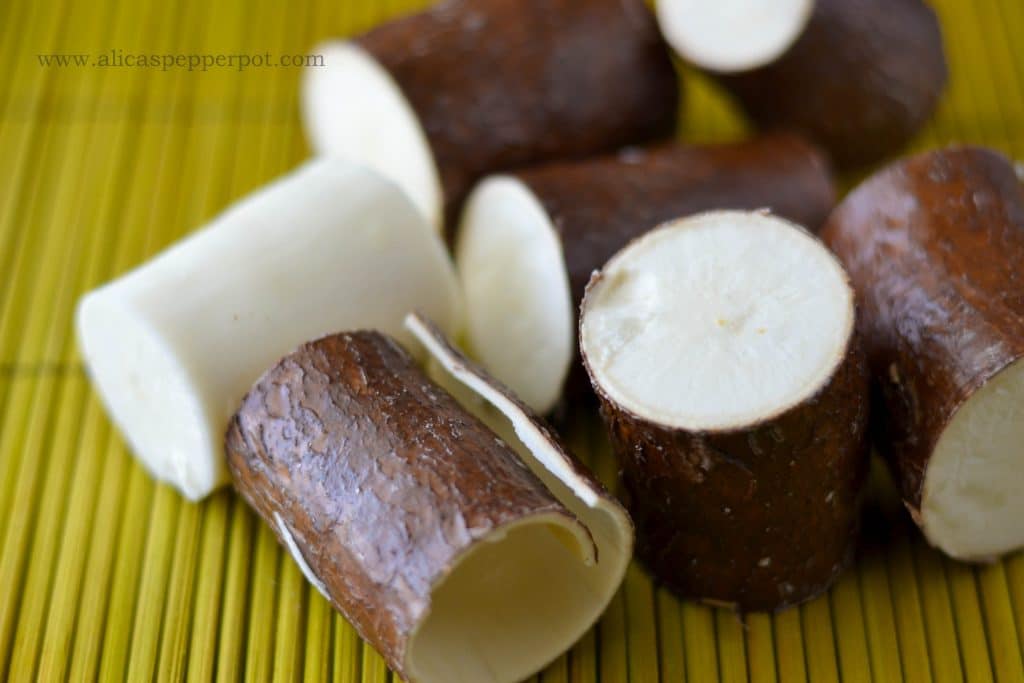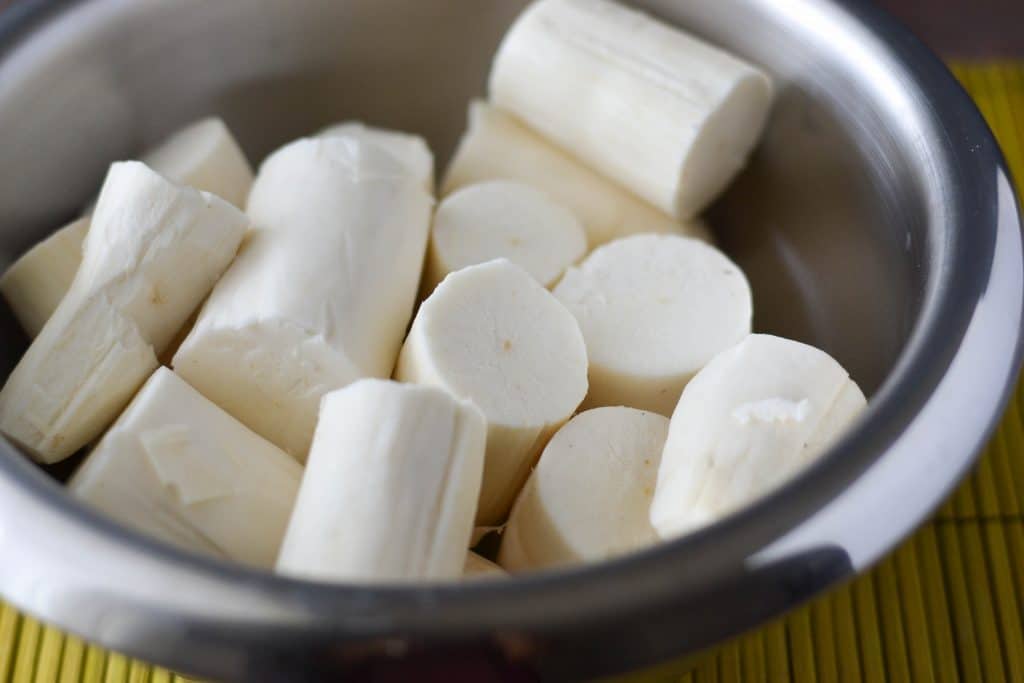 Grate cassava on the finer side of your grater.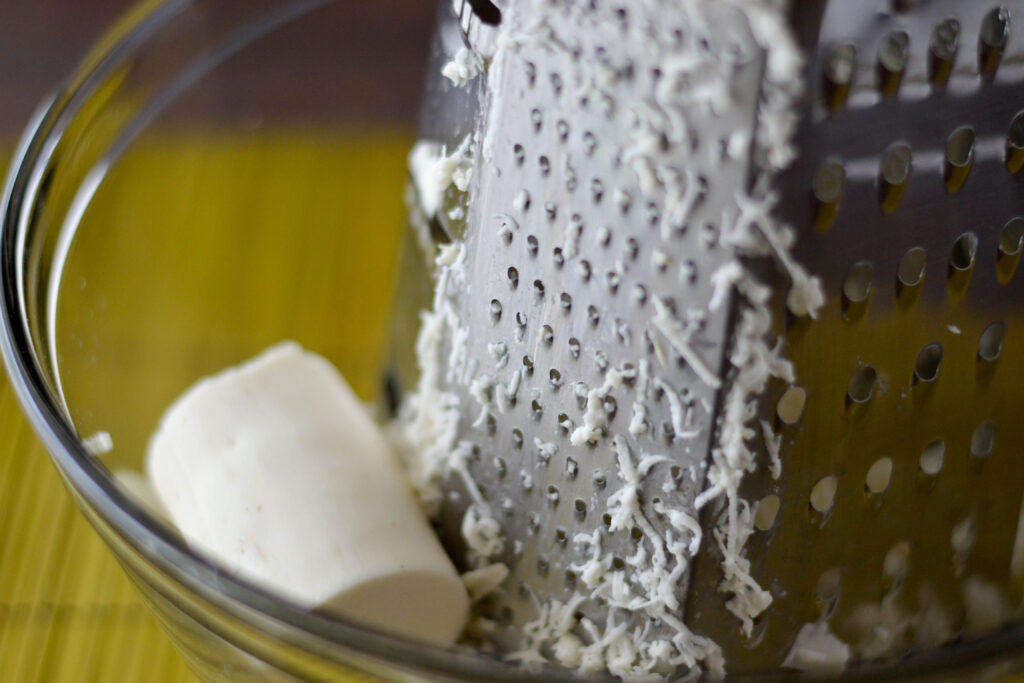 Mom's Traditional Grater
Here's a photo of the grater my mom uses to grate coconut. Although there are different options these days, she insists on grating coconut this way. The way it works is, you sit on the wooden plank and hold the coconut with the blade in the crevice and move it in a back and forth motion. The blade scratches the coconut meat and it drops into a bowl on the floor. The coconut turns out very fine and fluffy. I think there is such beauty in doing things the traditional way, but as a stay at home mom of two toddlers, this is just too much work for me, so I use a standard 4-sided grater.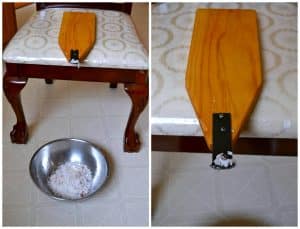 Back to the recipe. Add sugars, spices, coconut, and butter. I used frozen grated coconut and just added a handful to the bowl. After mixing everything well, pour milk in last.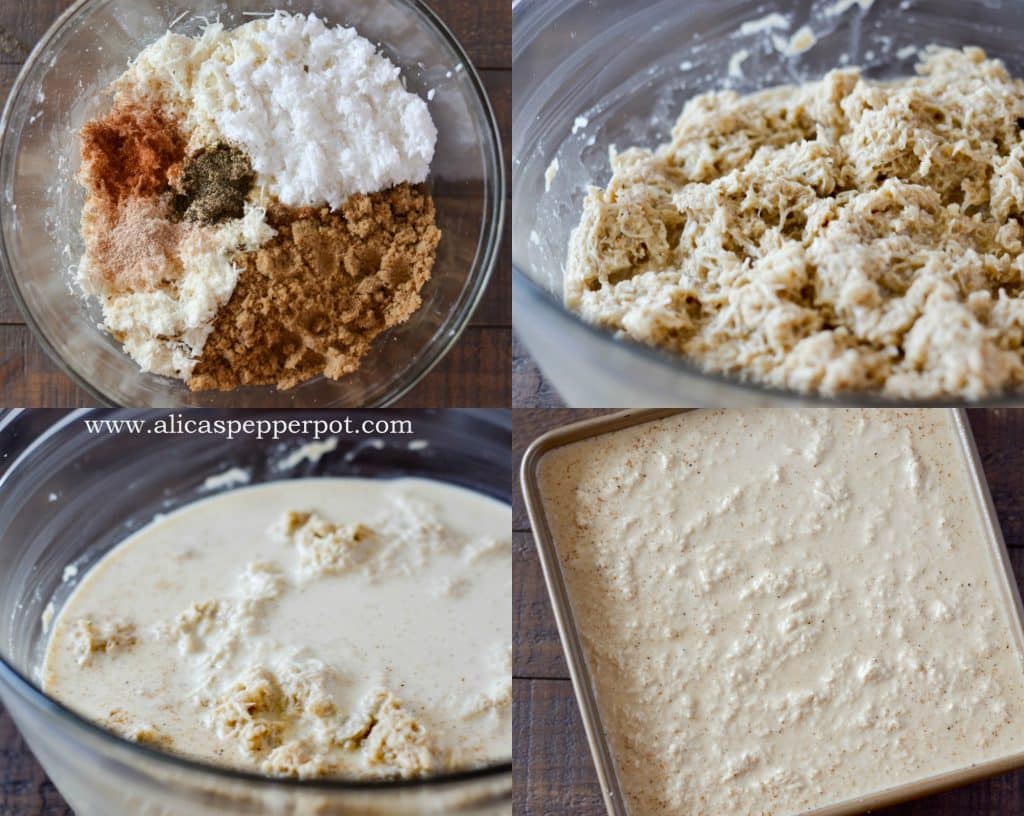 Bake at 350 degrees for about 1 1/4 – 1 1/2 hours. Top will be golden to slightly dark brown.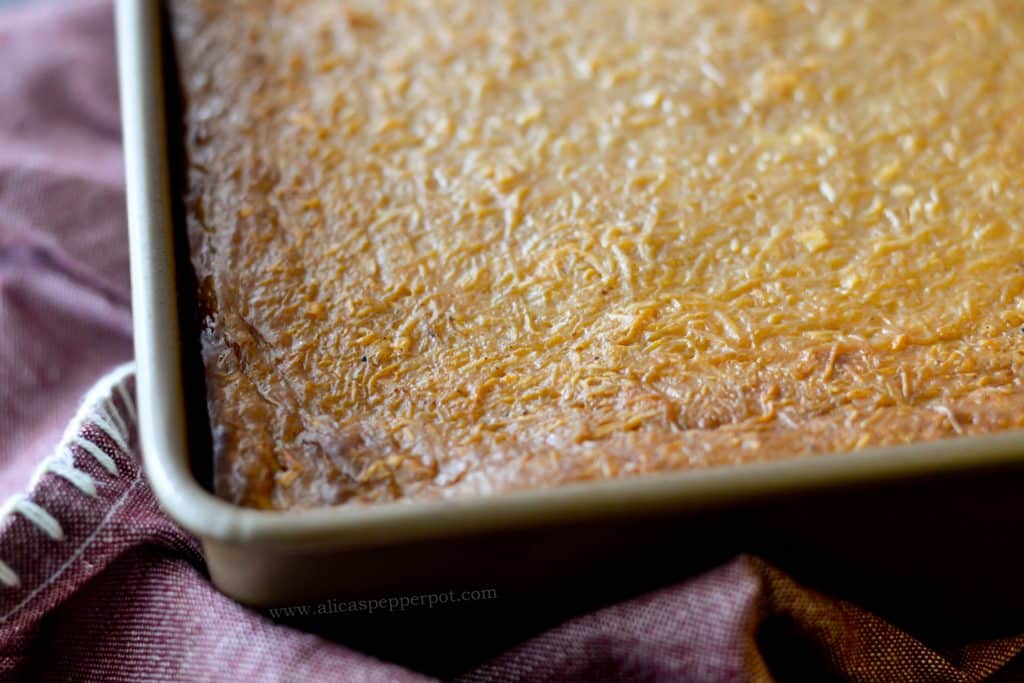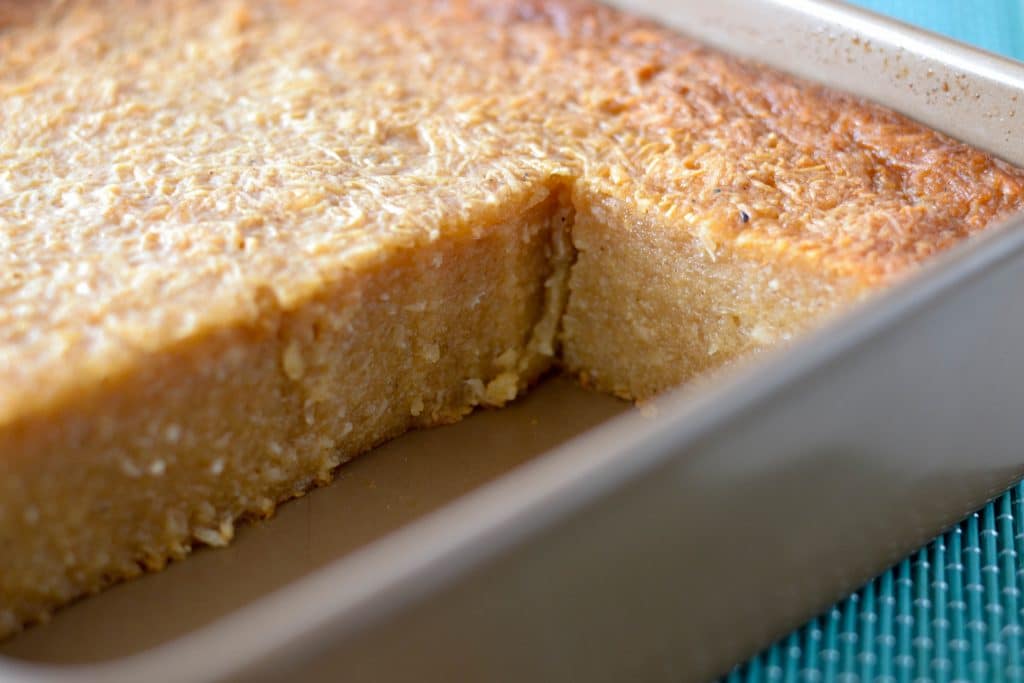 For the Edge Lovers
The Middle Pieces
Apparently, I'm the only one who will eat these middle pieces, haha!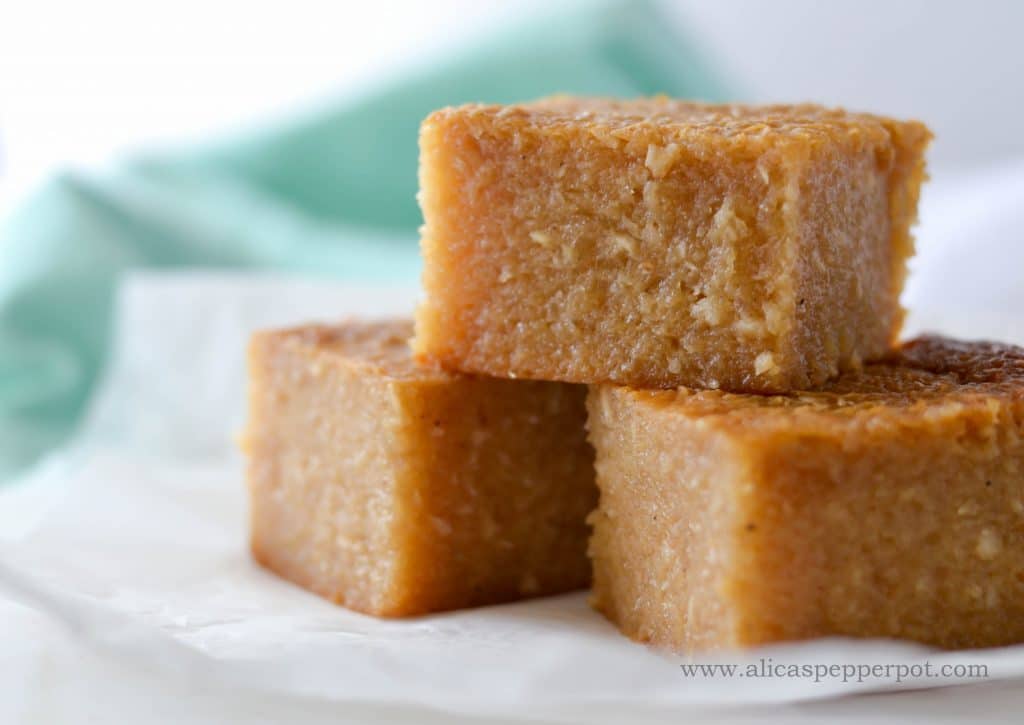 Ingredients
4 1/2 cups grated cassava root (about 3lbs whole)
1/2 cup freshly grated dessicated coconut, (optional)
6 tbsp softened butter
1 1/2 cups brown sugar
1 tsp cinnamon
1/2 tsp nutmeg
2 tsp mixed essence or vanilla extract
1 1/2 tsp almond extract
3/4 tsp black pepper
3 cups evaporated milk (2, 12oz tins)
Instructions
Preheat oven to 350 degrees F. Grease an 8x8in baking pan, set aside.
Grate cassava on fine side of grater. Grate coconut or used frozen (thawed) pre-grated.
Add butter, sugar, spices, extracts, and black pepper, Mix well. Stir milk in last.
Pour mixture into baking pan.
Bake 1 1/2 hour. Center should be firm and not too jiggly.
Notes
Taste is best once pone has cooled for a few hours or overnight. Pone needs good flavor, so don't hold back on the extracts. Freshly grated dessicated coconut is used for this recipe, not sweetened flaked coconut. I prefer Birds Eye brand if using frozen coconut. Frozen grated cassava can also be used, but may be harder to find. For a thinner pone, use a 9in or 10in baking pan. When buying cassava, 3-4lbs will work. Once you peel and discard of ends and/or rotten parts the amount will reduce. 4 1/2 cups is what's needed for this recipe.
https://www.alicaspepperpot.com/cassava-pone-yuca-cake/