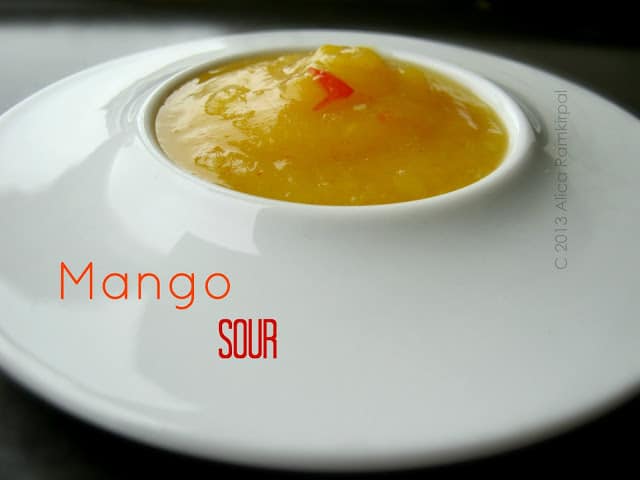 The thing I love about Guyanese cuisine is that every element of a dish is equally important. A side of pepper sauce or sour is not just a side; in fact it's the part of a meal that brings it all together. A good condiment can take a dish to another level; a more intense level of taste and flavor. If there was a Guyanese condiment I couldn't live without, besides pepper sauce and tamarind sauce, it would have to be mango sour. Guyanese mango sour has an intensely tangy and sour taste that pairs so well with fried appetizers such as cassava balls, pholourie, fish cakes, potato balls or even plantain chips. For me, if these appetizers don't have mango sour on the side, it just feels like something is missing; it's like having a french fry without ketchup- doesn't make sense. This condiment in particular is quite easy to make and can be paired with many different foods; take a dip with your finger and you'll probably like it by itself, too!
Growing up, whenever we had company over, my mom would make a small pot of this sour to serve alongside any one of the previously mentioned appetizers, needless to say, I had no qualms about grabbing a spoonful while it was still simmering down on the stove. I also remember mom not putting a lot of hot pepper in the sour because she didn't want the heat to overpower the mango taste. The mango really is the star of the show, and it should be, since there aren't many ingredients in the mixture besides mango, garlic, salt, and hot pepper. The method itself is so simple; boil mango with all ingredients, mash or puree and enjoy. Really, that's it. There might be a few variations here and there with different recipes, but generally there shouldn't be any real hard work involved.
Over the years, during various foodie-related conversations, I've noticed that people seem to get uneasy when it comes to the idea of making a condiment at home. Something about the word "homemade" tends to exude some level fear. I guess it's because "homemade" can translate into labor intensive. Most people tend not to spend time making them at home and while nothing is wrong with purchasing ready made condiments, there are some condiments such as this one that can be easily made in your own kitchen and enjoyed fresh and hot. This recipe is quite simple, so give it a try and let me know how you liked it.
I fried up some plantain chips to eat alongside this yummy sour- it was the perfect snack as I spent the day packing up my apartment into u-haul boxes! Enjoy everyone :).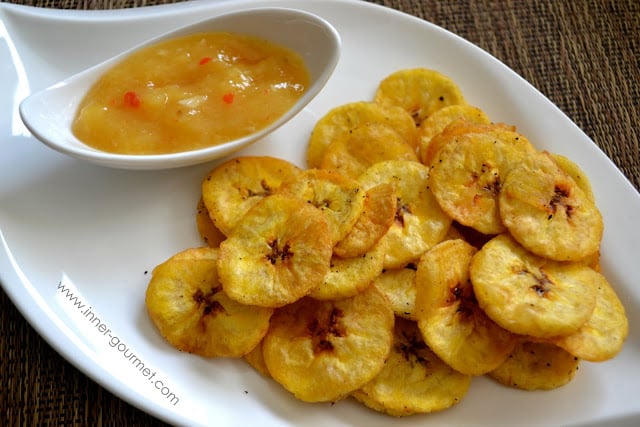 You'll need one unripened mango- commonly referred to as "green mango." One medium-sized mango should yield about two cups chopped.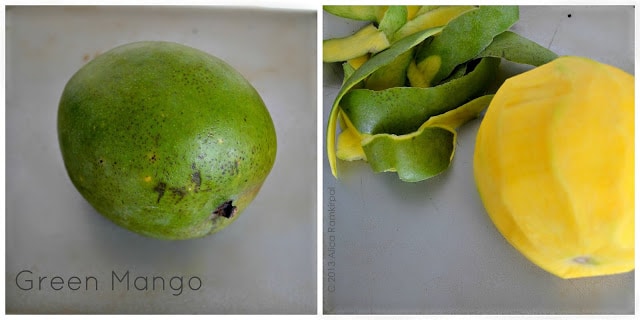 Peel and chop mango into 2-3 inch pieces. Set aside. Discard seed.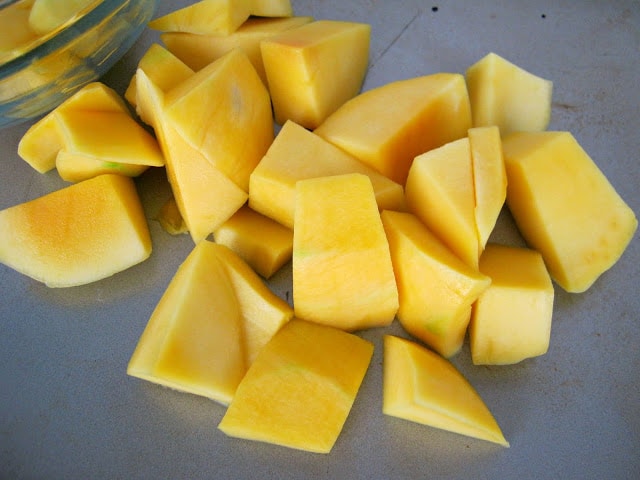 Grab three garlic cloves, mince finely and set aside.

In a deep sauce pot, add mango, salt, garlic, and desired amount of hot pepper. You can also add hot pepper sauce. If you like a little extra tangy taste, you can add vinegar as well after sour has cooked and cooled down.
Boil for about 10-15 minutes on high heat then reduce heat to a simmer. Mash mango when it is cooked all the way through. You can use several different instruments to mash or puree the mango:
1. Potato masher
2. Food processor
3. Handheld immersion blender
4. Swizzle stick (dhal ghutney)
5. Blender
I used a potato masher because I like my mango sour slightly lumpy.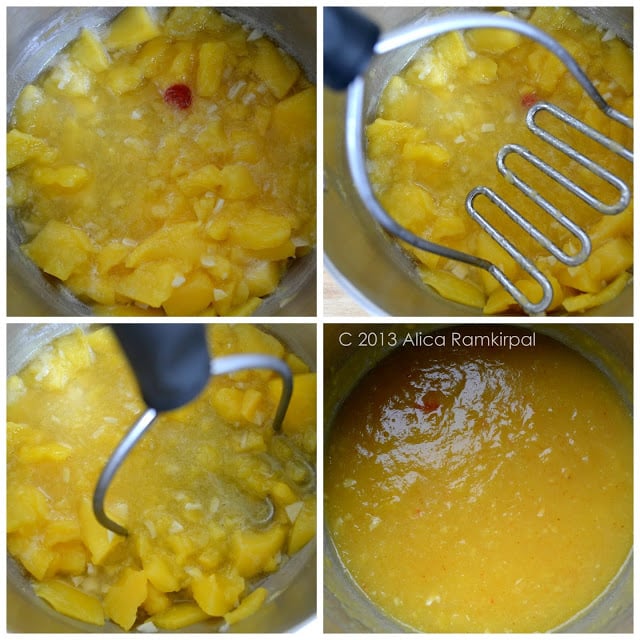 I could eat mango sour with everything, it's one of my favorite condiments. It tastes wonderful with plantain chips, pholourie, cassava balls, fish cakes, black pudding, and channa to name a few.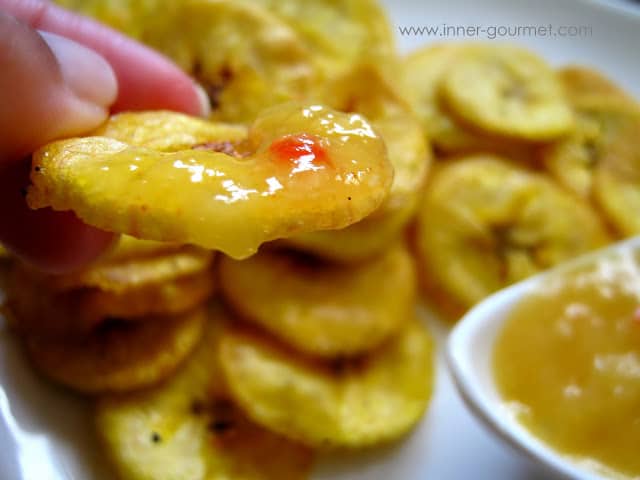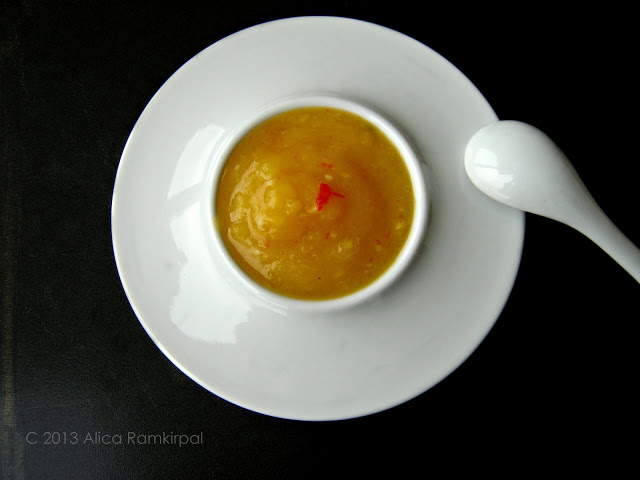 Mango Sour
Ingredients
2 cups green unripened mango, chopped (about 1 mango)
3 garlic cloves, chopped
1-2 wiri wiri peppers or scotch bonnet (or desired amount of pepper sauce)
½ tsp salt or to taste
2 ¼ cups water
2 tbsp vinegar (optional)
Instructions
Peel and chop mango in 2-3 inch pieces. Discard the seed. Chop garlic, set aside.
Combine all ingredients (except vinegar, if adding), in a small pot and bring to a rapid boil for 10-15 minutes.
Reduce heat and simmer until mango is soft and cooked through. Mash mango until desired consistency is reached.
Adjust pepper and salt to suite.
If adding vinegar, allow mixture to cool slightly then stir in.
Sour will thicken up once it is cooled.