As many of you may (or may not) know, I do not eat beef or pork. It's a personal choice and also the reason you have not seen any recipes on my list containing these meats. However, part of the goal for my new brand is to house a more comprehensive list of recipes. I'd like to have more diverse content and recipes that are representative of my readers. So today I'm sharing the recipe for a glazed ham that my husband, Sean made for Thanksgiving. I have not tasted it, but based on watching him and my father eat the whole thing over the course of three days, I'm pretty confident in saying it was finger lickin' good.
Sean is Trinidadian and he always says that Christmas isn't Christmas to him, without ham on the table. His grandmother made this every year for the holidays so it brings about a nostalgic feeling. He has followed her tradition and makes this pineapple glazed ham for Thanksgiving or Christmas. He and my dad pick at it from the moment it comes out of the oven to days later until the dish is bone dry. Sean has experimented every year with a new glaze. He has finally found one that he loves (and my dad, too). He decided to add orange slices to his experimentation this year and he says it gave the glaze a nice citrusy note, especially after it burnt a little while baking. This must be his winning recipe since he gave me the okay to publish it (insert rolling eye emoji).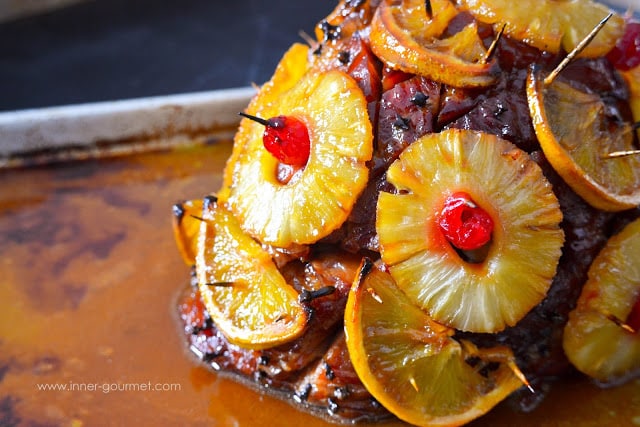 He prefers buying the premium bone-in, spiral sliced ham- commonly found in grocery stores during the holidays. Since these hams have been pre-cooked, what we're really doing is creating flavor by adding a glaze and slow-cooking. He says the flavor is different with the bone-in hams. And when the ham is already sliced, the juices and flavor get into the meat really well. Especially after basting in the oven.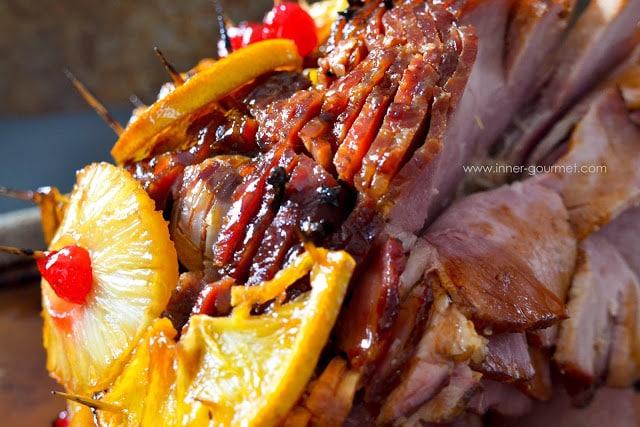 The best way to keep the meat flavorful is to cook it low and slow. Continuing to baste it throughout the process. The orange and pineapple will release a lot of juice when baking. It will caramelize as it heats up on the pan. Using a baster to redistribute the juices will keep the ham moist and from drying out. After removing from the oven, let the meat rest. Sean says this tastes best after it has sat out for a while. And the flavor has had a chance to "sink" in. Hope this fancy ham makes an appearance on your Christmas table. Happy Holidays to you all!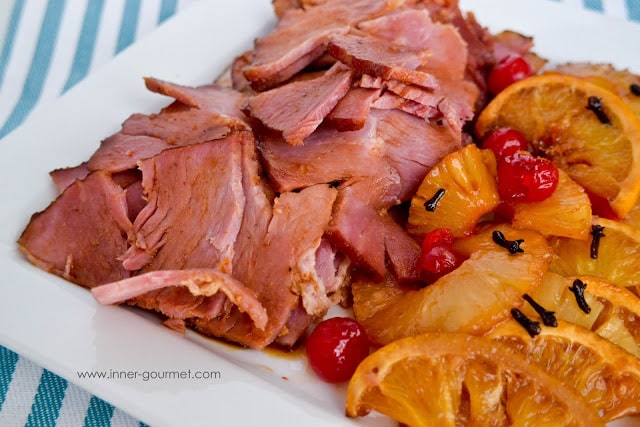 Pineapple-orange Glazed Ham
Ingredients
1 bone-in spiral sliced ham, 10-12 lbs
1 ½ cups light brown sugar
4 tbsp yellow mustard
2 tbsp honey
4 tbsp unsalted butter
2 tsp Worcestershire sauce
Maraschino cherries
Cloves
1 whole orange, sliced
1 20oz tin sliced pineapple
toothpicks
Instructions
Make glaze. Combine brown sugar, mustard, honey, and butter in a saucepan. Bring to a low simmer until brown sugar has melted and mixture has thickened slightly. Add in Worcestershire sauce. Set aside to cool.
Place ham on baking sheet or in roasting pan. Score ham if not using a spiral sliced ham. Rub glaze all over ham. Pierce ham with cloves placing all over ham.
Slice oranges, set aside. Place one pineapple slice with one maraschino cherry in center. Secure with toothpick. Repeat process with sliced oranges. Cover entire ham with pineapple, cherry, and orange slices.
Cover ham with foil. Bake at 275 degrees or 300 for 2 - 2 ½ hours.
Baste ham throughout cooking process with juices in pan.