Garlic pork is a pickled meat dish brought to Guyanese cuisine from Portuguese settlers. It is popularly enjoyed on Christmas morning with warm bread. Pork meat is chopped then seasoned with generous amounts of garlic, pepper, and fresh or dried thyme. The meat is set in a brine for 4 days or more to pickle. When ready to cook, the brine is discarded and the meat is cooked in its own fat until browned, but tender. Many Guyanese enjoy this dish during the holidays along with pepperpot -a rich dark meat stew.
I find it interesting how these two dishes bear similarity in that both are meat dishes made with preservation agents. Pepperpot is made with casareep- an extract of the cassava root which preserves the meat for a long period of time. In the case of garlic pork- the pH or acidity of vinegar is what inhibits bacterial growth on the meat. In other words, bacteria cannot survive in high levels of salt and acid. Understanding the way these dishes are made leads me to believe that early settlers and indigenous people probably used these preservation methods due to lack of adequate refrigeration. Leave a comment down below to continue the conversation on this topic.
Side note- my new favorite cookbook, Salt, Fat, Acid, Heat was incredibly instrumental in helping me understand the role of acid in this dish. I highly recommend it if you are into learning the "why" behind cooking.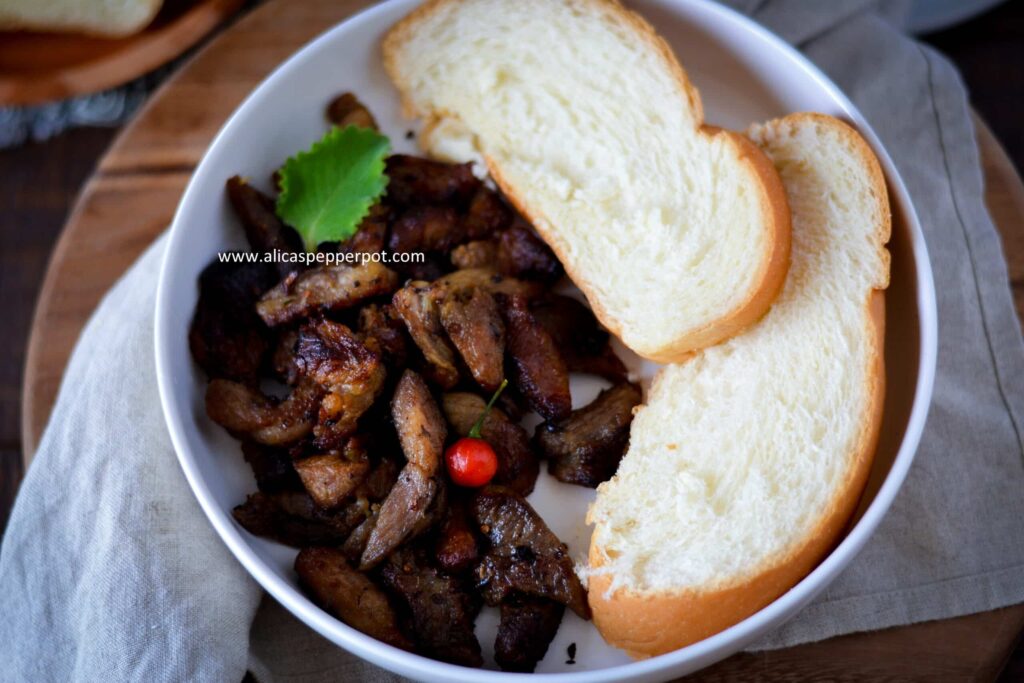 Aunty Sherry's Recipe
You'd be surprised when I tell you that I have not tasted this garlic pork dish. I do not eat beef or pork, but I am interested in learning how these meats are prepared and cooked, especially for cultural recipes. My father usually makes a small portion of garlic pork for himself and any guests who may come over on Christmas day. He learned to make it from his sister, Sherry, who learned from their mother. Aunty Sherry lives in Guyana so when I called to ask about her method/recipe she said, "I'll send it on whatsapp!" haha!
Aunty Sherry uses white distilled vinegar, water, and some sugar in the brine. Lots of pepper and garlic of course, and sets it for 3-4 days. My dad and husband love this dish, but only have it on Christmas as we (as a family) are not big meat eaters. They've said the pork is garlicky and tangy- which was an acquired taste for my husband since this was not something he grew up eating in Trinidad. A slice of bread with a little sweetness cuts the tang and makes it a very enjoyable breakfast.
Other Variations
This is my father and aunt's method of making garlic pork, but there are a few other ways to prepare it.
Blend garlic with vinegar and thyme leaves then pour over meat, Add pepper to jar when layering.
Use different types of vinegar or a combination of apple cider vinegar and white distilled.
Use dried herbs only instead of fresh.
There are different types of thyme leaves for this dish, broad leaf thyme, fine thyme, and Guyanese thyme which resembles more of an American oregano. I used fresh fine leave thyme because it's easier to access here in Florida.
Chop the meat small or in large pieces- it's completely a personal preference.
I used two heads of garlic for this recipe. Peel and chop in an electric chopper.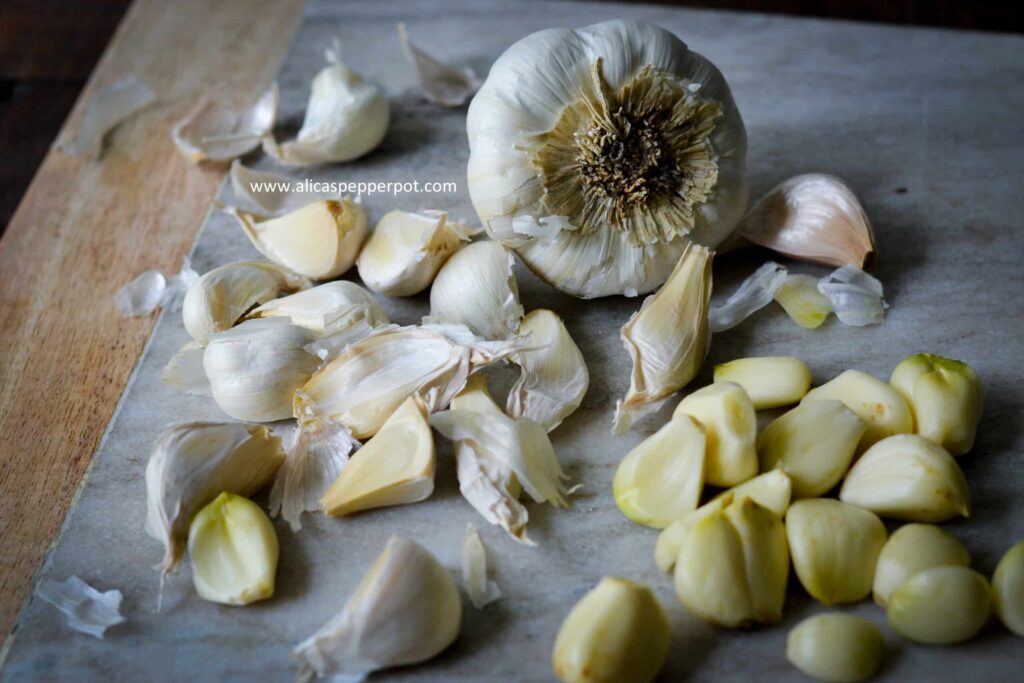 I did not use these many wiri wiri peppers- it is for photography purposes only. I used about 15 or 16 peppers. Prep all these ingredients and set aside.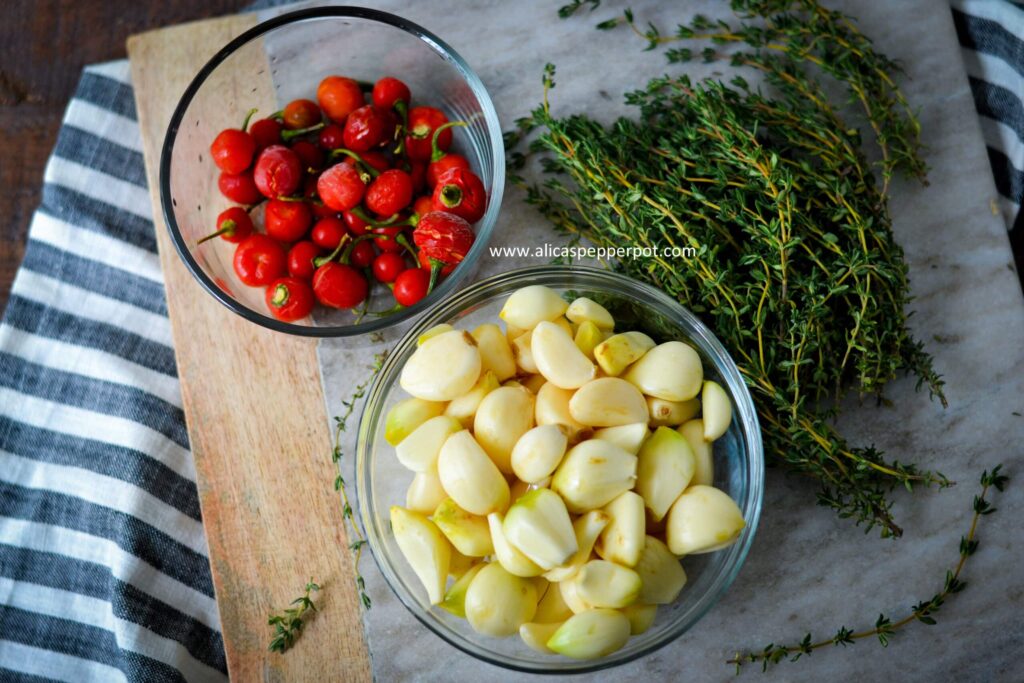 Add chopped garlic and pepper to pork. Mix well. It may look like a lot of seasoning, but it is not, once added to the meat.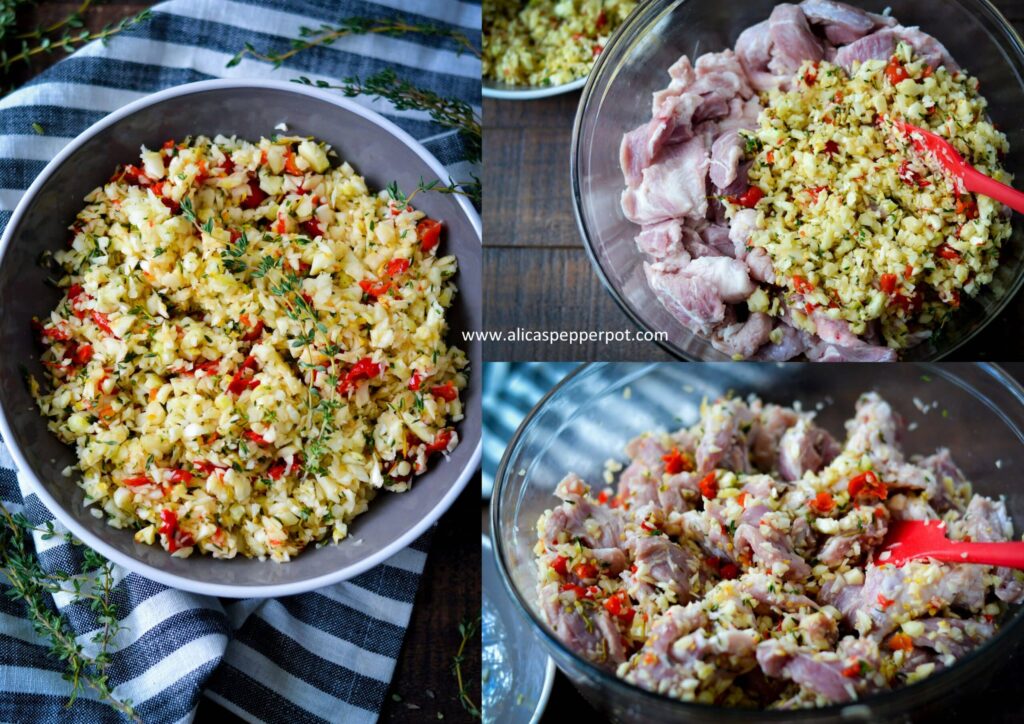 Begin layering meat in sterilized jar. Leave about 4-5 inches space on top. After you pour the brine the meat will rise to the top of jar.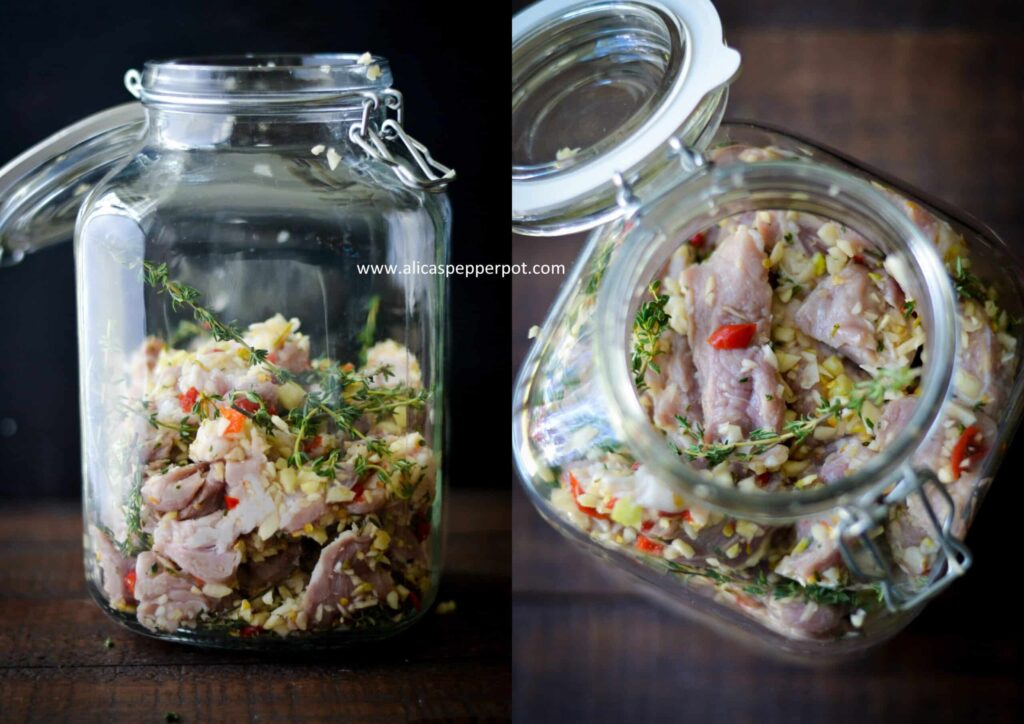 Pour vinegar, water, salt, and sugar into the jar. Ensure meat is COMPLETELY submerged. Seal and set in a dark place for 4 days minimum.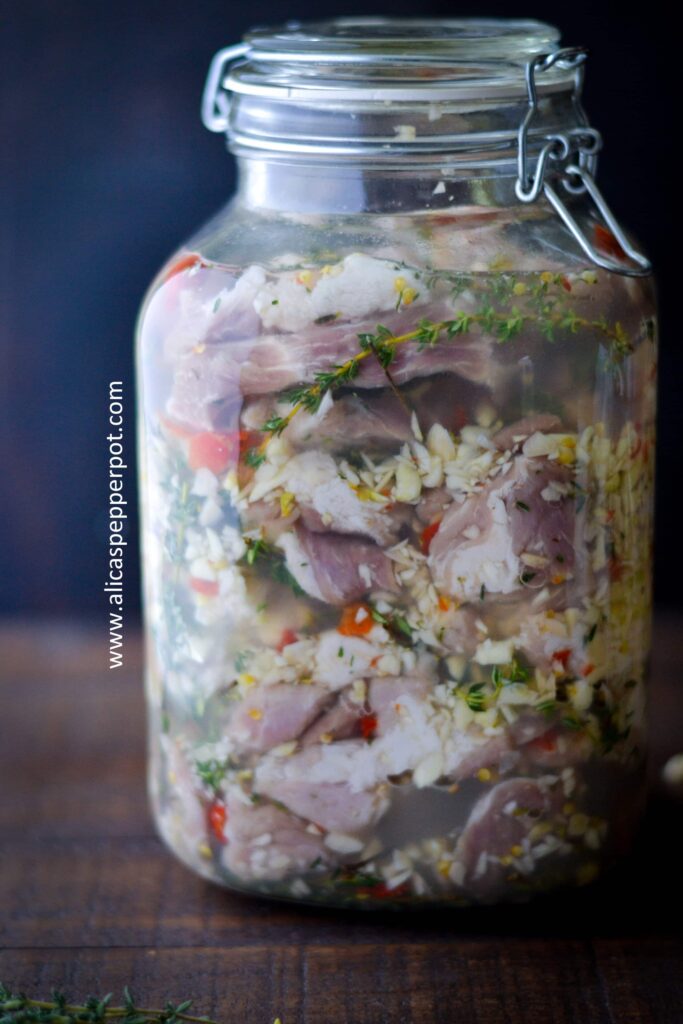 After four days the color has changed and the meat is completely white.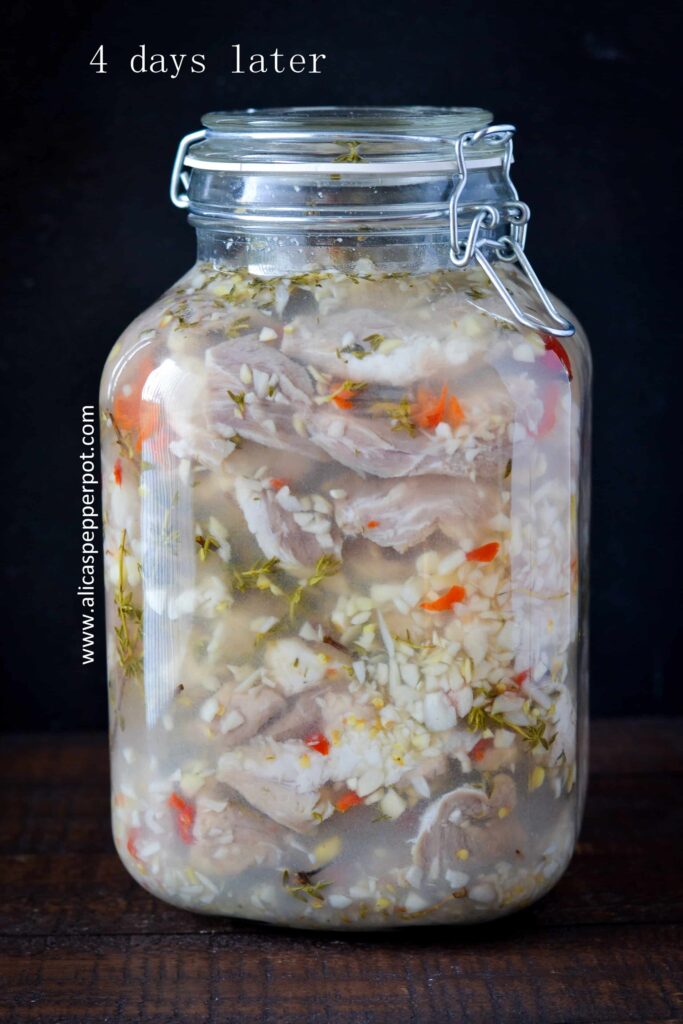 Drain meat in a colander. Remove thyme sprigs. Fish meat out with a fork. Cook as much or as little of the garlic-pepper seasoning as needed.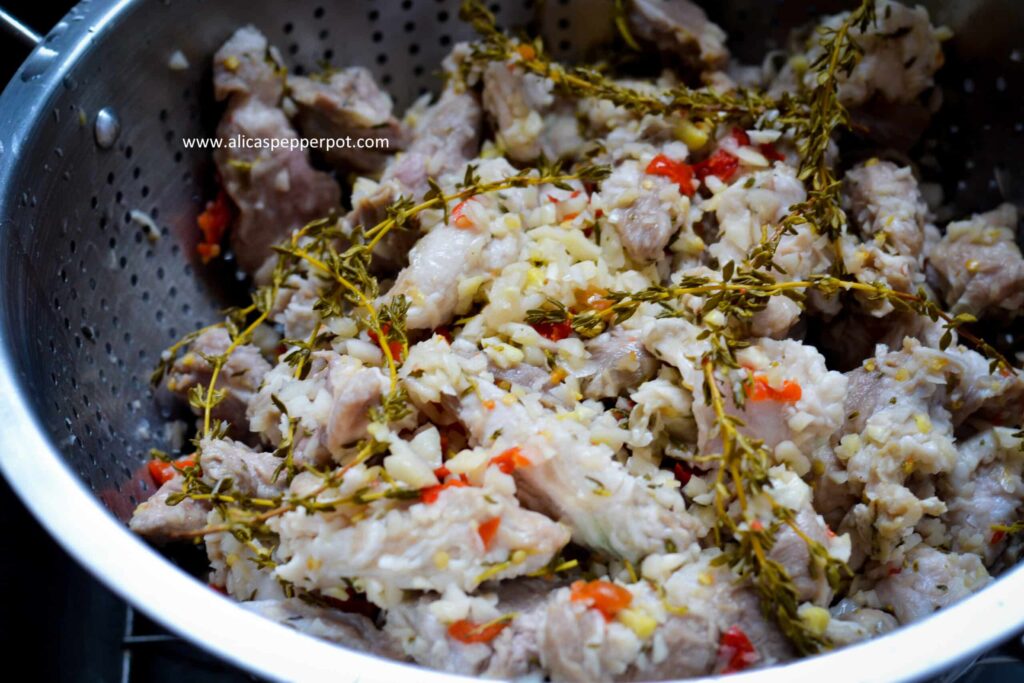 Heat a heavy bottom pot or skillet. Add pork straight to pot. Do not add any oil. The pork fat will melt and cook the meat. Cook until brown and tender.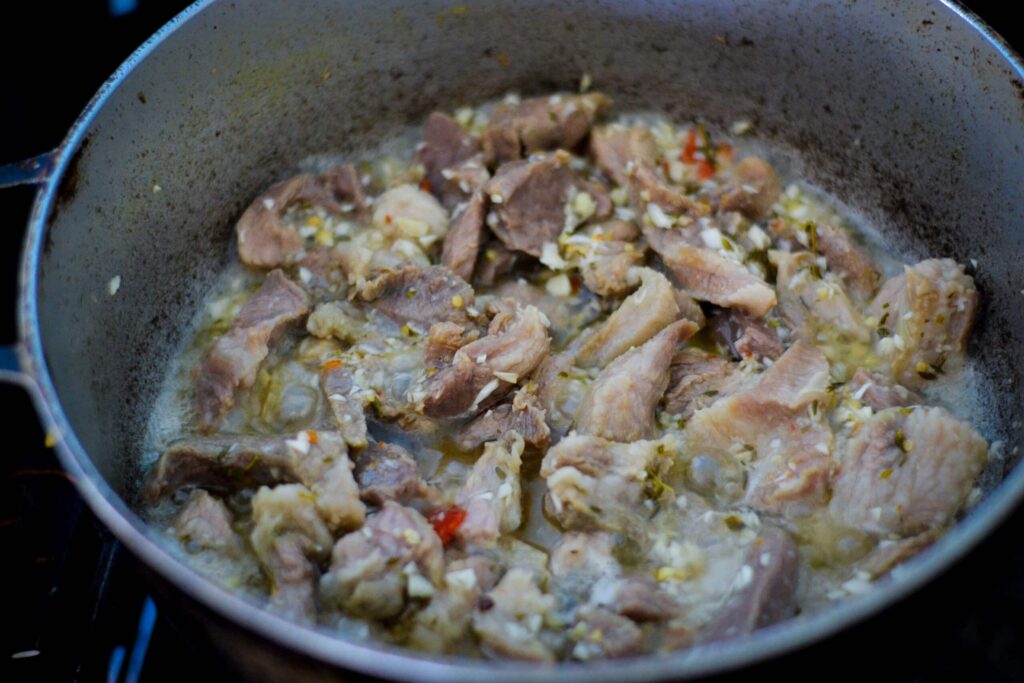 Things to keep in mind
After rinsing and patting meat dry, do not handle with your bare hands- use tongs instead. You don't want any contamination from your hands to transfer onto the meat.
Use a glass jar with rubber sealing instead of an aluminum screw top- the aluminum may corrode.
The purpose of the sugar and water in this recipe is to cut some of the high acidic taste. Both are optional.
Meat must be completely submerged in brine.
Enjoy warm with bread.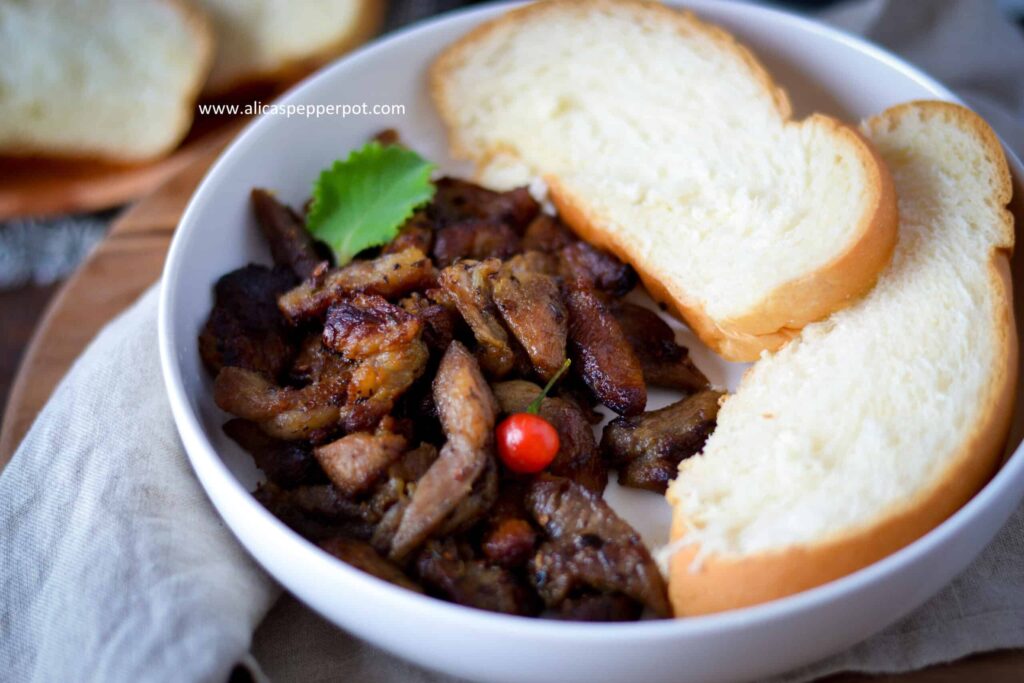 Guyanese Garlic Pork
Ingredients
3 ½ lbs pork shoulder, chopped in 2in-3in pieces
2 heads garlic, peeled and chopped
15-16 wiri wiri peppers or 7-8 scotch bonnets
2 bushels fresh thyme or 2-3 tbsp dried thyme
3 ½ - 4 cups white distilled vinegar (or enough to cover the meat)
2 tbsp brown sugar
1 cup water
1 ½ tbsp salt
Equipment
1 extra large glass jar, sterilized
Tongs
Instructions
Sterilize jar by boiling in a pot of water for 10 minutes. Remove jar and dry with paper towel. Set aside.
Chop meat into 2-3 inch size strips or chunks. Rinse meat and pat completely dry. After this point, use tongs to handle meat. Set aside.
Peel and chop garlic and pepper. Gather thyme.
Add chopped garlic, pepper, and thyme to bowl with meat. Mix with tongs.
In sterilized jar, begin to add meat with seasonings. Layer with thyme sprigs.
Mix sugar and salt into 1 cup water, set aside.
Pour vinegar over meat until it is completely submerged. Add reserved 1 cup water with salt and sugar.
Close lid tightly and gently turn jar upside down a few times to ensure vinegar solution gets in between layered meat.
Store in cool dark place for 4-7 days. We cooked the meat on day 4.
Cooking
Drain pickled meat in colander. Remove thyme sprigs and fish meat out with a fork. You may cook as much or little of the chopped garlic/pepper seasoning as you like.
Heat a heavy-bottom skillet add meat and allow pork fat to melt. Cook for 15 minutes or more until meat is seared and browned.
Serve warm with bread.
Notes
Using an electric chopper makes quick work out of prepping the pepper and garlic. When layering meat in jar, make sure to leave at least 3-4 inches space on top because when vinegar is added it will make the meat rise to the top.
Pin it for

later!