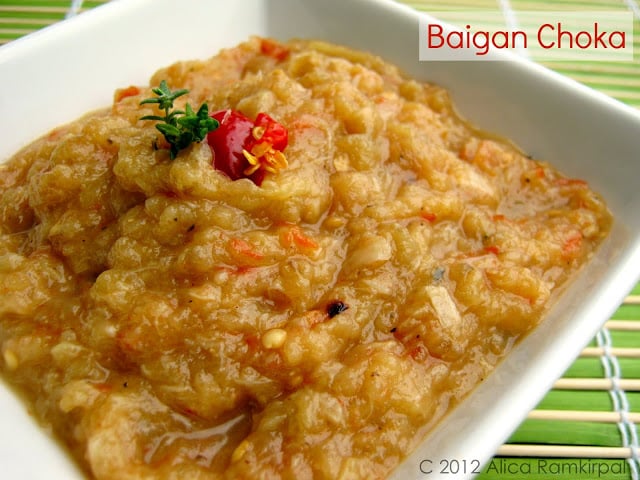 I'm surprised it took me this long to post my mom's recipe for baigan choka. It's my favorite vegetarian dish to eat, especially with roti! It is delicious for any meal of the day, but I prefer it for lunch, something about letting all that roti digest I guess. I made this for lunch the other day and had it with crackers. It was so tasty! I definitely missed the roti, but when a girl has to fit into a wedding dress, she has to make sacrifices. Oh yea, did I tell y'all that I'm getting hitched this year? More to come on the wedding and I can't wait to tell you all about the wedding favors! Stay tuned on the wedding front, but for now let's get back to this amazing roasted eggplant dish. If you're thinking this dish looks similar to baba ganoush, you are correct. I'd say the main difference is that baigan choka contains more seasonings and additions like the roasted tomato to heighten the flavors. To learn more about the meaning of the word "choka" and a brief history lesson on this dish, take a look at this article and this article. Mom used to make this on a weekly basis. It was a quick and easy dish for her to make since it contained no meat or seafood. It was part of the bhagi, bora, pumpkin, weekly meal menu at our house. Baigan choka is made by roasting an eggplant (also known as, melongene, aubergine, brinjal, or balanjay), mashing it, then adding various seasonings and freshly chopped onions, hot pepper, and oil to finish it off. Adding the fresh onions and pepper adds a delicious layer of flavor that is best enjoyed while the dish is still hot. Since this is a popular dish in West Indian cuisine, many of us have different ways of making it. My auntie Mala roasts the eggplant in the oven, instead of over an open fire because it is not as messy. I also know of others who put it under the broiler. My mom still roasts her eggplant on the stove top. Although it is a little more time consuming, I find I get more of a charred taste from roasting over a gas stove or open fire on a grill. Wrapping the eggplant twice in aluminum foil also prevents less mess, if you are roasting on the stove top that is. Instead of finishing this dish with oil, my mom actually uses butter! Yep, you read it right, butter, don't judge, you might like it if you try it. She also adds roasted tomato and roasted garlic which gives this choka a really intense and unique flavor. This is my mom's version, how do you make your baigan choka?
I used one medium eggplant. This serves 2-3 people.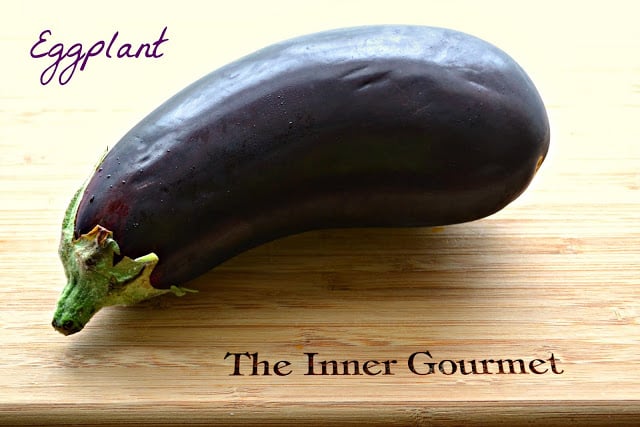 Wrap eggplant twice in aluminum foil and make two handles out of the foil. It will help when needing to rotate the eggplant over the fire.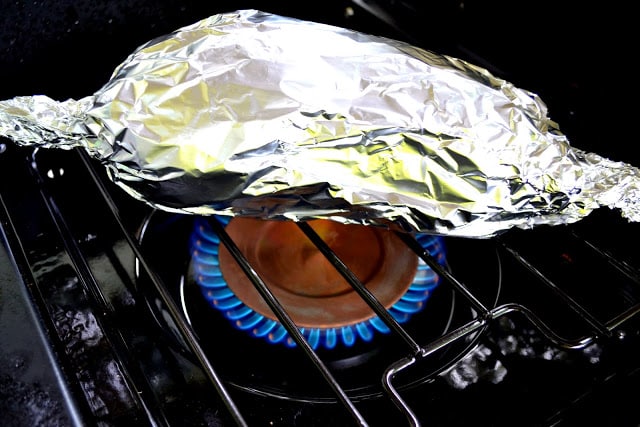 Let eggplant roast for 25-30 minutes, turning frequently over the fire. You may stick a knife in various parts of the eggplant to test when it is done. If the knife goes right through with no give, then your eggplant should be near finished.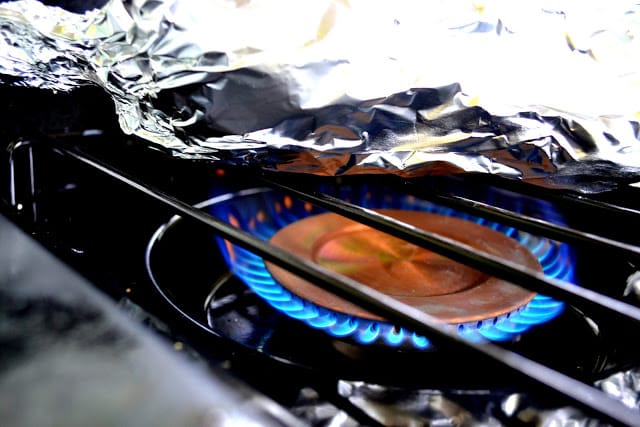 Remove from fire, open foil, slit eggplant in half and scoop out the insides. Make sure to get the flesh that is closest to the skin, that's the good part!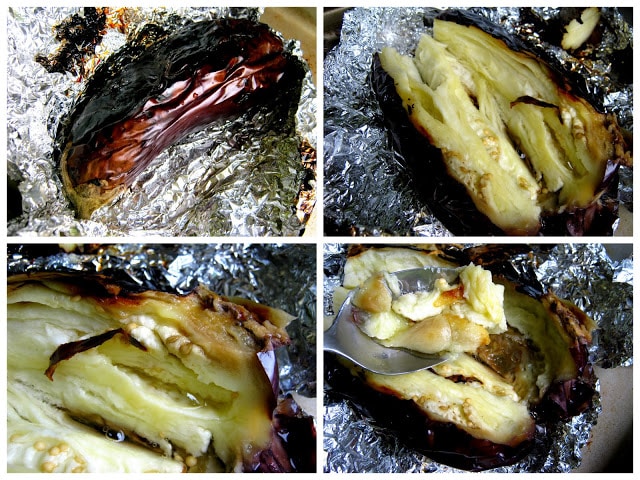 Mash eggplant with a fork to loosen the chunks, set aside.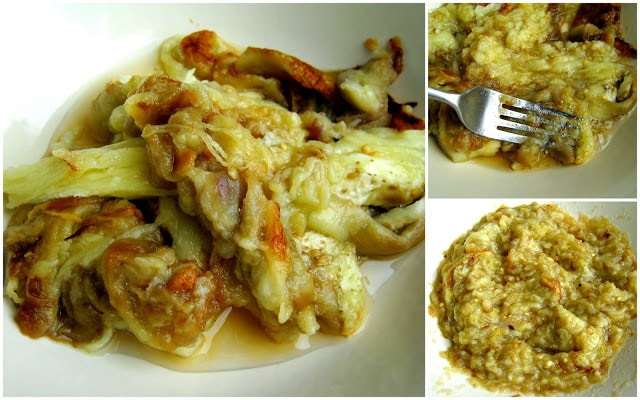 You'll need 4-5 garlic cloves and 1 medium tomato. I roasted the garlic in the oven while the tomato was roasting alongside the eggplant. Garlic and tomato will take around 30 minutes to roast. Chop the heads off of the garlic before wrapping in foil. Don't wrap too tightly.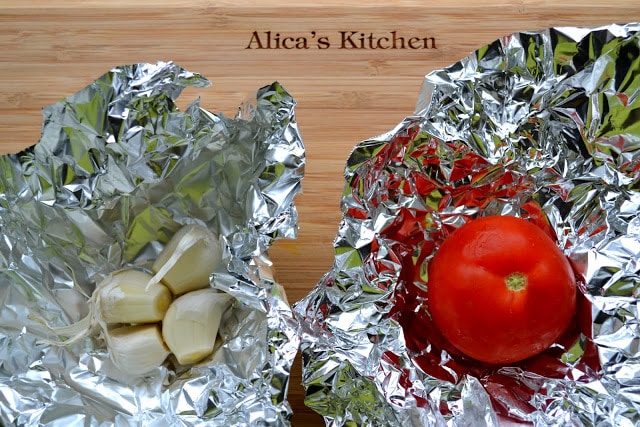 You can roast the tomato on it's own...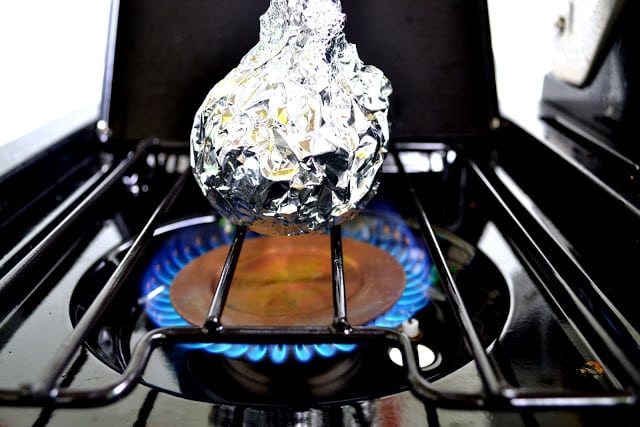 or with the eggplant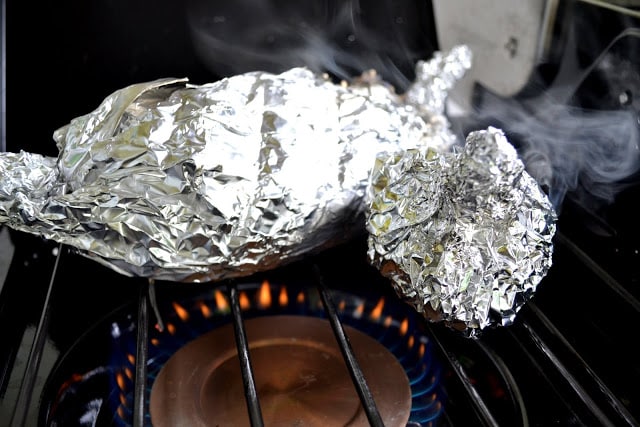 The garlic cloves should pop right out of the skin. Mash and add to the eggplant.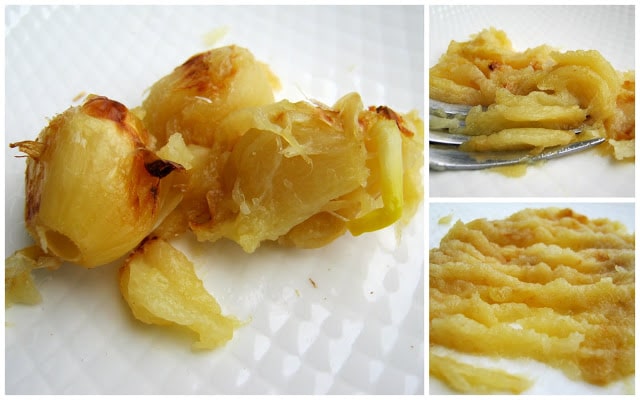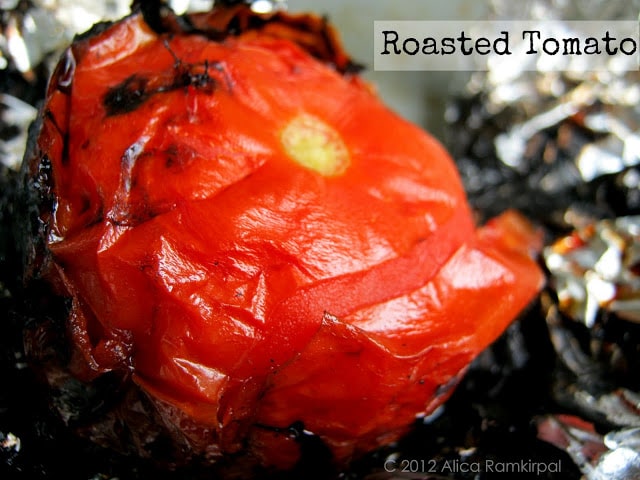 Remove foil and mash tomato in with the eggplant mixture. If the center of the tomato is slightly stiff, just cut that piece out.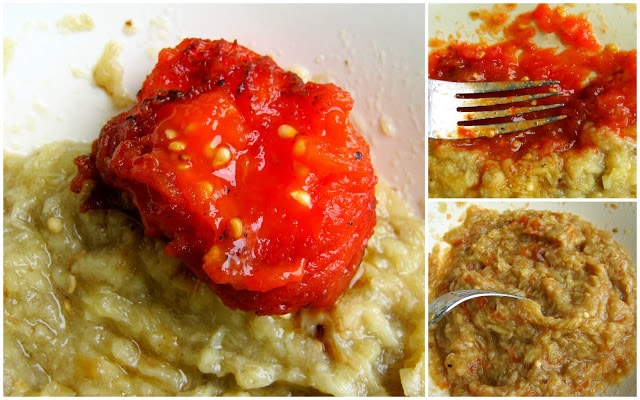 Mix and set aside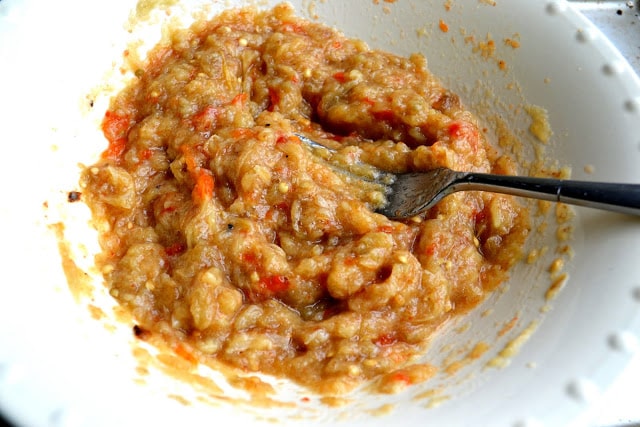 The amount of onions and pepper you want to add to this dish is up to you. I added half of a small yellow onion, fresh thyme leaves, and one wiri wiri pepper finely chopped.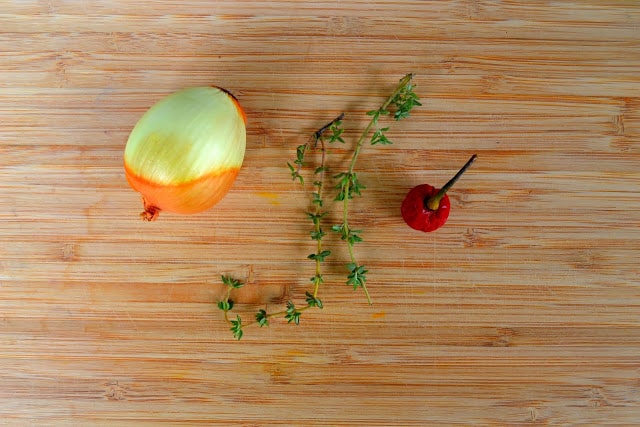 Add one or two tablespoons of butter, a couple of dashes of black pepper, and a dash of salt. Taste as you go...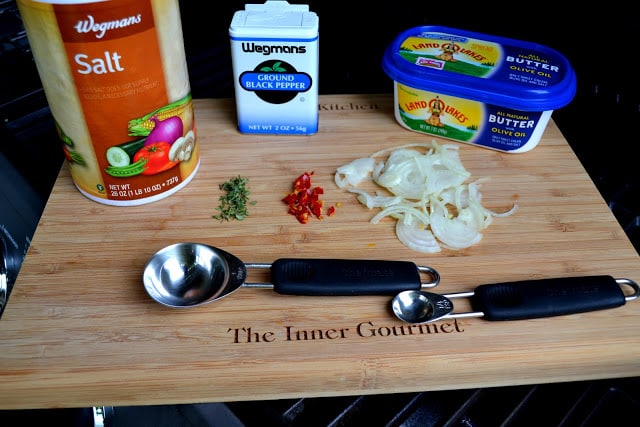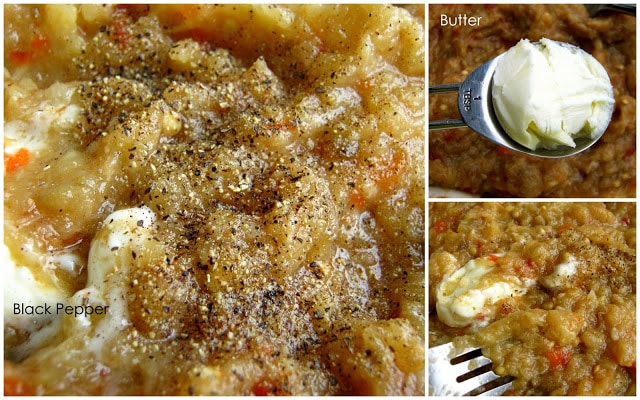 After adding butter, black pepper and salt, add onions, pepper, and thyme last. You can certainly use oil in place of the butter as that is how it is traditionally done.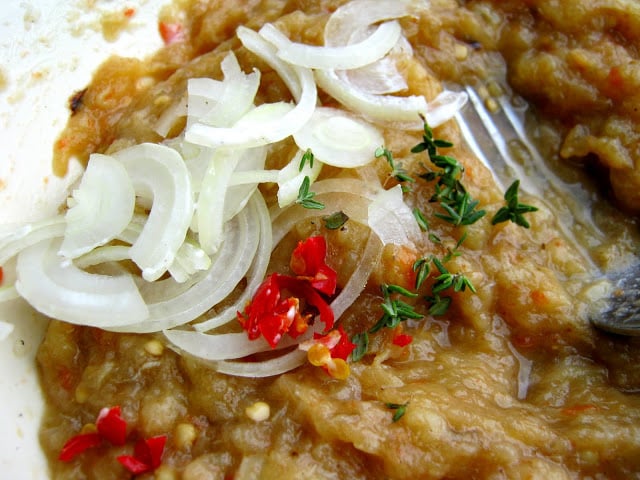 Don't just mix in the onions, mash it in really good! Serve hot with roti or bakes!
Baigan Choka (Roasted Eggplant)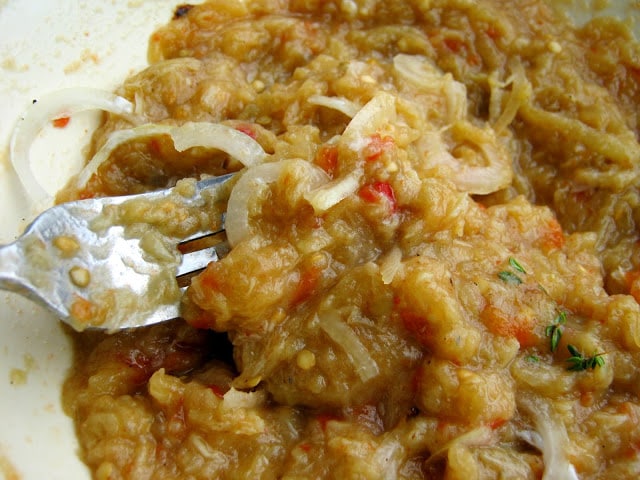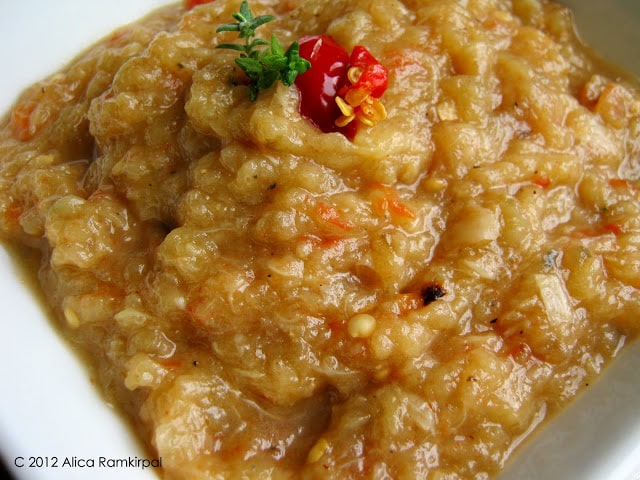 Serves 2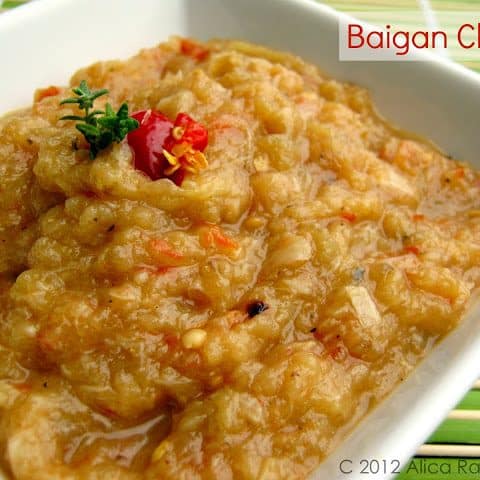 Baigan Choka (Roasted Eggplant)
Ingredients
1 medium size eggplant
1 small beefsteak tomato
4-5 garlic cloves
salt to taste
black pepper to taste
½ yellow onion, thinly sliced
1 wiri wiri pepper or scotch bonnet, chopped finely
fresh thyme leaves
1-2 tbsp butter, oil, or ghee
Instructions
Wrap eggplant twice in aluminum foil. Make two handles on the side to help with rotating while roasting. Roast eggplant for 30 minutes on the stove top or bake in the oven.
Chop heads off of garlic cloves and wrap in foil. Bake in the oven for 30 minutes at 400 degrees.
Wrap tomato in foil and roast on the stove top with eggplant or on a separate burner for about 25-30 minutes.
Once the eggplant is done roasting, open foil, slit down the center and remove the insides into a mixing bowl. Mash with a fork to loosen eggplant. Set aside.
Once garlic and tomato are done roasting, remove from skin, mash, and add to mashed eggplant.
Add salt and black pepper to suit your tastes. Add your choice of butter, oil, or ghee to eggplant and stir.
Add sliced onions, wiri wiri pepper, and fresh thyme. Serve hot with pita bread, roti, or bakes!