This Guyanese pot roast chicken starts with caramelized sugar as its base. Then it's simmered with bright aromatics and cassava casareep until it reduces to a luscious sauce.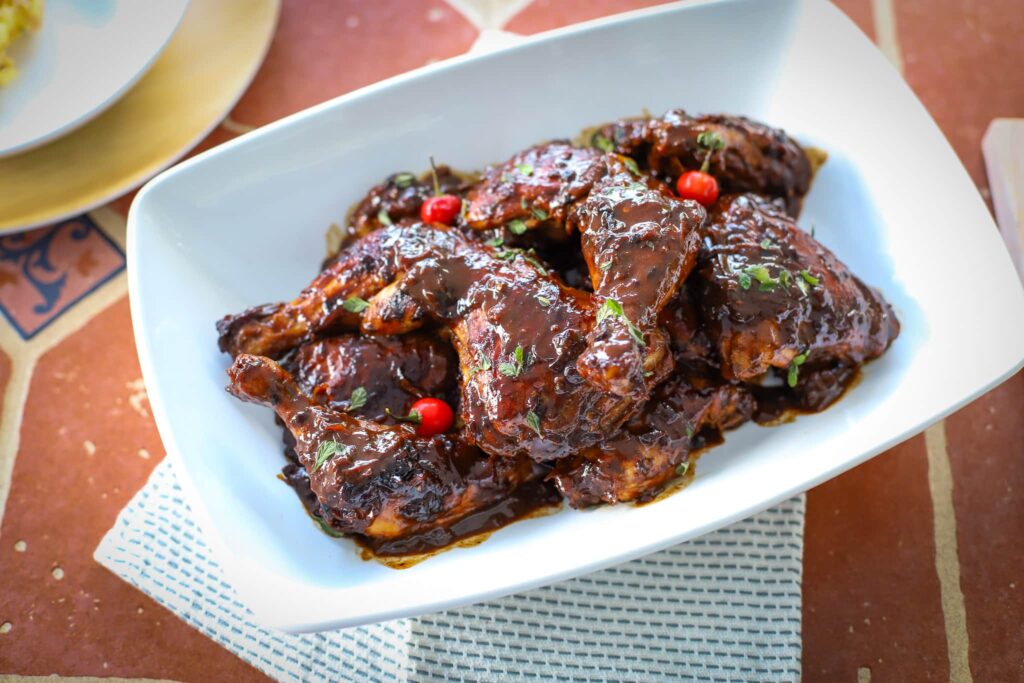 I have long been a fan of Chef Devan Rajkumar's social media. I particularly loved his documentary on Guyana's culinary landscape. If you haven't seen it yet, be sure to check it out on his YouTube channel. On a full stomach though, because it WILL make you hungry! Chef Devan Rajkumar is an internationally known chef, media personality, and entrepreneur. In addition to food, philanthropy is one of Devan's passions. He gives back to his community in many ways, one in which he spreads awareness of our underrepresented culture. Devan is second generation Guyanese-Canadian and like myself, grew up learning Guyanese food through his family's cooking, notably his mother and grandmother. We share many similarities in our upbringing which made this collaboration all the more interesting and fun.
I had an awesome opportunity to cook with him a few months ago. We decided to make Guyanese pot roast chicken, a dish we both enjoy, but never made on our own. We served the chicken with cassava salad, a side dish my family loves.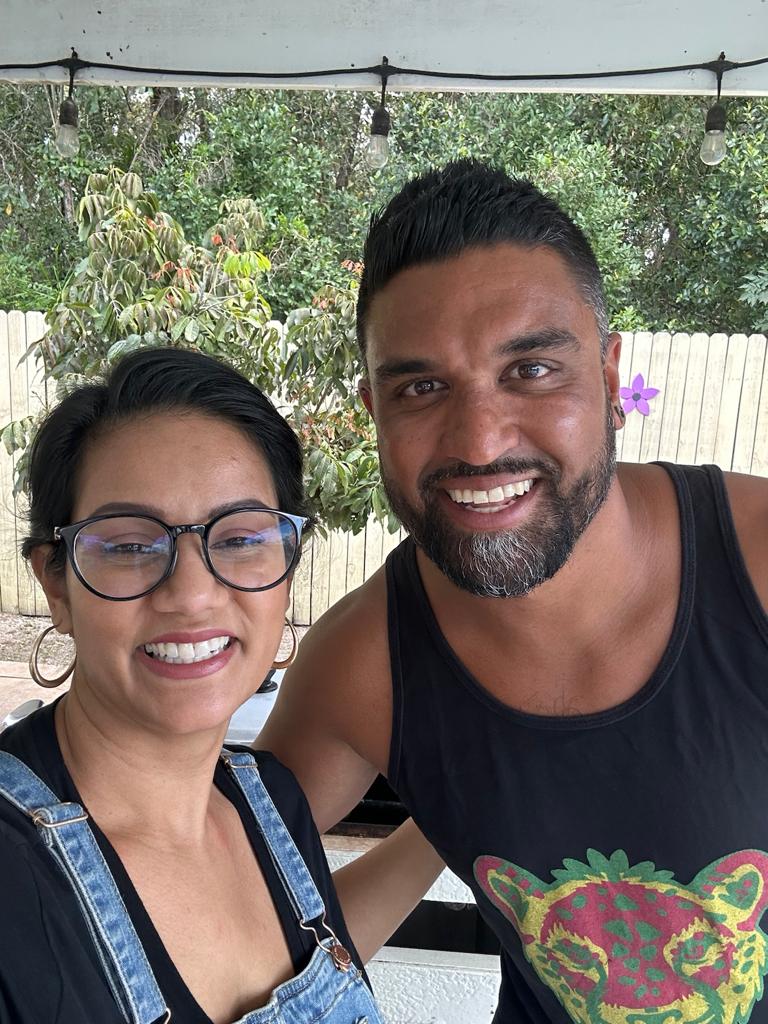 This collaboration could not be possible without the generosity of Rocky and Sherry from the youtube channel, Being Rocky. They warmly opened their kitchen for us to cook and hang out for as long as we wanted. They are such a lovely family and made me feel like I was family with their good energy and hospitality. Alicia, their daughter joined us later in the evening to enjoy all the delicious food we cooked that day.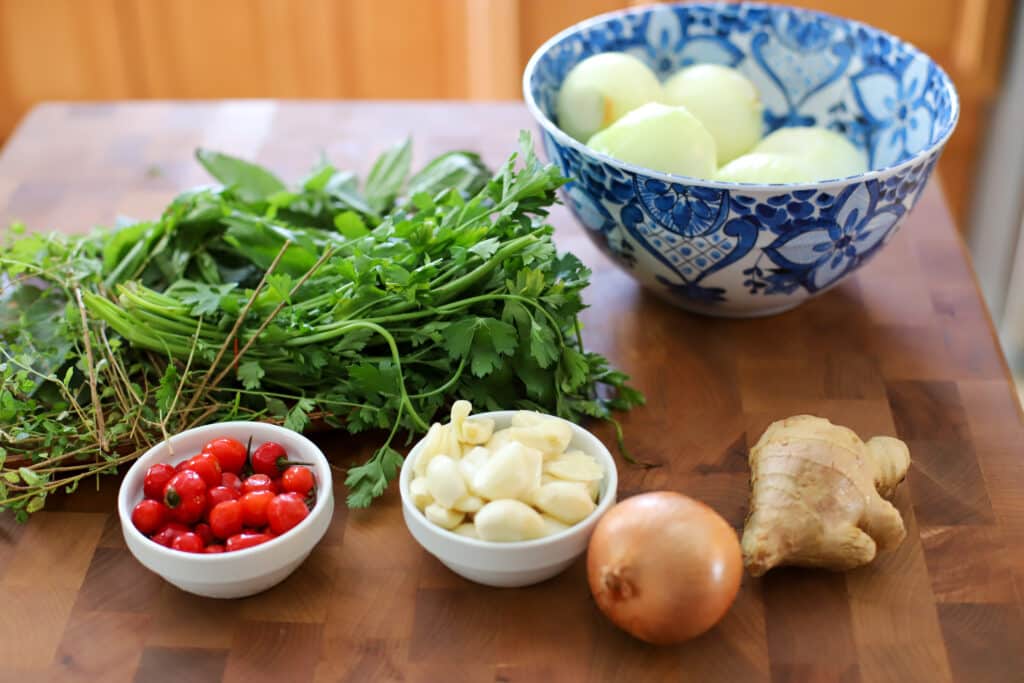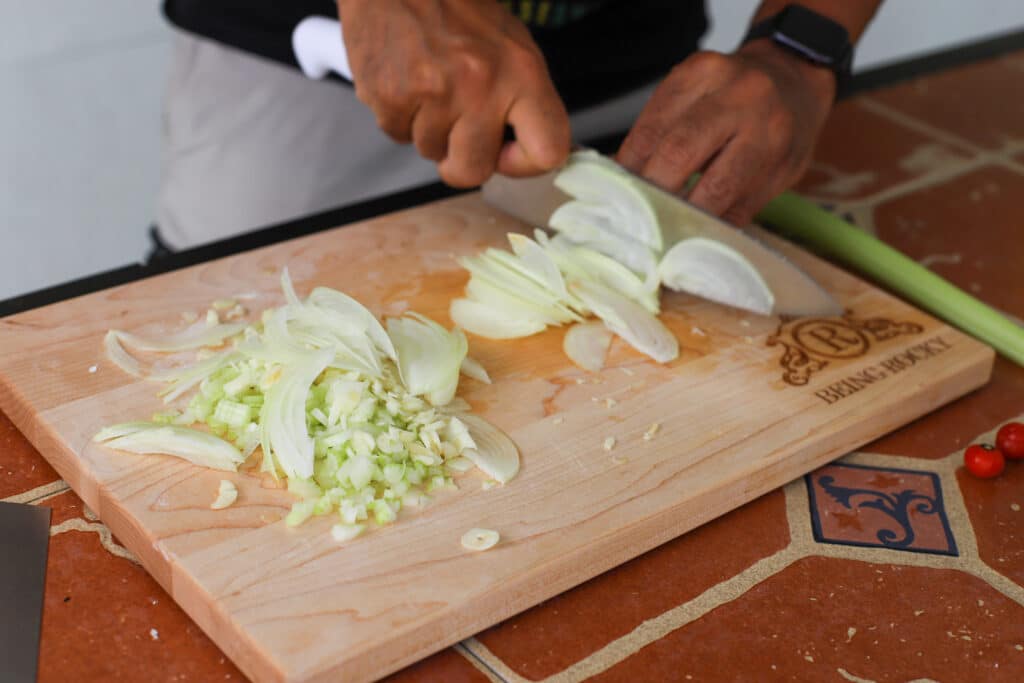 How is pot roast chicken made?
This is a straight forward dish that uses large cuts of chicken, seasoned and cooked on the stovetop. First you'll need palm-sized cuts of chicken. Combine it with onion, garlic, pepper and fresh green herbs. Liquid seasoning is used in the marinade, usually casareep, Chief brand Chinese sauce or soy sauce. It's mixed together then left to marinate for 30 minutes minimum. We cook the chicken in a large wide pot so that each piece gets its own spot. The pot is covered with a lid and left to braise until the chicken springs its own water then reduces with a little sauce.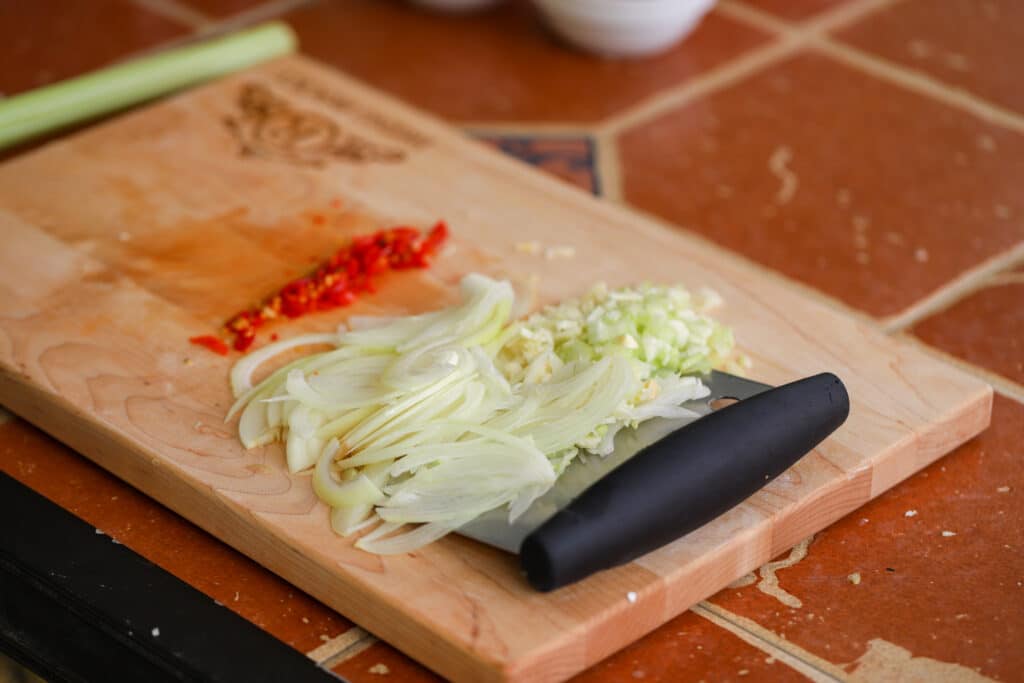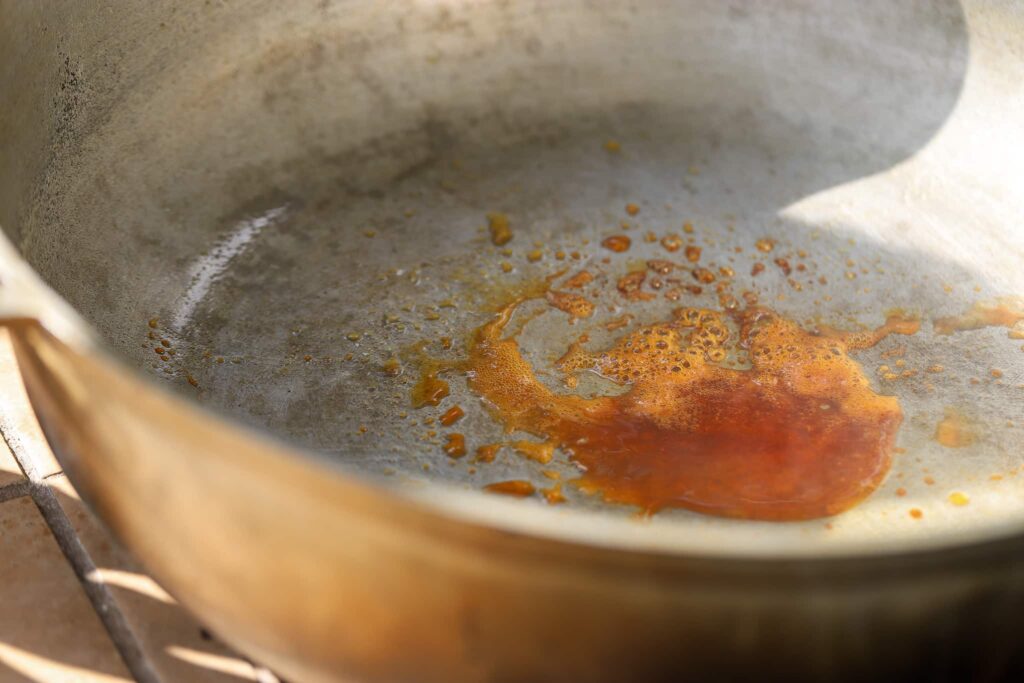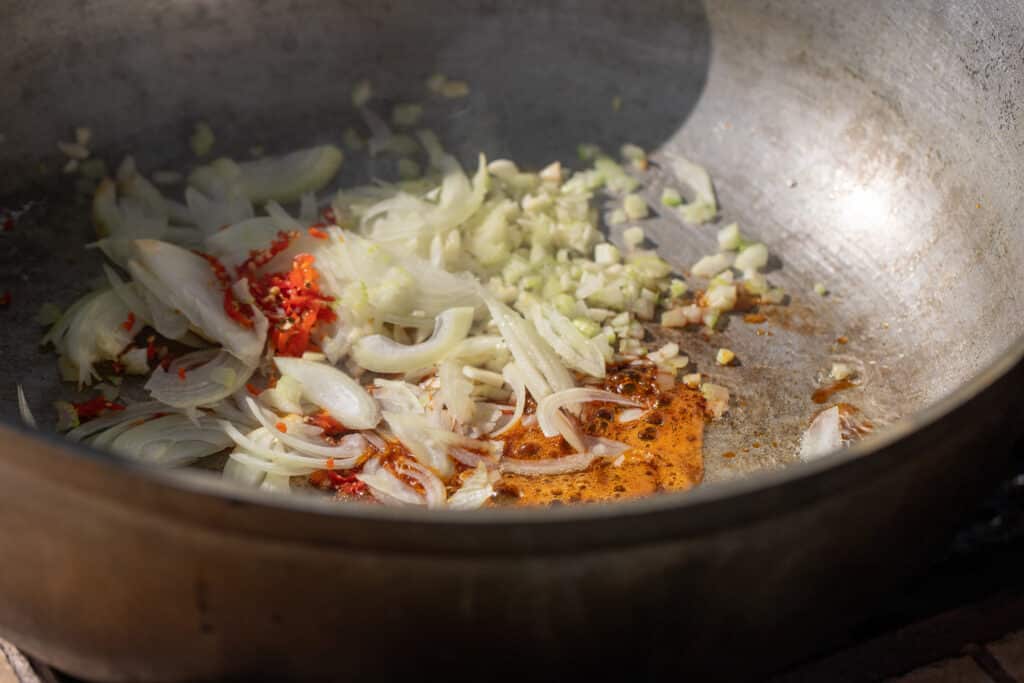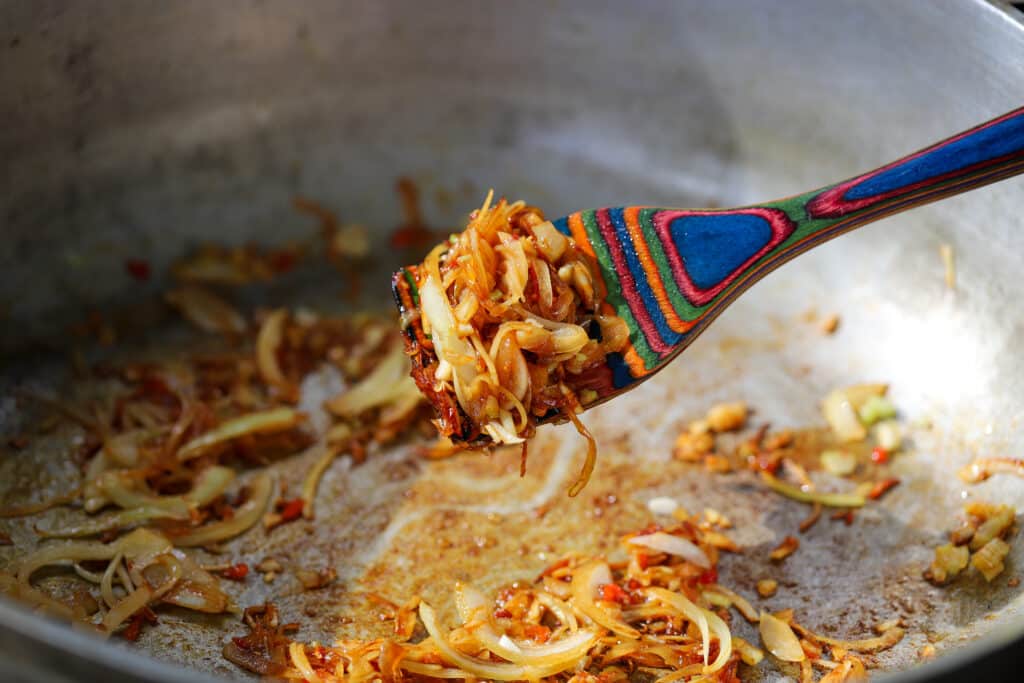 Varying colors of brown
You'll notice in various recipes, pot roast chicken typically has an evenly brown color and seems to vary from reddish brown to very dark. It's common to caramelize sugar for the base of this chicken to get the desired color and flavor. The color of the chicken also comes from how much dark sauce (soy or Chinese sauce) you add when seasoning the meat. The chicken we made leans more on the darker side.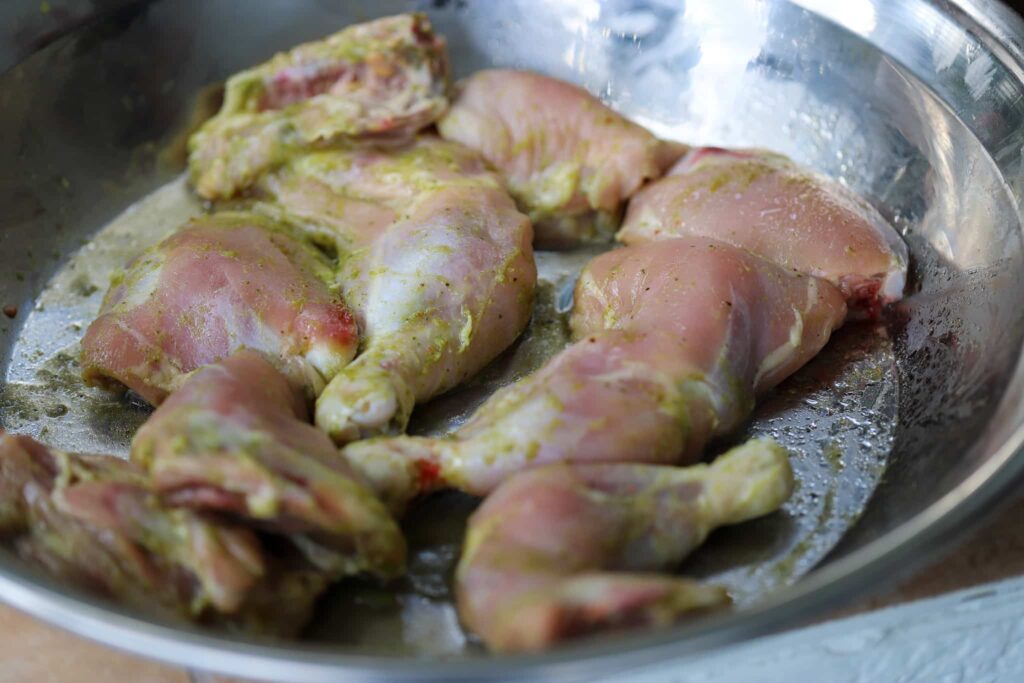 What to serve with pot roast chicken
Pot roast chicken is great with chow mein, fried rice, cook up rice, cassava or potato salad. There are very little rules when it comes to food, so serve this chicken with whatever you like.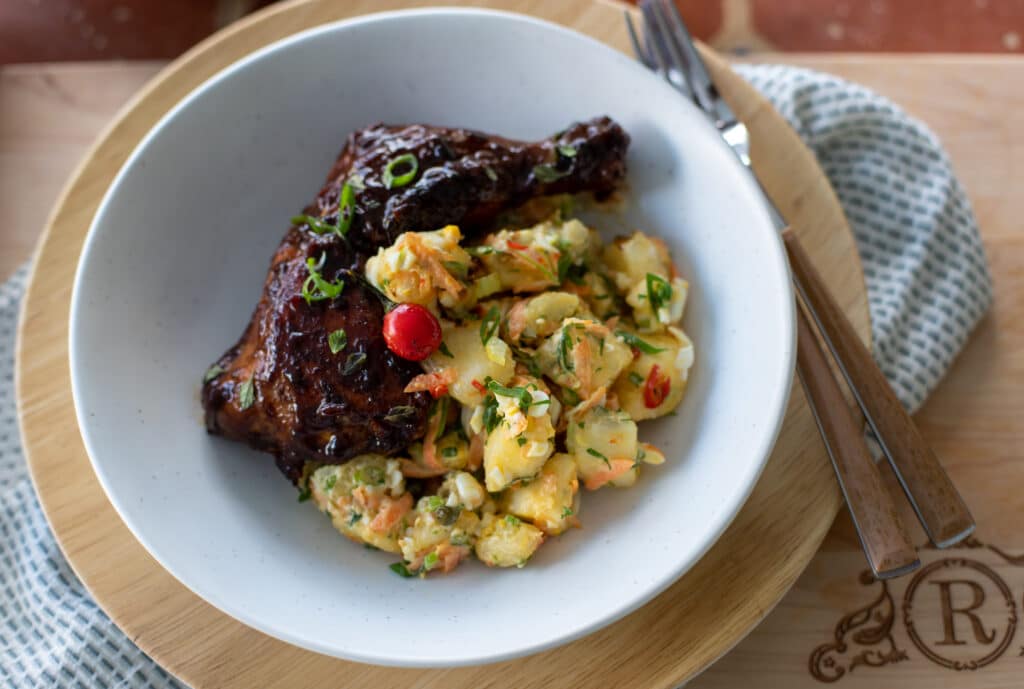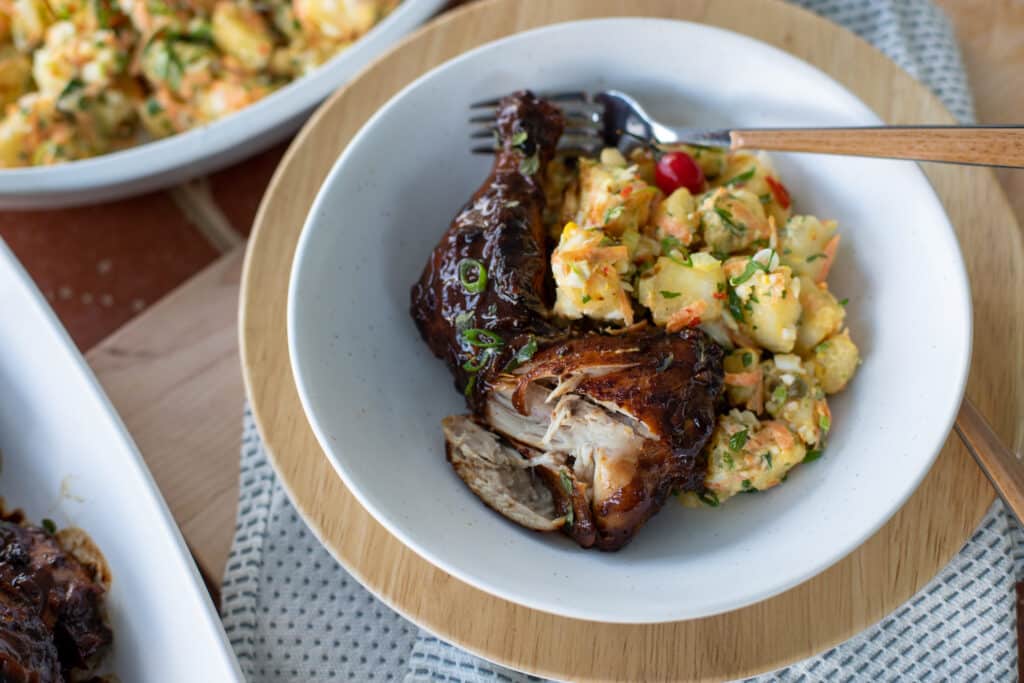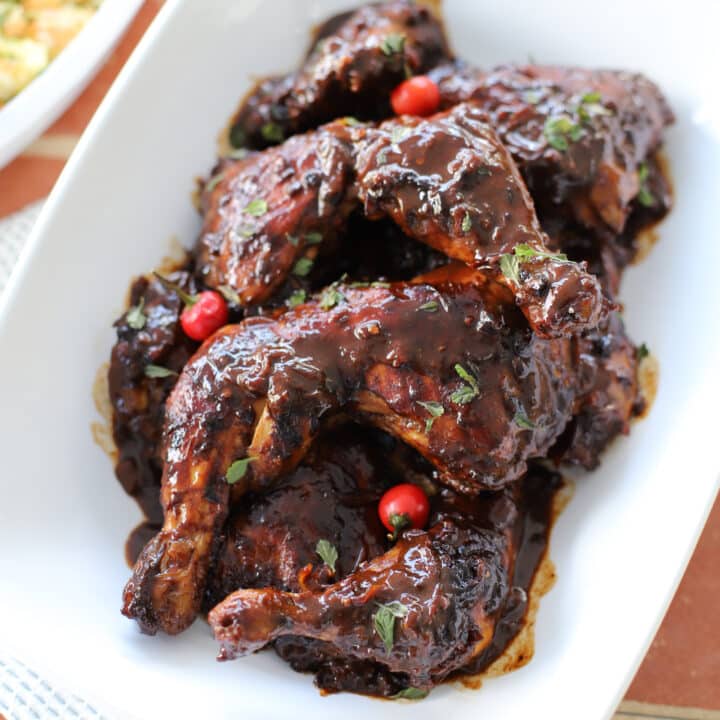 Pot Roast Chicken by Chef Devan Rajkumar
Make this delicious chicken as part of a weeknight meal. Pot roast chicken is perfect alongside chow mein, fried rice, cassava salad or on its own.
Ingredients
3lbs chicken leg quarters
1 teaspoon black pepper
4 tablespoons neutral cooking oil
3 tablespoons brown sugar
1 medium onion, sliced
1 celery stalk, finely diced
4 garlic cloves, minced
4 wiri wiri peppers, minced or left whole
1 tablespoon fresh thyme leaves
1 tablespoon minced fresh parsley
1 teaspoon fresh grated ginger
2 teaspoons salt, more to taste
1 tablespoon casareep
¼ cup chief brand Chinese sauce
⅓ cup water to deglaze the pan
Instructions
1. Season the chicken: Place chicken leg quarters in a mixing bowl, add green seasoning and black pepper. Massage seasoning into meat, cover bowl and let it marinate for minimum 30 minutes.
2. Caramelize the sugar: Heat a large wide bottomed pot on medium heat, add oil then add brown sugar. Use a pot spoon to spread the sugar around in the oil or gently tilt the pot to help the sugar level out. Allow sugar to melt and bubble slightly. As it cooks it will look foamy and get dark in color. This will take a few minutes, but do not walk away from the stove as this can burn quickly. When it looks dark amber brown, add the onions, garlic, celery, and wiri wiri peppers.
3. Cook the aromatics: Let onions, garlic, celery, and wiri wiri peppers fry until it smells fragrant and onions look tender. This will take a few mintues.
4. Cook the chicken: Add the chicken to the pot, toss it with the aromatics. Add fresh thyme, parsley, ginger, and salt. Add casareep and chinese sauce. Mix it up well then arrange chicken in the pot so each piece has its own spot. Let chicken cook about 20 mintues. Chicken will release its own water by then. Allow the water to reduce down to a sauce, another 15 minutes. Add ⅓ cup water to help deglaze the pan and continue to cook until sauce has thickened and coats the chicken.
Notes
Neutral cooking oil is considered any oil that won't impart its own flavor onto the dish. Oil such as grapeseed, avocado, canola, vegetable, corn oil will work in this recipe.