Two ingredients are all you need to make these date and nut balls. It's a quick no-bake snack perfect while fasting for Ramadan or anytime throughout the year. They're chewy, sweet, and satisfying.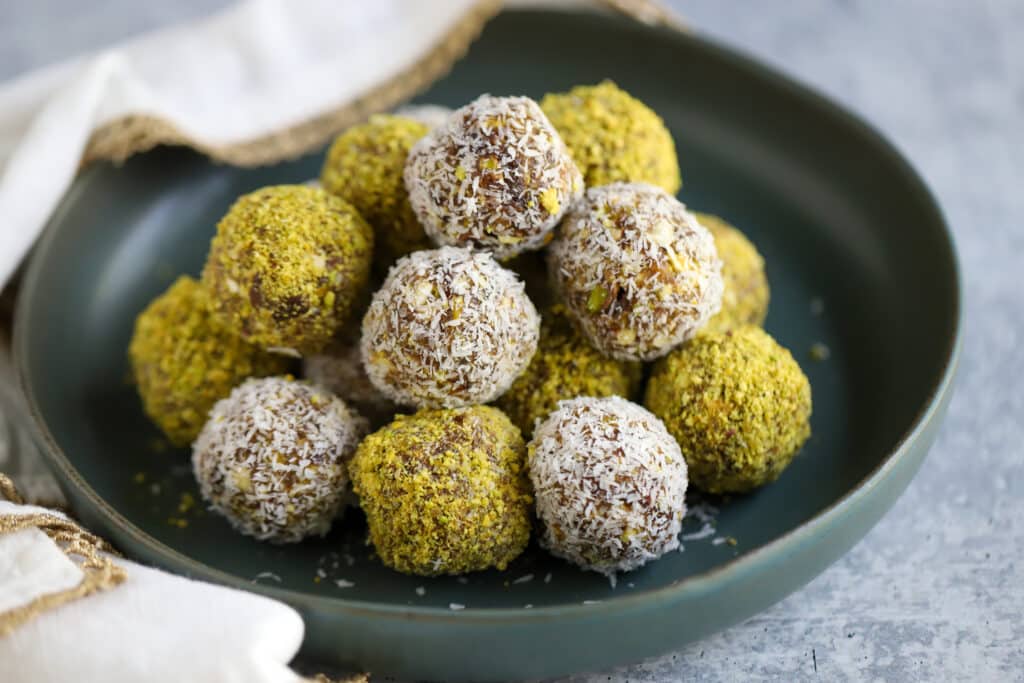 Jump to:
Because of Ramadan, dates are abundant and affordable at the middle eastern markets here in Orlando, FL. After learning more about this sacred time of year and the profound significance of dates, I felt inspired to share a recipe with dates that would help those fasting. I regularly make date and nut balls as an energy snack, which works well throughout the year. I like to roll them in ground pistachios and unsweetened flaked coconut; it will also look beautiful on your table for Eid!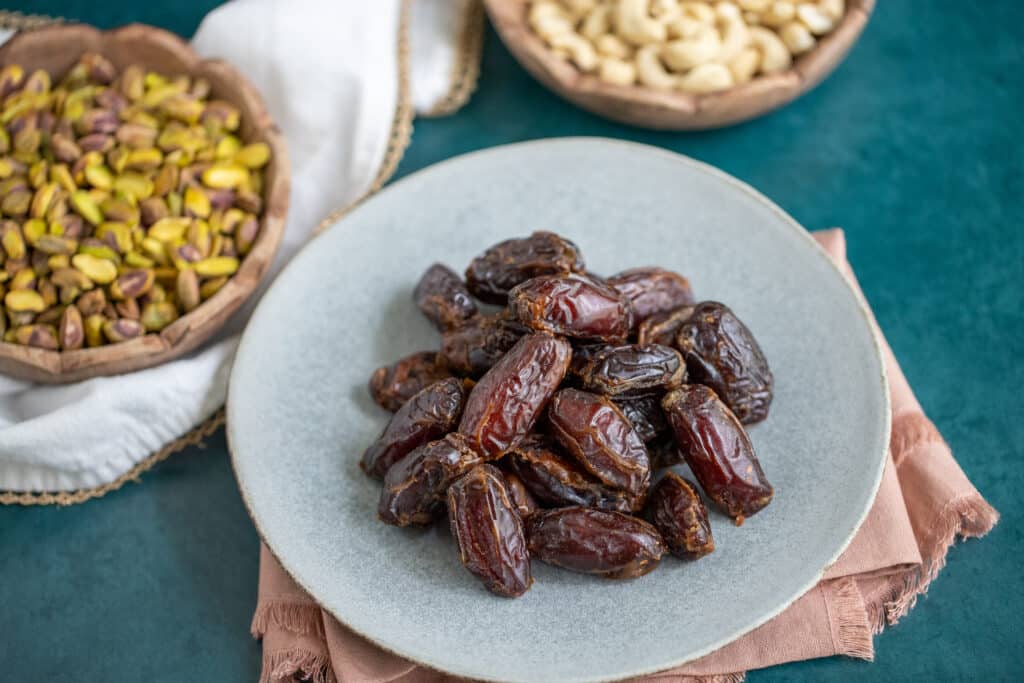 As a food blogger and market researcher, learning about the food someone ate growing up or understanding a tradition gives me insight into who they are and what is important to them. Although I have Muslims in my family, I can't say I truly knew much about their Ramadan rituals. Cooking with my Guyanese-American friend Salmah was an excellent opportunity to learn more about Ramadan and her family's food customs during this holy month. She shared personal stories while we cooked a meal preparing for an iftar dinner.
This deeply communal and special month brings her family and friends together each night as they break their fast. They sometimes connect and share a meal with a large group, other times more intimately. I thought of how food sustains us and how the devotion of an entire day without eating helps them draw closer to God. The gratitude they must feel when the first bite of food is taken, and the first sip of water quenches their thirsting mouths. As she continued to share, I found myself feeling encouraged to reflect on all I am grateful for.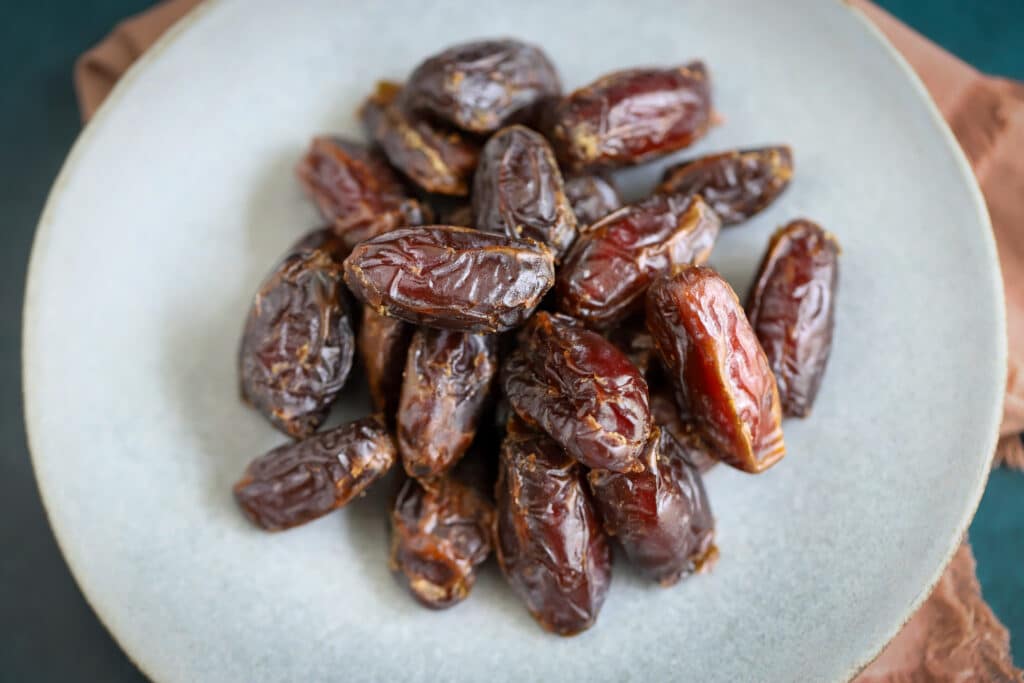 What is Ramadan?
Ramadan is a time of spiritual growth and the most crucial time of the year for Muslims. Muslims around the world fast every day from dawn to sunset. It is a time of deep prayer, reflection on one's relationship with God, generosity, and study of the Quran. I learned during this time there are two standard terms to know: suhoor and iftar.
Suhoor refers to the meal eaten before dawn to start the fast for the day. Iftar refers to the meal eaten at sundown to break the daily fast. Iftar dinners with plenty of food, friends, and family are typical throughout the month. It is a time of togetherness and celebration of the day. Read here if you'd like to learn more about Ramadan and fasting.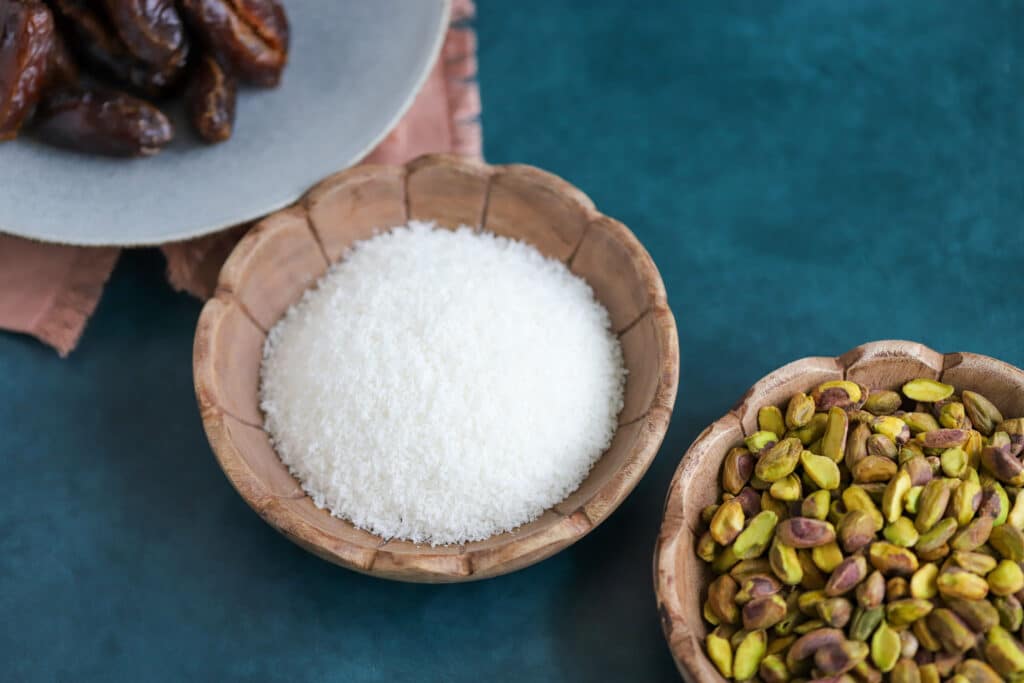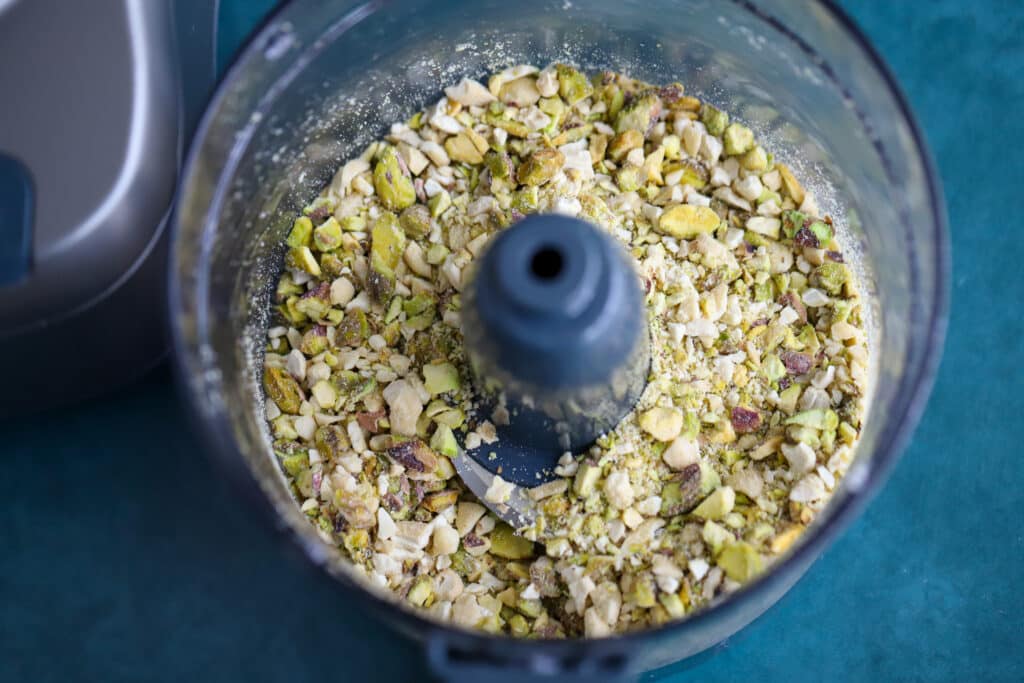 What is the significance of dates during Ramadan?
During Ramadan, I see many recipes using dates pop up on my feed. It made sense why; eating dates at iftar has spiritual significance. When Muslims break their fast, it is the first food they eat with water before continuing to a full meal. The basis of this ritual comes from specific verses in the Quran. Another reason they break fast with dates is that it's high in sugar and balances glucose levels after not eating for many hours.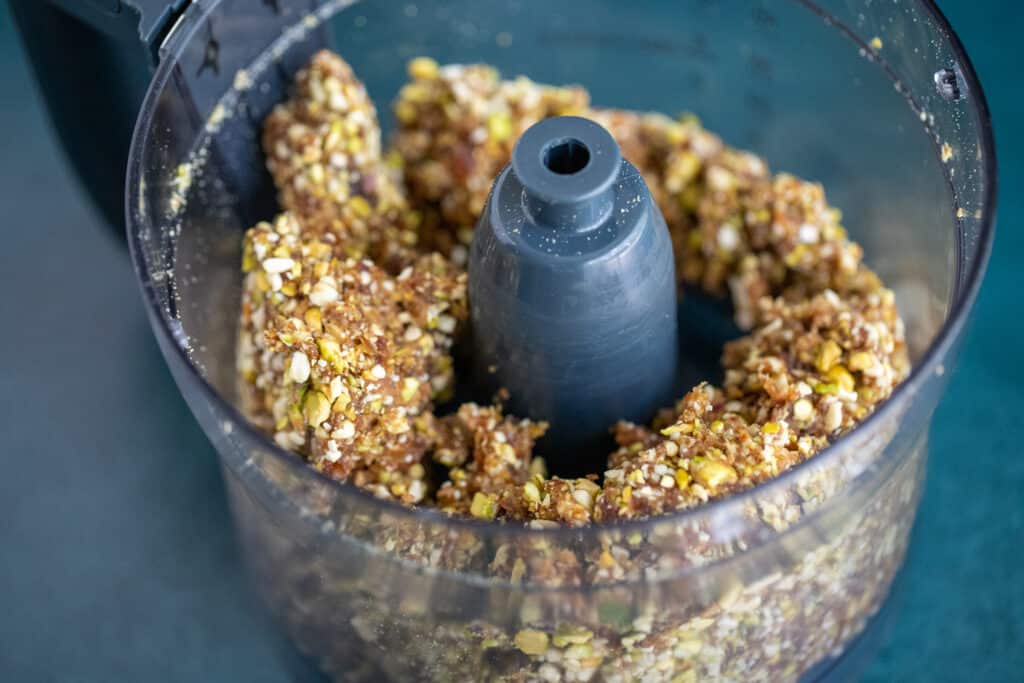 Date nut balls are the perfect bite of energy
Date nut balls are a healthy snack made by combining dates and nuts in a food processor until a solid, sticky mixture emerges. I like using medjool dates for their super soft texture. Small amounts of the mixture are scooped, rolled into a ball, and coated in a topping of your choice, although this part is optional.

Dates are relatively healthy, high in fiber, antioxidants, and a great natural sweetener. I try to exercise 3-4 times per week and found that as I've gotten healthier, I've also gotten hungrier! These date nut balls help boost my energy, especially on the go. I make them in place of Lara bars which I love but can get quite expensive, and frankly, after a while, they all start to taste the same. The homemade version is highly customizable, and easy to add a new flavor.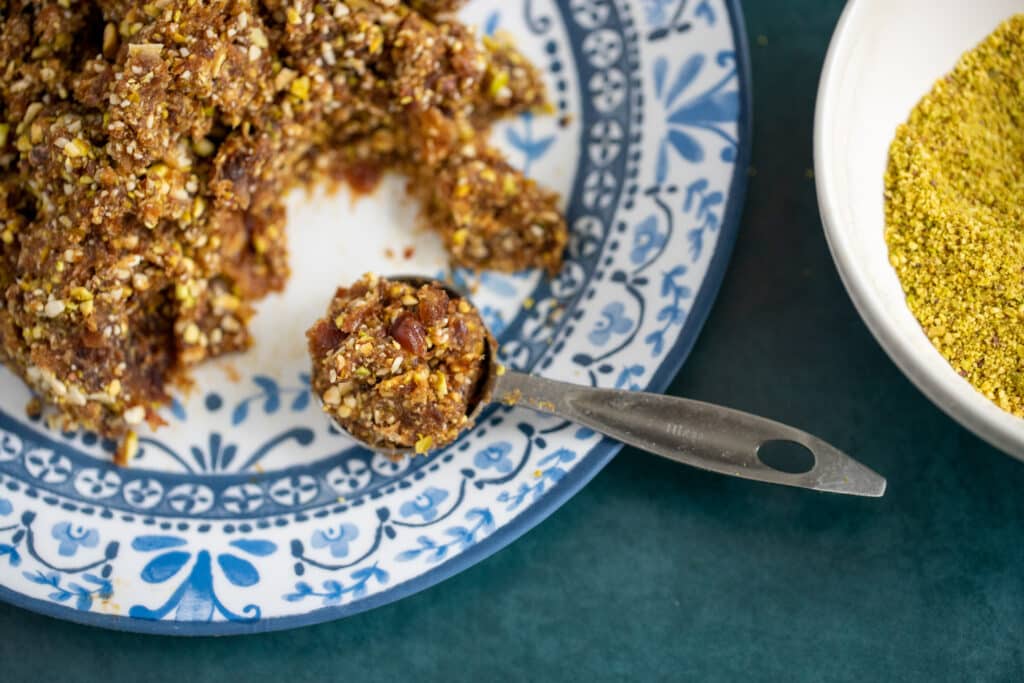 How to make date nut balls
First, place the nuts in a food processor and pulse until course. Next, add the dates and pulse on high until it forms a solid mixture. Scoop up a little at a time in your hand and roll into a ball. I like rolling these in ground pistachios and dry coconut. It makes for a beautiful presentation. Dates are a must for this recipe because it provides the stickiness to hold everything together. The only other substitute would be raisins, but then you can't call it a date and nut ball :).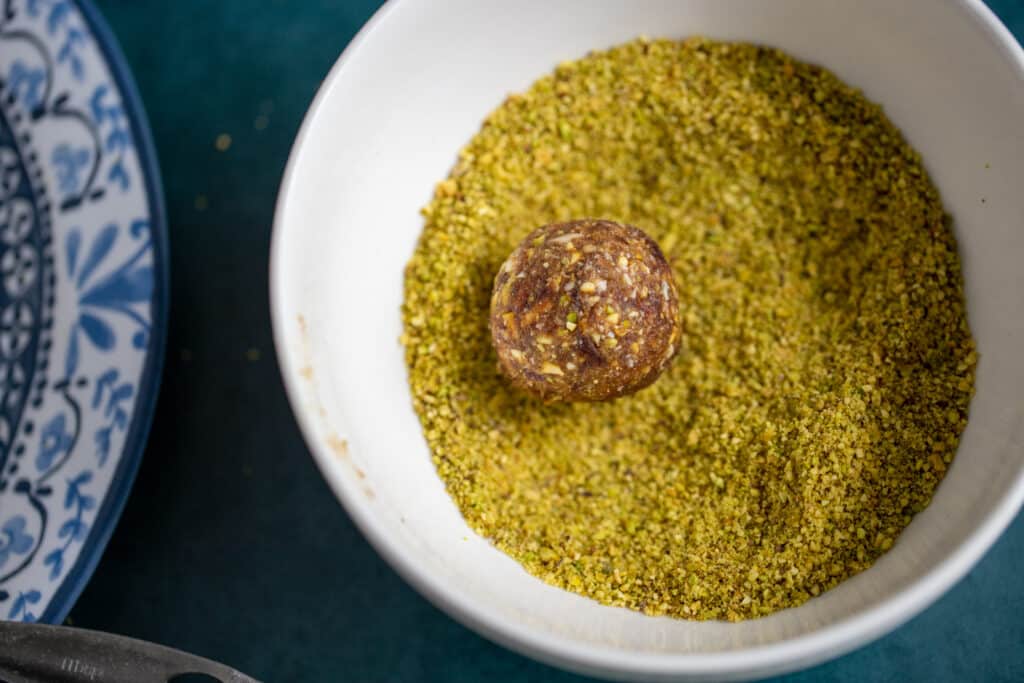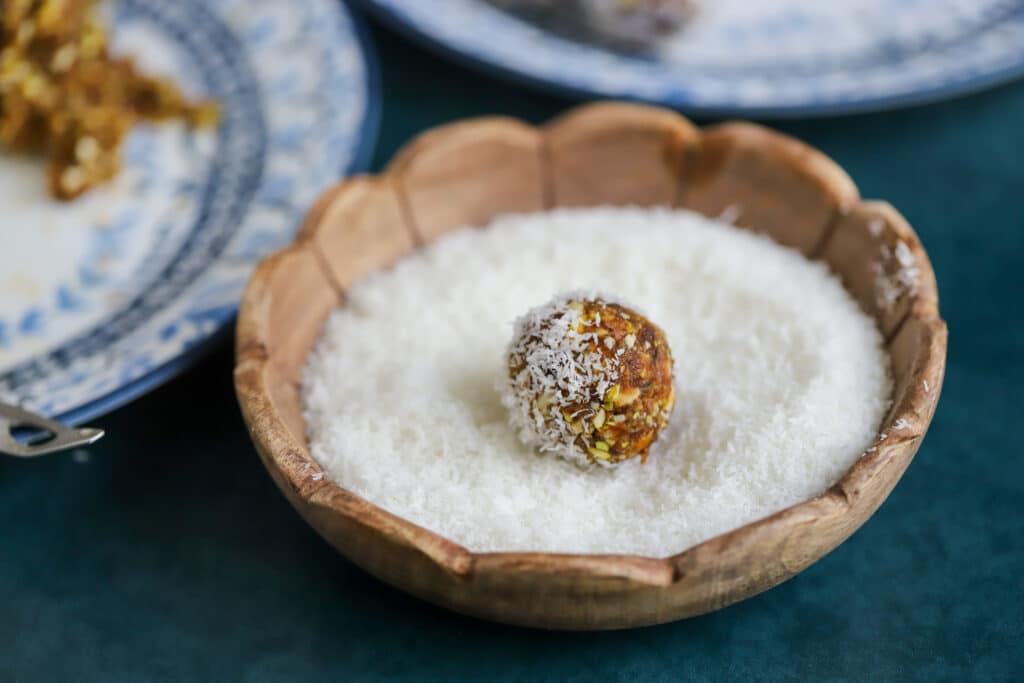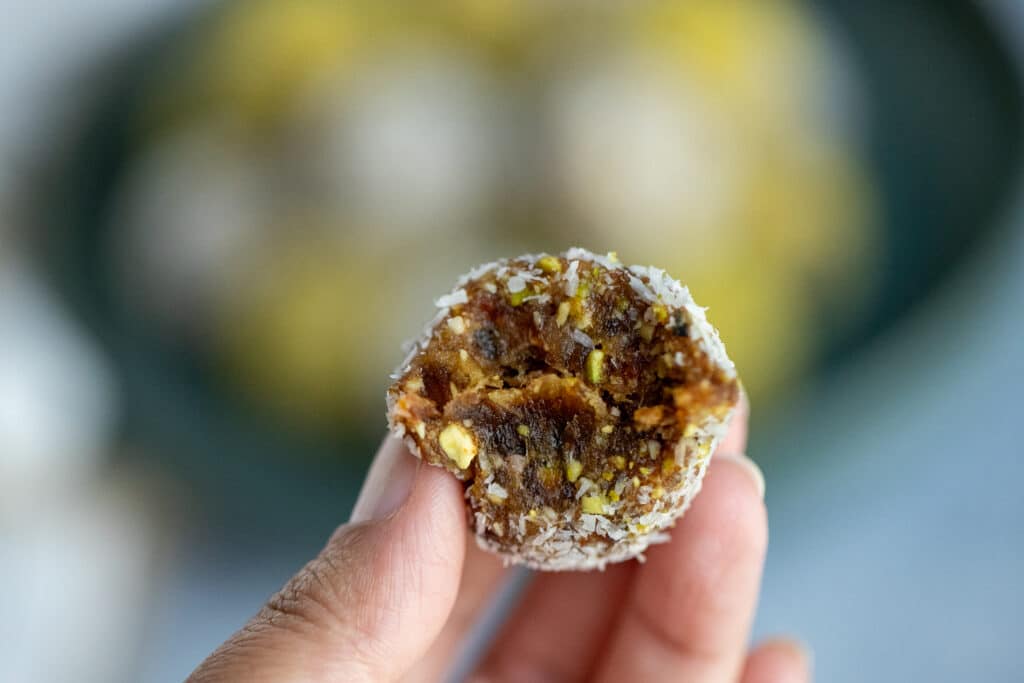 Customize your mix-ins
I am using cashews and pistachios in this recipe, but the nuts you use don't matter; use what you like. I've added walnuts, sliced almonds, pecans, rose water, and almond extract in previous batches for more variety of flavor. Some people add chocolate chips and oats. The options are endless here.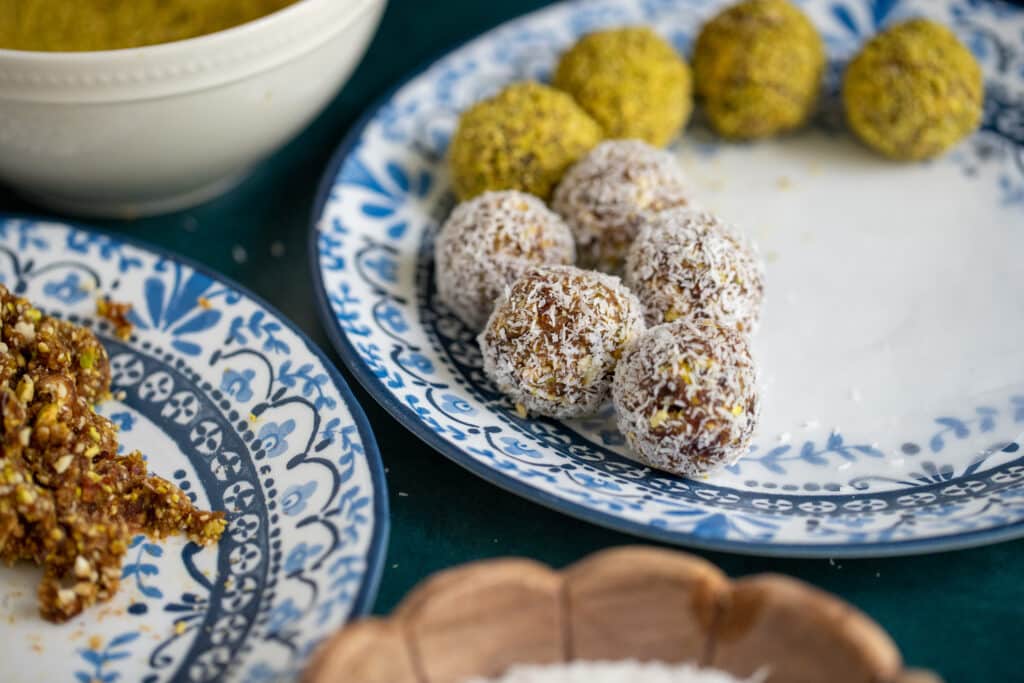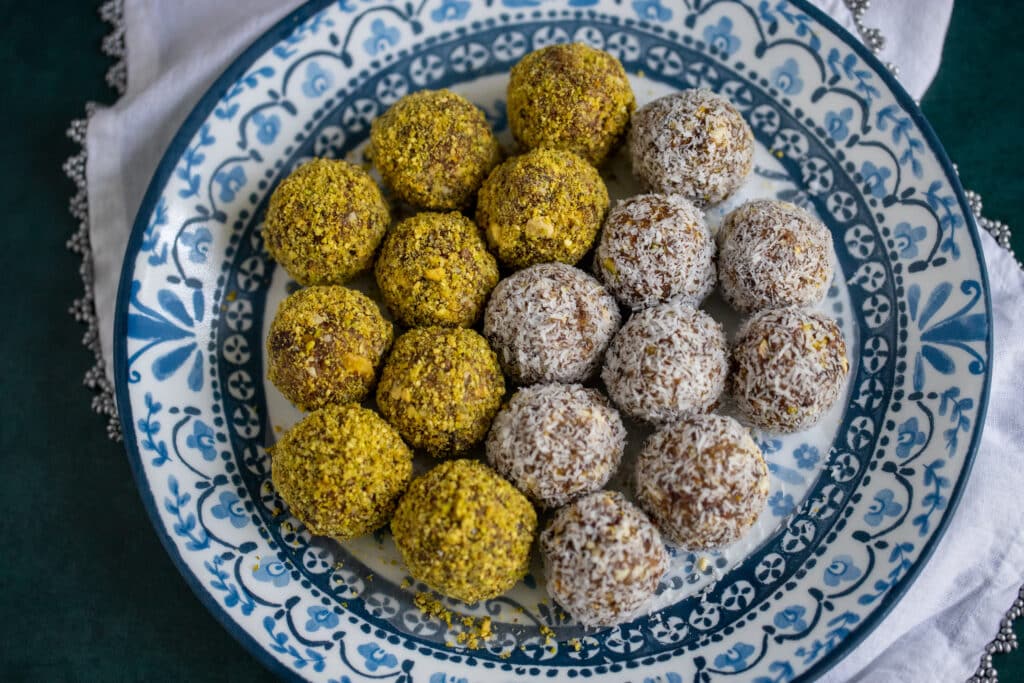 Date and nut balls
These easy date and nut balls are nutritious and easy to make with just three ingredients. Perfect for when you need an energy boost on the go.
Ingredients
Topping
¼ up dried coconut flakes, unsweetened
¼ cup pistachios, ground
Date Mixture
22 medjool dates
⅓ cup whole cashews, unsalted
⅓ cup whole pistachios, unsalted
Instructions
Grind pistachios for the topping: Place ¼ cup pistachios in a food processor. Pulse on high until very fine, almost like powder. Empty into a small deep bowl and set aside. Place coconut in a small bowl as well and set aside for later.
Grind cashews and pistachios: Place whole cashews and pistachios in the food processor. Pulse just a few times until the nuts are coarse. Leave nuts in the bowl of the food processor.
Combine dates with nuts: Add dates to the nuts and pulse on high until the mixture becomes solid and sticky when pinched.
Shape date balls: Use a tablespoon to scoop up some of the mixture. Place it between your hands and roll it into a ball. Continue until all the mixture is done.
Coat in toppings: Roll each date ball in the pistachio and coconut topping. Place on a plate or in a container with a lid.
Storage: Date balls will keep fresh in an airtight container for up to 2 weeks.