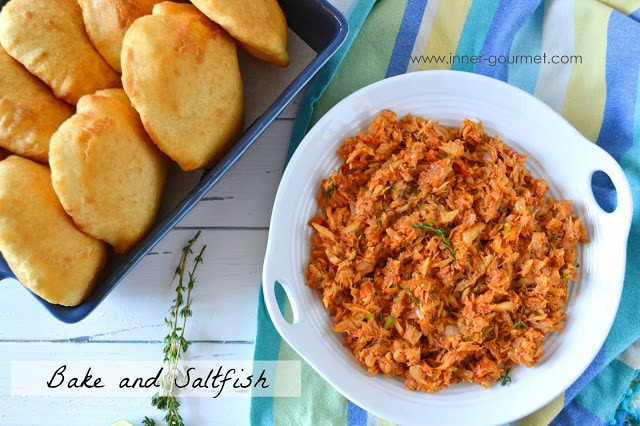 Is there any breakfast more iconic to Caribbean food culture than a delicious bake and saltfish? Golden fried dough paired with tomato-y saltfish was the perfect breakfast combo. Growing up, my mom used to make this for us on the weekends. It was a treat. I always loved the smell of the bakes frying; I knew something good was about to go down. Over the years this has become a dish I serve whenever we have visitors. It's always a winner. The combination is classic and always makes my guests feel like they're at home.
Every country of the Caribbean has their own way of making this dish. My Lucian friend makes her bakes quite small and dense; my Guyanese uncle makes his into triangular/rectangular shapes; while my Trinidadian in-laws make these quite large and round.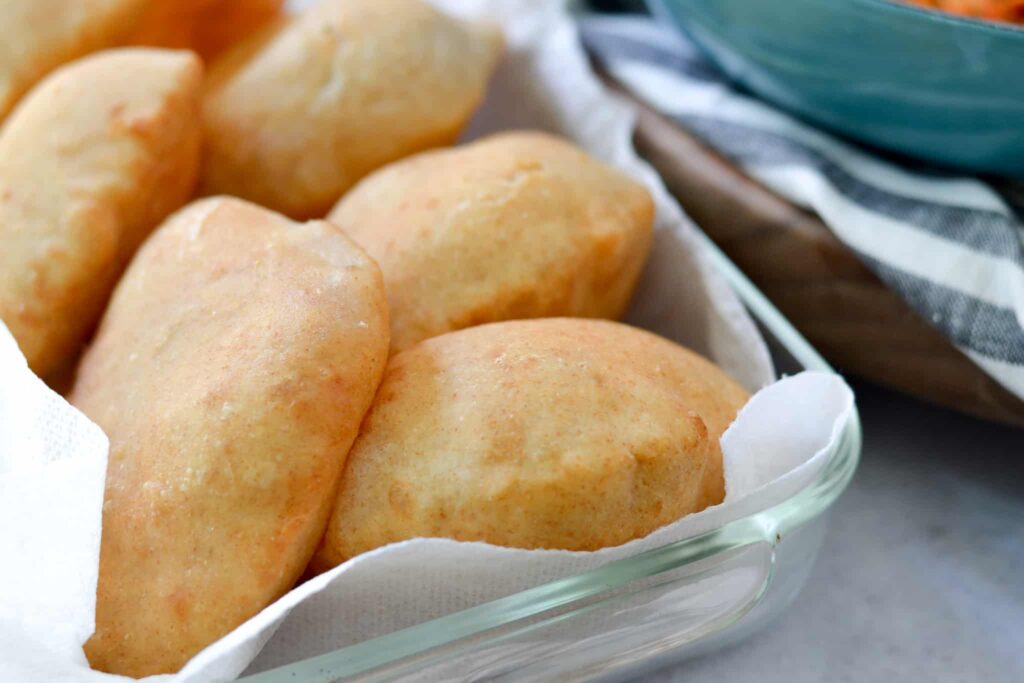 Some make these bakes so they have a huge air pocket in the center, Guyanese refer to this style as "float." The giant air pocket allows them to be stuffed, while others make them a little more dense. I like them both ways. My mom used to make the kind with an air pocket, but whenever I felt for the more dense version, I always bought it from Sybil's - a popular bakery in Queens, NY.
Pair these bakes with fry salmon and potatoes.
Dad on the other hand makes really good saltfish. It's flavorful and not unduly salty. With dried preserved fish like this one, if not properly washed and boiled, it can have a very rank taste to me. The key is to boil it twice to remove the heavy salt coating. You can also soak it overnight.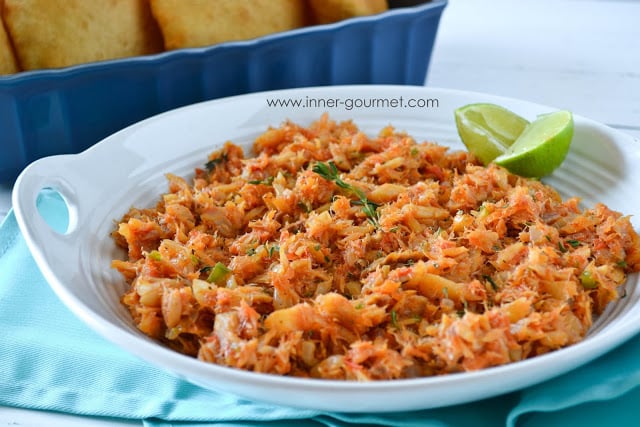 Get your bakes to swell every time
Any good Caribbean cook will tell you that there are a handful of things we tend to lose sleep over. Your roti isn't round, or it's hard. You burnt the sugar too much for stew chicken, or didn't burn it enough. The dhal in your dhal puri burst through the dough as you were cooking it, or you didn't put enough dhal. Your bakes fried up nice and brown, but they didn't swell in the least. These are the real life issues of a passionate cook. I would stand over the stove waiting for the bakes to swell and puff up. I saw my bakes go from white (raw), to golden brown, to dark brown, to burnt; still waiting for them to swell. Never happened. But that was the old me.
3 ½ cups of flour + 4 ½ tsp baking powder + ½ tsp salt.
There it is. It's been years since I have been following this ratio and my bakes come out perfectly puffed. Every. Time. Sorry it took me so many years to share this updated recipe with you. Better late than never. This measurement makes about 12-14 medium sized bakes which is enough for 5-6 people. Hopefully this will help some of you finally get it right or give you the courage to try your hand at this.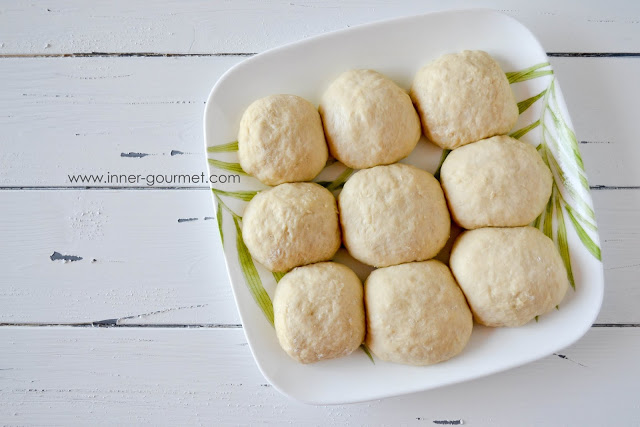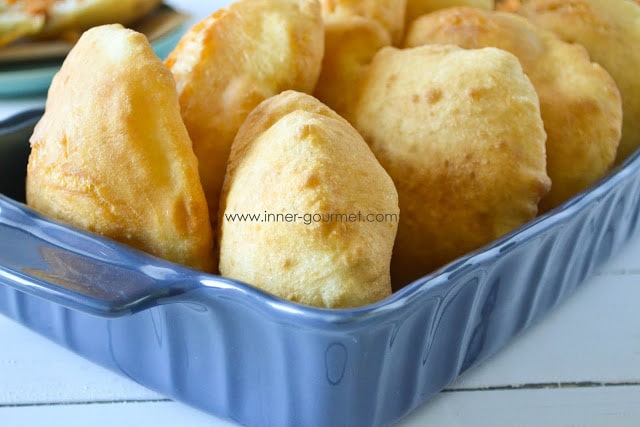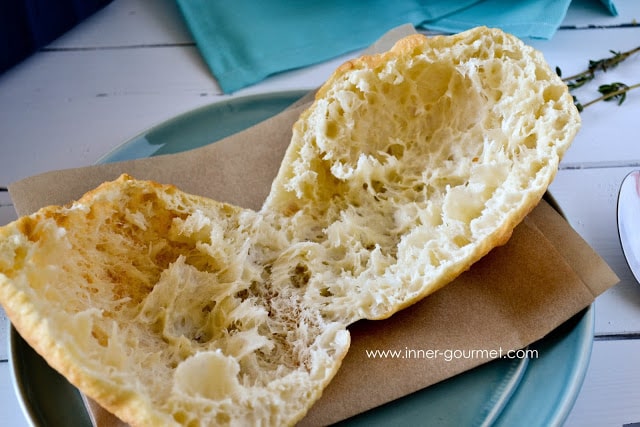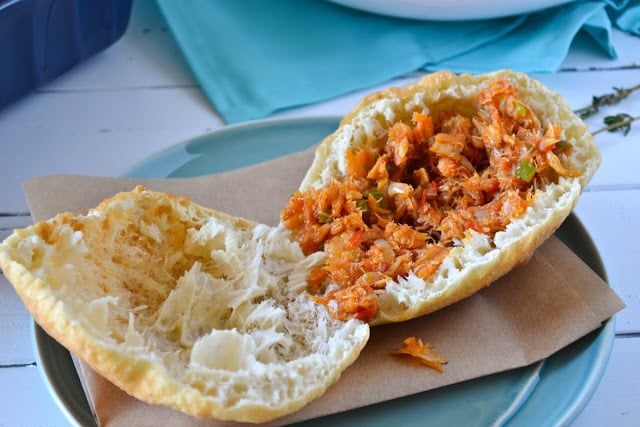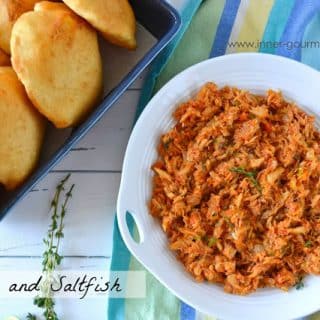 Bake and Saltfish: A classic Caribbean breakfast
Yield:
12-14 medium bakes
Ingredients
Bakes
3 ½ cups all-purpose flour + ½ cup more for kneading
4 ½ tsp baking powder
½ tsp salt
⅓ cup white sugar
2 tbsp unsalted butter, softened, but not melted
1 ⅓ cup water, more as needed
Oil for frying
Saltfish
20oz boneless, skinless, salted white fish such as pollock or cod
½ cup yellow onion, chopped
3 large garlic cloves, minced
1 wiri wiri pepper or scotch bonnet
¼ cup green pepper, finely diced
1 sprig thyme
½ tsp black pepper
½ tsp paprika
¼ tsp garlic powder
1 cup fresh tomato, chopped
1 tsp tomato paste
2 sprigs scallions
Salt to taste, if desired
6 tbsp oil for cooking
Instructions
For bakes: Mix flour, baking powder, salt, and sugar together. Rub butter into flour mixture. Add water to flour and knead to form a stiff and smooth dough ball. Add flour as needed to bring the dough together.
Pinch off golf ball -sized pieces of dough and roll in palms of hand to make smooth. Place in a greased plate. Cover with a damp paper towel. Allow to sit for one hour minimum.
Heat oil for frying. Flour surface and roll each dough ball to ¼-1/8 inch thickness. Place dough in hot oil. Use spoon to pour oil over each piece of dough as this will help it puff up.
Flip to other side. Fry until golden brown on both sides.
For saltfish: Fill the pot with enough water to cover saltfish. Boil for 5-6 minutes. Drain and fill with clean water. Boil another 5-6 minutes. Drain and flake fish with a fork. Set aside.
Heat frying pan with oil. Add onion, garlic, hot pepper, green pepper to pan. Cook until onions are translucent. Add saltfish and seasonings. Cook a couple of minutes then add chopped tomatoes. Let cook 5-6 minutes until tomatoes have melted into fish.
Add tomato paste and scallions. Mix well. Adjust salt to taste.
Recipe below is for the more dense type of bake.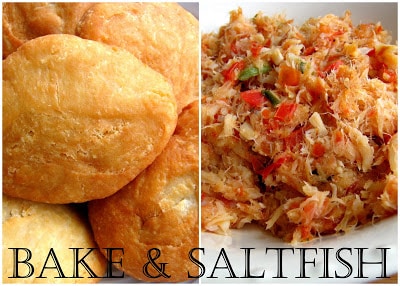 (makes 10-12 bakes)
3 cups all-purpose flour (substitute ½ cup whole wheat flour for a healthier option)

2 tsp baking powder

¼ cup white sugar

6 tbsp vegetable shortening or cold butter

½ tsp salt

1 cup water
Mix flour, baking powder, sugar, and salt together. Add shortening or butter. Cut in with a fork. Add water to knead dough. Add more or less water and flour as needed to bring the dough together. Roll into small dough balls and place on a greased plate. Cover with damp paper towel to avoid crust from forming. Let dough rest for one hour minimum.
Heat enough oil for frying.
Flour surface and roll each dough ball to ¼ inch thickness.
Fry until bake is golden brown on each side.