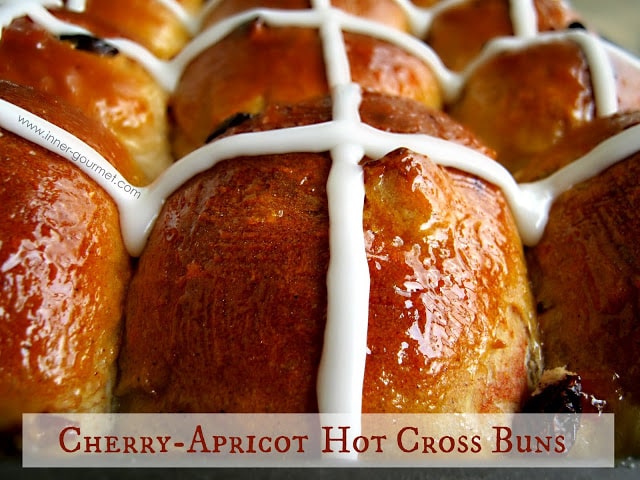 Did I ever tell you that I grew up in an interfaith home? My father is Christian and my mother is Hindu. When I was younger, my father wasn't so much of a church-going person, even though he was a believer in God, so I was never exposed to his religious customs as much as I was of my mom's. Dad went to church once in a while and more on holidays such as Easter and Christmas. My mother didn't want my brother and I to grow up without religion in our lives so she made us go to the temple with her consistently- we did, and eventually we adopted Hinduism as our faith. Nonetheless, we still supported my father and went to church with him and also celebrated Christian holidays. He also supported us and fasted when we did for important Hindu holidays or prayers and helped us prepare food for these events.
It was interesting to learn about a his religion and the different ways people accept God into their lives. Some may disagree or turn their noses up at this open-minded way of life, but it worked for our family and that's all that really mattered. My parents tried their best to not let their differences in their religious beliefs get in the way of their marriage and have been married for 41 years now. I know I've said nothing about the relation to hot cross buns so far, but keep reading, it comes full circle.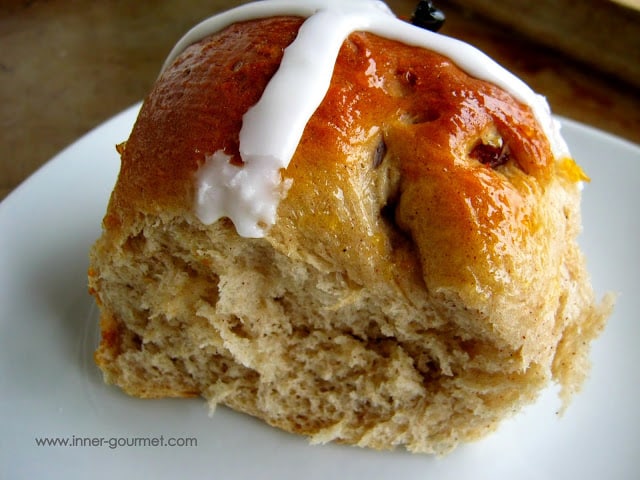 I remember on Good Friday, we would go to church and would come back home with paper bags containing hot cross buns. Family and friends that we knew from church would give them to us after service was over. My favorite part was the top of the bun, it always had more flavor it seemed, with or without icing. That was always my setback with hot cross buns-lack of flavor. I'm not sure if it was intended to taste plain so that a condiment could accompany it, but I always found myself toasting it and rubbing a little jam or jelly in there to enjoy it fully. A nice slice of Dutch head cheese was wonderful inside as well. We didn't normally make hot cross buns because it was always given to us, but this year I decided to test out a few family recipes and add some additions of my own; apricots, cherries, and apricot jam.
I loved the combination of fruits and the flavor of the dough, I added some orange and lemon zest in there too and ended up with some nice citrusy notes.
The amount of cherries and apricots added is up to you. A couple handfuls of any dried fruit would work in this dough. In the Caribbean it's common for macerated dried fruit to be added to the dough. Some people like to add whole currants as well, it's quite a pretty speckle along with mixed peel.
I did not find it necessary to write about the history of these buns since there is already so much information out there- check out some basic info here.
You'll need about ½ cup each of dried cherries and apricots. Add as little or as much as you like. Add any other dried fruits if you want.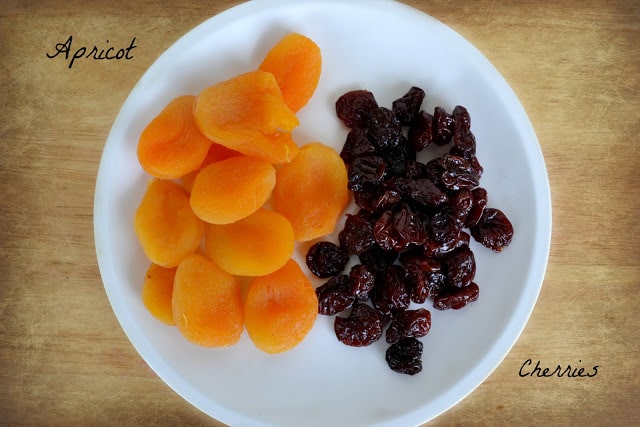 Start with the milk. Make sure milk is not too hot, otherwise it will kill the yeast. Lukewarm is best.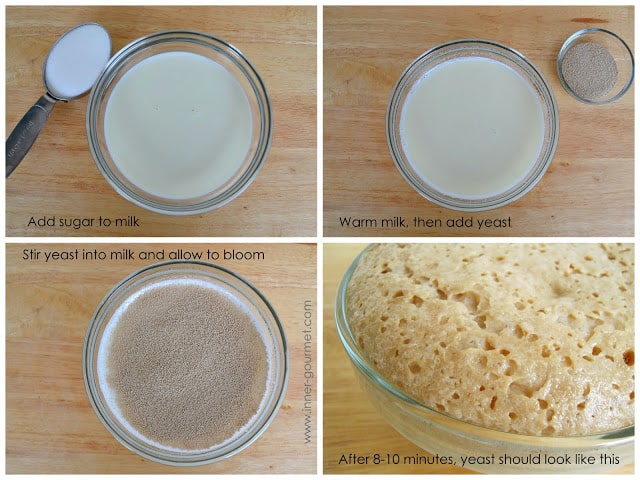 While the yeast is blooming, in a separate bowl, combine all the spices, salt, and zest of one lemon and orange. I added 1 tsp of allspice to this batch and for me, it was too strong. I reduced the amount to ½ tsp in the second batch which turned out fine for me. If you love the all-spice flavor, then add one whole teaspoon.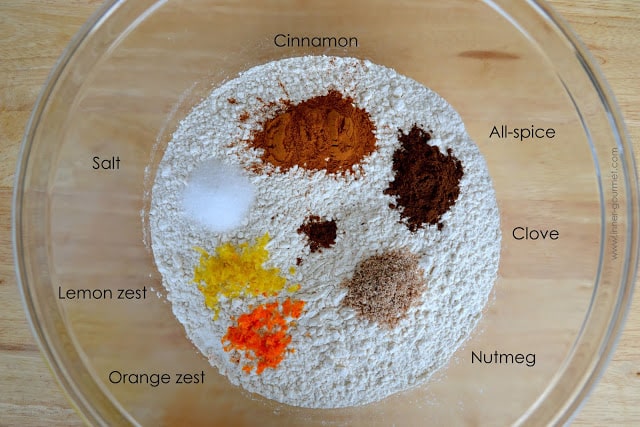 Mix in all the spices, sift it if you want. Add shortening and unsalted butter (since we're adding salt to the dough). Combine by using your fingers to pinch and smear the butter with flour until mixture is crumbly. You can also only use butter here. Add the yeast/milk mixture and eggs, mix to make a sticky dough.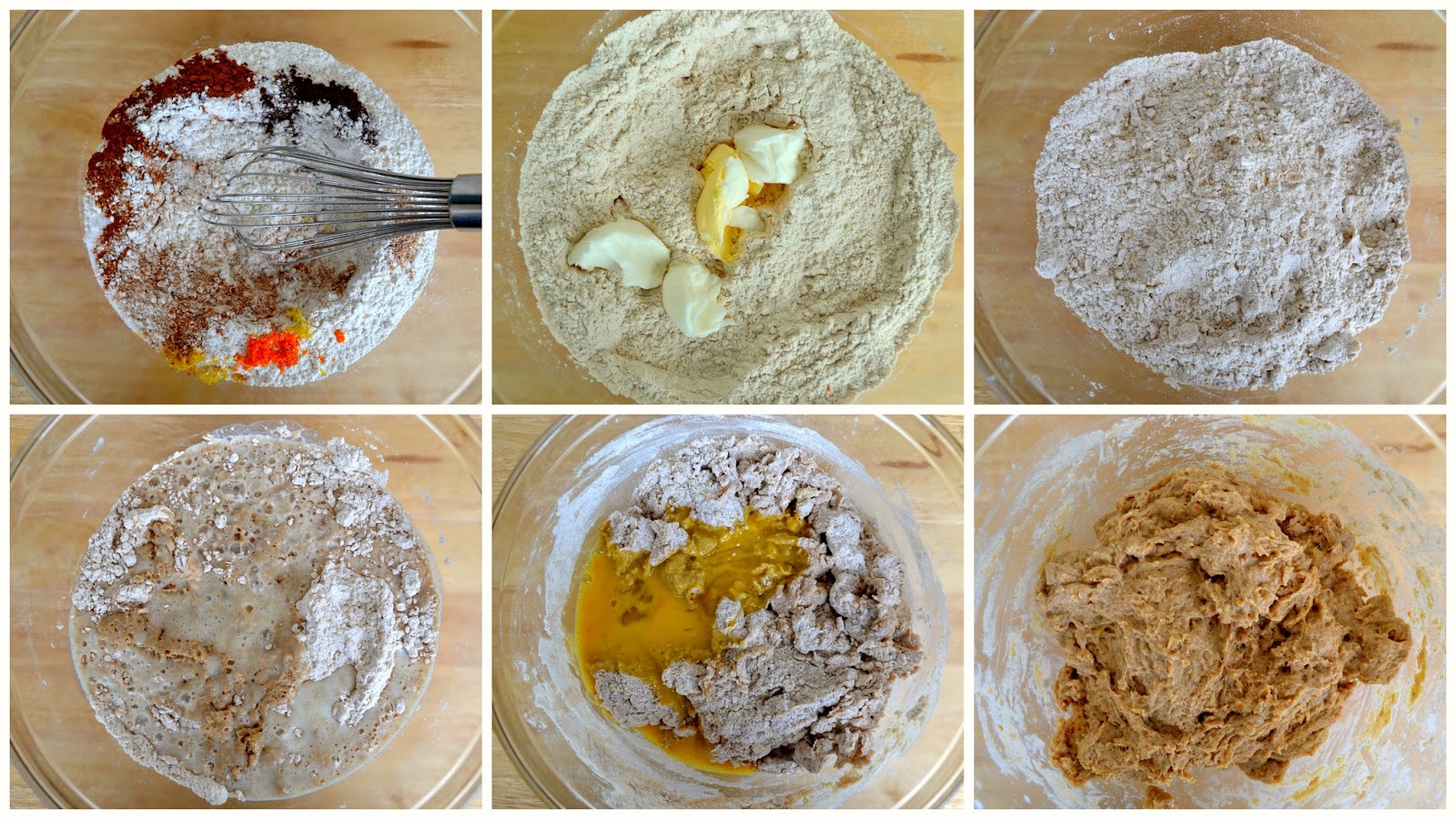 Give the apricots a coarse chop. You can leave the cherries whole or chop them up if you want.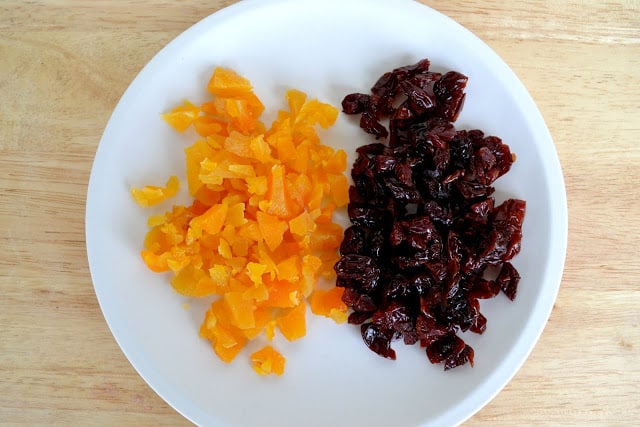 Add dried fruits to the dough, with your hands, combine so they are spread throughout the dough. Turn dough onto a floured surface. Knead until dough becomes smooth and elastic. This should happen pretty quickly, within a few minutes of kneading. Place dough into a deep oiled bowl. Allow doubling in size uncovered, about 30-40 minutes.
When the dough has doubled in size, punch down and knead for a few minutes. Pinch off lemon-sized pieces. Make the dough round by tucking it under itself until the top is smooth. Place in an oiled 9x13 baking pan uncovered. Allow doubling in size, about 30 minutes.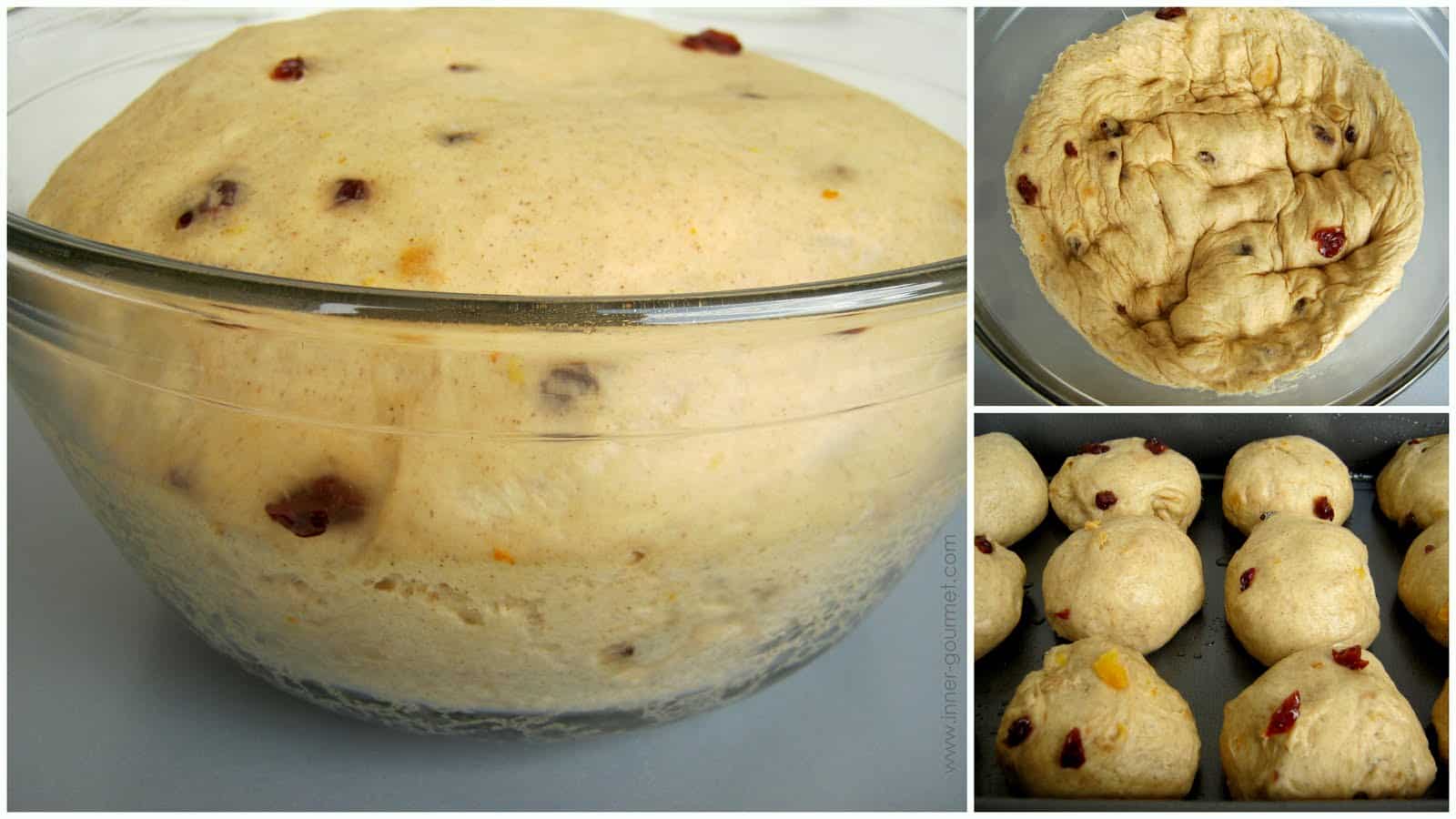 After dough balls have doubled in size, bake at 350 degrees for about 20 minutes, until tops are browned.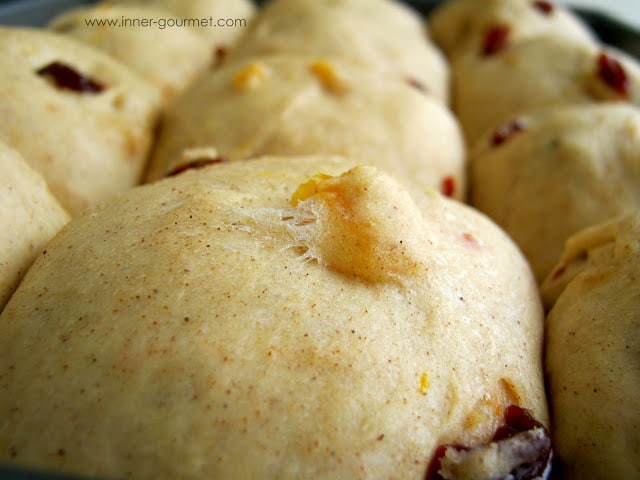 Like this.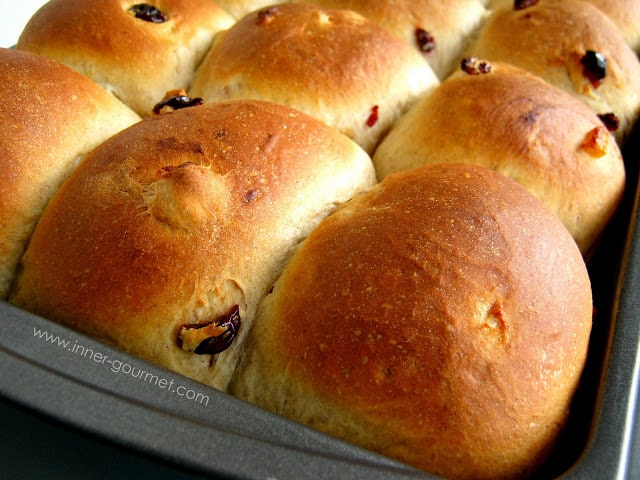 Grab some apricot jam, heat it up in the microwave for 30 seconds.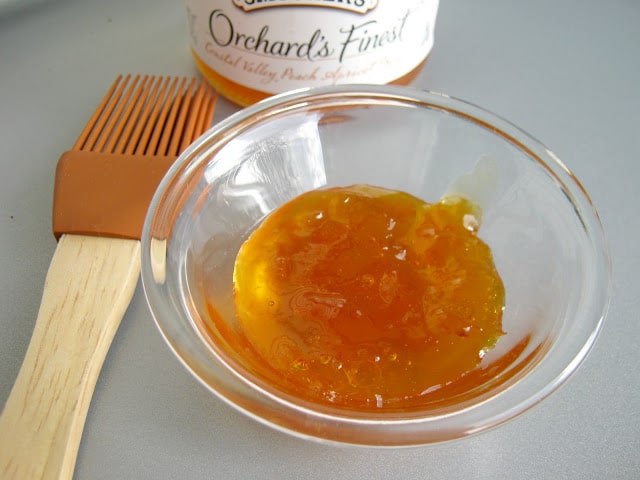 Brush on top of buns while they are still hot.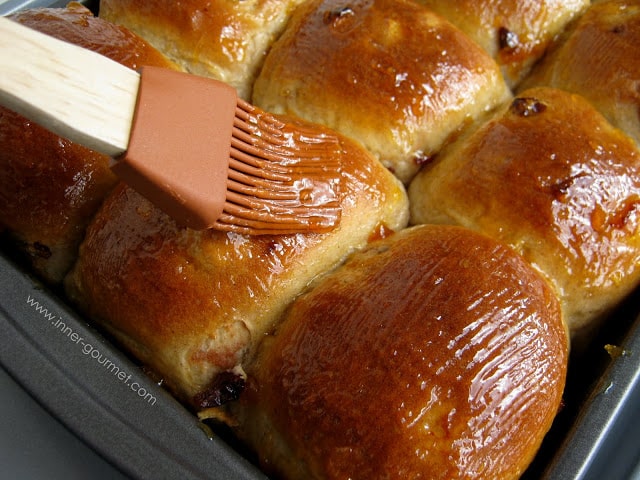 Let buns cool down before piping icing. If you do it while they are still hot, the icing will melt and your cross will not be a cross. It might look like a splatter of icing. You can use store bought icing (not frosting) if you don't want to make it.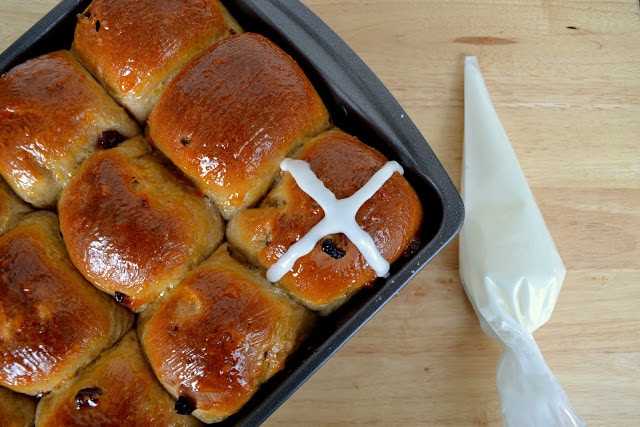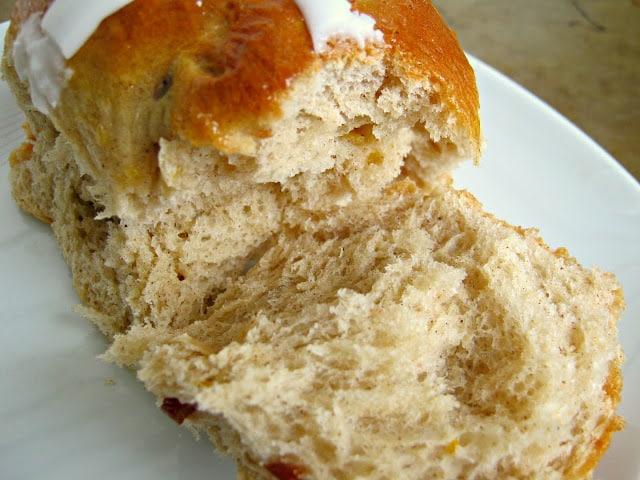 Cherry-Apricot Hot Cross Buns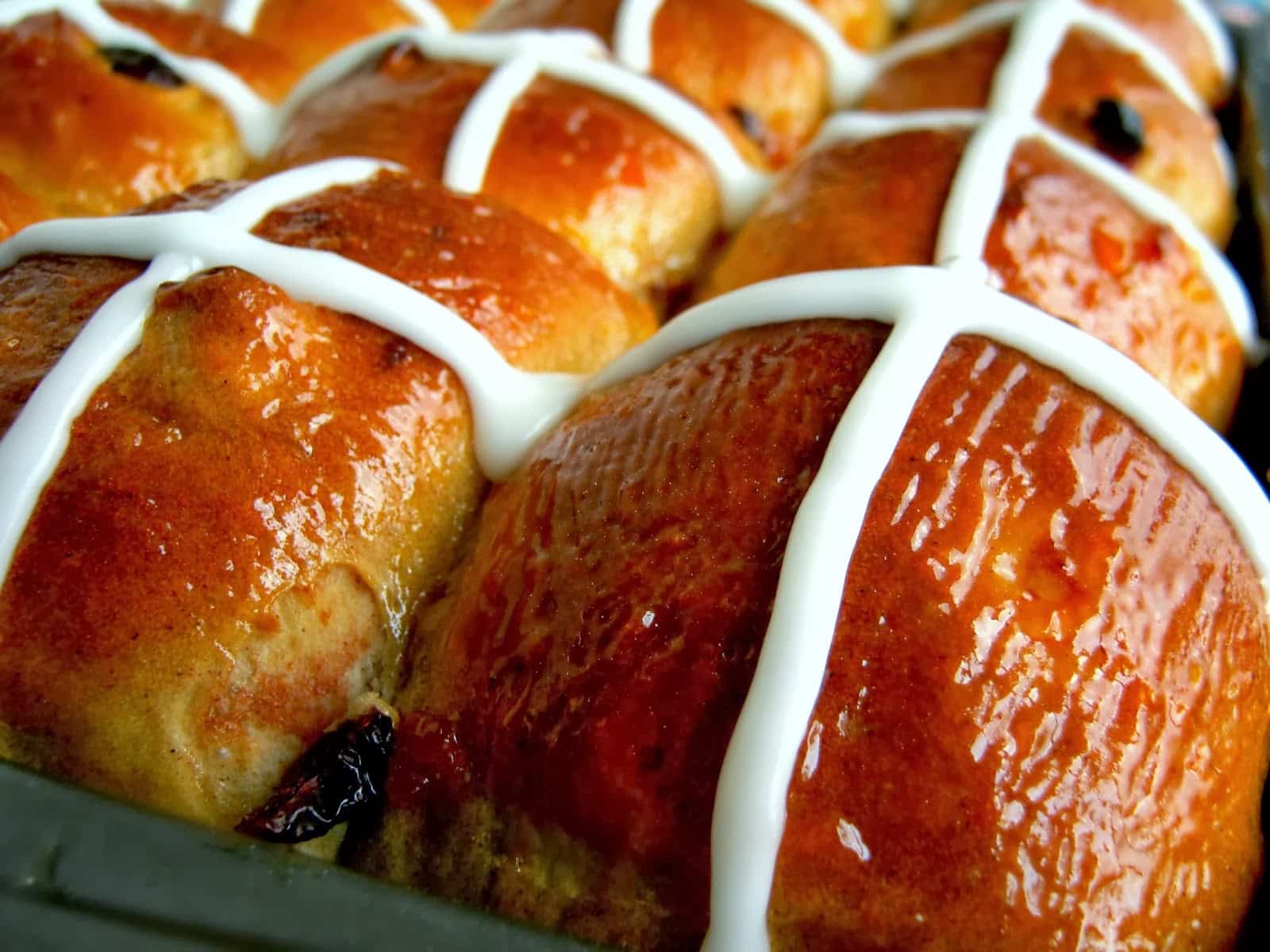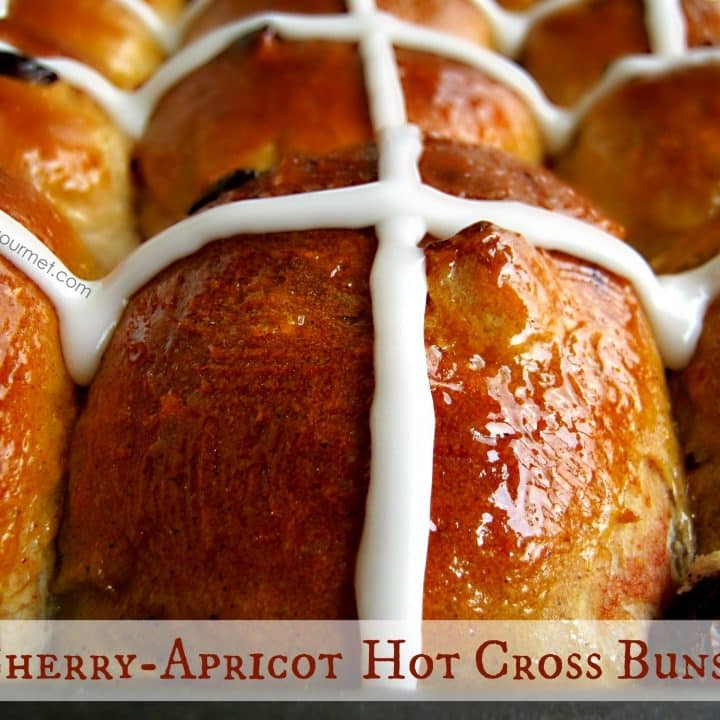 Cherry-Apricot Hot Cross Buns
Ingredients
4 cups all-purpose flour
1 ½ tsp ground cinnamon
¾ tsp ground nutmeg
¾ tsp ground allspice
¼ tsp ground clove
1 tsp salt
zest of one orange
zest of one lemon
2 tbsp vegetable shortening
4 tbsp softened unsalted butter
1 ¼ cup milk, warmed
½ cup brown sugar
2 ¼ tsp active dry yeast or 1 standard packet
2 eggs, beaten
1 tsp vanilla extract
1 tsp almond extract or mixed essence
½ cup dried apricots, coarsely chopped
½ cup dried cherries, chopped
¼ cup apricot jam for glaze
oil for greasing bowl and pan
Icing
1 cup powdered sugar
3-4 tsp milk
¼ tsp almond or vanilla extract
You can use store-bought icing as well
Instructions
In a bowl, combine sugar and milk, heat in microwave until lukewarm. Stir in the yeast and allow yeast to bloom for 8-10 minutes until it looks frothy.
Place flour in a deep mixing bowl. Add spices, lemon and orange zest, and salt. Mix together. Add softened butter and shortening, combine until crumbly.
Add milk/yeast mixture to flour mixture, combine to make a sticky dough. Add vanilla to beaten egg and pour egg into dough, mix well until egg can no longer be seen. Add dried fruits and mix in well.
Place sticky dough on a floured surface or knead right in the bowl. Using your fingers and heel of your palm, knead until dough becomes smooth by bringing the edge of dough into its center. Rub a thin layer of oil in a deep bowl, place the dough inside. Allow to rise until double in size, about 30-40 min.
After dough has risen, gently knead then break off lemon-sized pieces. Make the dough ball round by tucking it under itself so the top becomes round and smooth.
Place dough balls into an oiled 9x13 baking dish, allow to double in size uncovered, about 30 minutes.
Bake at 350 degrees for 20 minutes until tops are brown.
Heat apricot jam in microwave, brush buns immediately after removing from oven.
After buns have cooled slightly, put powdered sugar in a bowl, stir in vanilla or almond extract and one teaspoon at a time of milk until the icing feels a little stiff. Pour mixture into a zip-lock bag or pastry bag and pipe the crosses onto the buns.
Notes
Notes
You can use 6 tablespoons of butter if you do not have shortening.

Place dough in a warm location with a bowl of steaming water. I placed mine in the microwave with a bowl of boiling water. The steam helps to keep the air moist, which helps the yeast develop and bloom in the dough.
Making the dough balls round is not necessary, you can just break off the pieces and place them into the 9x13 pan. It will still rise and form a shape.