This classic french toast is perfect for a lazy weekend morning or any brunch menu. Thick slices of brioche bread dunked in a spiced custard then cooked till crisp on a cast iron skillet is the most comforting thing you'll eat all weekend.
I've been making this recipe so long that I've perfected it to have the right balance of everything you'd expect from a good french toast. Crisp edges, soft center, and intense flavor. The ingredient list is short, but I feel making french toast is mostly about technique and for that reason today's post is tip-heavy! Try to follow the recipe as is and I promise it will be so good!
Tips and recommendations:
Use stale bread. If you have a fresh loaf, slice the bread the night before and leave on the counter covered with a kitchen towel. This will help the bread dry out a bit. You can also slice the bread and place on baking sheet in oven at 275 degrees F for 10 minutes to dry out if making french toast within the same hour.
Use butter and oil to fry the bread. Butter alone will burn before allowing bread to completely cook through. Wipe skillet after every few slices to keep it clean of brown bits.
After cooking each slice of bread, place on a baking sheet in oven around 275 degrees F to keep warm while you finish cooking the rest of the loaf. This also keeps the edges crisp.
Guyanese plait bread works well here, if stale.
Change up the flavor profile! I've added bourbon, grand marnier, and even a splash of dark rum to the custard.
I sometimes make coconut french toast with this recipe. Add some coconut milk to the custard. After bread has soaked in the custard, dip in coconut flakes and place right onto hot skillet.
Cook bread in a cast iron skillet or a tawa. It really helps the bread cook evenly and also gives it that desirable crust.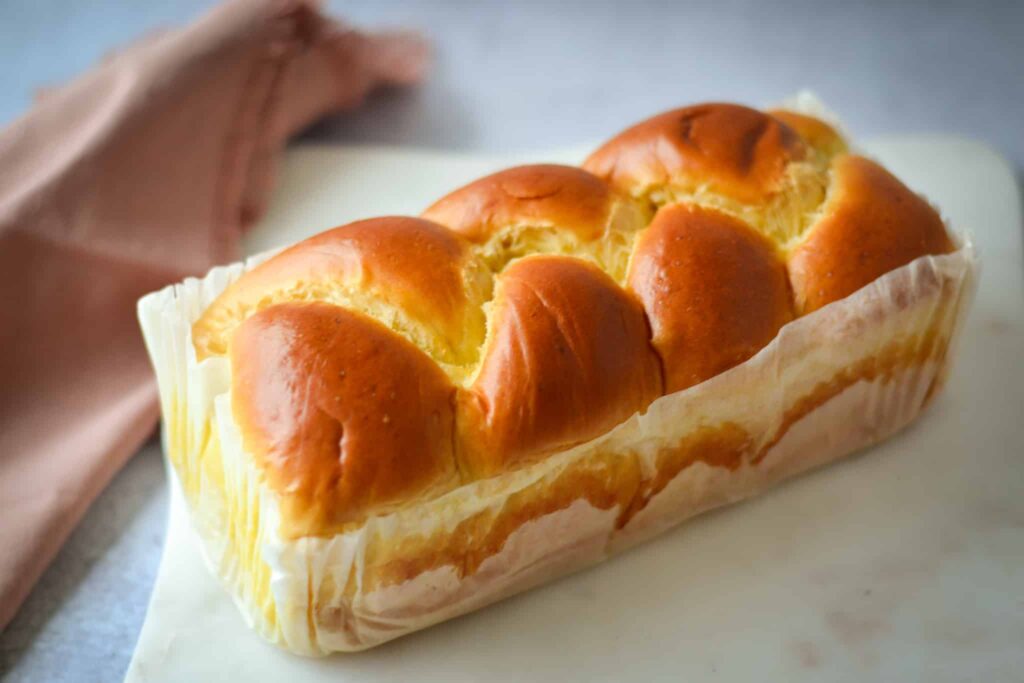 Best bread for french toast
I'm using store-bought brioche bread for this recipe. It's a perfect choice for french toast. It's thick and strong enough to hold up to the heavy custard and it has a nice sweet flavor profile. Challah would be my next option or Guyanese plait bread.
Egg to milk ratio
A good egg to milk ratio is crucial so that your toast doesn't end up tasting like scrambled eggs on first bite. This particular recipe is for 8 slices of toast, but if you want to scale the recipe for more or less, then ¼ cup of milk to 1 egg is good for 2 slices.
Click here for a vegan recipe.
Alternative ingredients
I've not made french toast with gluten free bread, but I have substituted different type of milks. Cashew milk is my favorite option because it is has a nice creamy consistency. Oat milk, almond, and coconut can also be used here.
Easy French Toast Recipe
This french toast is lightly sweet and golden brown, it's a delicious breakfast or brunch. Use brioche, challah, or Guyanese plait bread for the best texture.
Ingredients
8 slices stale brioche or challah bread, sliced 1-in thickness
4 eggs
¼ teaspoon orange zest
2 teaspoon vanilla extract
½ teaspoon salt
1 tablespoon brown sugar
1 heaping teaspoon ground cinnamon
¼ teaspoon ground nutmeg
½ cup whole milk
¼ cup evaporated milk or heavy cream
Neutral oil for cooking (avocado, grapeseed, or peanut oil work best)
Butter for cooking
Topping
Instructions
Prep the custard mixture
Preheat oven to 275 degrees F.
Crack eggs in a wide shallow dish. Add orange zest and vanilla. Whisk a few seconds. Add salt, brown sugar, cinnamon, nutmeg, whole milk and evaporated milk. Gently whisk until spices are no longer lumpy.
Soak bread
Cut bread into 1-inch thick slices. Have four slices soaking at a time.
Quickly dunk four slices into custard mixture one at a time. Flip to the other side and dunk again. Do this rather quickly so the bread does not get overly soaked or it will be soggy. Place soaked bread on a medium baking sheet and wait 5 minutes to ensure bread is soaked through before adding to the skillet. Repeat this process with the remaining four slices as you are cooking the first set.
Cook
Heat skillet on medium. Add a little oil and 1 teaspoon butter.
Place once slice on the skillet. Cover with a wide lid. Cook 2 minutes or so on each side. When finished transfer cooked French toast to another baking tray or dish and place in the oven to keep warm while cooking remaining slices.
In between dunking each slice of bread, gently whisk custard to bring spices up from the bottom of the dish. Wipe skillet as needed to remove brown bits. Add more oil/butter to cook the next batch.
Top with butter and syrup. Dust powdered sugar if desired.
Storage
After french toast is cooled, place in an airtight container and keep in the fridge for 3-5 days. To freeze, place a sheet of wax or parchment paper between each slice of french toast, then wrap tightly in aluminum foil or place in heavy-duty freezer bag.
To Reheat
Oven: heat oven to 350F. Place french toast on a baking sheet and heat for 8-10 minutes.
Air fryer: set temperature to 350F, once ready, put the French toast inside and air fry for 4–5 minutes.
Skillet: Using the stovetop, preheat the skillet to low heat. Once it's ready, place the frozen French toast and let the low heat do the job. Flip once to heat the other side.
Notes
This recipe is for 8 slices of toast. To scale for more or less slices use a ratio of ¼ cup of milk to 1 egg for 2 slices of 1-inch thick sliced bread.  Adjust spices to taste.