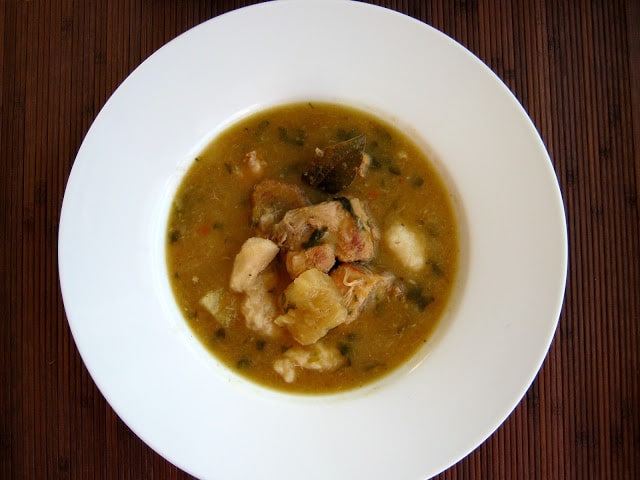 Did I ever tell you what an amazing cook my father is? No? Well let me tell you, he is an EXCELLENT cook. He really knows his flavors and has a very well developed palate. He loves to experiment in the kitchen and is very meticulous and careful when he combines different flavors. Its like he can taste a dish in his head before he actually cooks it and knows the exact ingredients to include so that it all comes together just the way he imagined. I have never tasted a dish my father made that I did not like.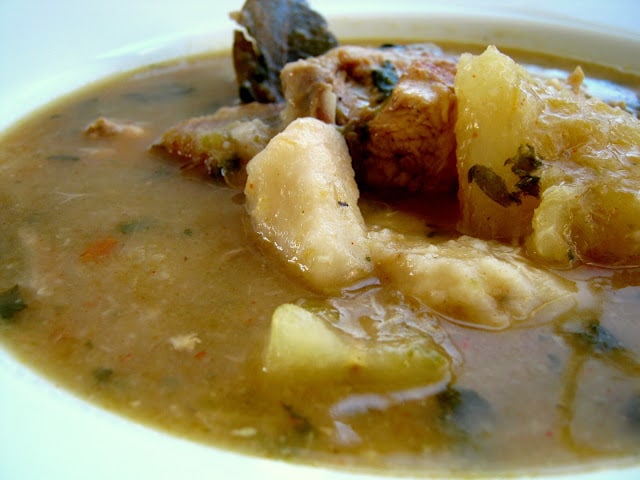 Although my mother cooked our day-to-day meals growing up, my dad would always cook something special and different on Sunday afternoons. He loves trying different cuisines and experimenting in the kitchen, but there are a few of his signature dishes that would always suffice on Sundays if he didn't know what to make, one of those dishes was his chicken soup. This soup is a classic in Caribbean cuisine and has variations based on country. Root vegetables are mostly used with the addition of fish or meats. My favorite is the cassava and plantains.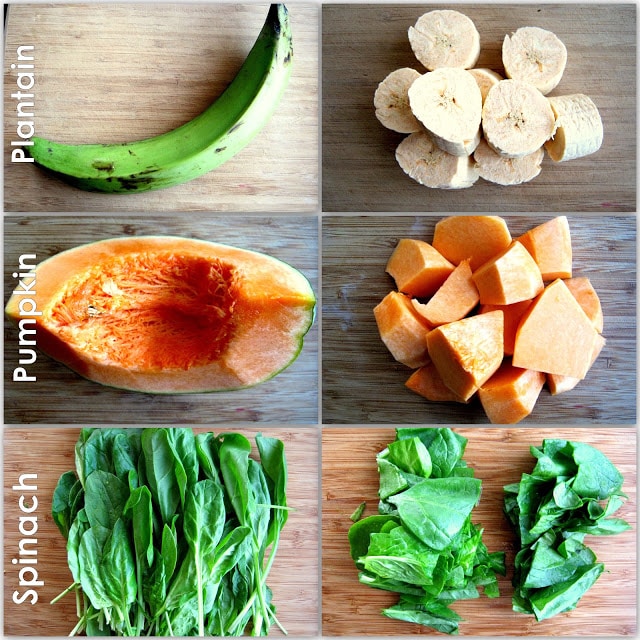 This was no ordinary chicken soup you know, this was a flavorful, good-for-you soup with lots of healthy vegetables and spices. The broth was always so deliciously spicy, it made your eyes water and nose run, but you just kept eating it because it tasted so damn good.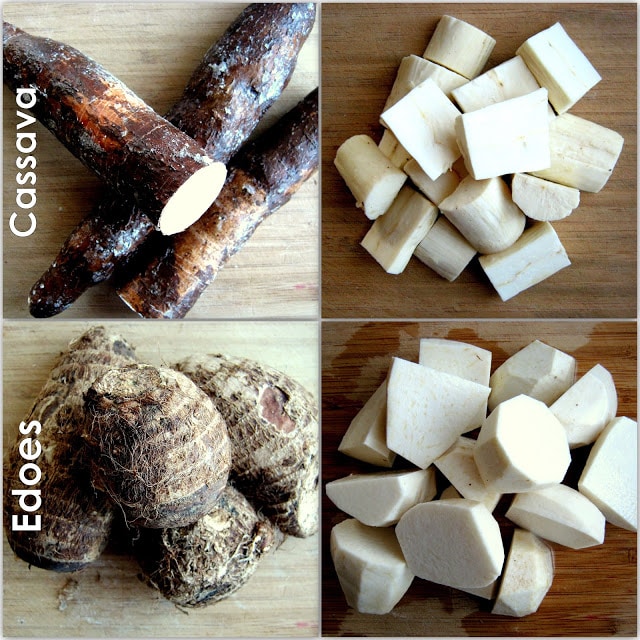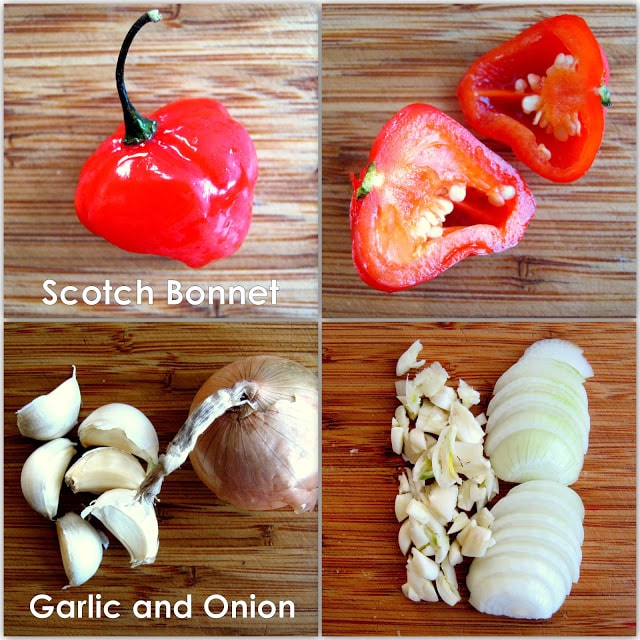 Add the pumpkin, spinach, onion, garlic and pepper
to the pot and boil for 25- 30min.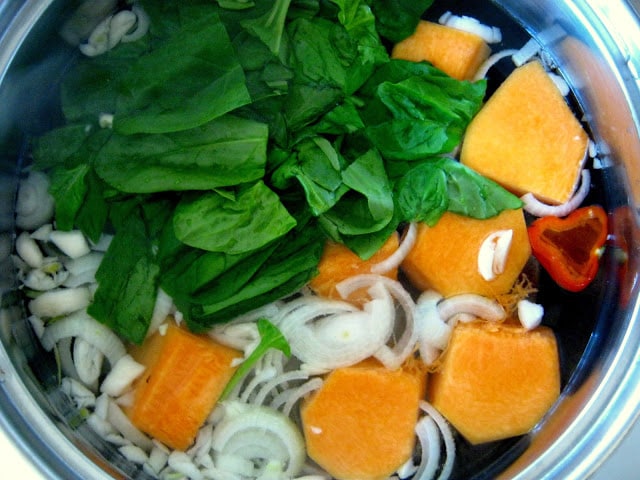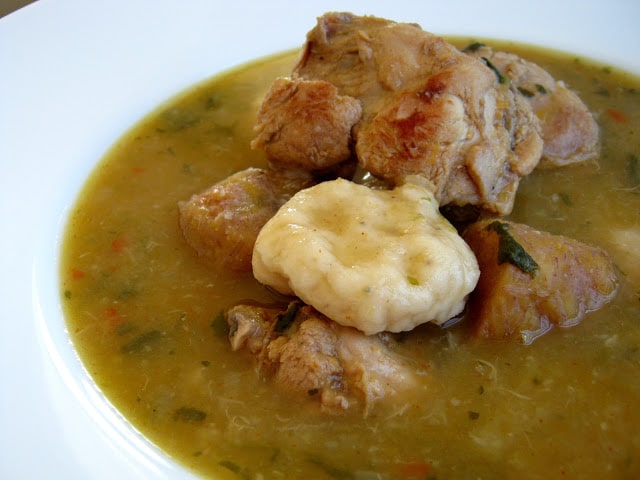 My dad makes his base from pumpkin and a little bit of split peas which gives it a different flavor, but still one that is very tasty. The pumpkin will melt throughout the cooking process and give the soup a nice flavor.
Bouillon cubes, they give the soup such a great flavor.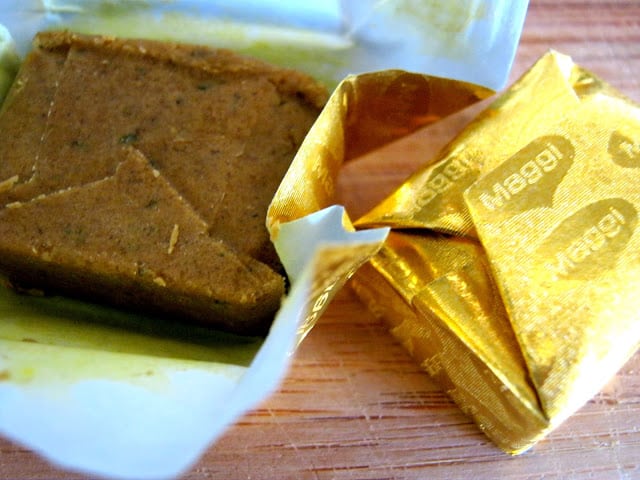 How can this be a soup without the dumplings right?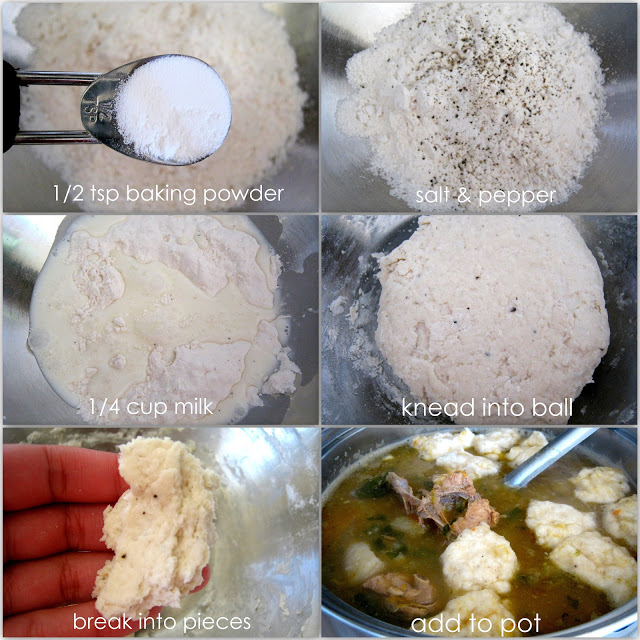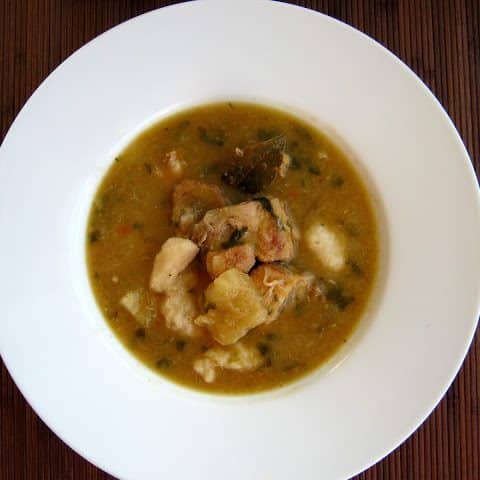 Dad's Sunday Afternoon (Guyanese) Chicken Soup
Ingredients
For Soup
3 large chicken bouillon cubes (if you have small ones, use 6 cubes)
1 tsp black pepper
1 tsp salt
5 cloves of garlic
1 onion
1 gallon of water (16 cups)
¼ cup yellow split peas (not pictured)
2 skinny cassava chopped into 2 inch pieces (I say skinny b/c the thicker ones are just harder to peel)
4-5 edoes chopped in half or quarters if you bought large ones (4-5 is about ½ lb)
½ lb pumpkin chopped into 4 in pieces
2 cups chopped fresh spinach (1 cup if using frozen spinach)
1 green plantain chopped in 1 ½ inch pieces
2 bay leaves
2 red scotch bonnet peppers or 3 wiri wiri peppers
For Chicken
2 lbs chicken cleaned and chopped in medium size pieces
1 tsp black pepper
1 tsp cayenne pepper
1 tbsp casareep or browning sauce
For Dumpling
¾ cup flour
½ tsp baking powder
½ tsp salt
¼ tsp black pepper
1tbsp butter, (not pictured)
¼ cup whole milk
Instructions
Clean, chop, and season the chicken, set aside
Pour 16 cups of water into a large deep pot and bring to a boil.
After peeling, wash cassava, edoes, and plantain, set aside.
Rinse and chop spinach, pumpkin, onion garlic and scotch bonnet then put into boiling water with ¼ cup washed split peas. Cover with lid, reduce heat to medium, and continue to boil for 40 minutes.
Use pot spoon to mash the pumpkin on the side of the pot to see if it is soft. The peas should also be soft, if it is not, continue to boil until it is almost disappearing into the soup.
Once peas are soft add the plantains, cassava, and edoes along with 3 bouillon cubes, and bay leaves.
If you feel this needs more water you can add another 2 cups at this point.
Turn the heat to low-medium and let the vegetables cook for another 20 minutes until they are medium-soft.
While the vegetables are cooking, make the dough for the dumpling (it will be a stiff dough which is okay.
Cook the chicken in a separate pan in 1 tbsp of oil. Saute until the chicken is cooked and browned.
Once the edoes, cassava, and plantains are cooked through, add the chicken to the soup. Let the flavors simmer together on low heat for 15 minutes. Give it a good stir.
Break small pieces of dumpling dough and drop it into the soup. The dumplings will cook in approximately 5 minutes. Stir the soup as your drop the dumplings in.
Let it simmer for an additional 10 minutes.