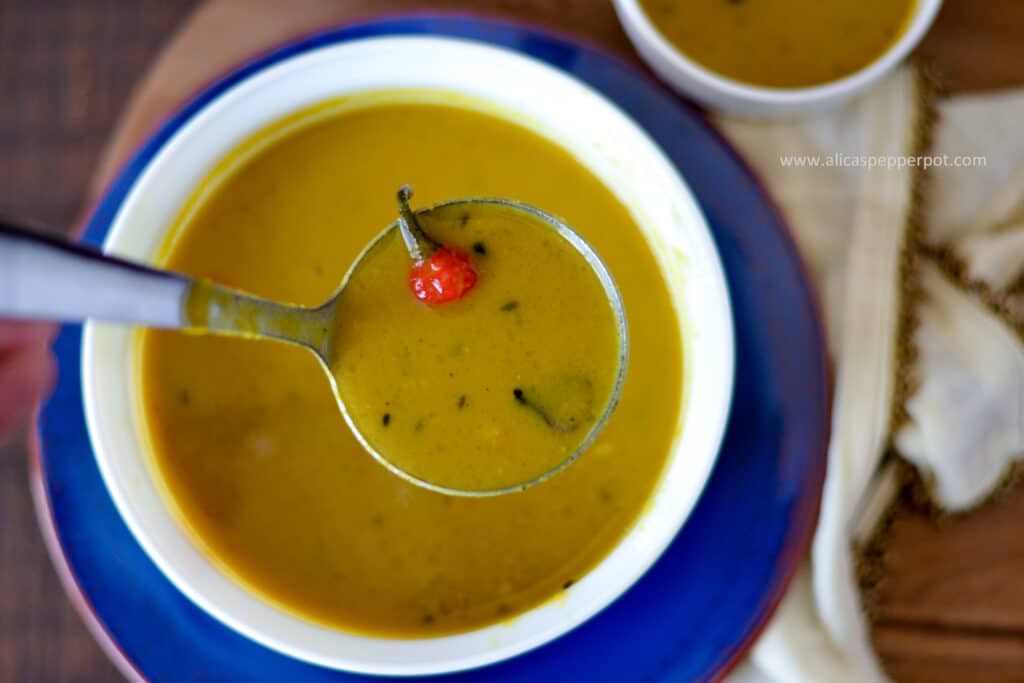 For version one of my dhal recipe, which follows a different cooking method, Click here.
Today I'm sharing my great grandfather's technique for making dhal, a staple in Indo-Caribbean cuisine. A plate of dhal and roti alone is so filling and comforting. I think it's one of the simplest dishes to make and is quite healthy, too. The split peas used to make the dhal provide protein and fiber and the spices which flavor the dhal are known to have healing properties (ex. turmeric). It pairs well with just about anything; roti, rice, curry, or simply an empty cup. My father would ladle dhal into a teacup and walk around the house sipping and stirring.
My Great Grandfather, the healer and Cookman
My great grandfather's name was Motie Singh. He was from De Kinderen, a village located in West Coast Demerara, Guyana. He was born in 1922 and passed on at age 72. I knew him as a child, but have very few memories of him. The photo above is one of the only memories of us together. Also, not a very flattering photo of me. Wha yuh go do. I remember him as a healer in our family; his hands were blessed. My father would go to him instead of a medical doctor to receive help with muscular aches and pains. People would travel from other parts of Guyana to visit him so he could fix their ailments through his method of vigorous massage. My uncles would recall him being able to "put your joints back into place."
He had a knack for cooking. He cooked often at home, but was also a wedding house cook! If someone was getting married, he would go to their home and help prepare the large batches of food served after the wedding ceremony. My grandmother and her sister, Aunty Savitree, recall his hand-cooking as "sweet," meaning his food was so tasty you would lick your fingers. In his time, there was no such thing as a recipe to follow or even measuring of ingredients. He cooked based on how the food looked and what he felt it needed. Today, many of my favorite foods that my grandmother makes are dishes she learned to cook from him. These stories help me realize that my passion for sharing love through food runs deep in my bloodline.
Bounjal Dhal
Great grandpa Motie made the best dhal according to my grandmother. She called it, "bounjal dhal" or sometimes "wedding house dhal." Bounjal simply means to saute the split peas and spices in oil, with the onions, garlic, and pepper until the spices dry onto the peas. In a sense it is like toasting the peas. Anytime you toast an ingredient, it brings out more flavor in the food. After bounjaying the split peas, water is added to let the dhal boil until thick. The process is finished with chunkaying the dhal. Chunkay means to add a smokey layer of fried garlic and cumin seeds at the end. It creates another layer of flavor and is sort of iconic to the taste of Indo-Caribbean dhal. Many people make their dhal this "bounjal" way, but it is different from my mom's way which is more of an all-in-one method. Find the recipe here. She adds all the ingredients to the pot at once and lets it boil until thick and smooth.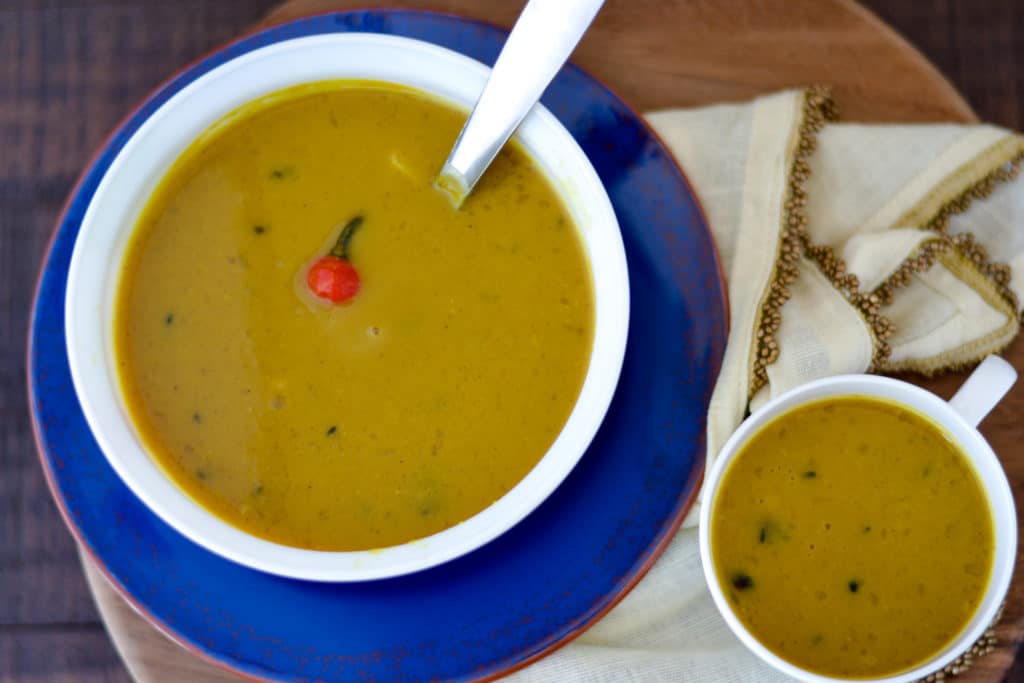 I've used my great grandfather's technique to make this recipe and it is fantastic. Whether you enjoy your dhal thick and chunky or thin and runny, I hope you love the flavors of this Guyanese-style dhal and don't forget to take a look at Matthew's recipe here.
Make it your own + A Few Tips
Throw in these add-ins to make it heartier:
Add in a handful of spinach, okra, or a few sticks of saijan (moringa)
Use different peppers to flavor the dhal
Use a combination of green and yellow split peas
For a chunkier/thicker dhal let dhal simmer down until it heavily coats the back of a spoon
Dhal may be cooked in pressure cooker or instant pot. For pressure cooker, about 5-6 cups of water should suffice. If dhal is too thick, add boiling water and stir to combine.
Dhal is typically chunkayed after boiling. My father actually prefers dhal without this part done, he says it causes him heartburn. Hey, people like what they like. If you also choose to leave this step out, the dhal will still taste great!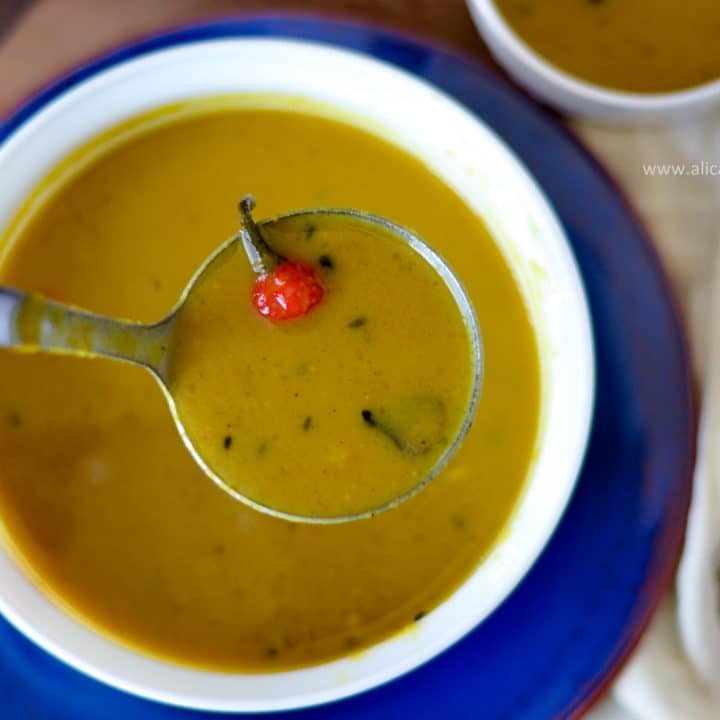 Dhal Recipe (Version two)
Total Time:
1 hour
5 minutes
Ingredients
3 tbsp canola oil
1-2 wiri wiri peppers
3 cloves garlic
½ yellow onion, chopped
1 cup yellow split peas, rinsed
½ heaping tsp garam masala
½ heaping tsp turmeric
½ heaping tsp curry powder
1 ½ tsp salt
¼ cup diced tomato
7 cups water, boiling
Chunkay
1-2 medium garlic cloves, sliced
½ tsp whole cumin seeds (geera)
3 tbsp canola oil
Instructions
In a heavy bottomed pot, heat 3 tbsp oil. Add onion, garlic, and pepper. Saute until fragrant. Add split peas and spices. Saute 6-7 minutes until spices have dried onto peas.
Pour boiling water over peas, add tomatoes and salt. Let dhal boil 30-40 minutes. Once peas are cooked through, use a dhal ghutney or swizzle stick to smooth mixture out. An immersion blender may be used in place. Remove from heat once desired thickness is reached.
Prepare to chunkay dhal by heating oil in a small saucepan. Add whole cumin seeds and fry until light brown. Add sliced garlic. Fry until garlic is dark brown. Remove from heat and immediately add to dhal. Make sure to cover the pot of dhal while adding the garlic/cumin layer or it will splatter.
Dhal will thicken once cooled
This post is a collaboration with Matthew, from Matthew's Guyanese Cooking. A couple of months ago Matthew and I were chatting about how there are so many different ways to make the same dish, but everyone thinks their way is the right way. We decided to collaborate on a dhal recipe, showing how two recipes for the same dish can be made differently- not the right way, but our own way. For Matthew's recipe, check out his video here and subscribe to his channel, you won't be disappointed. When I first found Matthew's channel I was so impressed. He explains his cooking techniques and the "why" behind his steps. This to me is very important because if you understand the "why," you give yourself the ability to become a better cook. His videos are easy to follow and he makes it all look so effortless! I also love that at a young age and as an Indo-Caribbean American, Matthew is preserving his culture through food and sharing it with the world, literally.
Collaboration | Matthew's Guyanese Cooking