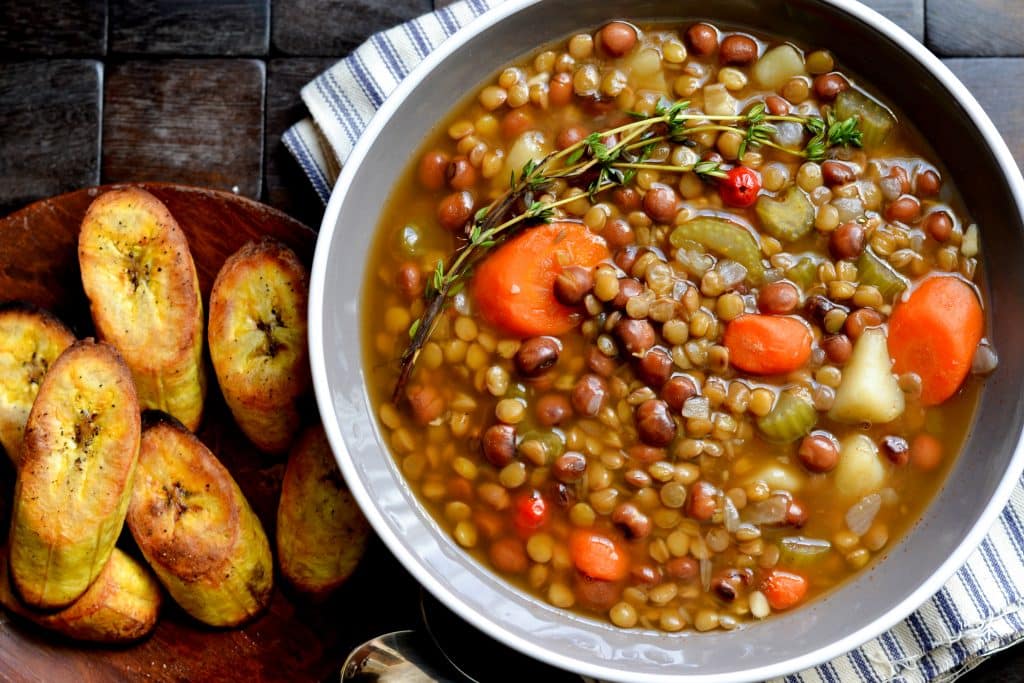 We don't really have "colder months" here in Florida. The weather seems to be real hot, nice, or rainy. No matter the temperatures, I love a bowl of soup. I don't think I share enough soup recipes with you guys, maybe I'll add that to my goal list for 2018. In addition to the cold temps outside, we've all been under the weather. Nothing better than a warm brothy soup to save the day.
This lentil and pigeon pea soup was actually born out of necessity and a use-whatever-is-in-the-pantry moment. I was making a plain lentil soup and didn't have enough lentils for the recipe so I added some pigeon peas for texture and to fill up the pot, ha! It ended up tasting great. I've made many variations of it since. Lentils dissolve pretty quickly once they hit your mouth, so having the pigeon peas in the mix is great for texture.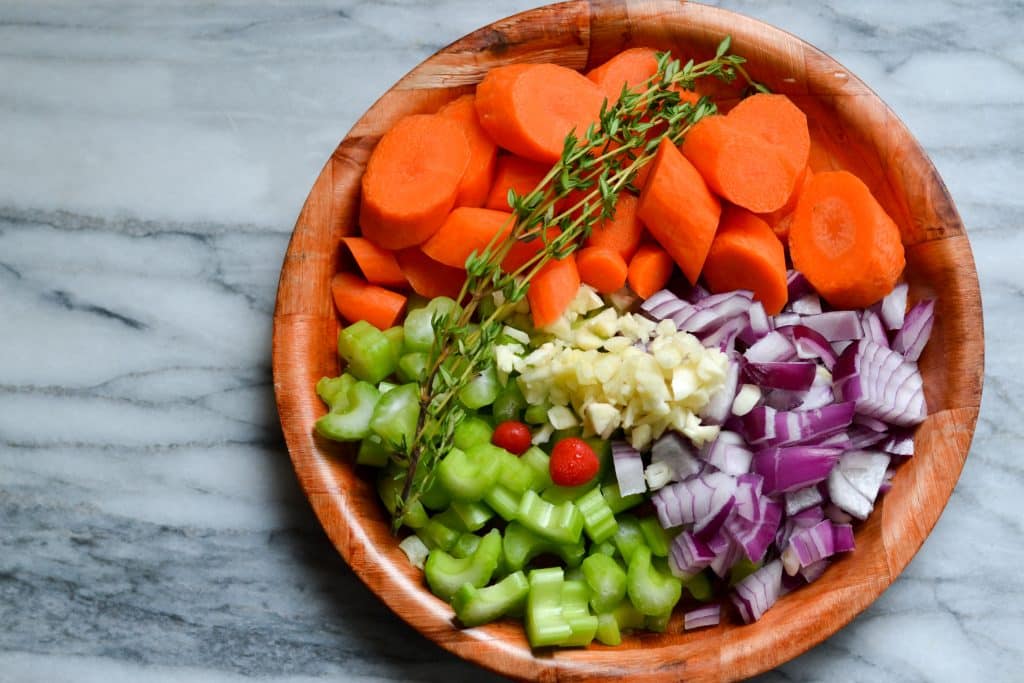 This is a water-based soup so it's very brothy. I love these type of soups, especially since I try to stray away from creamy soups. It's very filling and also completely vegan, including the broiled plantains.
I used brown lentils for this soup. It's the most easiest type to find. Feel free to use any type you like. Note that some variety of lentils cook a lot quicker than others.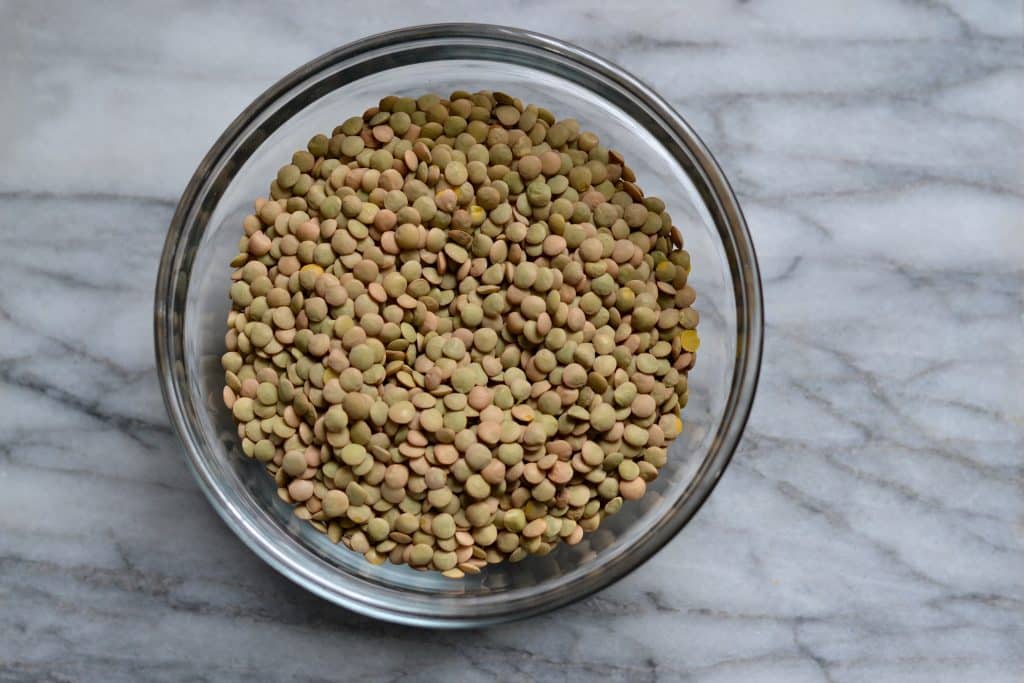 I used canned pigeon peas for this soup, I prefer the El Jibarito brand. This is also the same pigeon peas I sometimes use in cook up rice. Mmmm. It's quick and easy, but you can use dried pigeon peas if you prefer. About ½ cup dried will do for this recipe. Soak it overnight and then boil with first set of ingredients.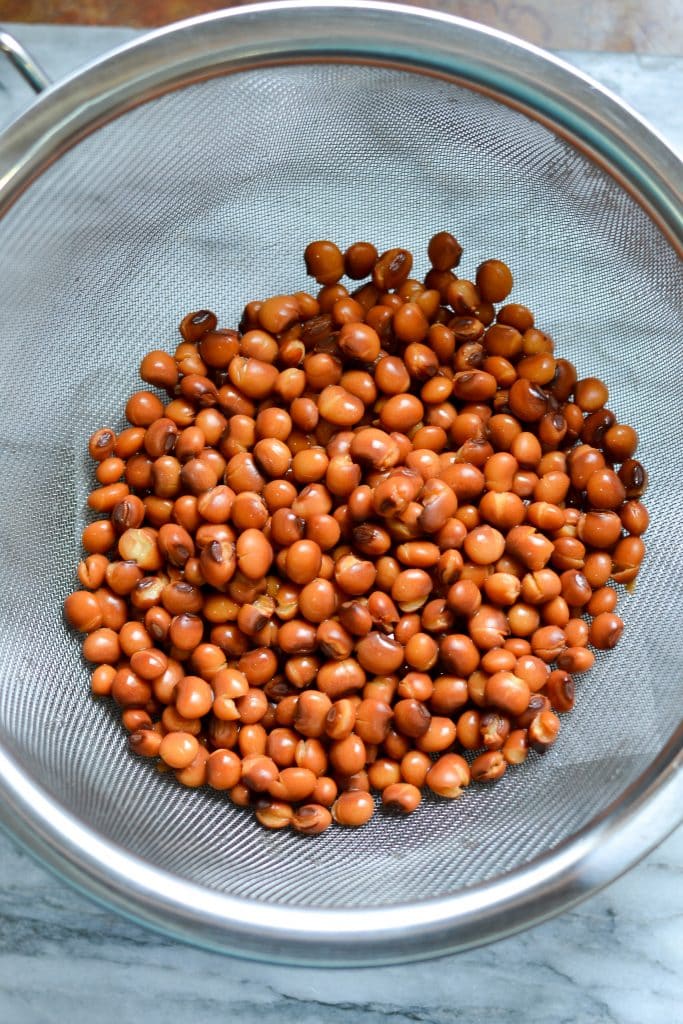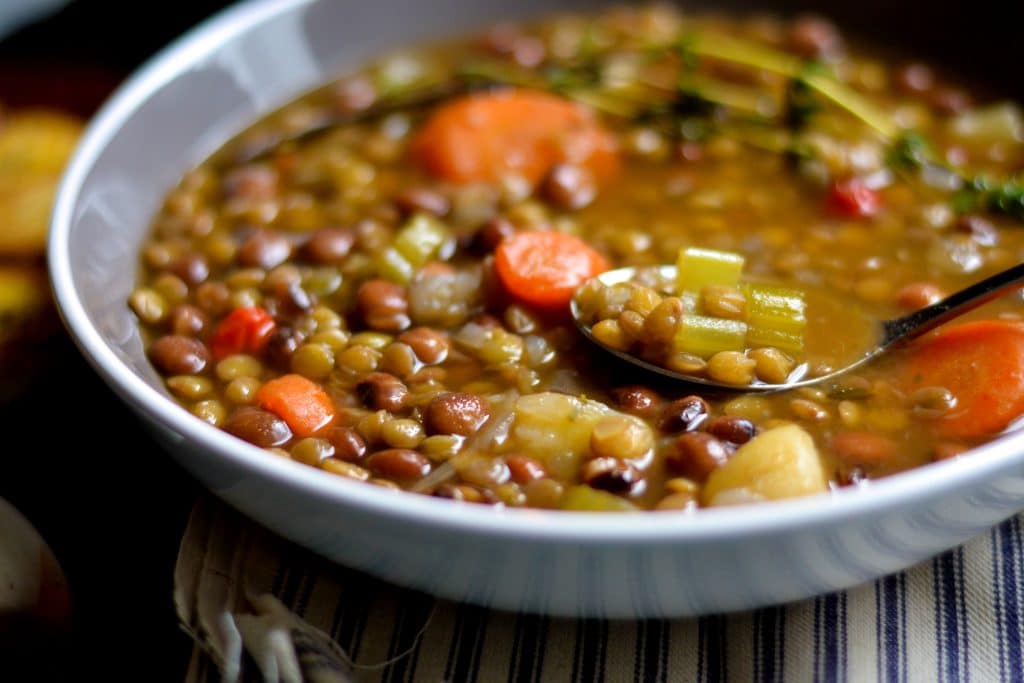 Make the broiled plantains
My father started broiling his plantains instead of frying them, so I've gotten used to eating them this way. It tastes pretty nice with the soup, or if you'd like an alternative, cornbread or a nice crusty bread would be amazing here. The plantains I had on hand were still pretty green, but I actually prefer them halfway ripe or almost ripe, not black. The natural sugars really caramelize under the broiler and with a pinch of salt and cinnamon, it's perfect.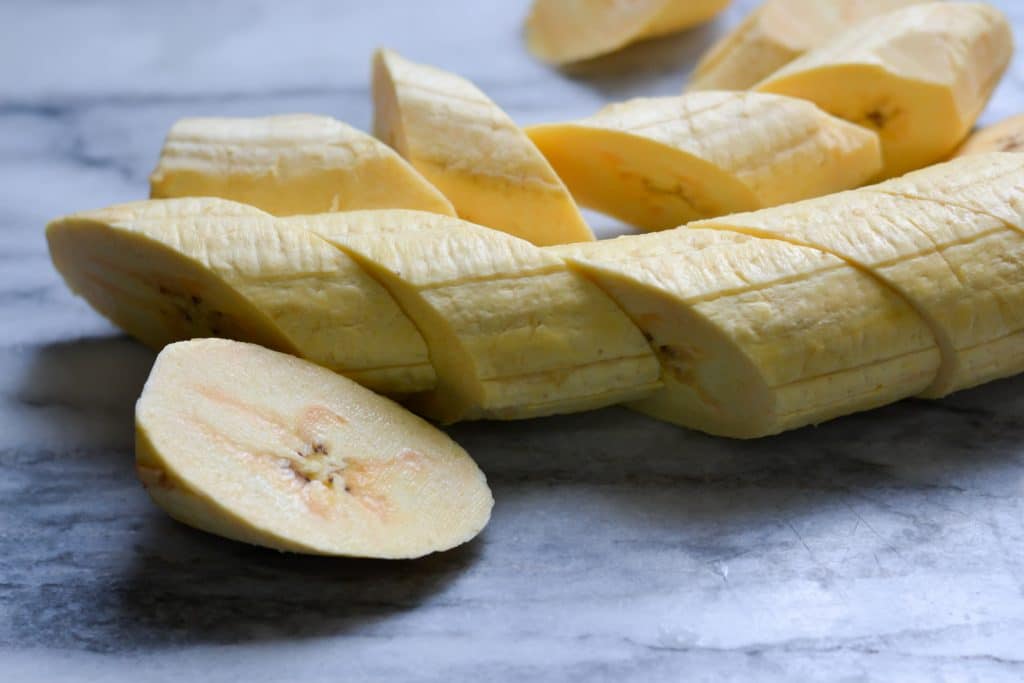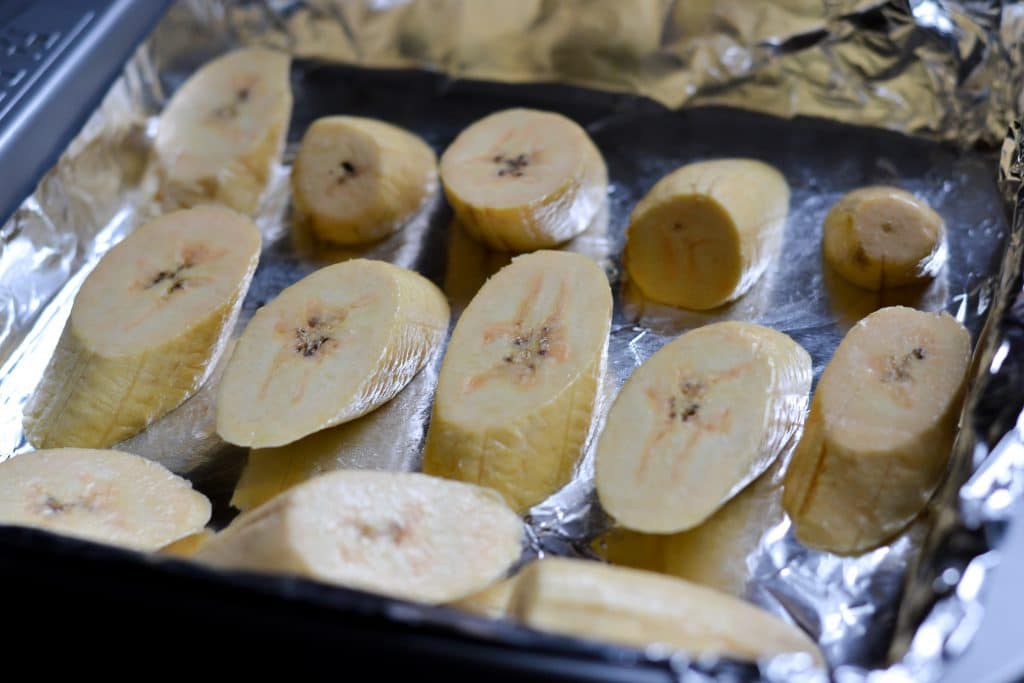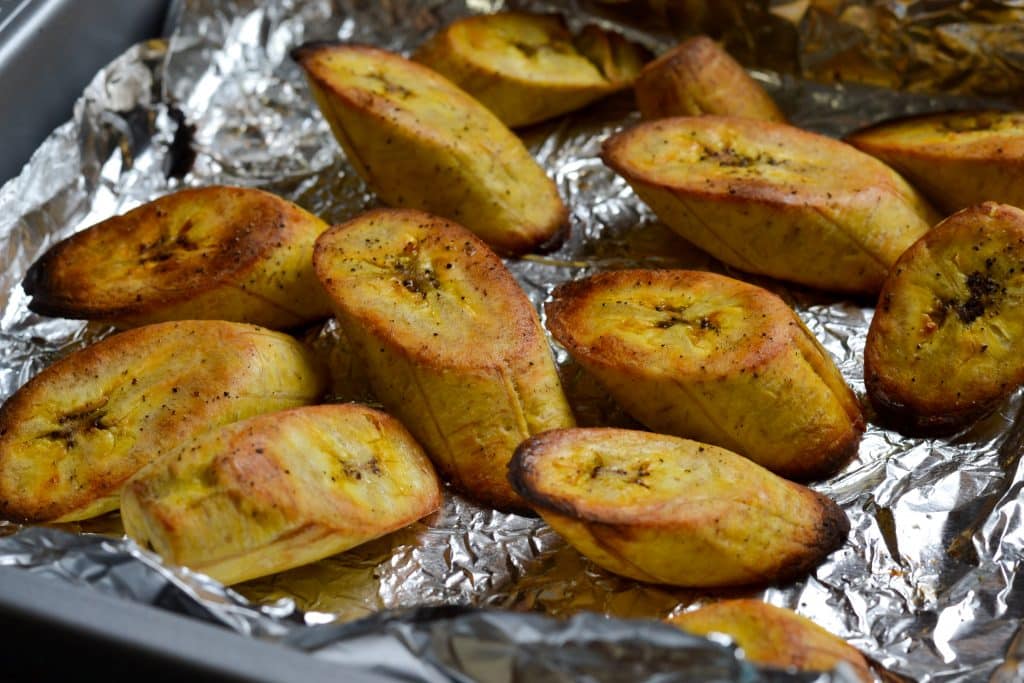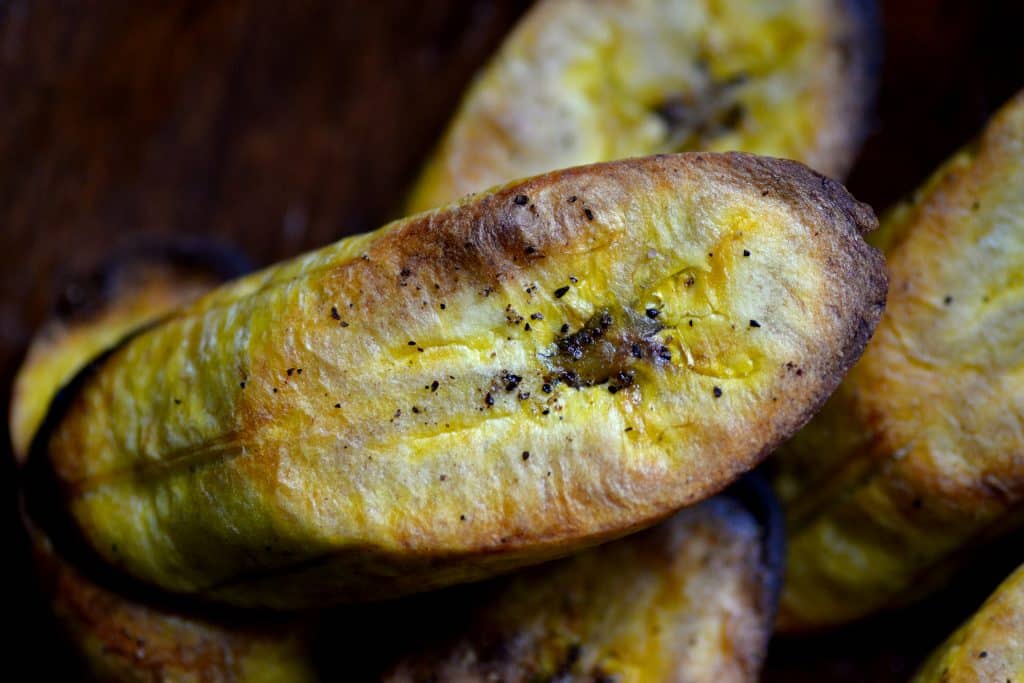 Make it your own
Add any of these ingredients to change up the flavors of this soup. I've done it with red and green peppers and edoes, it was fantastic!
Smoked ham or turkey
Sausage
Cassava
Edoes
Pumpkin/butternut squash
Green/red peppers
Kidney/red beans in place of pigeon
Cornbread instead of plantains
Rotisserie chicken shreds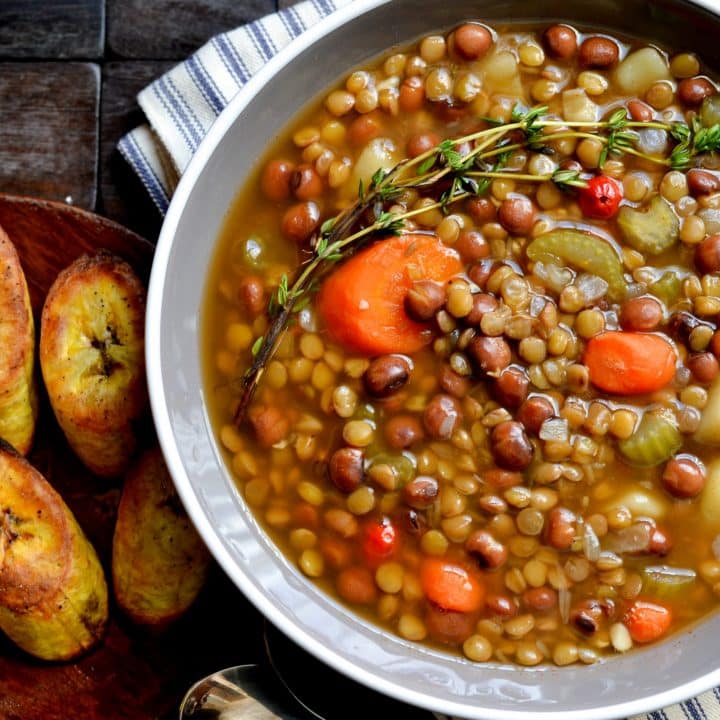 Lentil and Pigeon Pea Soup with Broiled Plantains
Total Time:
1 hour
15 minutes
Ingredients
14 cups water
2 medium carrots, chopped
2 stalks celery, chopped
1 medium onion
2 inch piece of ginger
1-2 hot pepper, wiri wiri, scotch bonnet, habanero
1 large tomato, diced
5-6 stems fresh thyme leaves
Handful fresh parsley, chopped
4 small vegetable boullion cubes
½ tsp black pepper
¼ tsp paprika
2 medium red potatoes, diced
½ lb brown lentils
1 15.5oz can pigeon peas or ½ cup dried beans (see note below)
1 tbsp salted butter
Plantains
3-4 large half ripe plantains
oil to coat
¼ tsp salt
Instructions
Bring water to a boil. Add next eleven ingredients. Let boil 25-30 minutes.
Rinse lentils then add to pot with potatoes. Boil until potatoes are almost cooked through and lentils are beginning to look soft.
Add pigeon peas and let soup boil another 25 minutes or until soup looks slightly thick.
Stir in butter.
For Plantains
Slice plantains about 2in in thickness. Toss in a mixing bowl with oil and salt. Place on baking sheet and place in middle rack of oven. Broil 10 minutes on one side, flip and broil 10 minutes on the other side.
Notes
If using dried pigeon peas, soak beans overnight then add with celery, onion, garlic to boil.
If soup is not as thick as you'd prefer. Remove some potatoes, mash in a separate bowl then stir back into soup. Or dissolve 1 tbsp cornstarch in 2 tbsp cold water, stir mixture into soup and let boil a few minutes to thicken.
Soup can also be made in slow cooker.