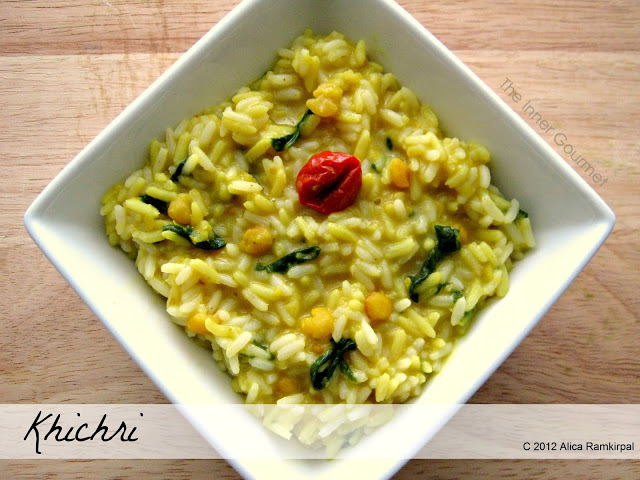 One pot dishes serve many purposes, but the real beauty of a one-pot dish is the share number of people it can feed. This was the principle my grandmother followed when she made this dish at our Mandir (temple) on Sundays. She is a wonderful cook and usually her cooking is even better when prepared for the masses. Many devotees at our temple knew when auntie Shelia was making khichri, you were guaranteed to go home after temple feeling satisfied and filled with a healthy meal that was cooked with love and devotion. My mom made this for us at home, but it was usually at the end of the week before we went to the grocery store to replenish our kitchen. The minimal ingredients in this dish contributed to it being a balanced and healthy meal that fed the whole house.
The foundation of this dish is generally made with very simple ingredients, split peas, and rice. Khichri is one of those dishes that everyone has their own "way" of preparing and no one way is the right way. I have seen many different versions that have contained various vegetables like spinach or ochroes. Some versions even served with a side of fried fish or coconut choka. It is simply a versatile dish that you can customize to your liking. There are also various spices like curry powder or turmeric which are added based on preference. Many people also choose to chunkay their khichri, which simply means to separately fry a few slices of garlic in oil, then add it to the finished dish. Chunkaying really adds another layer of flavor that is intense and delicious, but again, this is all about preference.
My auntie Savi, my mom, and grandmother all make this differently by adding more or less of the ingredients they prefer. This dish can be served in a soupier texture, much like jambalaya; or a drier texture, like Jamaican rice and peas. My grandmother's khichri was more of a soupy texture and it always tasted so wonderful with a teaspoon of mango achar (a spicy condiment made with shredded mangoes) and a side salad. When my mom made this dish for us, she would top it with a side of fried fish, if we had any, other times we just ate it by itself which was just as delicious. This is my grandmother's khichri recipe, it's filling, hearty, and full of soul. It is highly customizable and will feed more people than you planned for. How does this recipe differ from how your family makes khichri?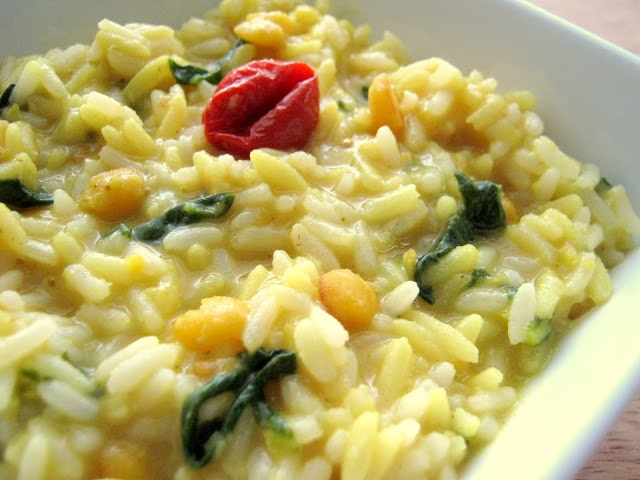 These are the ingredients you will need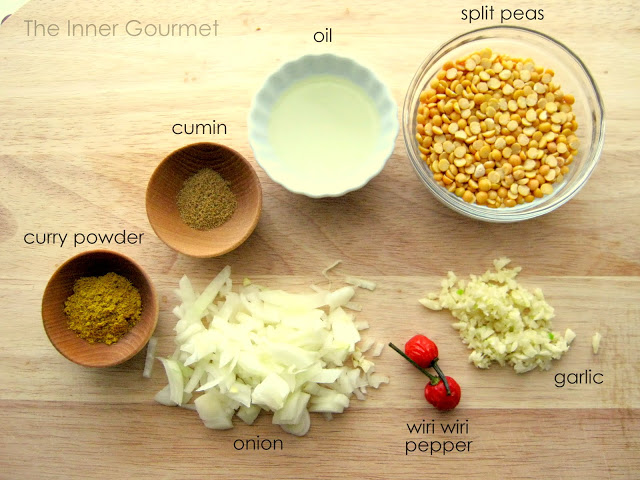 Saute the onions, pepper, and spices in the oil. Once onions are tender, add split peas, water, and salt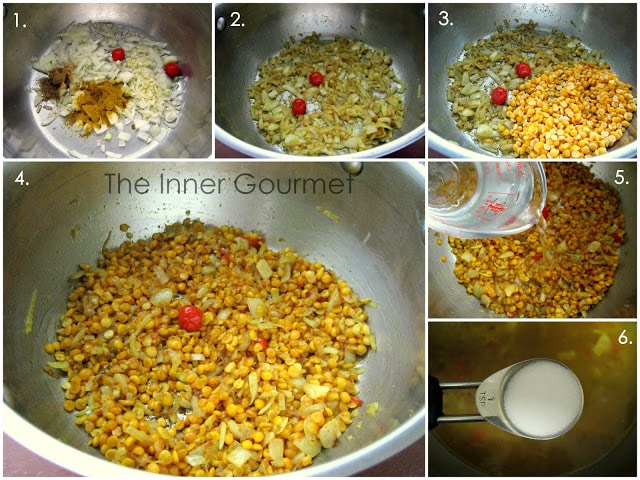 Cook until peas are almost soft, but still, have a give to them.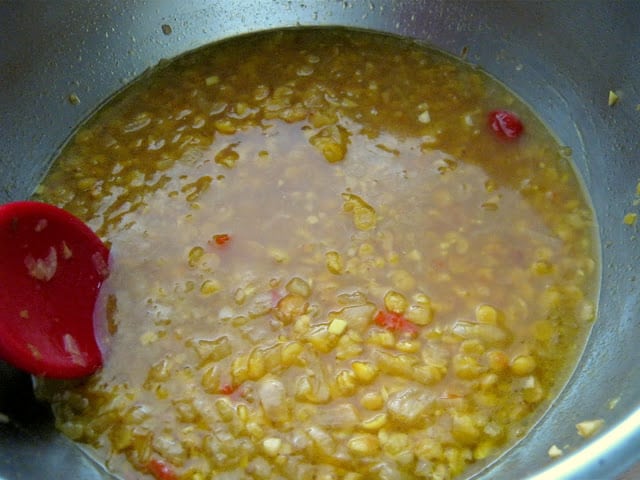 How to extract fresh coconut milk:
Squeeze the milk out of a grated coconut. You can use a cheesecloth, or press the coconut through a fine colander.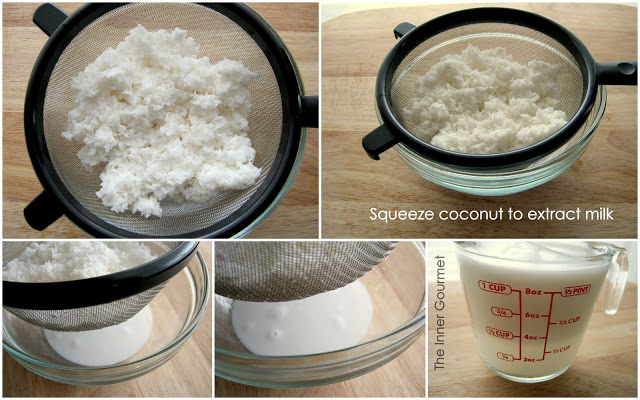 After the first squeeze, place grated coconut in ⅓ cup of warm water and let it steep for 15 minutes. Squeeze the milk out of coconut again until you have 1 ½ cups of coconut milk.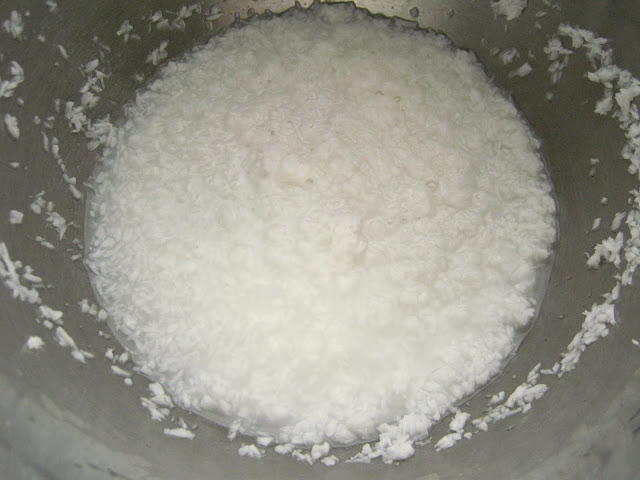 Next add the rice, a dash of turmeric, and a handful of freshly chopped spinach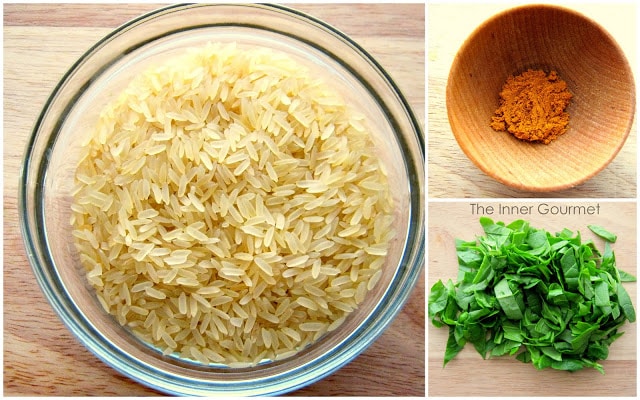 Add to the pot with peas along with coconut milk. Let mixture boil on low until rice is soft. I prefer my khichri a little soupy. If you would like yours drier, then let the mixture continue to cook until most liquid has evaporated.
Grandma's Khichri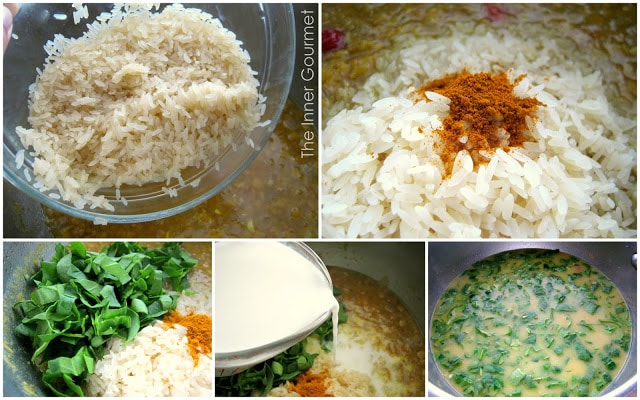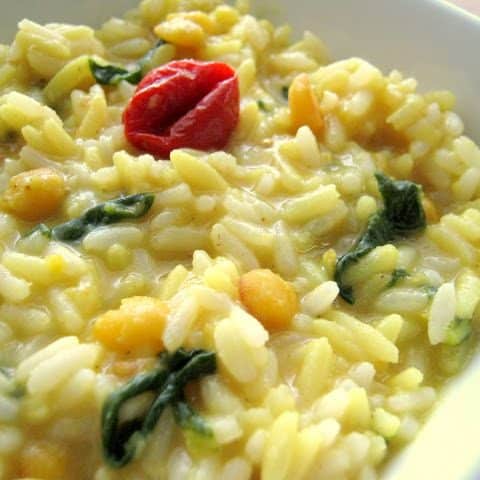 Grandma's Khichri
Ingredients
3 tbsp canola oil
⅓ cup split peas
3 garlic cloves
1 small yellow onion
2 wiri wiri pepper or 1 scotch bonnet
½ tsp curry powder
½ tsp ground cumin (geera)
Dash of ground turmeric
1 tsp salt
a handful of chopped spinach
2 cups water
1 small dry coconut (to extract coconut milk)
1 ½ cups fresh coconut milk from grated coconut
1 cup parboiled rice
Instructions
Rinse split peas, set aside. Chop onion and garlic, set aside.
In a pot, heat canola oil over a medium heat, add onion, garlic, wiri wiri pepper, curry powder, cumin, and split peas. Fry until onions are tender, about 5 minutes.
Add two cups of water to boil split peas. Boil until peas are slightly soft on low-medium heat.
Grate coconut and squeeze milk from coconut through a cheesecloth, strainer, or with bare hands. A second time, place grated coconut in ⅓ cup warm water, let it steep for 15 minutes. Squeeze to extract more milk. Continue this process until you have about 1 ½ cups of coconut milk. (I only had to do this twice)
Add rice, turmeric, salt, chopped spinach, and fresh coconut milk to the pot. Let boil until rice is soft. If you prefer a more soupy texture, remove from heat once the rice is done the cooking. If you prefer your khichri a little drier, let the mixture continue to cook until most liquid has evaporated.
If you would like to chunkay this dish: slice 2 garlic cloves and fry in 2 tbsp of oil. Once garlic turns brown, add oil and garlic to the khichri covering the pot immediately to prevent oil from pitching. Stir to develop flavor.
This is how khichri should look once dried down. Can you see the difference in texture from the first picture?