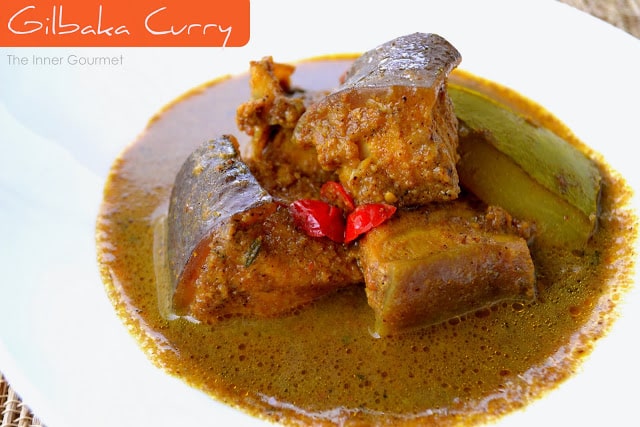 "Mala is making gilbaka curry!" The word spread like wildfire. Within hours, the entire family found their way over to my aunt's house. Why do you ask? Well, it had something to do with the flavor and sensation of the hot curry making its way down your stomach, giving you a feeling of comfort and happiness. The tanginess of the gravy, provided by the green mango, combined with the delicate, yet meaty texture of the fish were all attributes that we loved. Gilbaka curry was always a crowd-gatherer, especially on a Sunday afternoon.
Cooking curry is fairly simple in terms of the method, but achieving the right flavor is what takes skill. Good quality spices make a big difference in how your curry tastes. I remember as a teenager I'd help my mom rinse, dry, and toast all the spices we needed to grind our garam masala. It was definitely a feat and a laborious one at that. I remember the smell got into everything, our clothing, hair, skin, bedrooms, you name it, the aroma got a hold of it. The strange part was, we were not even making the masala in our house, it was done outside, in our backyard!
After we finished grinding the garam masala, my mom would distribute bottles of it to my aunts and grandmother for use in their everyday cooking. Today, knowing the hard work that goes into grinding garam masala, I am happy to receive even the smallest bottle of mom's masala in the mail, it's authentic taste and quality is what makes a curry dish like this one taste exceptional.
About Gilbaka Fish
Gillbacker, pronounced gilbaka is a scaleless saltwater fish that is part of the catfish family. It is found in the muddy sea bottoms of coastal rivers from Guyana to northern Brazil. This sea catfish can grow to enormous sizes and is quite meaty in texture. It is by no means a "pretty" looking fish, but it is quite delicious. It stands up well to heavy seasonings and high-temperature cooking. Gilbaka has very thick, smooth skin that is light gray in color; once cooked, it becomes dark and gelatinous.
During my trip to Guyana in 2009, my father took me to the Rosehall Town Fish Market located in Berbice. Although it didn't smell great, it was amazing to see the variety of fish being sold and equally as awesome to have it chopped and cleaned right in front of you! I was able to find a YouTube video highlighting this wonderful fish market. A quick image of gilbaka fish is shown at the 1:58-minute mark,
click here to view the video
. Enjoy 🙂
Remove leaves from 3-4 sprigs of thyme. Peel one head of garlic, chop 1 small yellow onion and 3 wiri wiri peppers.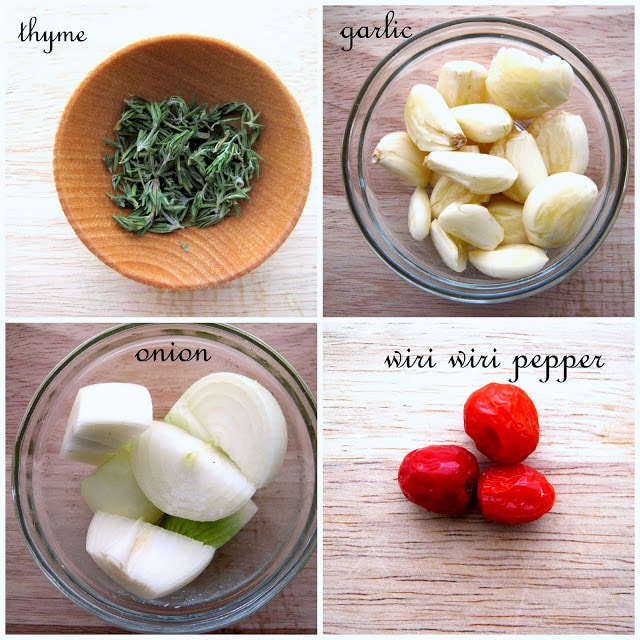 Add to blender with ⅓ cup water. Blend until smooth.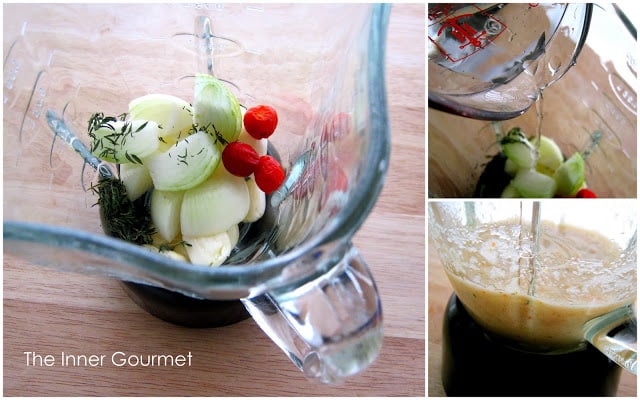 This will give you approximately 1 cup of onion/garlic seasoning. We will only use ½ cup to season the fish. The rest you can refrigerate for about one week and use for another time. This seasoning is pretty versatile and can be used to season rice, poultry, fish, or meat.
Chop green mango with skin on and set aside. Keeping the skin on will allow the mango to stay intact and not dissolve while boiling. We will only use about 3 large pieces.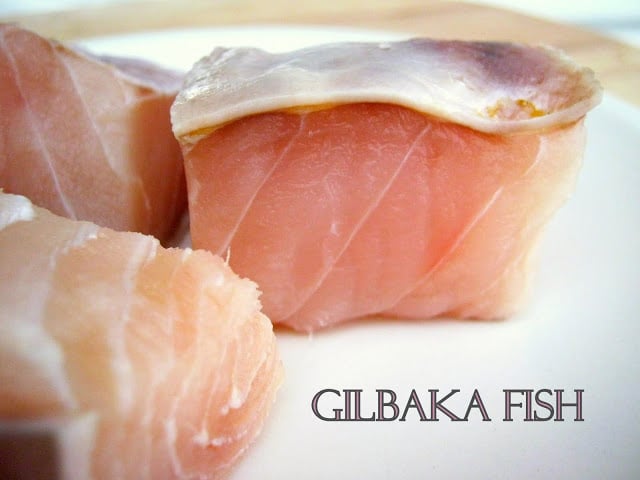 Clean the skin by scraping it lightly, chop into desired size pieces. I chopped them quite small (about 3inch cubes) since I prefer smaller pieces in my curry.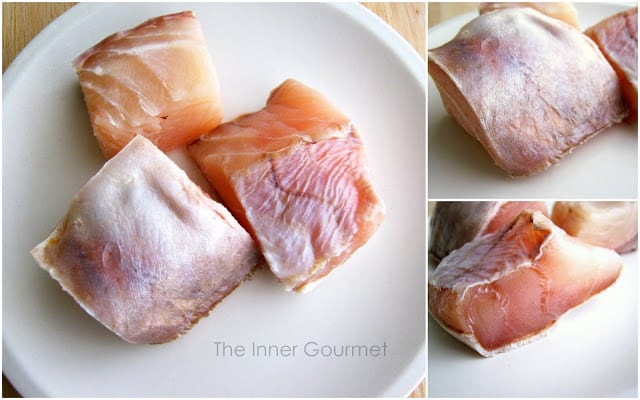 Soak fish with water and juice of a few limes, this will help to remove any rank smell or taste. Let fish soak for about 20 minutes.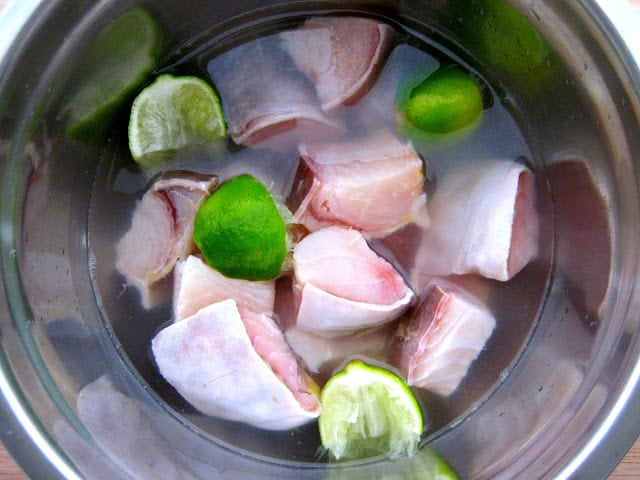 Rinse fish thoroughly with cold water. Pat each piece dry with paper towels. You want the fish to be dry so that the seasonings will adhere well.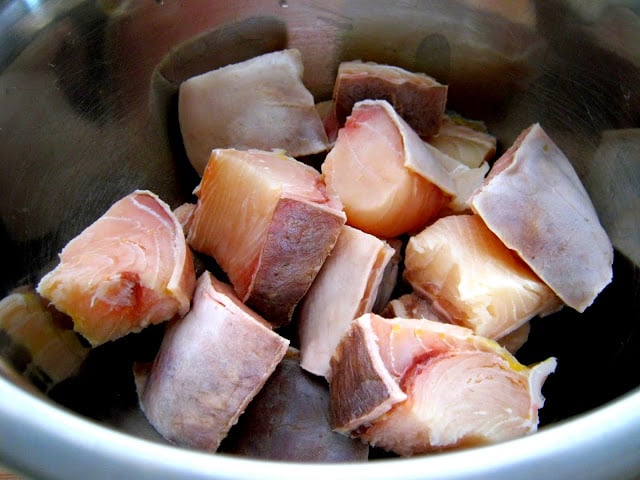 Add ½ cup of the onion/garlic mixture to season the fish. Leave fish to absorb seasonings for 30 min or so. Fish doesn't need to season for too long.
Mix 5 tbsp curry powder with 2 tbsp + ½ tsp garam masala. Add 5 tbsp water and mix together.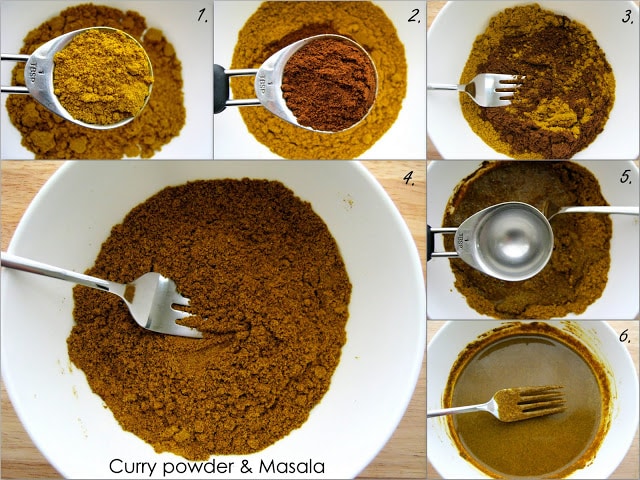 Heat 3 tbsp oil in a wide bottomed pot, add curry powder/masala mixture and fry until most of the liquid evaporates. Add ½ cup boiling water and one tomato, chopped.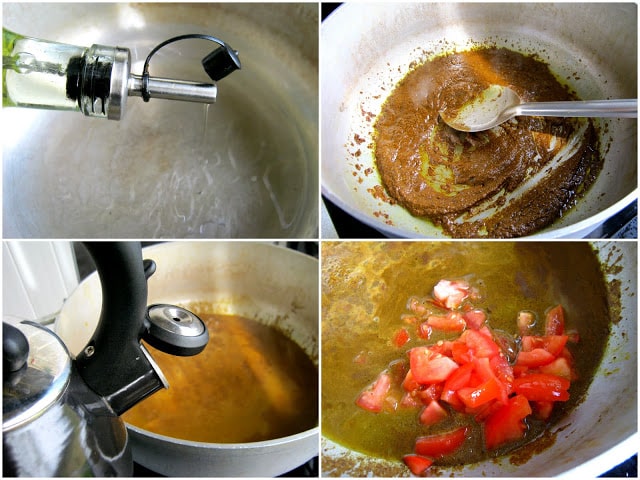 Let the mixture cook until tomatoes become tender. Now add the fish.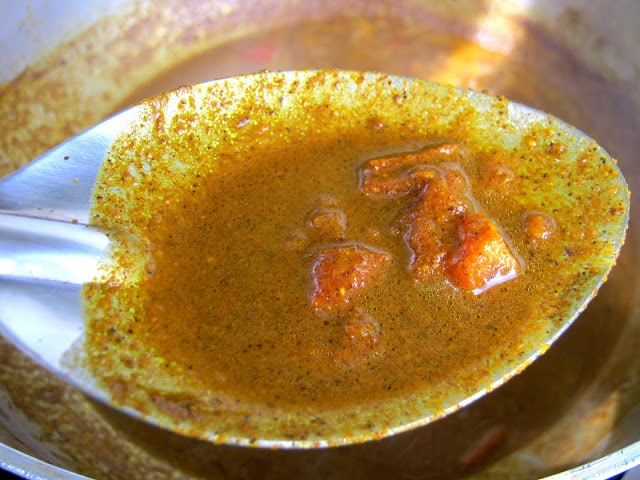 After adding fish to the curry powder/masala mixture, add 1 ¼ tsp regular salt. Gently coat fish with masala mixture and then pour enough boiling water to cover 1 inch above fish. Boil curry on medium heat for 25-30min.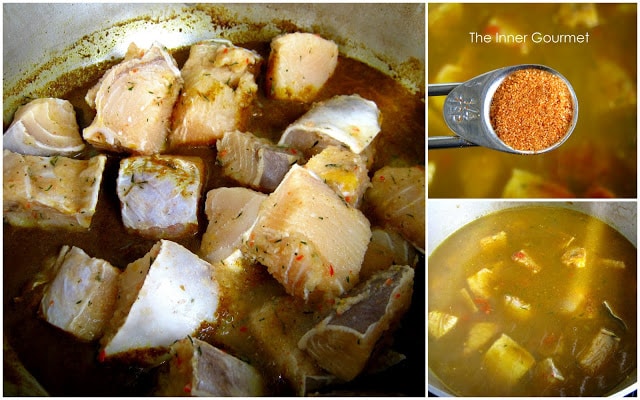 After 25 minutes, add green mango and continue to boil.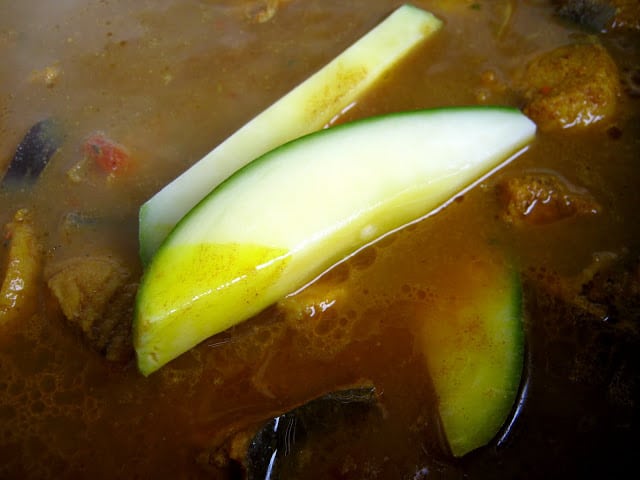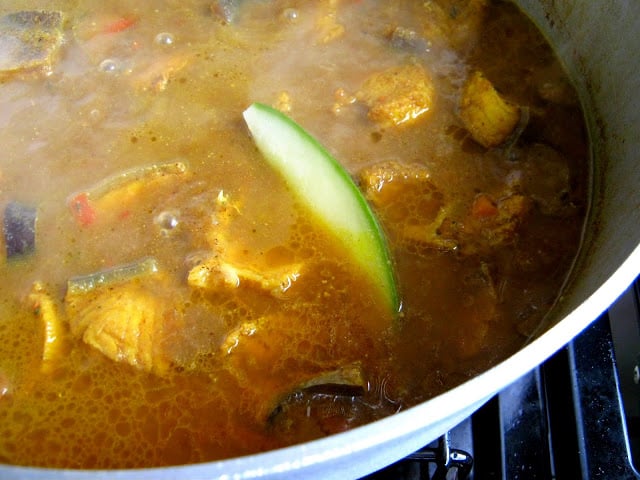 Remove curry when gravy reduces and becomes slightly thick.
Guyanese Gilbaka (Fish) Curry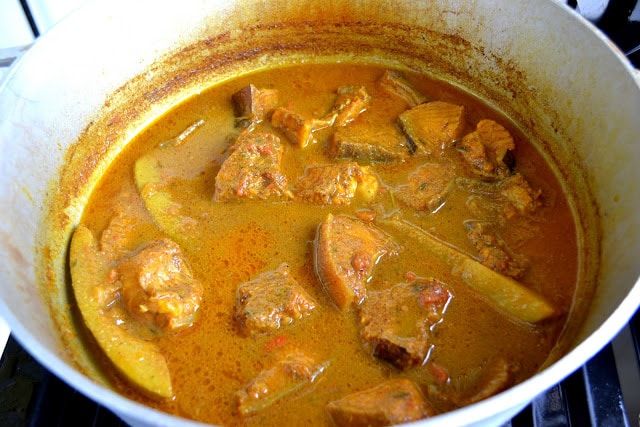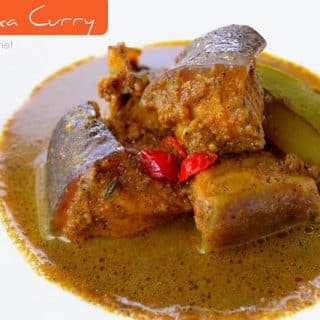 Guyanese Gilbaka (Fish) Curry
Ingredients
Onion/Garlic Seasoning
1 small yellow onion
1 head of garlic, peeled
3-4 fresh or dried thyme leaves
⅓ cup water
For Curry
2 lbs Gilbaka fish
2 limes to soak fish
½ cup onion/garlic seasoning
5 tbsp curry powder
2 tbsp + ½ tsp garam masala
5 tbsp water
3 large pieces of green mango (skin on)
1 small tomato
3 tbsp cooking oil
1 ¼ tsp salt (add more if needed)
About 1 ½ cup boiling water
Instructions
Chop fish into desired size chunks. Chop and squeeze lime juice over fish, add water and let sit for 20 minutes.
Rinse fish a few times and dry each piece of fish with paper towels.
Make onion/garlic seasoning by blending onion, garlic, pepper, and thyme leaves with ⅓ cup of water in a blender. This should give you 1 cup of mixture.
Add ½ cup onion/garlic mixture to the fish. Leave fish to absorb seasonings for a minimum of 30 min.
Chop tomato and mango and set aside. Bring a kettle or small pot of water to a boil while you complete the next step.
In a small bowl, mix curry powder and garam masala with 5 tbsp water to form a thick liquid.
Heat a wide bottomed pot with 3 tbsp oil. Add curry powder/masala mixture and fry until most liquid has evaporated. Add ½ cup boiling water and tomato.
Let the mixture cook until tomatoes become soft and tender.
Add the fish and enough water to cover ½ inch of fish. (This was about 1 cup of boiling water for me). Add salt, stir gently.
Let fish boil on medium heat for 25 minutes, then add green mango with skin. Leaving the skin on will allow the mango to stay intact, otherwise, it will dissolve slightly.
Let curry boil for an additional 15-20 minutes until it begins to look thick and mango is completely soft. Do not turn frequently during this period as you do not want the fish to break.
Enjoy with rice or roti 🙂