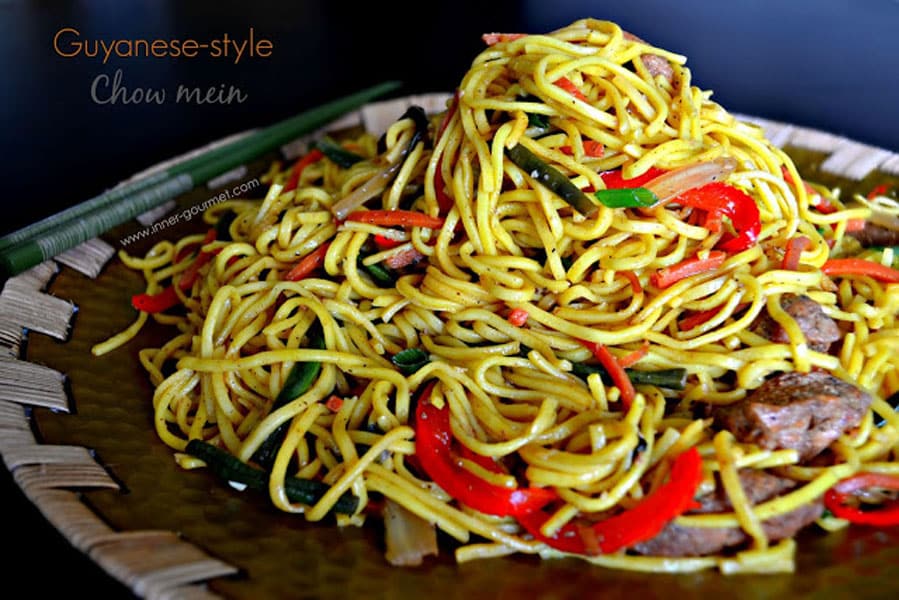 Chow mein is a popular noodle dish in Guyanese cuisine and is given to us by the Guyanese people of Chinese descent. Chinese cuisine has an important place in Guyanese food culture as there are many wonderful ingredients and products that we use to make our food, our food. Over time we have adjusted flavors and sourced local ingredients to make it our own unique fusion. There's nothing else that tastes like a Guyanese-Chinese fried rice or chow mein, it just has its own special flavor. I suppose what makes this chow mein Guyanese-style is the inclusion of bora beans and five spice. I haven't seen too many non-Guyanese chow mein recipes that include these two ingredients. If you have any more insight on this topic, please feel free to comment below.
Chow mein is versatile in its ingredients and diverse in where it can be served. Whenever my family had any sort of gathering, this was one of our go-to dishes. We would order one large tray of fried rice and chow mein from a local Guyanese-Chinese restaurant than cook all the meats on the side. Like rice, noodles can feed many and it goes a long way. Everyone has their own version of chow mein and the ingredients vary based on what you have on hand.
My mom would change up the vegetables and meat in the dish, but for her, some ingredients were a must; sesame oil, soy sauce, ginger, bora, and Chinese five spice powder. It really created some foundational flavors for the dish. One of my complaints when buying chow mein from a roti shop is that the noodles are never seasoned. They tend to taste bland, while the meat and vegetables carry all the flavor. In my version which is really my mom's version, the noodles are seasoned prior to pan-frying with the vegetables and meat.
I remember a few months ago my long-time friend Emille messaged me saying he couldn't find a chow mein recipe on my blog. Well, what he actually said was, "how could you have a blog about Guyanese food and not have a chow mein recipe?" I laughed, but he was right. The truth is that this is one of those recipes I've always meant to post but never seemed to have all the right ingredients on hand at the same time. This past weekend I visited my parents in Orlando and was able to go to a local Caribbean market to purchase the ingredients. My dad also took me to his friend's Guyanese farm to pick some fresh bora. I was particular about the type of noodles I wanted as well since not all chow mein noodles are created equal. More on that later.
Start by seasoning your protein of choice. I used chicken breast in this recipe. For a weekday meal, it has to be quick so I typically don't have much time to clean and cut up chicken, I reserve that for the weekend when making stews or curry. I used cassareep to give the chicken some color and sweet flavor, but if you don't have any, use a browning sauce and a little brown sugar in place. The mushroom sauce can work as well. Let chicken marinate for a couple of hours. I left this to marinate overnight in a zip lock bag. Cook 8-10 minutes, make sure it is not too dry. Set aside.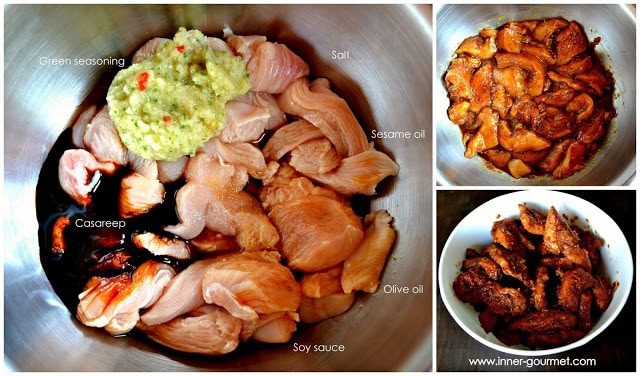 Prep the vegetables and set aside. I've used carrots, bok choy, red pepper, and bora for this chow mein, but I change up the vegetables based on what I have in my refrigerator.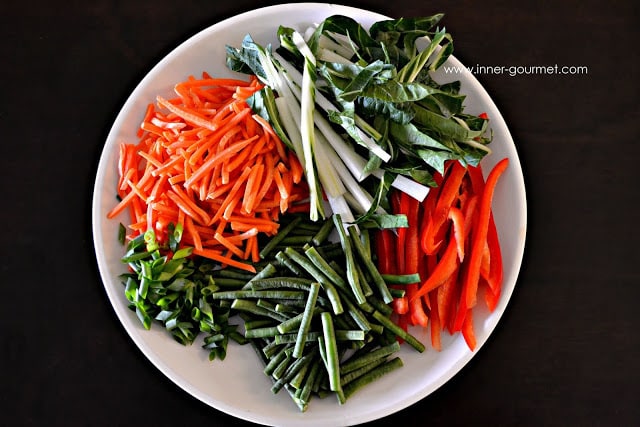 I prefer to use Champion brand of chow mein after years of testing quite a few brands. I think the noodles boil up nicely and are not too thin. They also have good flavor. Brown Betty and Guyanese Pride make a good one as well. This is a preference thing. There are many on the market that vary in size of noodle and taste. I recommend trying different brands to see which suits your taste.
One of the most common concerns I've heard about making chow mein is getting the noodles just right. Most people overcook them by accident. If the noodles look done while in the pot, it is probably already overcooked. Once it is removed from the water and drained, the steam from the hot water will continue to cook the noodles, this happens quite fast. If the noodles are overcooked it will become soft and sticky and will break apart easily when being tossed. It is important to rinse with cold water when draining to stop the cooking process. Cook noodles according to package directions.
My advice is to add oil to the pot of water when boiling and keep the noodles moving around. After draining, spread noodles out in a shallow pan so they stay loose.
I like to season the noodles with black pepper, Chinese five spice, garlic powder, salt, and sesame oil. Swirl around with a fork to get it all coated. Chinese five spice has a strong flavor. A little bit goes a long way, usually, ½ tsp is enough for me, add as much or as little as you like. After adding the spices the chow mein will look a little brown, that is from the five spice. Set noodles aside.

Cook the vegetables in a deep pot or wok.
Add soy sauce, sesame oil, water, oyster sauce, grated ginger, let simmer for 30 seconds.
Add vegetables, reserve scallions.
This will cook quickly so keep it moving around in the pot, 3-4 minutes.
Add seasoned noodles at little at a time.
Toss in the chicken and mix to combine, add scallions.

Guyanese-style Chow Mein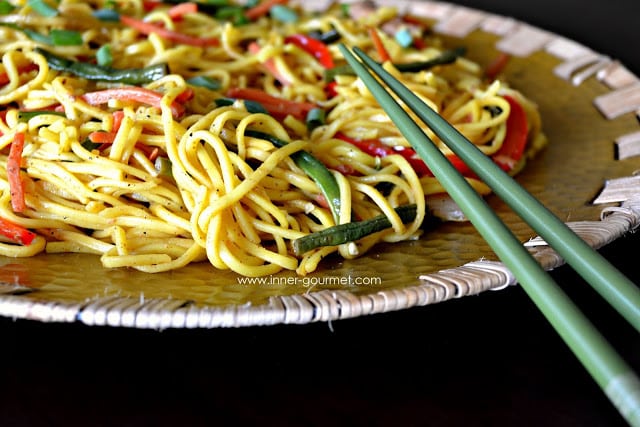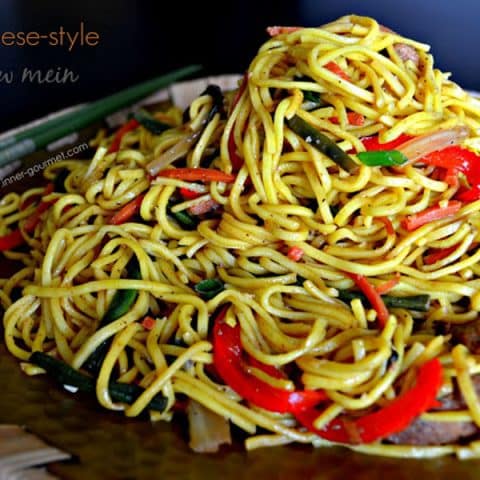 Guyanese-style Chow Mein
Ingredients
For noodles
12oz package dried chow mein noodles 
water for boiling
1 tbsp vegetable oil + 1 tsp salt for water
2 tbsp sesame oil
½ tsp black pepper
½ tsp Chinese five spice powder
1 tsp garlic powder
½ tsp salt 
For chicken (can be seasoned hours before or overnight)
2-3lbs cut up chicken breasts or other desired protein
1 tbsp olive oil, for marinade
3 tsp reduced sodium soy sauce
1 tbsp cassareep or browning sauce
2 tbsp green seasoning 
dash of salt
1 tbsp olive oil, to cook chicken
For vegetables 
1-2 stalks bok choy or 1 cup cabbage, cut into strips
1 cup pre-shredded or julienned carrots
10-12 Chinese long beans (bora bean)
½ red bell pepper, cut into strips
3 tbsp reduced sodium soy sauce 
1 tbsp sesame oil
¼ cup water
1 tbsp oyster sauce 
1 tsp freshly grated ginger 
2 stems scallion, sliced 
wiri wiri or scotch bonnet pepper, optional
Instructions
Season chicken with olive oil, soy sauce, cassareep, green seasoning, and salt. Set aside.
Prep vegetables, grate ginger and set aside.
Bring a large pot of water to a boil with salt and oil. Add chow mein noodles, cook according to package directions.
Drain noodles in a colander, rinse immediately with cold water. Spread noodles out in an aluminum pan or long shallow pan.
Season noodles with sesame oil, black pepper, Chinese five spice, garlic powder, and salt. Set aside.
Saute chicken 8-10 minutes until most liquid has evaporated, set aside when done.
Cook vegetables in a heavy-bottom pot or wok, add soy sauce, sesame oil, water, oyster sauce, grated ginger, and pepper let simmer for 30 seconds. Add vegetables and cook for 3-4 minutes.
Turn heat off, add seasoned chow mein noodles to pot with vegetables and toss in chicken. Add scallions and mix thoroughly. Adjust salt to taste.
Notes
Chow mein noodles often continue to cook after you've drained the water from it. The steam in the colander continues to cook the noodles so it is important to drain then rinse the noodles with cold water to stop the cooking process. 
When draining noodles, drain then spread out in an aluminum pan or any shallow pan so noodles can loosen up. This keeps the noodles from getting sticky. 
I like to use reduced sodium soy sauce so that I can control the amount of salt in the chow mein. You can use regular soy sauce, just adjust the salt as you go along. 
When making chow mein, I prefer to cut all the vegetables into strips, it makes it easier to twirl, but you can chop them however you like. Feel free to add different vegetables as well. I usually add lots of broccoli to this dish. 
I like to add oil and salt to my noodles when boiling. The salt gives the noodles flavor and takes away that raw-ish taste. The oil helps to keep things from sticking when you drain the noodles. 
If you can't find chow mein noodles, thin spaghetti noddles can work as a substitute. 
Chinese five spice gives this dish a distinct flavor, you can omit it all together if you don't have it on hand or make your own stash here.