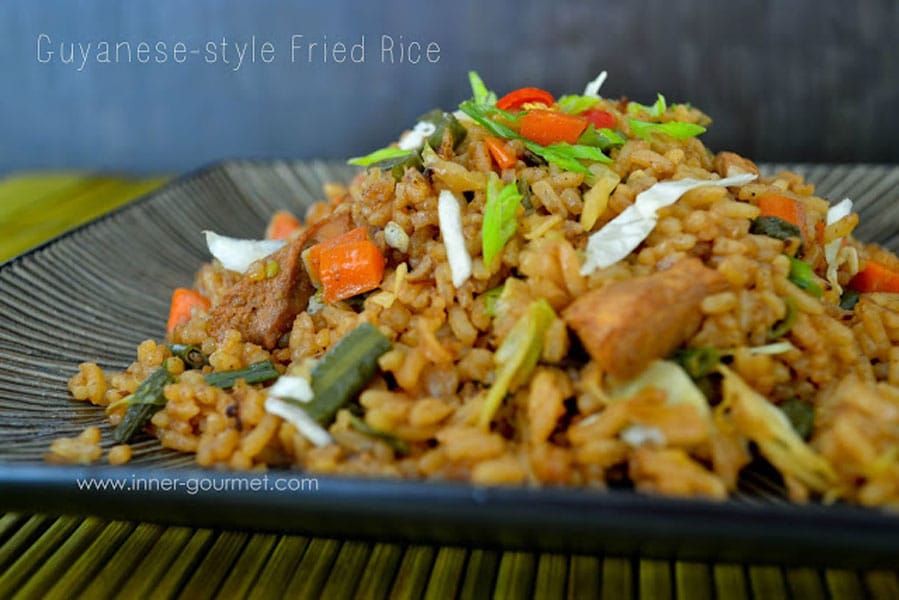 This is one of my favorite go-to dishes when cooking for a large crowd, especially family gatherings. Fried rice and chow mein are a must have at most West Indian events. It feeds many and goes a long way. Fried rice is quite versatile as well; there are so many ways to change it up. My mom adds different vegetables and a combination of proteins depending on what she has on hand.
I suppose the Guyanese version of fried rice is different because of the inclusion of bora beans and Chinese five spice. It has quite a unique taste and the bora beans give it a nice crunch as well. This fried rice comes together quickly once you have all the ingredients prepped and ready to go.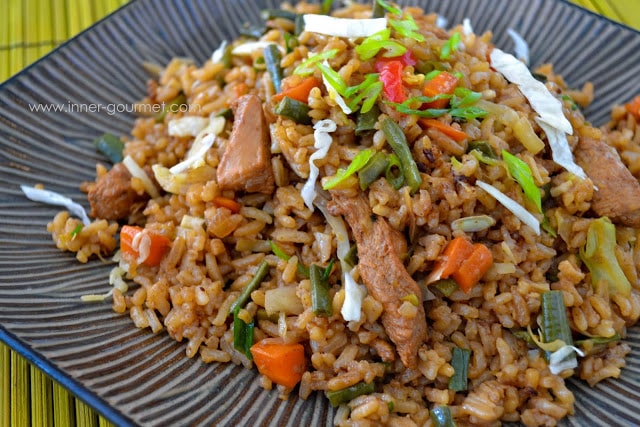 Start by prepping all your vegetables. Cooking fried rice is a quick process so having everything ready is essential. For the vegetables, you'll need some diced carrots, chopped bora beans, and shredded cabbage. For the flavors, you'll need onions, garlic, grated ginger, Chinese five-spice powder, soy sauce, mushroom sauce, oyster sauce, and scallions for garnish.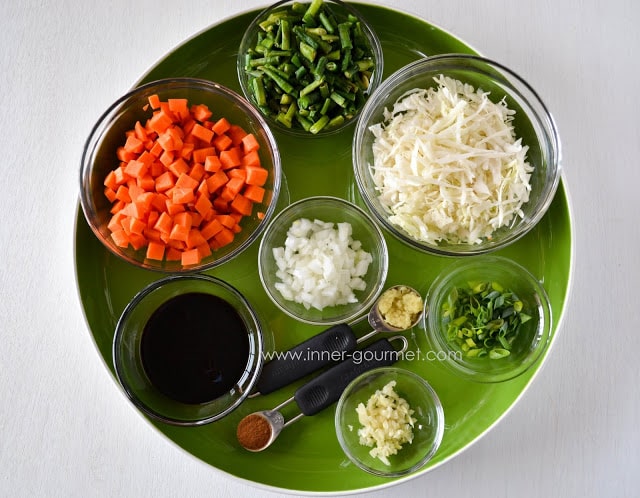 The key to a really good fried rice is ensuring the rice is cold. I like to cook it the night before so it's stale. I also prefer to use extra long grain rice for this fried rice since it's lighter and softer than parboiled rice. The rice must be cold so that it remains loose while frying. Freshly cooked rice will continue to release starch when being tossed up in the heat and will make the fried rice sticky.
Once you boil and strain the rice, spray a shallow pan with oil and spread the rice inside. Allow to cool overnight or for a few hours until completely cold.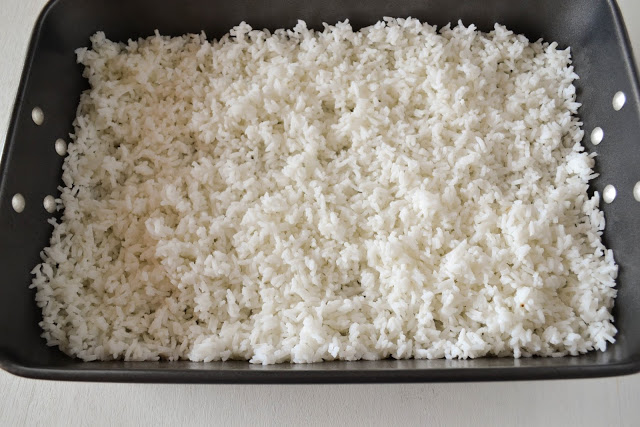 Season your choice of protein. I used chicken breast for this recipe- it was just easier and quicker for me. You can use a combination of chicken and shrimp or any other protein you like. Cook meat and set aside. Alternatively, you may choose to make this just a vegetable fried rice and cook your protein on the side.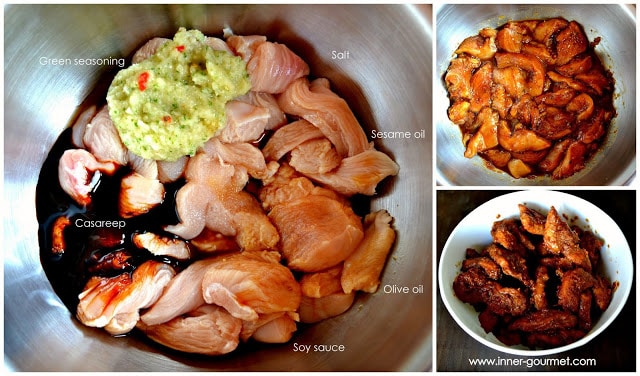 I didn't photograph every step here since it wasn't necessary. First saute the onions, garlic, and ginger. Then add the carrots and let it cook a few minutes. Since the carrots are hard, they need a little extra time to cook. Add the bora beans and cabbage next. Saute a minute or two, add the rice a little at a time. Add sauce and chicken, toss until completely coated.

Add scallions to garnish. Adjust salt to taste.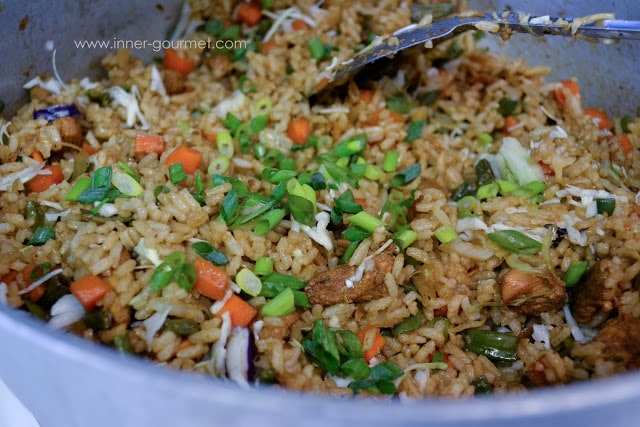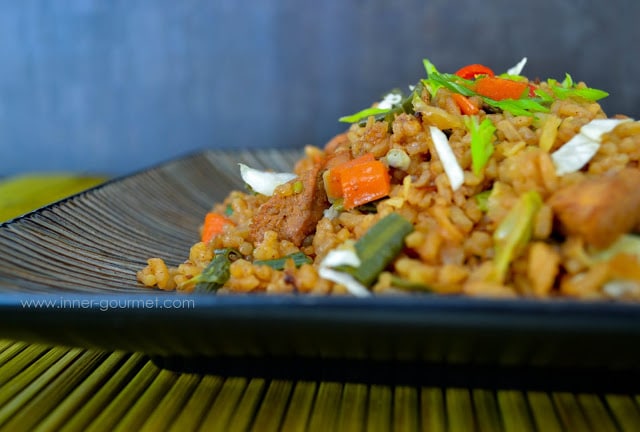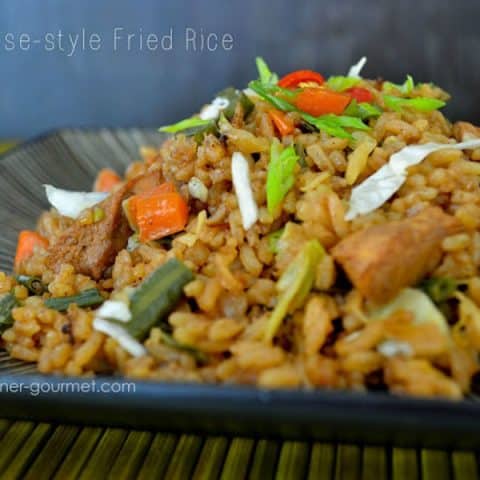 Guyanese-style Fried Rice
Ingredients
1 ¾ cup extra-long grain white rice
1 cup diced carrots
1 cup chopped bora beans (Chinese long beans)
1 cup shredded cabbage
¼ cup yellow onion, finely diced
2 cloves garlic, crushed
3-4 scallion sprigs, finely sliced
1 tsp mushroom sauce
4 tbsp dark soy sauce
2 tsp oyster sauce
1 tsp freshly grated ginger
½ tsp Chinese five spice
5 tbsp vegetable or canola oil
Salt, as needed 
For chicken (can be seasoned hours before or overnight)
2-3lbs cut up chicken breasts or other desired protein
1 tbsp olive oil, for marinade
3 tsp reduced sodium soy sauce
1 tbsp cassareep or browning sauce
2 tbsp green seasoning 
dash of salt
1 tbsp olive oil, to cook chicken
Instructions
Cook rice according to package directions. Spread in a long shallow pan. Let cool overnight or for a couple of hours. Rice should be completely cold.
Cook chicken and set aside.
Chop and prep all vegetables Combine mushroom sauce, soy sauce, and oyster sauce in one bowl set aside.
In a wok or Kalahari saute onions, garlic, and ginger in 1 tbsp oil until onions are tender, 1-2 minutes.
Add 1 tbsp oil to the pan then add carrots, saute a few minutes. Push carrots aside, add 3 tbsp oil then add bora and cabbage together. Saute 1-2 minutes.
Add rice a little at a time tossing with vegetables. Add sauce mixture and Chinese five spice. Fry the rice until completely covered with sauce.
Toss in the chicken and scallions.
Notes
Tips
Although not the traditional rice used for Guyanese-style, basmati or jasmine rice may be used. It will yield a more fragrant and tender fried rice.'
Shredded carrots or any other desired vegetables may be used.
Adjust soy sauce to your liking. More soy sauce will yield a darker color.