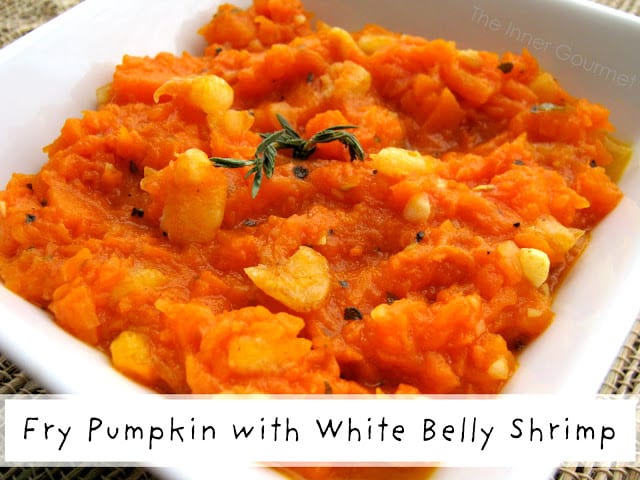 I remember the very specific times my mother would prepare pumpkin and shrimp for us growing up. It was either made for dinner during the work week and served with paratha roti, or prepared when we were having a Hindu prayer service as part of the variety of dishes served to our guests. When she prepared it for poojas or our Hindu prayer services rather, she would omit the shrimp and "curry" the pumpkin which tasted absolutely delicious, but during the work week, she would "fry" the pumpkin, (which really means to saute) and add a unique type of shrimp to it, called white belly shrimp.
The entire dish was so tasty; a hint of sweetness combined with a touch of spiciness and a layer of chewy, provided by the shrimp. This pumpkin dish is the essence of nostalgia now that I live away from home. "Fry" pumpkin has become a regular for dinner at my house and it is even more delectable with lots of white belly shrimp.
About the White Belly, White belly shrimp is a very tiny shrimp found in the brown muddy waters of Guyana, not dirty water, just brown water! It can be consumed with the shell on since it is soft and quite thin. It is very tasty once fried as the skin turns slightly crisp. White belly shrimp is quite prevalent in Guyana due to the natural aquatic environment it grows in.
Because Guyana is one of the countries that the Amazon river drains from, the water begins to get muddy as it carries along sediment and becomes brown by the time it reaches Guyana's coastline. This type of water which is unique to Guyana and many other countries like Bolivia, Colombia, and Ecuador, contains many nutrients for white belly shrimp. My fiance, who is from Trinidad, mentioned he had never eaten this type of shrimp growing up, but after a little research, we realized it was because the waters surrounding many Caribbean islands are not as nutritious for a crustacean-like white belly shrimp.
White belly is best caught during January - May with peaks during March and April, so if you begin to see price fluctuations during the off season, you'll know why! I found a very old article online that discusses the fisheries of Guyana, it also shows a diagram of where white belly shrimp can be found on the ocean floor. You can read more about it here.
I decided to make this yummy dish after seeing the beautiful piece of pumpkin pictured below, at a West Indian produce market in Queens, NY the other day. It brought me back to my mother's kitchen and I really wanted to share her recipe with you. One thing to note when purchasing pumpkin at West Indian food markets in the US is that it is usually sold in large cut pieces because this type of pumpkin, known as, Fairytale Pumpkin Squash, is extremely large and heavy. It has a smooth interior and can be very deep in color.
Usually, when picking out a pumpkin at the market, my mother would look for a piece that looked nice and "red" to infer that it will be sweet once cooked. That woman knows of what she speaks I tell you. The pumpkin was so sweet and so tasty! Now onto the recipe...
Can you see how "red" it is?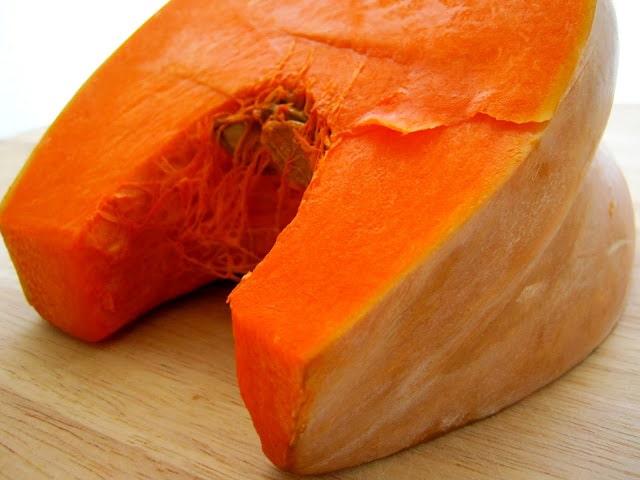 Chop pumpkin into large pieces, then peel and chop into cubes. Set aside.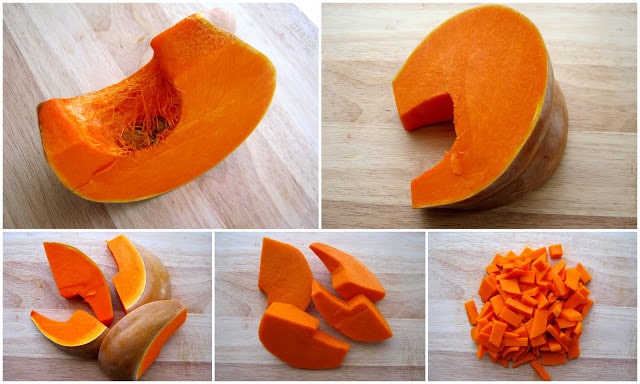 Chop one small yellow onion, five cloves of garlic and as much pepper as you desire. Saute in oil until onions are tender then add diced tomato. Once tomatoes have melted and looked like a sauce, add pumpkin.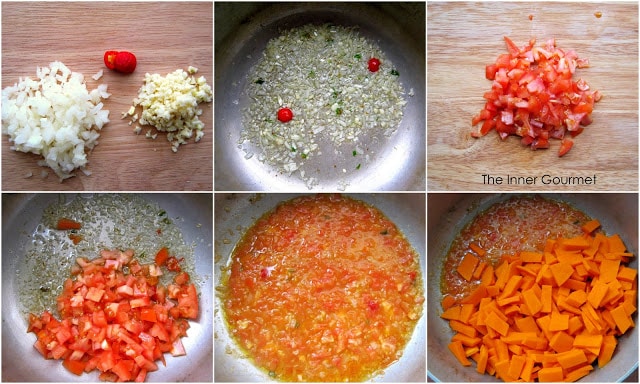 Add curry powder, salt, brown sugar, thyme and any other spices you would like. I also added some black pepper, a little adobo, and dried basil. Add one ¾ cup water and let pumpkin cook till soft.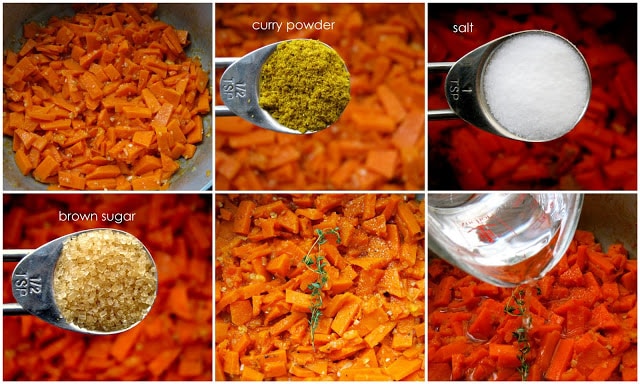 Pumpkin will become loose and soft once finished. You can use your spoon to mash any large pieces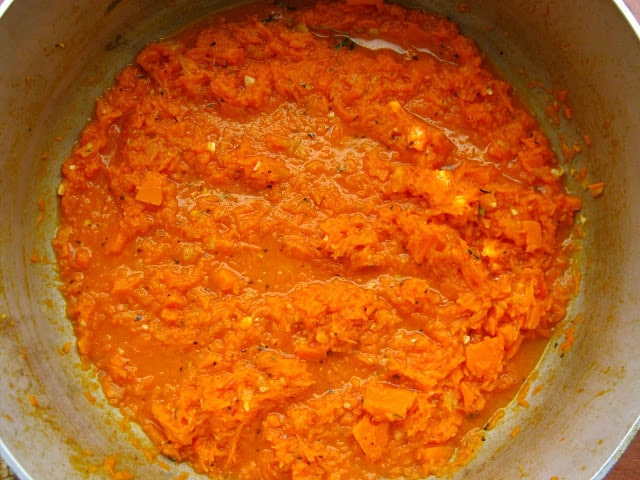 Now cook the white belly shrimp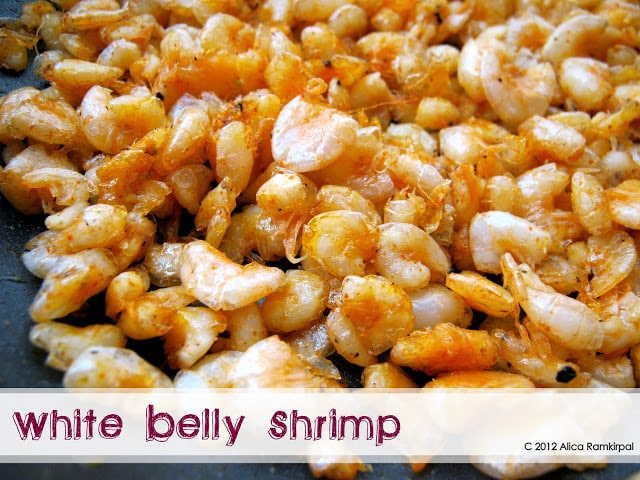 Soak white belly shrimp with the juice of one lime for about 25 minutes. I bought this shrimp frozen. It tends to have a smell and rank taste if not rinse properly with lime juice.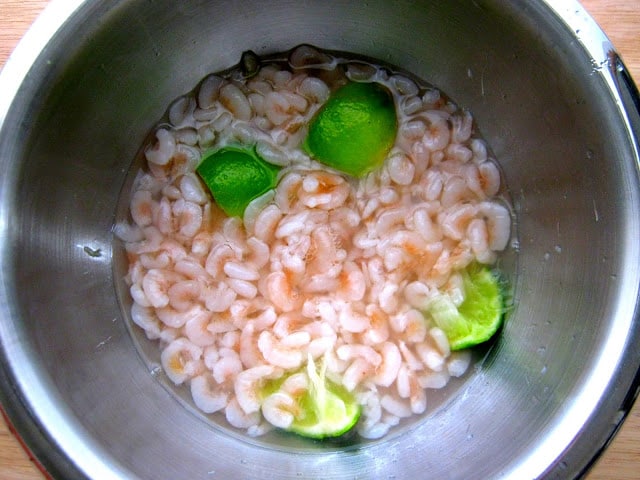 Rinse and prepare to cook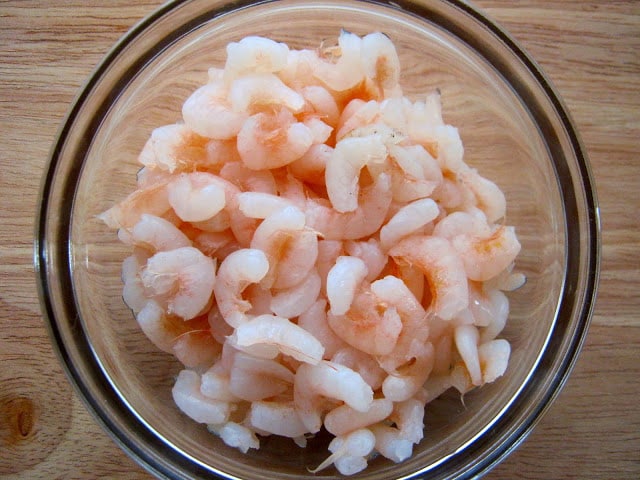 Add a little oil to a frying pan and once hot, add shrimp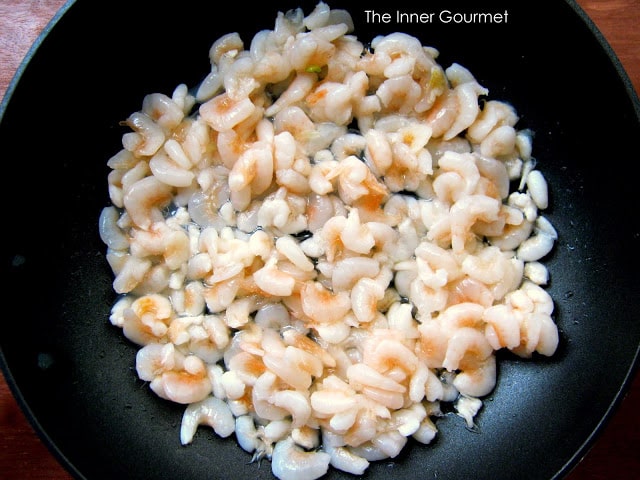 Add black pepper, garlic powder, and cayenne pepper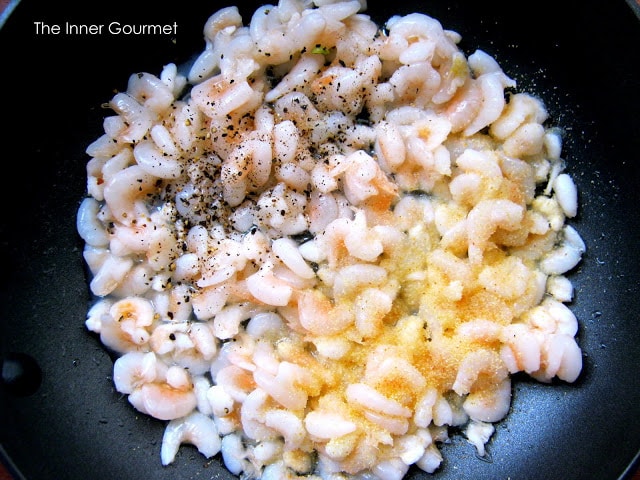 Let shrimp cook until all the liquid has evaporated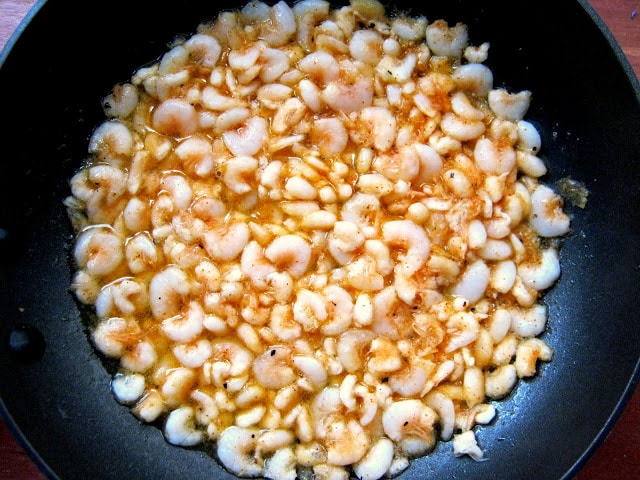 Shrimp will get crisp once finished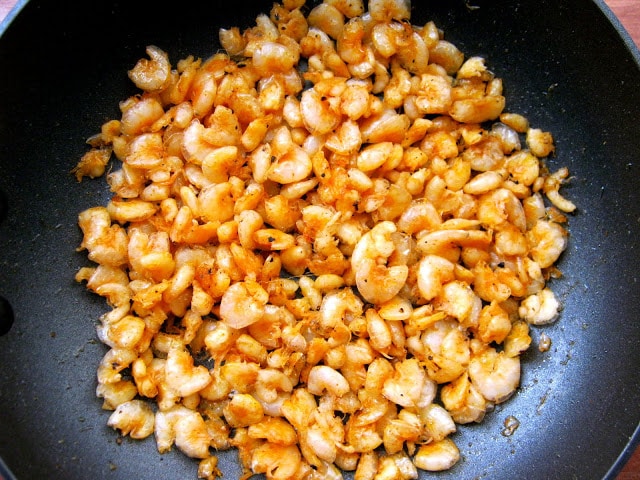 Add shrimp to the pumpkin, once pumpkin is almost done. Let shrimp flavor incorporate into a pumpkin by cooking together for an additional few minutes.
Guyanese Style Fry Pumpkin with White Belly Shrimp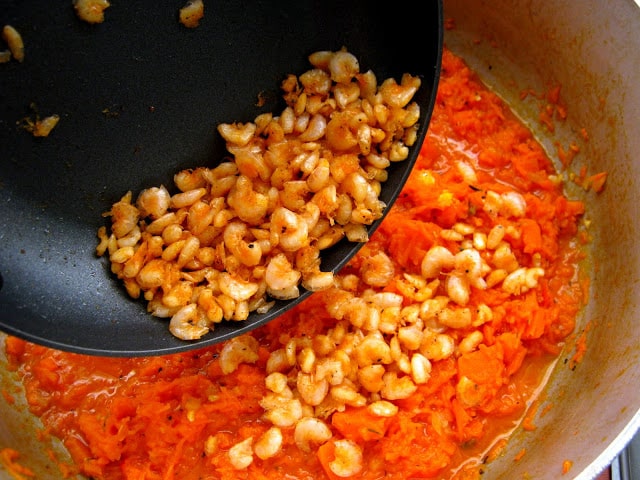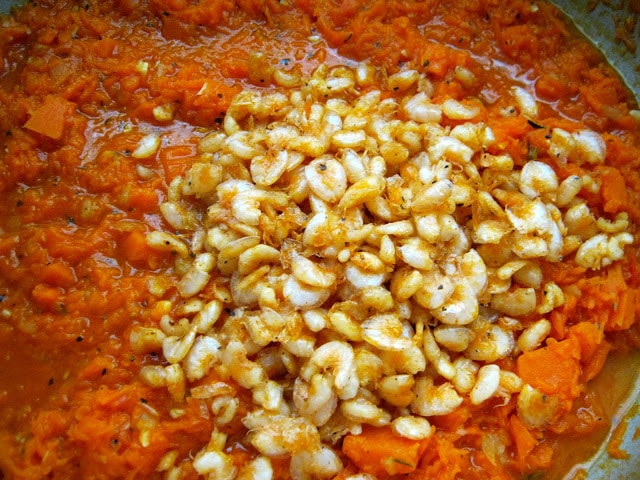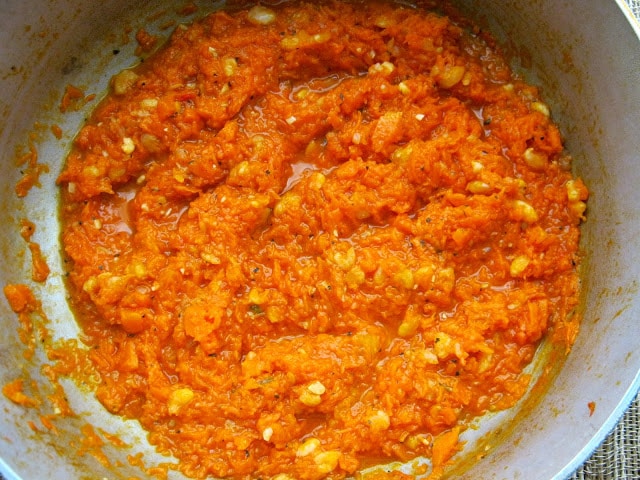 Enjoy with some delicious paratha roti!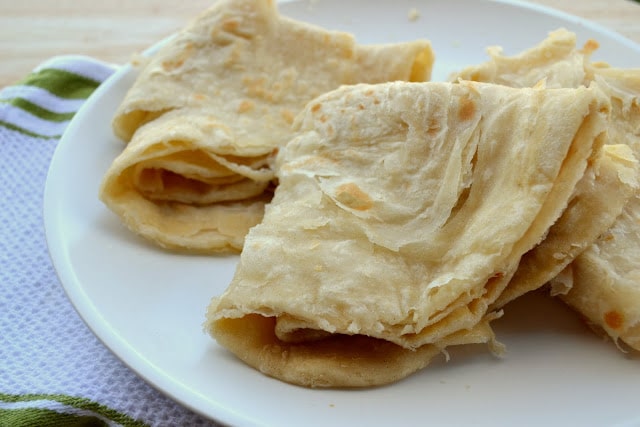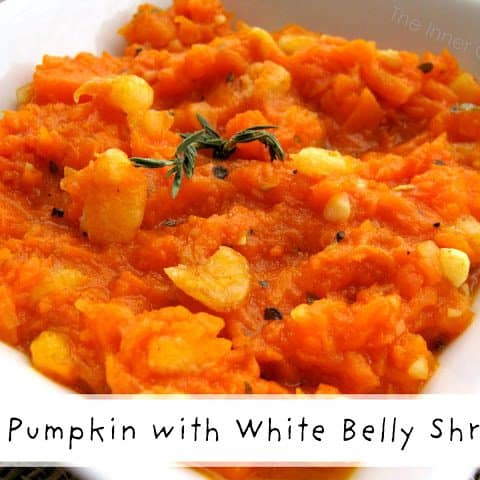 Guyanese Style Fry Pumpkin with White Belly Shrimp
Ingredients
Pumpkin
1 ½ lbs pumpkin, chopped finely
3 tbsp oil
2 heaping tbsp green seasoning or (1 small yellow onion sliced,
5 minced garlic cloves, 2 wiri wiri peppers)
1 large tomato
1 tsp salt to start (add more to suit your taste)
dash of black pepper
dash of Adobo
dash of any dried herbs you like
1 sprig of thyme
½ tsp curry powder
¼ tsp garam masala
½ tsp brown sugar
½ cup water
Shrimp
Desired amount of shrimp (I used ¼lb)
1 tbsp oil
black pepper to taste
pinch salt
dash garlic powder
dash cayenne pepper
Instructions
If using white belly shrimp, soak shrimp with cold water and juice of one lime to rid of any rank smell and taste. Let this sit for 25 minutes then rinse twice with cold water. Set aside.
Chop pumpkin into large pieces and peel the skin off.
Cut each large piece of pumpkin into smaller ½ inch pieces. Set aside.
Heat pot with a few tablespoons of oil. Chop onion, garlic and wiri wiri pepper, add to pot and cook until onions are tender and fragrant.
In the meantime, chop tomatoes. Once onions are tender, add diced tomatoes. Let tomatoes cook until they are soft and mixture looks like a sauce.
Add pumpkin to the pot and let cook for 10-12 minutes on medium heat.
Add 1 tsp salt to start (add more to suit your taste), black pepper, thyme, curry powder, brown sugar, and any other seasonings you like (I added a dash of Adobo, black pepper, and dried basil), let cook for another 15 minutes.
Add ½ cup water and allow pumpkin to cook and for 20-25 minutes.
Heat a frying pan to medium-high, add shrimp and seasonings. Cook until water has evaporated from shrimp. Shrimp will look dry and crisp once finished. Add to pumpkin.
Pumpkin is done when it begins to dissolve and loosen and there is little water left in the pot. Mash pumpkin with your spoon to break up any whole pieces.
Notes
This recipe is just a foundation, you can add any additional seasonings you prefer