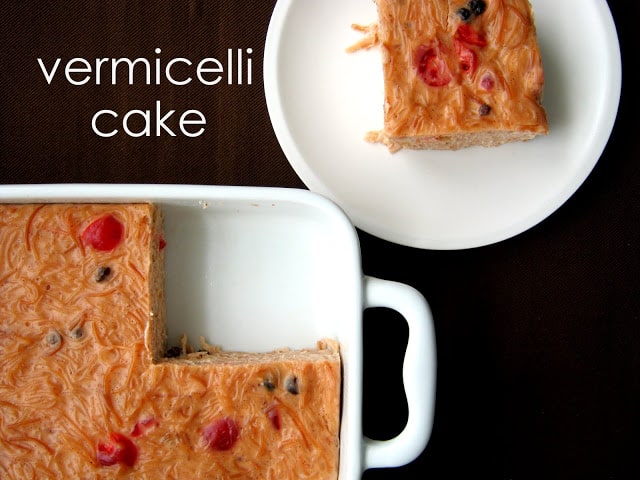 Vermicelli cake, called vam-a-zelli, in Guyanese patois, is a dessert or snack made from vermicelli noodles that is simmered in milk and flavored with warm spices such as cinnamon, nutmeg, cardamom and clove. After the noodles are cooked and the mixture has a pudding like consistency, it is poured into a dish and left to set, then cut into small pieces. I love making vamazelli during holiday times, but it is also delicious as an anytime dish.
Trinidadians make a version known as sawine and differs from vamazelli cake at the point when you end the cooking process. For sawine, once the noodles are cooked and the milk is just a little thick it's removed from the heat and spooned into a bowl to enjoy. To make vamazelli cake, you'll continue to boil the mixture until it has thickened and reduced down to a pudding-like texture then poured into a dish to firm up.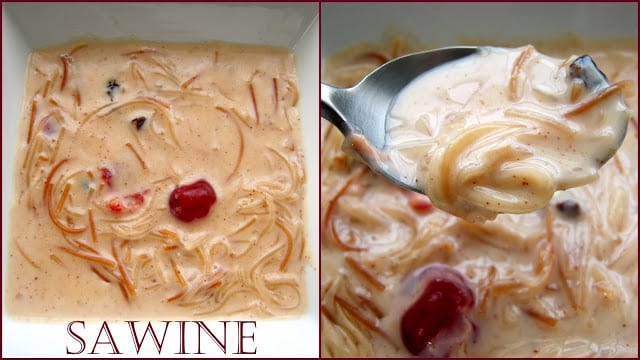 Making vamazelli for special occasions
My mom made vamazelli during Hindu holidays and any special occasion in our home, it was truly a treat. During the Muslim holiday of Eid, the loose or soupy version is commonly made and enjoyed for breakfast or dessert. My South Indian friend Anjy who is from Kerala notes this dish is called paysum and is very similar to sawine; in Pakistan it is known as seviyan. It is interesting to learn how other cultures enjoy similar dishes, it shows how food can really bring us together and find commonality.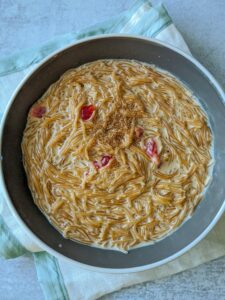 I called my mom for this recipe and naturally, she gave me a recipe that indicated a dash of this and a pinch of that along with 2 pot spoons of sugar. I said mom, "no one measures sugar that way" haha! It turns out that her pot spoon is equal to about a half cup, ha!
I used 200g of vermicelli noodles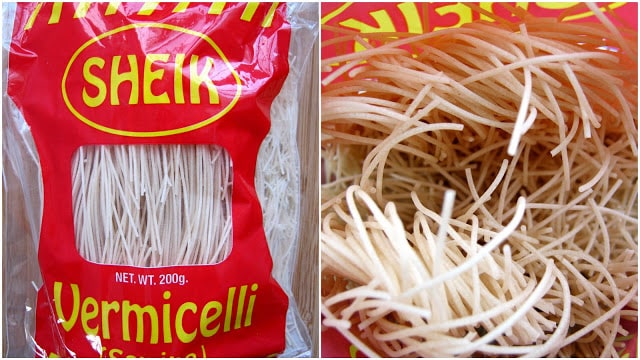 chop up 14 maraschino cherries, you can add more if you like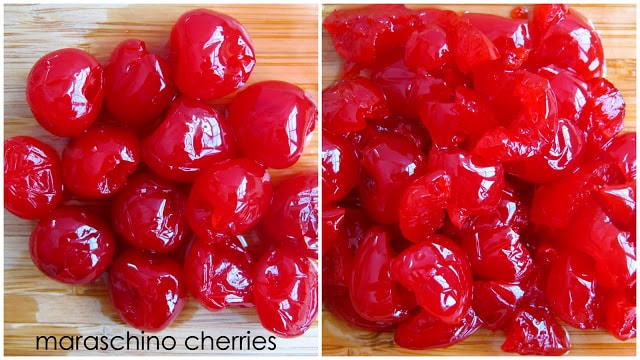 melt ½ stick butter and parch or toast the noodles until some look golden brown.
add water (not pictured), whole milk, sugar, extracts, and spices. Let it simmer until the noodles soften, then add evaporated milk and continue to cook 15-20 minutes.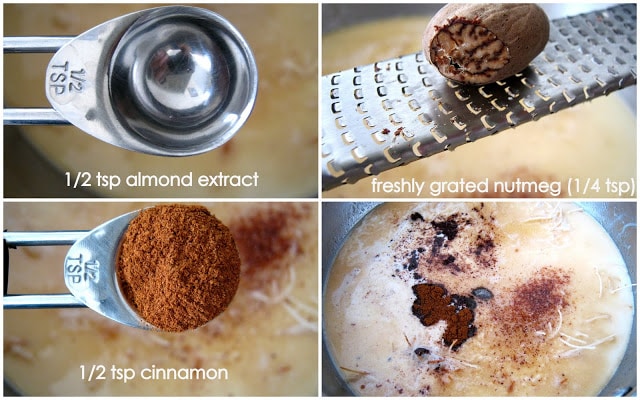 When the mixture becomes thick (about 15-20 minutes) and heavily coats the back of the spoon, turn off the heat. You can add some condensed milk here if desired. Remove from heat and pour into a dish.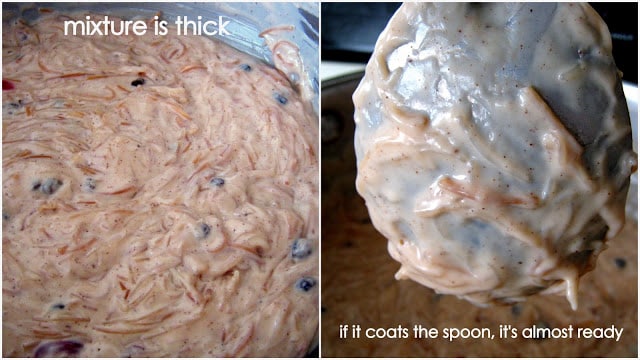 The dish I'm using is 2 inches deep and my vermicelli came up 1 ½ inches. It was nice and thick.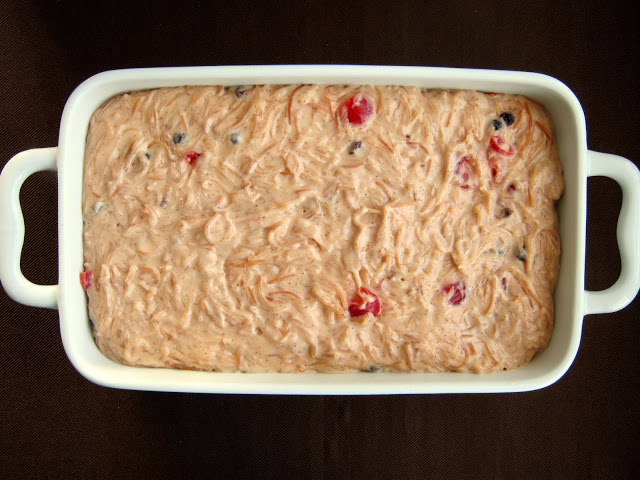 after it firms up, cut a piece...
serve and enjoy!
Vermicelli Cake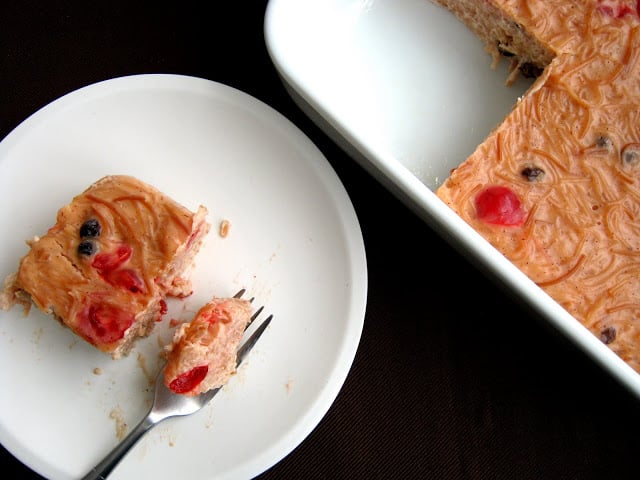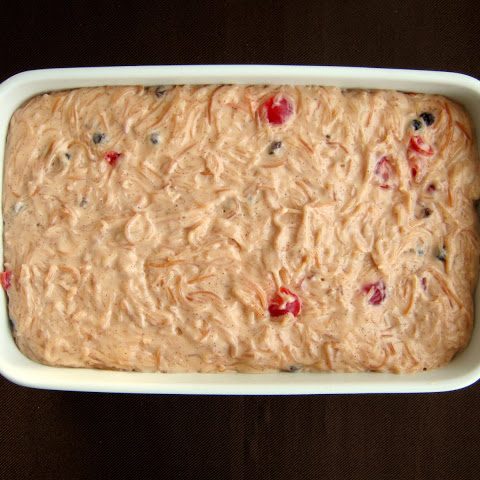 Vamazelli (vermicelli) Cake
Vamazelli cake is a noodle dish made by simmering vermicelli in milk flavored with warm spices and sugar. It is enjoyed for breakfast on Hindu and Muslim holidays.
Ingredients
200g vermicelli noodles (about 2 cups)
14 maraschino cherries, roughly chopped
desired amount of currants (I used ¼ cup)
4 tbsp salted butter (½ stick)
½ cup brown sugar
½ tsp ground cinnamon
¼ tsp ground nutmeg
1 tsp vanilla extract
½ tsp almond essence
1 12oz can evaporated milk
3 ½ cups whole milk
½ cup water (not pictured above)
¼ cup condensed milk (if desired)
Instructions
Melt butter in a deep pot on low heat. Add vermicelli noodles and toast it until some of the noodles become brown, about 3-4 minutes. This will happen fast so do not walk away from the stove.
Once some of the noodles are brown, add the water, whole milk, extracts, and spices.
Keeping the stove on low heat, let the noodles simmer in the milk until it starts to soften up, add the evaporated milk then add cherries and currants. Boil for about 15 minutes until the mixture starts to thicken. If it has not reached this stage as yet, just wait until it dries down and starts to look like a really thick pudding.
When the mixture coats the back of a spoon thickly without dripping, then add condensed milk (if using) at this time. Stir to mix, then remove from heat and pour into a dish.
Let this sit out for a couple hours to firm up, or you can put it into the refrigerator to firm up faster. Cut and enjoy.
For Sawine:
After step 3 when you add the evaporated milk to the noodles, boil 10-12 minutes or until noodles are completely cooked. Remove from heat before it starts to get very thick.
Notes
For added flavor, you can add a few cloves and cardamom pods to mixture while it is boiling. ¼ tsp ground clove and cardamom can work in place of whole spices.