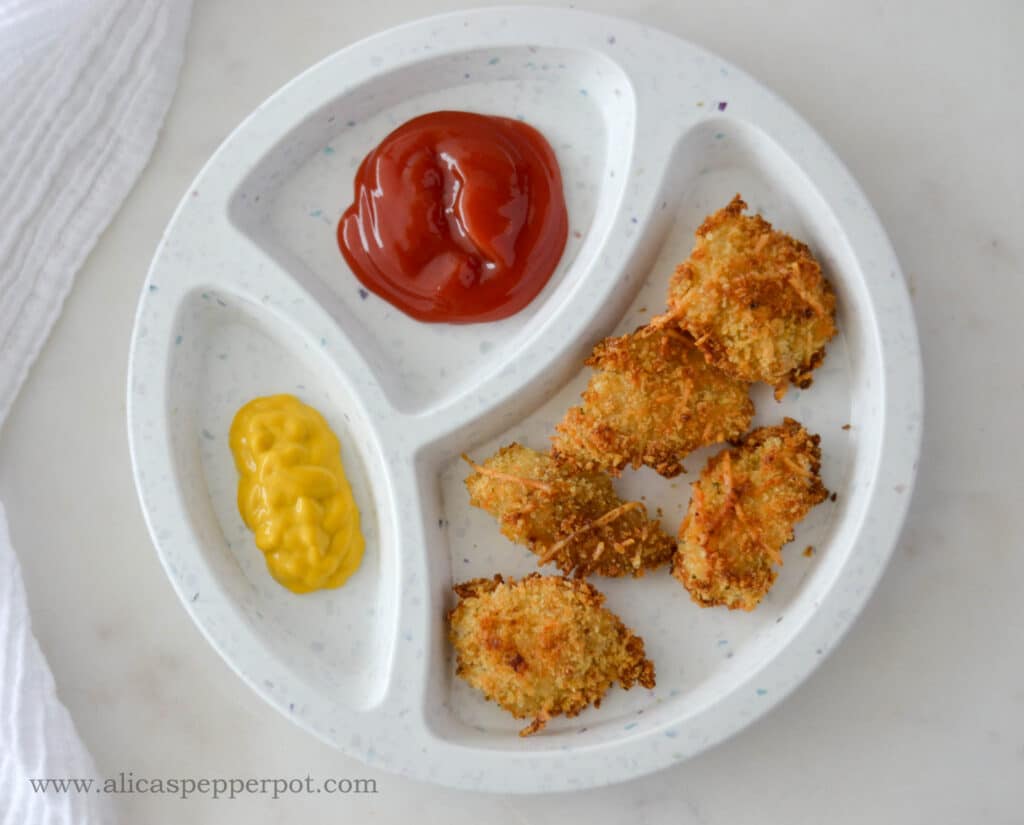 My eldest son loves tiny foods that can fit into his hand. He loves eating anything made out of shapes and anything colorful. I decided to make chicken nuggets for him at home after realizing it is one of the foods he eats on rotation. Whenever he wants it, or if I need a quick dinner option for him, I could easily pull them out of the freezer and pop into the oven. I've found using the tenderloin cut of the chicken breast works really well. The meat is tender of course, so it's easier to chew. Your local grocer should sell chicken tenderloins in its own package. I tried another recipe where the meat was cooked, placed in a food processor, then shaped and breaded. This was a little extra work, but try that method if you like. Today I'm sharing how I make these crunchy nuggets that both my kids enjoy, and sometimes even their dad.
My Son, the Pickster
When my eldest son turned two-years old he became incredibly picky about his food. I didn't think he would go through this phase (I'm praying it's a phase, y'all). After all, I took all the advice people gave me on starting him off with healthy eating habits. I never fed him any junk food; it was all organic and only homemade. His favorite foods were kale chips and sardines with rice. Seriously, kid?! He ate everything green and I kept him off of meat. My family thought I was crazy, but I was proud of his good nutrition. With all the information online about how unhealthy processed foods and snacks are, especially for kids, I felt good about what I was feeding him, but all of a sudden it changed. He started to refuse foods he loved, except oatmeal, which I will save for another post, but I was dumbfounded. How could he not eat something today, that he absolutely loved yesterday?! I realized I was trying to fight a fight I could not win.
I remember going out to eat with my mommy group for lunch one day. I don't remember what I ordered him, but I recall him grabbing a chicken nugget from his friends' plate and going to town. I didn't stop him. I was happy he was eating something. I realized I had to be realistic about feeding him. Being pregnant with my second son and feeling tired most of the day, meant that spending hours in the kitchen making meals and getting creative was not an option anymore. So I decided I'd cook as healthy as I could for him at home and let him have whatever he wanted when we went out to eat. I felt good about this compromise. He's still a picky eater, but I've learned to choose my battles.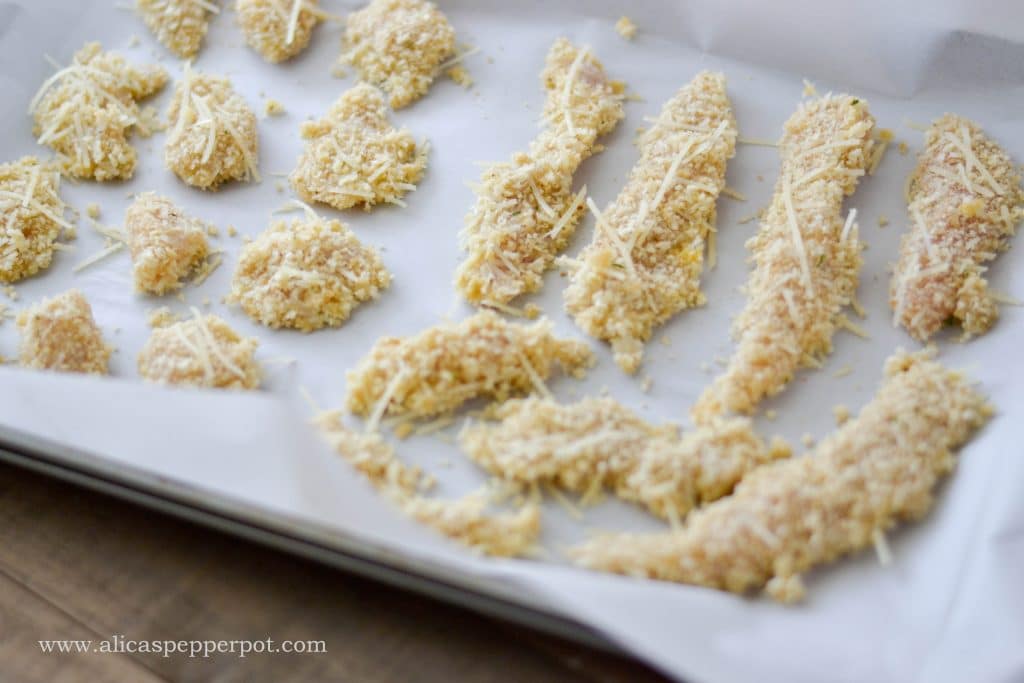 Make it crispy, mom
If these nuggets aren't crunchy, he won't eat them so to keep them nice and crisp, I use a mixture of parmesan cheese, panko and italian breadcrumbs. For the egg wash, I use mostly egg whites. It keeps the crust from getting soggy- I've found too much egg yolk does that. After setting these up on a baking sheet, I spray them generously with olive oil spray. It helps the crust get nice and golden brown.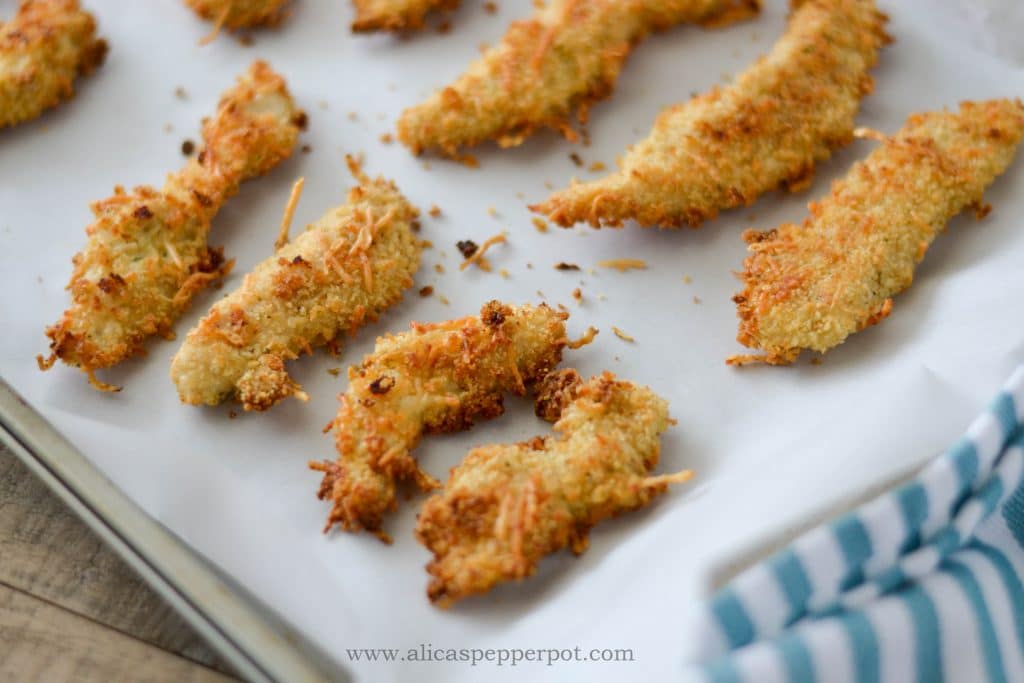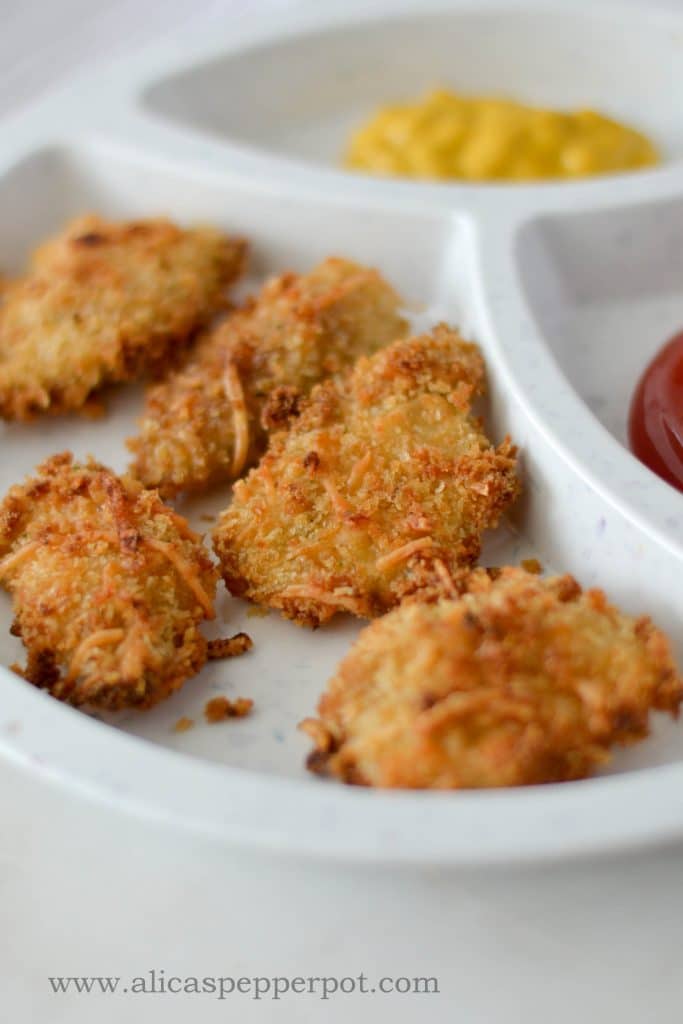 After battering all of the chicken, I reserve some to freeze. This helps me on a busy night. I can just pull a few of them out and in 15 minutes he has a good protein for dinner. They don't stick to each other since each piece is breaded. It takes some extra work to prepare, but it is worth the time.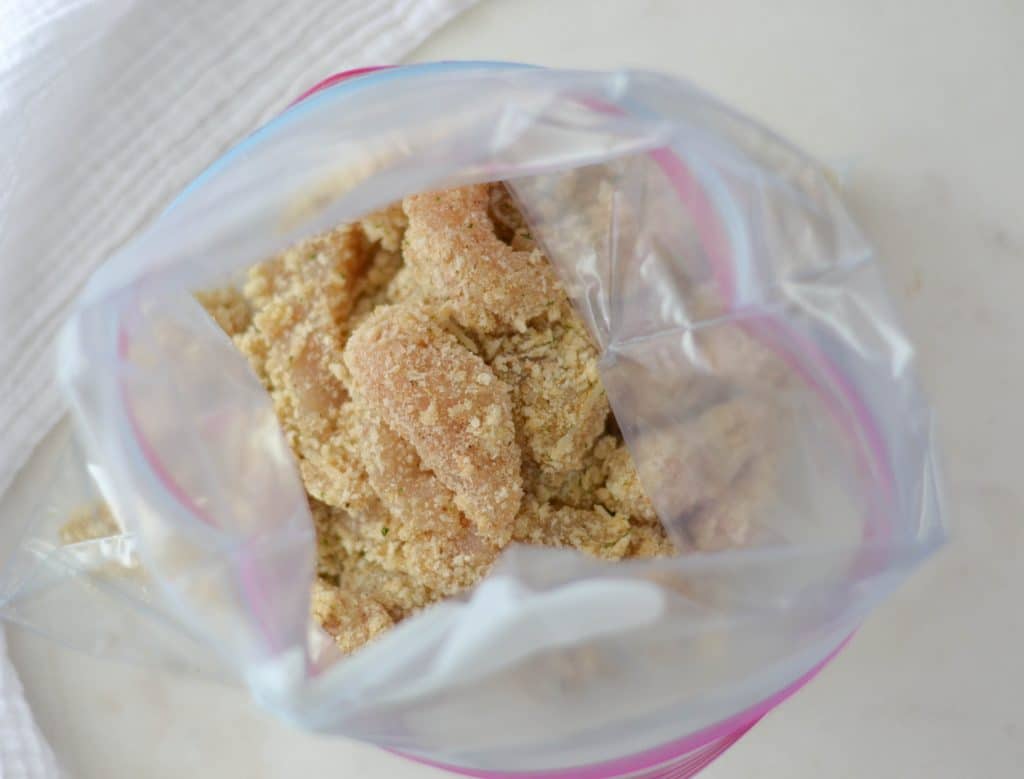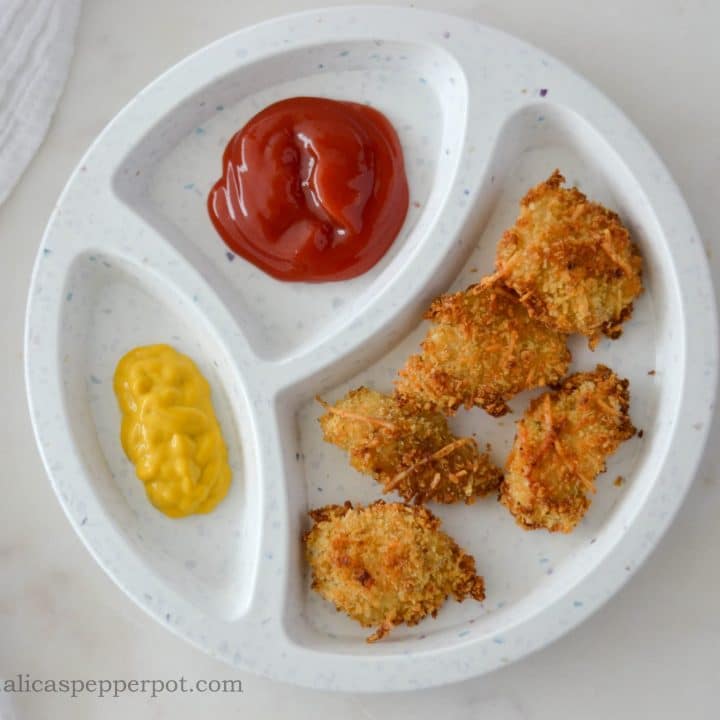 Baked Chicken Nuggets
Ingredients
For the Chicken
1 ½ lb chicken tenderloins
3 tbsp olive oil
½ tsp salt
½ tsp adobo
¼ tsp black pepper
½ tsp onion/garlic puree (optional)
Olive oil spray
Batter
3 egg whites
1 egg yolk
1 tbsp water
½ cup whole wheat flour
1 cup panko breadcrumbs, plain
¼ cup parmesan cheese, shredded
¼ cup Italian breadcrumbs
Instructions
Wash and clean chicken. Pat dry. Chop into 3-4in nugget-sized pieces or cut into strips
Season chicken with oil, salt, and remaining seasonings.
Set up batter station. Beat eggs, egg yolk, and water together to make egg wash. Set aside.
In another bowl, measure out flour. Set aside.
Mix breadcrumbs and parmesan cheese together, set aside.
Piece by piece, dip chicken in flour, egg wash, then breadcrumb mixture. Coat evenly and place on a lined baking sheet. Repeat until all chicken is coated.
Bake chicken at 400 degrees for 15 minutes. Turning once halfway through cooking.
Notes
Onion/garlic puree - Blend 1 medium onion and 5-6 garlic cloves with thyme and water until smooth. Season chicken as reserve remainder in fridge for use another time.
After entire batch of chicken has been battered, half may be frozen in ziploc freezer bag. Bake as directed when ready to consume.