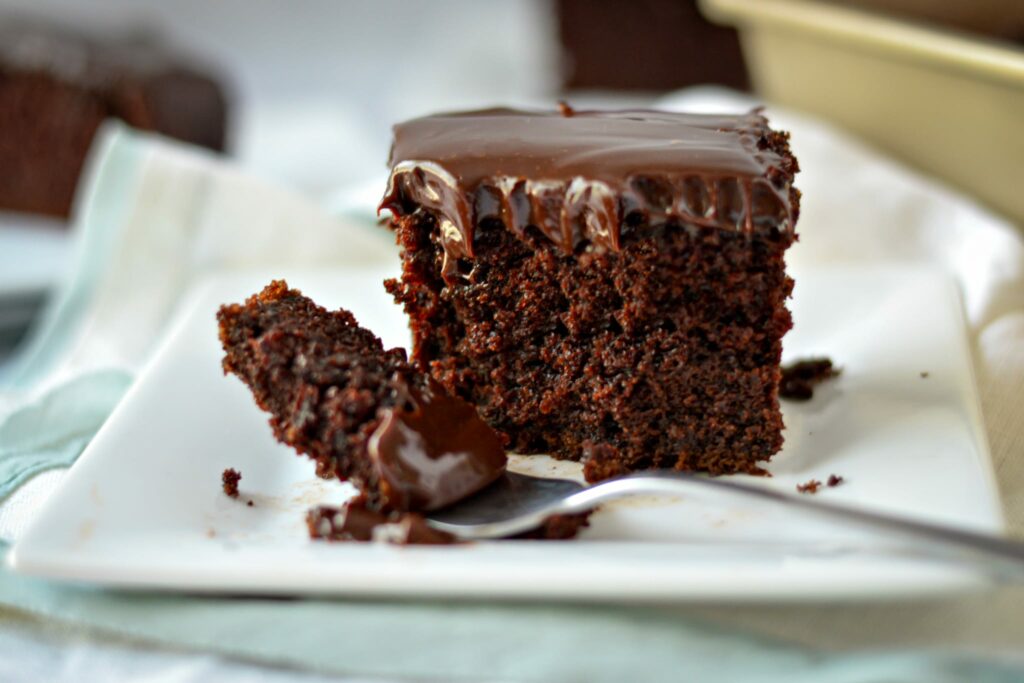 My older son is a chocolate lover and this easy chocolate cake is his favorite cake, ever! It's fluffy, chocolatey, and perfectly moist. I've made it a little fancier by making it into a layer cake. The batter bakes beautifully as cupcakes and is perfect with cream cheese frosting. It's so versatile and is a great base recipe to use with your favorite frosting. I've topped my cake with chocolate ganache. What I love about this recipe is that it is a no-fuss-easy-pantry-ingredients type cake. Every ingredient is easy to find at your local grocer. There's also no creaming of butter and sugar, all you need is a whisk and spatula to bring it all together.
I've tried many chocolate cake recipes, many great tasting, but I keep coming back to the Hershey's chocolate cake recipe on the back of their cocoa powder container. That recipe is an American classic. It's a great go-to recipe when you just want a great chocolate cake. I've altered the recipe slightly by adding instant espresso powder. This small change brings out a sharp chocolate flavor without making the cake taste like coffee.
This is a perfect anytime celebration cake, but I usually make it when my son says he wants mom's chocolate cake with vanilla ice cream :).
You might also like:
Place all dry ingredients in a large bowl, mix with a whisk. Mix wet ingredients, then pour into dry. Batter will be thin, don't be alarmed, this is normal.

Bake at 350 degrees for 35-40 minutes. My oven baked it perfectly at 35 minutes.
I'm using semi-sweet chocolate chips here. Use any brand you like. Heat heavy cream just until scalded then pour over chocolate chips. Let it stand 5 minutes then whisk to make a smooth topping.
Alternative ingredients
This cake is very forgiving. You can easily swap out ingredients for a healthier option or even make it dairy-free to suit your diet.
Use coconut oil, grapeseed oil, or applesauce (measure for measure) in place of vegetable oil
Try almond milk, coconut milk, or lactose free milk in place of whole milk
Use dairy-free chocolate morsels and coconut milk to make the ganache
Egg substitute- I recommend either ¼ cup applesauce for each egg OR 1 teaspoon baking soda mixed with 1 tablespoon vinegar. This recipe already calls for baking soda so use the one teaspoon already listed in the recipe and mix with vinegar then add to the wet mixture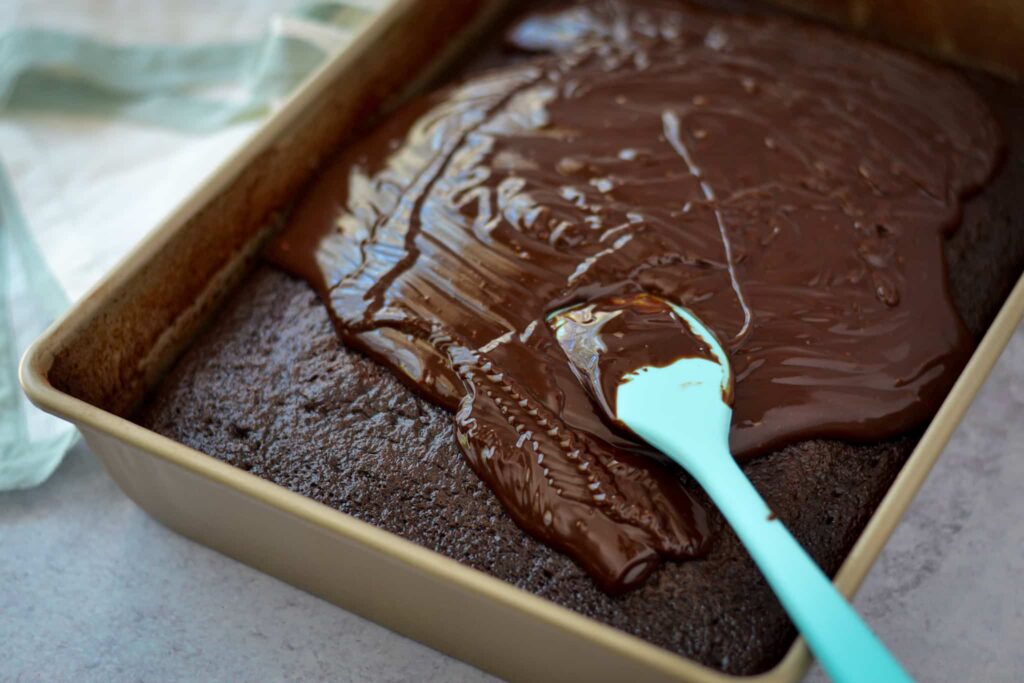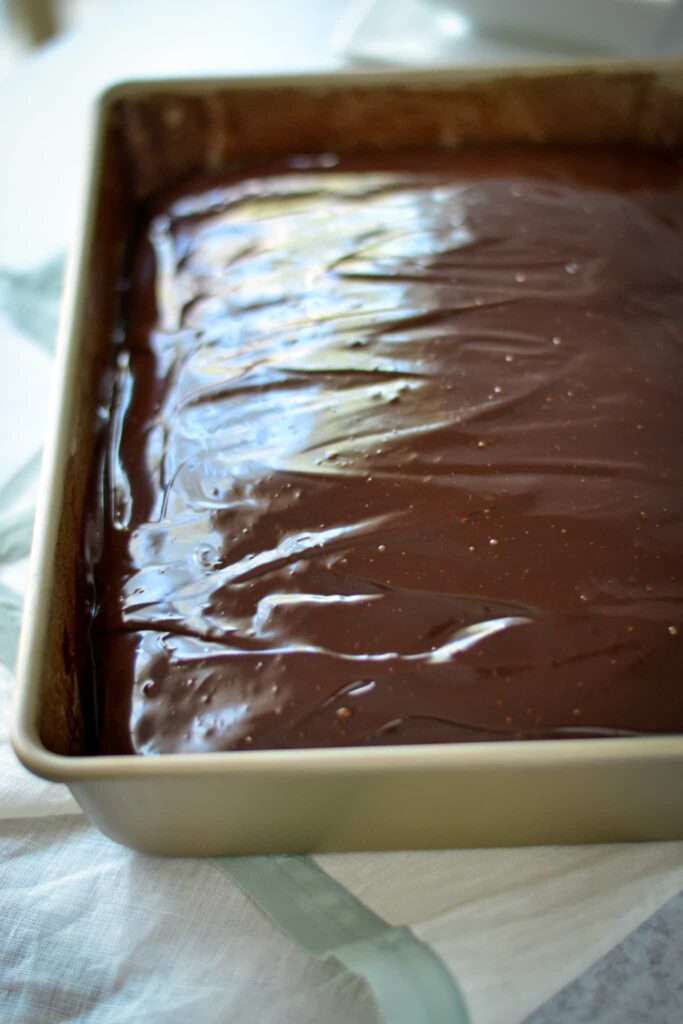 Tips
Taste is best after a few hours or the next day
Use cocoa powder in place of flour to butter and "flour" your pan. You wont get those white streaks on the outside of the cake after baking 🙂
Batter will also fit in two 9-inch pans to make a layer cake
If baking in a glass 9x13 dish, reduce baking time to 325 degrees F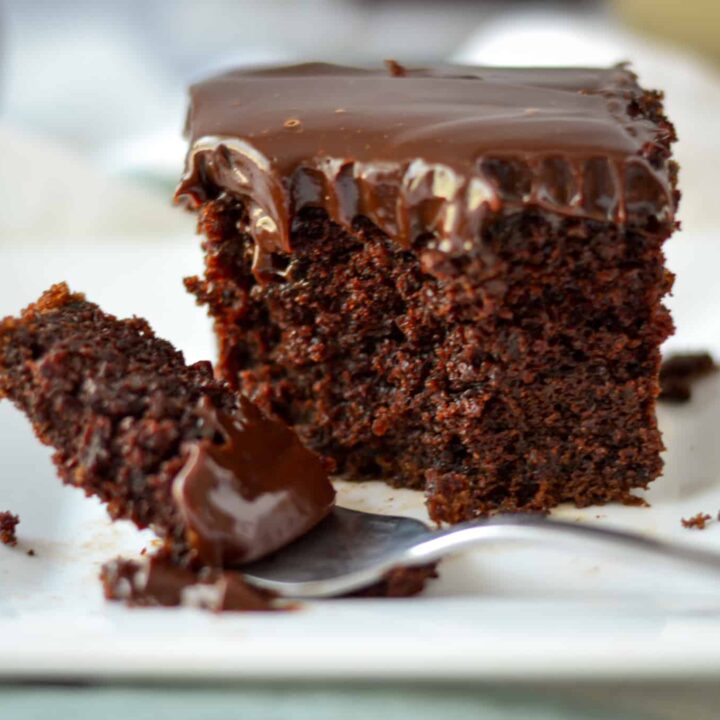 Easy chocolate cake
Ingredients
Dry
2 cups granulated sugar
1 ¾ cup all-purpose flour
¾ cup cocoa powder (unsweetened)
2 tsp instant espresso powder
1 ½ tsp baking powder
1 tsp baking soda
½ tsp salt
Wet
2 eggs, beaten
1 cup milk
½ cup canola oil, vegetable oil, or melted butter
2 tsp vanilla extract
1 cup boiling water
Ganache
12oz semi-sweet chocolate morsels
8oz heavy cream
1 tsp vanilla extract
Instructions
Pre-heat oven to 350 degrees F. Butter and flour a 9x13 metal pan. Set aside.
Place dry ingredients in a large bowl. Use a whisk to combine and mix.
In a separate bowl, combine wet ingredients. Beat egg, milk, oil, and vanilla. Reserve boiling water.
Add wet ingredients to dry mix. Mix thoroughly, then pour in the boiling water. Batter will be thin, this is normal. Use a fork to gently stir batter to remove any air bubbles.
Pour batter into pan. Bake 35-40 minutes. Insert toothpick after 35 minutes to ensure cake is cooked through.
Let cake cool 20 minute before frosting.
Make ganache
While cake is baking, prepare ganache.
Place chocolate morsels in a large mixing bowl. Set aside.
Pour heavy cream into a saucepan. Heat on med-low. Allow milk to heat until scalding. Do not boil. Remove from heat. Immediately pour milk over chocolate morsels. Let it stand for 5 minutes to melt chocolate.
Use a whisk to mix milk and chocolate until smooth and shiny. Allow to cool and thicken for about 10 minutes before frosting the cake.
Pour ganache over cake. Use a spatula to smooth over cake. Leave cake uncovered to allow ganache to dry slightly.