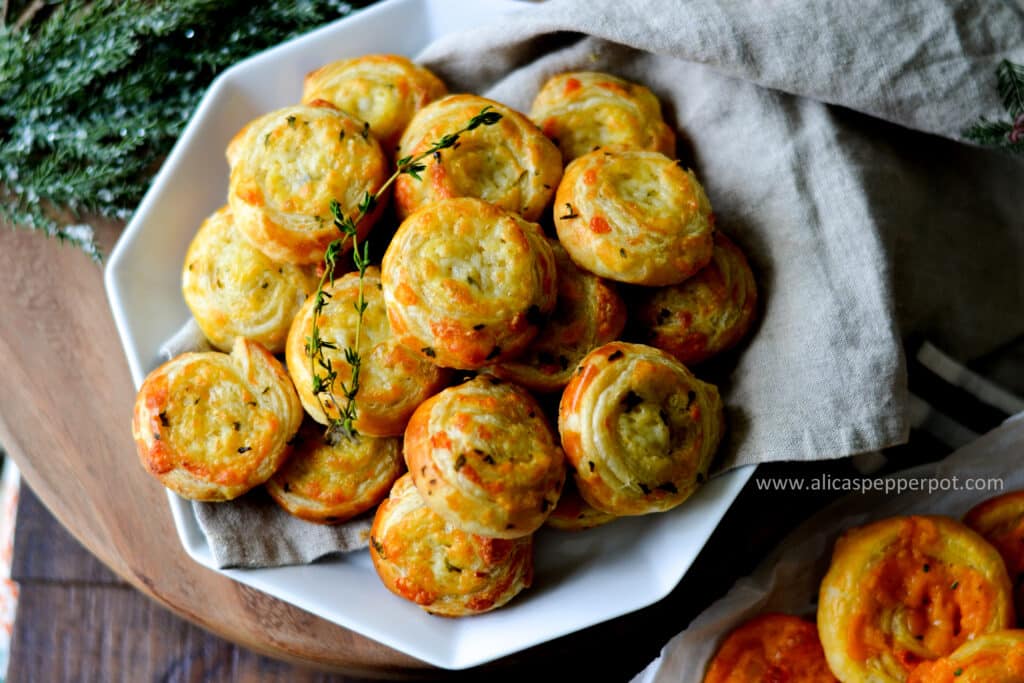 You may also like :
Cheese straws for Christmas or Buffalo Chicken Dip
When the holidays roll around I'm always looking for a quick appetizer to make while my guests are munching and sipping on drinks. These cheesy pinwheels are always a hit, especially when served warm. Store-bought puff pastry makes quick work out of these cheese pinwheels. They're also wonderful with different fillings. I used two different cheeses for each puff pastry sheet- monterey jack and the other, a spicy cheddar.
Pinwheels are also a great bite for the kids as an anytime snack. Most kid's seem to love cheese I feel. My kids love these cheese pinwheels because they fit perfectly into their tiny hands and they love to get involved with the recipe- helping to sprinkle the cheese and roll the dough up.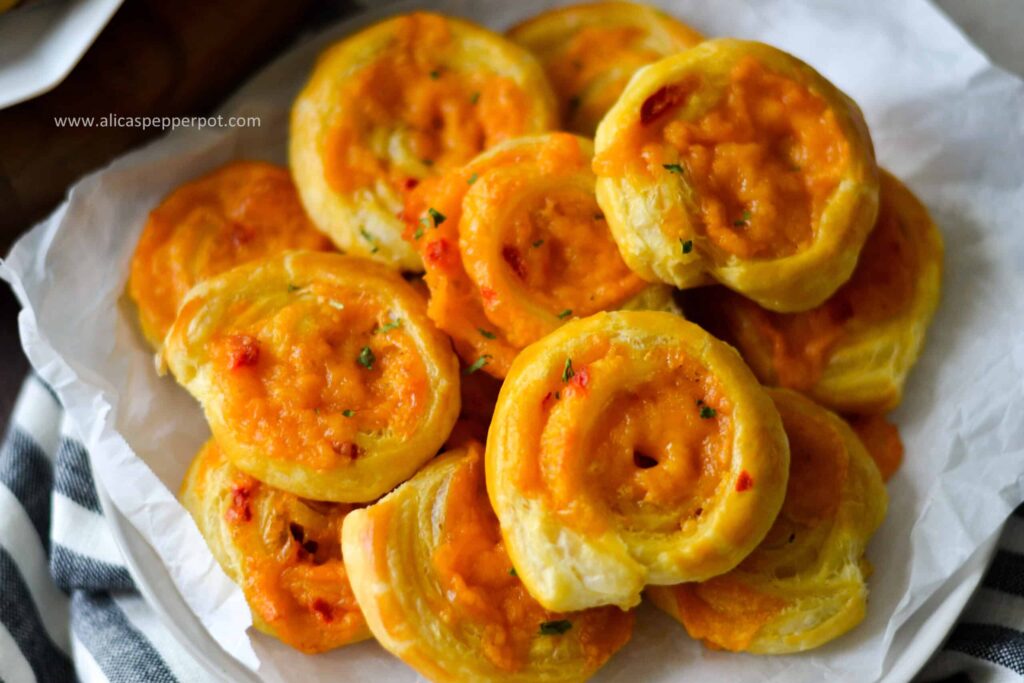 Filling + Crust Options
What I love about this appetizer is the versatility in the filling. The possibilities are endless. I used cheese with pimento peppers for one batch and monterey jack cheese for the other. Here are some other options that would be fantastic with the puff pastry.
Variety of cheeses- pepper jack, monterey, habanero, sharp cheddar, parmesan, mozzarella
Ham/turkey - slice up your favorite cold cuts and roll them up with some cheese. Perfect when hot!
Spinach and feta - Makes a great tangy combo
Ground meat- Season and cook your favorite ground meat, spread it on the puff pastry with cheese, slice and bake.
Olive tapenade - Tangy and hearty!
Crescent rolls - This is another option if you can't find puff pastry- the crescent rolls will be softer and not as flaky as puff pastry, but it's still a good option.
Thaw puff pastry according to boxed directions. Roll dough out until it's a little bigger and thinner.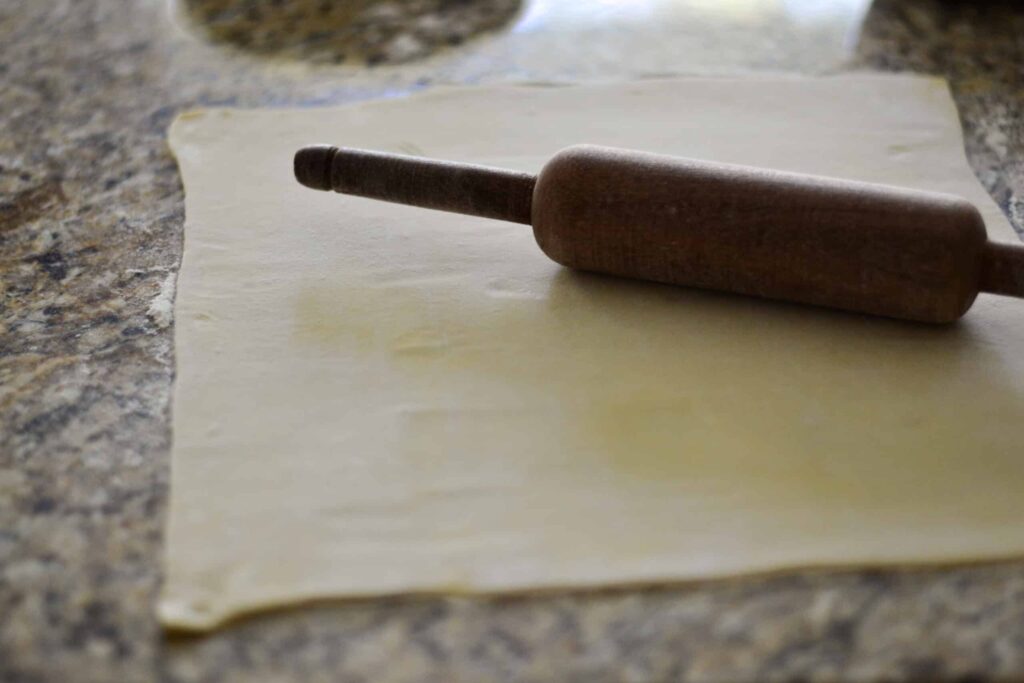 Gather up some flour and egg wash in a bowl. Set aside a baking sheet lined with parchment paper.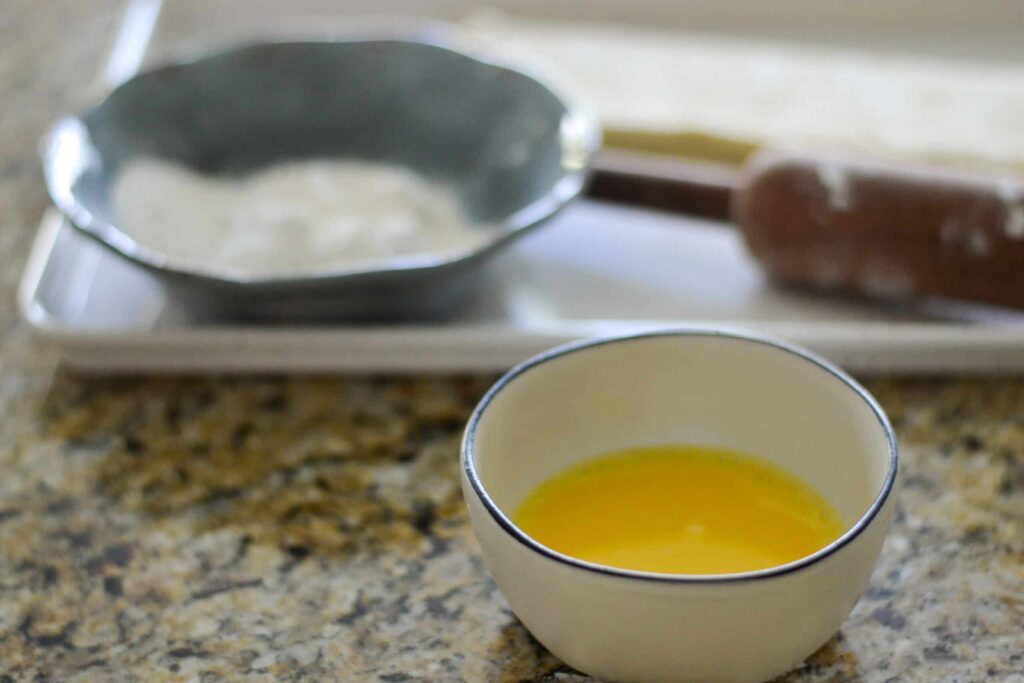 You may choose any cheese filling you like. I used a pimento cheese mixture for one sheet of puff pastry and monterey jack for the other.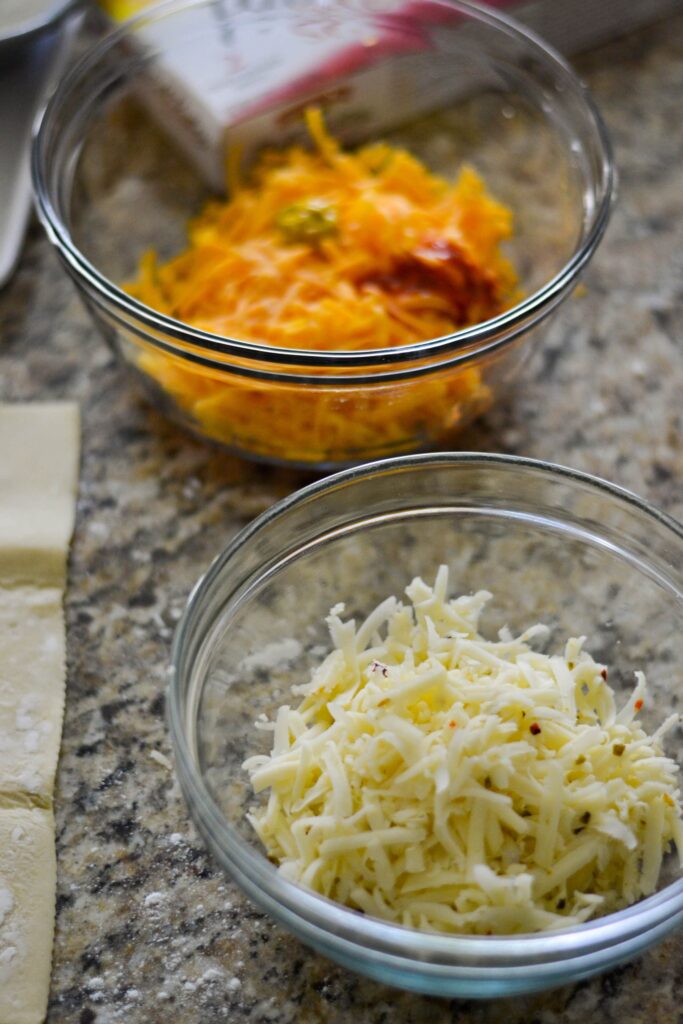 Brush puff pastry with egg wash then sprinkle cheese mixture. Alternately, you may pulse the cheese mixture in a food processor with a little butter until smooth. Spread cheese on puff pastry.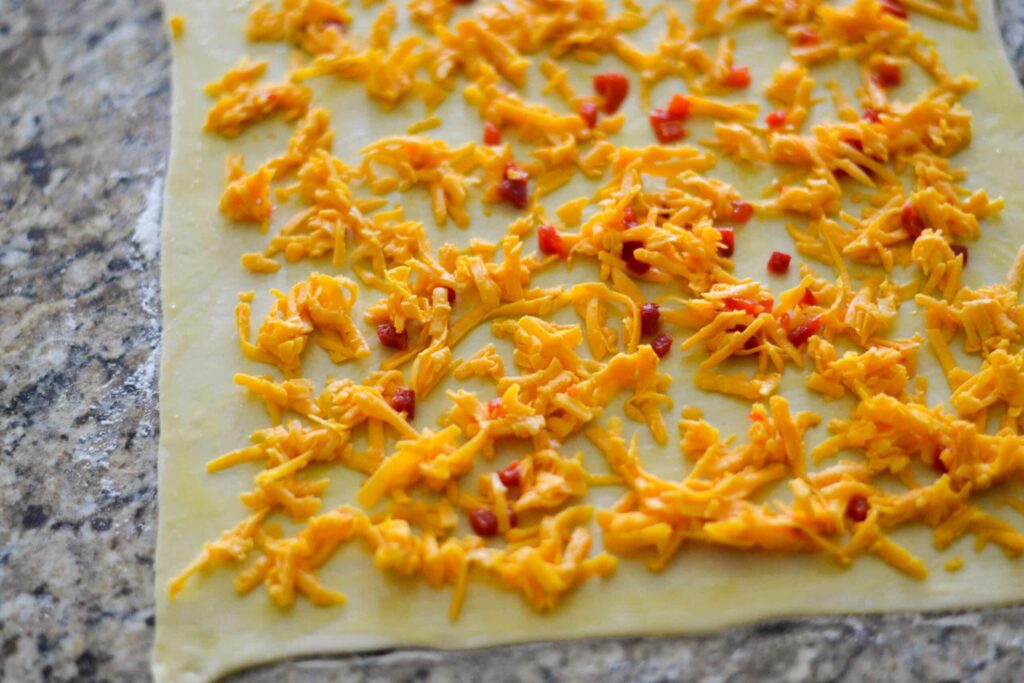 Roll it up...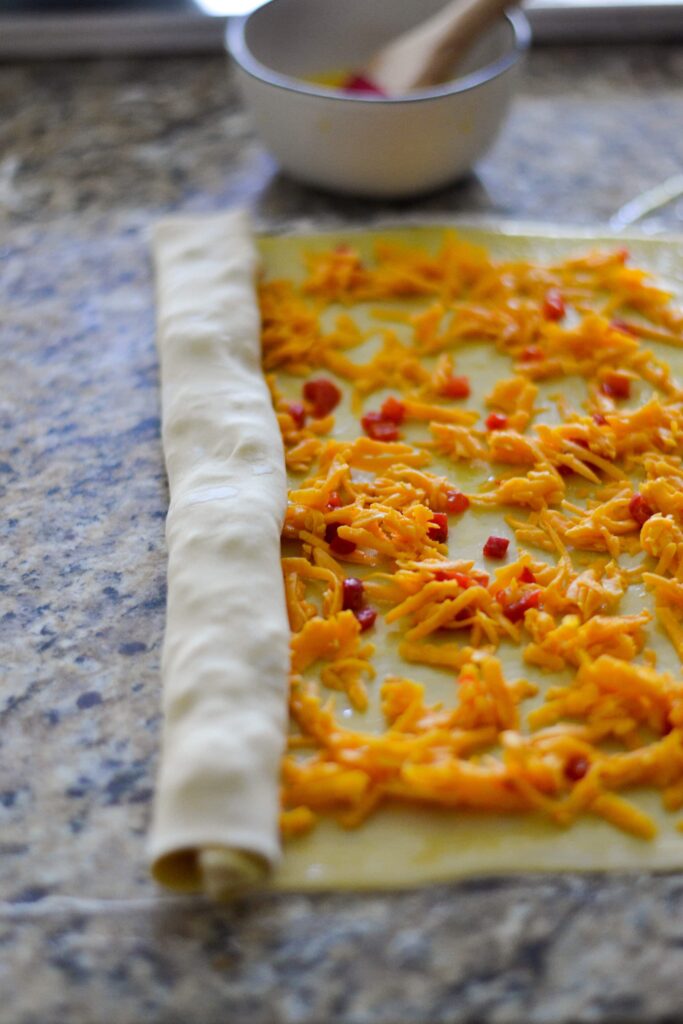 Slice into 1-2 in thickness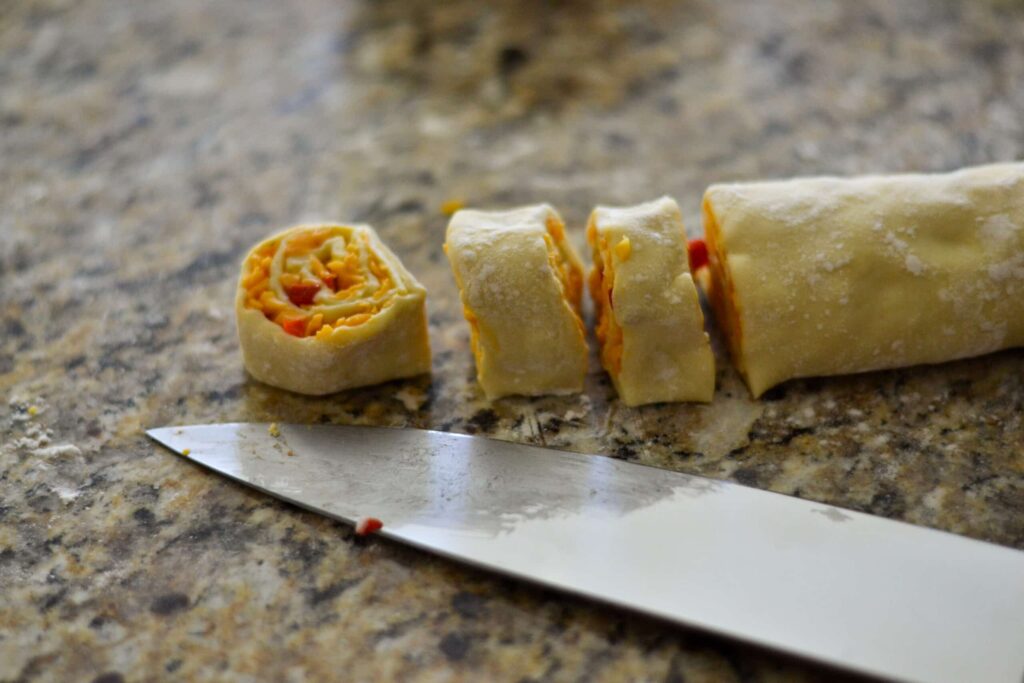 Place on baking sheet and flatten with the bottom of a glass- be sure to flour the bottom of the glass to ensure no sticking.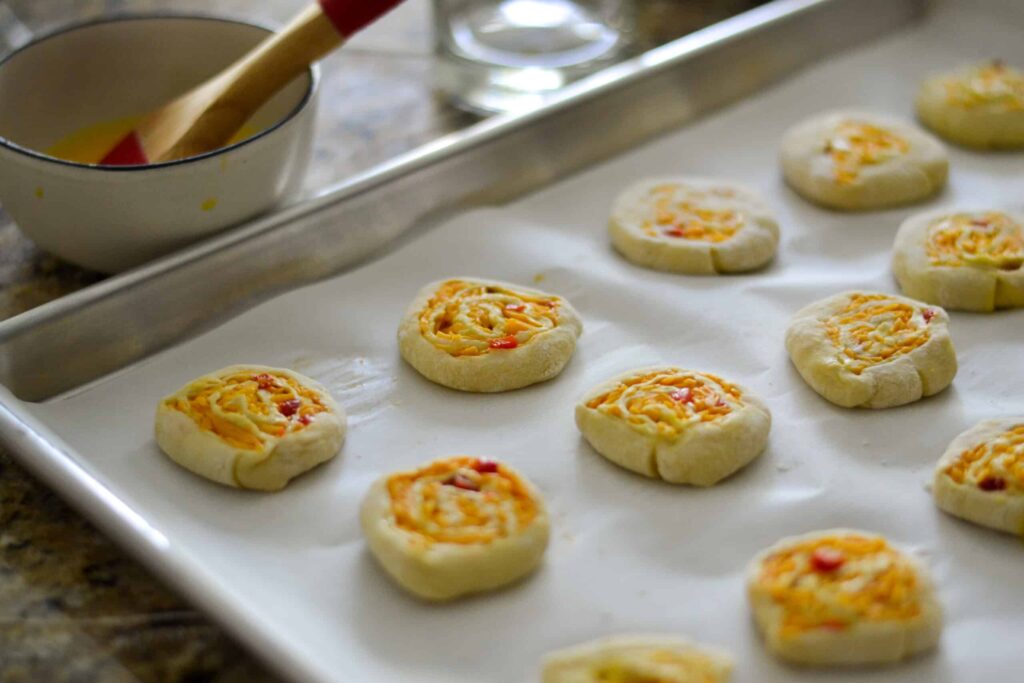 Bake at 400 degrees F for 17-20 minutes.
Pin for later!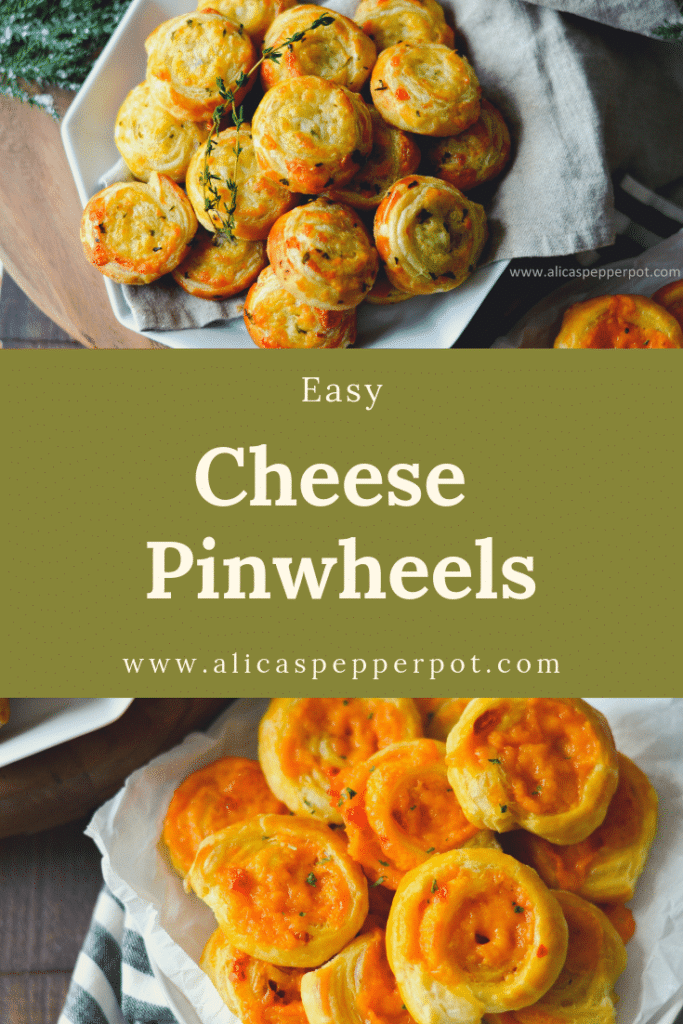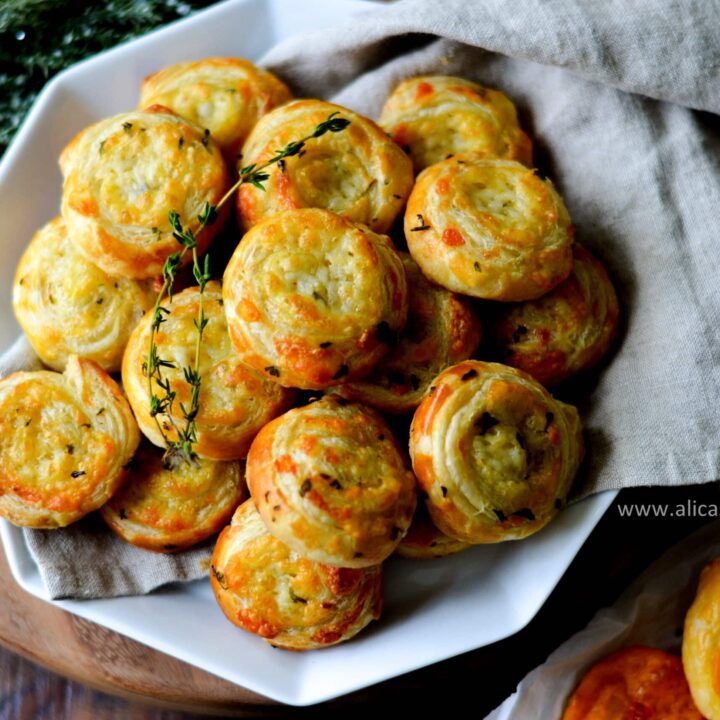 Appetizer: Cheese Pinwheels
Yield:
2 puff pastry sheets = about 30 pinwheels (15 per sheet)
Ingredients
1 box puff pastry (17.3oz)
8oz sharp cheddar or monterey jack cheese, shredded (4oz cheese per sheet)
2 tbsp pimento peppers (if using cheddar)
½ tsp yellow mustard
¼ tsp hot pepper sauce (optional)
¼ tsp garlic powder
Flour for dusting
Egg wash
Equipment
Rolling pin
Pastry brush
Baking sheet
Parchment paper
Drinking glass (to flatten pinwheels)
Instructions
Thaw puff pastry sheets according to boxed directions.
Pre-heat oven to 400 degrees F.
Shred cheese and add seasonings
Sprinkle flour on surface, place puff pastry and roll until it is larger and thinner.
Brush egg wash all over puff pastry.
Sprinkle cheese mixture evenly on puff pastry. From one end, roll up into a log and seal edge.
Slice log into 2in pieces. Place on baking sheet lined with parchment paper.
Use the bottom of a drinking glass to flatten the pinwheels slightly. Put bottom of glass in a bowl of flour to keep from sticking to each pinwheel.
Brush tops with egg wash. Bake at 400 degrees F for 17-20 minutes until golden brown.
Alternate method
Place cheese ingredients in food processor and pulse with a little butter until smooth. Brush edges of puff pastry with egg wash. Spread cheese mixture on puff pastry then follow remaining steps.
Notes
I've found spinning the cheese in a food processor breaks it down further resulting in the cheese not hardening up when cold. Sprinkling or spreading won't change the taste, but results in more of a textural preference.
Pin for later!