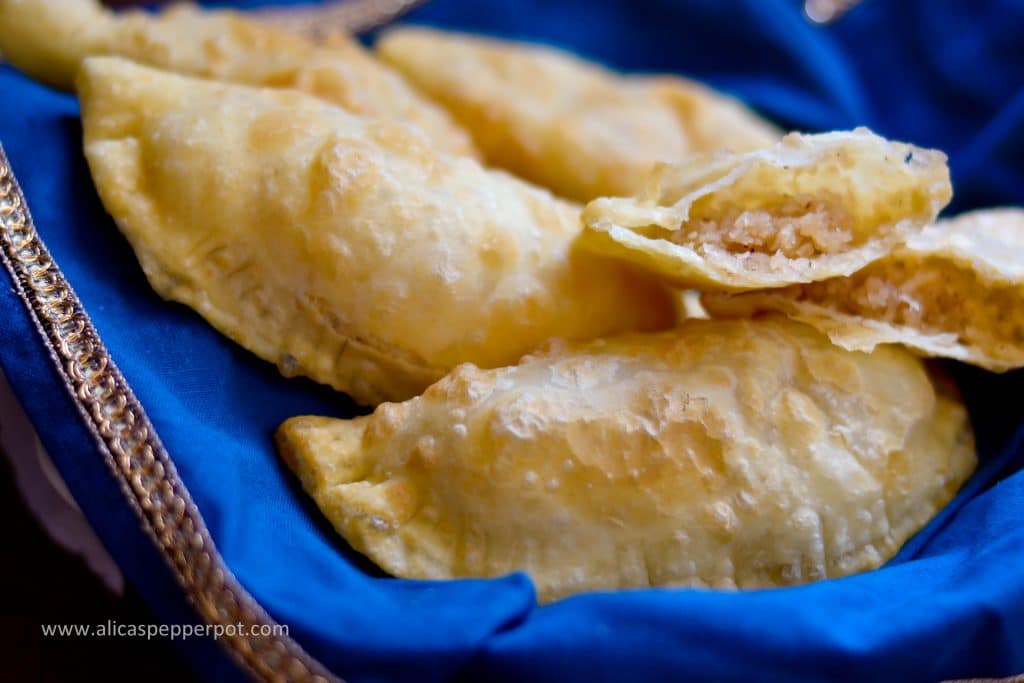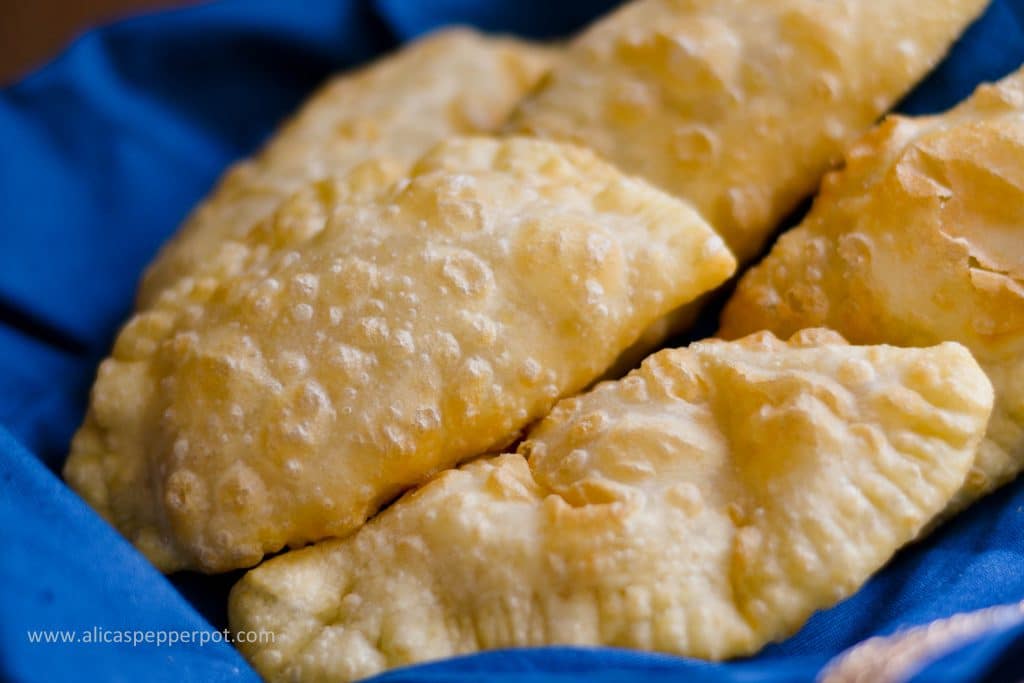 This pastry is a variation of the Indian version called, gujiya/gujia. Read more here.
Every year for Diwali or Holi my mom and grandmother would pack little bags of sweets to share with friends and family. Those bags always contained mithai, peera, parsad, and goja. I distinctly remember them making this pastry during holidays and not during Hindu religious functions. These little fried turnovers were filled with a spiced coconut that also contained a lot of ginger. Brown sugar and aromatics were added for more flavor. The pastry part was also very memorable. My grandmother's version was very thin and crisp right out the fryer. After it cooled, it became so soft and yummy.
I always had a preference for my grandmother's goja. She was particular in how she made them. I realized later it was because of the grated coconut and ginger. She used a traditional grater that got the coconut to a very fine texture. I always helped both my mom and grandmother to grate the coconut and let me tell you, it's a lot of work. Especially if you have little kids around that constantly need your attention! The texture of the coconut does make a difference in the finished product, but using the fine side of a box grater can help achieve a similar result.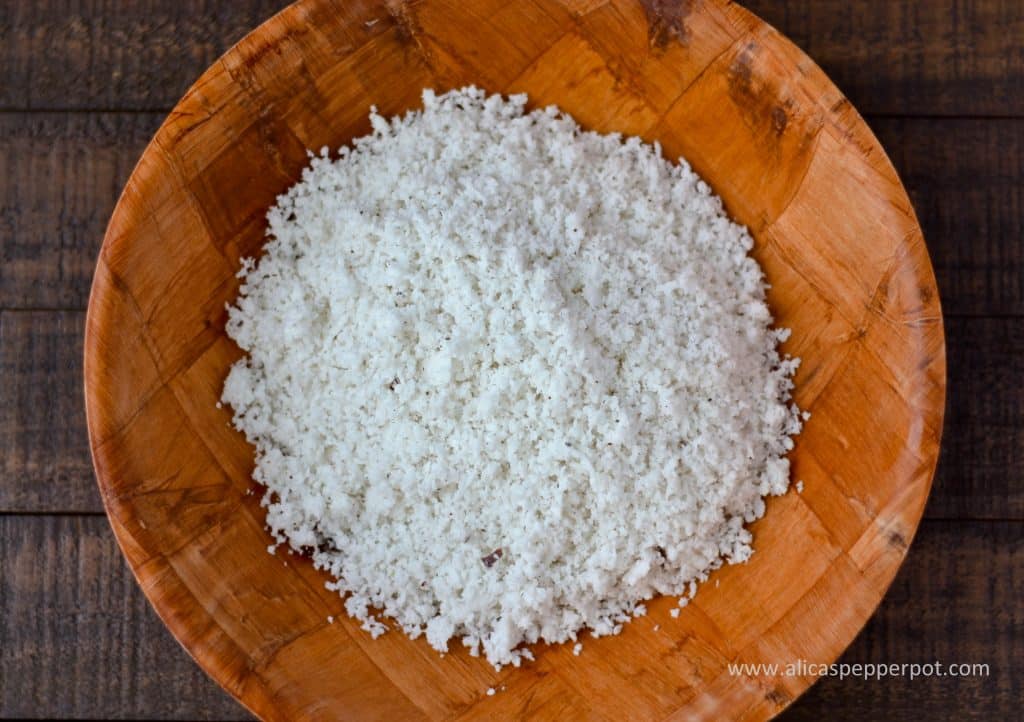 After coconut is grated, add cinnamon, nutmeg, ginger, vanilla and almond essence, and brown sugar.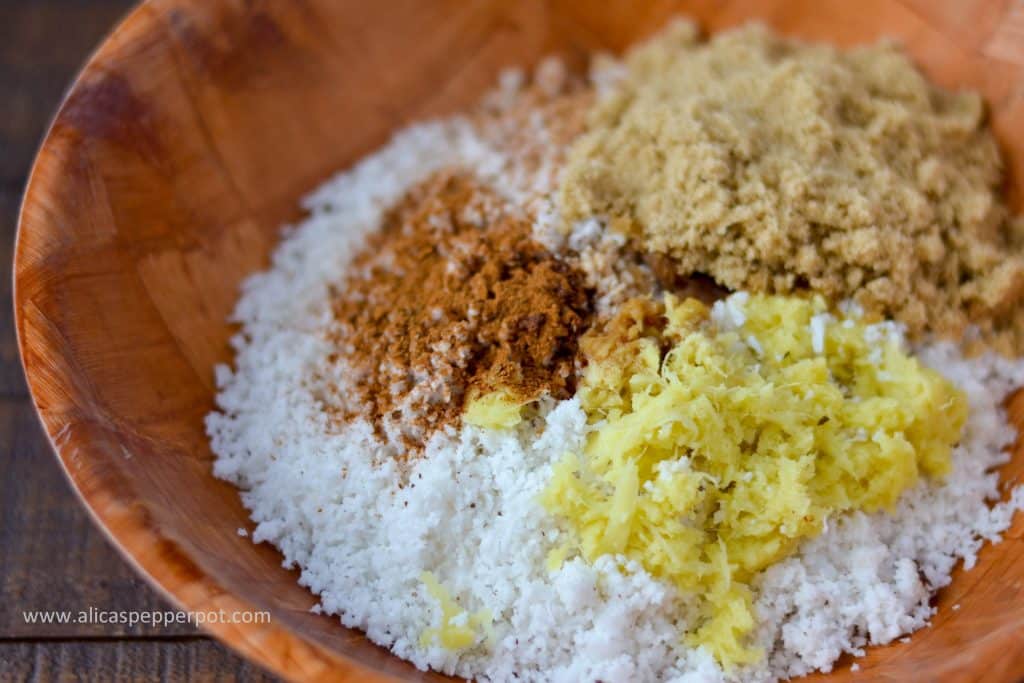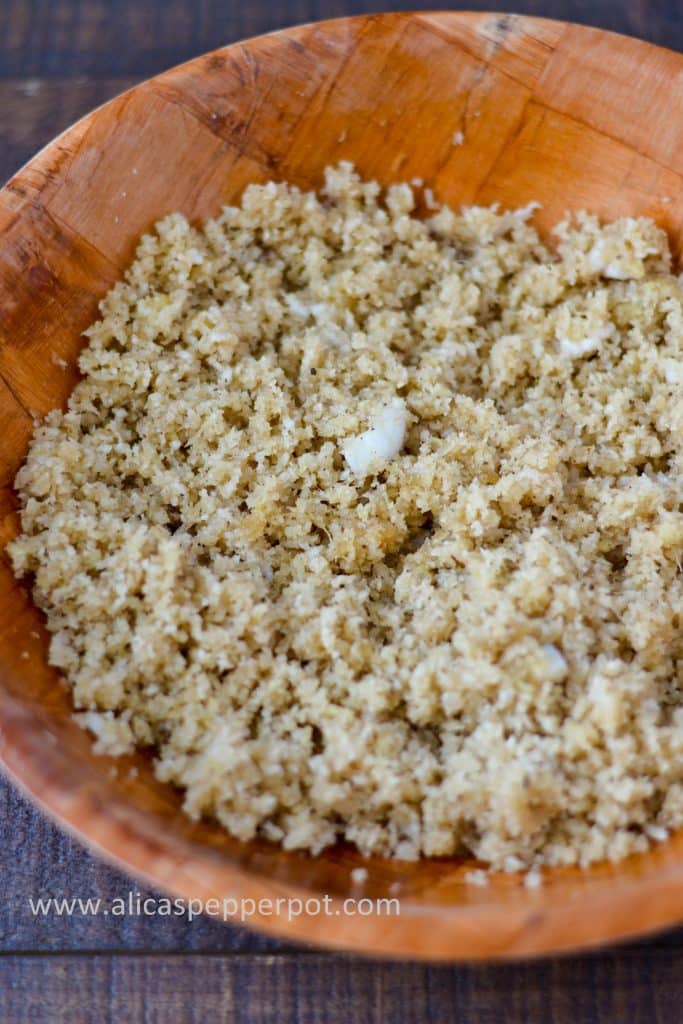 Alternative options for Coconut
The coconut grater used for this recipe is a traditional utensil and cannot be easily sourced. It also requires a lot of time even though it grates the coconut quite finely. Here are some alternate options:
Frozen grated coconut - squeeze liquid out after thawing, otherwise goja will be soggy
Box grater - use fine side of grater
Flaked sweetened coconut - do not add any sugar if using this option, chop as fine as possible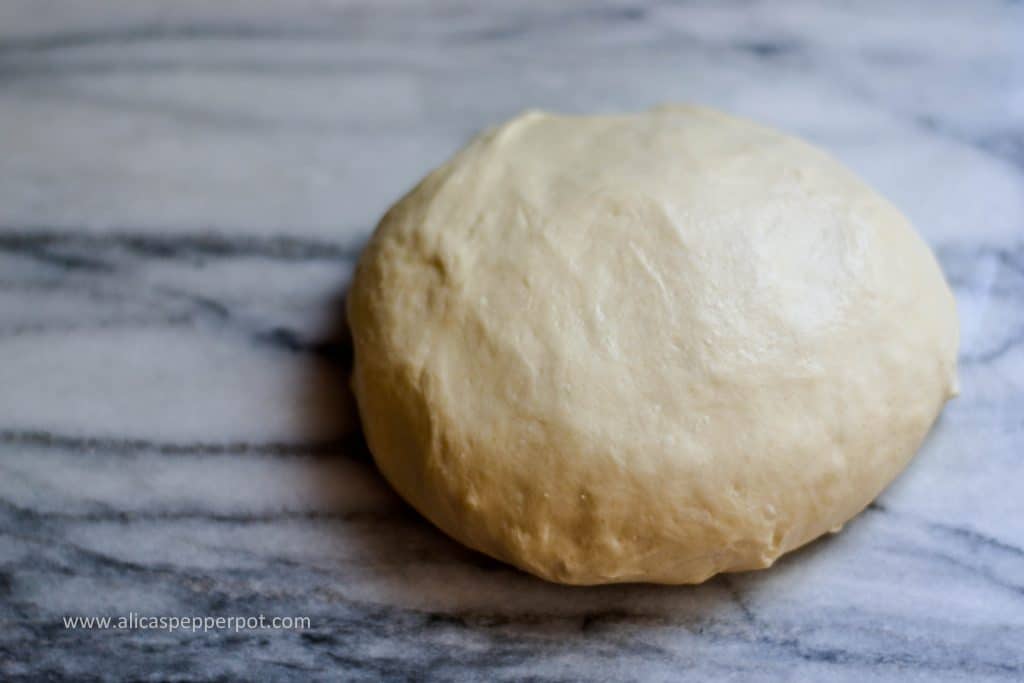 After kneading dough, let rest for a minimum of 1 hour then pinch off small pieces.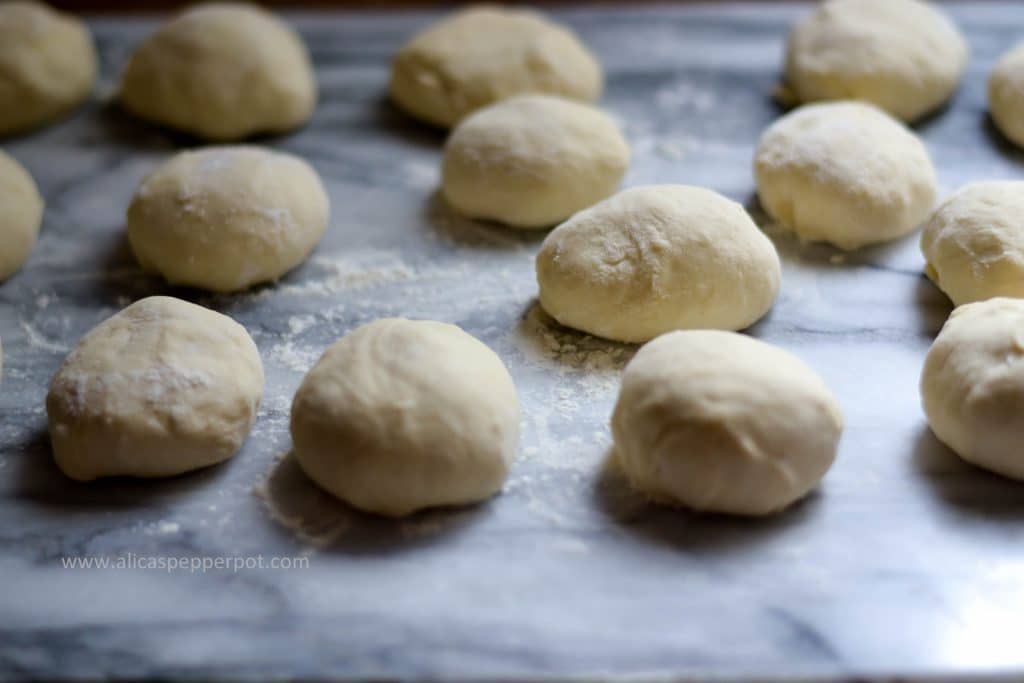 After rolling dough ball, rub some water around edges then place coconut on one half. Fold over and seal with a fork.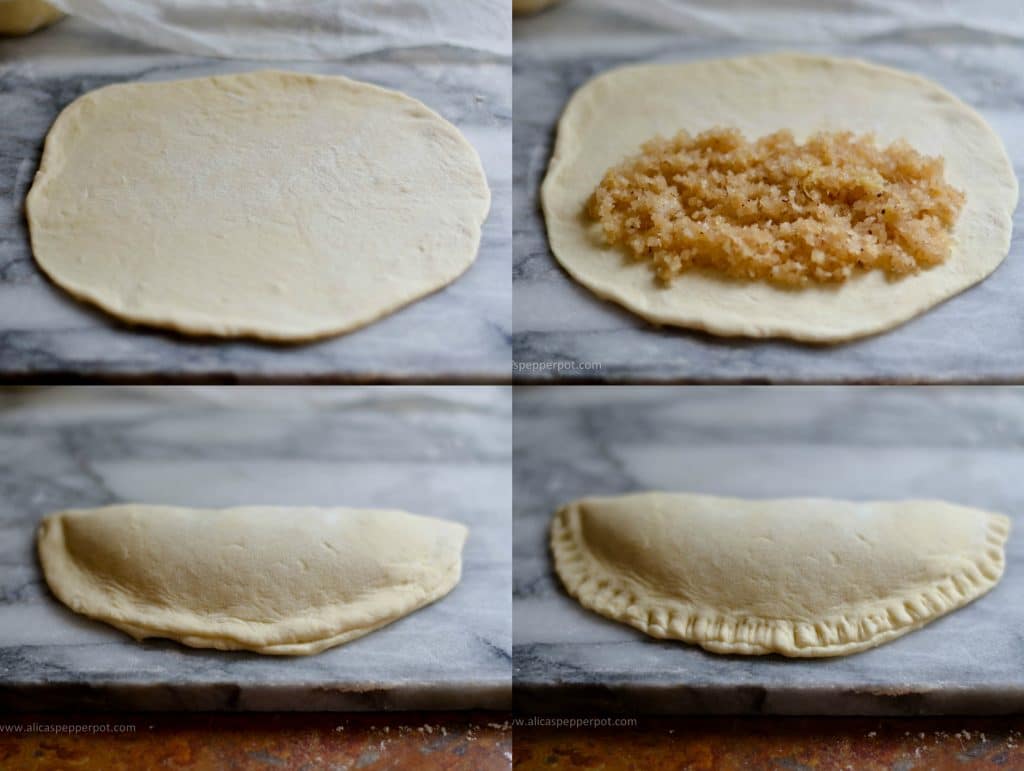 Repeat until all dough has been used. Some coconut may remain, it can be frozen for another use.
Heat oil in a deep wok, fry until light golden brown. My grandmother says the darker the goja is fried, the harder and more stiff the dough will be once cooled, so frying to a very light brown is preferred.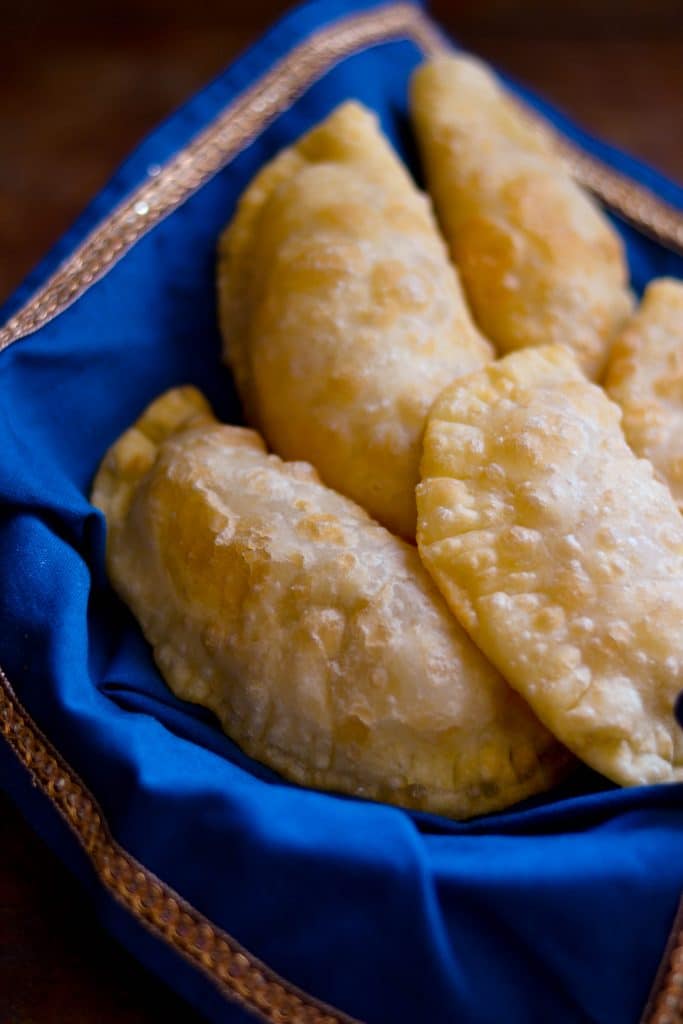 Make it your own
My grandmother sometimes adds raisins to her filling, but why stop there? Here are some suggestions for additions:
Raisins
Currants
Dried cherries
Nuts- slivered almonds, pistachios, pecans (best when toasted)
Maraschino cherries, chopped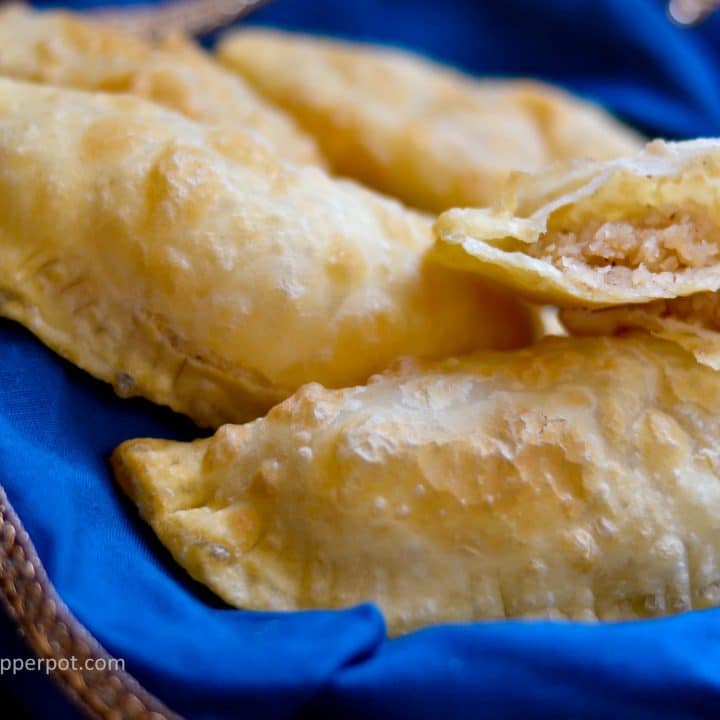 Goja (Gujiya) – Spiced Coconut Turnover
Ingredients
Pastry:
2 cups all-purpose flour
½ tsp baking powder
½ tsp white sugar
1 tbsp shortening
1 cup ice cold milk
Few drops vegetable oil (for top of dough ball)
Filling:
3-4 cups desiccated coconut, grated (about 2 coconuts)
2 heaping tbsp fresh ginger, grated
¾ tsp ground cinnamon
½ tsp ground nutmeg
1 tsp almond essence
2 tsp vanilla or mixed essence
¾ cup brown sugar
¼ cup water for sealing dough
Flour for fork, when sealing
Oil or ghee for frying
Instructions
Make the dough. Mix flour, baking powder, and sugar together. Rub in shortening until fine crumbs form. Add cold milk a little at a time until dough comes together. Knead until dough is smooth.
Rub a little oil on top of dough ball and cover with damp paper towel. Let rest for minimum one hour.
Using a standard box grater- Crack coconut, drain water. Remove coconutmeat from shell. Cut into small pieces. Grate coconut on fine side, set aside.
Grate ginger, add to bowl with coconut. Add remaining ingredients. Mix well, set aside until ready to assemble.
Pinch off small pieces of dough, golf ball sized. Cover all dough balls with damp paper towel to keep from crusting.
Roll dough ball thinly to ⅛inch thickness. Dip finger or pastry brush in water and rub the edges of dough. Place 1 ½ tbsp coconut mixture in center. Fold dough over coconut, press with fork to seal edges. Dip fork in flour to keep from sticking to dough. Repeat until all dough has been used up. Remaining coconut can be frozen for later use.
Heat oil for frying. Deep fry turnovers until light golden brown.
Notes
Alternately, gojas may be baked. After filling each turnover, brush tops with a mixture of melted butter and few tbsp milk. Bake at 350 degrees for 15-18 minutes until light golden brown.