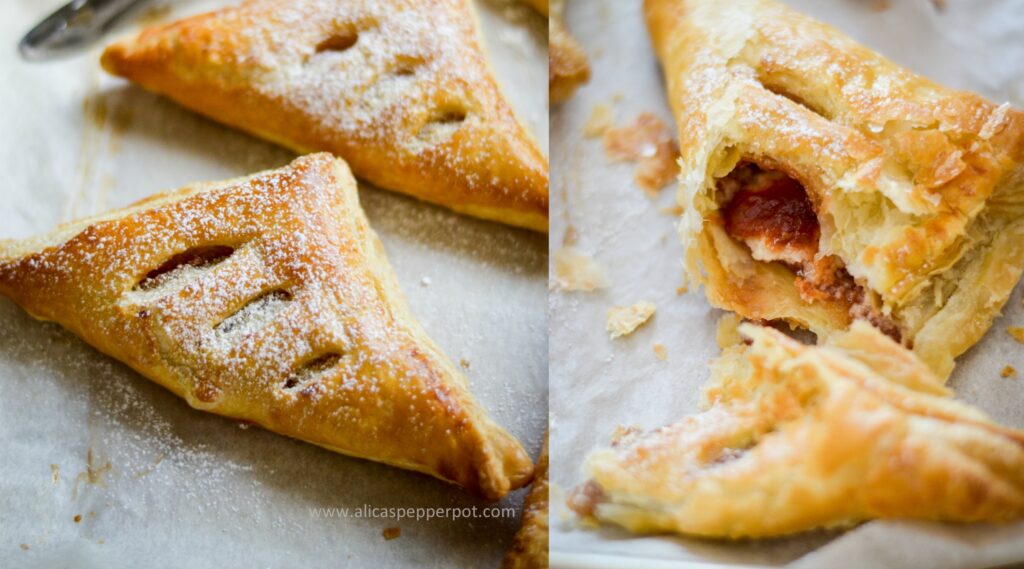 For a video on how to make these pastries, head to my instagram account and look for "Guava turnovers" on the highlights section of my profile page. This will only show up on the mobile version.
My father and husband are pastry guys. They love grabbing a pastry in the morning to go with their coffee as they head out the door to work. One of their favorite pastries that I make are these guava and cream cheese turnovers, also known in Hispanic cuisine as pastelitos de guayaba (guava pastries). Although large in size, these pastries are light and flaky making them incredibly addictive.
Store-bought puff pastry makes quick work out this recipe. You may also use your own pastry recipe for the crust, but I love using puff pastry for the texture and minimal work. I once made puff pastry and whew, tedious- rolling and folding the dough over and over again to make the layers. Nowadays, I look for quick and easy ways to make pastries or desserts as my time is limited with two little ones running around. The guava paste is also store-bought and made from a reduction of guava pulp then combined with sugar and pectin for texture. The guava paste is quite tangy, but the cream cheese helps to balance the tartness.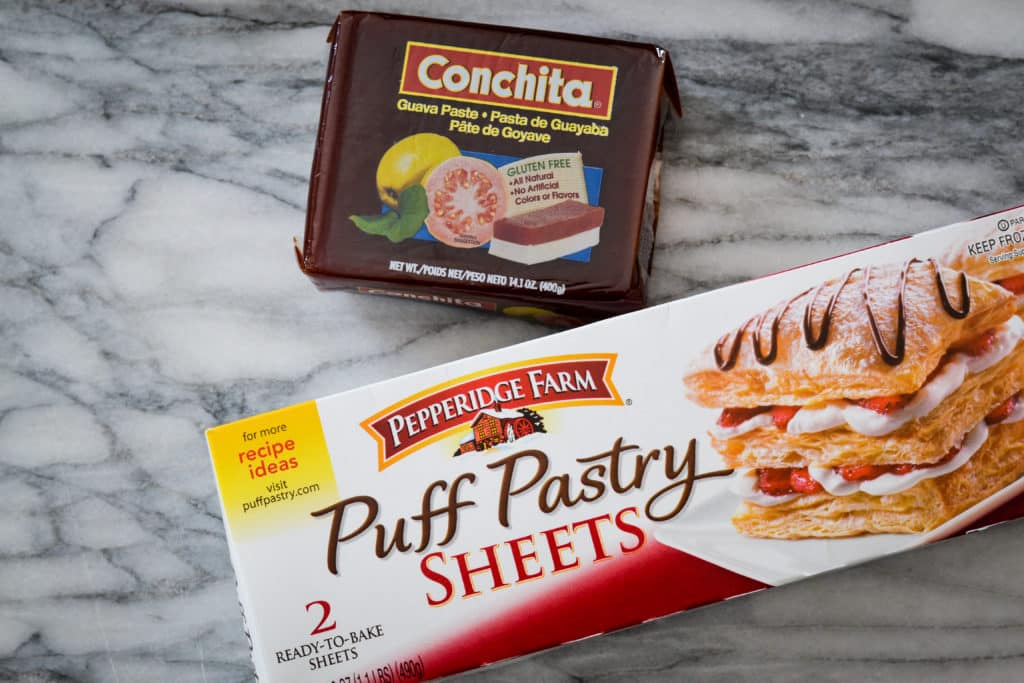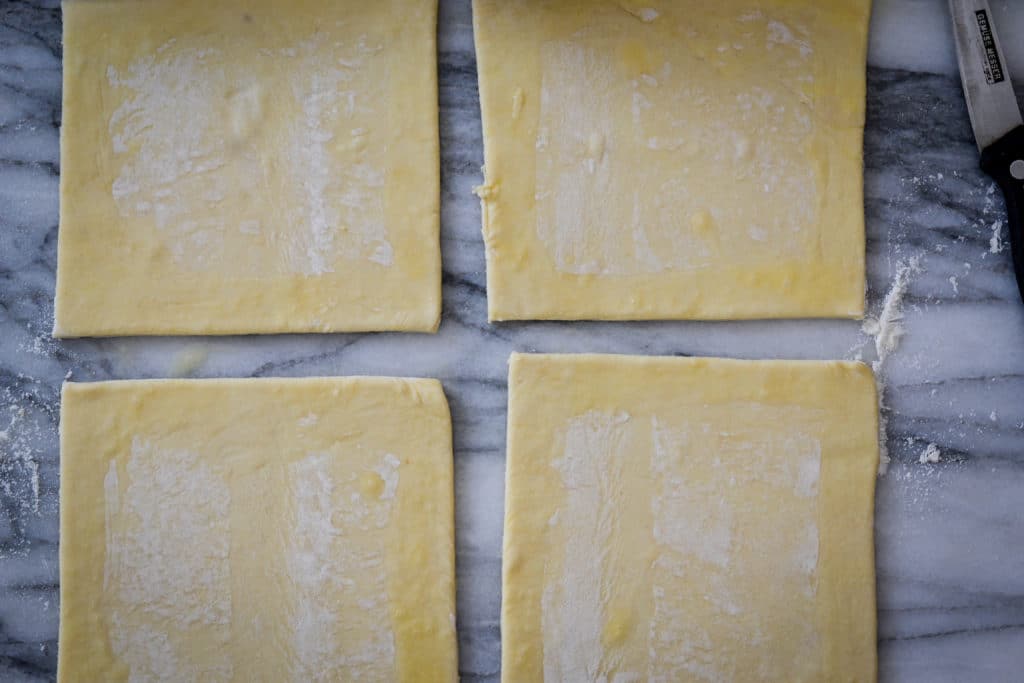 Tips and tricks:
One of the reasons my family loves the way I make these turnovers is because the guava and cream cheese are not overpowering in the pastry. Instead of cutting slices of the guava paste and cream cheese, I find when softening the mixture and making it spreadable, there's an even ratio of cream cheese to guava. Spreading the mixture also ensures the inside top of the pastry gets some filling as well.
I prefer to sweeten up the cream cheese and add some vanilla for flavor. Cream cheese has a tangy taste and needs some sugar to help balance the tartness of the guava paste. I'd recommend trying it without the added sugar to see if you enjoy the taste.
You can fold these into triangular shapes or cut them into squares, the possibilities are endless with puff pastry. Get creative and feel free to send me your pics!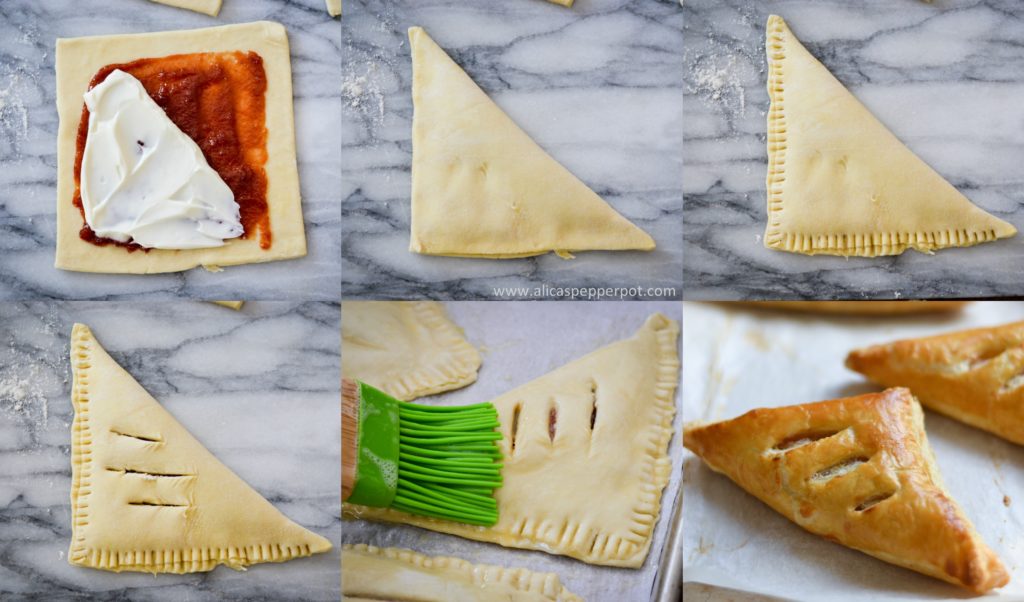 Bake at 375 for 18-22 minutes until golden brown. I recommend waiting until the pastries have cooled before dusting powdered sugar.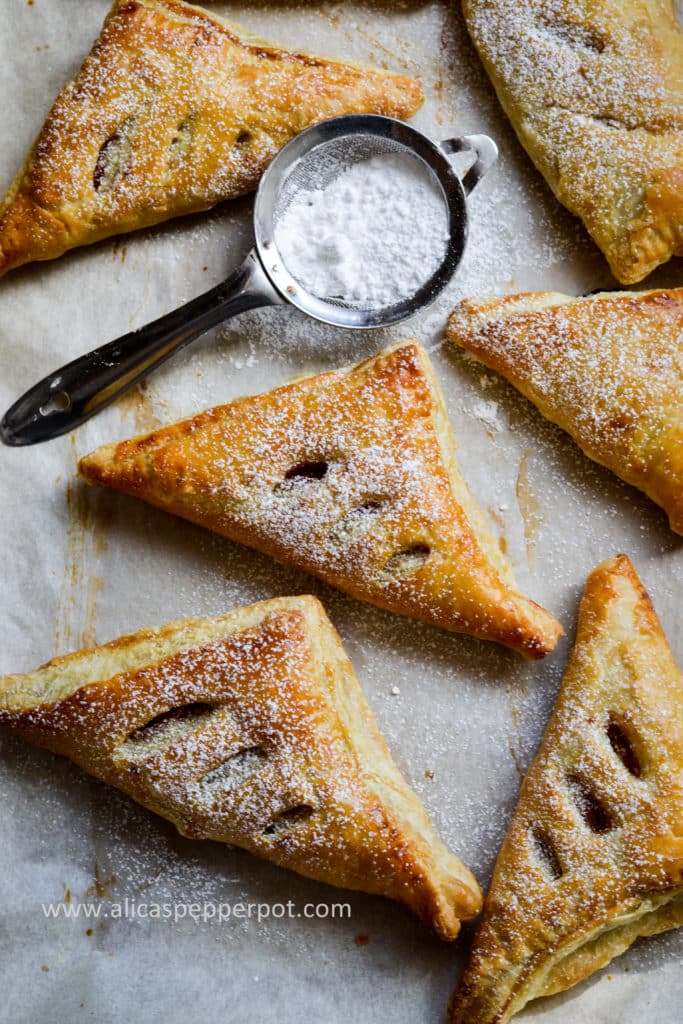 Easy Guava and Cream Cheese Turnovers
Ingredients
1 box puff pastry (1lb box), 2 sheets, thawed
1 14oz block guava paste + 3 tsp water, softened
1 8oz block cream cheese, softened
1 tsp vanilla extract, for cream cheese
2-3 tbsp granulated sugar for cream cheese
1 egg + 1 tbsp water for egg wash
Flour for dusting
Powdered sugar for dusting
Instructions
Thaw puff pastry according to boxed directions.
Preheat oven to 375 degrees F.
Chop ½ of the of guava paste into large chunks add water, place in a bowl, microwave 10 seconds at a time until smooth and spreadable. Use a fork to mash in between heating. Set aside.
Chop full package of cream cheese into large chunks, place in bowl, microwave 10 seconds at a time until smooth and spreadable. Mix in sugar and vanilla extract. Set aside.
Beat egg and water together to make egg wash. Set aside.
Sprinkle some flour on your surface. Using a rolling pin, gently roll out one sheet of puff pastry. Cut into quarters. Brush the edges of each quadrant with egg wash.
Spread about 2 tsp guava paste or more on each quadrant. Spread about 2 tsp cream cheese on top of guava paste. Fold pastry over to make triangle. Seal edges with a fork. Repeat until all puff pastry is used up.
Place each pastry on baking sheet. Brush egg wash over each turnover then use a knife to make 3 slits on each.
Bake turnovers for 18-22 minutes until golden brown. Once cooled, dust powdered sugar over top.
Notes
I did not use all of the guava paste or cream cheese. It is too much for just two sheets, but not enough for 4 sheets. Remainder may be frozen for future use.
Flaky, sweet, tart, and delicious!