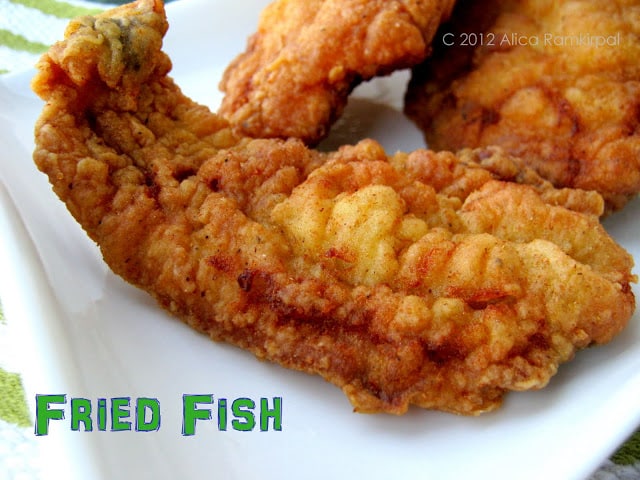 Every culture has dishes that make them feel warm and cozy on the inside; something rich, decadent, and emotionally pleasing. Americans have mac and cheese, fried chicken, and chicken pot pie to name a few, and Guyanese? Well for me, comfort food has got to be a plate of dhal and rice with a nice piece of fried fish. Something about the spicy hot dhal combined with the crunch from the fish makes me feel like home. This is a meal I make on Sundays, not that it wouldn't taste just as good on any other day, but for me it is the ideal comfort meal on a day where I can just eat, relax, and watch a good movie.
This is how I enjoy my fried fish- and you know I have to have my pepper on the side 😉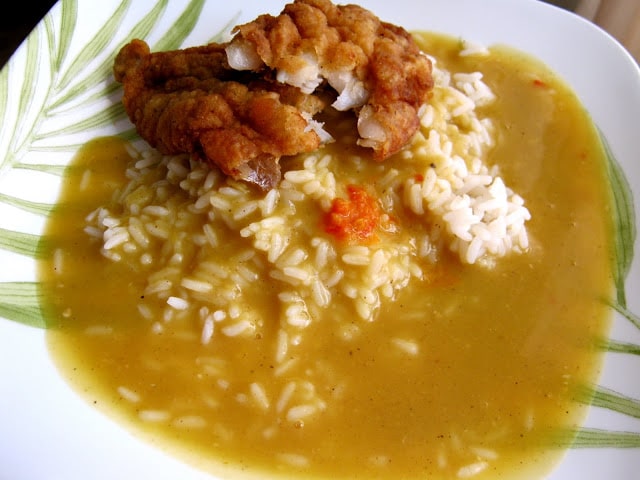 This is my auntie Mala's recipe. I particularly love her version because she uses thin flounder or whiting fillets. The result is a nice crunchy piece of fish with a great ratio of flesh to batter. This batter can be adapted for many other types of fish like, catfish, banga mary, butter fish, or any white flaky fish you choose. My mom used to make these delicious little fried fish called coco belly fish to top our dhal and rice meal. They were so mini and cute, and I would just gobble them up with a dipping sauce I made with pepper sauce and ketchup! I also love fried red snapper or king fish, but I prefer it cut into large chunks and used in stews. I made a batch of fried snapper for a fish stew I cooked that same day.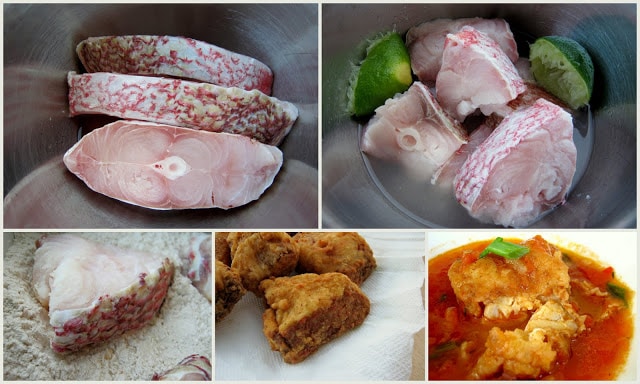 So, are we ready for this recipe?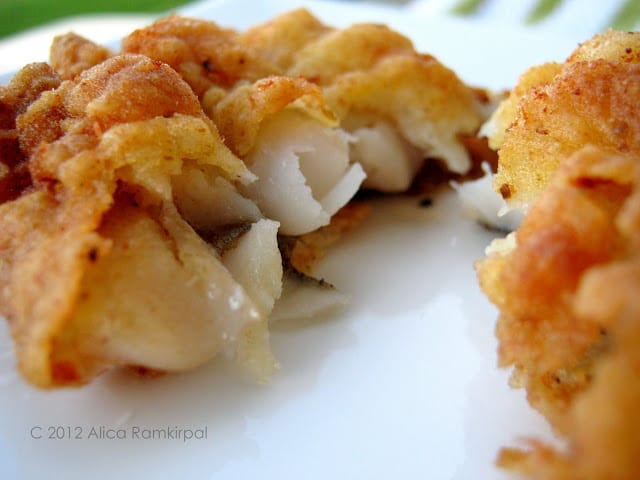 Use any white flaky fish since it is best for frying. I used 1 lb whiting fillets.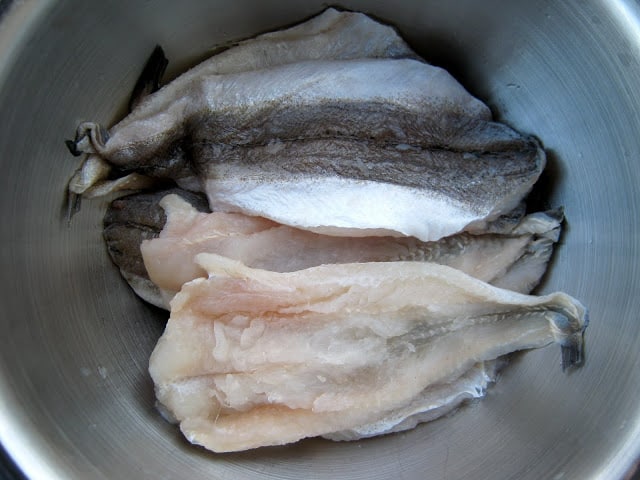 Soak it for 20 minutes with lime and water to help remove any rank odor.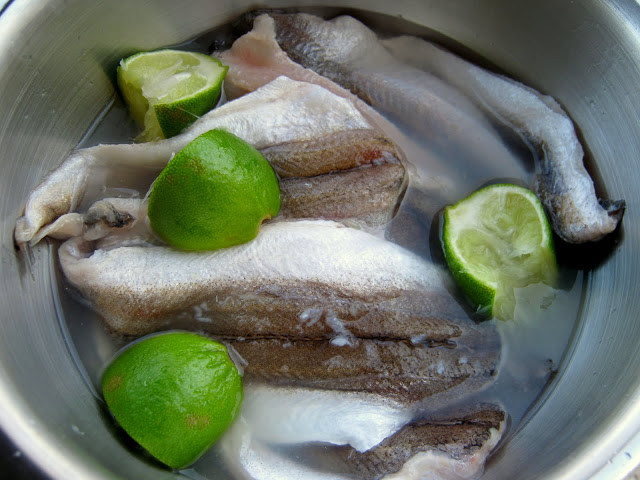 In the meantime, make the seasoning. I usually have a batch of this in the refrigerator for use in meats and other seafood. Blend 1 chopped onion with 1 head of garlic and desired amount of wiri wiri pepper. Store in a glass jar for up to one week.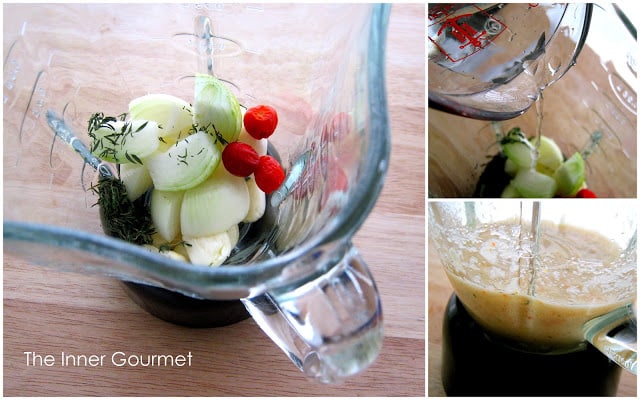 Onion/garlic/pepper seasoning. See steps and measurements here.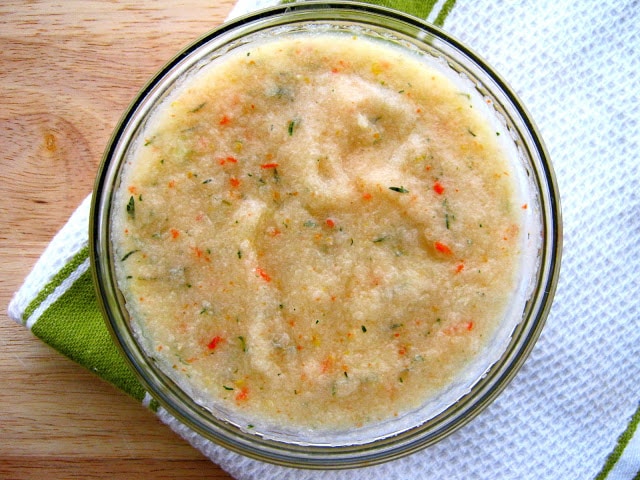 Rinse and drain lime water out of fish. Dry with a paper towel. Set aside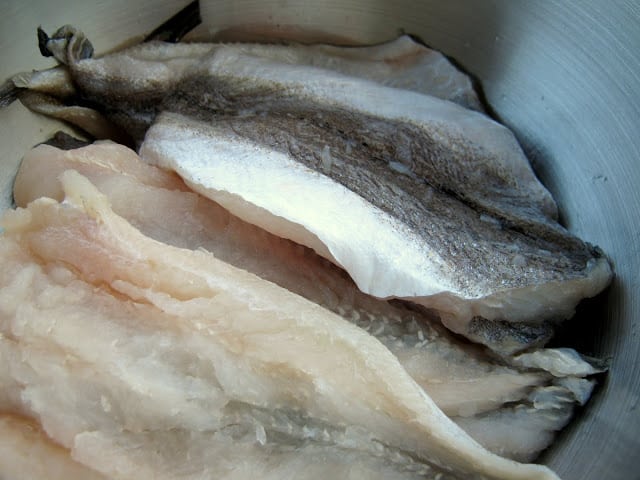 Add 6 tablespoons of onion/garlic/pepper mixture. Add a dash of salt and Old Bay seasoning. Let fish rest in seasoning for 10-15 minutes. It will be very moist and wet from the seasoning. Don't let it sit out for too long, the longer seafood sits, the more bacteria starts to develop.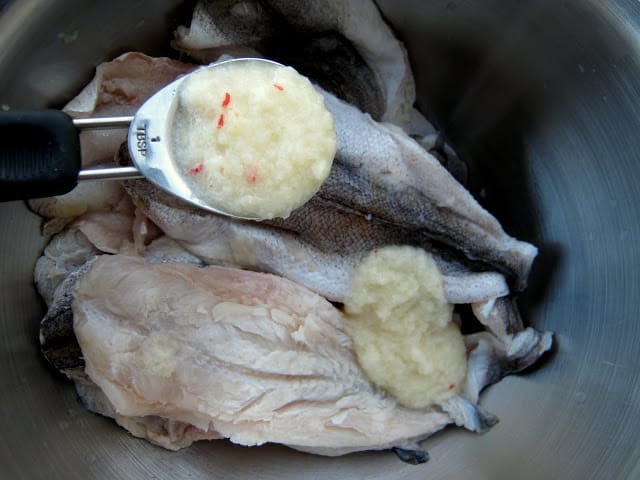 Prepare batter. In a shallow and wide dish, add 1 cup all-purpose flour. You may substitute ½ cup whole wheat flour, it adds a nice color too. Add curry powder, black pepper, cayenne pepper, Old Bay seasoning, and salt.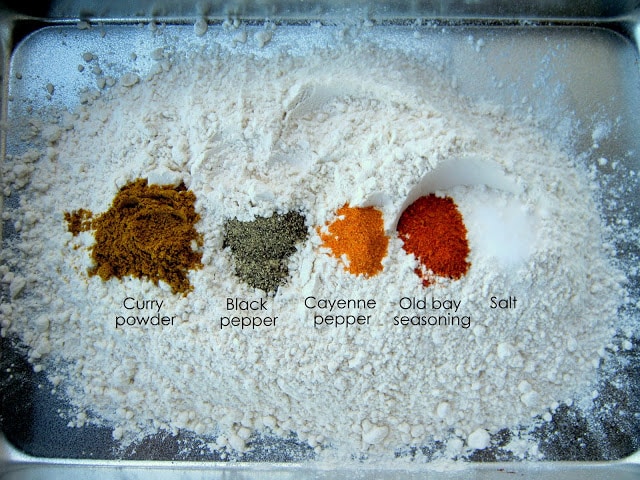 Mix the flour and spices together, using a whisk helps to distribute things evenly.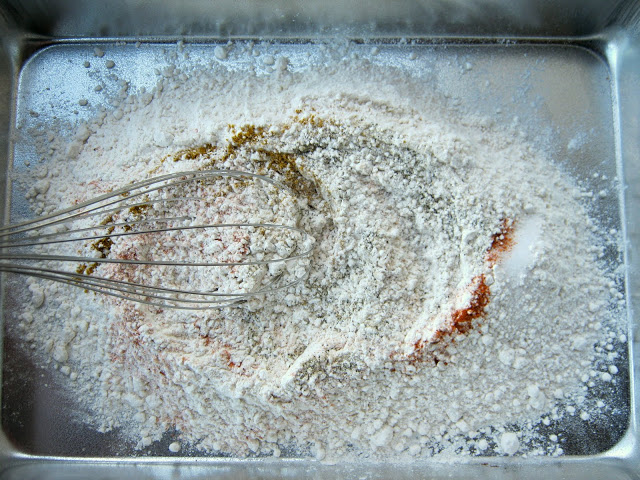 Coat fish in flour on both sides, make sure you press it in there to get every part of the fish covered.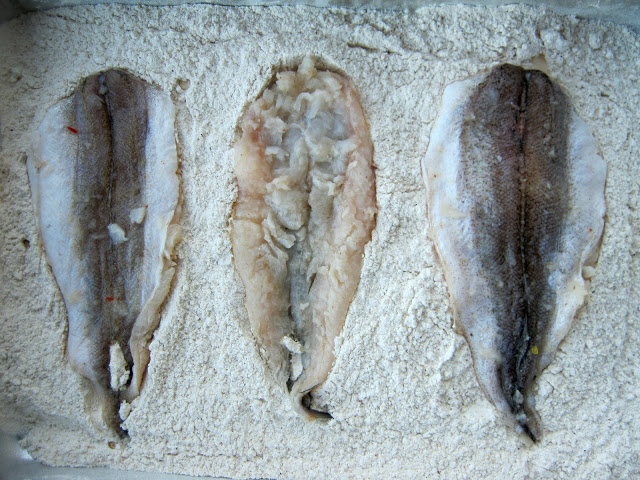 Fry fish until dark golden brown.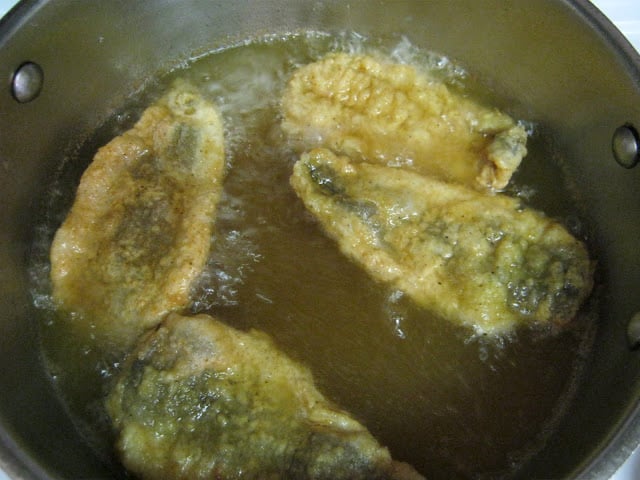 Best enjoyed hot, I can imagine a good fish sandwich right now, perhaps stuffed between tasty butterflap bread, Mmm!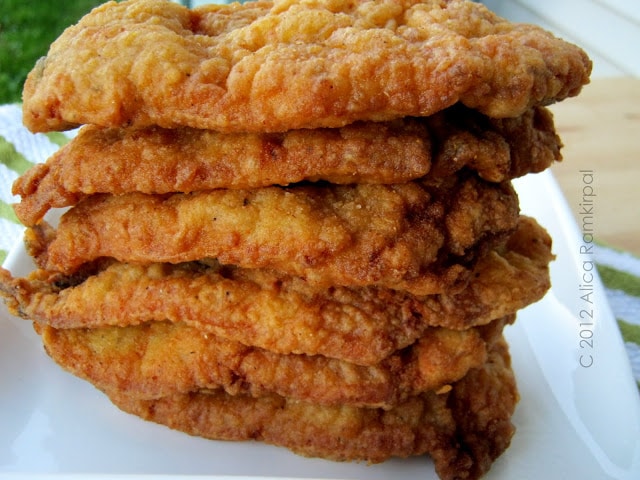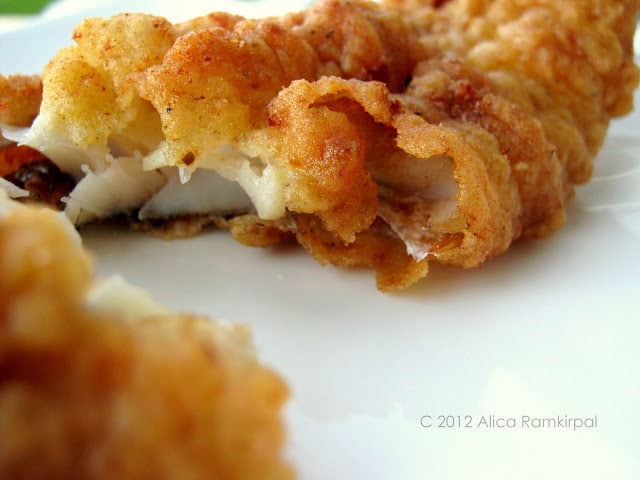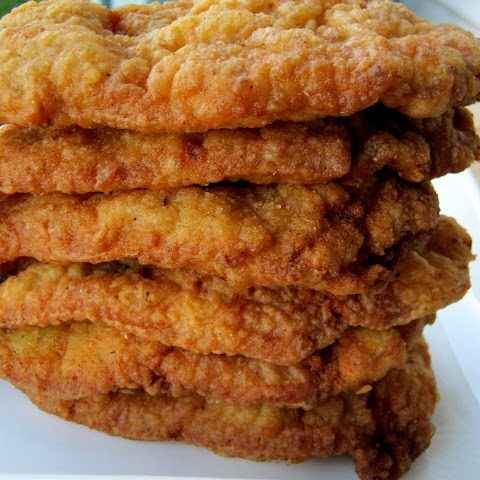 Fried Fish
Ingredients
For fish
1 lb whiting fish fillets
2 limes
6 tbsp onion/garlic/pepper puree - see here for recipe
few dashes of salt
few dashes of old bay seasoning
For batter
1 cup all-purpose flour
1 tsp curry powder
½ tsp black pepper
½ tsp cayenne pepper (optional)
½ tsp Old Bay seasoning
1 tsp salt
Vegetable or canola oil for frying
Instructions
Squeeze lime juice over fish and soak in water for 20 minutes. Rinse with cold water, dry with paper towel and set aside.
Make onion/garlic/pepper puree. Add 6 tbsp to fish, mix in thoroughly. Add salt and Old Bay seasoning. Let marinate for 10-15 minutes.
Mix batter. In a shallow and wide dish, add flour and spices, mix to distribute spices.
Heat oil.
Coat both sides of each fillet in flour batter. Press firmly into flour to get every part of the fish dredged.
Fry fish until golden-dark brown. Remove from oil onto a dish lined with paper towels.
Best enjoyed hot!
Notes
¼ cup whole wheat flour may be substituted to batter mixture. It will give a nice color to the batter once fried.
Use a light flaky fish for frying, oily/high fat fish such as salmon won't work as well here.
Make sure to scrape your knife across the skin of the fish to ensure all scales have been removed.
Many are afraid of getting burned while frying. Ironically I've found the key is to not be afraid 🙂 if you throw the fish into the oil, it will pitch and burn you. Place fish gently into oil and as quickly as possible.