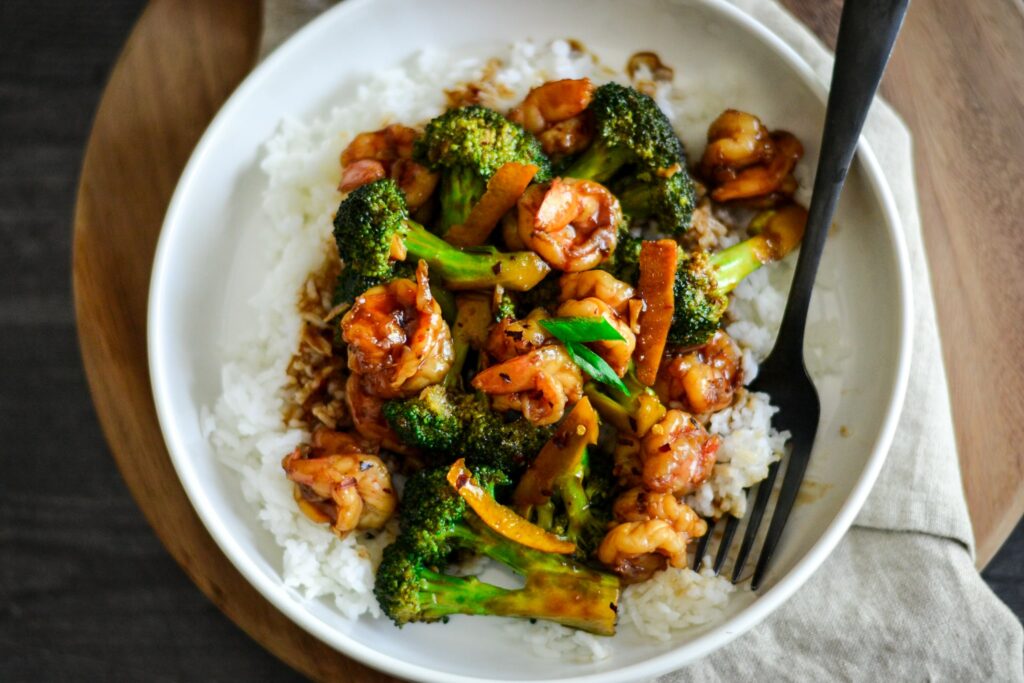 One of my favorite Chinese take-out meals is shrimp and broccoli. I love the way it's cooked at Chinese-American restaurants. Luscious shrimp stir fried with crunchy broccoli and a bit of piping hot rice just hits the spot when you're hungry! We do take out every now and then, but I love making it at home. My version isn't quite like take out, but it's delicious and everyone always goes back for seconds. This shrimp and broccoli stir fry is perfect for a busy weeknight when you need a quick dinner. What I love about this recipe is how fast it comes together. Once you've got the ingredients prepped, it's done in just 20 minutes.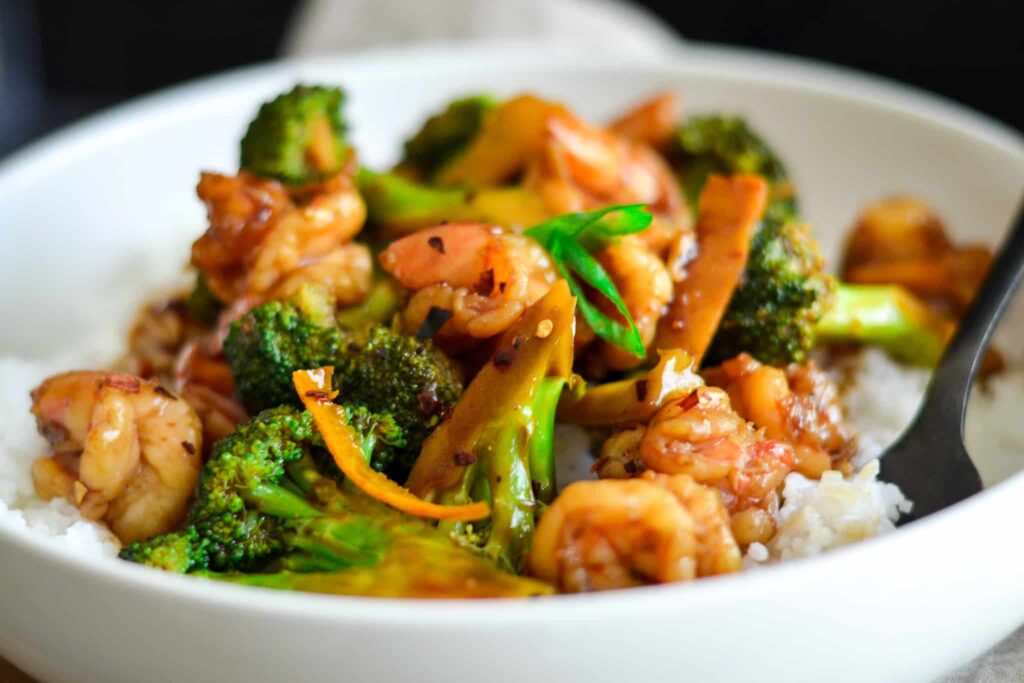 I like to season the shrimp with a little Caribbean green seasoning and black pepper. Almost all of the flavor comes from the stir-fry sauce so I don't add salt or too much seasoning to the shrimp. A little goes a long way. Aside from flavor, one of the most important things for this stir fry to taste great is to not overcook the shrimp. No one likes stiff rubbery shrimp. The flesh is so tender, it cooks in just 1-2 minutes. Even after you remove it from the heat, it will continue to cook, this is known as the "carry-over" method of cooking. I also like to butterfly cut my shrimp. When it cooks, it curls beautifully and somehow the mouthfeel of this shape just adds to the overall taste.
If you're looking for Chinese restaurant-style shrimp, I recommend checking out Rasamalaysia's blog post on achieving that crisp texture. She does an awesome job at explaining the effects of baking soda, tapioca starch, and egg whites on cooked shrimp.
Broccoli happens to be one of my favorite vegetables, but if you're not a fan, you can make this recipe with cauliflower, asparagus, brussels sprouts or any combination of vegetables you like.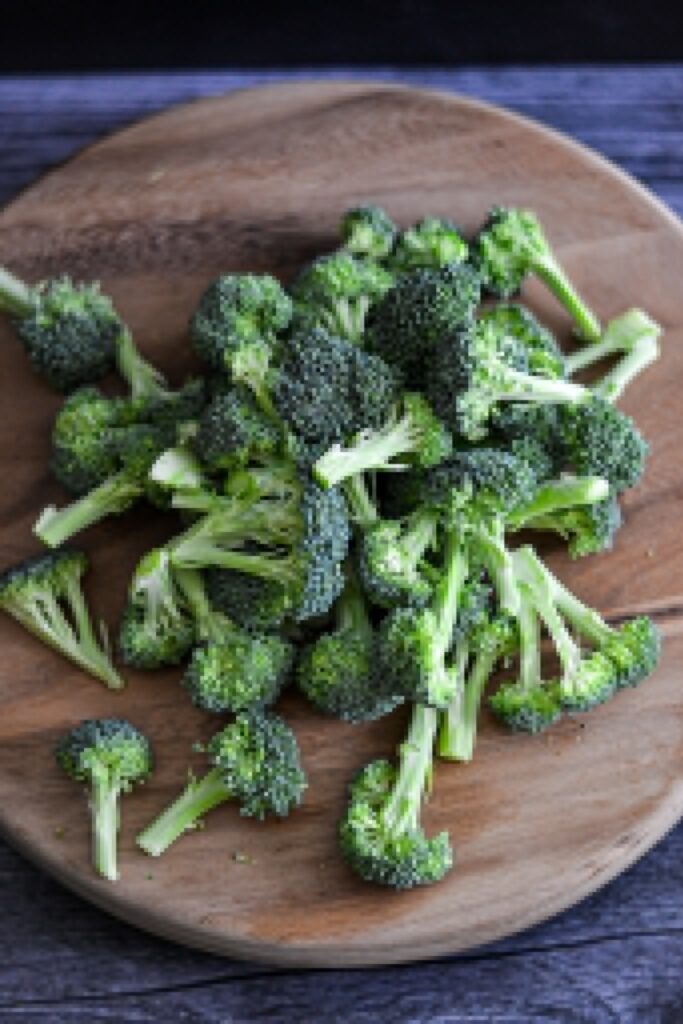 Cooking method
There are a couple of different ways to make this stir fry. First, the broccoli is blanched in a separate pot of boiling water so when added to the wok with sauce, it doesn't have to cook for too long. The shrimp is also cooked quickly and separately then removed. At the end it all gets tossed together.
I do it a little differently. First the shrimp is partially cooked, then removed. Next saute the broccoli in a little oil then add about ¼ cup water. Just enough to steam the broccoli. Pour the sauce over the broccoli, stir fry, then add the shrimp. Done! Both ways work well, see which you like best.
When cooking shrimp, try not to walk away from the stove. For this recipe, I cook it just until I see the tips and outer part of the shrimp turning pink. Remove it from the wok then add it back at the end with the broccoli to finish cooking it.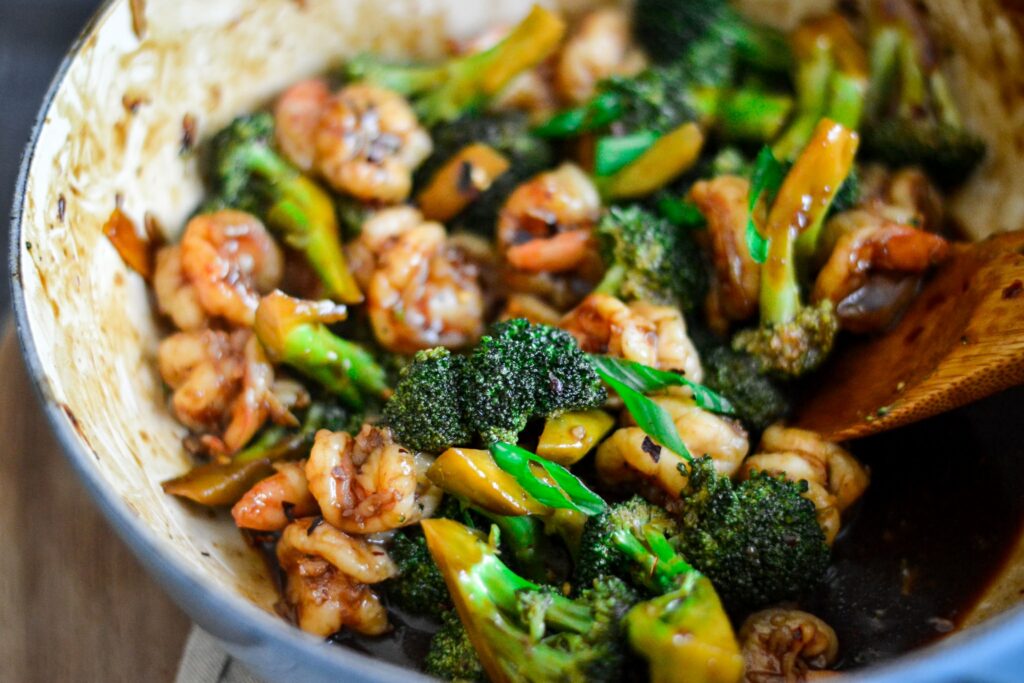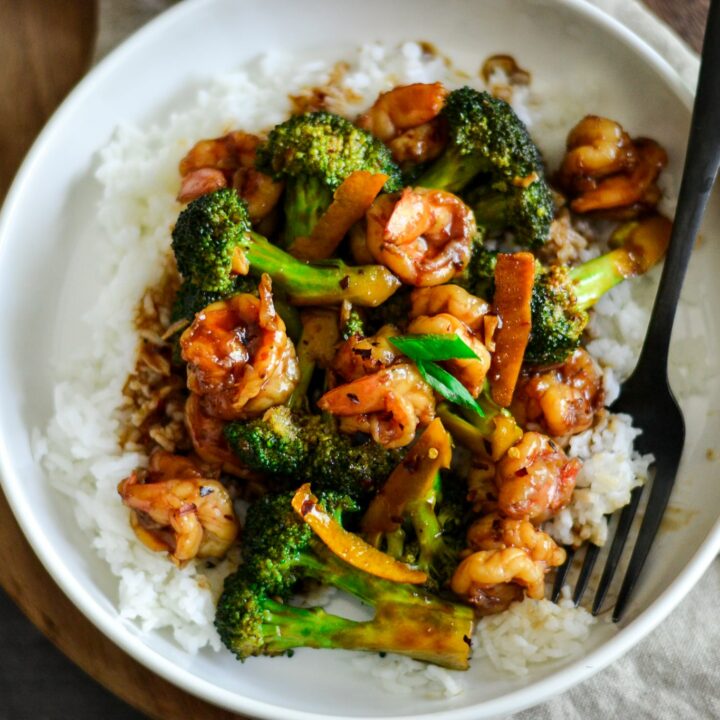 Shrimp and broccoli stir fry
Ingredients
2 large heads broccoli (about 4 cups, chopped)
Shrimp
1 - 1 ½lbs large raw shrimp, peeled and deveined
2 tsp green seasoning
¼ tsp black pepper
Sauce
3-4 garlic cloves, minced
1 tsp ginger, freshly grated
1 tsp red pepper flakes or 2 tsp chili garlic sauce
2 tbsp soy sauce
1 tbsp rice wine vinegar
1 tsp sesame oil
2 tsp brown sugar
2 tbsp oyster sauce or stir fry sauce
2 tsp corn starch
1-inch piece of orange peel
Cooking oil to saute
¼ cup water to steam broccoli
Instructions
Peel and devein shrimp. Butterfly the shrimp by cutting along the back of shrimp, but not all the way through. Rinse shrimp, dry with paper towel. Season and set aside.
Chop broccoli into florets, set aside.
In a medium bowl, add ingredients for sauce. Whisk to combine.
Heat a wide pot or wok on medium-high heat, add about 2 tsp oil. Wait until oil shimmers. Add shrimp. Cook shrimp half way. Saute about 1 minute until only some pink color is noticeable. Remove shrimp from wok, set aside.
Add a little more oil to wok, add broccoli saute 2 minutes. Add ¼ cup water to steam broccoli for a couple of minutes. Pour sauce over broccoli. Let it cook 3-4 minutes. Broccoli should be bright green and slightly firm, but not soft. Let sauce thicken a little.
Add shrimp back into wok. Toss with broccoli. Enjoy all by itself or serve over white rice or grain of your choice.
Notes
If you do not eat soy, liquid aminos can be used in place. If serving over rice, about 1 cup uncooked rice should be enough for entire recipe.
Pin it for later