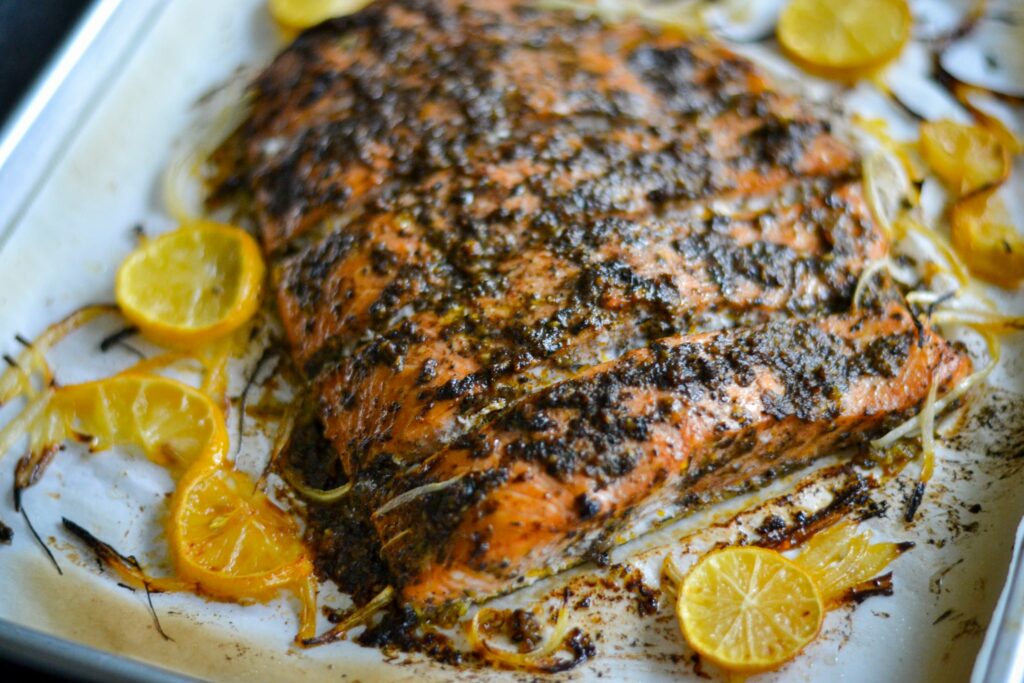 Jerk salmon is an easy protein to pull together for a quick weeknight meal or party. What I love most about using salmon for this recipe is that the firmness of the fish holds up well to the heavy seasoning and spices of the jerk marinade. To really give it some extra flavor, I add green seasoning, some dried spices and some tomato paste to the jerk marinade.
This salmon cook quickly and doesn't need a long time to marinate. I cook it for 15 minutes at 375 degrees then broil for an additional 5 minutes to brown the top. The inside is flaky, yet soft.
I'm using a store-bought jerk marinade. I always keep a jar of Walkerswood jerk seasoning in my refrigerator. It lasts a while and it's really tasty. It comes in various heat levels. The "hot and spicy" is my favorite, but I use the mild version so my younger son can enjoy this fish as well. The stuff just tastes really good! Perfectly spicy, but still room to jazz it up by adding your own ingredients. *Please note this is not sponsored ad for Walkerswood jerk seasoning. My family has used this marinade for decades in our Caribbean cooking.
Make your own marinade
I enjoy using ready made jerk marinades for convenience. However, I've made my own marinade in the past and it's quite delicious. Check out my jerk chicken post here which includes a homemade recipe. You can add more or less of whatever you like to the recipe, it's all about getting the right balance of spices and flavor.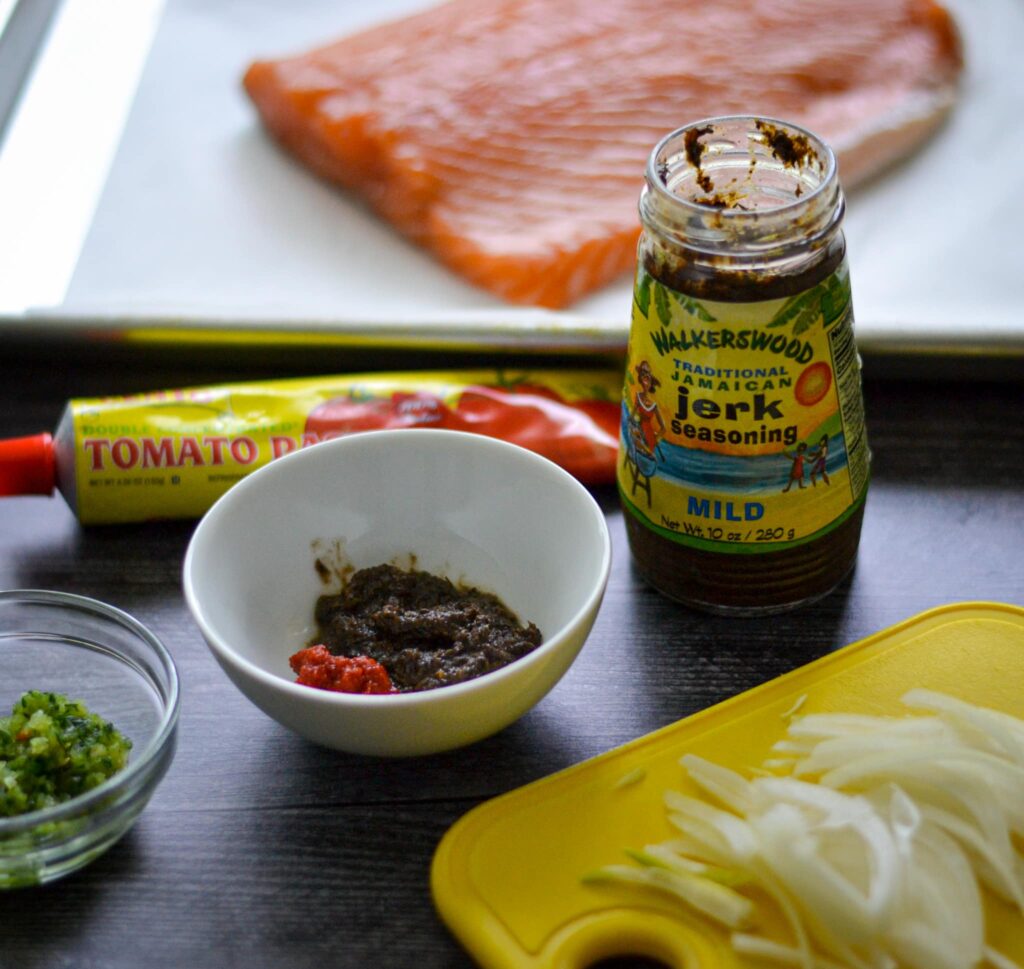 Tip
Since we don't eat the fish skin, I like to slice this large fillet into smaller, even pieces, but not all the way through the skin. After baking, each fillet is easily separated from the skin by using a spatula.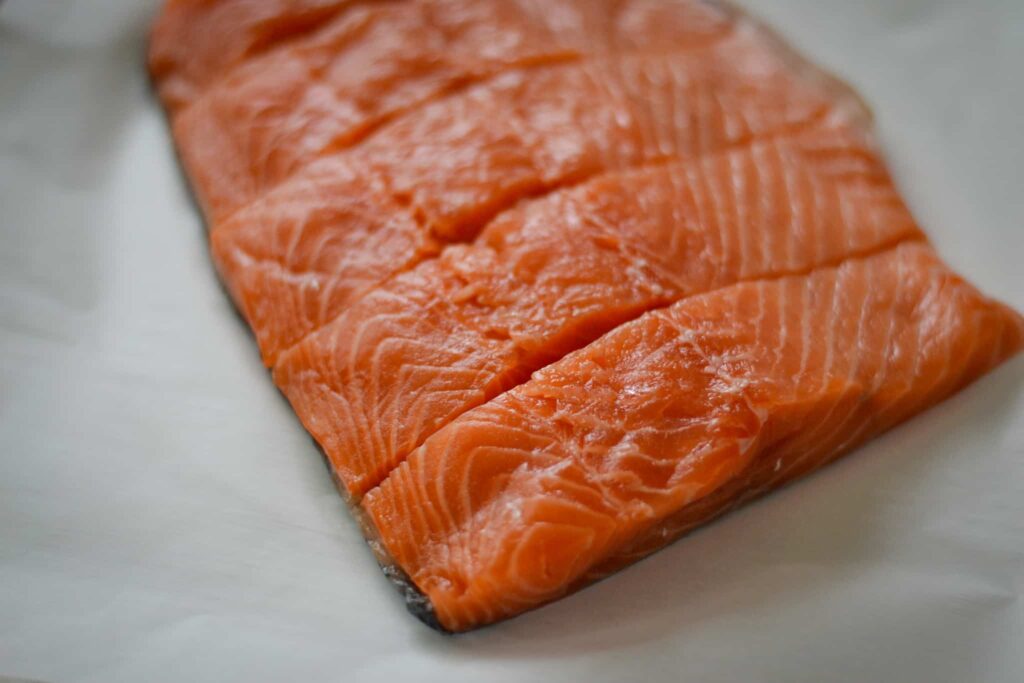 Season it up and make sure to get the marinade in between the slits. Squeeze some lemon juice over the top and add some onions along with sliced lemons to the pan.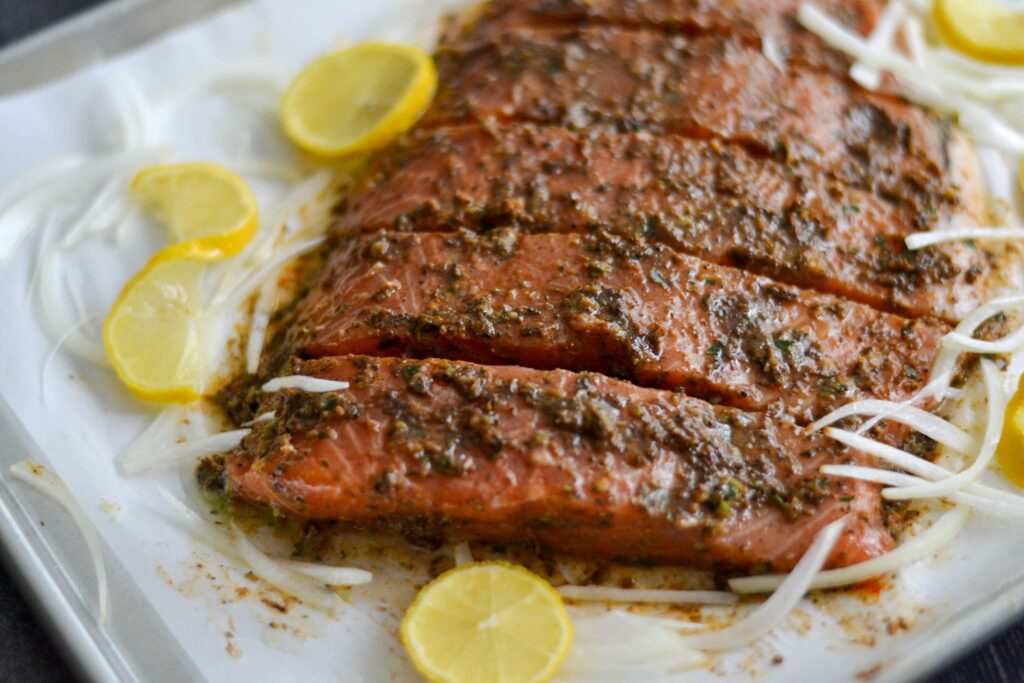 Bake at 375 degrees for 15 minutes. Then turn on the broiler to around 500 degrees and broil 5 minutes to get the top a little crusty.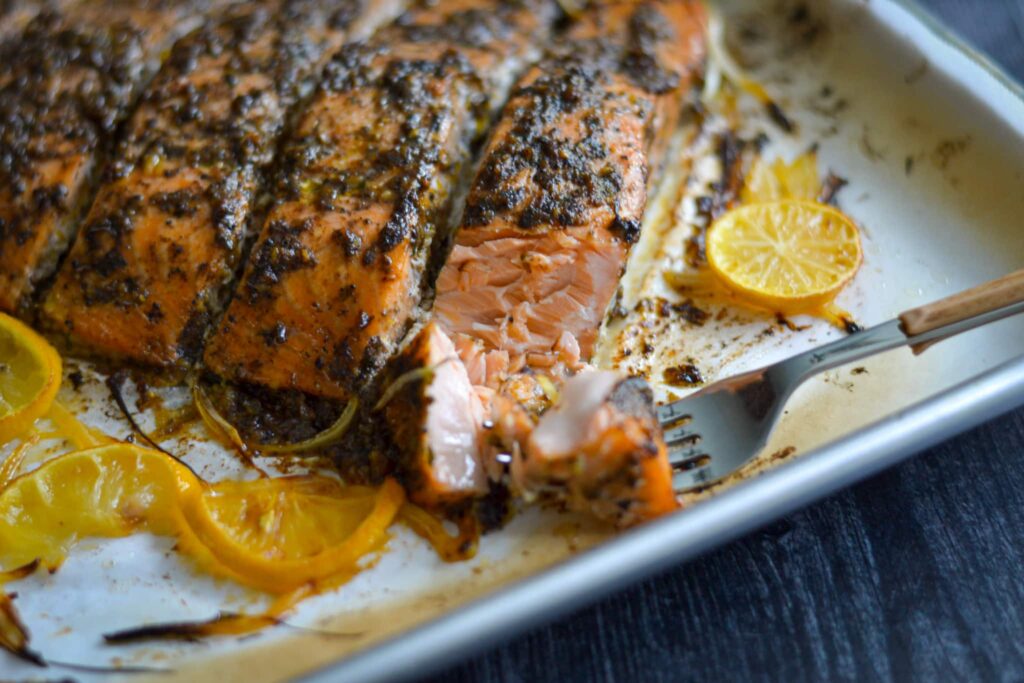 I served this with Jamaican rice and peas and a quick carrot and cabbage slaw.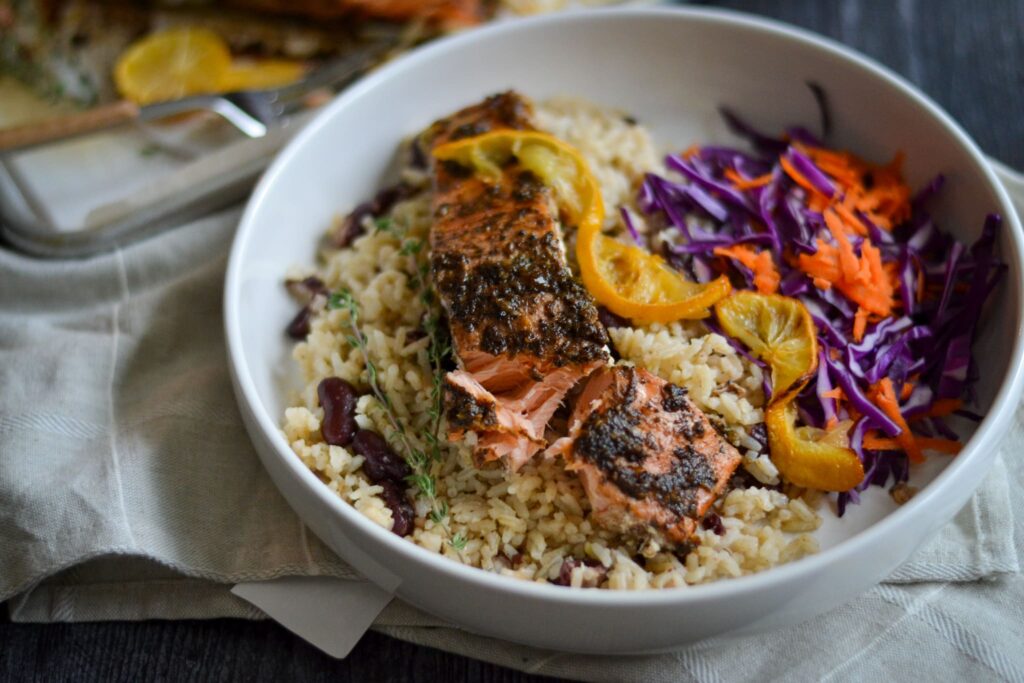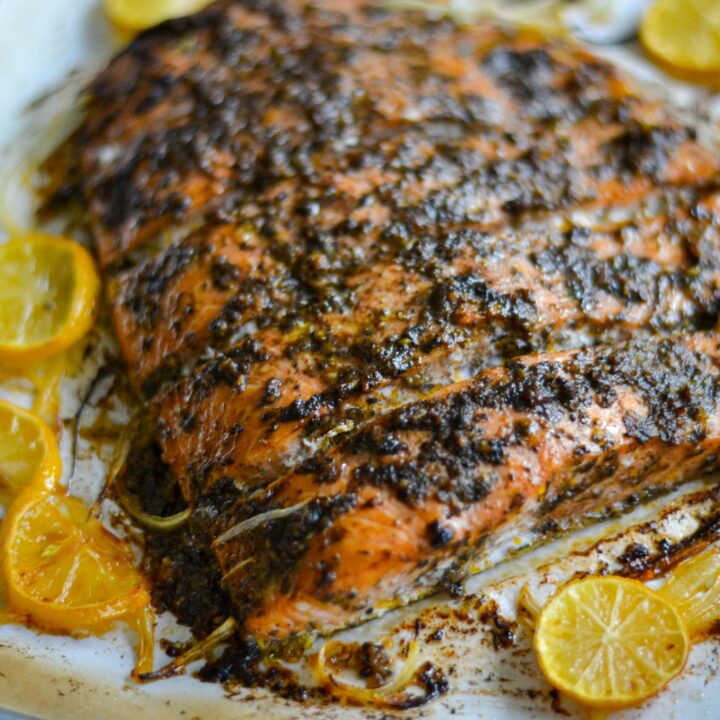 Baked Jerk Salmon
Yield:
2lbs salmon fillets
Ingredients
2 lbs salmon fillets
¼ tsp paprika
½ tsp adobo or other seasoning salt
1 heaping tbsp green seasoning
1 heaping tbsp jerk seasoning
1 tsp tomato paste
1 whole lemon, sliced
Oil spray
Instructions
Pre-heat oven to 375 degrees F.
Season
Pat fish dry with paper towel. Place on a baking sheet or pan lined with aluminum foil or parchment paper. If using a large fillet, cut it into even pieces.
Sprinkle paprika and adobo. Rub evenly.
Add green seasoning. Distribute on whole fish making sure to get in between the slits.
Mix jerk seasoning and tomato paste together. Rub all over fish and in between slits.
Cover with foil and let marinate for 20 minutes.
When ready to cook, cut lemon in half. Squeeze half lemon juice on fish. Slice lemon up and place around fish.
Spray fish with oil.
Cook
Bake fish uncovered in the middle of oven at 375 degrees for 15 minutes.
After 15 minutes has passed, turn broiler on at 500 degrees and broil for 3-5 minutes until edges and crust are slightly golden.
Notes
I used Walkerswood brand jerk seasoning in the glass jar. The texture is more of a paste. When fish is under broiler, keep an eye so it doesn't burn. If using individual salmon fillets or steaks, this recipe will work as long as the weight is the same at 2lbs.
Pin it for later!