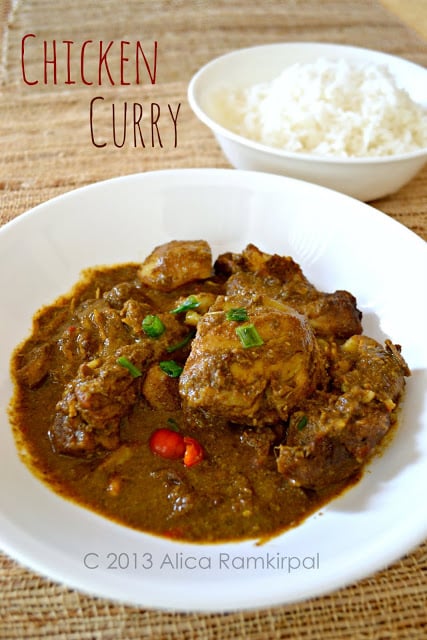 Stemming from the Indian influences on Guyanese cuisine, curry has become a fundamental dish in our food culture. Chicken curry in particular is such a staple in a (meat-eating) Guyanese home that you would think it was the national dish of the country. This delicious finger-licking stew is generally made by simmering some type of meat in a curry powder-garam masala mixture until some of the liquid has reduced, leaving a thick broth. It is typically enjoyed hot, and paired with roti or rice.
You can be sure if you attend a party, shower, BBQ, Christian or Muslim religious function, or just a hangout at a West Indian person's home, you will most likely find curry on the menu.
Every Guyanese person has that one auntie or uncle in their family who makes "the best" curry and in my family, it's my mother and my cousin Shammie. Mom's curry always had the perfect balance of spice and flavor. It was never watery and always boiled down to the right amount of gravy. It was the type of curry that made you lick your fingers after you were done eating, even if you used a fork. She frequently paired her chicken curry with dhal and rice or homemade dhal puri, both of which were enjoyable for me. Mom's curry turned me into what many West Indians call a "curry mouth"- someone who loves curry for breakfast, lunch, or dinner. I have come to accept this description of my curry eating habits, because I believe it to be true!
So what makes a good curry for me?
The gravy must be thick, not watery.

It must contain the right amount of salt.

It must have a spice balance- good ratio of masala to curry powder.

The chicken must have color (not white and washed-out looking).

The curry must not be overwhelmed with too many unnecessary herbs and spices.

The masala and curry powder spices must be fresh and great quality. It makes all the difference.
How do I like to enjoy my curry?
I enjoy curry right off the fire, while it is still hot. If I am having it with rice, I prefer it without dhal-I really like to taste the curry. I wait until I have eaten all of the rice to enjoy the meat on its own and my favorite piece is the neck. Oh! And how could I forget- there always needs to be a sprinkle of pepper sauce on my plate! This is what I call my comfort food. How do you like to enjoy your curry?
That's my mom's dhal puri, that's good stuff right there.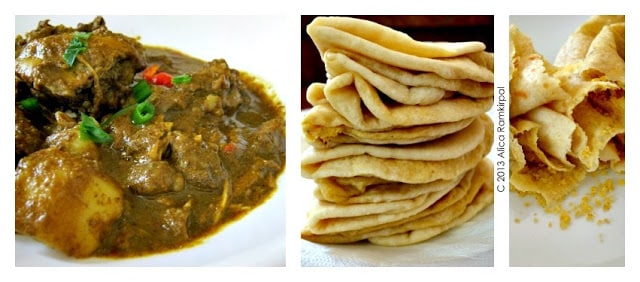 In a blender combine one medium onion, one head of garlic, leaves of a few sprigs of thyme, and desired amount of wiri wiri or scotch bonnet peppers.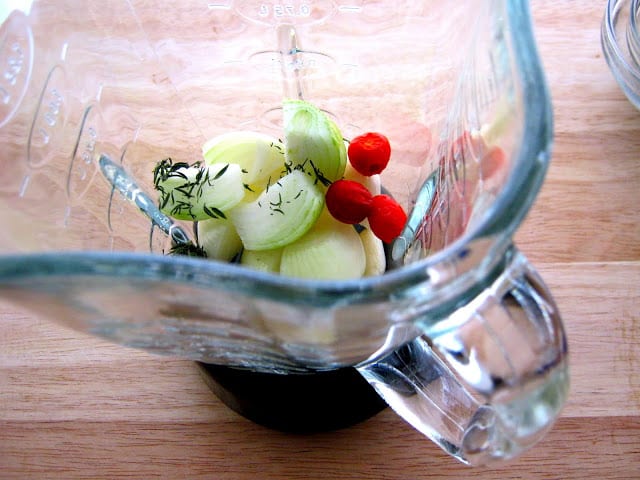 Add enough water to blend into a smoothie type texture. You should need be about ¼ cup water.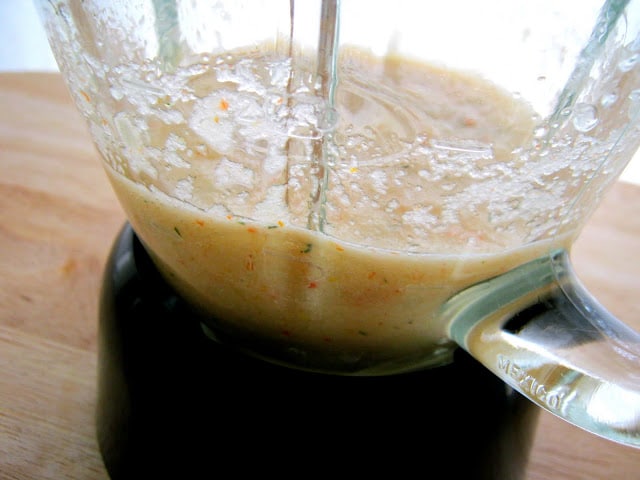 You will have extra seasoning left over. Store in an air-tight container and use to season meats, soups, rice etc.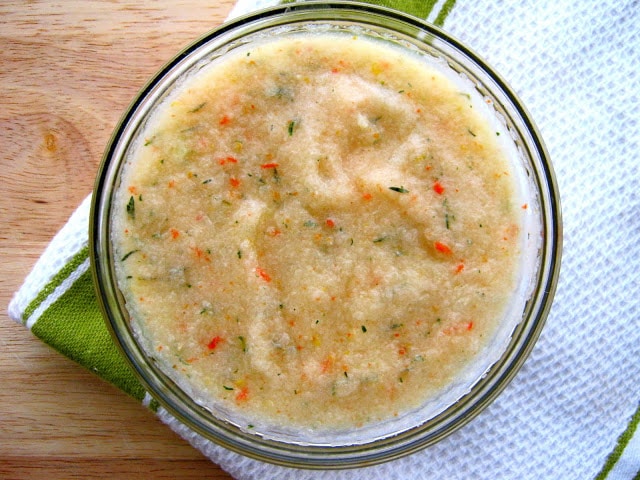 Clean chicken. See notes section for more details on how to clean meat.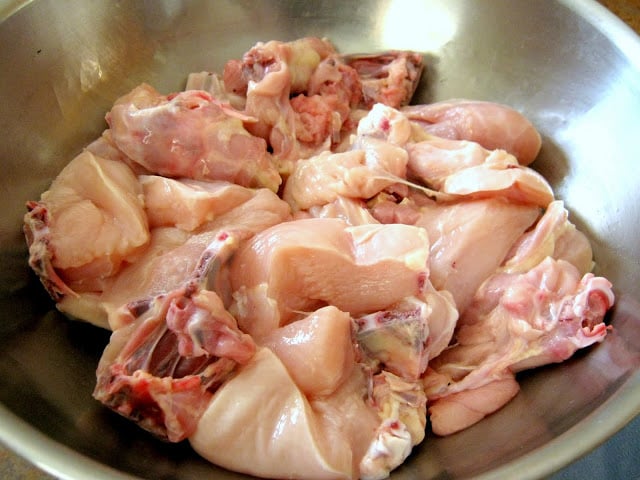 Add 2 heaping tablespoons of seasoning, massage into meat. Let it rest for ½ hour minimum.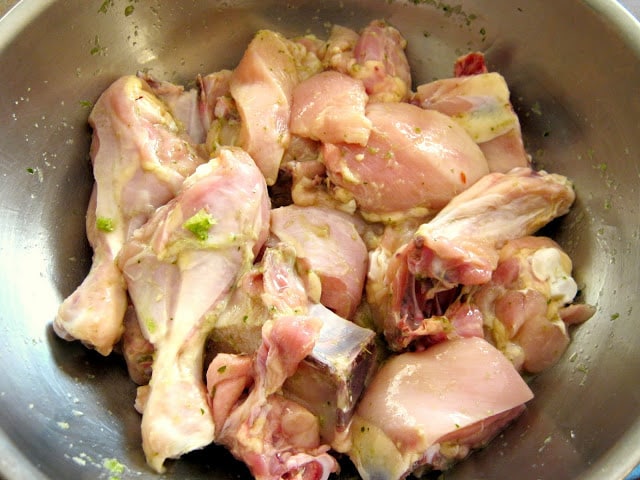 In a bowl, mix seasoning, masala, curry powder, and geera, form into a paste. My mom makes her own masala mixture, but see below for a recommendation of brands you can buy at a West Indian grocery store.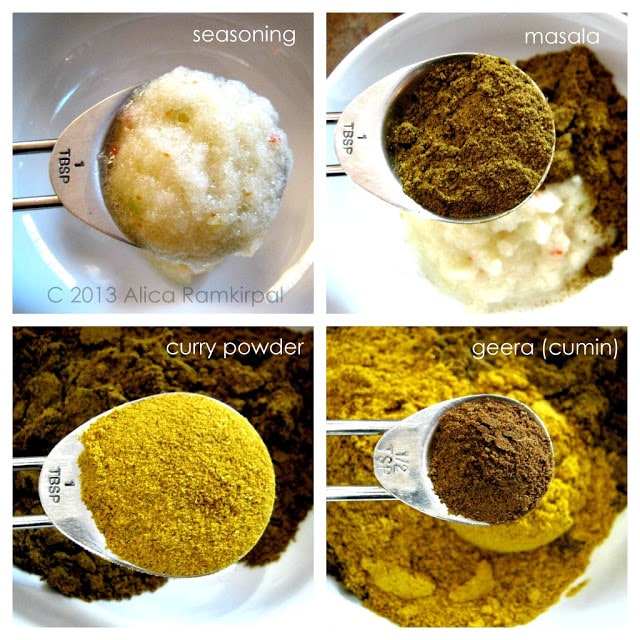 Add ⅓ cup of water and mix into a thick paste.
Add 6 tbsp oil to a cast iron pot, add masala mixture and fry 2-3 minutes until paste darkens and dries slightly. Be sure not to burn the paste, turn frequently while frying.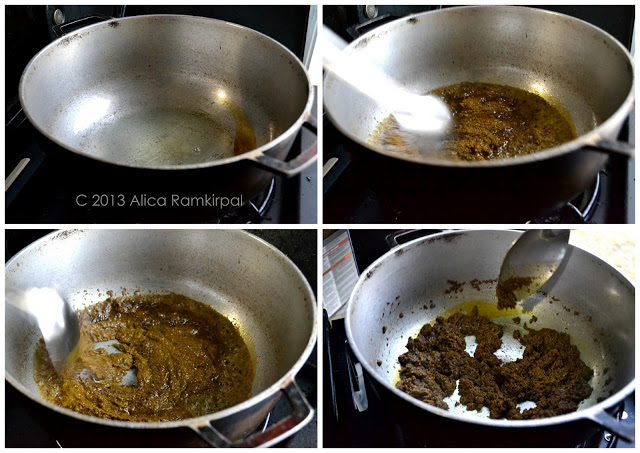 Add chicken to pot and stir to coat with masala-curry powder mixture. Cover pot and let chicken cook for 15-20 minutes on medium heat stirring every once in a while. Remove lid and allow water from chicken to evaporate.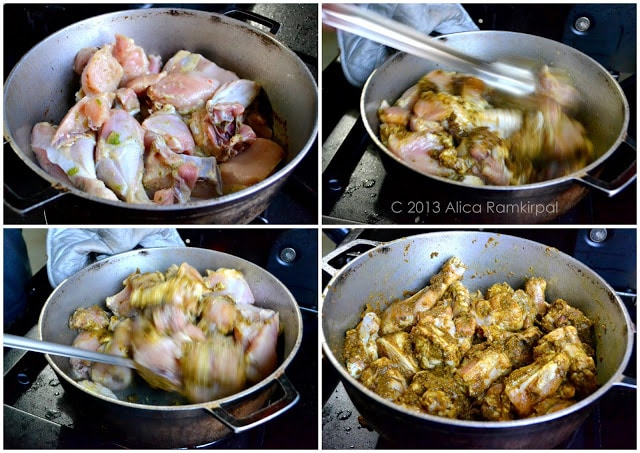 Chicken will then start to look "dry" after 15-20min. It will look like the spice paste is seared onto the meat- this is known as bunjaling/bunjaying. Add salt and more hot pepper if desired. Turn to incorporate.
Once chicken has bunjayed, add 3 cups boiling water, tomato paste, chopped potatoes, and two cloves (not pictured). Stir and cover pot to allow potatoes to cook. Curry is done when liquid reduces by ⅓ and gravy looks thick.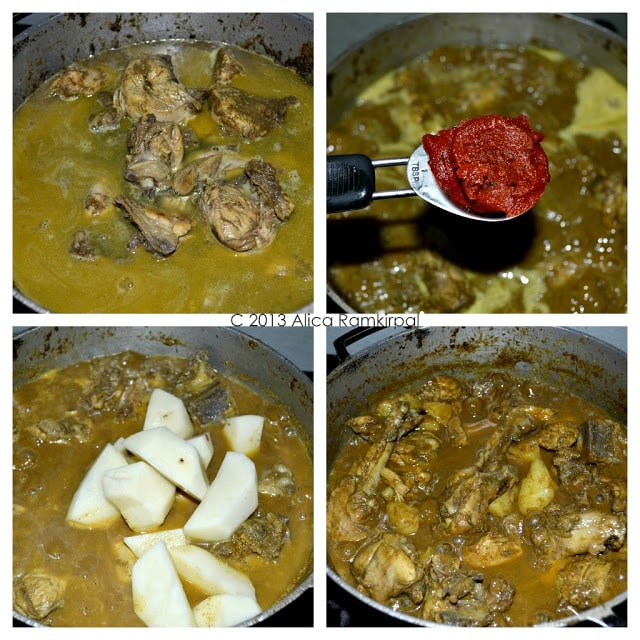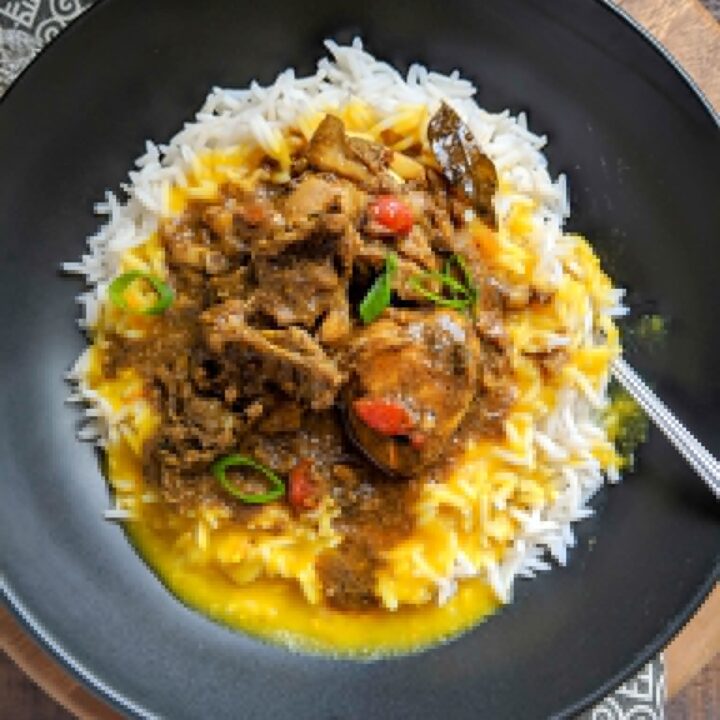 Guyanese Chicken Curry
Total Time:
1 hour
10 minutes
Juicy pieces of halal chicken cooked with masala, curry powder, and geera makes this Guyanese chicken curry finger-licking good. Serve with dhal and rice for a perfect meal!
Ingredients
Seasoning
1 medium onion, chopped
1 head of garlic, peeled
leaves of a few sprigs of fresh thyme
desired amount of wiri wiri pepper or scotch bonnet pepper
¼ cup water
Curry
4 lbs chicken, cut into 3 inch pieces
2 tbsp seasoning + 1 tsp curry powder (for chicken)
4 tbsp seasoning (for masala-curry powder mixture)
4 tbsp garam masala
3 tbsp curry powder
½ tsp ground geera (cumin)
⅓ cup boiilng water
6 tbsp cooking oil
2 tsp salt (or salt to taste)
Boiling water, as needed
1 tbsp tomato paste
2 medium potatoes, peeled and chopped
4-6 cloves + 1 small cinnamon stick (not pictured)
Few pinches geera
1 scallion, sliced
Instructions
In a blender, combine medium onion, head of garlic, thyme leaves, pepper, and ¼ cup water. Blend until smooth and thick like a smoothie.
Wash and clean chicken (see below). Remove fat, chop into 3-inch pieces. Pat dry with paper towel, set aside.
Add 2 tbsp of the seasoning to chicken plus 1 tsp curry powder. Massage into meat, let it rest for ½ hour minimum. Store remaining seasoning in a container in fridge for use in another recipe.
In a bowl, mix 4 heaping tbsp fresh seasoning, 4 tbsp masala, 3 tsbp curry powder, ½ tsp geera, and ⅓ cup water into a paste.
Heat an iron pot with 6 tbsp oil. Add masala-curry powder paste and fry for 2-3 minutes, stirring constantly until mixture looks darker and not watery .
Add chicken to pot and stir to coat with masala-curry powder mixture.
Cover pot and let chicken cook for 15-20 minutes on medium heat stirring every once in a while. Remove lid and allow water from chicken to evaporate. Chicken will then start to look "dry." Add salt and turn chicken.
Add enough boiling water to cover chicken.
Add tomato paste, and chopped potatoes, cover with lid.
Let curry boil on medium-high heat until gravy has reduced by one-third and thickens to your desire.
When curry is done, sprinkle a little geera on top and garnish with fresh scallions.
Notes
NOTES:
Make sure chicken has bounjayed (meat has been seared with the masala and looks dry) well before adding the boiling water. If water is added too soon, it will wash the masala off the chicken and you will end up with a watery curry.
Pat meat dry before adding seasoning. The meat will absorb the seasoning better.
Brands- these are the brands my mom has used in the past and yields a great taste:
Curry Powder - Chetty's or Lalah's
Garam Masala - Guyanese Pride or Maywah (Couldn't find an image)
HOW TO CLEAN MEAT:
When my mom would buy chicken from the halal meat store in Queens, they would roast the skin of the chicken and chop it up in curry/stew size pieces. Roasting the chicken skin gave it another layer of flavor when cooked. When she brought the chicken home, she would "clean" it with a little bit of flour, salt, vinegar or lime, and water. She'd let it sit for ½ hr to 45 minutes then rinse it off piece by piece and pat it dry. This method of "cleaning" the meat is a way to remove any slime, rank smell, or off taste that the chicken might have. This is the way we always cleaned meat, but feel free to use your own way.