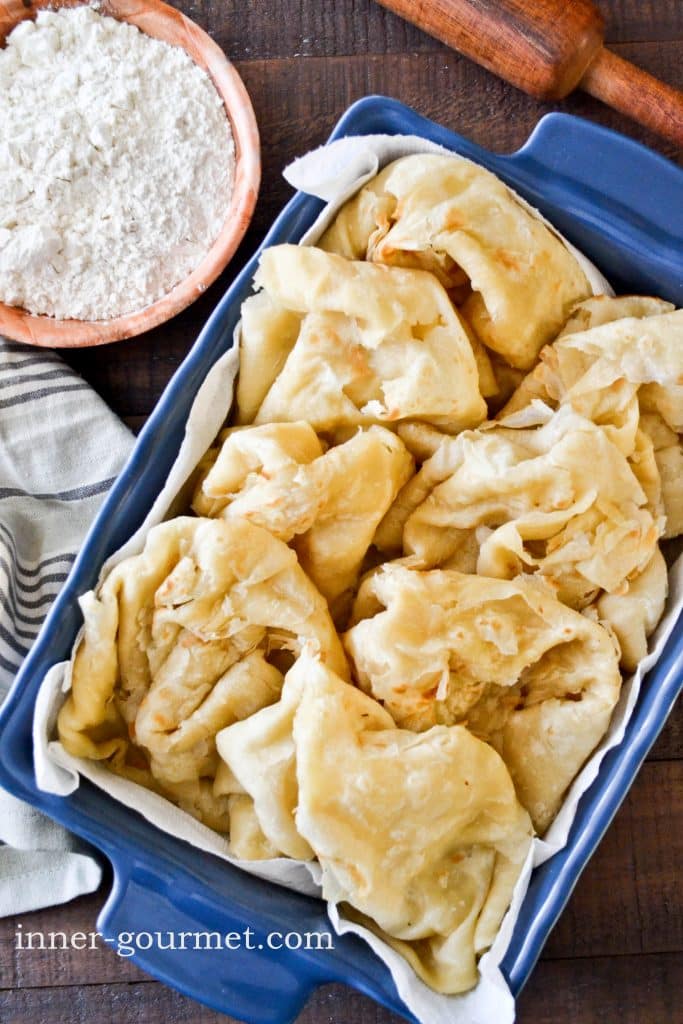 Devour it with curry, eat it with sides, you can even enjoy it with melted butter, but no matter how you consume it, one thing is for sure: there is nothing else like a hot and flaky paratha roti. From the looks of these photos, it would be perfectly correct to assume that this is a staple in Guyanese cuisine.
Paratha roti, sometimes called "oil" roti, is generally made with five ingredients, flour, salt, water, baking powder, and oil (or some other type of fat). The oil is incorporated into the dough, rolled thinly, and then cooked on a cast iron skillet. Since this bread is popular in Caribbean cuisine, there are many different ways to make it. If you ask five different people from the Caribbean how they make this roti, you will surely get five varying recipes as well as techniques. None are better than the other, they are simply just different methods of achieving your preference.
I learned from my mother how to make this roti so I can only speak to her recipe and method. Her key to making paratha roti a success does not rely so much in the quality of ingredients as it is does in the technique. Not overly kneading the dough, allowing the dough to rest, creating enough layers for air pockets when oiling and rolling it up into dough balls, and ensuring the roti has been *clapped while hot, are the measures she uses to ensure a great paratha roti.
*Clapping is a Guyanese term used to describe the method of releasing the air pockets from the roti. Once the roti is done cooking, it is tossed up in the air and clapped with both hands repeatedly. This releases the air pockets and creates flakes, but also burns your hands! There are many different methods used today instead of "clapping," including placing the hot roti in two bowls and shaking repeatedly, I have demonstrated below how this can be done. This method works great for protecting your hands from the heat. Thanks to Sharmila Singh for passing this tip along to us!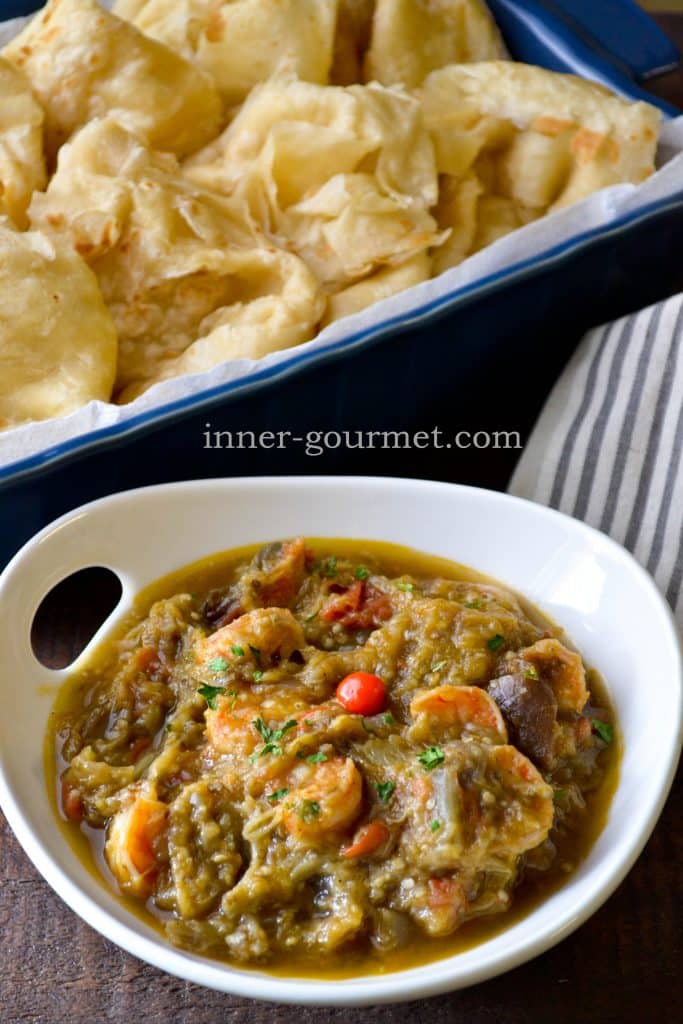 My mom used to serve this roti alongside a variety of delicious curries, stews, and sauteed vegetables during the weekdays. I remember the good and bad memories of helping my mom cook this roti. The bad memories were of my hands being on fire after clapping the roti, while the good memories consisted of anxiously waiting for the last roti to be done cooking so I could rub some butter on it, watch it melt, and savor the simple flavors in my mouth! Whether good or bad memories, the truth is, when I moved away from home and had to cook this roti for myself, it brought a feeling of nostalgia to me, one that always made me remember my mother's wonderful cooking and how dearly I missed it. Here is yet another recipe that has brought me closer to home even though I am hundreds of miles away. Enjoy!
Method
Start with 3 ½ cups of all-purpose flour. Add baking powder and salt then sift.
Add one cup of water to knead the dough. Knead until the dough forms a smooth ball. Do not over knead, if the dough ball is stiff, the roti will be hard. Rub some oil on the dough ball and cover with a damp paper towel, this prevents the dough ball from crusting. Let the dough sit for about 45 minutes at minimum.
Prep your work area. You will need ½ cup flour for dusting, ½ cup oil, a brush or spoon to spread the oil (or use your bare hands), and a rolling pin.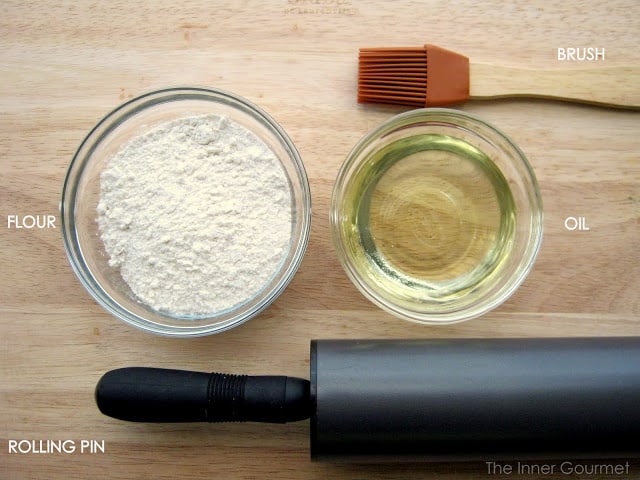 This recipe should make 6-7 rotis depending on the size. I make them a little smaller. Divide the dough ball in balls the size of an orange. Start with one dough ball and flatten slightly with your fingers. Place a damp paper towel over remaining dough balls to prevent a crust from forming.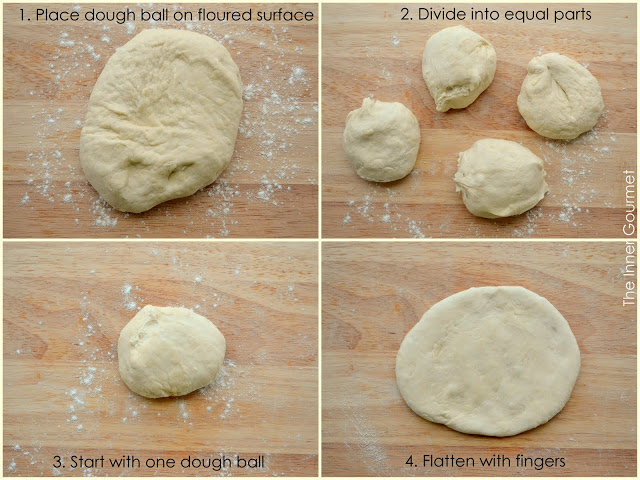 Roll one dough ball to ⅛ inch thickness, brush oil, ghee, or melted vegetable shortening (such as Crisco) then begin rolling. Rolling the dough into a log is actually where you create flakes and air pockets. There are several different ways to roll the dough, this is the particular way my mom taught us.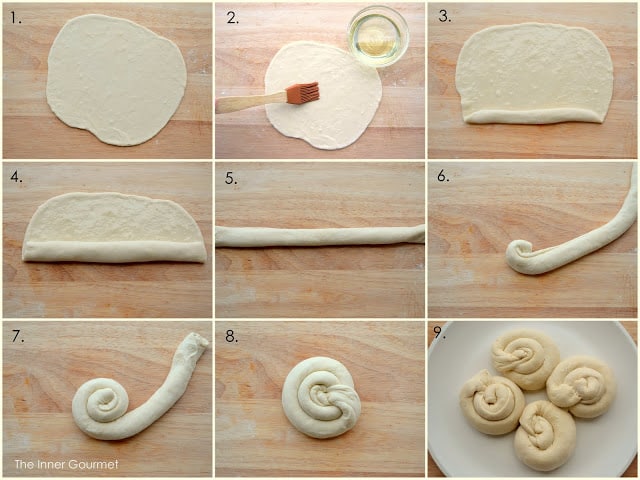 Cover the dough with a damp paper towel to keep the top from crusting. Let the dough sit for about 20 minutes before cooking. Roll each one to ⅛ inch thickness.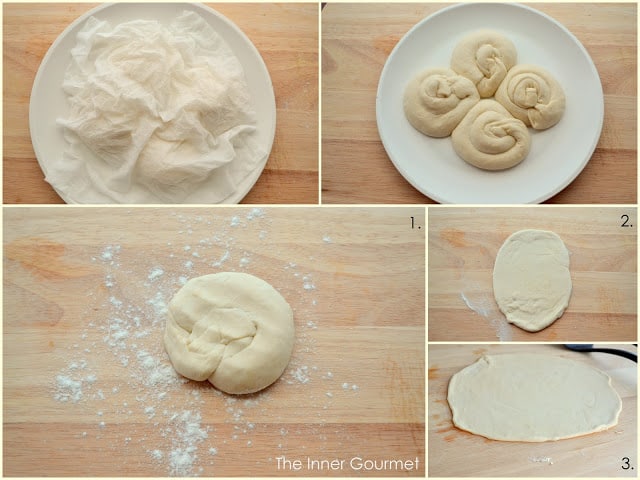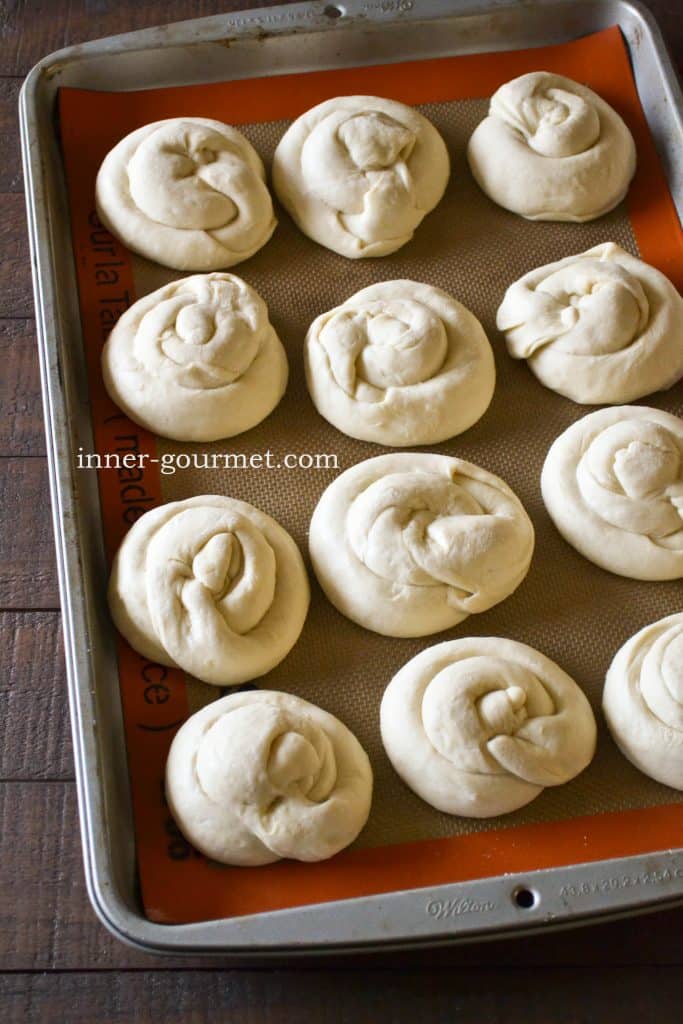 Heat a skillet or tawah to medium heat. Place roti to cook. I am cooking the roti on a tawah, this is the traditional skillet that roti is cooked on. It is a flat iron skillet and transmits heat evenly. You can use a heavy bottom pan or a pancake skillet as well.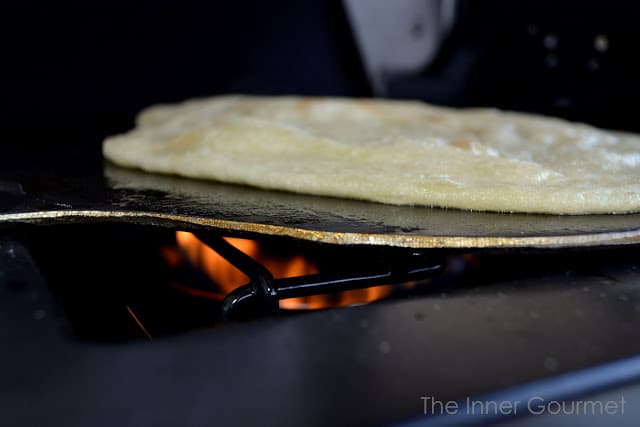 Once you start to see bubbles like in the first picture below, flip roti onto the other side and brush a little oil making sure to get the edges. Note- if too many bubbles form when first placed on the tawah, the roti has already started to overcook.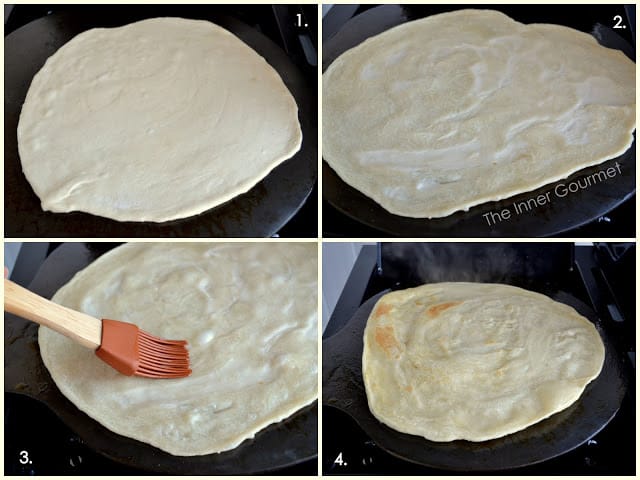 Once roti is cooked on both sides, remove from the skillet/tawah. And toss in the air and clap with your hands repeatedly. An alternative is to place roti into a deep bowl, cover with another bowl or plate and shake vigorously. This is a wonderful tip passed along to me from Sharmila Singh who says, "Say goodbye to red sore hands!" Thank you Sharmila! Roti can also be placed in a jug with a cover and shaken.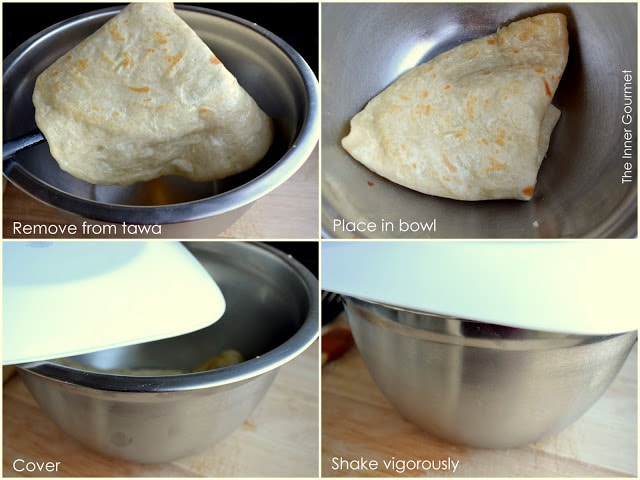 Roti after being shaken in the bowl. Roti must be shaken/clapped immediately after removing from the heat.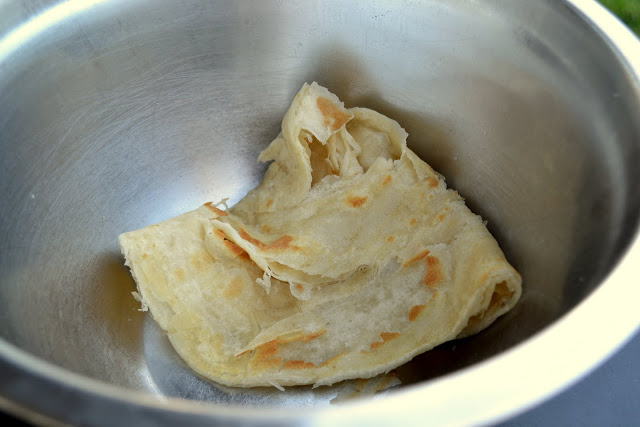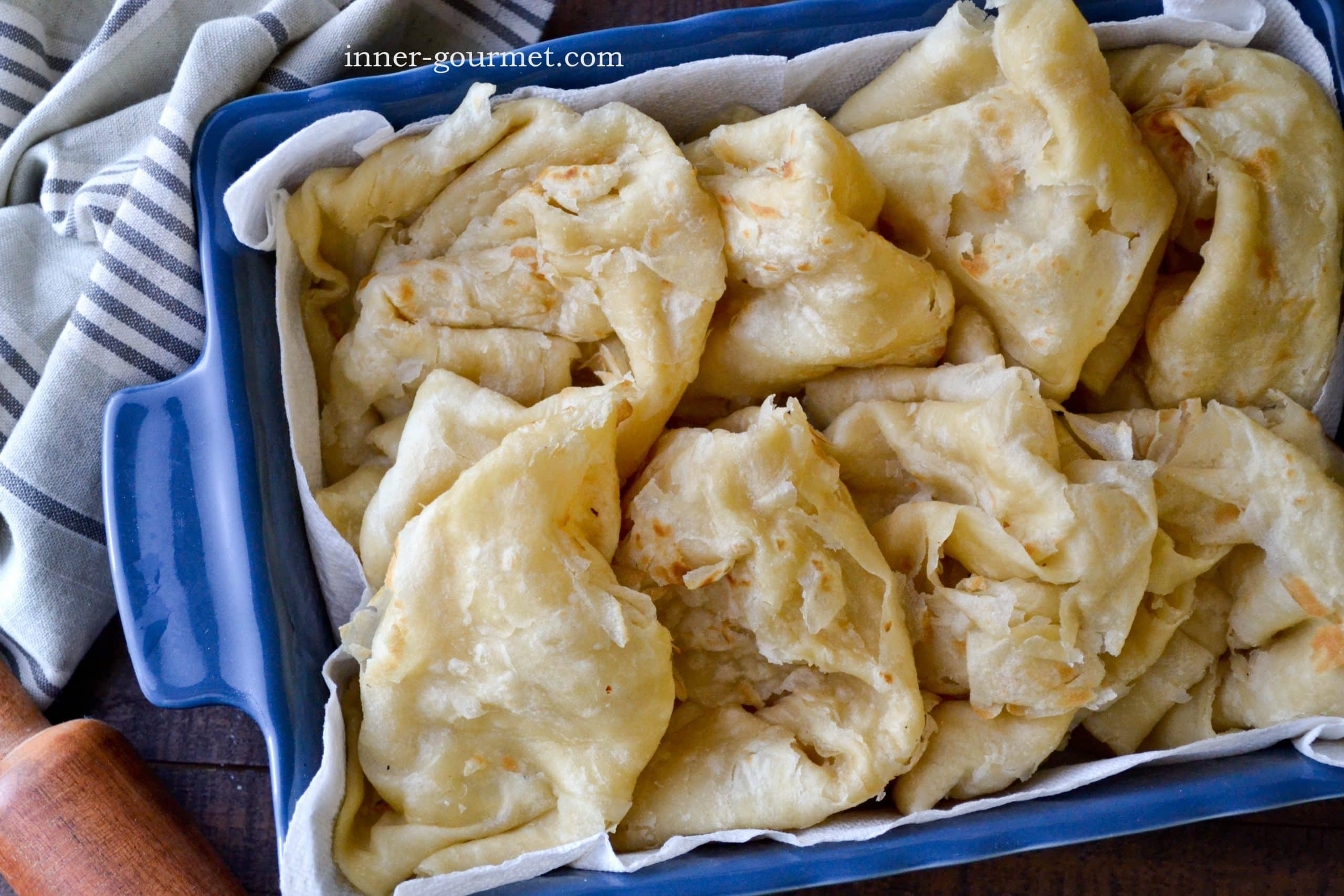 Paratha / Oil Roti
Ingredients
3 ½ cups all-purpose flour, more for kneading
½ level tsp baking powder
¼ tsp salt
1 tsp vegetable shortening (to rub in flour)
1 ½ cup warm water, few tbsp more as needed
½ cup oil, melted vegetable shortening, or ghee (or combination of any two)
½ cup flour for dusting
Instructions
Sift flour, baking powder and salt together. Rub shortening into flour mixture until small bits form.
Add water a little at a time and knead into a soft smooth ball.
Rub a little oil on the top of the dough ball to prevent from crusting. Cover with a damp paper towel. Let dough rest for minimum 45 minutes.
Divide dough into equal parts. Roll each dough ball to ⅛ inch in thickness. Brush with oil.
From one end roll dough to form a log. Take one end and circle the center, tuck end into the center. Let dough sit for 20 minutes.
Heat tawah or cast iron skillet to medium heat. Roll each dough ball to ⅛ inch thickness.
Place roti on tawah or skillet to cook. Once roti shows tiny bubbles, flip onto other side and brush with oil. Flip back to the first side and brush with oil. Let roti cook a 20 seconds then remove roti from heat.
Immediately place roti in a deep bowl, cover with a plate or place in a pitcher with lid. Shake vigorously to release air pockets in roti. You may clap roti with your hands, using your bare hands or a kitchen towel.
Notes
*When reheating in a microwave, the moisture from the roti escapes leaving your roti stiff after a few minutes. A trick I use when reheating roti the next day is wrapping the roti in a moist to wet paper towel and then placing in the microwave. The roti will keep its soft texture and not get hard and crisp. If you also have a tip of how to reheat roti, please feel free to share!