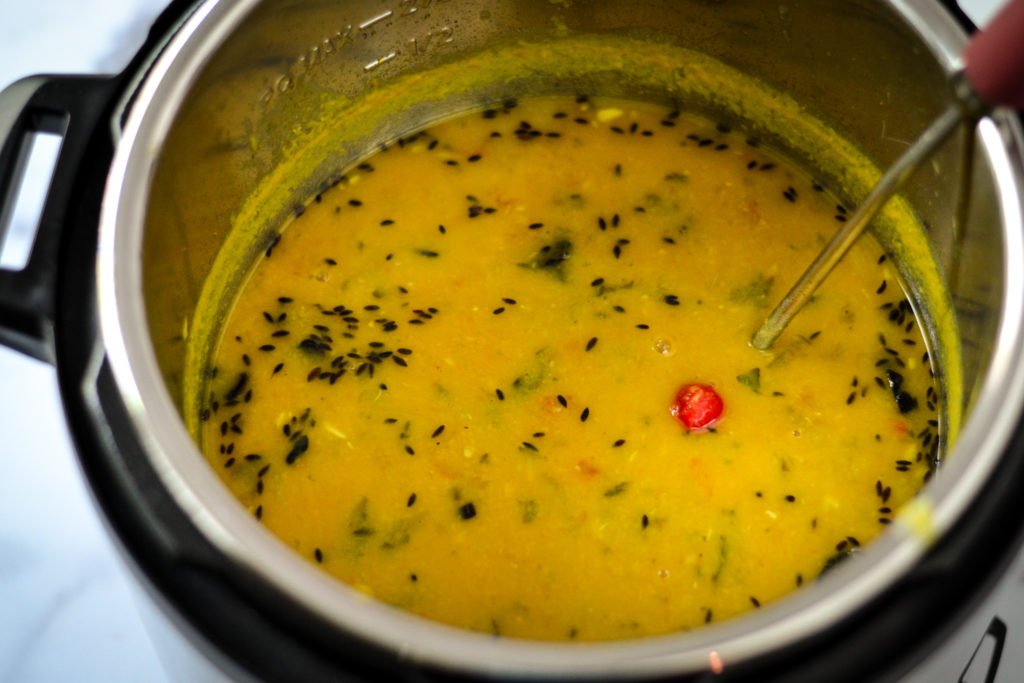 Dhal and rice is popular comfort food in many Guyanese households. It's accompanies a variety of vegetable dishes and is perfect when ladled over rice and served with any kind of meat curry. It is made from dried yellow split peas and can take 45 minutes or more to cook on the stove top, but cooking it in the instant pot significantly reduces the time. What I love most about the instant pot version is that I can set it and forget it instead of hovering over the stove top to gotay (mashing and swirling repeatedly) with a dhal ghutni. Using the instant pot is the easiest way to make Guyanese dhal and if you haven't used your IP yet, this is a good recipe to get you started!
Also check out:
How to cook dried chickpeas in the instant pot.
Guyanese dhal bounjal-style (version two)
After experimenting, I've found that the timing doesn't have to be exact as it is in this recipe. A few more minutes of pressure cooking is okay and you could even leave it on natural release for as long as you need to. The longer it slow release the less splatter you'll have through the valve. It takes approximately 30 minutes for pressure to completely release (naturally). So if you've got multiple things cooking at the same time, you can literally set this dhal in the IP and forget it. However, I don't recommend pressure cooking for less than 10 minutes unless peas are soaked in water first.
No soak vs. soak
No soak- For this recipe you can use dried peas, straight from the bag, rinsed of course. Pressure cook anywhere from 10-12 minutes then let it natural release between 10-15 minutes. Turn valve to vent to release additional pressure after slow release. The dhal will be slightly chunky, but completely tender.
Soaked- Soak peas in water overnight or for 30 minutes minimum then cook - pressure cook for 5 minutes then natural release 10 minutes. After screen reads LO:10, turn valve from sealing to venting until all pressure releases.
I am using yellow split peas for this recipe. You can also use a combination of yellow and green split peas.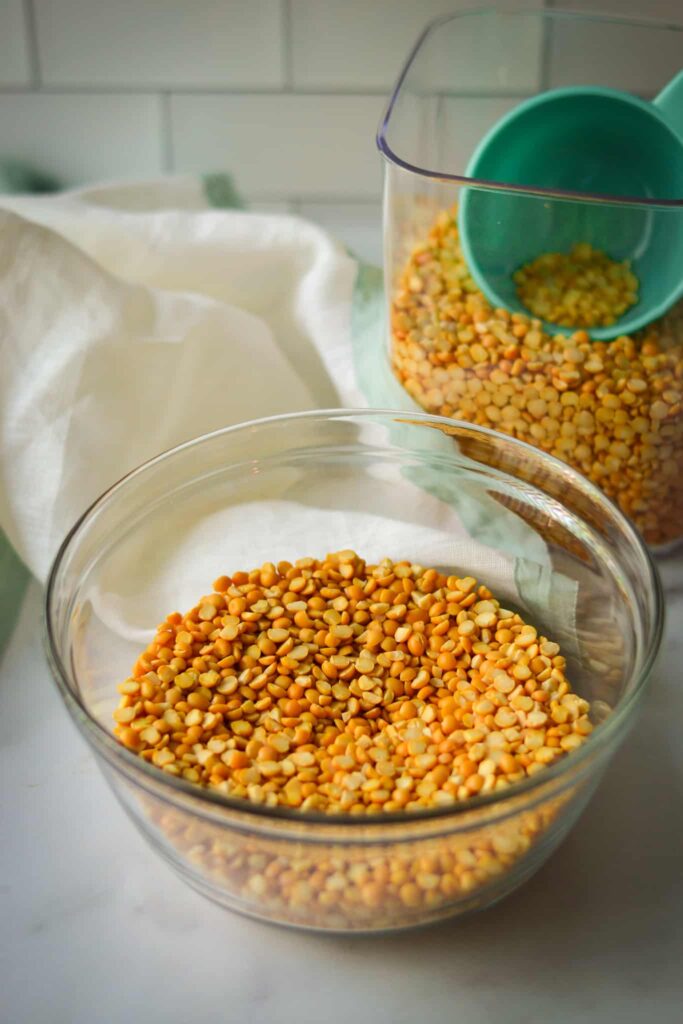 Add turmeric, curry powder, garam masala and geera (not pictured) and salt.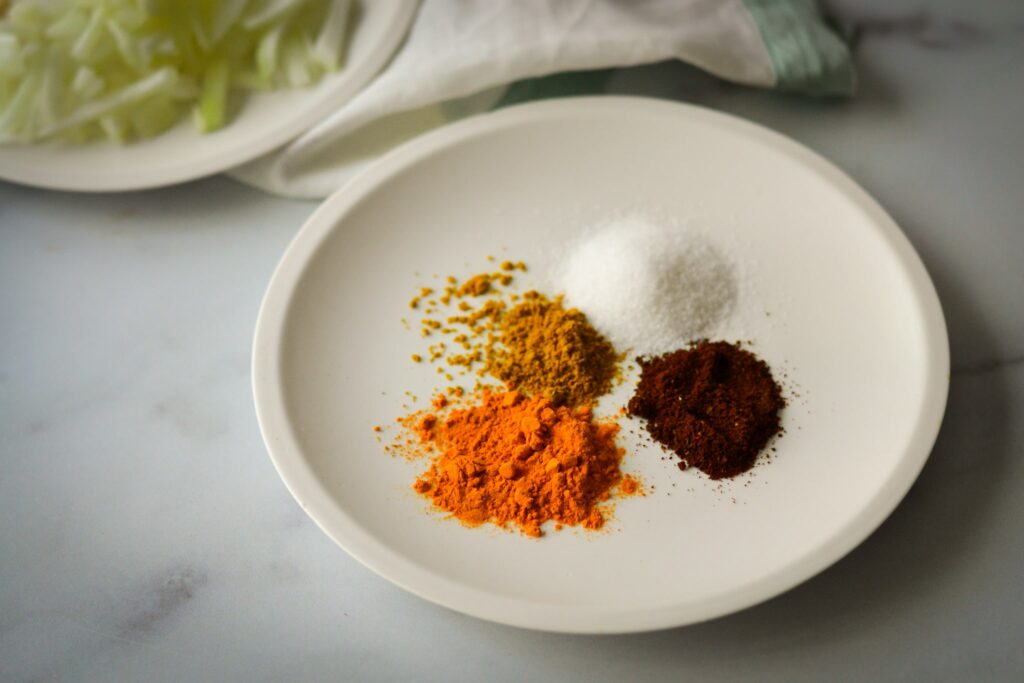 Prep onion, garlic and wiri wiri peppers. You may also use chili or scotch bonnet peppers in place of wiri wiri.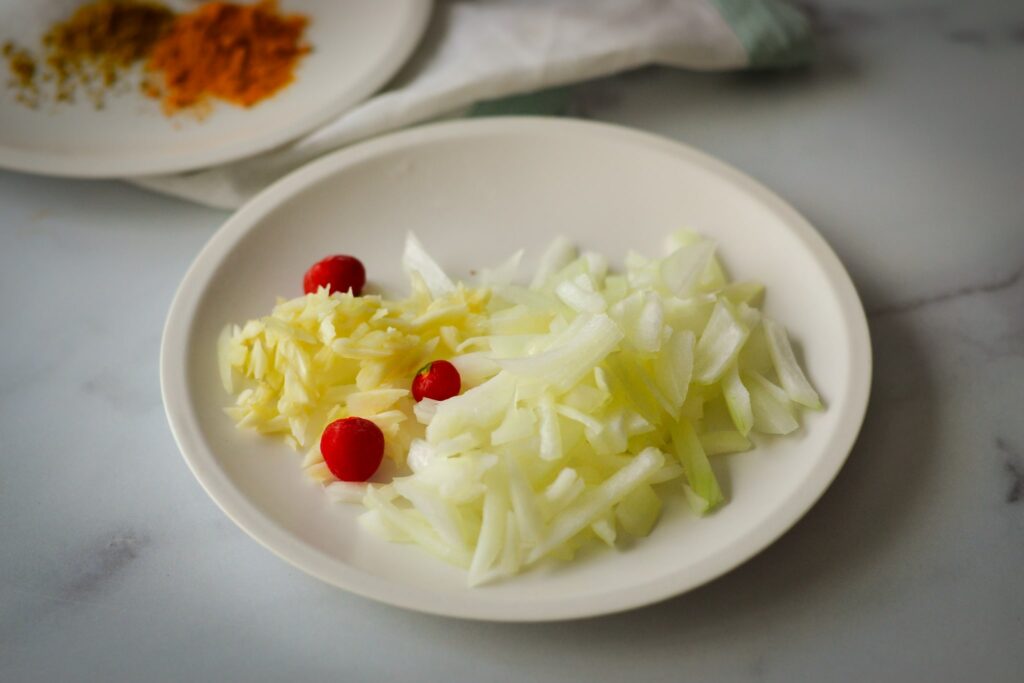 Disclosure: I am a participant in the Amazon Services LLC Associates Program, an affiliate advertising program designed to provide a means for website owners to earn advertising fees by advertising and linking to amazon.com
Below is the instant pot I am currently using. It is perfect for a family of 4-6.

Open lid when ready. You'll notice all the peas are at the bottom of the pot and water on top. Use dhal ghutni or a whisk to blend. I added a handful of frozen spinach to the pot before cooking.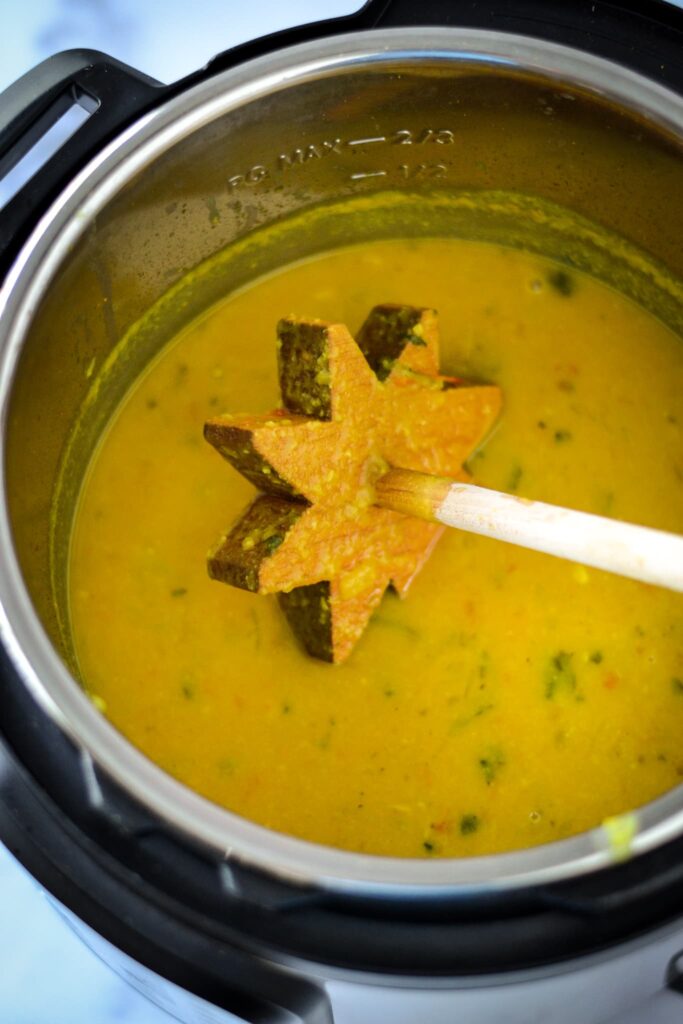 Chunkay
After dhal is done cooking, the process is finished by tempering with garlic and geera, also known as chunkay. This step adds another layer of flavor. It creates a smokiness that is iconic to the taste of Guyanese dhal. Oddly, my father does not like to chunkay his dhal, but will do it if he knows we are coming over to eat. He says it gives him heartburn so he leaves this step out when cooking for himself and mom. If you feel the same, then skip this step! The flavor is slightly different, but still very, very good.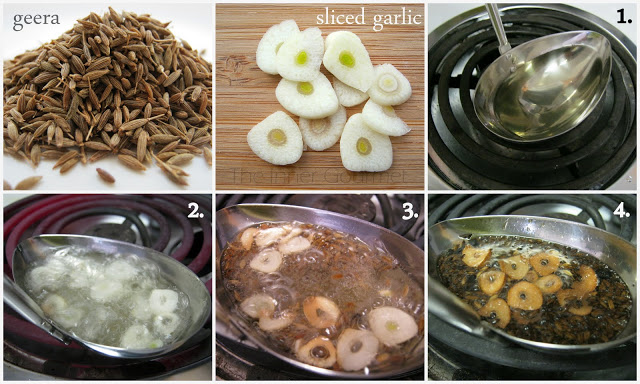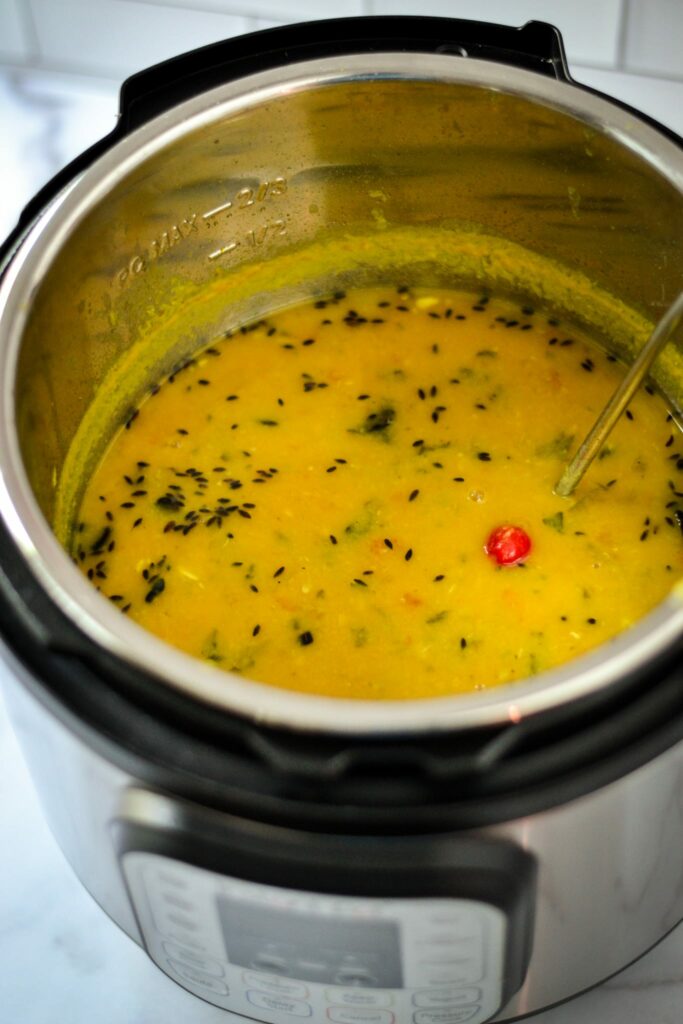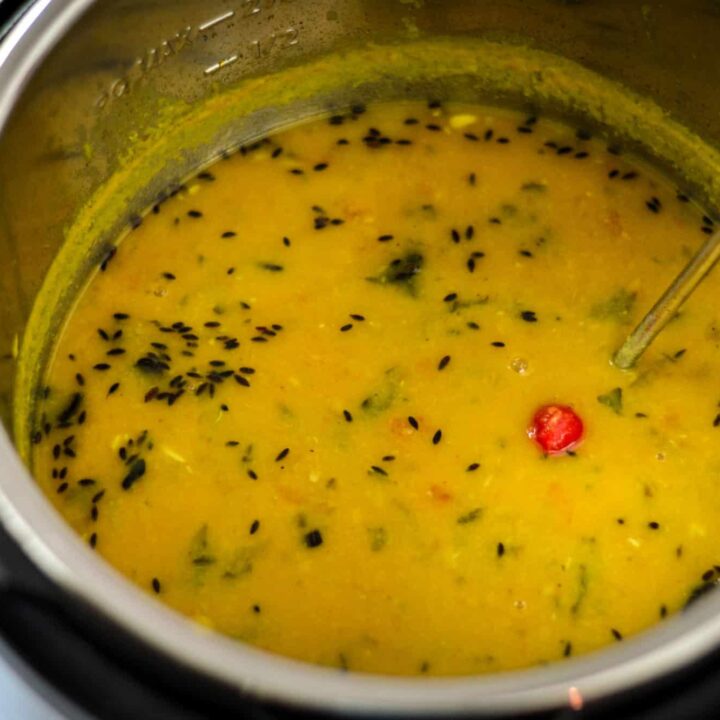 Guyanese dhal (instant pot version)
Ingredients
1 cup dried yellow split peas, rinsed
2 tbsp oil
½ medium yellow onion, sliced
3 cloves garlic, minced
2-3 wiri wiri peppers
½ tsp garam masala
½ tsp geera (roasted cumin)
½ tsp curry powder
½ tsp turmeric
¼ cup tomato, diced
handful of frozen or fresh spinach (optional)
1 ½ tsp salt
4 ¼ cups water
Chunkay
1 large garlic clove, sliced (or two small ones)
½ heaping tsp geera (cumin seeds)
2 tbsp oil
Instructions
Prep
Rinse and drain split peas, set aside. Slice onion, mince garlic and chop tomato. Set aside.
Cook
Press SAUTE and wait 30 seconds for instant pot to heat up. Add 2 tbsp oil. Add onion, garlic, pepper, and spices. Fry until onions become tender.
Add yellow split peas. Fry a few minutes then add tomato, spinach and water.
Press CANCEL to get out of SAUTE mode.
Secure the lid, turn the pressure valve to "sealing".
Press PRESSURE COOK and set time to 12 minutes.
When time is up and instant pot beeps, let pressure naturally release until screen reads LO:15.
Now turn valve to "venting." When all pressure is released, open lid.
Use a whisk or dhal ghutni to mash dhal and make smooth.
Chunkay
In a small sauce pot or ladle, add 2 tbsp oil. Heat on low. Add geera and fry a few minutes. Add garlic. When garlic is dark brown, remove from heat. Quickly pour over dhal and cover with lid to avoid splatter. Stir to layer flavors.
If dhal is too thick for your liking, boil ½ cup of water and add a little at a time until desired consistency is reached. Press "SAUTE" and let everything simmer 2-3 minutes to emulsify. Dhal will thicken slightly when cool.
Notes
If you'd like to soak your peas before cooking follow these directions: Soak peas in water overnight or for 30 min minimum then cook. Follow instructions to make dhal. Pressure cook for 5 min (instead of 12 min) then slow release 10 minutes. After screen reads LO:10, turn valve from sealing to venting until all pressure releases.
When I was growing up my mom would sometimes make dhal and roti by itself for dinner. We'd break off pieces of roti and let it soak in a bowl of dhal. The roti would get soft and pillowy. With every bite came a slurp, making sure to get all the dhal off my fingers before going in again.