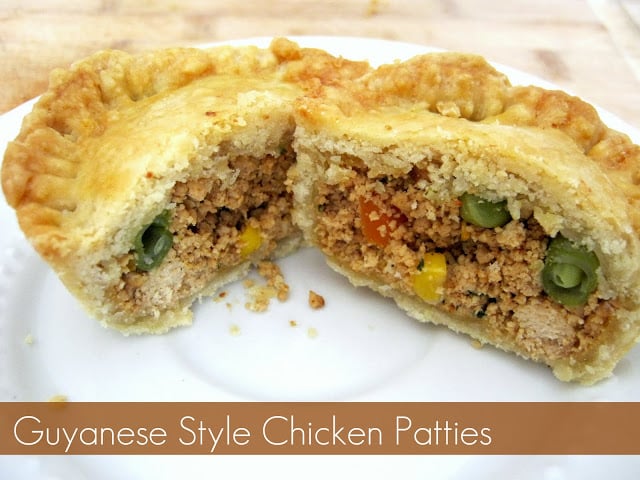 These spicy meat filled pastries were a staple in my home as a child. The ironic part is, my mother never actually made them! We would always purchase them from Sybil's Bakery on Liberty Avenue in Queens, NY. Whenever you walked in and said, "I'd like four chicken patties please" the response would always be, "Guyanese or Jamaican style?" By the end of this post, you will come to understand that the two styles are truly very different.
There was no rhyme or reason as to which type of patty I was in the mood for during my visit to Sybil's, but I do remember just wanting to taste the spice that came along with one of these delicacies. I also made sure to always buy a bottle of cream soda to wash it all down! Guyanese pastries are just not complete without the added taste of cream soda in the background.
Chicken patties are about the size of a small apple and are served as an appetizer or can be eaten as a snack. No matter the time, I am always in the mood for one of these savory treats!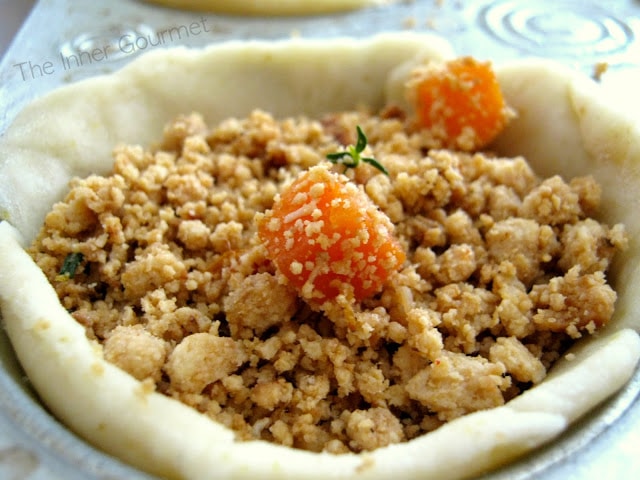 Jamaican style patties
are flat meat filled savory pastry. They contain food coloring in the crust, curry powder, and a few additional spices. The filling is more of a chunky chicken curry mixture (most popular is probably beef). They are definitely very tasty and also a favorite of mine, the chicken ones of course since I don't eat beef. Guyanese chicken patties are shaped in a muffin pan using a flaky pastry dough that contains lots of butter, shortening, and a dash of curry powder. They are then filled with a spicy meat mixture and baked until golden. They can also be made to resemble an
empanada
.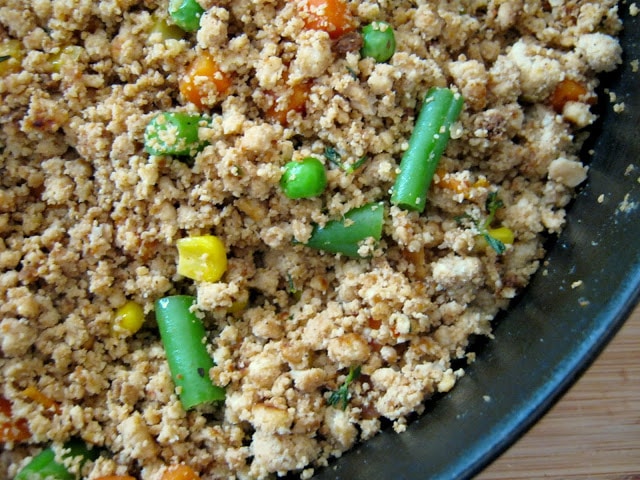 I have received several requests for Guyanese Chicken Patties and after a friend asked me to email her this recipe two weeks ago, I realized how long it has been since I have been promising to post this on my blog. Today I share with you my delicious, tasty, flaky, and spicy little chicken patty recipe. Enjoy friends!
This is about 1lb of chicken breasts, it made 24 patties, you can use about 8oz (½ lb) of chicken for 12 patties. Salt and pepper your chicken and sear it in a pan until brown.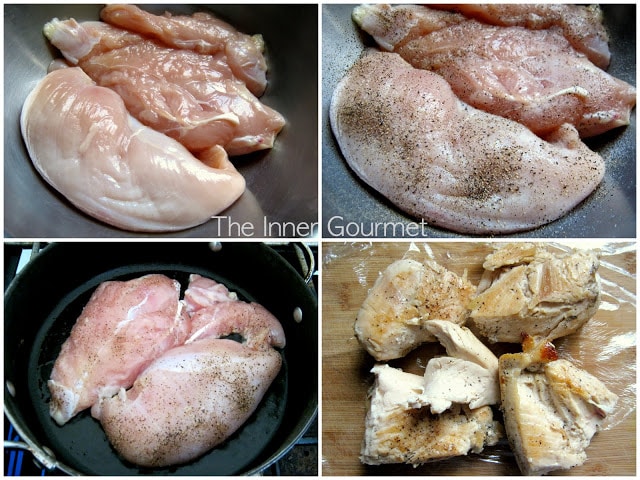 Place cooked chicken in a food processor with 1 wiri wiri pepper or ½ tsp cayenne pepper. Pulse until chicken is minced, forgot to take a picture of that part, but you get the idea 😉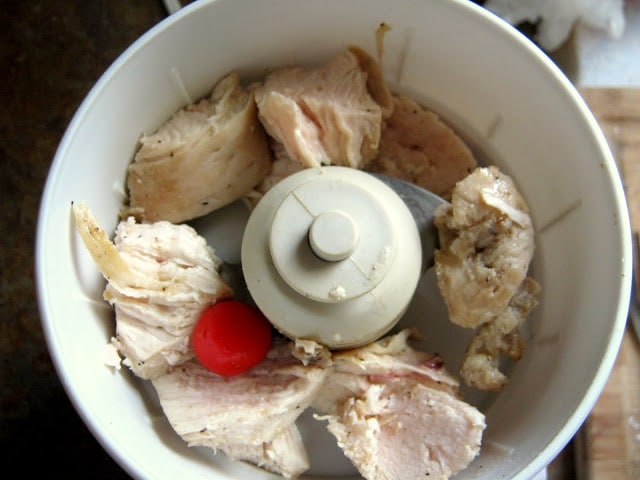 In a saute pan, heat about 4 tbsp of canola oil and throw in 2 tomatoes and 4-5 sprigs of thyme (leaves removed from stems). I usually puree 1 onion with 6 cloves of garlic and keep this mixture in the fridge for use on chicken, rice, and seafood. It gives the meat a really nice flavor and you don't end up chewing onions or garlic in the patty mixture. Throw in about 4 tablespoons of the onion/garlic puree and cook with tomatoes until soft and tender.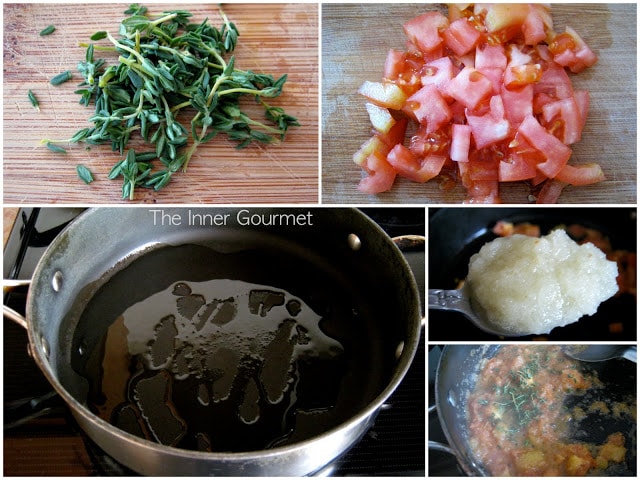 Add a few dashes of any browning sauce that you may have on hand, Gravy Master works well too. Add 1 tsp of Emeril's Original Essence, 1 tsp of salt, and ½ tsp cayenne pepper. You can throw a dash of curry powder in there too if you like.
After the tomato mixture becomes fragrant, add the chicken and cook it until brown. Add more browning sauce if needed and any other ingredients that you like to use when seasoning your meat. If you have Adobo on hand, throw in a dash of that, just watch the amount of salt you put in when using other high sodium seasonings. Add about 1 cup of mixed vegetables and cook into the mixture. Set aside and let this cool off.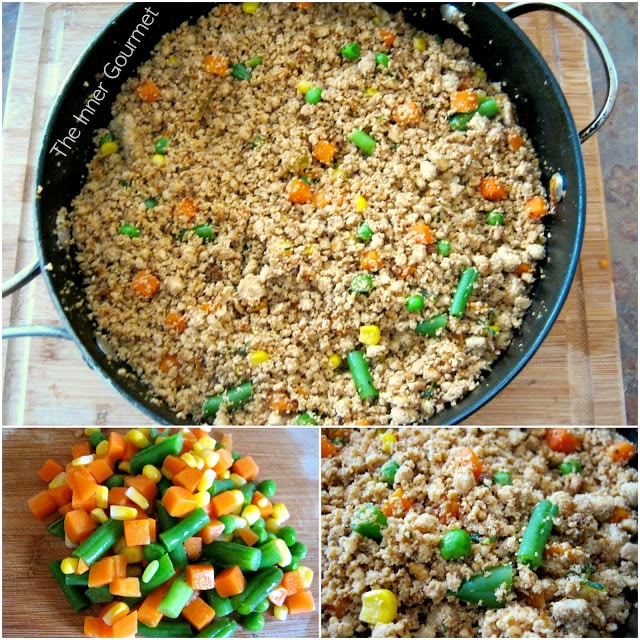 I made my dough the night before. It helps make the process easier since these will take some time to assemble. You can find the dough recipe here under my
Cheese Rolls
recipe. That dough recipe will give you 12 patties. You can also use store bought pie crust if you don't have time to make the dough. Just make sure not to roll the dough too thin since we need a thick crust to hold up the meat in these patties.
Cut the dough into 24 small pieces. Round them off into balls and slightly flatten each one with a rolling pin. Spray or rub some oil on your muffin pan and line each insert with the dough. Another way to do this is to roll out the entire dough ball and then use a cookie cutter to cut the dough. I prefer not to do it that way because you will end up pinching the sides of the dough down and then sealing it with a fork so preciseness doesn't matter too much here.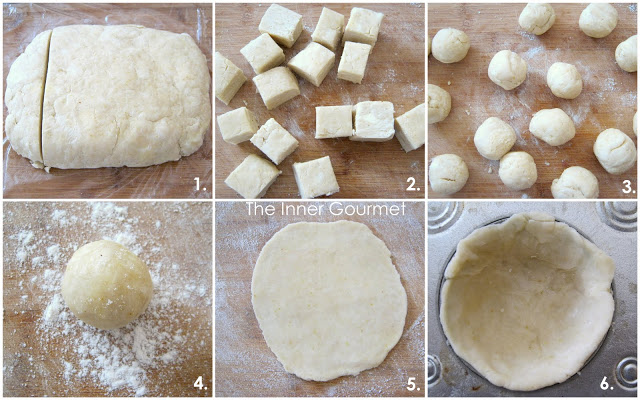 Line pan with dough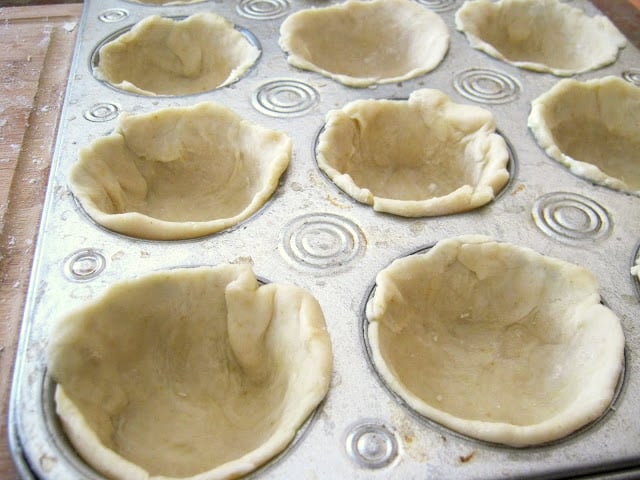 Begin to fill with meat filling. Oh, how pretty!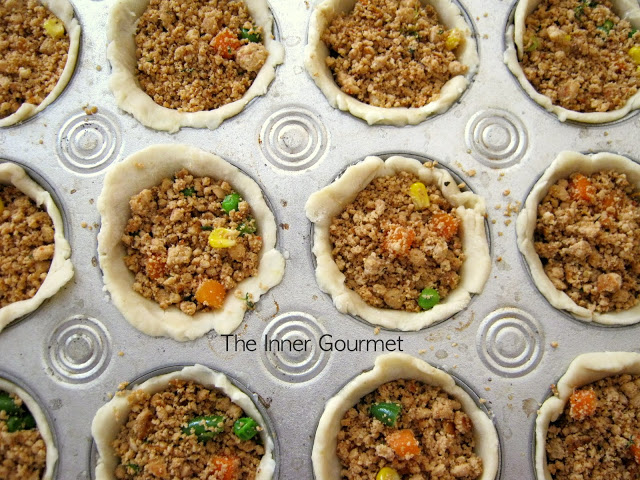 Brush the edge of the pies with egg whites then place the top dough layer on and pinch together. Sorry, the photo is out of focus, I still needed to include it so you can get the idea...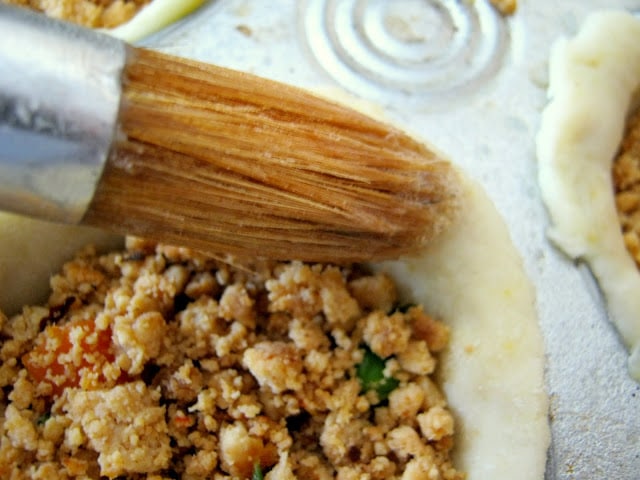 Dip your fork in some flour and press edges down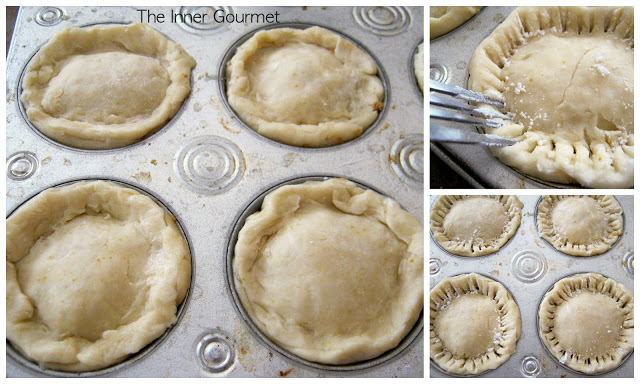 Beat one egg and brush the egg wash on the top of the patties. This will give it a nice golden color after baking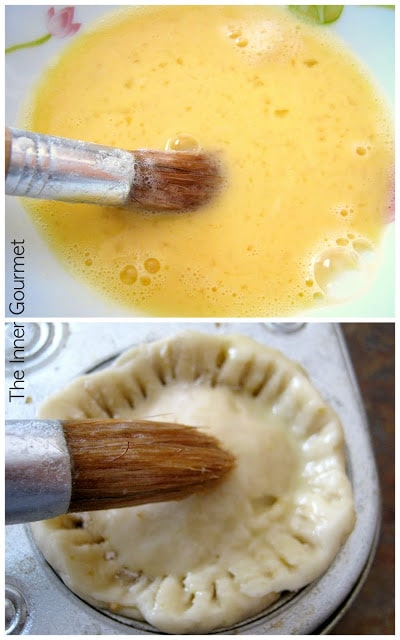 Bake for 25 minutes at 350 degrees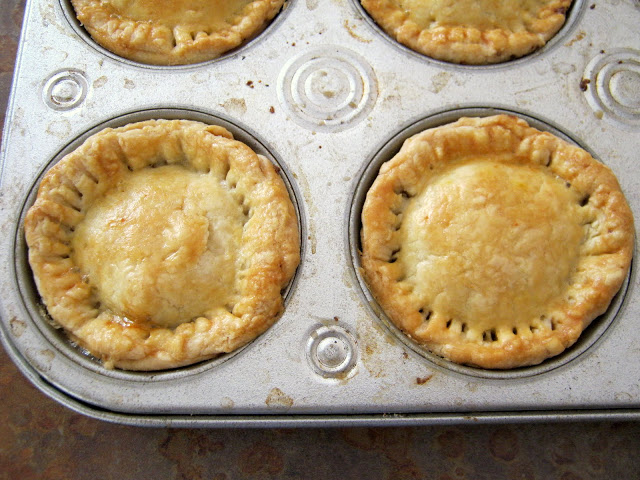 GUYANESE STYLE CHICKEN PATTIES
Enjoy!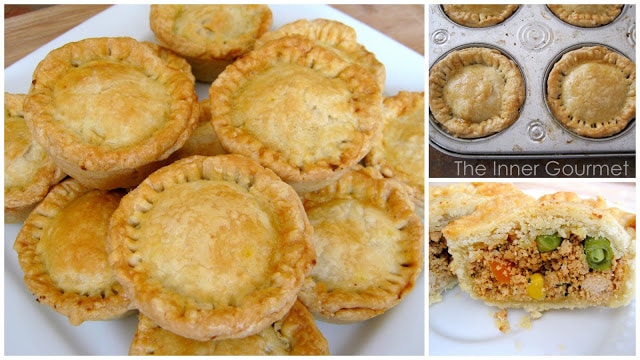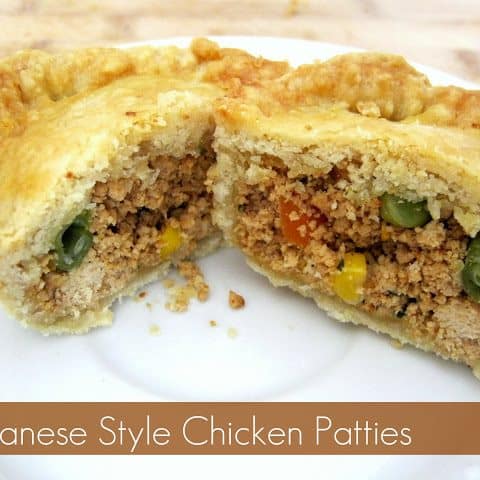 Guyanese Style Chicken Patties
Ingredients
1lb chicken breast (about two small chicken breasts or one large. You can use dark meat as well if you prefer)
1 wiri wiri pepper or ½ scotch bonnet pepper
2 large beefsteak tomatoes
4-5 sprigs of thyme (remove stems)
4 tbsp of onion and garlic puree (blend one small onion with 6 cloves of garlic and ¼ water, blend to make puree)
Dash of browning sauce (such as Gravy Master)
1 tsp Emeril Original Essence
1 tsp salt
½ tsp cayenne pepper
Dash of curry powder
1 cup of mixed frozen vegetables
One beaten egg (to brush tops)
One egg white
Dough recipe: Use Cheese Roll recipe for dough instructions (you can also use store bought pie crust for a shortcut, but make sure not to roll it out too thin, we need a solid crust to hold up the filling)
Instructions
Make the dough ahead of time, preferably the night before refrigerate overnight. Or make dough 4 hours before and refrigerate until ready to assemble patties.
Preheat oven to 350 degrees.
Sprinkle salt and pepper on chicken breasts on both sides. Pan sear until both sides are brown.
Chop chicken into small pieces and put into food processor with 1 wiri wiri pepper. Pulse until chicken is minced. Set aside.
Puree onion and garlic with ¼ cup water, set aside. Heat a deep skillet with 4-5 tbsp of oil. Add chopped tomatoes, thyme, 4 tbsp onion/garlic puree, Emeril's seasoning, a dash of curry powder, browning sauce, salt and cayenne pepper. Let simmer until tomatoes have turned into a sauce.
Add minced chicken and cook until tomato sauce mixture has been absorbed, let chicken brown. Taste to see if you would like to add any other seasonings of your preference.
Add mixed vegetables towards the end after the chicken has browned to your liking, you may also add more browning sauce if needed. Set aside chicken to cool.
Remove dough from refrigerator. Sprinkle your surface with lots of flour. Cut dough into 24 pieces. 12 to line the muffin tins and 12 to seal the tops of the patties. Round off dough balls and roll slightly to fit the muffin pan.
Line muffin pan with dough, fill with meat mixture. Brush edges with egg whites, this will help to keep patties sealed.
Seal patties with top dough layer. Pinch edges together slightly.
With a fork, dip in flour and seal edges.
Brush tops with egg wash.
Bake in oven for 25 minutes at 350 degrees until golden brown.
Enjoy!