When I walk into my dad's kitchen and smell the aroma of fiery black pepper, I know exactly what's cooking. Because of the amount of black pepper added to this chicken, the flavor is heightened and gives off an intense peppery fragrance that could whet any appetite. Dad would make this chicken as cutters (appetizers) while dinner was cooking. My brother and I loved it. We'd each grab a toothpick and eat the chicken out of the same plate, one poke at a time.
Here is a quick photo I snapped when making this with green bell peppers and boneless chicken thighs.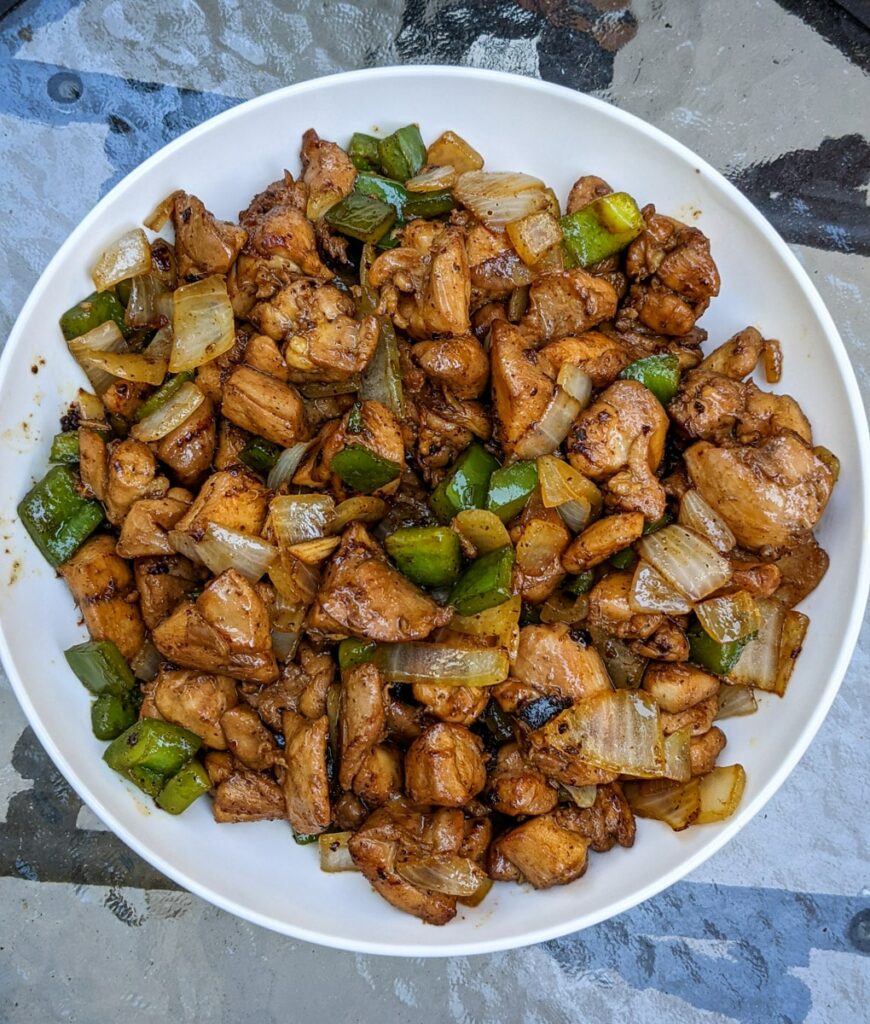 Black pepper chicken is an easy chicken dish to make using ingredients that are common kitchen staples. The recipe is very forgiving. As long as you have black pepper and onions, you'll still get the perfect flavor.
Multiple ways to make black pepper chicken a meal
Here are some other pairings to serve this chicken with:
plain white rice (my preference!)
thin spaghetti
appetizer
It's all in the seasoning
The Caribbean way of seasoning meat always starts with green seasoning - and blend of minced garlic, onions, pepper, and fresh herbs. This creates a base flavor for the meat before adding any other ingredients. It's what gives the meat that extra umph! This black pepper chicken starts with 2 tbsps of green seasoning and while cooking, wiri wiri or scotch bonnet peppers and a bit of cassava casareep are added for another layer of piquancy. You can easily use habanero or a dash of soy sauce in place if you don't have those specific Caribbean ingredients on hand. This chicken is just so delicious, you won't be able to stop yourself from seconds!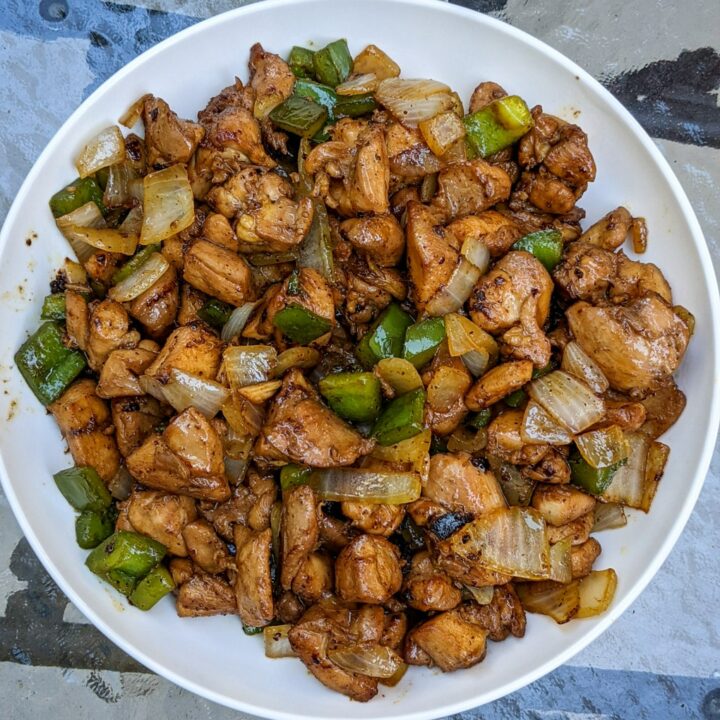 Black pepper chicken
Ingredients
2lbs boneless chicken thighs or breasts, cut into 2-inch pieces
Seasoning
1 ¼ teaspoons black pepper
1 teaspoon browning sauce or 1 tablespoon cassareep
½ teaspoon salt
Cooking
2 tbsp oil for cooking
1 medium white onion, sliced
2 wiri wiri or 1 small habanero/scotch bonnet pepper (optional)
2 teaspoons salt
additional ½ teaspoon black pepper while cooking
1-2 sprigs scallions, finely sliced
Instructions
Prep chicken: Use a knife to pull off any large pieces of fat from the meat. Wash and pat dry. Chop into 2-inch pieces. Add black pepper, green seasoning, browning sauce, and salt. Massage seasoning into meat and leave for 20 minutes minimum.
Cook: Add oil to a hot medium-sized skillet. Add sliced white onions and sauté a few minutes until browned. Add chicken. Cook for 10 minutes. Add salt or bouillon and mix in with the chicken. Let the chicken cook another 8 minutes until the juices start to reduce and look thick. Add additional black pepper.
Remove from heat when liquid is almost dried down. Add scallions and toss.
Notes
Green seasoning is a paste made by grinding 1 onion, 1-2 hot peppers, 1 whole head of garlic, and a handful of any fresh herbs you have on hand such as parsley, scallions, thyme, cilantro. Add a little water to the blender or food processor and pulse/blend until everything is finely minced. Use what you need for the recipe and store remainder in freezer bags or freezer container. Recipe for this is also filed under "Caribbean foods" on my blog.