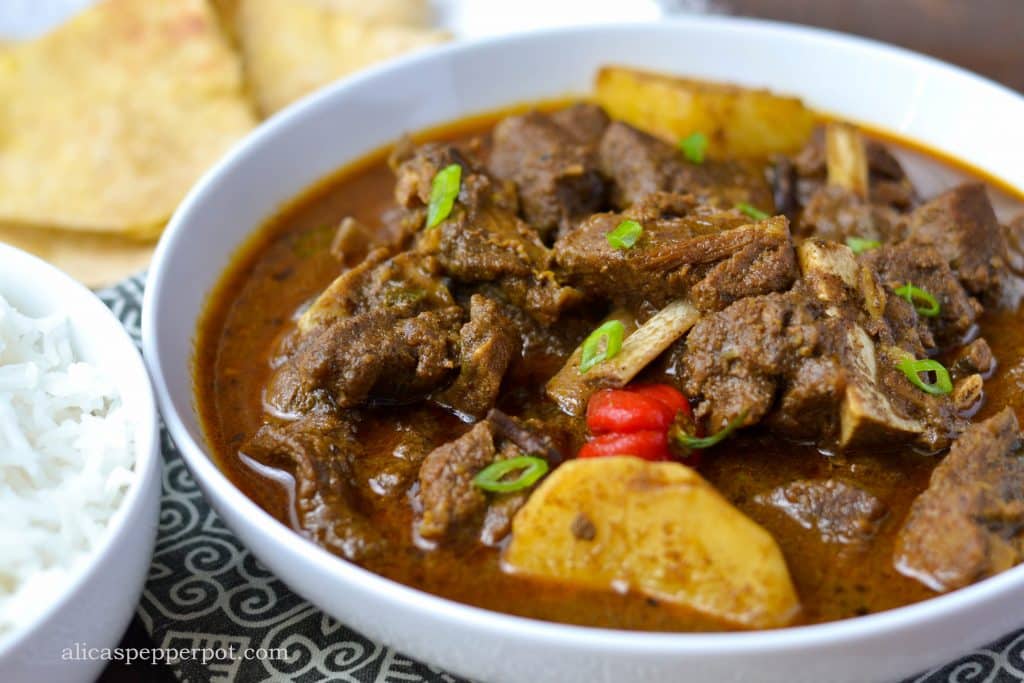 Goat curry is one of the curry dishes reserved for special occasions in my family. Although this is something you could purchase easily at a West Indian restaurant, cooking it at home is only common during birthday parties, weddings, and generally any important festivity. I remember for my eldest son's first birthday, my dad bought a whole goat to curry. He cleaned the entire thing and chopped it all himself. It was so much meat that he had to put it into a very large bucket and use the hose in the backyard to wash it thoroughly. I thought this was over the top, but you know us West Indians are extra about everything, haha!
I often wonder when my parents get older who will we depend on to cook these important dishes. There's a technique to cooking curry that can only come with practice. Burning the masala mixture to the right color, getting the masala-to-curry powder ratio right, and knowing how tender to cook the meat- because there's nothing worse than rubbery meat getting stuck between your teeth. These are techniques that can only be acquired through doing. Anyone who makes a superb curry is held to high esteem because it means they know how to balance the spices and salt. Many don't think of salt as an important ingredient, but it can alter the taste of the curry drastically.
This is a Guyanese-style goat curry which means it contains masala and curry powder unlike the Jamaican version which only includes curry powder. The Trinidadian version is similar in the sense of it containing masala, however bhandaniya (culantro) is used and changes the flavor slightly. Every culture cooks this differently (do I still need to say that these days?), this is how I cook it, thanks to my father's hand in the kitchen.
About Goat Meat
Goat is the most consumed meat in the world. When I first heard that statistic I was quite surprised as I thought it may have been chicken. When cooked till tender, goat meat can be quite enjoyable. The experience can also be ruined if the meat is too chewy and rubbery. When purchasing goat meat, look for meat that is pale pink, anything deeper in color indicates an older goat. Older meat takes a very long time to boil. You will be waiting hours and hours to reach an edible tenderness. Meat that is younger is pale pink and cooks faster. For meatier cuts, I prefer the leg or shoulder. Goat meat needs to boil slowly or be pressured.
A Note on Washing + Cleaning Meat
In West Indian cuisine, it is common to wash or clean meat a certain way. We do not cook meat straight out of the package. The way I learned to clean goat meat is with a handful of flour, 1 tsp salt, 1 lime, and enough water for the meat to soak. Mix the meat with these ingredients and let it sit for ½ hr to 45 minutes, then rinse it off piece by piece and pat dry. This method of "cleaning" the meat is a way to remove any slime, rank smell, or off taste that the meat might have. Use a knife to pull off any fibrous strands. This is the way we always cleaned meat in my home, but feel free to use your own way.
Pre-season the meat and let marinate overnight or a few hours.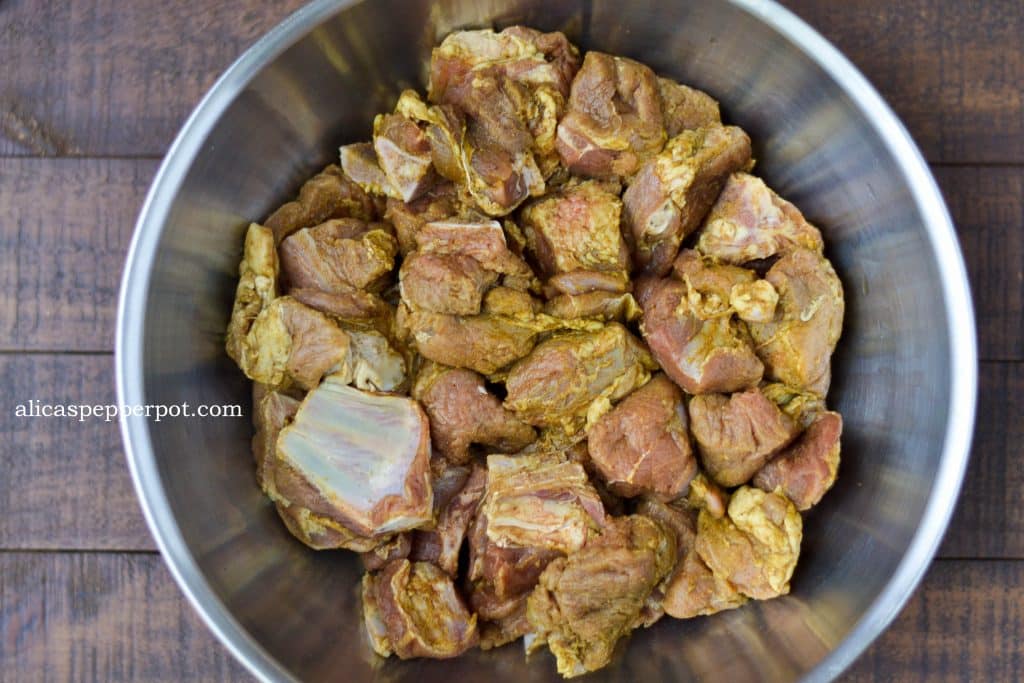 Main Ingredients
For the curry paste, masala, curry powder, and a blend of onion, garlic, pepper and thyme are used. Add water to make paste.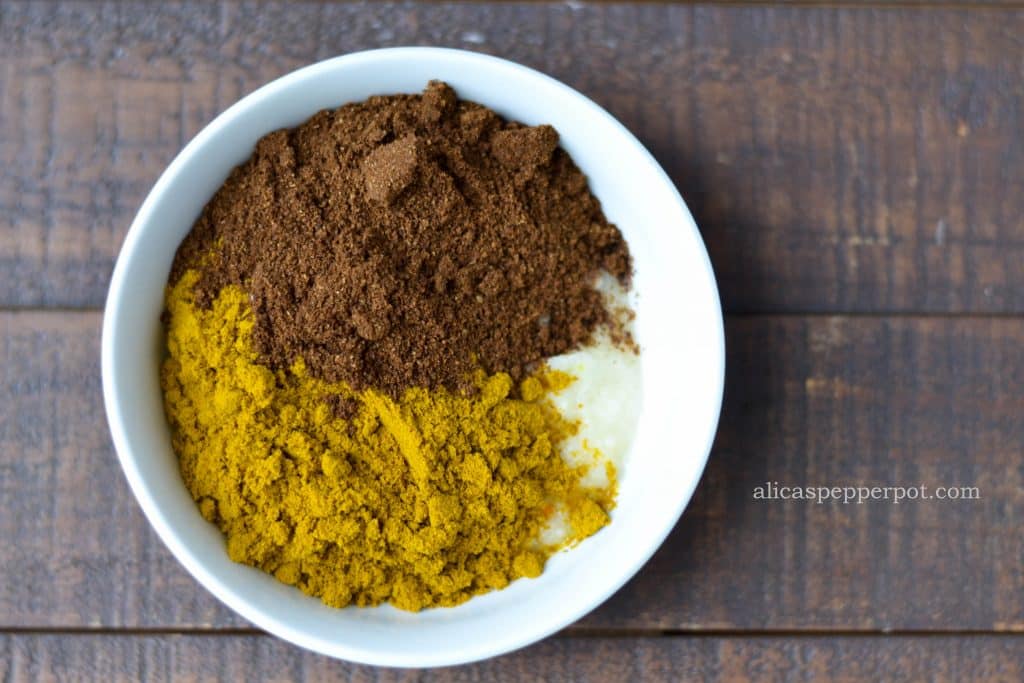 Okay, so curry paste doesn't photograph well, but it is, what it is, people.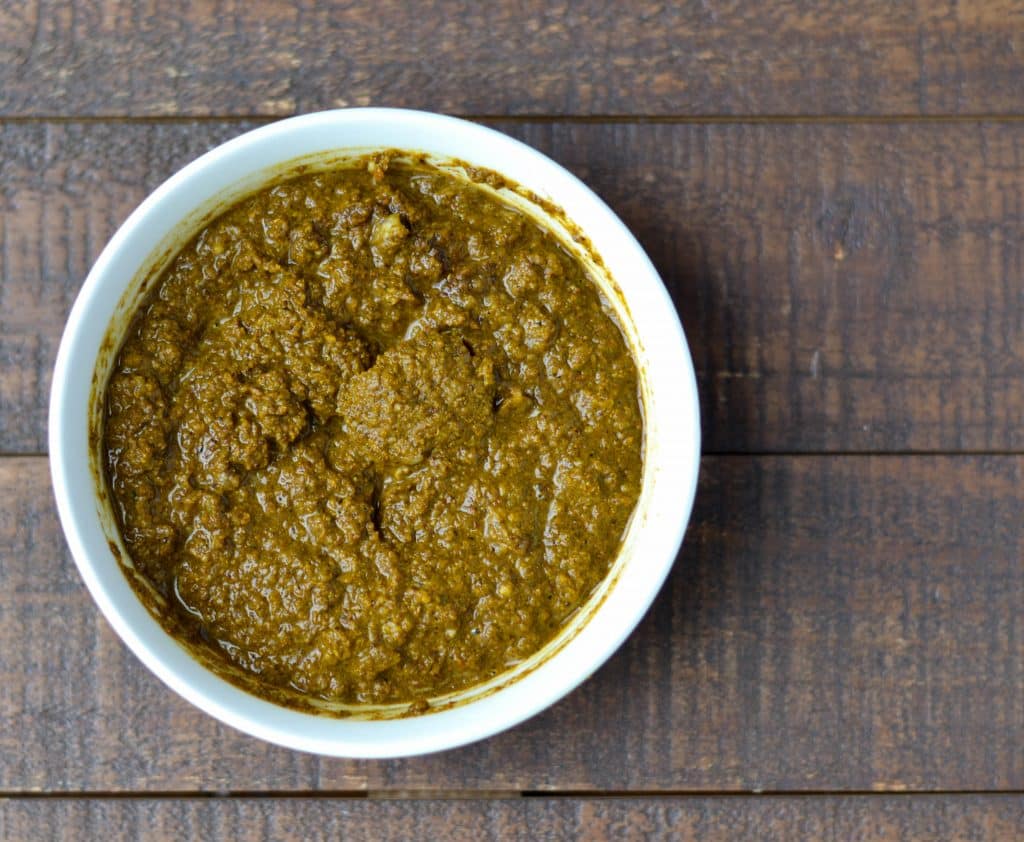 Dry thyme, cinnamon bark, ground all spice, five spice, and 10-15 cloves.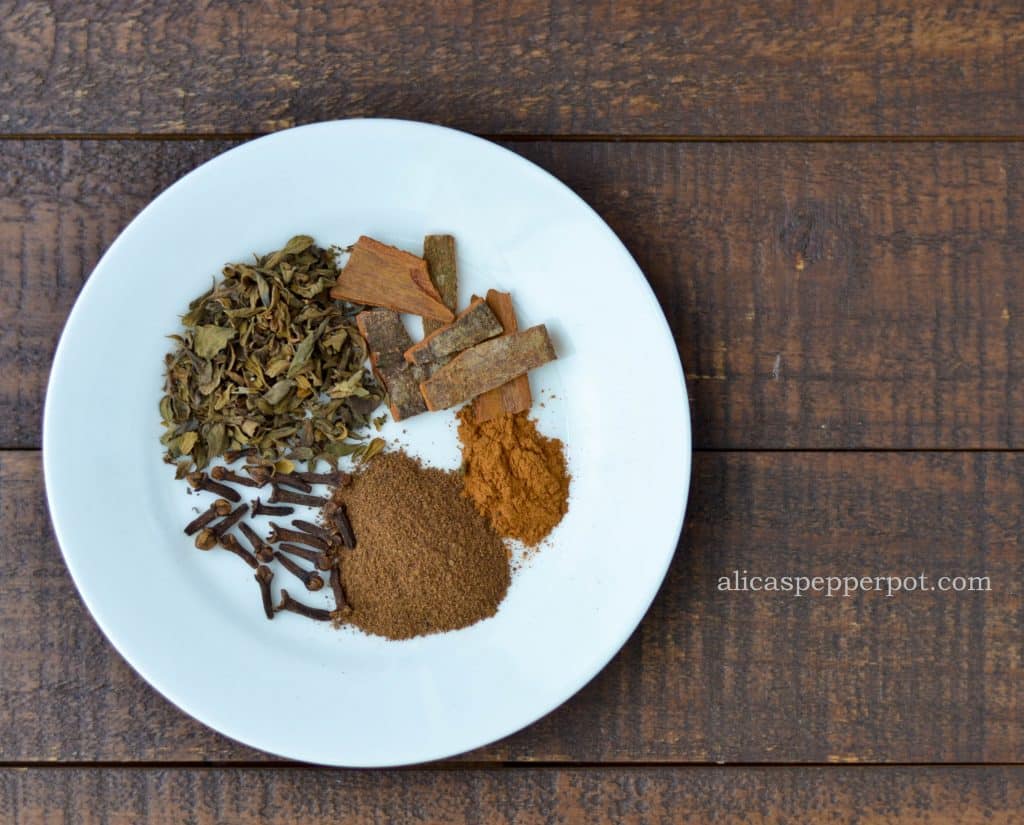 Scallions, onion, and wiri wiri pepper. Scotch bonnet can be used in place. Tomato paste is added, but not pictured.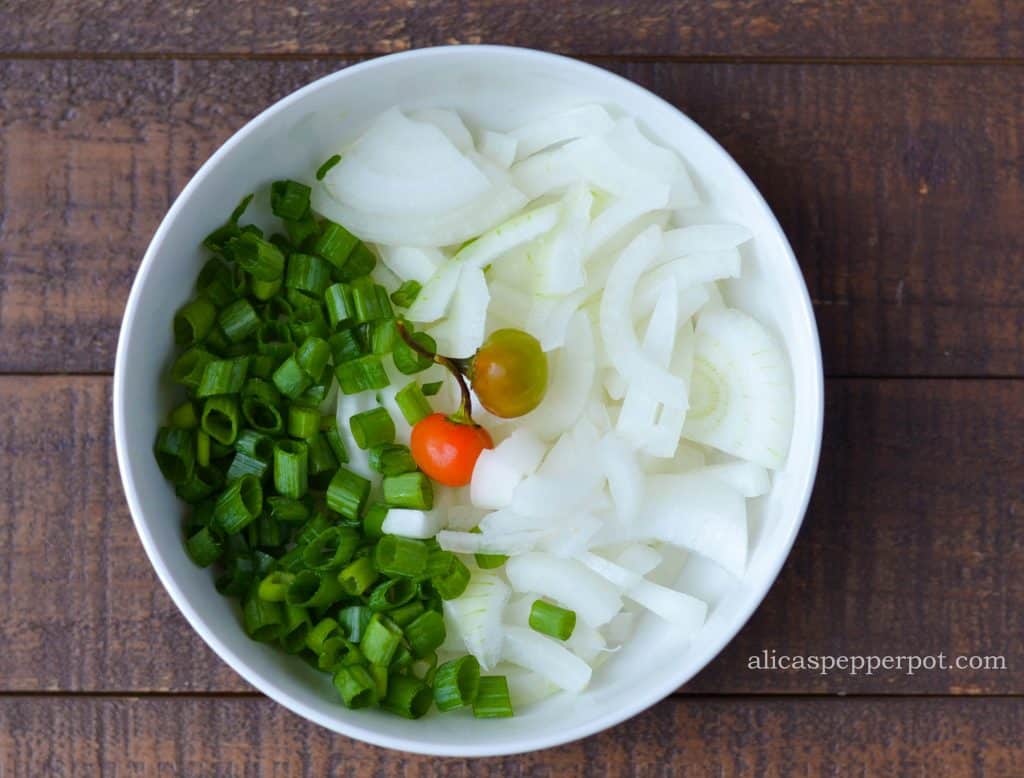 These are curry leaves. It smells amazing and makes the food taste really great. It can be hard to locate. Best sourced at an East Indian grocer, such as Patel Brothers. A few curry leaves are burned in the oil before adding the masala mixture. It helps to flavor the base of the curry.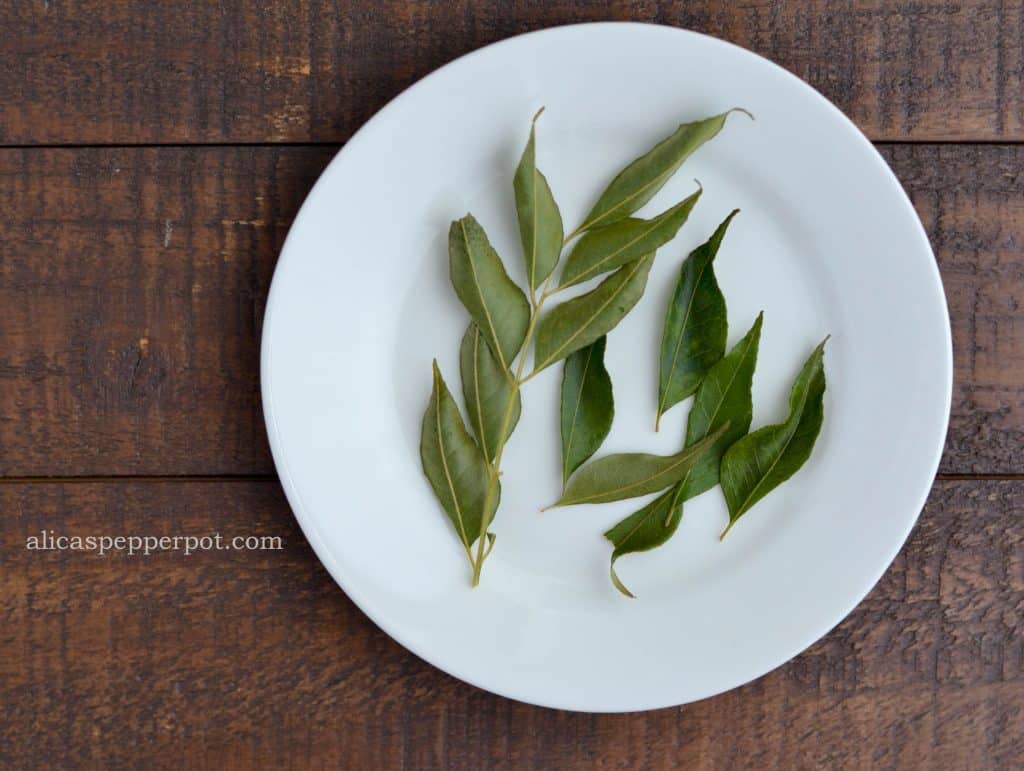 After above ingredients have been added to the karahi, bounjay meat for 20-25 minutes. Bounjay is a method used for cooking meat until the masala mixture has seared onto the meat and becomes dry. The meat will release its own liquid. You will notice the meat is still pink. This is where I would remove the meat (and liquid) from the pot and add to pressure cooker. This is an optional method. You can leave the meat to boil until tender. If not using a pressure cooker, boiling water should be added at this point to cook meat. Expect anywhere from 2-3 hours for meat to become tender. Add more water as needed.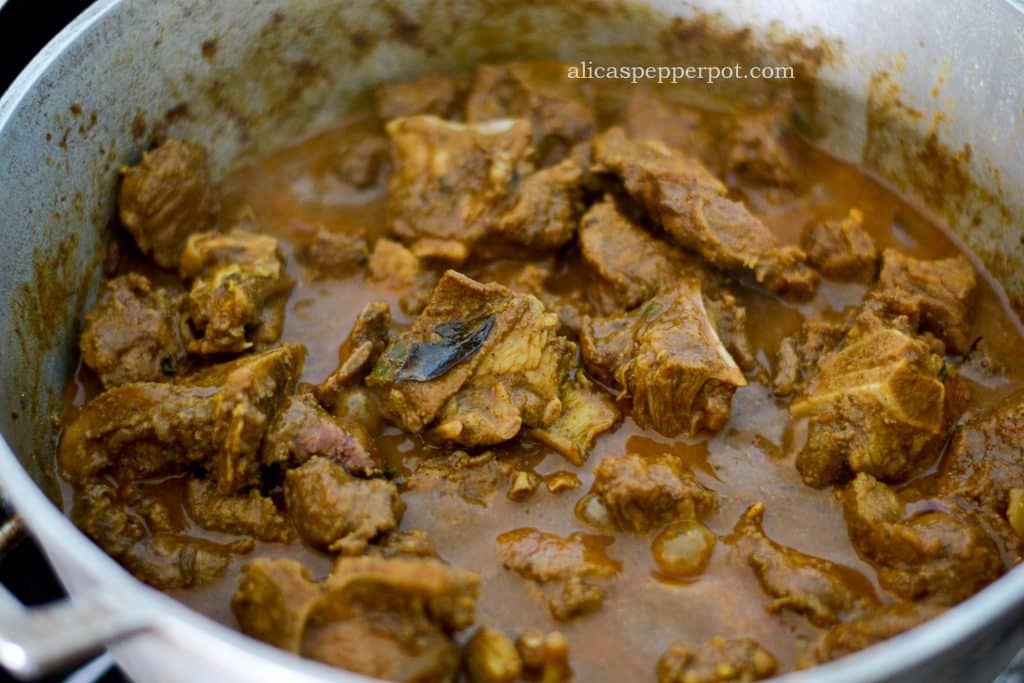 If Using a Pressure Cooker
Using a pressure cooker is not necessary, but would definitely speed up the process. The curry can be left to boil until the meat is tender and the gravy is thick (because ya'll know I will give a side-eye to watery curry, any day). Goat meat can take some time to boil, especially if it's an older goat. If not using a pressure cooker, you can expect to cook the meat anywhere from 2-3 hours on a medium boil to reach a nice tenderness where you aren't gnawing at the meat.
For a long time I was intimidated by the thought of using a pressure cooker. Have you ever seen the aftermath of a pressure cooker explosion? Well, if you have, then you'd be intimidated and fearful as well. I may have been about 12 or 13 years old when I first saw the mess our pressure cooker left behind after blowing up. My dad was pressuring a pot of dhal and something in the cooker became unstable. The top flew off and the dhal splattered all over the kitchen. I was horrified to see the contents become one with the wall. We spent the rest of the night cleaning the kitchen and ordered Chinese food for dinner. Nowadays pressure cookers are made with safety gadgets, you rarely hear of accidents. It took me a long time to get comfortable using one again, but once you learn, you'll be using it for everything! One of my readers, Samantha Satnarain, commented on facebook the other day about using her Instantpot's pressure cooker feature. If you own one of these appliances, I say give it a try and let us know how it turned out!
Pressure Cooker Directions
Add the meat and 1 cup of water to the pressure cooker. Allow to cook until pressure cooker whistles. When it whistles it will let out the steam and then build it up again. After 6 whistles, remove steam from pressure cooker by lifting whistle with a spoon. You will physically see the steam escaping the pot. Open pressure cooker, pierce meat to check tenderness. If it is still tough, add 1 more cup of water and allow to pressure again for 6-8 whistles. After the second go around, repeat process to remove remaining steam. Add meat back to karahi. Add potatoes and 1 cup water. Cook until potatoes are slightly tender.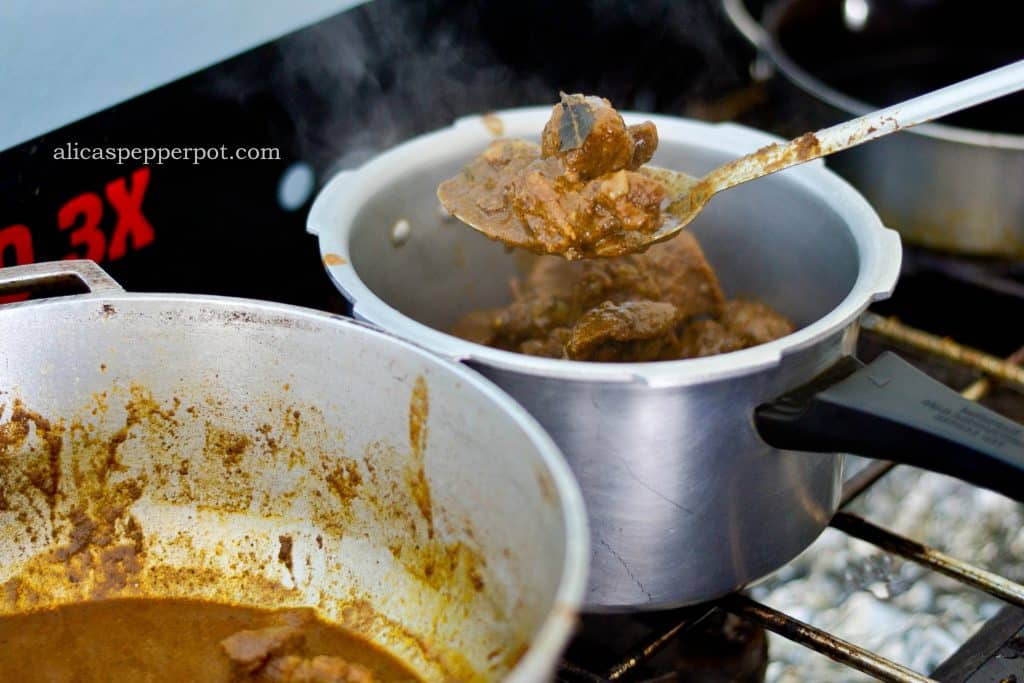 Curry is done cooking!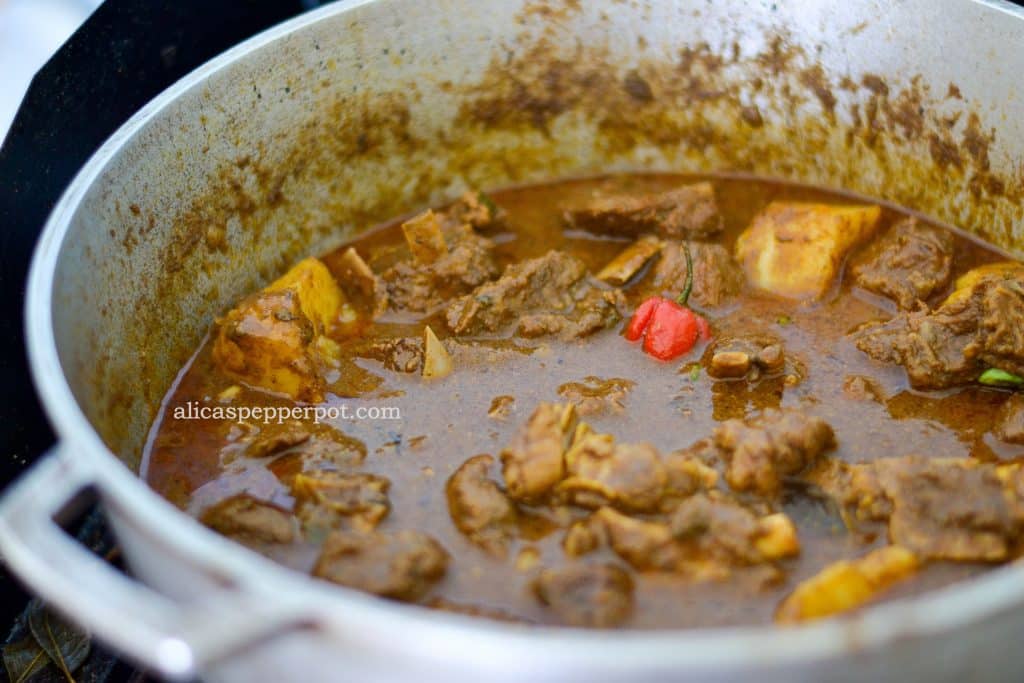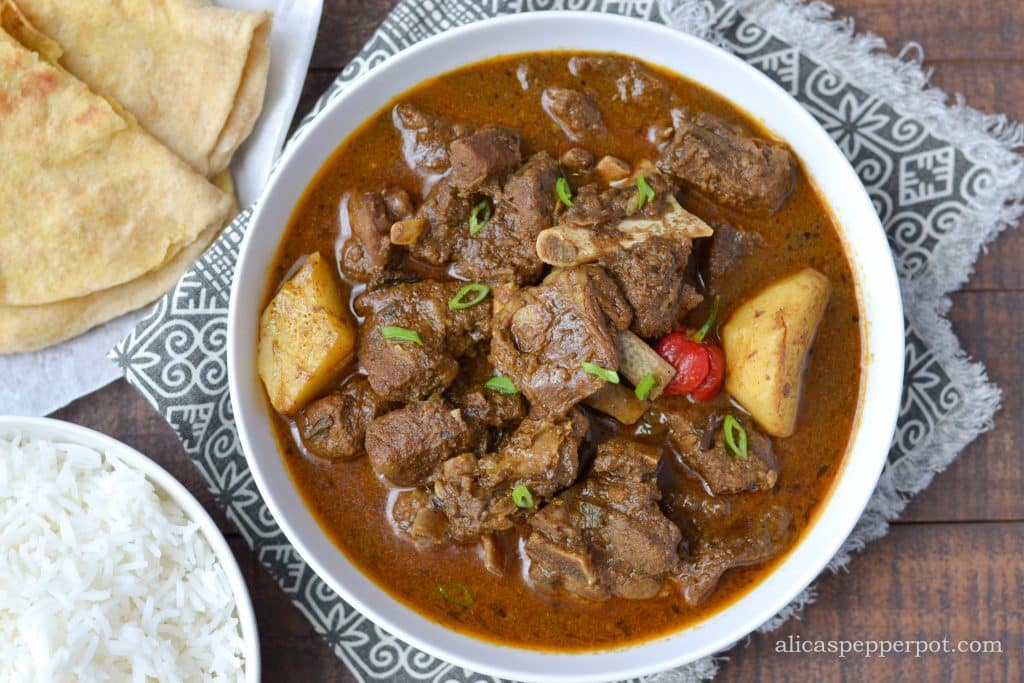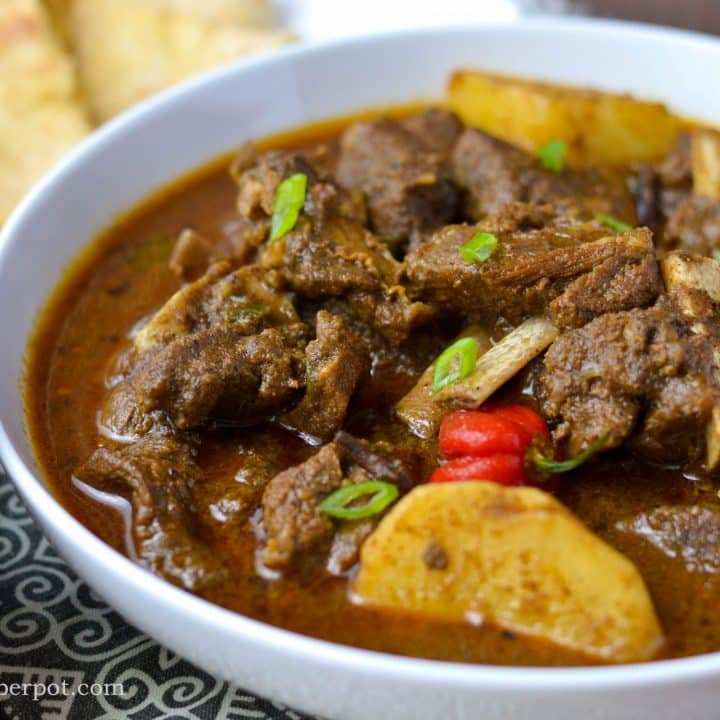 Goat Curry
Ingredients
4lbs goat meat, chopped, shoulder or leg
Pre-season
3 tbsp green seasoning
1 tbsp madras curry powder
1 tsp geera (ground, roasted cumin)
1 tsp garam masala
Curry paste mixture
2 tbsp + 1 tsp garam masala, heaping
3 tbsp madras curry powder, heaping
4 tbsp green seasoning
4 tbsp water to make paste
Remaining Ingredients
2 tbsp dried thyme or 4 sprigs fresh thyme leaves
1 tsp all spice, ground
¼ tsp five spice, ground
10-15 cloves
1 stick cinnamon bark (not ground)
½ onion, sliced
3 sprigs scallions, finely chopped
2-3 wiri wiri peppers or 1 scotch bonnet
1 tbsp tomato paste
6 curry leaves - burn in oil before adding masala mixture
2 tsp salt, add more to suit taste
2 medium potatoes, quartered
5 tbsp canola or vegetable oil for sauteeing curry paste
Boiling water
Instructions
Clean and chop meat. Wash meat according to preference.
Season meat with pre-seasoning, let marinate overnight or a few hours
Prep ingredients. Make curry paste, set aside. Gather spices, onions and scallions, pepper, set aside
Heat 5 tbsp oil in karahi or heavy bottom pot. Add curry leaves and fry until fragrant and brown. Add curry paste mixture. Saute mixture until medium brown. Add meat, toss meat with curry paste mixture to coat. Let meat cook in its own liquid until it has evaporated and curry paste has seared onto meat, about 20-25 minutes.
Add salt, dry spices, thyme, cinnamon bark, sliced onions, scallions. Toss to combine.
Pour boiling water over meat, enough to cover the meat. Add tomato paste. Let meat boil until tender, adding a little water at a time throughout the process until meat is cooked, about 2-3 hours.
Add potatoes once meat is almost tender. Remove curry from heat once potato is cooked.
If using a pressure cooker, after step 5, remove meat and liquid and transfer to a pressure cooker. See note above under "Pressure cooker" on cooking directions.
Notes
Don't cut potato too small, it will melt and make gravy too thick.
Have boiling water ready in a kettle.
I prefer Lalah's or Chetty's brand of curry powder. For garam masala, I prefer Maywah or or Guyanese pride. My mother makes her own blend of garam masala, but when I run out these are the brands that work for me.