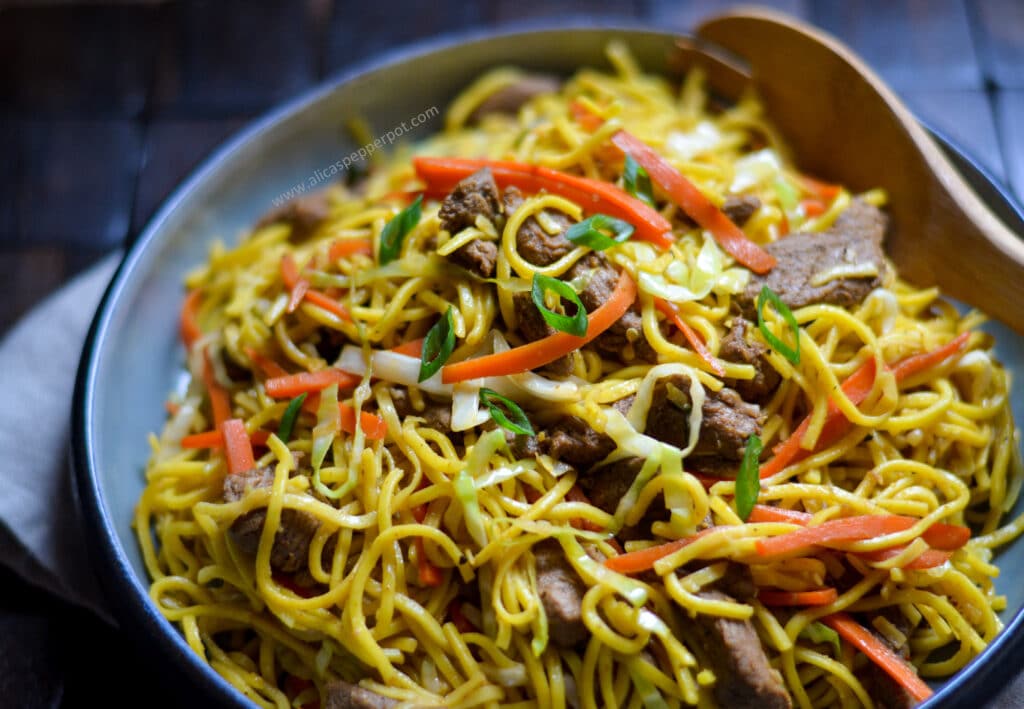 For a video tutorial on how I make this dish, head to my Instagram profile page and look for the "Lamb Chow Mein" highlights (little circles). Can only be viewed on your phone.
One of the best dishes you could make for a crowd is chow mein packed with meat, vegetables and good flavor. These type of dishes work well because they're balanced with protein, carbs, and fiber from the vegetables making it a complete meal. A little goes a long way and can feed many mouths. This is definitely the type of dish where you can throw in a dash of this and a pinch of that. There are no rules here when it comes to seasoning chow mein. In fact,whenever I make this chow mein, I never make it the same way twice. However there are some flavors that are constant like, sesame oil and soy sauce. I particularly love lamb in chow mein. It's a nice change from the normal chicken chow mein I usually make.
You might also like these recipes: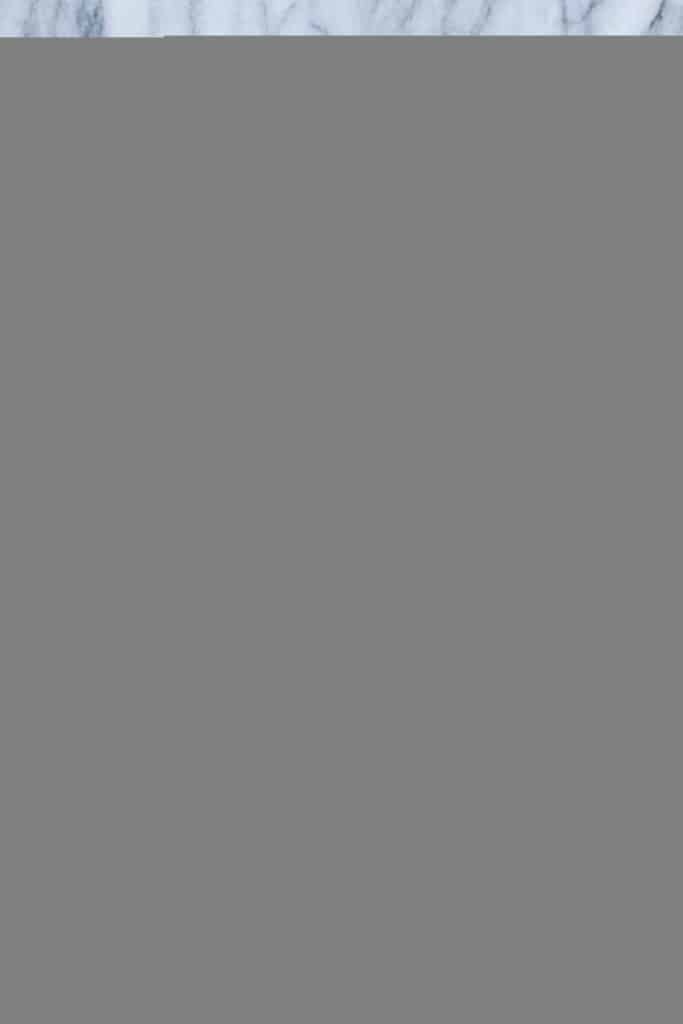 WASHING AND CLEANING LAMB
Lamb can tend to have a gamey taste. Washing the meat properly helps to remove some of that taste along with any foul smell. In West Indian cooking, it is common to wash or clean meat a certain way. We do not cook meat straight out of the package. The way I learned to clean goat and lamb meat is with a couple of handfuls of flour, 1 tsp salt, juice of 1 lime, and enough water for the meat to soak. Mix the meat with these ingredients and let it sit for ½ hr to 45 minutes, then rinse it off piece by piece. Use a knife to pull off any fibrous strands then rinse again and pat dry. This method of "cleaning" the meat is a way to remove any slime, rank smell, or off taste that the meat might have. This is the way we always cleaned meat in my home, but feel free to use your own way.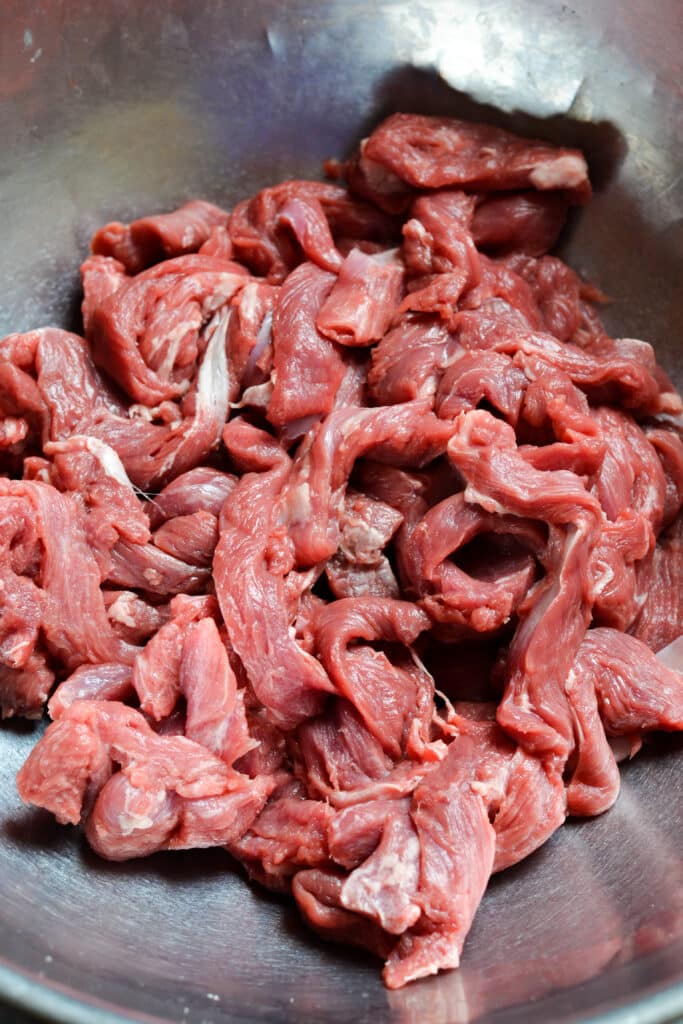 Tips for Cooking and Prepping the Noodles:
Many have challenges with cooking and prepping chow mein noodles. I can see how this is problematic as dry noodles cook very fast and can become sticky and pasty if overcooked. Here are my tips for ensuring you get loose noodles every time:
Brand matters. After trying many other brands and ending up with sticky and pasty noodles, I've come to prefer Champion brand chow mein. The noodles don't overcook easily and it has the right thickness. I also like the flavor of the noodles.
Noodles continue to cook after you drain the water. The steam from the heat is what continues to cook the noodles, so running a little cold water over the noodles to bring down the temperature helps in keeping it from overcooking.
Once noodles are thoroughly drained, they need to be spread out to cool off and not be on top of each other. This prevents sticking.
Adding oil when noodles are warm helps in keeping noodles loose.
When noodles cool, they firm up again slightly, making it easier to toss with hot meat and veggies.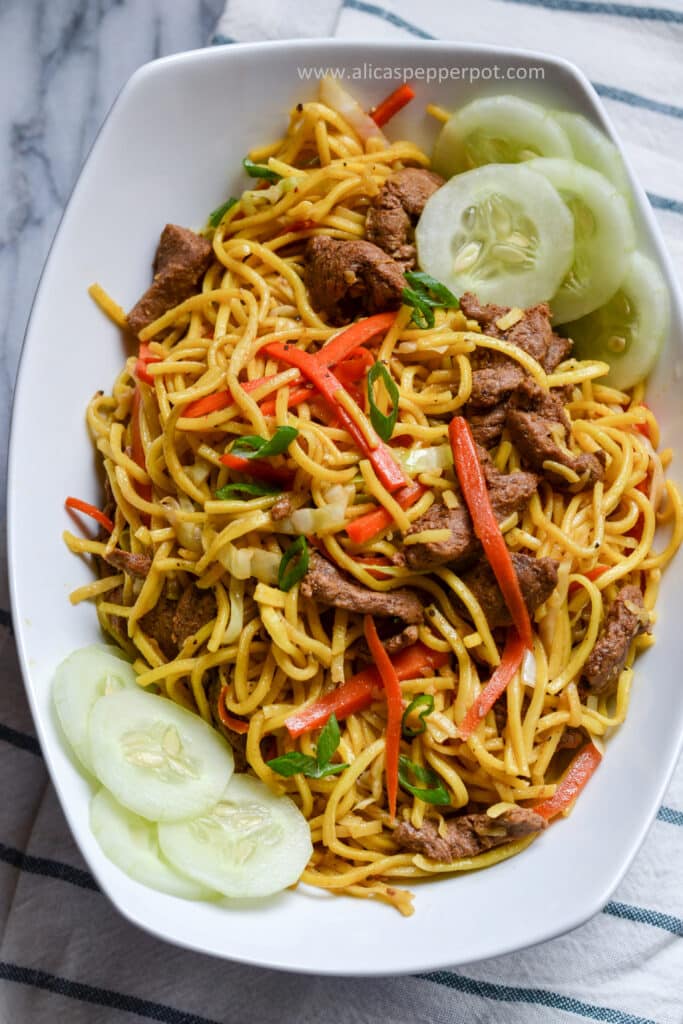 Tips:
The thinner the meat is sliced the faster it will cook. I prefer to slice the lamb then season and cook it versus cooking a large piece then slicing afterward.
After straining noodles, rinse with cold water. This removes any residual starch and will keep noodles from clumping. Tossing with a little oil and spreading in a wide pan immediately after helps keep noodles from clumping also (aluminum foil pan works great here).
Season noodles to taste before adding meat and veggies.
Make it your own by changing up the veggies and meat. This is definitely the type of dish where anything goes.
Traditionally the chow mein noodles are added to the wok and tossed with other ingredients. I prefer to do the opposite and add the veggies and meat to the noodles because it allows me to mix/toss the noodles more evenly.
Pre-packaged chow mein seasoning can be used to flavor noodles and meat, however not everyone has access to these seasonings so I always like to use whatever is in my pantry.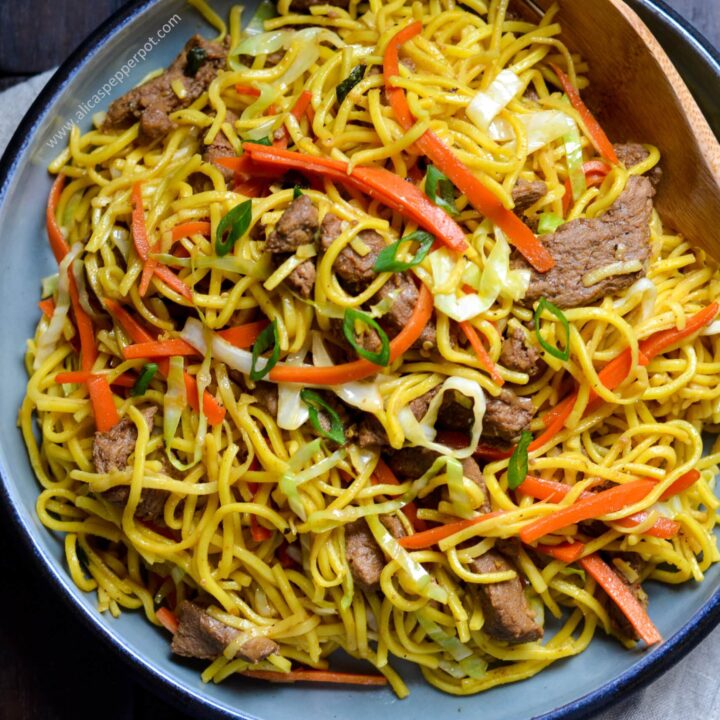 Lamb Chowmein
Ingredients
1 ½lbs boneless lamb meat
12oz chow mein noodles
2 medium carrots, julienned
3 stems scallions
1 cup cabbage, thinly sliced
Sesame oil + canola oil on reserve for cooking veggies and meat
Seasoning for meat
3 tbsp green seasoning
2 tbsp olive oil
2 tsp mushroom soy sauce
½ tsp cayenne pepper
½ tsp adobo
½ tsp ground black pepper
1 tsp salt
1 tsp paprika
½ tsp garlic powder
Seasoning for noodles
4 tsp sesame oil, more if needed
2 tbsp low sodium soy sauce, more if needed
Salt, as needed
Adobo, as needed
Instructions
Slice meat into thin strips, about 2in. Wash and clean meat, then pat dry.
Add all ingredients under "seasoning for meat." Let meat marinate overnight or 1-2 hours.
Cook noodles according to package directions. Drain well then place noodles in a long aluminum foil pan. Drizzle sesame oil over noodles and toss with a fork to coat noodles. Add soy sauce, salt, and adobo to suit your taste. Do not over salt as the meat and vegetables will also have salt. After seasoning, cover noodles with aluminum foil, set aside.
On medium heat, add a few tbsp canola oil to pan, add meat and cook until tender about 25 minutes or more. Add a little water at a time to boil meat. Once meat has cooked down in its juices, add to noodles. Do not let meat get dry, the juices will help to flavor the noodles.
On low-medium heat, add a little sesame oil to pan then saute garlic, ginger, pepper, and scallions until fragrant, be careful not to burn garlic. Add carrots and saute about 6-7 minutes. Add cabbage and saute 1 minute. Add vegetables to chow mein noodles and toss to combine.
Adjust salt and seasonings to taste. Add more of whatever flavor is needed.
Notes
I prefer Champion brand chow mein noodles.