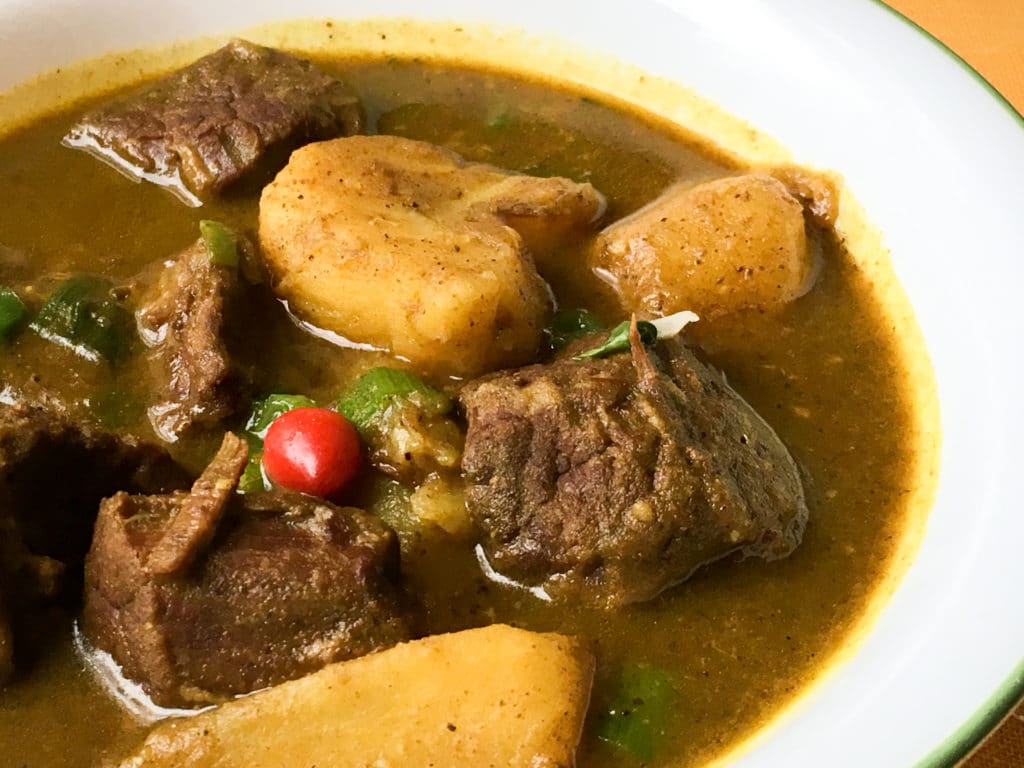 Roxanne and I met during our college years at St. John's University (Queens campus) circa 2002. We were part of the Guyanese Students' Association (GSA) in which we both served on the executive board. GSA was a cultural organization that helped Guyanese students on campus connect and network. We planned community service events as well as cultural celebrations. It was a wonderful time in our lives. Many of us have moved on to become lifelong friends just as Roxanne and I have.
After Roxanne and I became mothers we started to bond in a new way. Our daily conversations now involve discussing how much sleep we didn't get and what we're cooking for dinner. Turns out Rox and I have very similar cooking styles and expectations of our food. She doesn't like watery curry and is serious about properly prepping meat. We even realized that we cook many dishes the exact same way due to our families originating from the same region of Guyana. So when people emailed asking for a beef curry recipe, I knew I could trust Roxanne in giving me an accurate recipe. I don't eat beef and have never cooked it, but I am confident that Roxanne wouldn't lead us wrong. She was so kind to spend time taking photos of the process as well which I truly appreciate because it is time consuming. Thank you Roxanne for sharing your sharing your story and recipe!
Meet Roxanne
I learned to cook this beef curry from my mom. When I was younger, a lot of my time was spent chatting with her and observing her while she cooked. As I got older, I started helping her in the kitchen, which led to me adapting a lot of her recipes and techniques. My mom is no longer physically with me, but making her dishes and carrying on the traditions she has started keeps me close to her.
My love for food, curry especially, was what prompted me to learn how to make this dish. It brings back memories of when we lived in Guyana (Plaisance, East Coast Demerara). I remembered my mom would usually cook it on weekends, because the meat would be freshest from the butcher. Similarly, I try to make it on weekends, especially for dinner, because the curry is so robust, and comforting. It is also a popular dish with my family, especially my 5 year old son.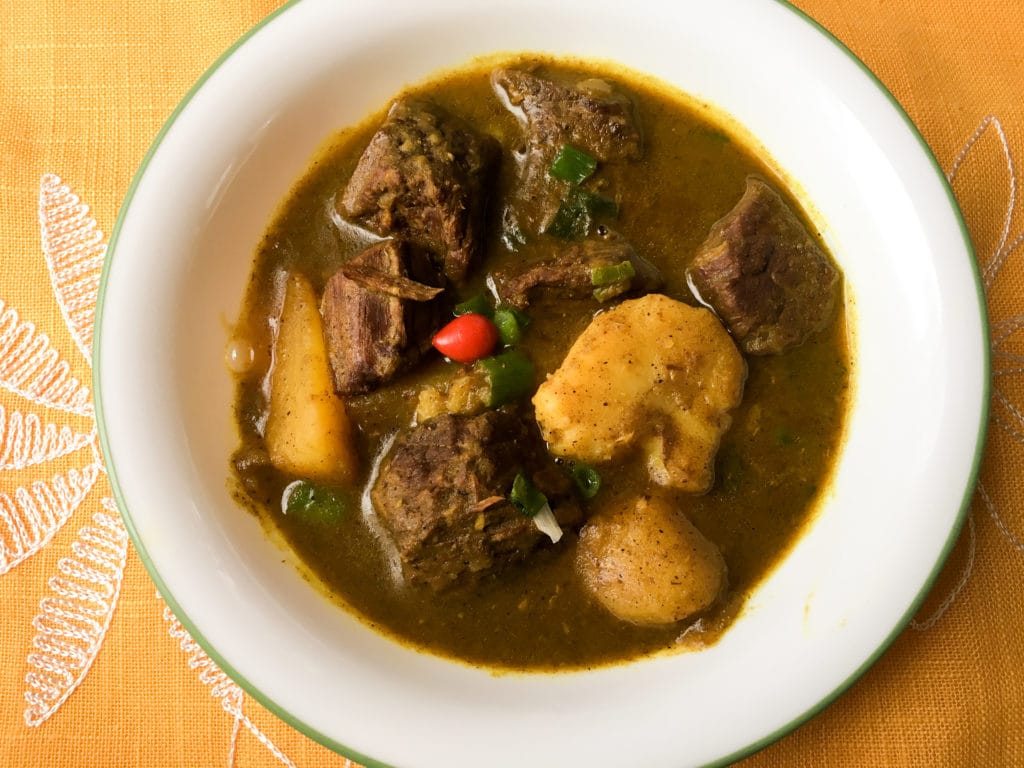 What makes this beef curry so tasty is the ratio of curry powder to masala, and the amount of garlic used; I tend to add a little extra masala and garlic to this dish because the meat is a little denser and doesn't absorb seasonings as readily as leaner meats such as chicken or fish. Once the meat starts cooking and becomes tender, the flavors from the spices and other seasonings come together to create a rich, savory curry with a gravy that is just right, not too thin, and not too thick.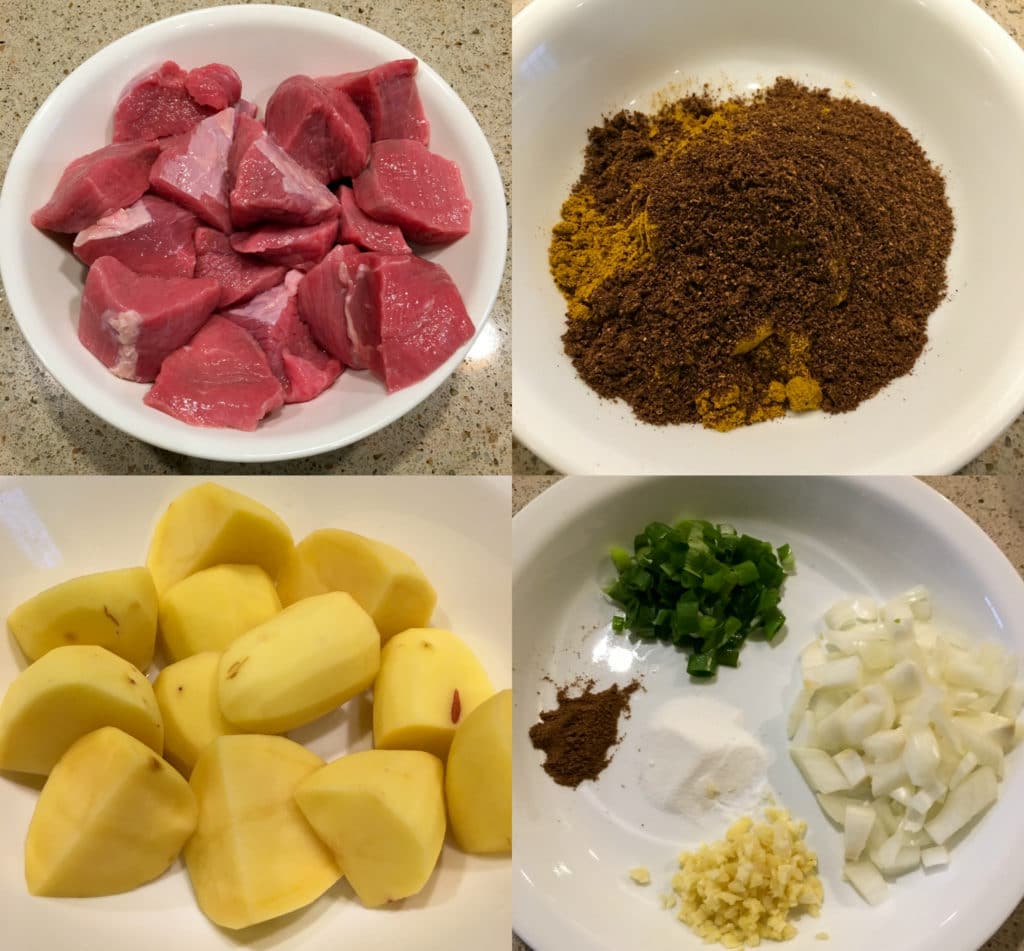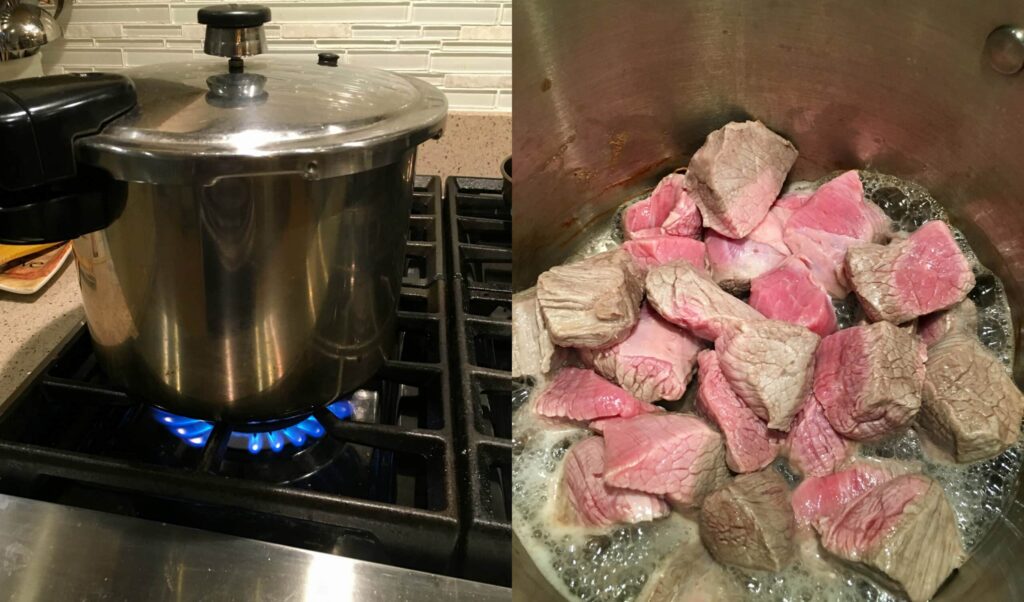 No pressure cooker? No problem
If you do not have a pressure cooker or are too scared to use the one you have, Roxanne suggests cutting the meat into smaller pieces and bounjaying in spices, then pour boiling water over the meat with enough water to cover the meat. When the contents in the pot comes to a boil, cover the pot and cook on medium for 45 - 1 ½ hours depending on the tenderness you desire.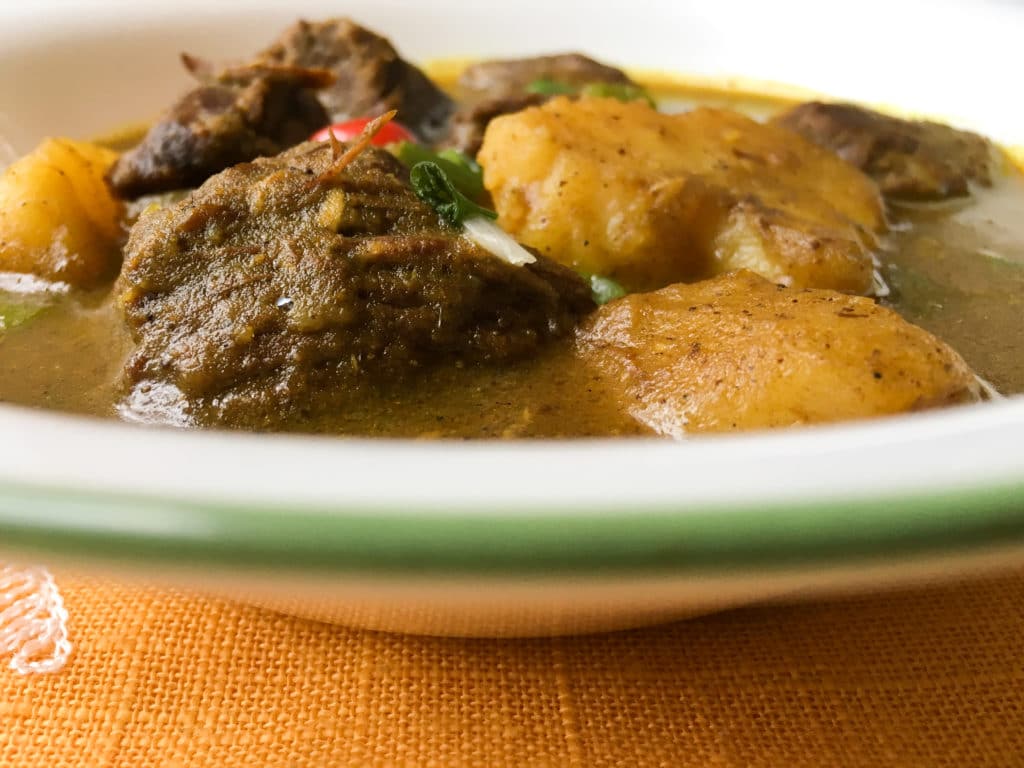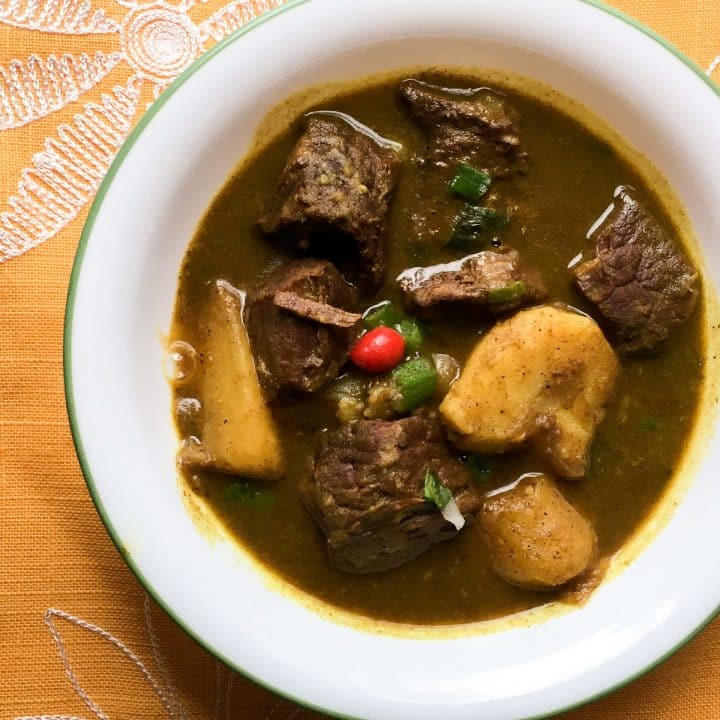 Roxanne's Beef Curry Recipe
Ingredients
2 lbs beef (with or without bone, depending on preference) cut into 2 inch cubes
1 cup onions, chopped
2 tbsp garlic, finely chopped
1-2 sprigs scallions, cut into quarter inch pieces
½ tsp roasted cumin
3 medium potatoes, cut into quarters
3 ½ heaping tbsp curry powder
1 ½ tbsp garam masala
4 tsp salt (to taste)
3 tablespoons olive oil
Instructions
Place meat into pressure cooker over medium to high heat and allow meat to steam for about 5 to 7 minutes.
Strain meat, discard water, and set meat aside.
Place pressure cooker back on stove, under medium heat. Add oil, onions, and garlic. Sauté, stirring occasionally until onions become translucent.
Combine curry powder and garam masala into a bowl and add enough water and stir to create a paste like consistency. Add this mixture to the pressure cooker and cook for about 3 to 4 minutes, stir occasionally to ensure the mixture doesn't become burnt or stick to the bottom of the cooker.
Add beef and salt to pressure cooker, turn heat to high and stir the meat until it's evenly coated with the curry mixture, onions and garlic. Cook until all the liquid is evaporated (1-2 minutes).
Add boiling water to the pressure cooker, making sure that the water is covering the meat.
Cover the pressure cooker, add pressure regulator to the top of the pressure cooker and allow the pressure to build up.
Pressure the beef for 5-6 minutes.
Turn heat off and allow the pressure cooker to continue cooking the meat, until the pressure comes down naturally, this will take about 20-25 minutes.
When the pressure comes down, open the cooker and turn the heat on. Add potatoes to the beef and stir. Add more water, if needed, to cook the potatoes.
Once the curry comes to a boil, cover the pressure cooker with a regular pot cover and let the potatoes cook thoroughly, about 10-15 minutes.
When the potatoes are cooked, add roasted cumin and scallions and stir.
Turn the heat off and let the curry sit for a few minutes, then enjoy!