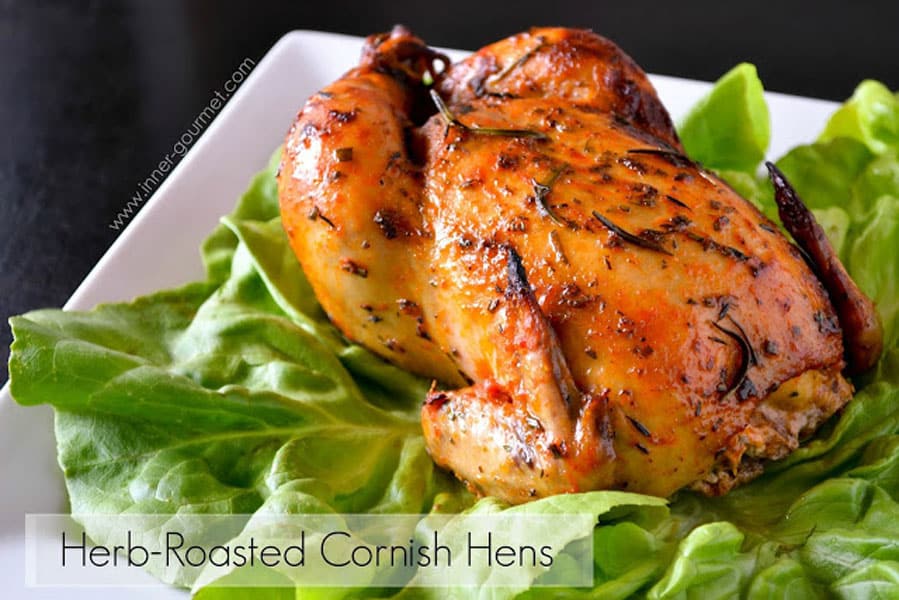 Last year my family and I had a very small and intimate Thanksgiving. It was just five of us so we didn't cook too much food. I was also three months pregnant and didn't want to exhaust myself in the kitchen. We decided to make individual Cornish hens instead of a whole chicken or turkey which would've taken more prep and cooking time. They looked so elegant and made our table feel very gourmet. I loved the aroma of the herbs as the hens roasted in the oven. I also loved that they were done the cooking in just over an hour. This Thanksgiving will be hectic once more since we will be moving. I plan on making these again to minimize my time spent in the kitchen. Give it a go and let me know how you like these gorgeous little birds.
These were my herbs of choice. You can use any combination you like. I think sage would work well here also.
Herb-Roasted Cornish Hens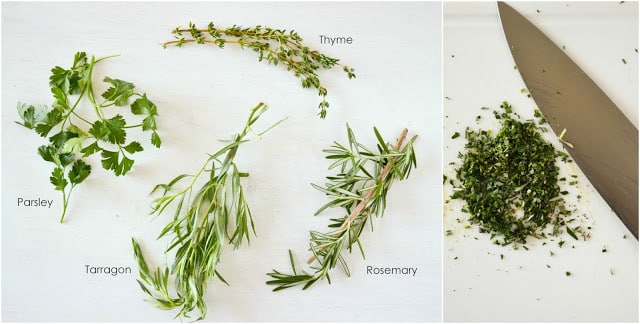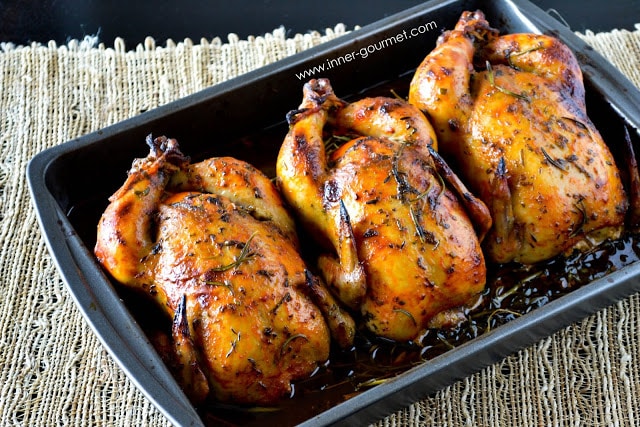 Here are the main seasonings I used. If you don't have cassareep, any browning sauce will do. Don't limit yourself to what I have used. If you have a seasoning you think would taste delicious on chicken, throw it in the mix.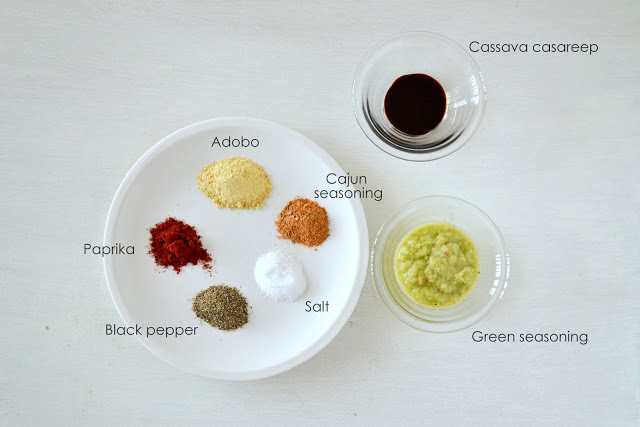 I seasoned these chickens and left them overnight to marinate. Make sure you get the seasoning under the skin and inside the cavity. My aunt taught me a trick of putting an orange inside the cavity before roasting. It helps to keep the chicken sturdy while baking and also lends a great background flavor. You can also include any vegetables or onions in the pan when roasting. I like to add some extra herbs in the pan for flavor as the chicken juices drain when cooking.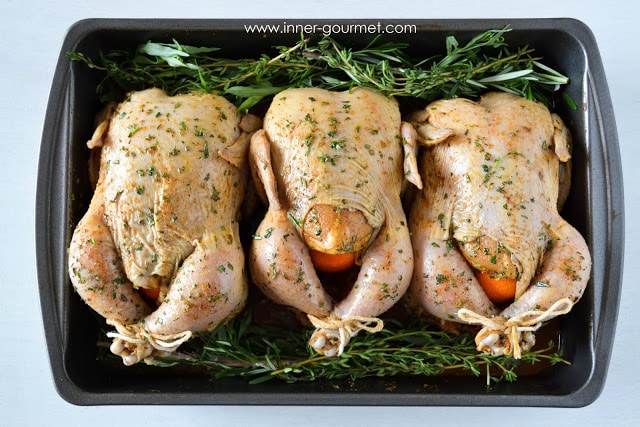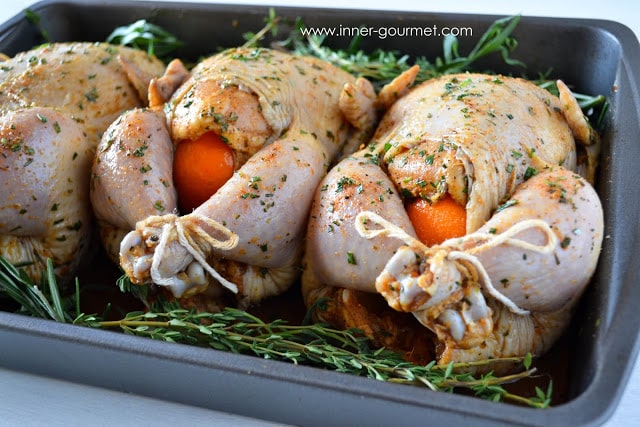 After 25 minutes of roasting, baste chicken with tomato paste mixture. It provides a nice color and flavor. I also like to baste using the juices on the bottom. Can you see how the herbs have wilted into the pan? The aroma in here is so delightful right now.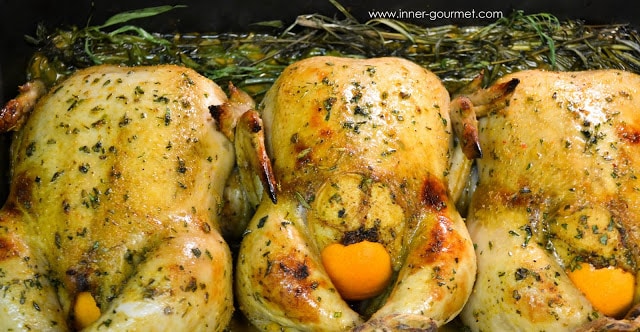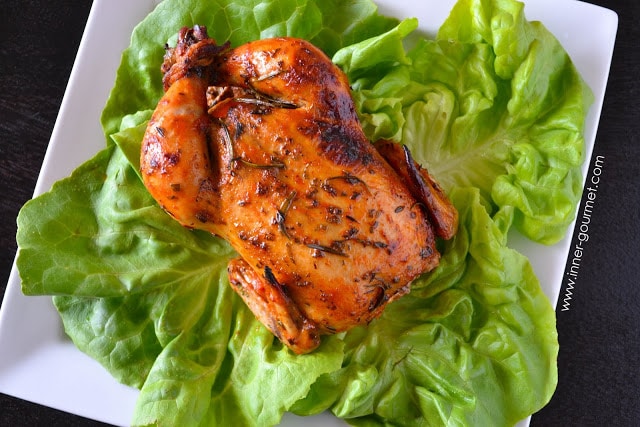 Insert a thermometer to check for doneness. Chicken cooks at 165 degrees or until the juices run clear when you pierce it with a knife.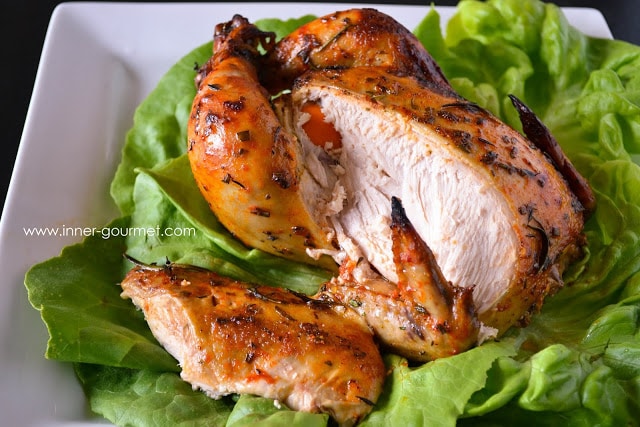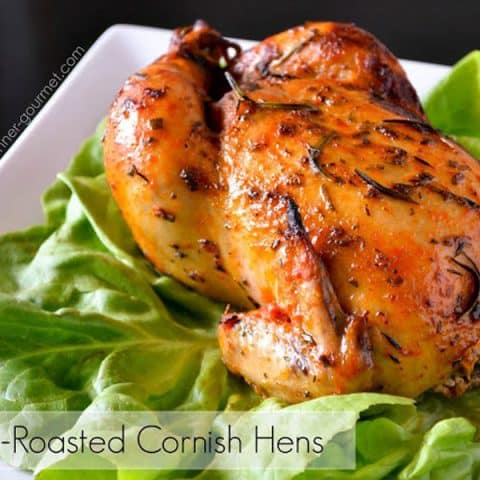 Herb-Roasted Cornish Hens
Ingredients
3- 3 ½lb Hens or 1- 10lb whole chicken
3 tbsp green seasoning
2 tsp cassava cassareep or browning sauce
Fresh herbs- 1 sprig each of thyme, rosemary, tarragon, parsley, chopped
2 tsp adobo
1 tsp paprika
1 tsp black pepper
1 tsp salt
1 tsp Emeril Original Essence or any cajun seasoning
2 oz melted butter
3 small oranges + twine for legs
Baste
1 tsp tomato paste
4 tbsp water
Instructions
Directions:
Wash hens and pat dry.
Rub hens with green seasoning, cassava cassareep, and butter. Lift skin and rub underneath.
Add all dry seasonings and herbs. Rub seasonings under the skin and inside the cavity. Leave to marinate overnight.
Set oven to 450 degrees. Place one orange inside the cavity of each hen. Tie legs with twine.
Roast at 450 for 25 minutes. Baste with tomato paste and water mixture. Cover with aluminum foil, return to oven and reduce heat to 350 degrees. Cook for additional 30 minutes until thermometer inserted reads at 165 degrees. Or until juices run clear when pierced.
Notes
Additional tips:
I clean meat with one lime, water, and a little flour. Let this soak for an hour or so. Rinse off and pat dry. 
Green seasoning is a puree of onions, garlic, hot pepper, and green herbs. You can buy this in a Caribbean supermarket or make your own. I do a simple version with 1 onion, 1 head of garlic cloves, and a few wiri wiri pepper or 1 scotch bonnet pepper, and fresh thyme leaves. Add a little water, blend until smooth. Use what you need and refrigerate the rest. 
When returning hens to oven after the first 25 min, cover with foil. This will prevent the top from getting too brown and drying out. 
Baste frequently to keep the meat moist.