You know that feeling of eating too much of a good appetizer and having no room for dinner? Or even a desire for any other meal? That happened to me with these delectable little tostones cups. Green plantains are shaped and fried into little cups filled with juicy sauteed saltfish. They can be filled with all sorts of fillings. The possibilities really are endless.
This flavor combination isn't new. It reminds me of Guyanese boil and fry, a dish made with green plantain or cassava and paired with sauteed saltfish. The flavor and textural combination is a culinary experience and deeply comforting. I had some leftover saltfish from a batch I made the other day and wanted to use it up. I remembered seeing these awesome plantain cups on Dominican Cooking and thought they would pair perfectly with the saltfish. Total hit with my taste buds, and my husband. I try to keep them both happy.
With holiday parties and family gatherings around the corner, I think these would be perfect for your guests. A notable trademark of tostones is that they are intensely crunchy. If these sit out and get cold, the delight of biting into crunchy tostones will be lost to a hard and chewy experience.
This time of year is invigorating for a foodie. Holiday parties, potlucks, cookie exchanges and more; I love it all. The festive food and drink just put me in a happy mood. I'll be sharing some great holiday recipes in the coming weeks so be sure keep in touch. And if you decide to make these for a party, drop me a line below and let me know how you liked them.
Fried Plantain Cups + Saltfish Filling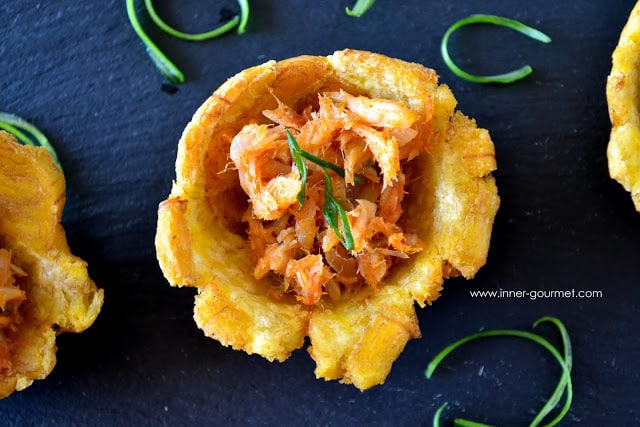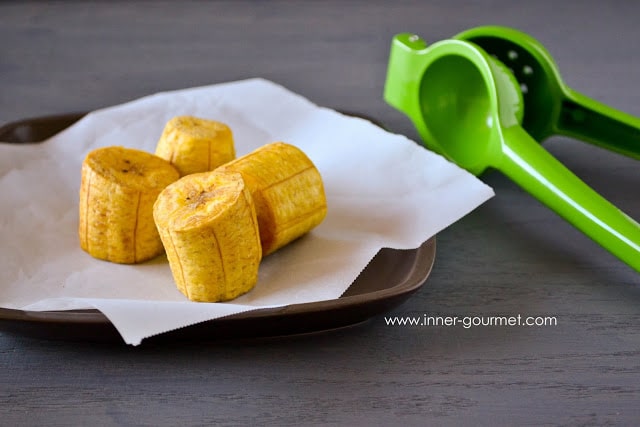 Smash after removing from the fryer.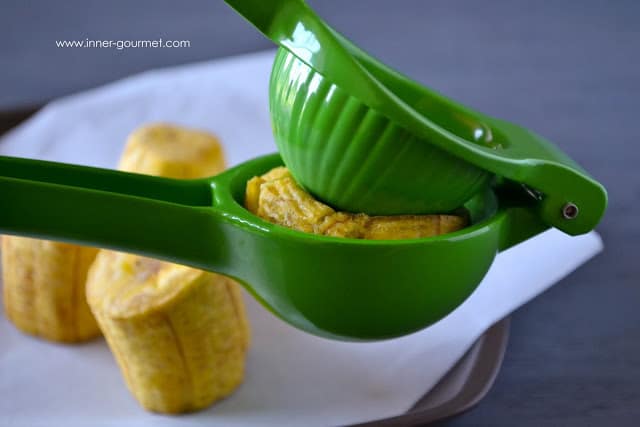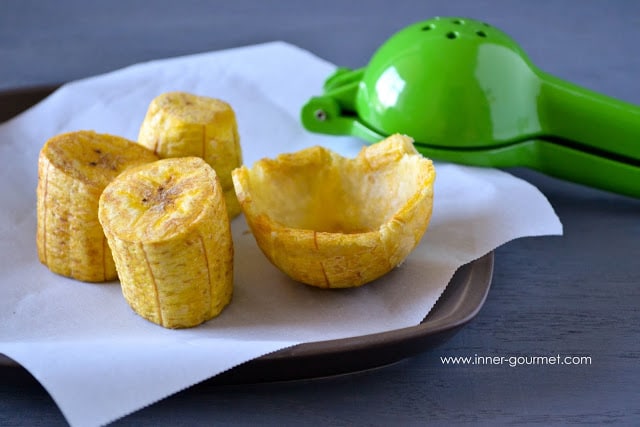 Fry for a second time.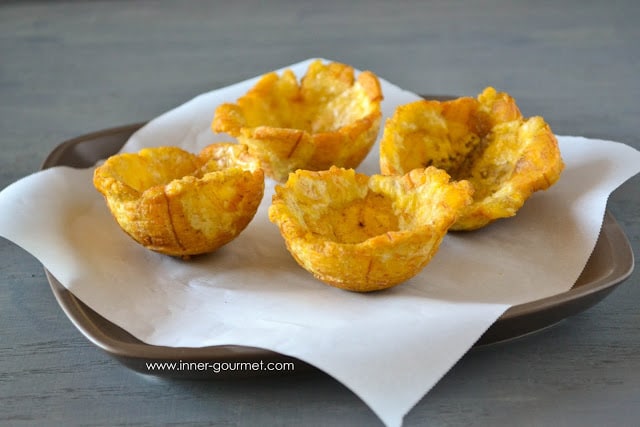 Holiday Appetizer: Fried Plantain Cups + Saltfish Filling
A fun and unique twist on two very Caribbean dishes. Serve these up at your next get together. Best served when hot. Your guests won't be disappointed.
Ingredients
3-4 green (unripe) plantains
Prepared saltfish or another filing
Oil for frying
Oil spray
Scallions for garnish
Utensils
Lime or lemon squeezer
Instructions
Heat oil for frying.
Peel plantain. Chop into 4 or 5 pieces depending on the length of plantain. Fry a few minutes until light brown.
Spray oil on lime squeezer and place plantain inside. Squeeze plantain then remove. Repeat process until all plantains have been smashed. Spraying lime squeezer with oil each time.
Fry plantain cups until golden brown. Drain and fill with saltfish filling.
Best enjoyed when served hot.