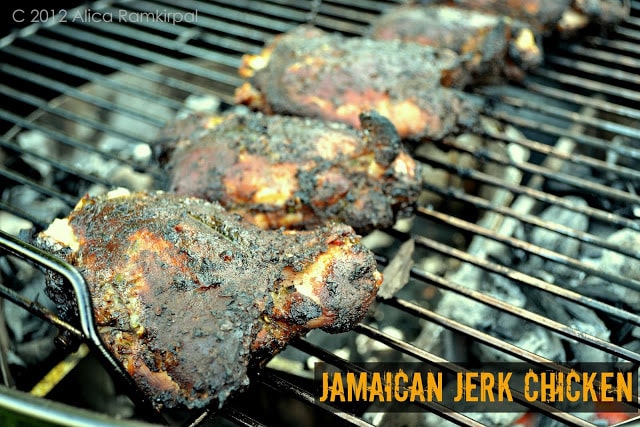 Today I'm sharing a flavorful, spicy, and mouth-watering jerk chicken recipe. Spicy for me is more about flavor than it is about heat. This is one of the reasons why I love jerk chicken. The ingredients in the seasoning meld together and hit your taste buds all at once. Creating a uniquely intense and tasty experience that no other seasoning can offer. This is obviously not a Guyanese dish. But I can tell you it is certainly one that you will find at a barbecue or party where West Indians gather.
Traditionally made up of pimento pepper (also known as allspice), scotch bonnet peppers, onion, thyme, , and salt, this seasoning is bound to have your mouth watering. Other warm spices are also added for flavor and complexity.
Jerk seasoning can come in the form of a dry rub or a wet marinade. The most popular brands I've seen in West Indian stores in Queens, NY as well as larger grocers, are Grace and Walkerswood. These seasonings are quite tasty and convenient to have in the pantry.
I remember when I set out to make this seasoning, I reached out to a few of my Jamaican friends to ask for their family's recipe. The response I got was, "Alica, I don't make my own jerk seasoning, I use the ones in the glass jar." I was still determined to make this marinade from scratch, so I referenced Helen Willinsky's book, Jerk from Jamaica.
What exactly is Jerk?
The term "jerk" can refer to the name of the seasoning or the method of cooking. It is known to Jamaicans as the authentic way of preparing meats over an open fire pit, barbecue grill, or smoker. Willinsky describes the many theories people have as to how "jerk" got it's name:
"Jerk may be related to charqui, an Incan word that means, basically, jerky or dried meat. Some speculate that Spanish sailors who landed in both Peru and Jamaica made the connection. Some people say it is called jerk because the meat is turned over and over again-or jerked over and over again as it cooks over the fire. Others say that is not right; it is called jerk because, when it is served, the jerk man pulls or jerks a portion of the meat off the pork" (Willinsky xi).
No matter how jerk got it's name, one thing is for sure. This is one of the tastiest and most unique ways to eat chicken.
Best Cooking Methods
Jerk chicken can be cooked over an open fire pit, barbecue grill, and most popularly, in a smoker, which is the way I have chosen to prepare my chicken today. I've also seen many people bake or roast their jerk chicken. It's all about preference people. I ordered pimento wood to use in my barbecue grill in order to give this chicken an added layer of flavor, you can learn more about smoking here (this is also the website where I ordered the pimento wood).
When smoking meats, low and slow is the key. If you don't have a smoker don't worry, you can transform your charcoal grill into a smoker by adding wood chips and not opening the sealed lid! My husband was in charge of the grilling, as he usually is. To smoke this chicken, he mixed the wood chips with charcoal and then lit them (no lighter fluid needed). He then waited until most of the charcoal was ashed over before adding the chicken. He also placed a dip tray in the middle of the charcoals (center of the grill) to allow the juices from the chicken to drip into the tray and circulate in the grill.
A great tip to prevent the wood chips from burning fast is to soak them in water overnight, that way the steam that they will release will have the flavor of the wood chip in addition to providing moisture for the meat.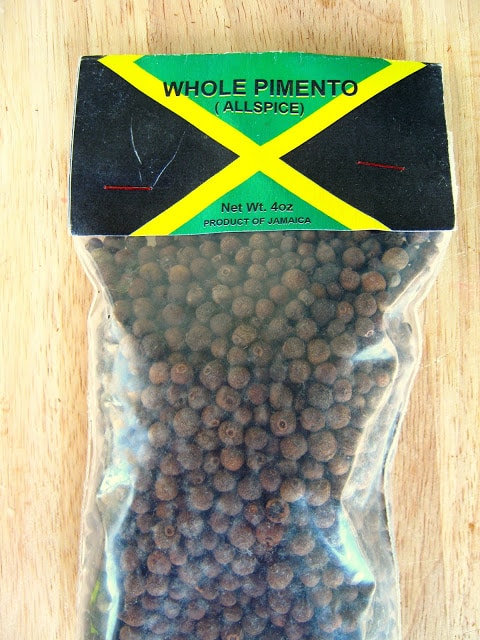 Allspice the fruit of the pimento tree and also the main spice in this seasoning. Pimento in Jamaica is known as allspice in the states. Jamaican allspice is unique because of it's oil content. The oil content of Jamaican harvested allspice is much higher than allspice grown anywhere else in the world and that's what gives Jamaican allspice it's pungent flavor an uniqueness. Not all of us can get access to allspice harvested in Jamaica, so regular allspice will work fine here.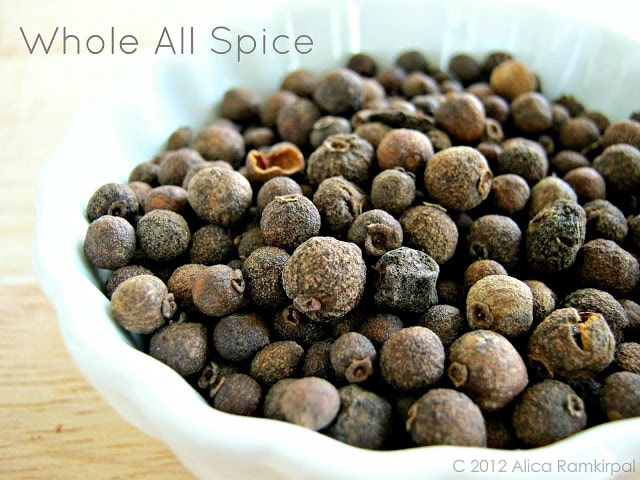 I used my coffee grinder to make ground allspice. I stored it in a glass jar and sealed it tightly. Grinding spices right before use gives a fresh and intense taste to any dish.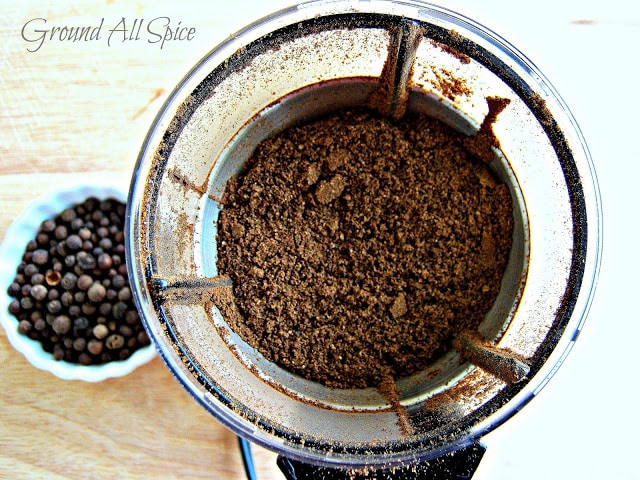 This photo shows the ingredients I used to make my jerk seasoning and not necessarily the amount. I added a few different peppers to mix up the spiciness in this marinade.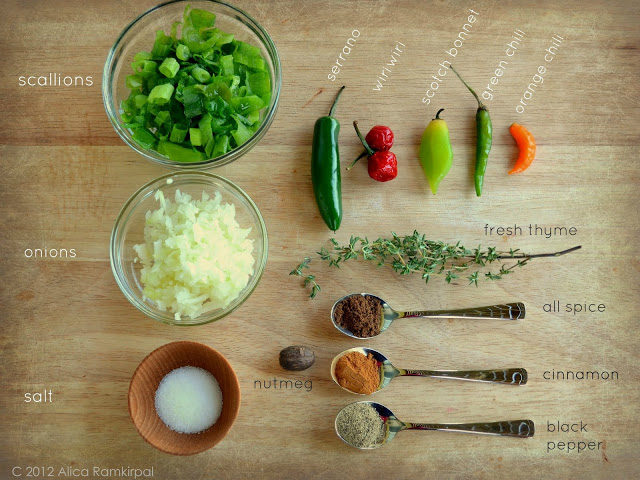 Grind all the seasonings together to make a paste. I tried with my mortar and pestle, but man let me tell you, it took forever! Into the food processor it went!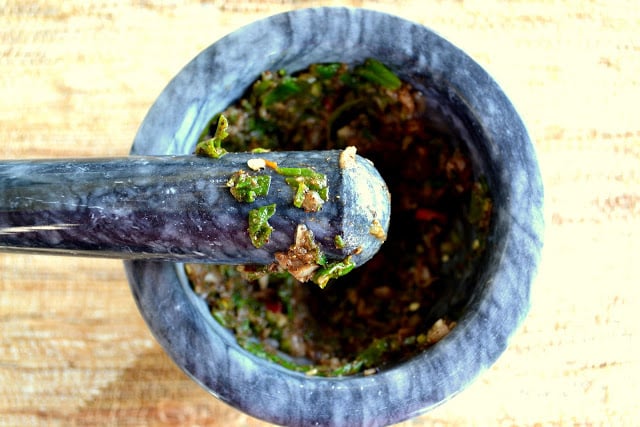 Pulse all the ingredients until you achieve a course paste.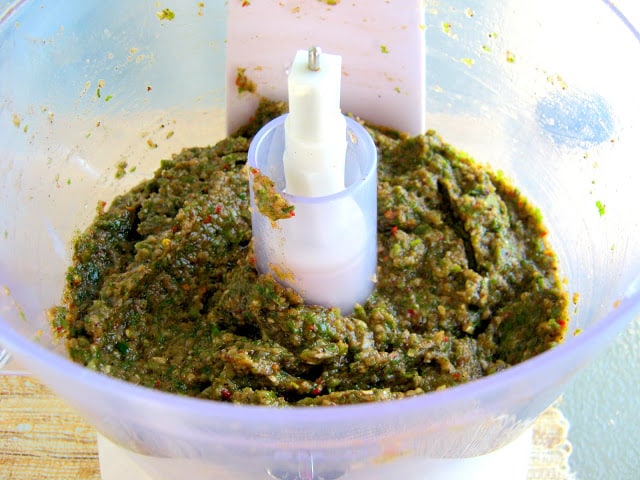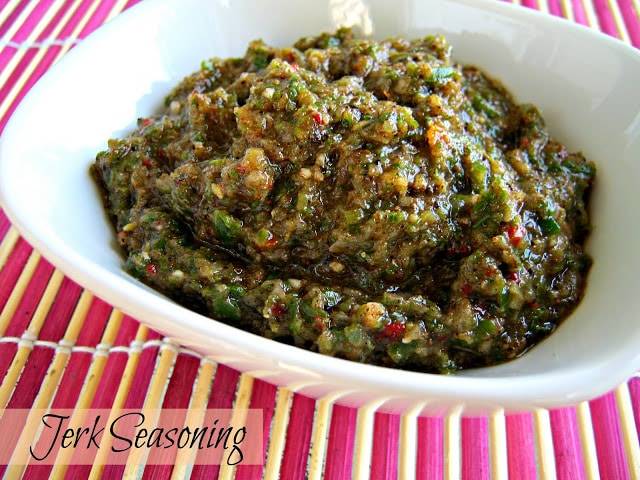 After cleaning chicken, pat dry with paper towels, drizzle a little bit of oil, then add marinade, use as much as desired. There's about 4lbs of meat here.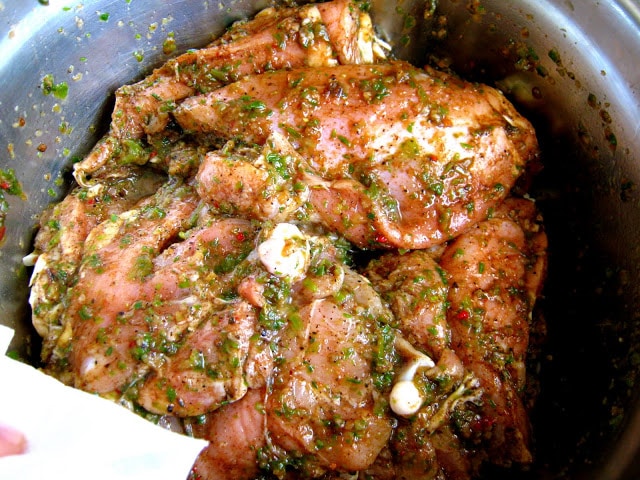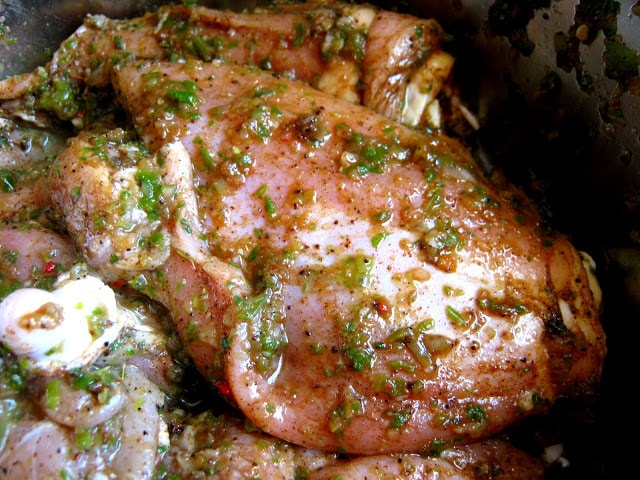 I am married to a Trini so of course I had to throw in a few dashes of Angostura bitters! Love this stuff, I put it in everything!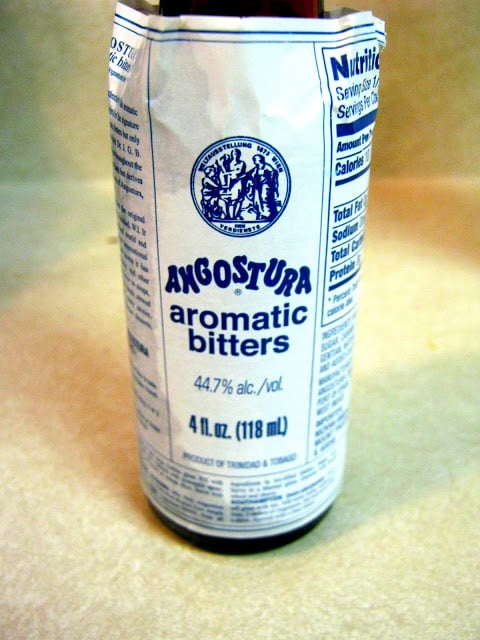 I could not find wood chips at any West Indian store in Queens, so I ordered this bag online from www.pimentowood.com. The wood chips came sealed in plastic along with this cool looking straw bag.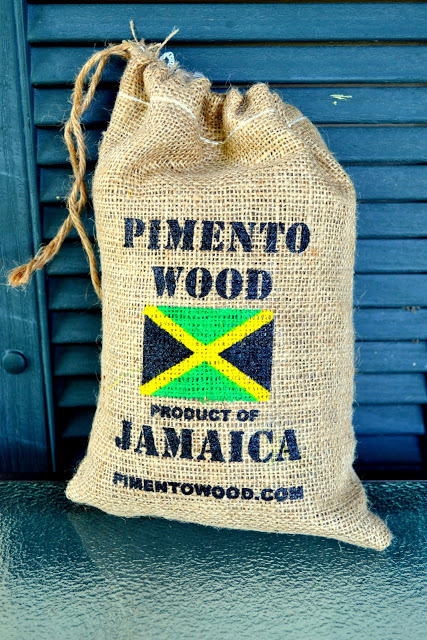 You really don't need a lot of wood chips when smoking in a barbecue grill. A little bit goes a long way. I purchased a large bag and used about ⅓ of it.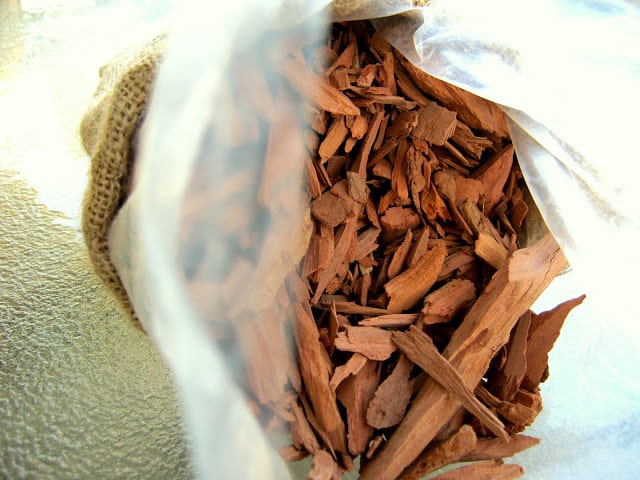 Pimento wood chips mixed with charcoal. See the drip tray on the right?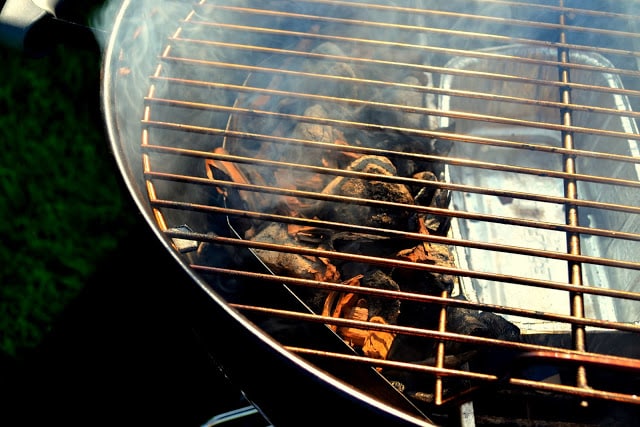 My husband bought special containers for the wood chips from The Home Depot. He mixed it with charcoal, lit the fire, and then let the smoke swirl and develop before we added the chicken.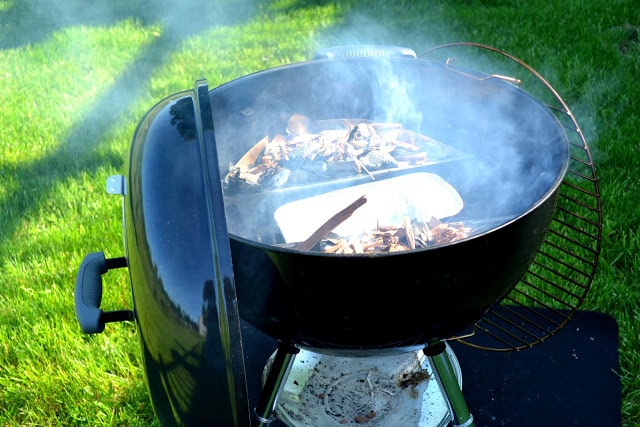 Place chicken on grill, cover with lid, and let it cook slowly for about an hour and a half or as needed without opening the lid too often. Chicken is done when the juices run clear. You might see a little bit of a pink color in the meat. Don't panic, the pink color is a result of smoking the meat. It does not mean it is under cooked.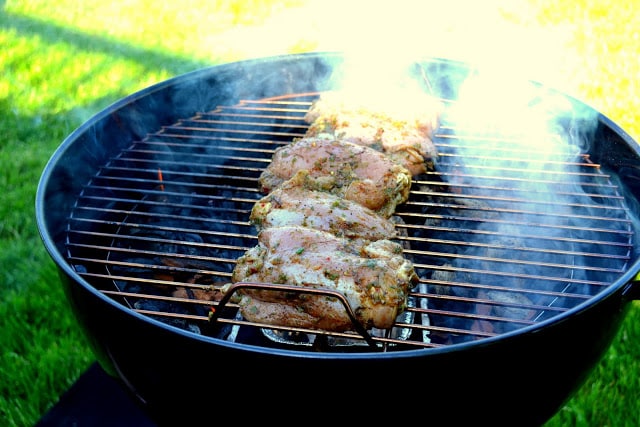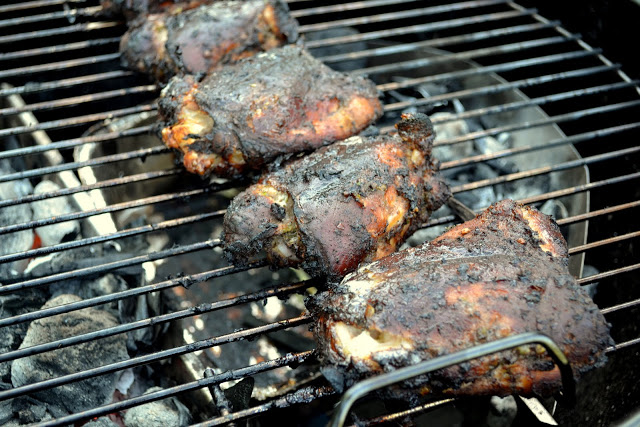 ON THE GAS GRILL
We also threw a few pieces of chicken on the gas grill to see if there was a real difference in taste between a smoked jerk chicken and the grilled version. Hands down, everyone at our bbq agreed the smoked version was the best. The grilled version was great also. But we'll reserve it for nights when we just want to get dinner ready in a hurry!
Jamaican Jerk Chicken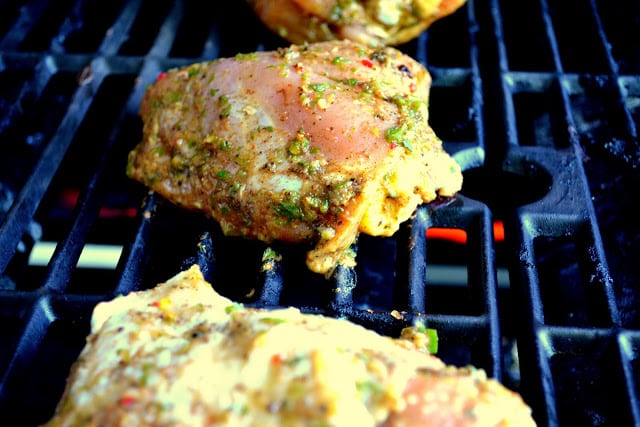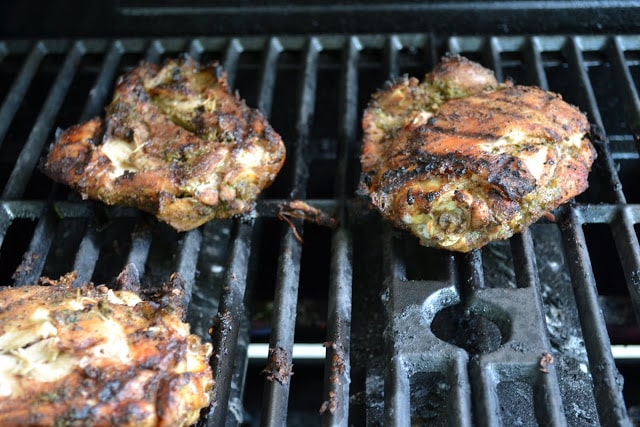 I like my chicken with a some char on it, but cook to your liking! Enjoy my friends 🙂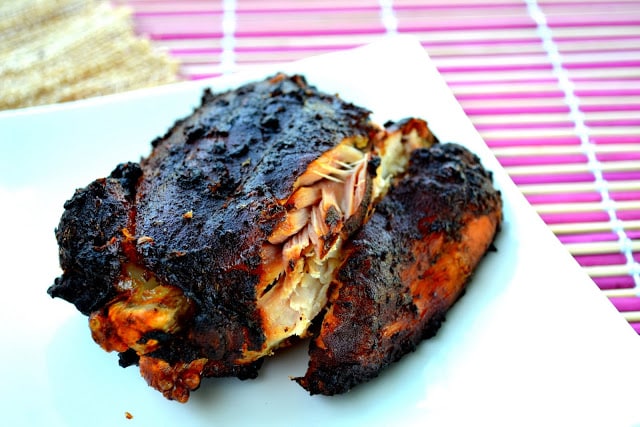 *If you don't feel like grilling or smoking your chicken, you can also roast or bake your chicken using this marinade, it's tasty all the way around!
Jerk Chicken Seasoning For 4-6lbs of meat  adapted from Helen Willinsky's, Jerk from Jamaica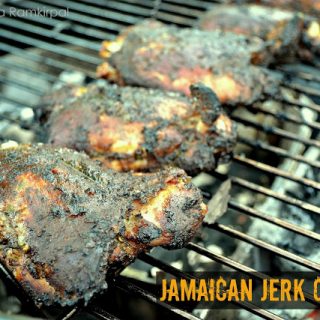 Jamaican Jerk Chicken
Ingredients
3-4lbs chicken thighs, breasts, or legs
2 medium onions, chopped
5-6 garlic cloves, peeled
1 cup chopped scallions
½ teaspoon freshly grated ginger
1 tsp brown sugar
5-6 sprigs fresh thyme
2 ½ teaspoons salt
2 ½ teaspoons freshly ground black pepper
1 ½ tablespoon ground allspice
½ teaspoon ground nutmeg
1 teaspoon ground cinnamon
2-3 medium scotch bonnet peppers
2 wiri wiri peppers
1 serrano chili pepper (optional)
2-3 green chili peppers (optional)
1 tablespoon oil
Instructions
Clean meat, pat dry with paper towels, set aside.
Add onions, garlic, scallions, ginger, thyme, salt, ground spices and peppers, and oil to food processor, pulse until marinade looks course and thick.
Use the desired amount of seasoning on the meat. Let meat marinate in jerk seasoning overnight or for one hour minimum.
If using a gas grill, grill until juices run clear or use a meat thermometer to check when chicken is done (165 degrees or higher).
If smoking on a barbecue grill: mix charcoal and pimento wood chips and scatter on the bottom of the grill. Light wood chips/coals and let smoke develop for about 20 minutes. Add chicken and let it cook slowly for about one hour to an hour and a half. Do not open lid often as this will let out the smoke. Juices will run clear once chicken is done. If you see a slight pink color in the meat, do not be alarmed, the pink color is a result of smoking any type of meat.