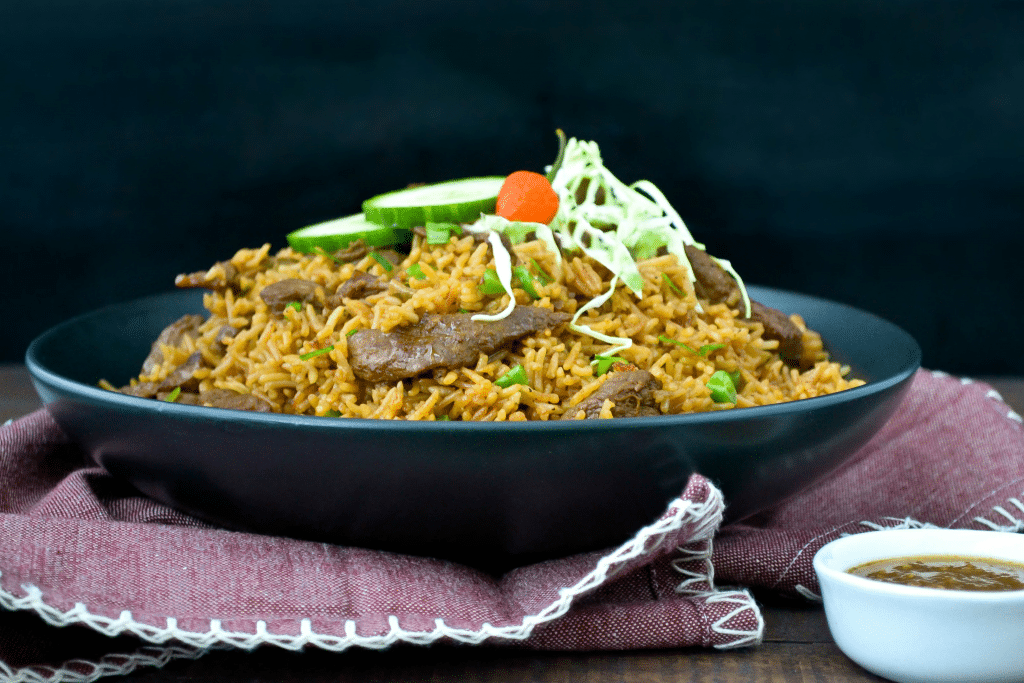 This year in honor of Black History Month, 28 food bloggers have come together in a virtual potluck to showcase some delicious and amazing recipes. The variety of dishes from each blogger spans from vegetarian fare to juicy meat delicacies. Each recipe is unique yet accessible and easy to throw down at any time of year. Guyanese food is a fusion of African, Chinese, Indian, Portuguese, European, and Indigenous cuisine. I was happy to contribute to this new virtual potluck by making one of my favorite rice dishes. Be sure to check out the complete recipe list below and let me know which ones you gave a try.
A special thank you to Meiko, from Meiko and The Dish and Aaron, from The Hungry Hutch for organizing this unifying event. A few weeks ago I was in Orlando visiting my parents. We stopped into a local roti shop (a fast casual restaurant) for lunch. That day I was feeling for some chicken curry, but the server behind the counter had just refilled a pan with lamb fried rice. My mouth watered instantly as I saw the steam clouding up the glass barrier. I ordered the lamb fried rice with plantains and steamed cabbage and boy, it did not disappoint. Since then I have been yearning for a taste of that lamb again.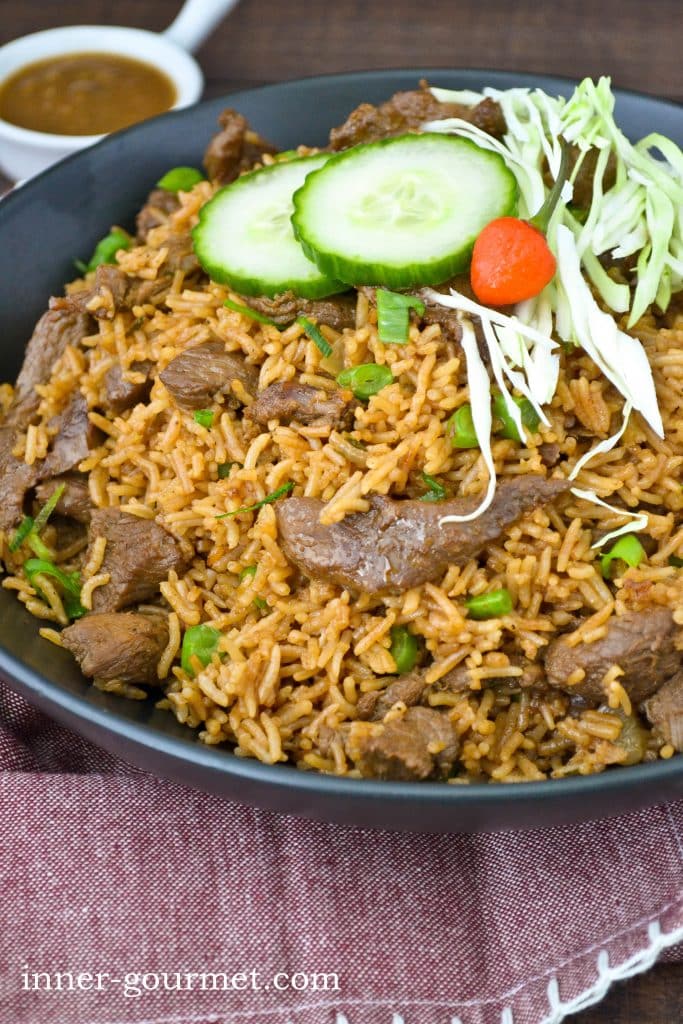 Fried rice is a dish that is universal among all the ethnicities of Guyana. If there's one thing that unites us as a people, it's undoubtedly our food. Curries, stews, ground provisions and fried rice dishes can easily be found at any gathering as these dishes truly represent Guyanese cuisine as a whole. I've made this recipe for our family get-togethers and it's always a hit. There's a unique taste about this rice as compared to a more traditional Guyanese-style fried rice. I attribute that to the basmati rice and the leg of lamb. Basmati rice is so light and flavorful all on its own that adding seasonings just amplifies the taste. I prefer to use leg of lamb because it is a meaty cut and very tender, making it great for rice dishes.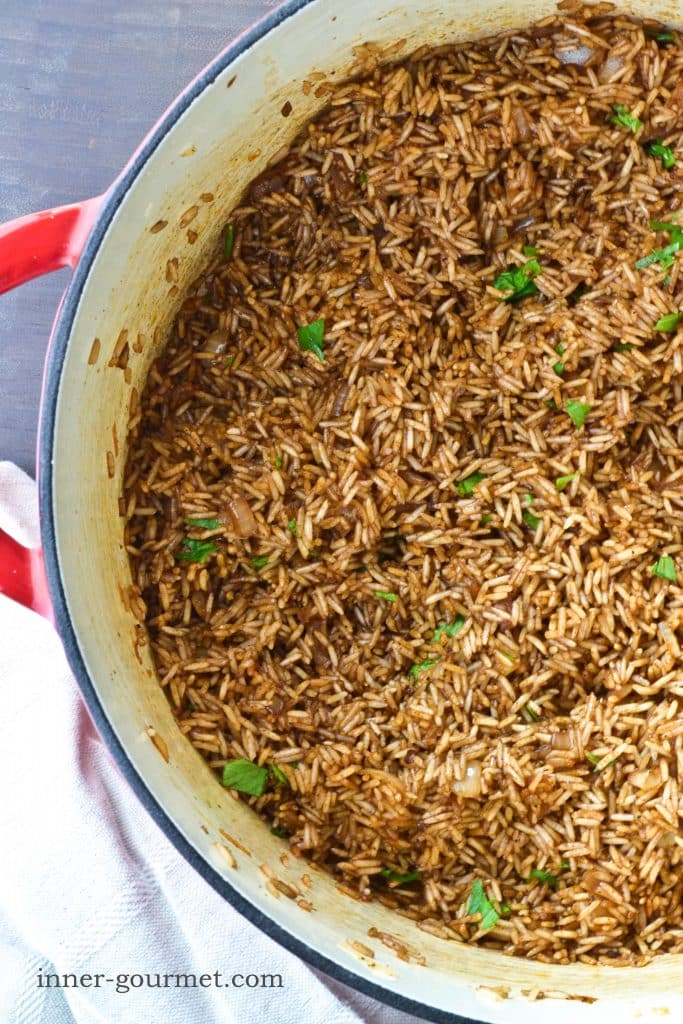 Usually, when making fried rice, the rice is cooked, cooled, and then added to the wok with the other ingredients. I use a different method here. I fry the rice first with all the seasonings then add it to a rice cooker. It cooks the rice perfectly every time without compromising that unique fried rice taste. Give this a try in your rice cooker, you'll wonder why you didn't do it sooner.
Lamb Fried Rice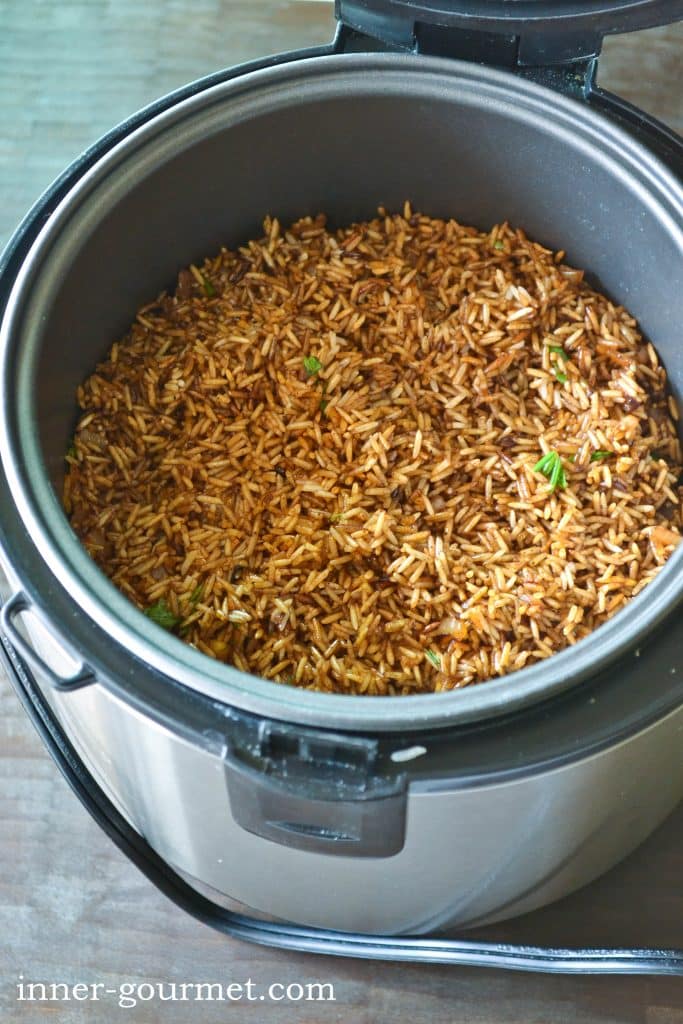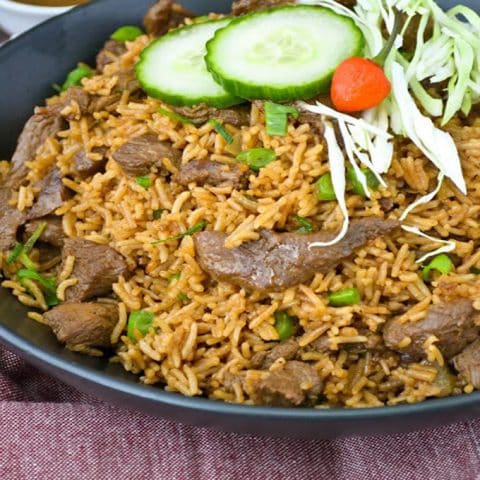 Lamb Fried Rice
Ingredients
Lamb
3 ½ lbs lamb meat, thinly sliced
3 heaping tbsp green seasoning
½ tsp black pepper
½ tsp paprika
½ tsp salt
2 tsp mushroom soy sauce
4-5 dashes worcestershire sauce
3-4 dashes angostura bitters, optional
2 tbsp oil for marinade
4-5 tbsp oil for frying
Rice
2 ½ cups basmati rice
1 small yellow onion, diced
2 tbsp vegetable oil
¼ tsp garlic powder
½ tsp black pepper
¼ tsp paprika
2 tbsp soy sauce (low sodium)
1 tbsp mushroom soy sauce
Freshly chopped parsley or cilantro
½ cup bora beans or string beans, finely sliced
Cabbage and cucumbers for garnish
Salt to taste
Instructions
Wash and clean lamb (see note below). Dry with paper towel. Add all ingredients (except oil for frying) for marinade to bowl . Allow meat to marinate a few hours or overnight.
Heat oil for frying in a wok or heavy bottomed pot. Add lamb and cook about 25-30 minutes or until meat is tender. Set aside.
Rinse rice until water runs clear. Drain.
Add canola and sesame oil to pan, add onions. Cook until onions are fragrant. Add rice and all other ingredients. Fry rice until color is completely brown. Transfer rice to rice cooker.
Cook rice according to rice cooker directions and measurements.
Remove cooked rice from rice cooker. Spread in a wide pan. Let rice cool slightly then toss meat and bora beans into rice. Garnish with cabbage and cucumbers.
NOTES:
Washing the meat: Many West Indians have a method to wash meat, which really means to cleanse the meat of any rank smell or offensive taste. I cleaned the lamb with ½ cup flour, a few dashes of salt, juice of ½ lime, and water. Toss this mixture together and let it sit for ½ hour to 45 minutes. It will be sticky and look like a coating on the meat. Rinse until no flour remains on meat. You'll notice meat that is fresher does not require much cleansing.
Meat can marinate overnight in ziploc bag.
Water will evaporate from meat while cooking, you can add a little water when that happens if meat still needs to cook more.
Green seasoning is a blend of fresh herbs, onion, and garlic. You can buy green seasoning in a bottle or do the quick version- recipe here.
You can cook the rice without a rice cooker, for every 1 cup of rice, use 1 ½ cups water plus 1 tbsp oil. Simmer on low heat for about 15 minutes in a wide bottomed pot.
The thinner the meat is sliced, the faster it cooks.
Bora beans and string beans can be added raw or sauteed slightly before tossing in rice. This is based on preference.
Links to BHM Potluck Recipes
Meiko and the Dish | Crispy Fried Chicken with Pepper Jelly Molasses
Whisk It Real Gud | Trinidad Oxtail Pelau
Raised on Ramen | Caramelized Plantain Tacos with Pecan-Honey Butter
Dash of Jazz | Aunt Georgia's Peach Cobbler
Foodie In New York | Twice Baked Yams
The Seasoning Bottle | Jamaican Sorrel/Senegalese Bissap
Chef Kenneth | Smothered Okra with Shrimp
Savory Spicerack | Po' Boys with Cajun Tempura Shrimp
Chocolate For Basil | Groundnut Stew (Peanut Stew)
Simply LaKita | Banana Pudding
My Forking Life | Callaloo and Saltfish
Kaluhi's Kitchen | Ukwaju (Tamarind) Marinated Spicy Chicken Thighs
Sweet Savant | Coffee-Rubbed Lamb Ribs
Salty Sweet Life | Southern Greens Shakshuka
Eat.Drink.Frolic. | Maple Roasted Brussels Sprouts
I Heart Recipes | Southern Fried Cabbage
Jehan Can Cook | Mango Turmeric Smoothie
Margarita's On The Rocks | Lemon Pepper Fish Tacos with Collard Green Slaw
A Soulful Twist | Slow-Cooker Gumbo (Gluten Free)
The Kitchenista Diaries | Coconut Milk Braised Collard Greens
My Life Runs On Food | Orange Chocolate Smoothie
Butter Be Ready | Skillet Cornbread
D.M.R. Fine Foods | Curry Chicken Pot Pie
Marisa Moore Nutrition | Hoppin' John Patties with Warm Tomato Salsa
The Hungry Hutch | Blood Orange Cornmeal Cake