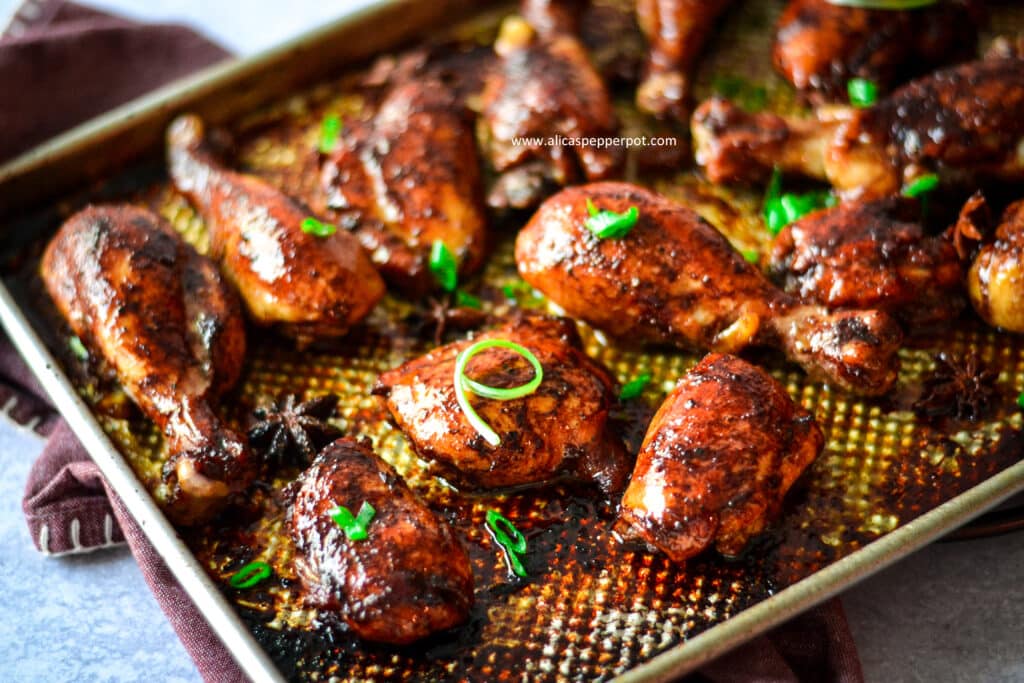 I love a good baked chicken especially one with bold flavor. During the holidays or any celebratory time I make a whole roasted Chinese five spice chicken and people always love the variation from the usual herb roasted chicken. For this recipe I've used chicken legs and thighs which makes it easier for entertaining. Chinese five spice does not disappoint when it comes to adding a unique taste to meat or fish. It is a common spice blend used in Chinese cooking and also used in Guyanese-style fried rice. Five spice powder is a blend of cinnamon, fennel, cloves, star anise, and Szechwan peppercorns. You'll see variations of the spice blend also containing ginger, nutmeg or even licorice. Although Chinese five spice has a strong profile, when paired with other seasonings, it all balances out to a perfect flavorful marinade.
What cut of chicken to use
Using smaller cuts of meat is easier for entertaining and also cooks faster. A tray of baked chicken goes a long way for a crowd. You could use this recipe for a whole chicken, chicken breasts alone, or leg quarters, but you'll have to make sure the weight of the meat is the same. This marinade works best for meat weighing 5-6lbs. For this recipe I used legs and thighs. I prefer removing the skin from the legs and thighs, unless I'm roasting the chicken at a higher temperature and want that crispy skin. Do what you prefer.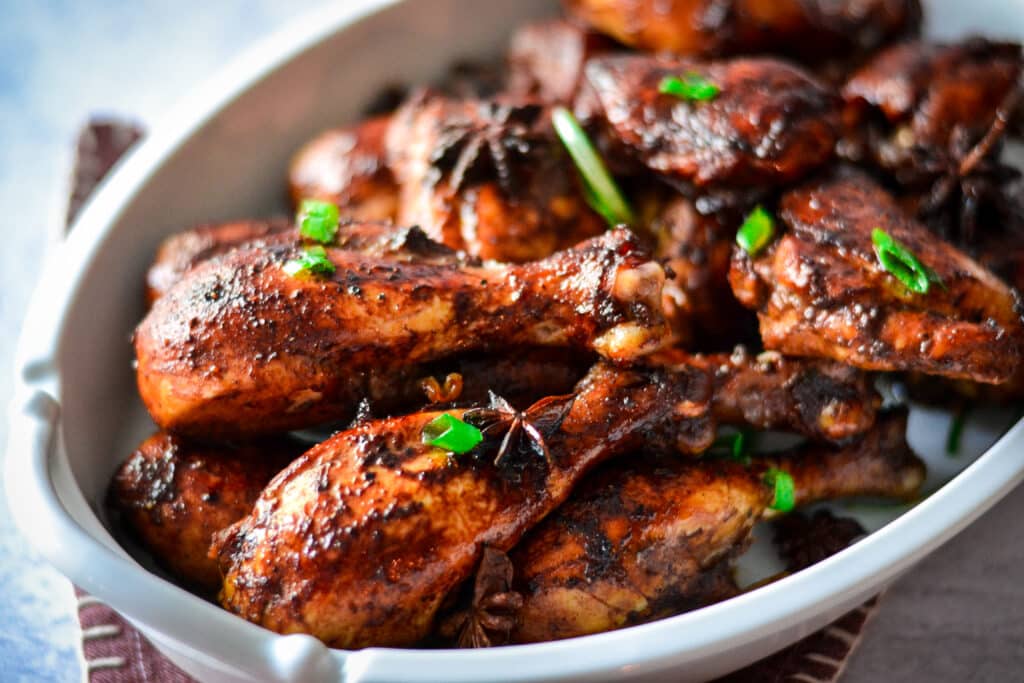 Seasoning the meat
What's different about this recipe is the inclusion of tomato paste and green seasoning- two widely used ingredients in West Indian cooking. Although only two ingredients, it makes a difference in the taste. Tomato paste gives color and acid, and green seasoning creates a lovely base flavor for the meat. You can certainly season the meat the night before baking, but if you're pressed for time, letting the meat marinate for one hour is plenty.
I don't say this about very many recipes, but if you make this dish, try to get all the ingredients on the list, especially these:
Dark soy sauce - This provides dark color without the saltiness of light soy sauce.
Light soy sauce - Any brand will work. Kikkoman is easy to source. You can also use Tamari here. Light soy is salty, gives taste, not so much color.
Chili garlic sauce (sambal oelek) - This sauce just makes everything taste better! Also provides some nice heat to the marinade.
Rice wine vinegar - Adds acid to the marinade, but not as acidic as regular white vinegar. It has a sweetish flavor.
Chinese five spice powder - You kinda need this for the recipe to make sense :). I'm not partial to any particular brand of five spice, but I usually buy from my local Asian grocer.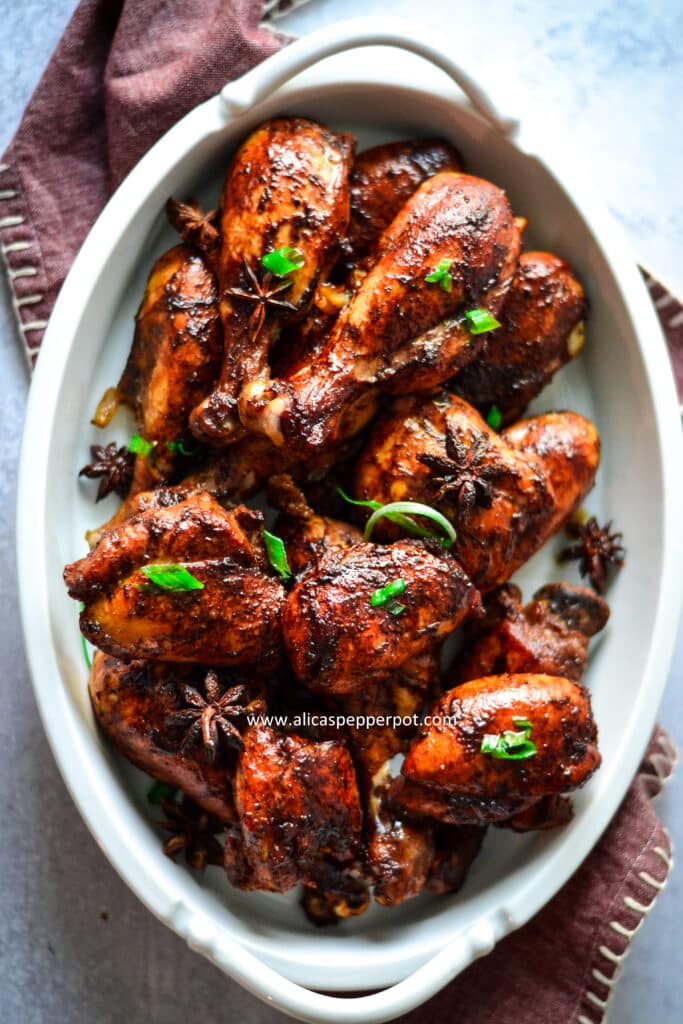 Cooking the chicken
I like to bake this chicken on a baking sheet at 375 degrees F for just about 1 hour- basting with the juices that get released as it's cooking. Flip the chicken over to help both sides brown and during the last 5 minutes of cooking you can turn on the broiler to 500 degrees F to help the chicken brown up more if you want a little bit of char and color.
My father makes his version of this recipe and he has a slightly different method for baking- he places a cookie cooling rack over the baking sheet and then places the chicken on the cooling rack. The juices from the chicken drop onto the baking sheet and he uses it to baste. With this cooking method the heat in the oven circulates to the bottom of the chicken giving it a chance to brown up as well.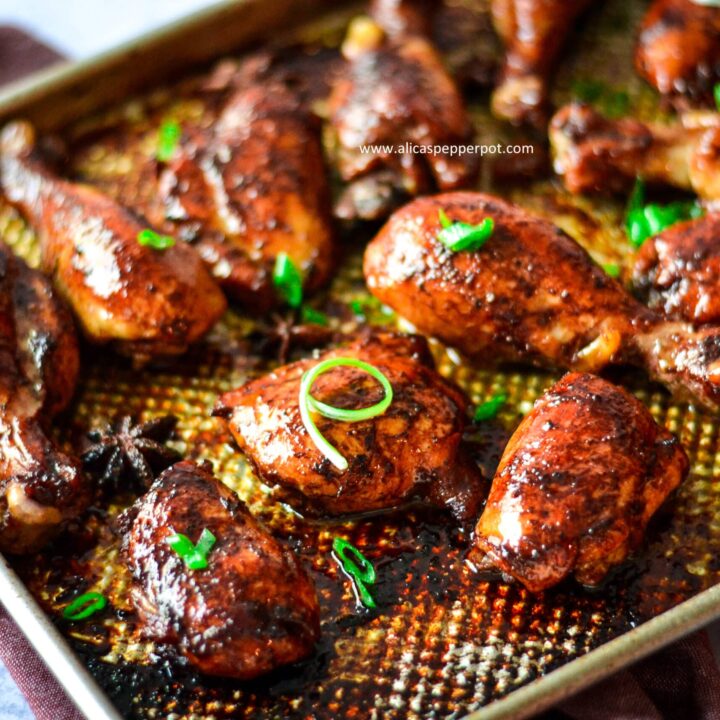 Chinese Five Spice Chicken
Ingredients
5lbs chicken (I used legs and thighs)
3 ⅓ tsp Chinese five spice powder
2 tbsp green seasoning (click for recipe)
2 tsp chili garlic sauce (sambal oelek)
1 ½ tbsp dark brown sugar
2 tbsp dark soy sauce
1 ½ tbsp light soy sauce or tamari
1 tbsp rice wine vinegar
1 tbsp sesame oil
2 tsp tomato paste
2 tsp grated fresh ginger
½ tsp salt
¼ tsp black pepper
Dash of cinnamon
Instructions
Clean chicken, remove excess fat and skin. Wash and pat chicken dry. Place chicken in a large mixing bowl.
Make the green seasoning. Use 2tbsp of green seasoning for this marinade and reserve remainder of seasoning for later use.
Add all ingredients to chicken. Massage marinade into chicken. Let marinate for minimum 1 hour or overnight.
Preheat oven to 375 degrees F.
Place chicken on a metal baking sheet (you may line it with foil). Cover chicken for 20 minutes with foil. Remove foil and baste chicken. Continue to cook uncovered for about 40 additional minutes or until thermometer reads 165 degrees F internally.
Baste frequently. When chicken is almost done, during the last five minutes, turn on broiler to 500 degrees F. Broil chicken for 5 minutes.
Baste with remaining juices.
Notes
A glass pyrex may be used to bake the chicken, but do not broil- glass can break under the broiler. If you do not wish to make the green seasoning, you can grate ½ onion and 4 garlic cloves over the chicken while prepping the marinade. Add any fresh green herbs, finely chopped.