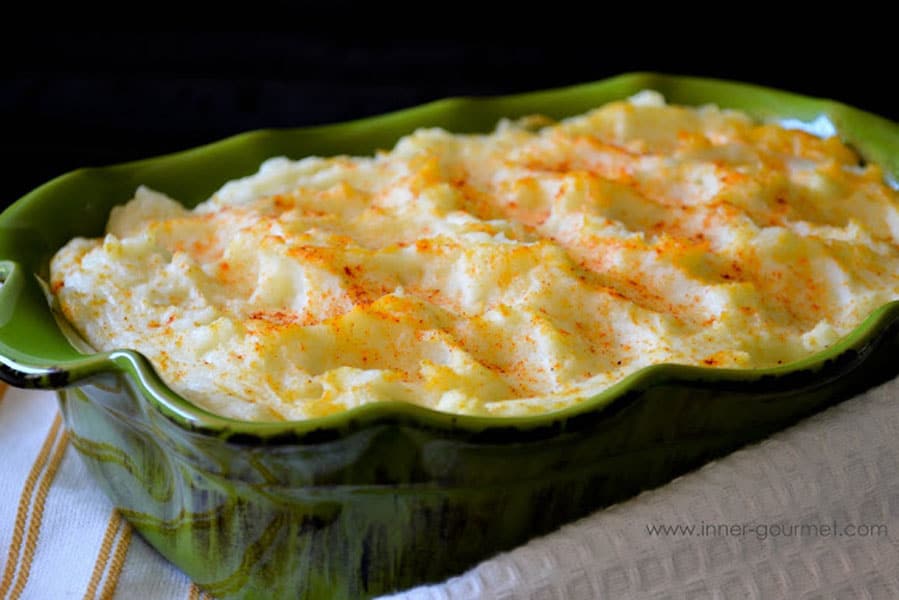 This year is off to a hectic start for our family. If you've been following me on Instagram, you may know that I've recently moved. We've relocated at least eight times in the last ten years, but this has been the most challenging move yet. Managing two kids while unpacking boxes is quite the feat. So it's no surprise that I've gotten little done around the house, and even less accomplished in the kitchen. I've been making quick one pot dishes and lots of peanut butter and jelly sandwiches.
Whenever I'm short on time, one of the quicker meals I go to is this Shepherd's pie. I love making this dish because I don't have to prep too much. The ground meat can be cooked right away while the mashed potato is pulled together in a cinch. This dish is so comforting, it gives you the warm and fuzzies after a long stressful day. The creamy mashed potatoes alongside juicy ground meat will have you reaching for seconds. There are so many variations you can make to this dish. Substituting mashed sweet potato for the top layer or even combining meats and vegetables can make a nice change.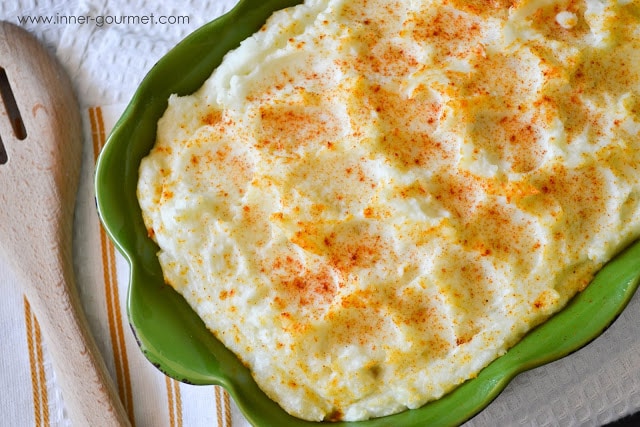 I used ground turkey in this version, but feel free to use any ground meat you like. Add any frozen mixed vegetables you have on hand.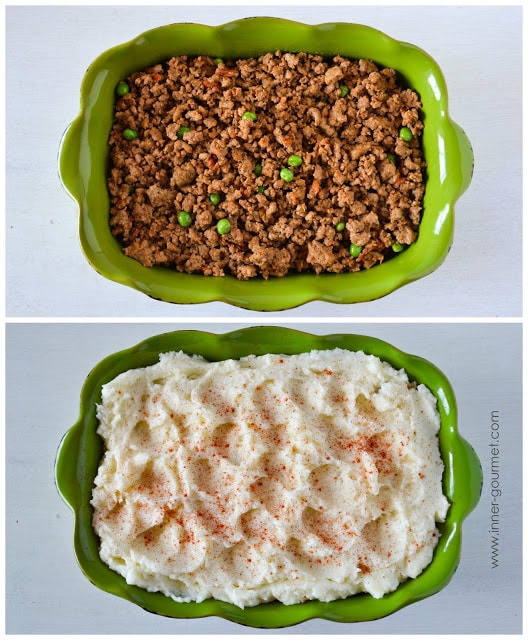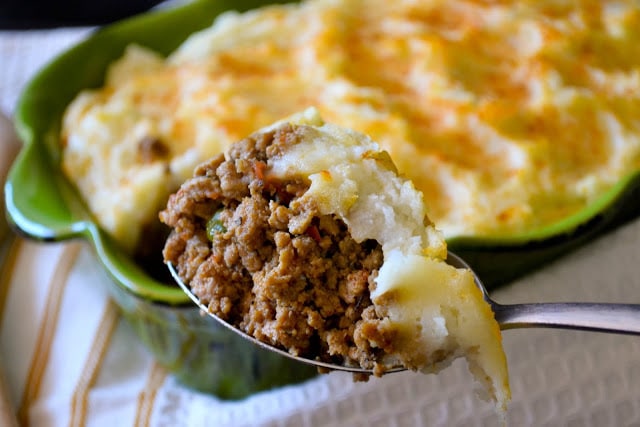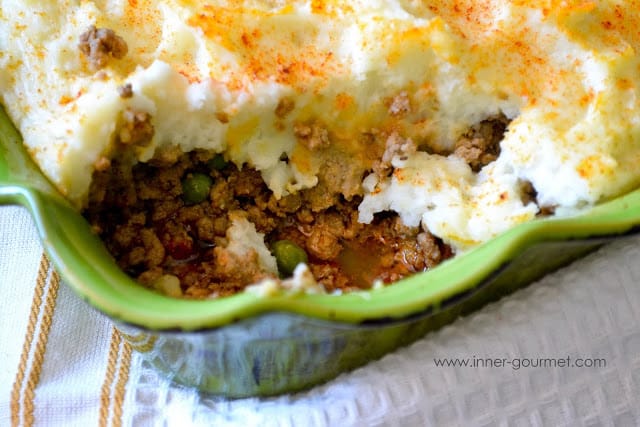 Shepherd's Pie
This shepherd's pie is comforting and filling. Creamy mashed potatoes atop seasoned ground meat is bound to make your taste buds happy.
Ingredients
Mashed Potato
6-7 russet potatoes
⅓ cup milk
4oz butter
½ tsp garlic powder
½ tsp salt
2 oz sour cream
Meat
3lbs ground turkey
6 tbsp canola oil
1 small onion, chopped (or 4tbsp green seasoning)
4 garlic cloves, minced finely
small piece habanero pepper, chopped
½ lime
6 tbsp worcestshire sauce
1 tbsp + 1 tsp cajun seasoning
1 tsp adobo
½ tsp garlic powder
½ tsp black pepper
1 tsp paprika
3 sprigs thyme
Handful parsley, chopped
1 large tomato, chopped (about 1 cup)
½ cup frozen mixed vegetables
Instructions
Peel potatoes, chop into large cubes. Bring pot of water to a rapid boil. Add chopped potatoes. Cook until tender when pierced with fork.
Drain potatoes and return to pot. Add butter and mash until incorporated. Add all other ingredients. Mash until potato is almost smooth. Set aside.
In a deep skillet, heat oil and saute onions, garlic, and pepper until tender. Add meat. Squeeze lime over meat and saute a few minutes. Add remaining ingredients, except tomato.
Cook meat until no longer pink and most liquid has evaporated. Add chopped tomato. Let cook a few minutes until tomato melts into meat. Add mixed vegetables. Remove from heat.
Grease a 9in baking pan or casserole dish, add meat and layer with mashed potato on top. Sprinkle with paprika.
Bake at 350 for 25 minutes. Remove foil, bake an additional 5 minutes to brown slightly.
Notes
You may have a small portion of mashed potato left over. My husband and son usually have the extra right out of the bowl.
For a creamier mashed potato, large red potatoes work really well. You'll have to eyeball this one on the amount, I would say since they are smaller, try 8-10 potatoes for this recipe.
I prefer to use turkey that has some fat in it so I buy ground meat that is 93% lean, 7% fat. The fat keeps the meat moist and juicy. I have experimented with other variations and noticed turkey with a little more fat in it yields more flavor to the meat.
If you have green seasoning in your refrigerator, you can substitute the chopped onion and garlic for 4 tbsp seasoning.
I prefer Emeril's Original Essence for cajun seasoning. For Worcestshire sauce, I prefer French's brand or Lea & Perrins brand.
West Indians/Caribbeans have a process to clean or wash meat before cooking. Some variations include using water with vinegar, lime, flour, or little salt to remove any rank taste. With ground meat, washing with water or any of these ingredients will cause the meat to disintegrate as you rinse the meat. I prefer to squeeze lime over the meat before adding any seasonings. The meat never has a rank taste. Once ground turkey is cooked to 165 degrees all bacteria has been removed.