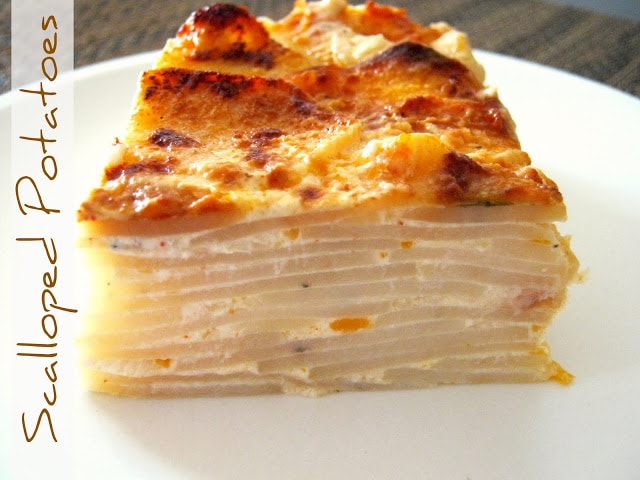 To be American is to love potatoes. I'm part American and I love potatoes. I cook potatoes quite often and I never get tired of eating them. I love my potatoes mashed, baked, boiled, and even broiled, but my favorite method would be scalloped and then baked. This scalloped potato dish is one that will bring the warm and fuzzies to your tummy.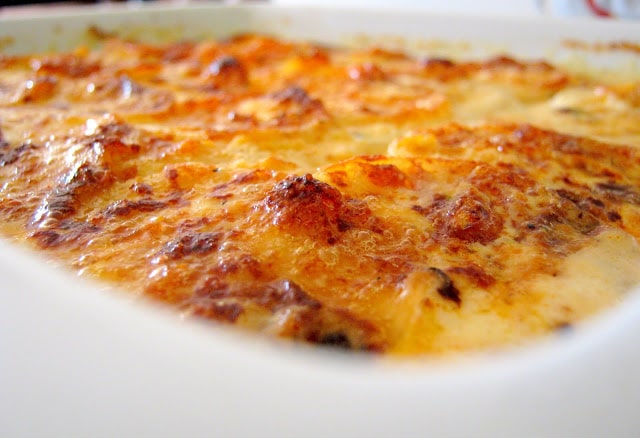 Beautifully scalloped potatoes that have been dredged in a spicy cream mixture and layered with parmesan cheese, then baked until the top is golden and bubbly is comfort food in it's truest form.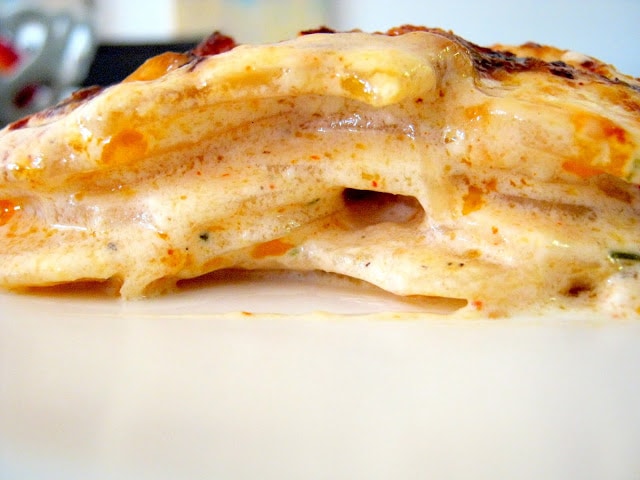 Scalloped potatoes was not a dish that I grew up eating, but one that I discovered as I started looking for different ways to prepare potatoes. Although this dish will take a few extra steps to make, it is definitely worth the time and effort. Enjoy!
Begin by peeling potatoes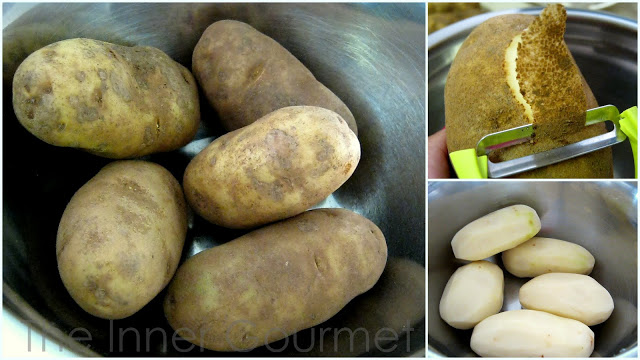 To ensure slices are uniformed, using a mandolin will be ideal. Slice potatoes to ⅛ inch thickness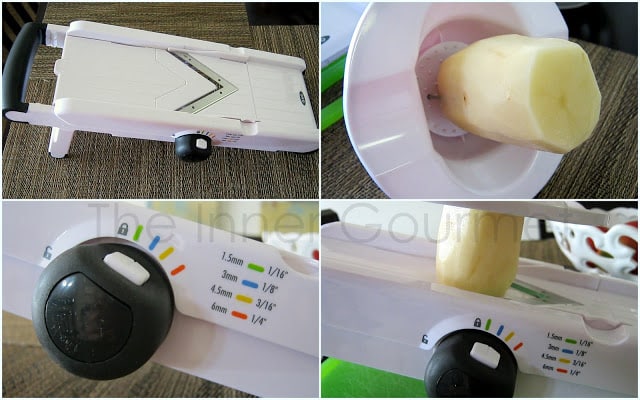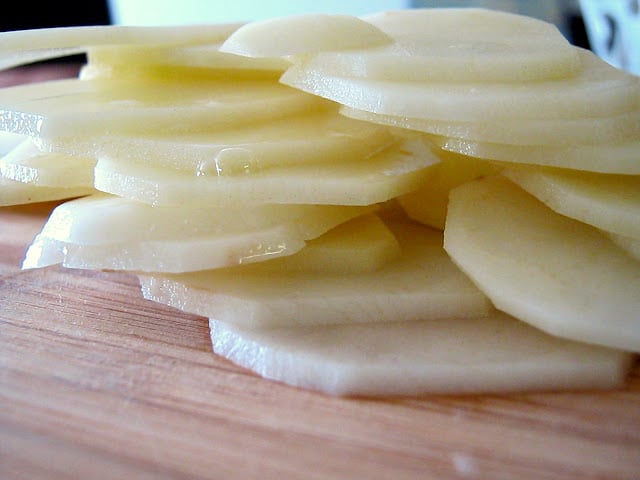 Place potatoes in a deep bowl with cold water to prevent browning.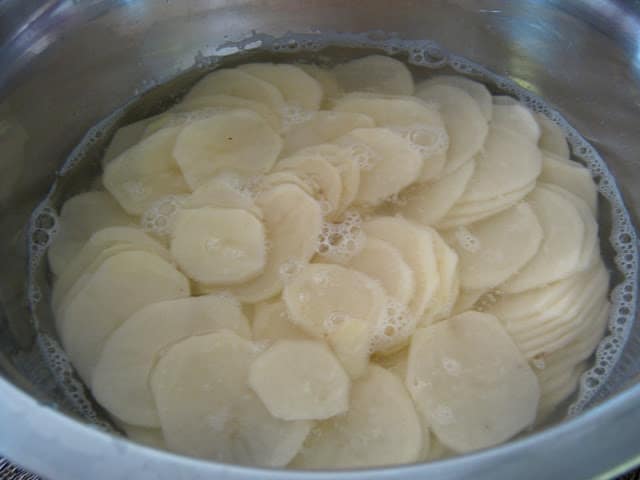 Begin to prepare the cream mixture. Using good quality cream and parmesan is key to this dish.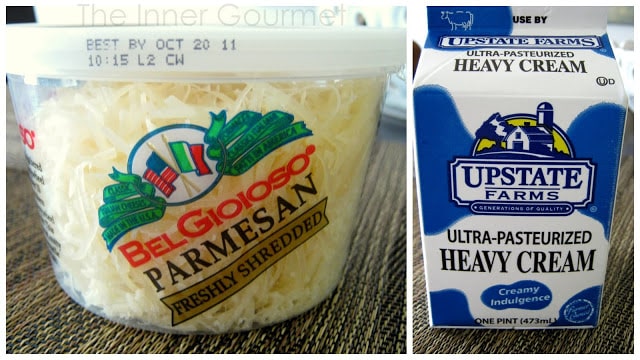 Chop your fresh herbs. If you have dry herbs you can certainly use them, however, fresh herbs really add to the flavor profile of any potato dish! (Do not use the entire sprig of rosemary, only 4-5 leaves as rosemary is a very strong herb so a little bit goes a long way!)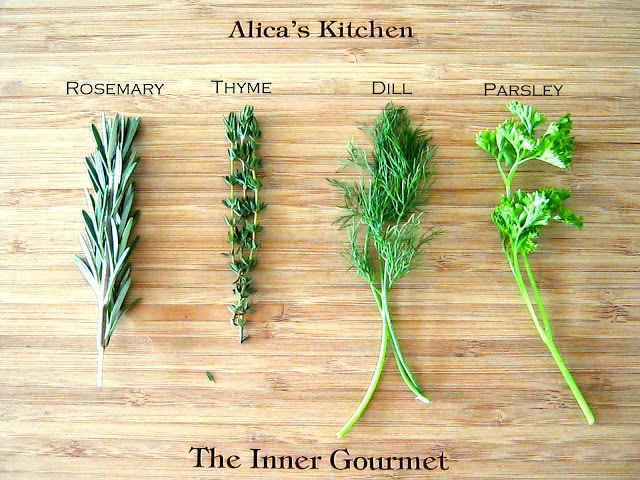 Chop all herbs together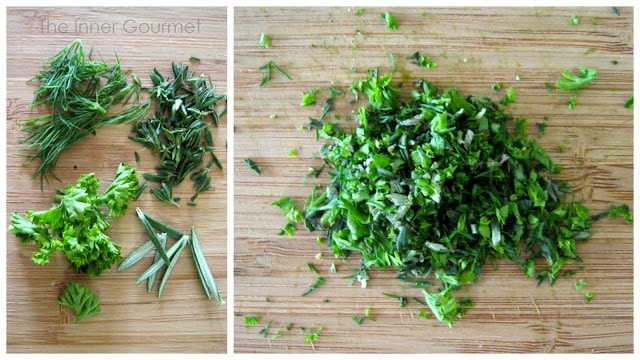 Finely chop garlic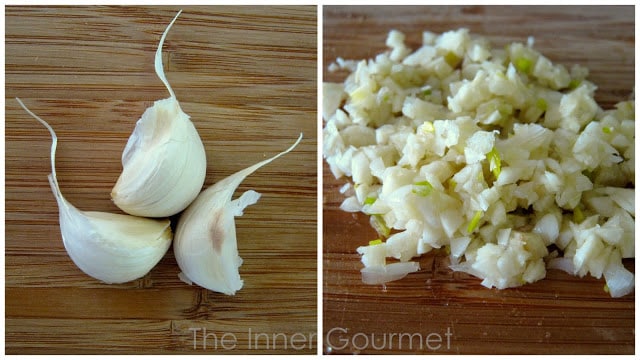 Add spices and herbs to the cream and simmer on the stove until the cream is warm about 5 minutes.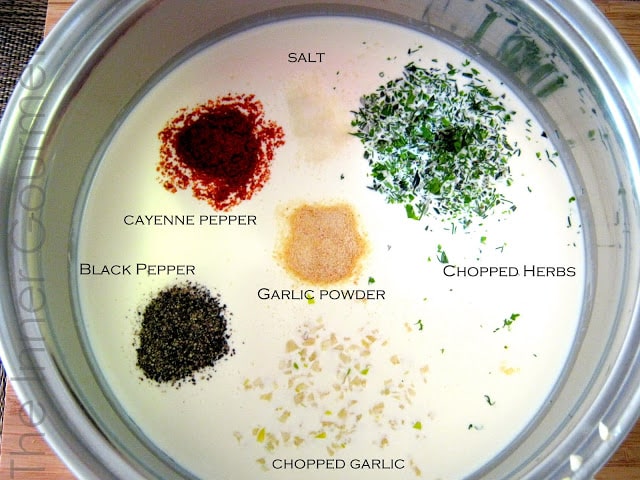 Begin layering potatoes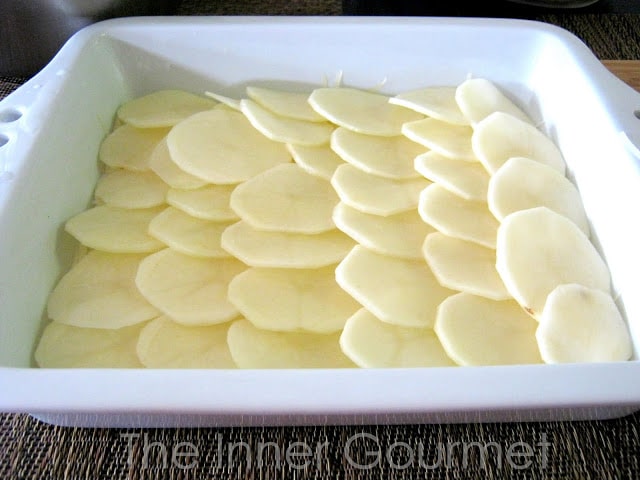 Remove cream from stove top and add a little bit of mixture to the first layer.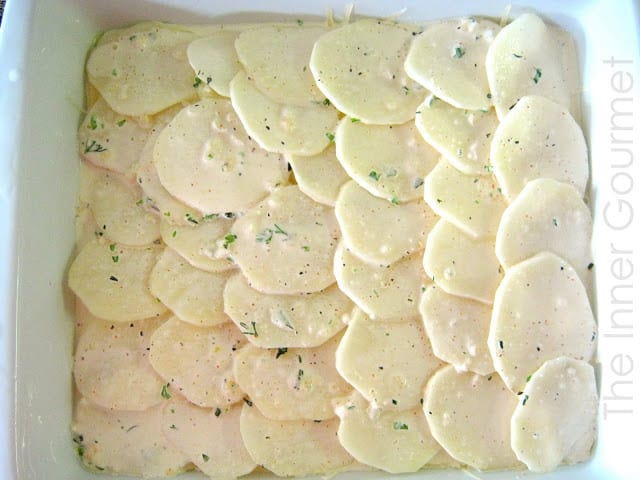 Now sprinkle some parmesan cheese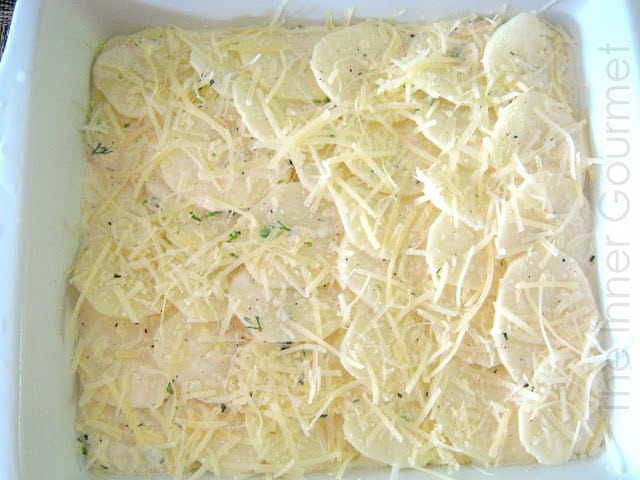 Continue to layer until all potatoes have been used up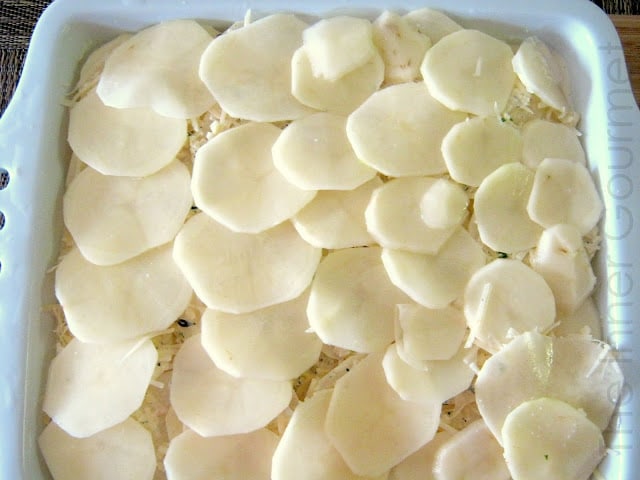 Dash some paprika or cayenne pepper on the top layer for color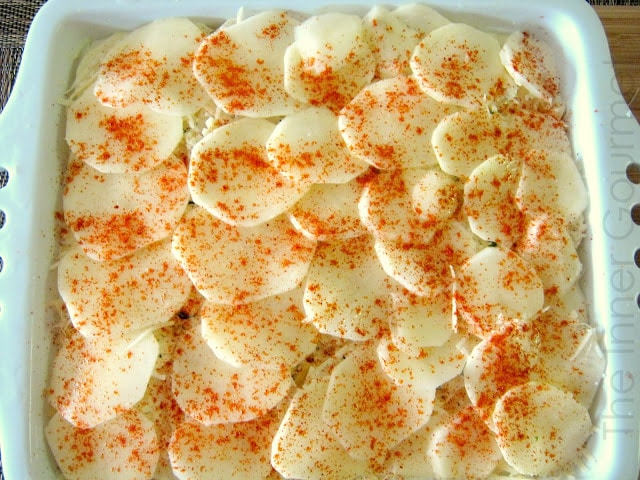 Add the rest of parmesan cheese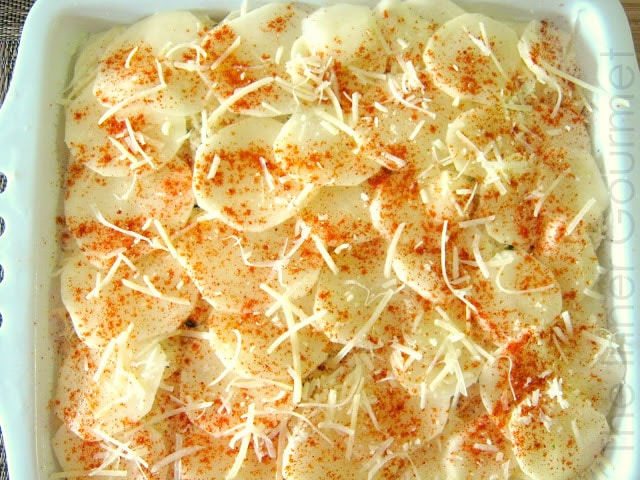 Bake for 55 minutes at 375 degrees. Broil for 2 minutes for the top to get nice and golden.
Spicy Scalloped Potatoes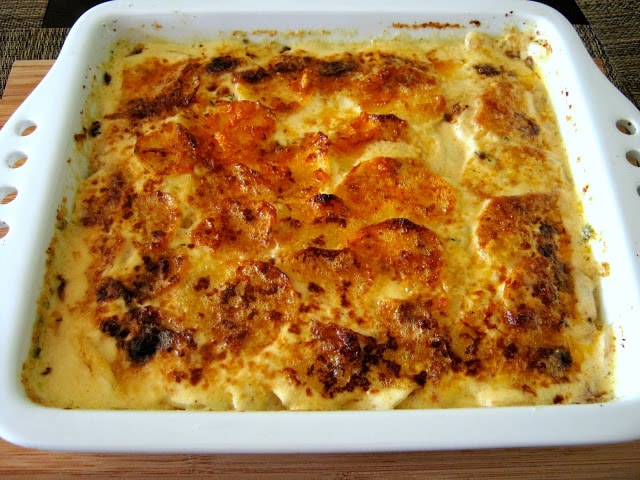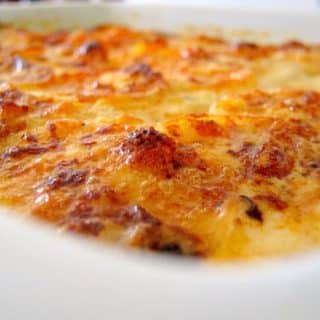 Spicy Scalloped Potatoes
Ingredients
2 lbs russet potatoes (about 5 potatoes)
1 ½ cups heavy cream
½ - ¾ cup Parmesan cheese
3 cloves garlic
2 sprigs thyme
2 sprigs dill
2 sprigs parsley
4-5 leaves of rosemary (not the entire sprig)
½ teaspoon cayenne pepper (you can add more if you like it really spicy)
½ teaspoon black pepper
½ tsp garlic powder
dash of salt
Instructions
Peel and slice potatoes. You can slice these by hand or use a mandolin which is the easiest way to get uniformed slices. Slice the potatoes to ⅛ inch thickness. Place potatoes in a bowl with cold water to prevent from browning.
Prepare the cream mixture by heating milk on low heat and adding chopped herbs, salt, garlic powder, chopped garlic, cayenne pepper, and black pepper. Let it simmer until for 5 minutes on low heat.
Butter a casserole dish and begin to layer potatoes. Pour a little milk over the first layer and then sprinkle some Parmesan cheese. Continue to layer until your milk mixture and potatoes have been used up.
Sprinkle a little paprika or cayenne pepper on the top layer then add rest of parmesan cheese.
Bake at 375 degrees for 55 minutes. Insert a toothpick into the center of the dish to make sure potatoes have cooked all the way through. If the top is not brown enough, turn the broiler on for 2 minutes to get a golden brown crust. Keep and eye on it since the broiler works quickly and can burn your potato dish easily!
I took this picture the next day after refrigerating the leftovers. It's easier to see the layers when the dish is cold. Enjoy!