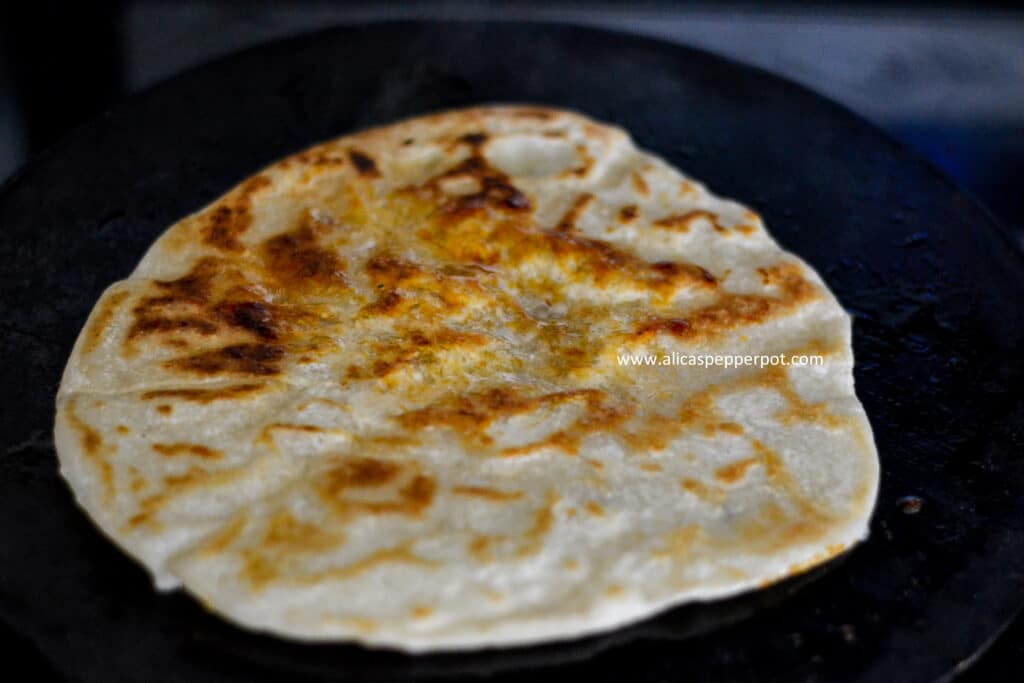 There are few foods that bring about a taste of my childhood. Tunnocks caramel, smarties chocolates, and mom's sugar roti. As a young girl there was nothing that made me happier than knowing my mom was making paratha roti for dinner. And my excitement had nothing to do with the paratha. It was because I knew after she was done clapping all the roti, a sweet one was coming- a sugar roti. A small roti filled with sugar, cooked until the sugar melted and eaten as soon as it was cool enough to not burn my tongue. I enjoyed it warm while it was crisp and with every crunch came a little drizzle of sugar running down my fingers.
As my brother got older, he looked forward to his own sugar roti so my mother would make three. One for him, myself, and one for her and my father which they would share. This is a roti that cannot be found at a roti shop. It is solely a homemade treat and I think there is so much love in that.
I had a difficult time figuring out how to write this recipe and the reason is because my mom never kneaded dough for just sugar roti alone. It is a roti that is typically made using a few small pieces of dough from the already kneaded paratha or sada roti dough. After kneading the dough for paratha, my mom would pinch off three small pieces of dough and set it aside. She would cook all the parathas first and after she was done, she'd cook the sugar roti last. Although this is a sweet roti, we always ate it before dinner. It tastes amazing warm and who would want to wait anyhow?
Method and tips
If you'd like to try making sugar roti without making a big batch of roti this recipe will give you about 2-3 parathas and a few sugar rotis. For the measurements of ingredients I halved the amount in my paratha roti recipe.
Pinch off as many pieces of dough for as many sugar rotis you'd like. Five pieces for five sugar rotis.
The ideal size should be a little larger than a golf ball.
I prefer using white sugar or light brown sugar. You may use demerara brown cane sugar, but it is very coarse and can pierce the dough when you're balaying (rolling it out). So just be careful.
Flatten each loi with your fingers before rolling. Go slow and make sure to keep your surface floured.
Mom always made our sugar rotis small and thin so it was crisp. Also our tawa is small so there's that.
After filling each loi, cook sugar rotis immediately. If you let the loi sit around, the gluten in the dough will relax and get soft and can possibly burst or tear when rolling or cooking.
Keep the tawa or skillet at medium low heat. You want the sugar to have time to caramelize on the inside without the outside burning.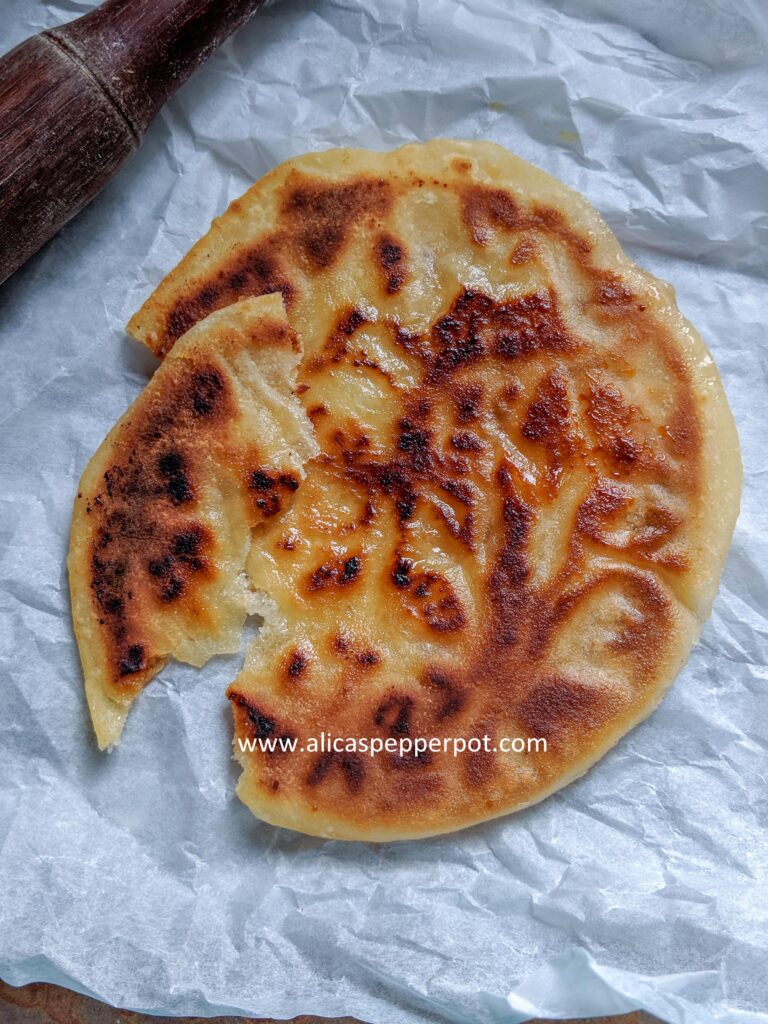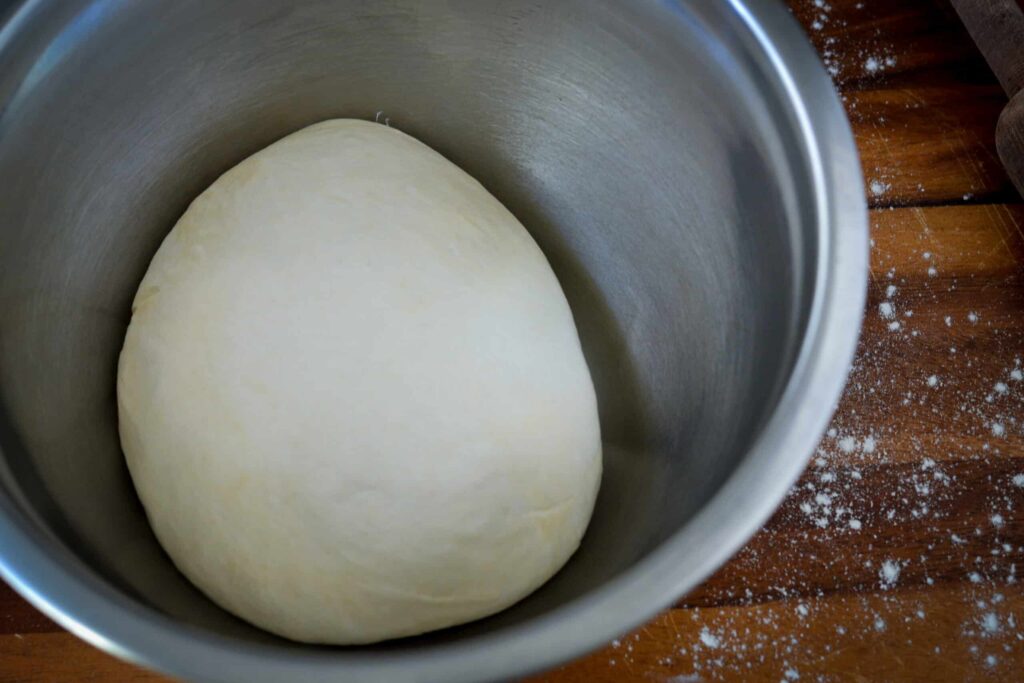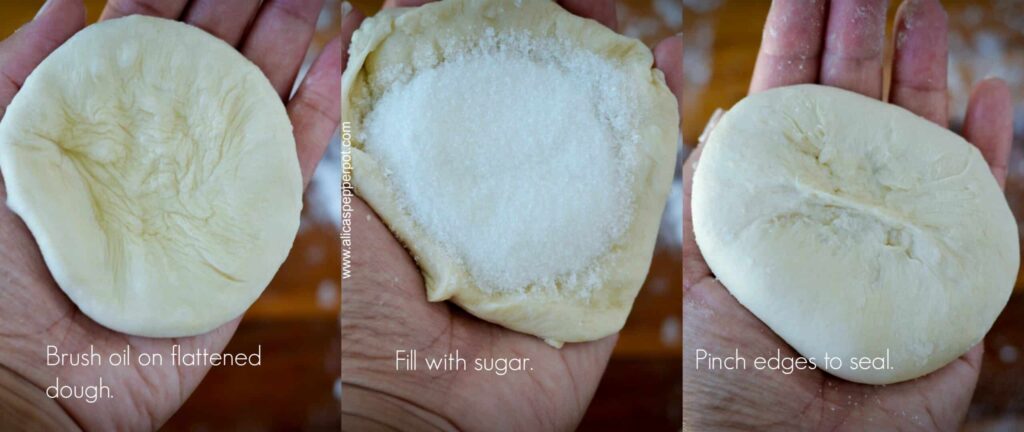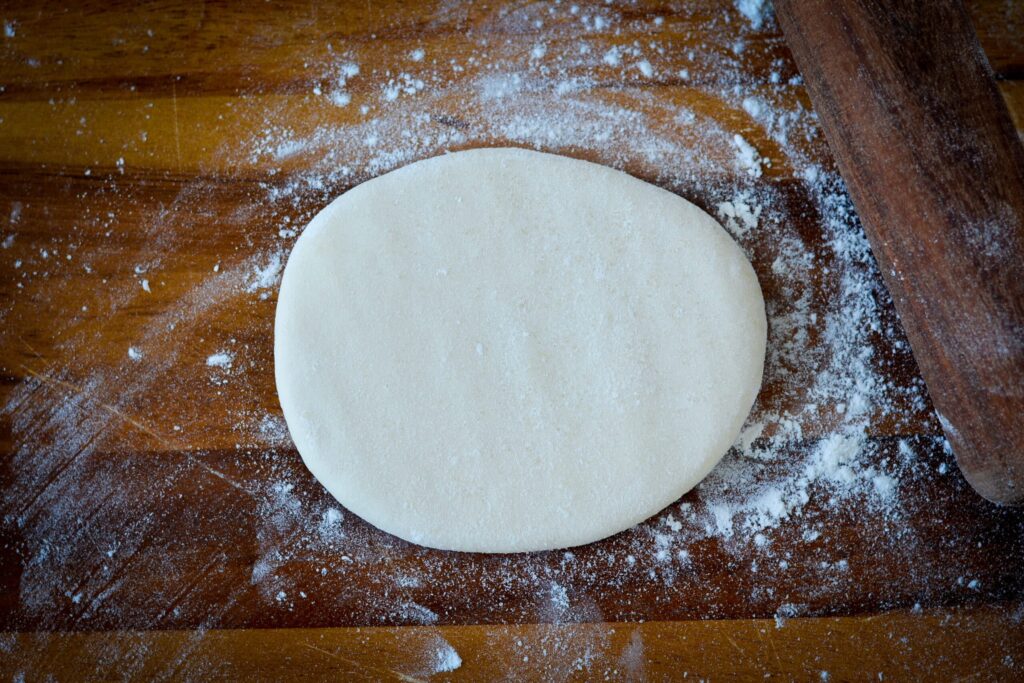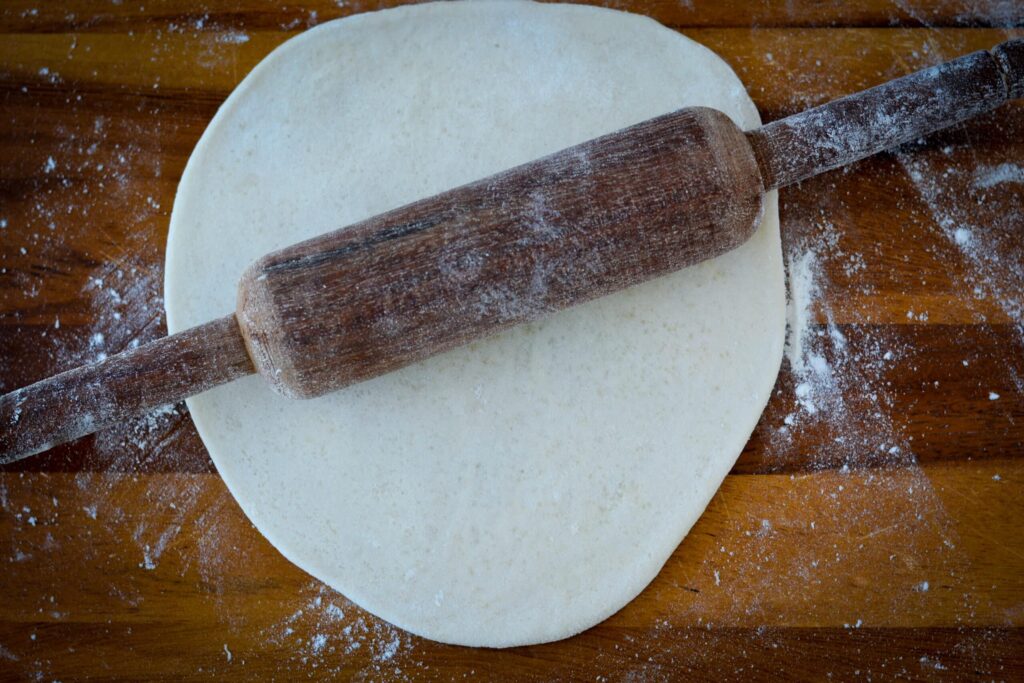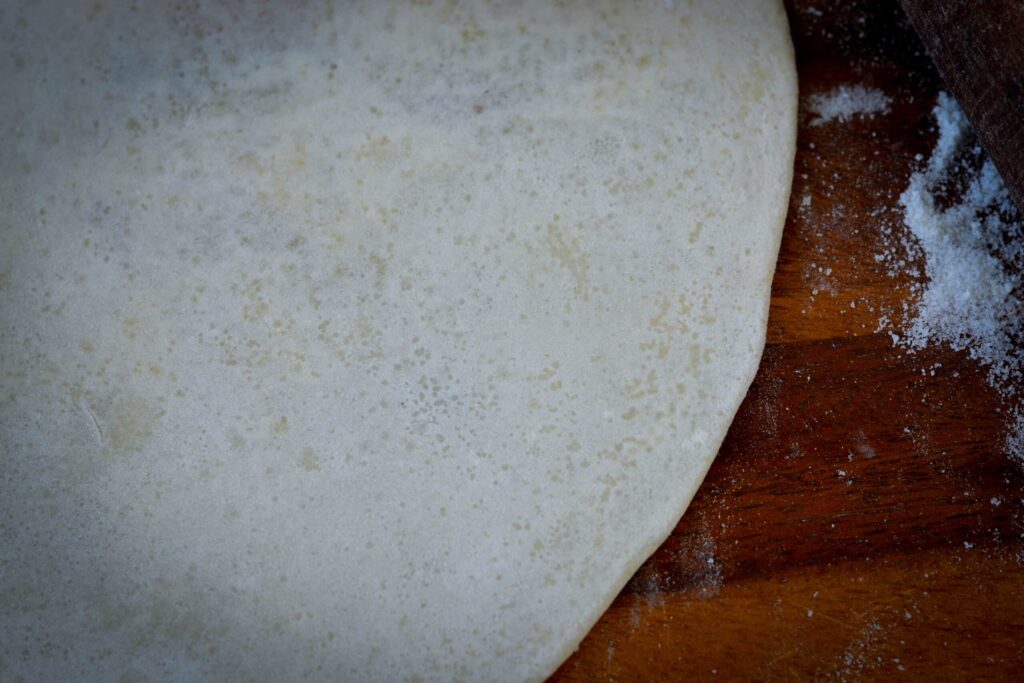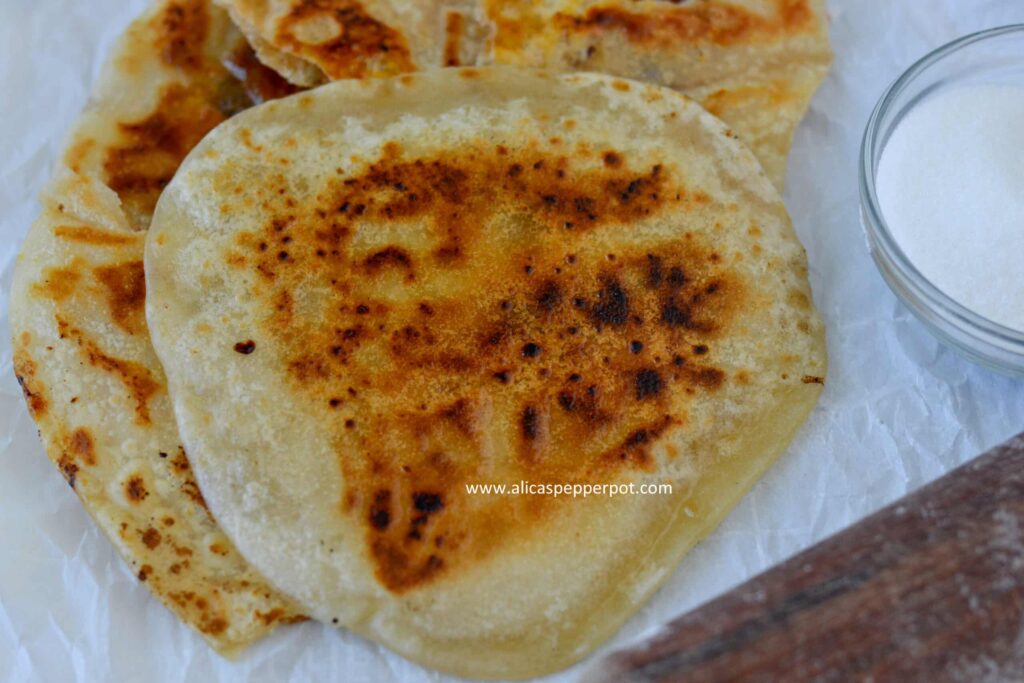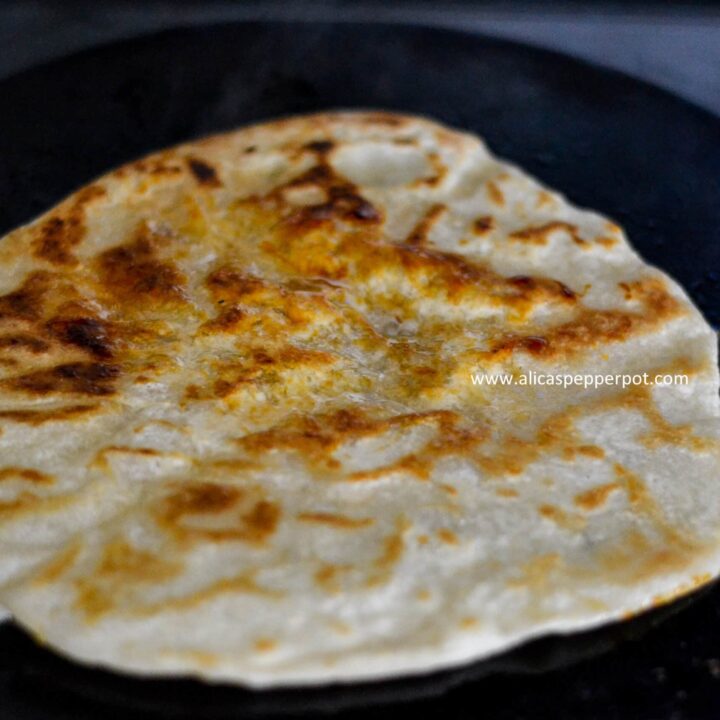 Sugar roti: A taste of my childhood
Yield:
2-3 parathas plus a few sugar rotis
Ingredients
1 ½ cups all purpose flour
½ tsp baking powder
pinch salt
½ tsp shortening (to rub in flour)
¾ cup water for kneading, more as needed
½ cup sugar, use as needed (white or brown)
¼ cup oil for cooking
Oil or butter for filling
¼ cup flour for dusting
Instructions
This recipe will make 2-3 paratha rotis plus a few sugar rotis. Make the parathas first. See paratha roti recipe for instructions. Follow below for sugar roti instructions.
Combine flour, baking powder, and salt. Add shortening and rub into flour mixture.
Add water and knead to form a smooth ball. Add more water or flour as needed to bring dough together. Rub top of dough ball with oil to keep from crusting then cover with damp paper towel.
Let dough rest for 30 min.
If you're making 3 sugar rotis, pinch off 3 small sized pieces of dough, a little larger than a golf ball. Set aside covered with damp paper towel.
Flatten each piece of dough slightly with your fingers. With flattened dough in one hand, brush with oil or softened butter then fill with 3-4 tbsp sugar. Pinch together edges tightly to seal. Roll loi (filled dough ball) in between hands to make round. Set aside.
Cook roti immediately otherwise the dough will relax and may burst when rolling.
Heat tawa or iron skillet on medium-low heat.
Sprinkle flour on your surface, slightly flatten each loi and roll gently. Roll one side then flip sprinkling flour as needed to keep from sticking to surface. Keep rolling and slightly stretching each time. Roll to about ¼ inch thickness.
Place roti on tawa, in about 30 seconds, before tiny bubbles begin to form, flip to other side and brush with oil. Flip back to first side and also brush with oil. Let roti cook a few minutes until brown patches form. Use your spatula to press down the edges.
Remove from heat and place on parchment paper. If placed on paper towel, any oozing sugar will get stuck on paper towel.
Let cool then break open and enjoy.