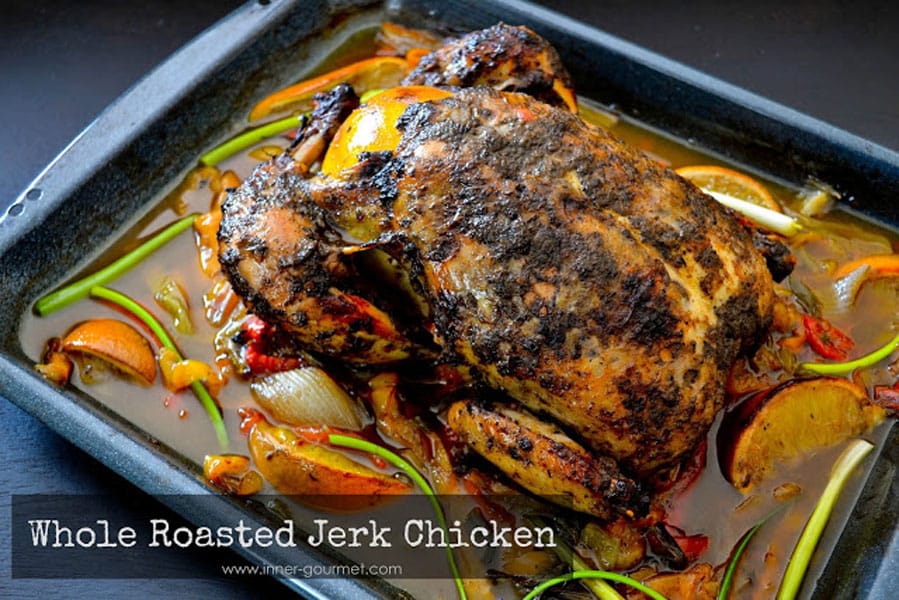 Christmas is right around the corner, I suspect many of you will be planning your menu this week. I hope this recipe makes its way to your dining room table. It will totally spice up your meal. Don't be put off by the color and charred look. Jerk spices are very dark due to the heavy amount of allspice, so when cooked, the seasonings show up looking burnt. However, charring on jerk chicken adds an extra bite and improves the flavor, especially if cooked on the grill. Trust me, you'll love it. And so will your guests. The only time my family makes a whole chicken like this is on a special occasion- mainly holidays. This year for Thanksgiving we were going to make these cute little Cornish hens. Since we were having a rather small affair. But my dad decided he wanted a whole roasted chicken. He was feeling festive I guess. My initial thought was, "oh gosh, more boring chicken." Boy was I wrong.
We had an unopened jar of jerk marinade in the refrigerator. I saw it and thought, why don't we just bathe the chicken in this stuff? We make jerk BBQ and baked jerk chicken legs pretty frequently. This would just be another version. My dad is the creative cook in my family, he's always willing to try something new and crazy. I am sure this is not a new idea. But for us, it was as we were so used to seasoning whole chicken the same way for years. My dad and I prepped the bird, added some oranges to the baste and some sweet peppers to offset the spicy flavor. Man, we couldn't stop eating it. It was that good, all on its own. It turned out to be an unexpected, juicy, twist to our spread. No regrets on the chicken this year, dad.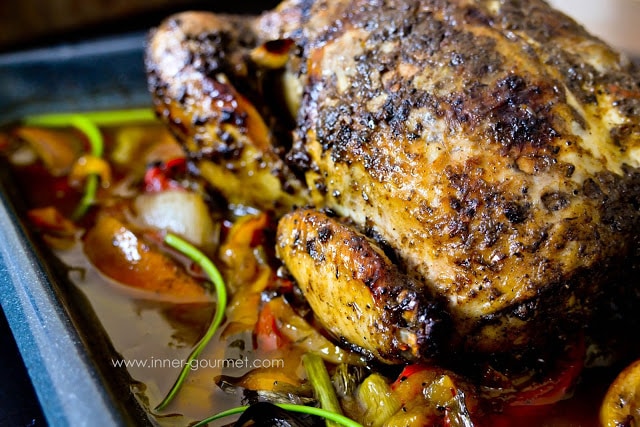 You can get creative here, add whatever you like to the roasting pan. Potatoes and other root vegetables will taste great laden with the juices of jerk chicken spices. Throw in some carrots or even chopped cassava. I love adding citrus to roasted chicken recipes. It gives the meat a nice fresh taste.
Whole Roasted Jerk Chicken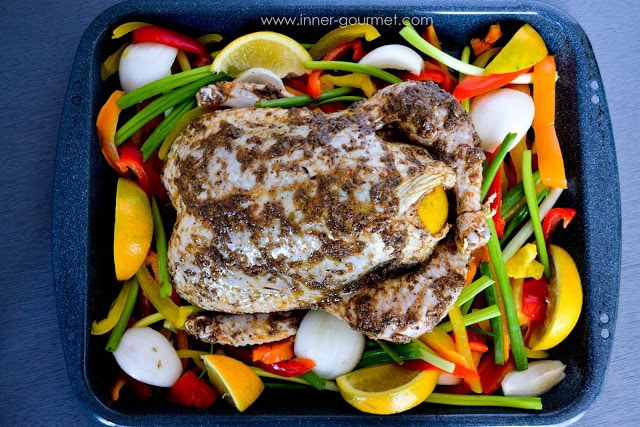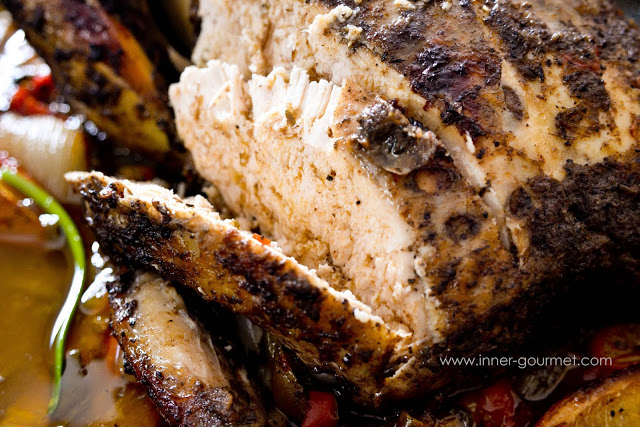 Whole roasted Jerk Chicken
This whole-roasted jerk chicken will add spice to your dinner table. It's a nice change from the usual roast chicken. Spice it up or tone it down as much as you like. Your guests won't be disappointed.
Ingredients
6lb whole chicken, cleaned
4 tbsp green seasoning
1 tsp paprika
1 tsp blackened seasoning
4 tbsp jerk paste/marinade (I prefer Walkerswood brand)
1 tsp salt
4 tbsp olive oil or melted butter
1 whole yellow bell pepper, sliced
1 whole red bell pepper, sliced
1 whole orange bell pepper, sliced
1 whole orange, for cavity
½ orange sliced, for pan
1 whole sweet white onion, quartered
10-12 scallions, chopped coarsely
Twine for legs
Instructions
Clean chicken and pat dry.
Season chicken with green seasoning, paprika, blackened seasoning, salt, jerk seasoning, and oil. Lift chicken skin (around breast area) and rub seasoning under the skin. Rub seasonings inside the cavity. Place chicken in large zip-lock bag or place in covered bowl and leave overnight in the refrigerator.
Pre-heat oven to 450 degrees.
Place orange inside the cavity of the chicken. Tie legs with twine.
Arrange bell peppers, orange slices, onion, and scallions in pan around chicken. Roast for 25 minutes at 450 degrees. After 25 minutes, lower heat to 375 degrees. Bake for 30-40 more minutes until chicken juices run clear when pierced or a thermometer reads 165 degrees.
Notes
Additional Tips:
Cooking times for this recipe is based on a 6lb chicken. If your bird is larger or smaller, adjust cooking times accordingly.
I prefer the Walkerswood brand paste in the jar.