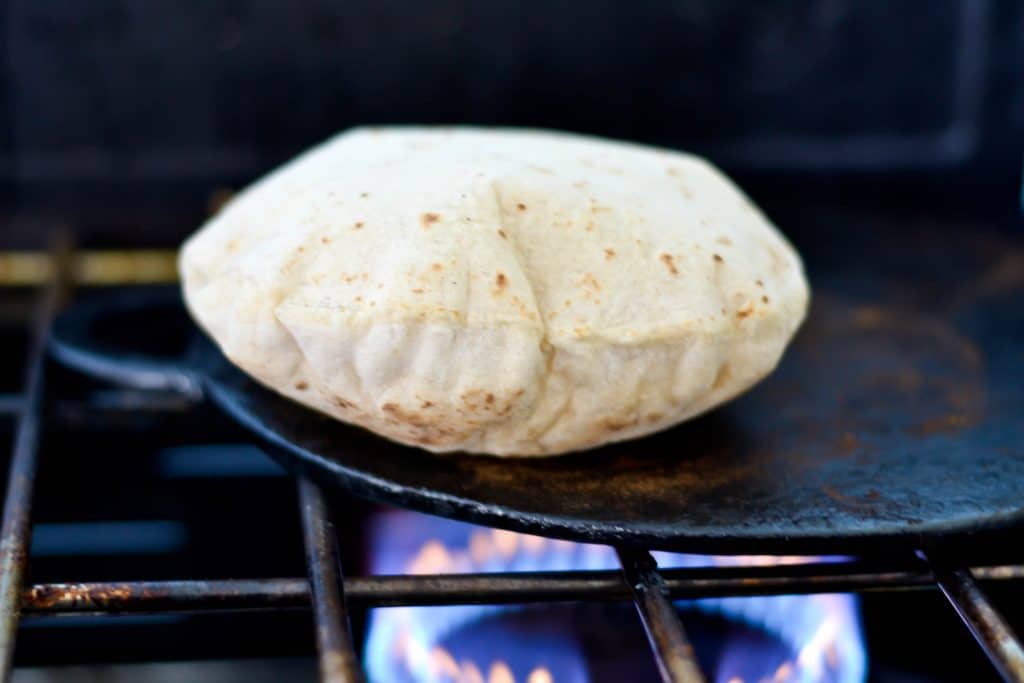 Weeknight for dinner and weekend breakfasts were the times we'd have sada roti with various cooked vegetables or fish. Although not as delicate as
paratha roti
, sada roti has its own glory. It is a hearty, rustic, and simple flatbread to make. Cooking it on the edge of a tawa imparts a great "roasted" flavor. If you've never had this roti before, I would compare it to a pita bread. Growing up, it was the first type of roti I learned to make.
I'm happy to share my mom's simple sada roti recipe. Follow this recipe exactly and you will be sure you achieve a soft and hearty roti. See an alternate recipe at the end for sada roti without baking powder.
Sada roti for weeknight dinner or weekend breakfast
On her way home from work, mom called and said, "knead the dough to make sada roti." A quick knead and rest, and the dough would be ready to cook in less than an hour- when she got home. Of the many type of rotis, this was the easiest to make during the week. Nowadays, we freeze the loi, thaw and cook it when we want it. It saves time and is efficient.
The aroma of this roti cooking woke me up on the weekends. Once it hits the fire, I knew it was done, and also time to get out of bed. I particularly loved having it with sardines and fry aloo. On many occasions mom made it with a hot pot of dhal and that was enough for our bellies. As another option, my father loves to spread peanut butter on his sada roti and have it with a cup of tea for breakfast.
Sada Roti served alongside fried potatoes is a popular breakfast meal in Guyanese cuisine. "Fry"(as most Guyanese would say), potatoes are sliced potatoes sautéed with onions, pepper, and dry seasonings.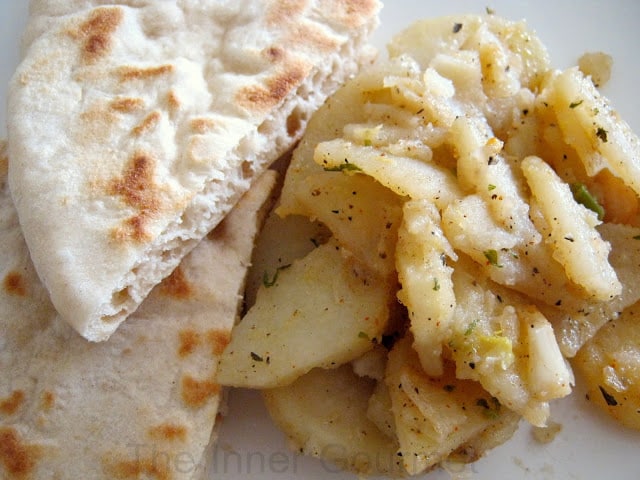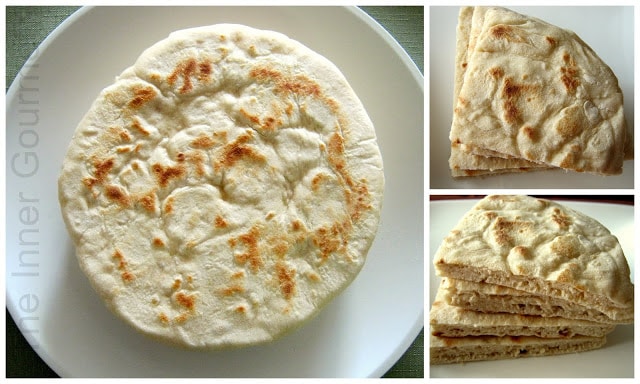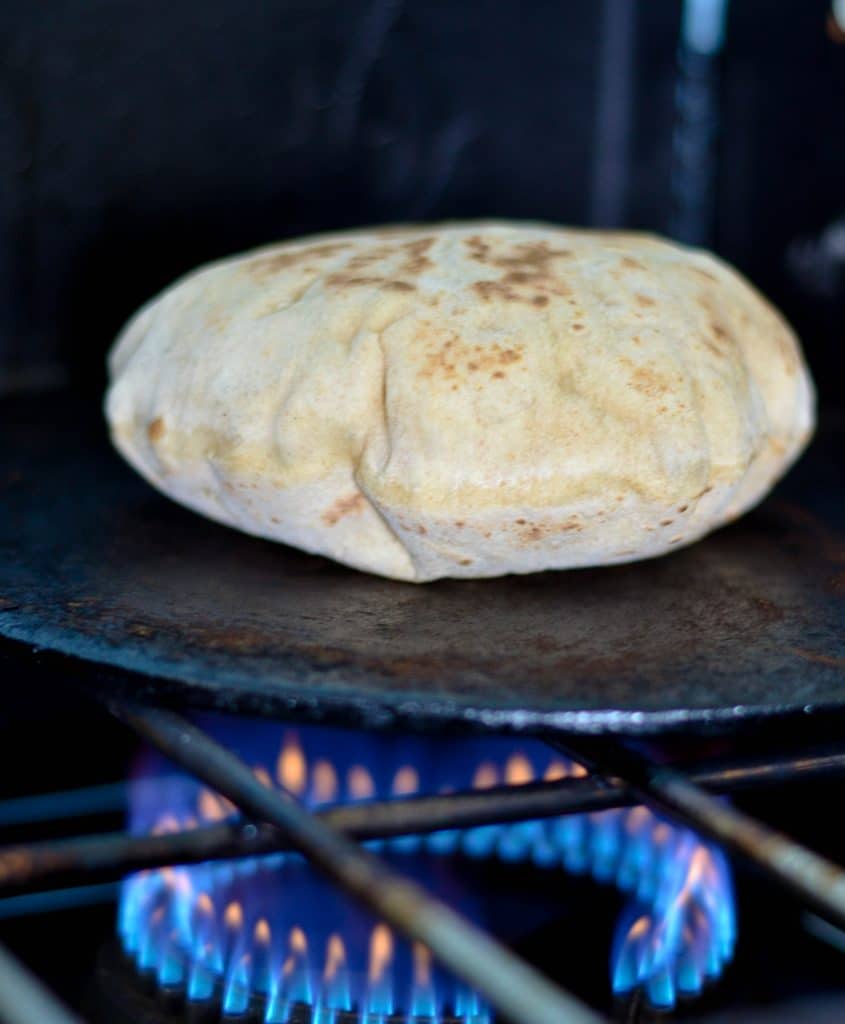 Cooking on the tawa
This flatbread is traditionally cooked on a cast iron skillet known as a tawa. The roti dough is rolled to desired thickness then placed on the hot tawa. My mom cooked the roti mostly on the edges of the tawa. It would result in a nice charred taste. The direct heat from the fire also helped the roti raise rather rapidly. If you do not own a tawa, a Lodge cast iron skillet can also work.
Start with 3 cups flour, add salt and baking powder. Add shortening or butter after sifting flour. Mix in well.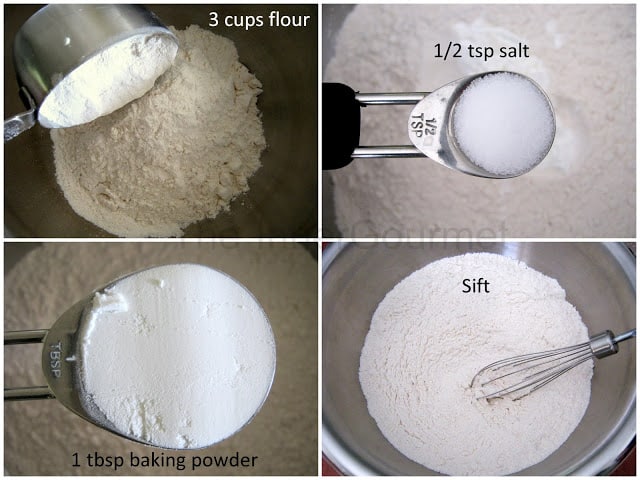 Add 1 ¼ cups water and knead to form a dough ball.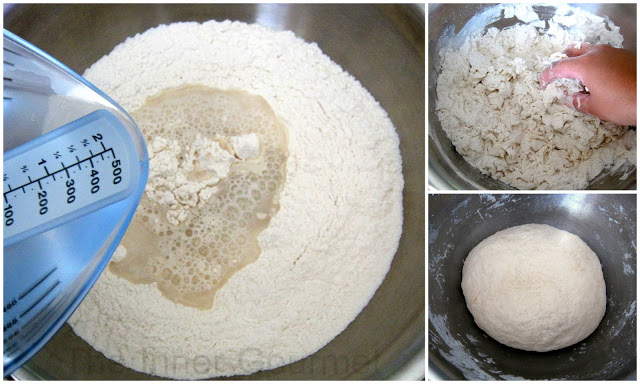 Cut dough ball into quarters and follow steps to form into smaller balls.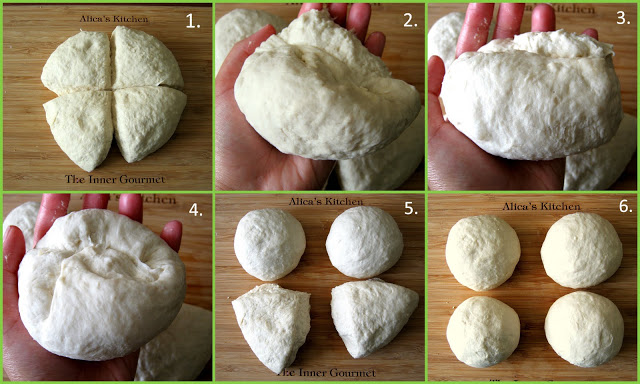 Rub some oil on the top of each dough ball and cover with a towel. The oil will help prevent a hard crust from forming while leaving the dough to rest. You may also cover with a damp paper towel to keep the dough from crusting.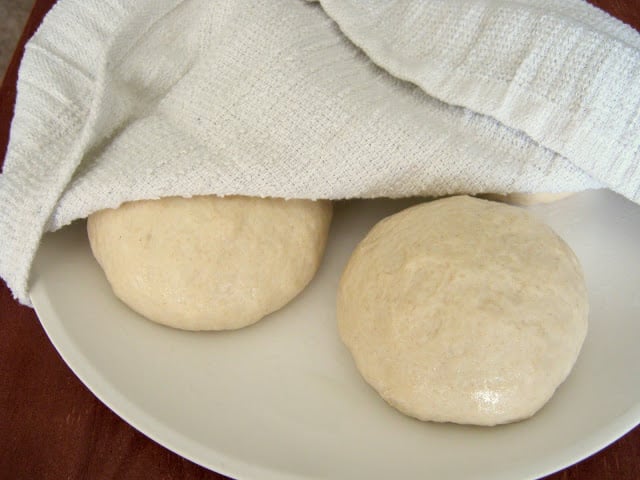 After about 20-30 minutes you will see dough flatten out. This is because the gluten developed and had a chance to relax.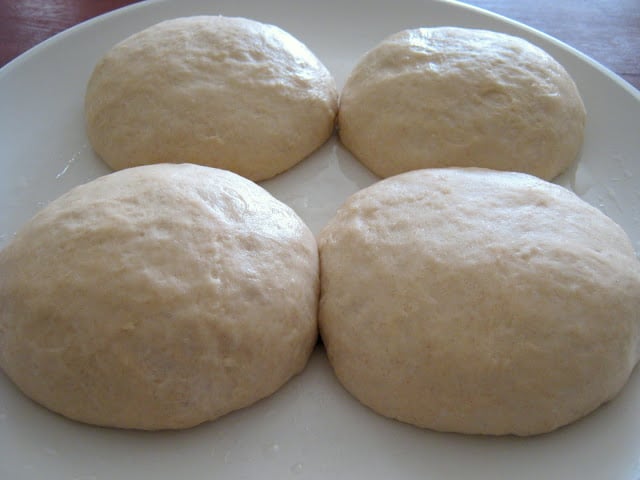 Flour a surface to roll dough. If you like a thicker sada roti, roll to ¼ inch thickness. Otherwise, roll to ⅛ thickness. Roti will swell while cooking.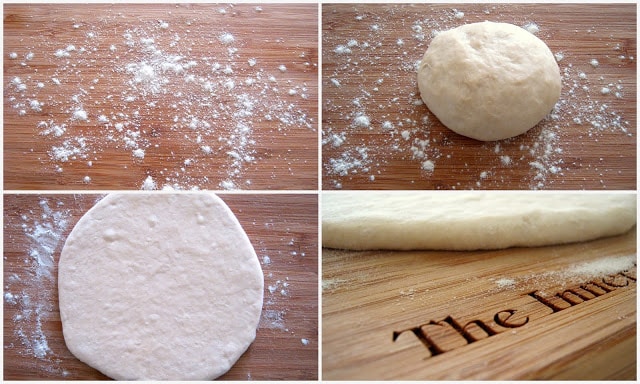 Heat tawa to medium-high and place roti to cook. When it starts to form large bubbles, flip roti to cook the other side.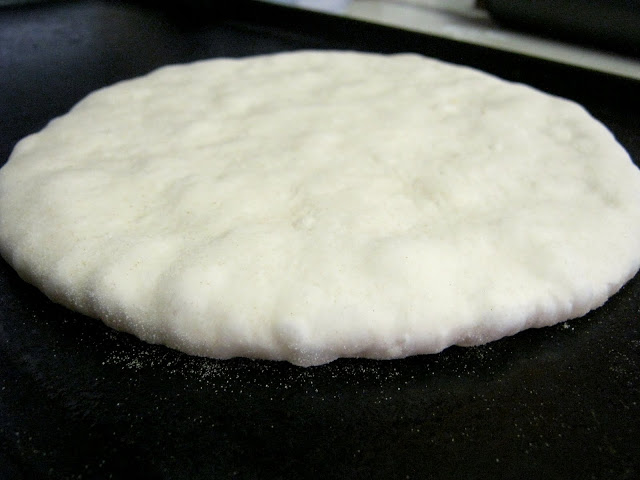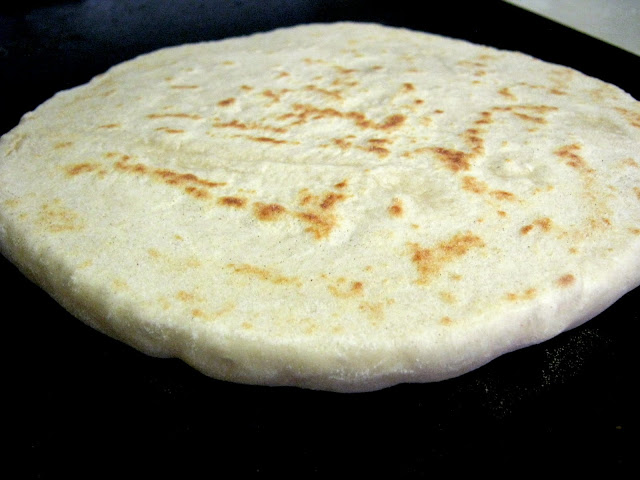 Place roti on the edge of the tawa and turn clockwise over fire. Roti should begin to swell. Keep the roti moving over the fire to help it swell. Roti will swell and may burst due to a concentration of steam. If it did not swell while cooking on the tawa, place roti in the microwave for about 10 seconds or until it swells. Continue this process for each roti. Enjoy!
Using an electric stove?
If you are working with an electric stove, cook roti on tawa as directed, if it did not swell, transfer to the microwave after both sides are cooked. Alternately, you can place roti under broiler in oven for a few minutes until it swells. Leave oven door slightly open so you can keep an eye out.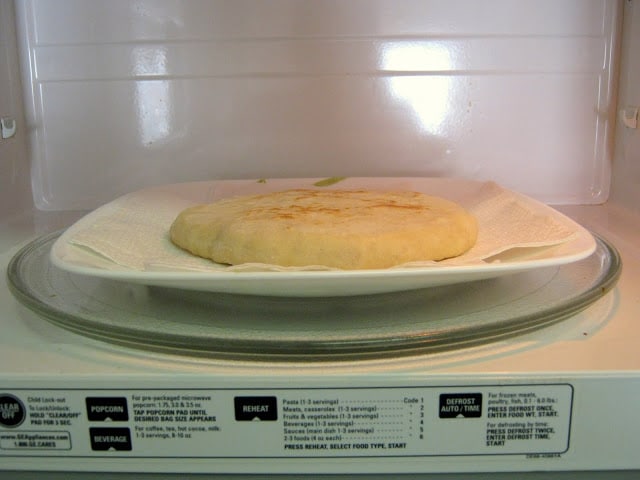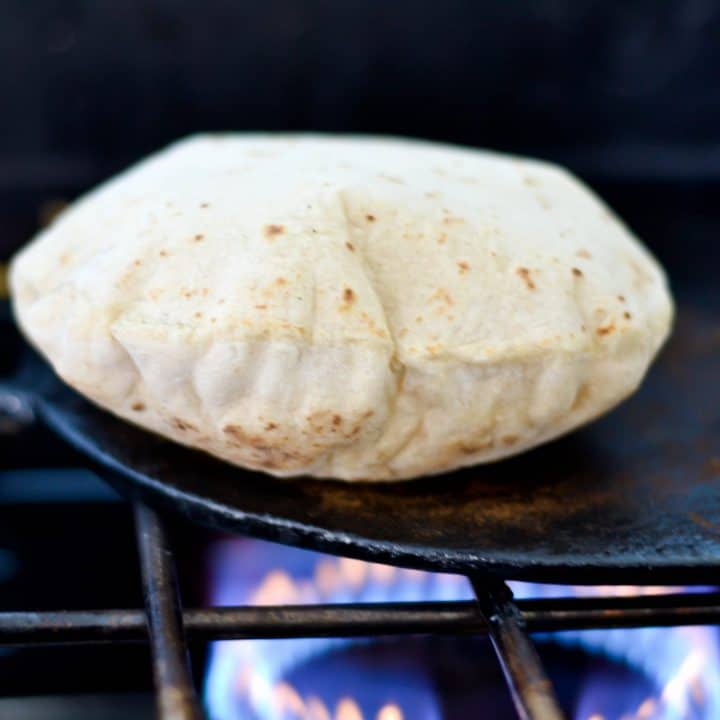 A Guyanese Flatbread: Sada Roti
Total Time:
1 hour
5 minutes
Try this delicious and simple to make roti. Cook it on a tawa for that roasted flavor. Serve with your favorite fish or vegetable dishes.
Ingredients
3 cups flour (may substitute 1 cup whole wheat flour for healthier option)
1 tablespoon baking powder
½ tsp salt
1 tbsp butter or shortening
1 ¼ cups water (add more if needed)
oil to rub on top of dough ball
Alternate Recipe - This recipe will guarantee your roti will "swell" every time due to the use of self-raising flour.
2 cups self-raising flour
1 cup whole wheat flour
¼ tsp salt
1 tbsp shortening
1 ¼ cup water to knead
Instructions
Sift flour with baking powder and salt.
Mix shortening or butter into dough. Use your fingers to mix in until small crumbs form.
Add water a little at a time and knead to form a dough ball.
Cut dough into 4 or 5 pieces. Form into a smaller round dough ball.
Rub a little bit of oil on a plate and also rub a little oil on the top of each dough ball and place in the plate to rest for about 20-30 minutes. Cover the dough with a damp paper towel.
Heat a cast iron skillet, pan, or tawa to medium high heat while you start to roll our the dough.
Flour a surface and use a rolling pin to flatten roll each dough ball to about ⅛ inch thickness. If you like a thicker sada roti, roll dough to a ¼ inch thickness.
Place on the skillet and once you see large bubbles forming on the top, flip to cook the other side.
Roti should swell into a ball while cooking if it doesn't, place sada roti on a plate and put into the microwave for about 10-15 seconds. This will cause the roti to swell and create a pocket in the middle. If you own a tawa, you can cook the roti on the edge of the tawa so that the fire heats the edges and allows the roti to swell.
Serve roti hot and enjoy!