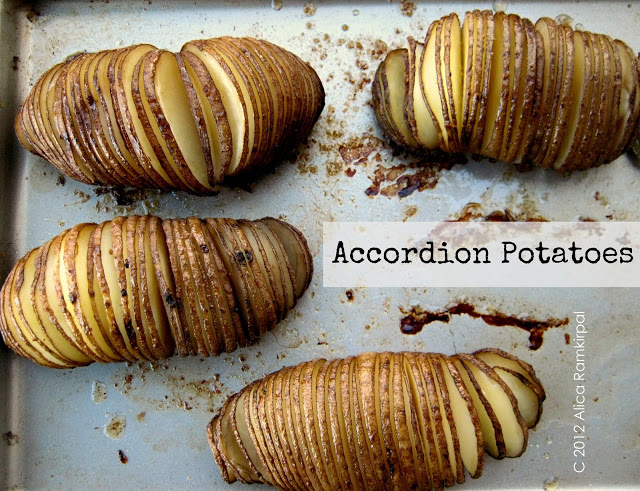 When I first saw these potatoes, I couldn't wait to make them. I came across the recipe on one of my favorite food blogs,
Almost Bourdain
. The idea is so simple; scrub, slice, season, bake. Somehow, it still only took me about a year to get around to them. The trick in getting these potatoes to fan out so beautifully is to not slice them all the way through. I think they are stunning visually and they taste equally as good. Don't you just love it when your taste buds meet your eyes' expectations? By now, most of you know that I love potatoes; sauteed, fried, roasted, steamed, and especially baked. There can never be enough potato recipes for me, or enough ways to present them.
With Thanksgiving nearing the corner, I wanted to share this option with you for a side dish. I will be making these this year instead of my scalloped potato dish.
Here are some additional potato sides to choose from for your Thanksgiving spread this year: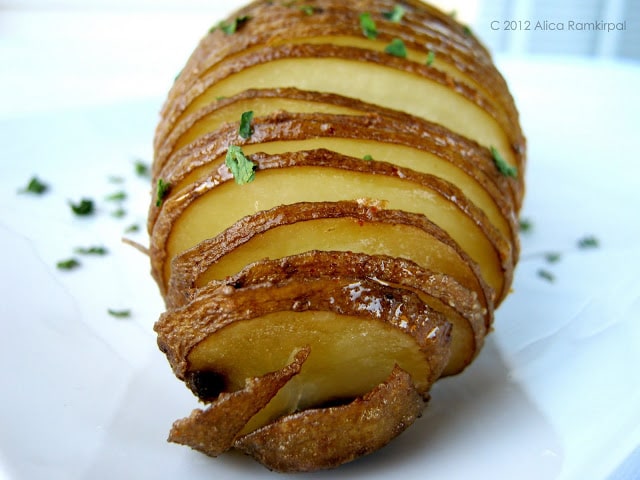 Use desired number of potatoes. Scrub the extra dirt off of them and rinse. Use a large spoon to cradle the potato before slicing. This will prevent you from cutting the potato all the way through. Cut thin slices, being careful not to cut through at the ends. I recommend using a very sharp knife for this step.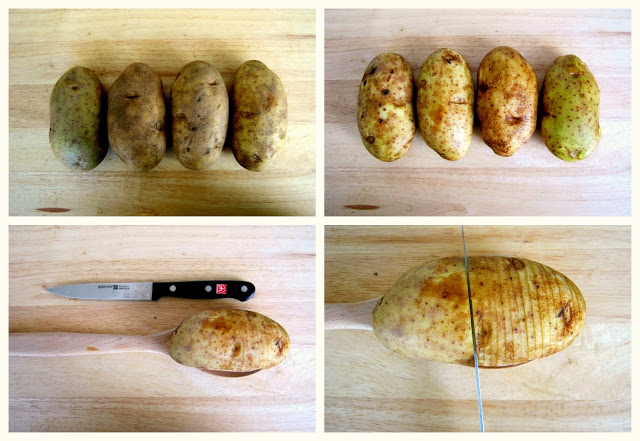 Can you see how the slices didn't go all the way through?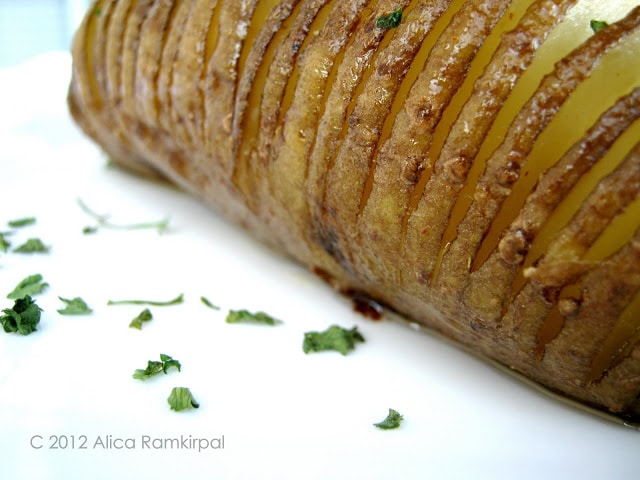 Place on a baking sheet and get ready to baste.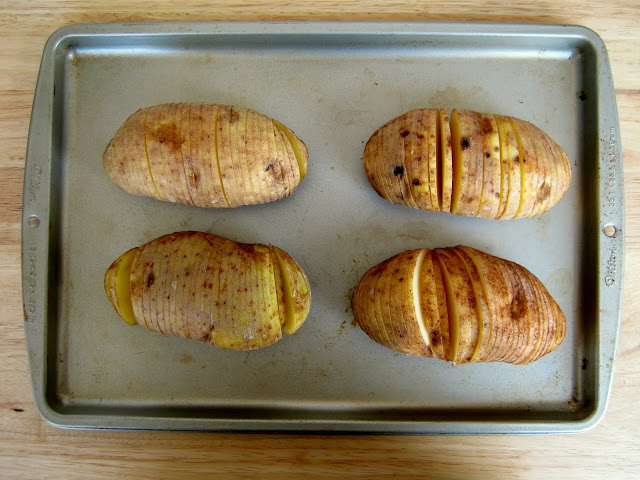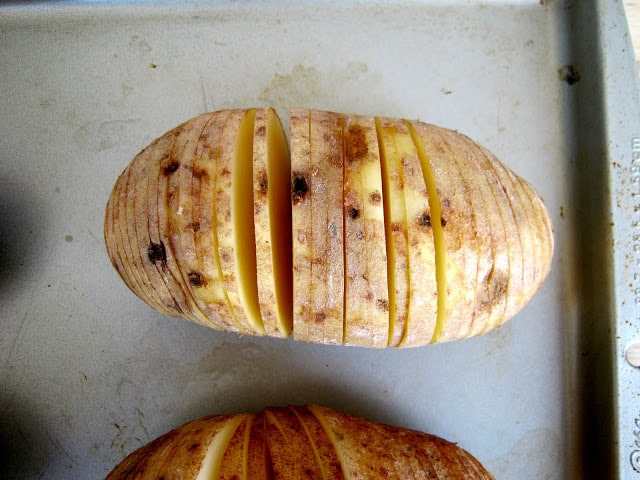 You can use melted butter or olive oil to baste the potato. I used 3 tbsp melted butter for 5 potatoes. Season the butter however you like. I threw in a dash of cayenne pepper and garlic powder.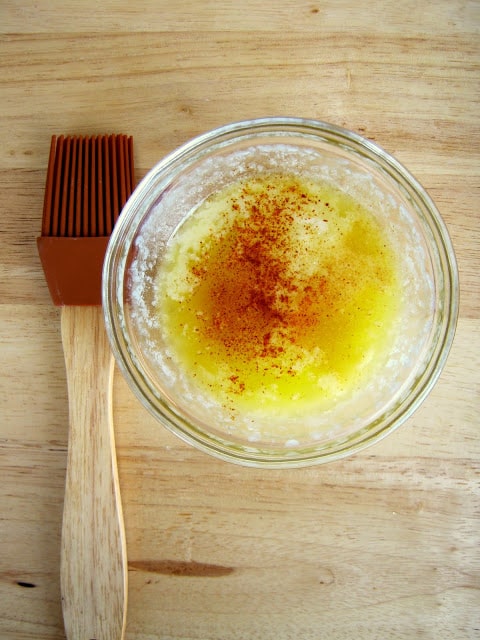 Brush the tops, sides, and insides of each potato. Try to get in between as many slices as you can.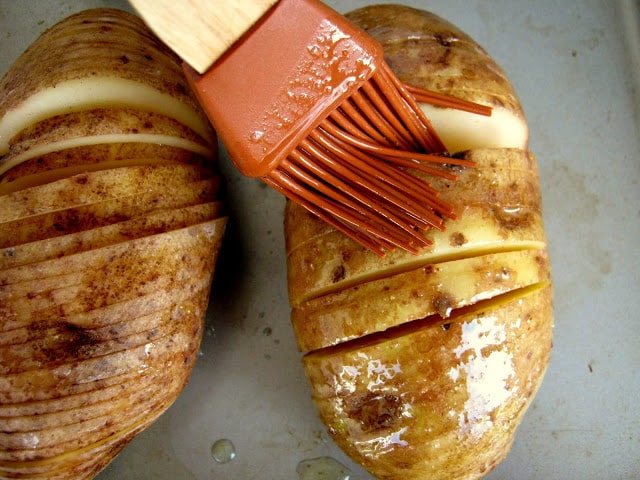 Bake at 350 degrees for 45 minutes to 1 hour.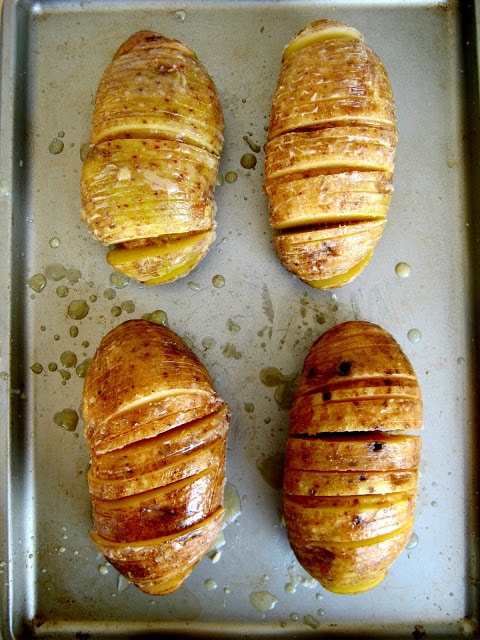 Top as desired. Sour cream, butter, chives, cheddar cheese, parmesan, you decide.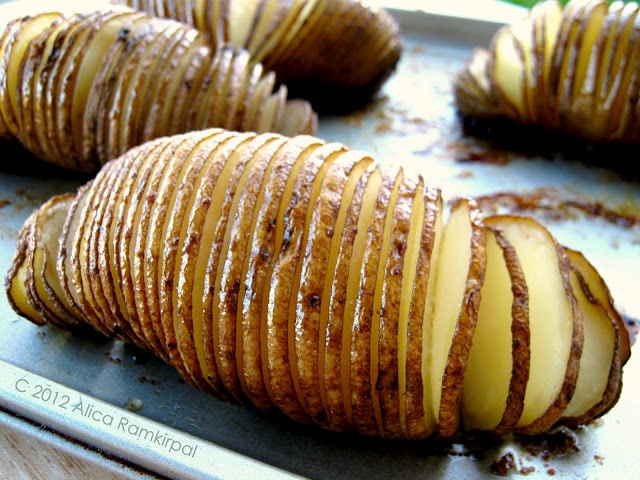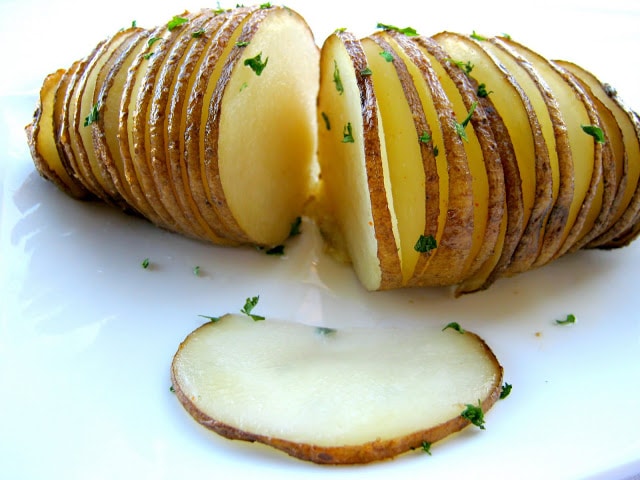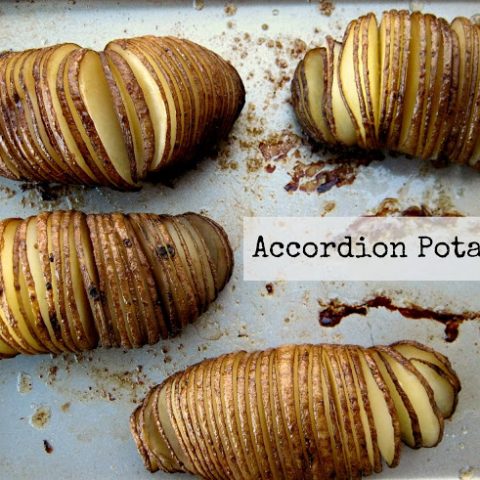 Accordion Potatoes
Ingredients
4-5 russet potatoes
3 tbsp olive oil or melted butter
dash of garlic powder
dash of cayenne pepper
Salt to taste
Instructions
Preheat oven to 350 degrees.
Scrub each potato and rinse.
In a large spoon, cradle each potato and slice thinly, but not all the way through.
If using melted butter or olive oil, mix in garlic powder and cayenne pepper.
Brush potato with oil/butter. Try to get in between slices.
Place on baking sheet and bake for 45 minutes to 1 hour. Test doneness by piercing bottom with a fork.
Serve warm and add desired toppings such as sour cream, chives, or cheese.
Notes
If you don't have a potato scrubber, you can use a balled up piece of aluminum foil. This works well as a scrubber.
Potatoes are very stiff when raw, so a very sharp knife should be used to cut slices.
The thinner the slices the more accordion-like the potato will look.
Seasonings can be altered to your liking.
These potatoes are best enjoyed right out of the oven. Wrap unused potatoes in foil and reheat in oven when ready to consume.