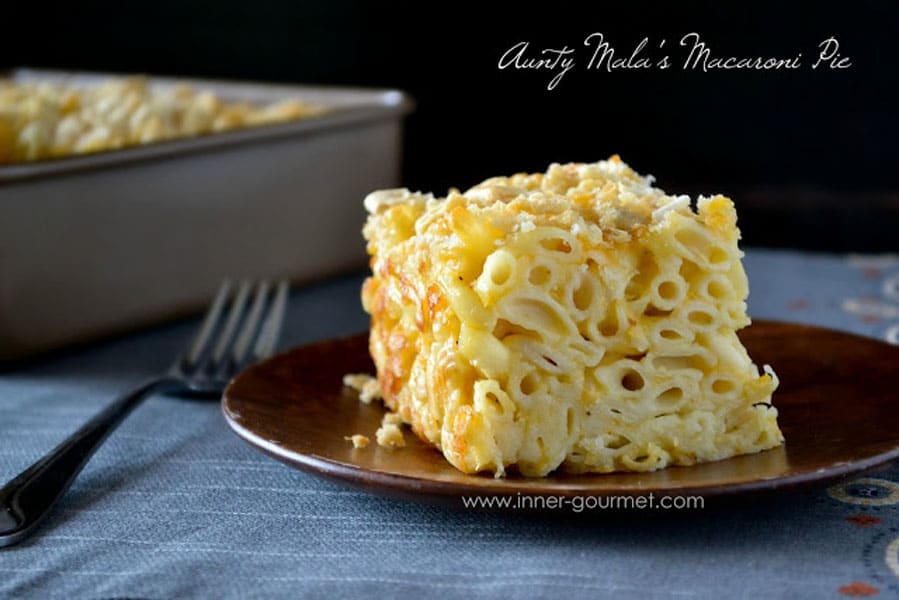 Everyone, meet aunty Mala. She is my mom's younger sister. She's 5'7 and an Aquarius. She's also an awesome cook. She was a late bloomer, though. She didn't cook much growing up, but like many of us, she learned as she got older, and especially after she became a mom. Aunty Mala had no idea how mature her taste buds were until she started to cook for her family. She just kind of knows what goes where in the pot.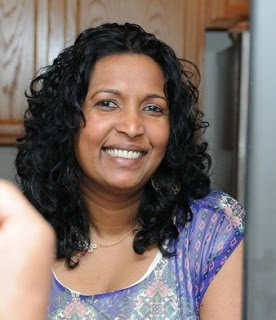 One of my favorite dishes she makes is this macaroni pie. It's a favorite of mine and everyone else that tries it. There are a few things I've noticed that makes this pie different from other recipes I've seen. Aunty Mala always uses elbow shaped macaroni, pepper jack cheese, scallions, and warmed seasoned milk. The cracker crust is also a must. It's tangy, spicy, and comforting. This is her exact recipe. I've made no modifications; no substitutions. It's so good that it deserves its own space on the world wide web.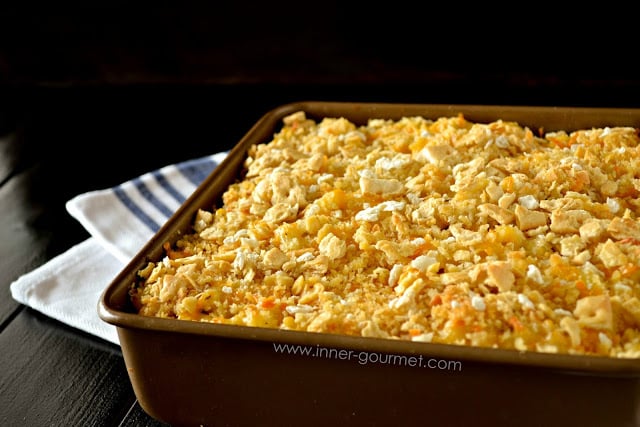 These are the main ingredients.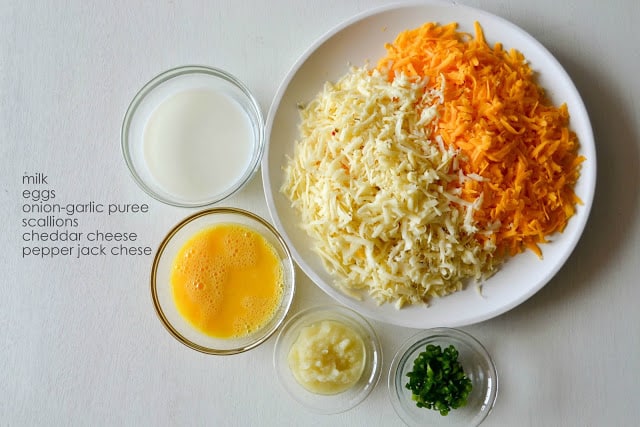 1. Cook noodles. After draining, return to pot.
2. Add seasonings to the warm noodles.
3. Add seasonings and scallions to milk and warm on the stove top.
4. Pour warm milk over noodles. Stir to coat noodles. Taste noodles at this point to see if there are any other seasonings you'd like to add. A pinch of salt, maybe? Perhaps a tad more black pepper?

5. Beat eggs in separate bowl, add to noodles and mix well.
6. Add a handful of each cheese to pot, continue to add a little at a time until all cheese is used up.

7. Stir cheese and noodles together until cheese becomes stretchy, but not completely melted.
8. Prepare three bowls with topping. Cheese, panko, and crushed crackers. In that order.
9. Add cheese first. Sprinkle evenly over top.
10. Add panko breadcrumbs. Sprinkle just enough to cover.
11. Lastly, add crushed crackers.

Cover with aluminum foil. Bake at 350 degrees for 35 minutes. Remove foil and bake an additional 10 minutes or until top is golden brown.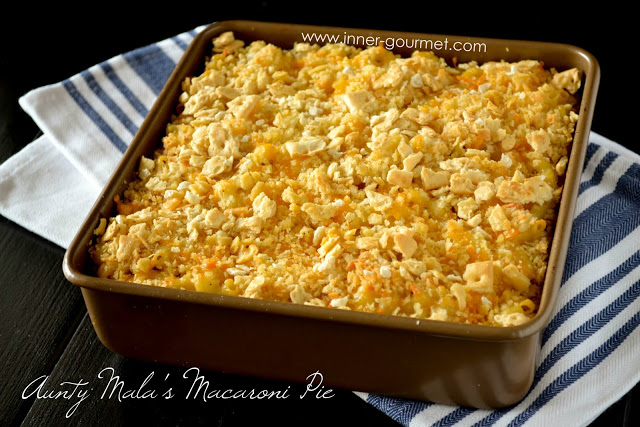 Using a muffin pan for mini individual pies is a great alternative to making a family style pie. I envision your guests just grabbing one and having it as an appetizer or as a side dish to their entree. Lightly spray the crevices with oil or rub in a little butter. Fill each slot to the rim with macaroni.
Top the same way. Cheese. Panko. Cracker.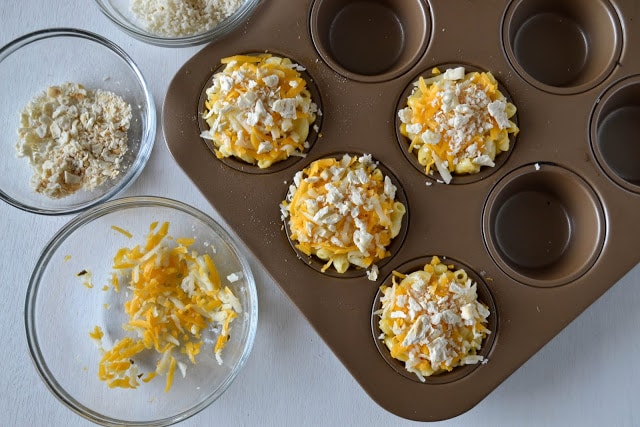 Bake for 20 minutes covered with aluminum foil. Remove foil and let brown for 10 minutes.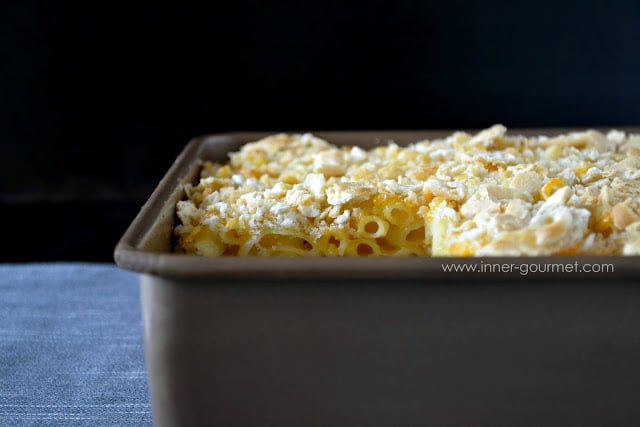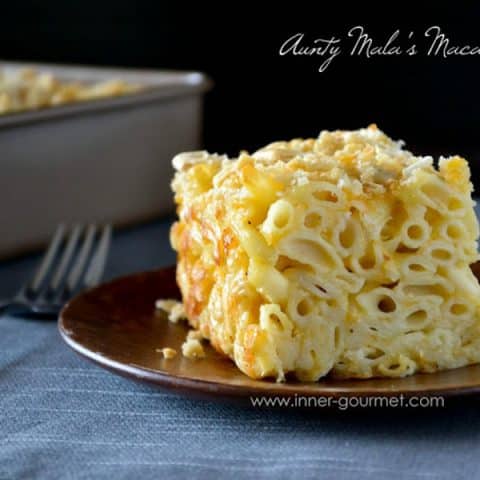 Aunty Mala's Macaroni Pie
Yield:
Makes one 9in pan or one standard size aluminum foil pan
Ingredients
Noodles
1lb box of elbow macaroni
½ tsp black pepper
½ tsp seasoned salt
¼ tsp garlic powder
¼ tsp cayenne pepper
2 eggs, beaten
1 tsp onion-pepper-garlic puree
8oz pepper jack cheese
8oz sharp or extra sharp cheddar cheese
wiri wiri or scotch bonnet pepper, finely chopped (optional)
Milk mixture
¾ cup whole milk
2 sprigs scallions, finely chopped
½ tsp seasoned salt
½ tsp black pepper
1 ½ tsp onion-pepper-garlic puree
pinch of vegetable bouillon
Topping
½ cup plain panko breadcrumbs
8 unsalted crackers, crushed
A handful or two of shredded cheese, reserved from batch above
Onion-garlic puree
1 yellow onion, chopped
8-10 garlic cloves
2 wiri wiri peppers or 1 scotch bonnet
A few tablespoons of water
Instructions
Directions
Shred cheddar and pepper jack cheese, set aside. Remove a handful or two and reserve for topping.
Blend onion, garlic, and pepper with a few tablespoons of water until mixture is smooth. Remove 2 ½ tsp from the mixture. Refrigerate remainder for use another time.
Beat eggs set aside. Chop scallions set aside.
Boil noodles according to package directions. Drain and return noodles to the same pot.
Season noodles with black pepper, seasoned salt, garlic powder, cayenne pepper, 1 tsp onion-pepper-garlic puree.
Add scallions, seasoned salt, black pepper, onion-garlic-pepper puree to ¾ cup milk. Warm on the stove top.
Add milk to noodles, stir. Add eggs next and mix well. Add cheese a little at a time, continue to mix until cheese becomes stretchy.
Transfer noodles to desired baking pan. Sprinkle reserved cheese on top followed by panko breadcrumbs, then crackers.
Cover pan with aluminum foil. Bake at 350 degrees for 35 minutes. Remove foil after 35 minutes and return to oven for additional 10 minutes for the top to brown. If using muffin tins bake at 350 for 20 minutes, remove foil and return to oven for additional 10 minutes until golden brown.
Notes
Variations/Tips:
This is her method. You can keep the method and change the ingredients to suit your tastes. 
Using good quality cheese yields a really tasty pie. I love using gourmet sharp cheddar that has been aged a few years. The tangy really comes through and takes this pie up another notch. 
Feel free to play around with different types of cheese.  Any cheese that melts well would work great here. 
You can purchase pre-shredded cheese to save time.
Store remainder of onion-garlic-pepper puree in the refrigerator for use another time.  This is great to season rice, meats, and fish. 
If spicy is not your thing, then omit the cayenne pepper as well as the pepper from the onion-garlic puree. 
The warmed seasoned milk is a crucial step. It ensures every noodle gets coated and seasoned. Make sure not to boil.  As soon as you see the milk has scalded on the top, remove from heat. Scalded means when you see a film form over the milk.
Aunty Mala uses Adobo as her choice of seasoned salt. Lawry's a good option as well. 
Using a different shape of pasta does change the dynamic of this dish a little. Using rigatoni is a larger noodle so will require a little more seasoning. If you want to use a different shaped noodle, go ahead, just taste as you go and adjust accordingly.