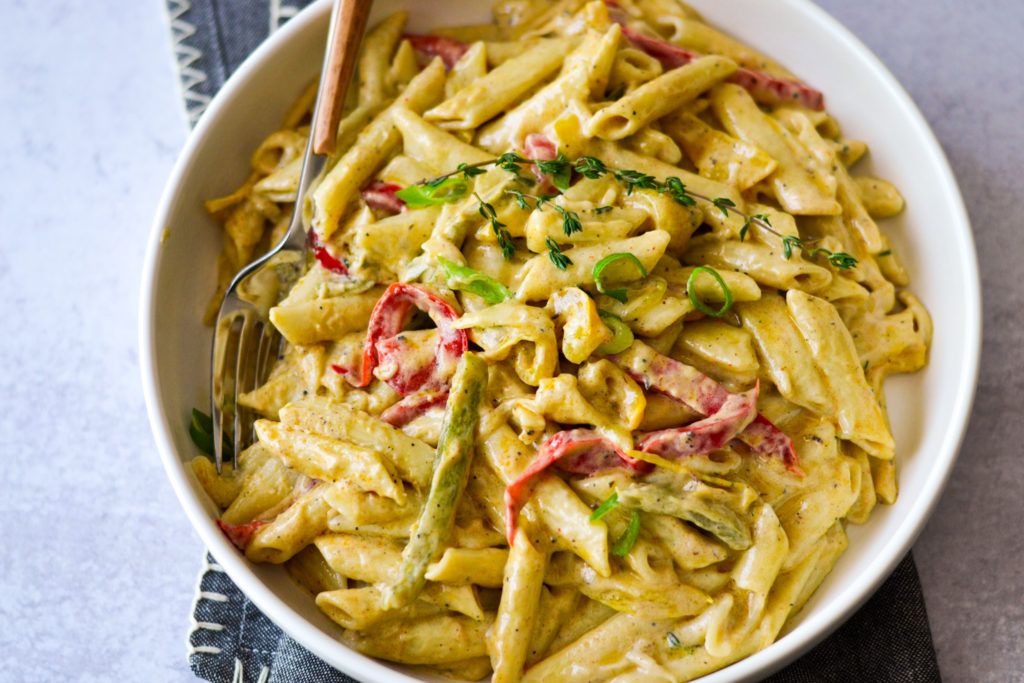 Rasta Pasta is a Caribbean inspired pasta dish seasoned with jerk spices and tossed with colorful bell peppers. It's simple to put together and incredibly flavorful! I love making this Rasta pasta for a quick dinner during the weekdays. It's best served warm and really hits the spot when you want something comforting and tasty. What I enjoy most about this pasta is the sauce trickling through the penne; there's a burst of spicy sauce with every bite.
I've also made trays of this pasta for get togethers and it's always crowd-pleasing and a hit during holidays! Because who doesn't love a saucy pasta dish, right?
Why is it called rasta pasta?
Rasta pasta was first created in Negril, Jamaica in 1985 by Chef, Lorraine Washington in her Paradise Yard restaurant kitchen. She is a celebrated chef locally and internationally for her wide ranging culinary experience and expertise in promoting healthy eating. Chef Lorraine recalls making fettuccine and topping it with red sauce and then a bit of ackee, Jamaica's national fruit. The red, green and yellow colors hinted at rasta colors, representing Rastafarian culture which prompted one of the carpenters to call it a "Rasta pasta!"
Nowadays Rasta pasta is such a popular pasta dish that you are bound to find it on varying Caribbean restaurant menus. It is commonly offered with chicken or shrimp for protein options and made with dairy milk and cheese. The choice of vegetables can also vary from peppers and cabbage to carrots and peas. When I make this at home it's all about what vegetables I have on hand. 
How is rasta pasta made?
There are two parts to making this dish. First you boil the pasta and set it aside while you make the sauce. The sauce is made by sautéing onions, garlic, bell peppers, in jerk seasoning with a few other aromatics then adding coconut milk and letting it simmer until thickened. Add the cooked pasta and toss to combine. If you're adding protein, you can cook it along with the onions and garlic in the beginning or cook it separately and top the pasta off at the end. What I love is this dish can be as spicy as you choose.
What type of pasta should I use for rasta pasta?
I am using penne pasta for this recipe, but you can use what you like. I think any shape of pasta that has crevices like rotini or can hold a sauce like penne or ziti would be wonderful here.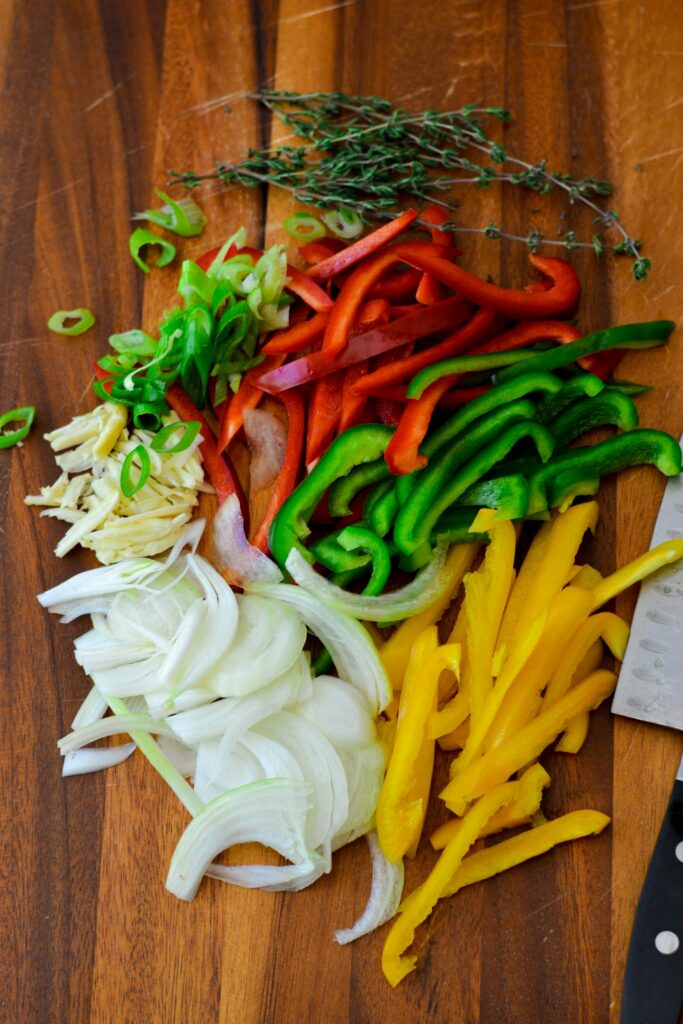 I first had a variation of rasta pasta at Sugarcane, a stylish Caribbean restaurant in Brooklyn, NY. Whenever my husband and I would visit my mother-in-law in NYC, we'd always take a stroll down to Sugarcane for dinner and drinks. I loved their rasta pasta- it was the perfect balance of creamy and spicy and all around just satisfying.
Last summer, I was finally able to dine at Footprints, also in Brooklyn, NY and is the establishment that made rasta pasta popular within the local community. We went to the Flatbush location and I of course ordered the Rasta pasta with shrimp. I was not disappointed. The options to customize this dish was endless and truly delicious. I remember the shrimp was cooked perfectly, not rubbery and tough, just perfectly seasoned and tender. The pasta sauce itself was luscious and saucy; I needed a napkin to wipe my mouth with each bite.
Dairy-free Rasta pasta
In my version, I've used coconut milk to keep this dairy-free as dairy is no longer a regular part of my diet. When I did eat dairy, I used heavy cream for the milk and would add parmesan cheese to the sauce and it was just so creamy and satisfying! If you're not a fan of coconut milk, especially canned coconut milk, cashew or oat milk is a good option here.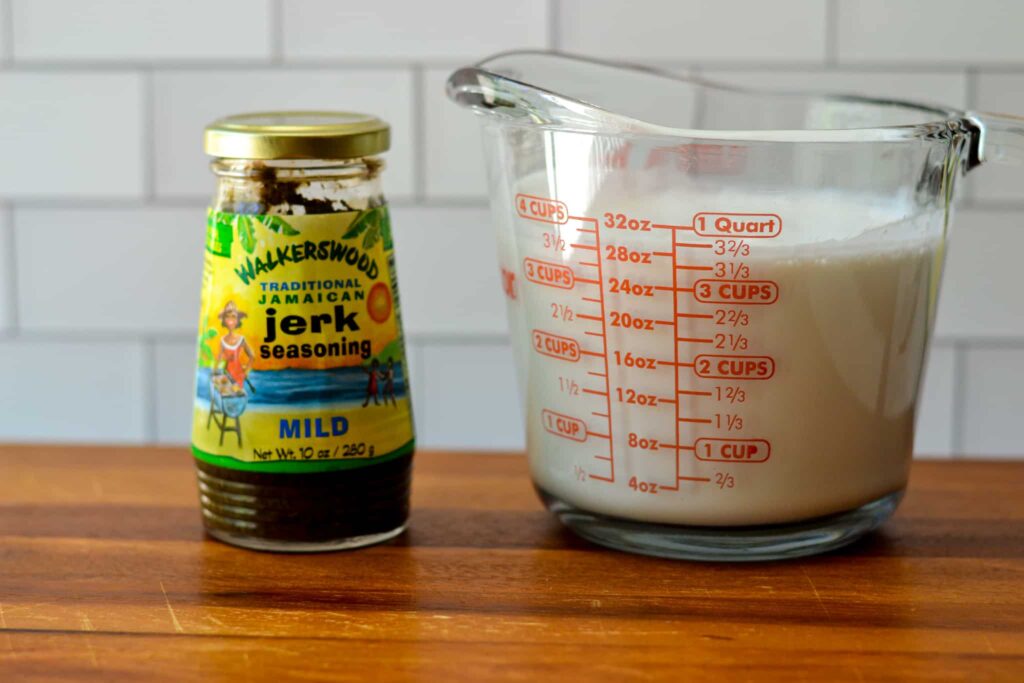 Substituting with a good quality coconut milk really brings on the flavor. Homemade coconut milk is best, but not many of us have time to make it especially for a quick pasta dish. Using canned coconut milk works well and brand matters when it comes to canned coconut milk. Some are flavorless and others filled with additives and gives off a weird texture and mouthfeel when cooked. Make sure you use a full fat version. The light version of any coconut milk is thin and watery.
Here are images of the brands I prefer:
Make it Gluten-free plus ideas for variations
You can easily make this gluten-free by using chickpea, rice, red lentil or any gluten-free pasta you love. I don't have a problem with gluten, but I love this recipe particularly with rice pasta. Here are some other ideas to use in for your rasta pasta dish:
shredded cabbage - amazing in here!
shredded carrots
Green peas
Corn
Asparagus
Zucchini
Chickpea pasta
Brown rice pasta
Lentil pasta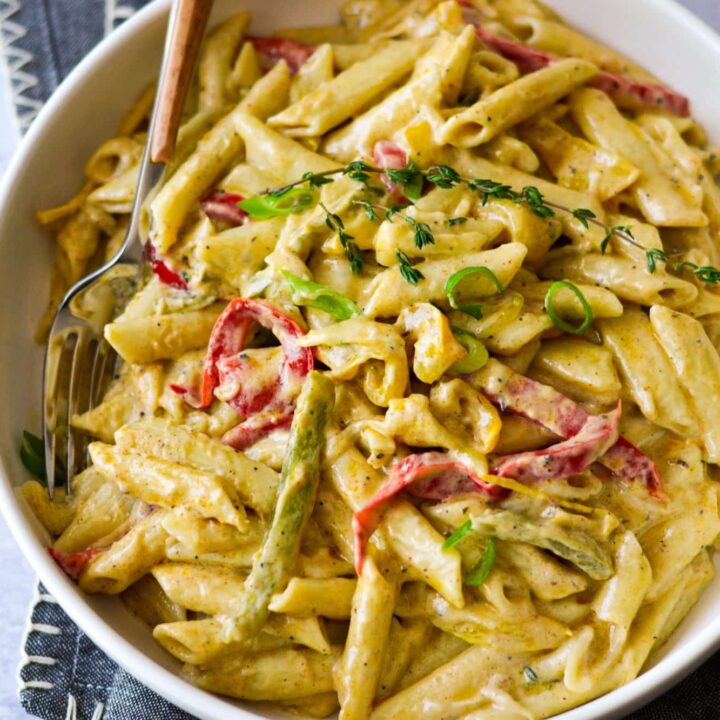 Rasta Pasta: creamy pasta with jerk spices (vegan)
Ingredients
12oz penne pasta (don't use full 1lb box)
3 tbsp cooking oil
½ medium onion, sliced
4 garlic cloves, minced
½ red bell pepper, thinly sliced
½ green bell pepper, thinly sliced
½ yellow bell pepper, thinly sliced
1 heaping tablespoon jerk seasoning
2 tsp cajun seasoning
1 tsp salt
½ tsp paprika
1 tsp dried thyme or 4-5 fresh sprigs
2 13.5oz cans coconut milk
1 cup shredded parmesan cheese (optional if you're not vegan)
Instructions
Slice onion, garlic, and bell peppers. Set aside.
Bring a pot of water up to a boil. Add pasta and cook according to package directions. Strain and return to pot. Cover pasta so it does not form a crust.
In a deep skillet, heat 3 tbsp oil on medium high heat. Add onions and garlic. Cook a few minutes until fragrant. Add peppers, jerk seasoning, cajun seasoning, salt, paprika, and thyme.Saute a couple of minutes.
Pour in coconut milk. Turn heat to low. Let simmer 7-8 minutes until sauce looks slightly thick.
Add pasta to sauce. Stir to combine.
If using parmesan cheese, add now.
Remove from heat when cheese has melted throughout sauce.
Notes
For jerk seasoning, I prefer Walkerswood in the glass jar, it's more like a paste. Substitute chickpea or rice pasta in place of regular pasta. Coconut milk brands I recommend- Aroy-D, Chaokoh, Thai Kitchen or Trader Joe's Organic coconut milk.
If adding meat or seafood- about 1-2lbs is enough for this recipe.
Pin it for later!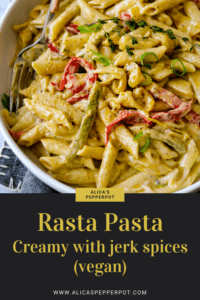 Previous recipe
The above recipe is an update from an older version. If you enjoyed the previous version I've included it below. 
1lb chicken tenderloins
8oz small shrimp, de-veined
1lb penne pasta
1 red bell pepper, sliced
1 green bell pepper, sliced
1 yellow or orange pepper, sliced
3 medium garlic cloves, minced
1 large onion, thinly sliced
4-5 sprigs thyme leaves
Oil for sautéing
Chicken seasoning
2 heaping tbsp jerk seasoning
3 tsp green seasoning
½ tsp salt
1 tbsp oil
dash of browning sauce
Shrimp seasoning
1 tsp green seasoning
2 heaping tsp jerk seasoning
pinch salt
1 tsp oil
Milk mixture
2, 13.5oz cans coconut milk
½ tsp salt
2 tsp cajun seasoning
½ tsp jerk seasoning
3-4 sprigs thyme leaves
Wash and clean chicken and shrimp. Season each and place in separate bowls. Leave to marinate 30 min.
Boil pasta according to box directions. Drain, drizzle oil, and toss to coat. Cover pasta while remainder of meal cooks.
Chop onion, garlic, peppers, set aside.
Add coconut milk to a small pot. Add salt, cajun seasoning, jerk seasoning and thyme leaves. Simmer on low heat for a few minutes, then remove from heat.
Cook chicken and shrimp: In a frying pan, add a little oil and saute shrimp 2-3 min. Remove shrimp. Add a little more oil, then add chicken. Cook chicken 10 minutes until brown. Remove from pan, let it rest then chop, set aside.
Saute onions garlic, thyme leaves, and peppers in oil until fragrant. Pour in milk. Let simmer a few minutes until milk thickens. Add pasta, chicken, and shrimp. Adjust salt to suit your taste.