Tangy tomato-y cream sauce tossed with al dente penne is nothing short of decadent; it's the perfect comfort meal. One of my favorite pasta dishes to order when dining out is penne alla vodka. It's a safe choice and you know exactly what you're getting when you order this dish. Thankfully, penne alla vodka is easy to recreate at home and in this case, better tasting than most restaurants. This classic Italian-American pasta dish is made with simple ingredients. Onion, garlic, vodka, tomato sauce, cream, parmesan, and parsley are all simmered to form a flavorful cream sauce then tossed together with penne (pasta shaped like a pen).
There are tons of recipes for penne alla vodka online. This one is adapted from a fairly straightforward recipe from Allrecipes. In my version, I season the pasta before it gets added to the sauce by sauteing some chopped garlic in olive oil and tossing it with the pasta, adding a pinch of salt and pepper- a step my aunt taught me when making any kind of pasta dish. I particularly love this step because I've had too many pasta dishes where the sauce was great but you can taste how bland the actual pasta is.
I also add some dry seasonings to the red sauce to up the flavor. Please note these steps aren't traditional to penne alla vodka, but I think it really makes the dish intensely flavored.
We're big pasta lovers in my home, and that's any kind of pasta - chickpea, quinoa and even rice pasta. I've tried many of my favorite sauces with pasta substitutes with great success, but today I'm sharing this easy recipe with regular pasta.

This dish is quite economical and will work perfectly for a potluck. I think if you double the recipe it can feed anywhere from 10-12 people and cost you under $25. Here's a quick breakdown of the cost of ingredients (at present 2019) for this particular recipe which feeds 4-6 people:
Pasta - $1.09
Canned tomatoes - $3.99
Heavy cream - $1.99 (from Aldi)
Parmesan cheese wedge - $3.79 (from Aldi)
Parsley - $0.99
Total = $11.85
I already had onions, garlic, oil, and dry seasonings on hand.
You may also like: Creamy baked ziti
Over the years, I've learned from other recipes that san marzano tomatoes are the best option to use for penne alla vodka. This variety of plum tomatoes is juicier and sweeter than other plum tomatoes. There are several brands of san marzano tomatoes, I'm partial to Flora and the
Cento brand
. If you cannot find this type of canned tomato at your local grocery store, any peeled tomato in the can will work for this recipe.

Why is there vodka in the sauce, and do I really need it?
Vodka is added to the sauce to help emulsify the flavors and make the sauce creamy. It brightens and enhances the taste of the ingredients. There isn't a noticeable taste of alcohol in the dish as most of it is cooked out in the beginning stage of making the sauce. However, I'm not sure what percentage of alcohol is actually cooked off because for all the alcohol to evaporate, you'd have to cook the sauce a lot longer than what this recipe calls for. So if you do not drink alcohol for religious reasons, I would leave the alcohol out of this recipe and call your dish "penne in tomato cream sauce" :). If alcohol is not a concern in your food, add the vodka, it makes a big difference in how the flavors marry.




Pasta and dairy substitutions
Pasta substitutes
Chickpea pasta works well here, but I've only had luck with certain shapes-penne, elbows, and shells from the Banza brand. Larger shapes of chickpea pasta tend to fall apart and lose their shape. Gluten-free rice and quinoa pasta are also great options. I am not a huge fan of black bean pasta, but if you are, you can use that instead of regular pasta here. If you'd like to try this sauce with vegetable "pasta," zoodles or butternut squash spirals are a good choice. And if keto is your thing, try this vodka sauce over shirataki noodles!
Milk alternatives
Unsweetened coconut milk is the best option for creaminess. A dairy-free yogurt, such as soy yogurt, can also work, although I've never tried it. Oat and cashew milk are good options for the sauce as they get slightly creamy when cooked. I find almond milk too watery for this recipe, but try it and see if it works.

Tips:
This sauce can be made ahead of time and stored in an airtight glass jar or container for up to one week. It can also be frozen in a freezer bag for up to 6 months.
Although not traditional, I've used premade jarred pasta sauce (Rao's is my favorite) instead of canned tomatoes to make a quick dish from this recipe. About one and a half jars should work about 36oz. Reduce salt in the recipe if using this option.
If you don't want a super creamy sauce, use light cream or half & half milk instead.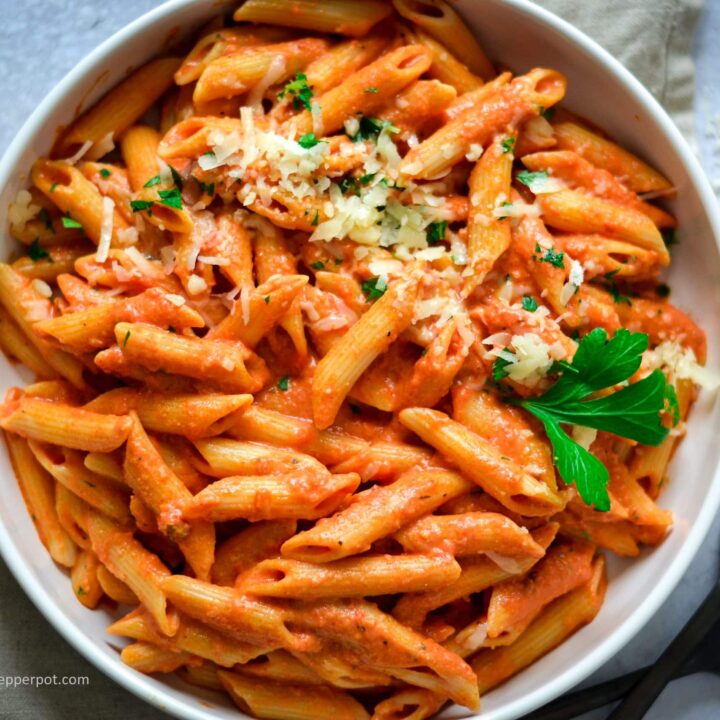 Penne alla vodka (Pasta with vodka cream sauce)
Ingredients
Seasoning for pasta (after boiling)
1lb penne pasta
1 teaspoon salt for water
1 tablespoon olive oil
2 medium garlic cloves, minced
Seasoning for sauce
1 tablespoon olive oil
¼ cup onion, finely diced
2 medium garlic cloves, minced
¾ cup vodka (any brand will work)
1 28oz can whole peeled tomatoes (preferably san marzano tomatoes) OR 1 28oz can crushed tomatoes
handful of finely chopped fresh parsley
½ teaspoon garlic powder
½ teaspoon paprika
½ teaspoon crushed red peppers or ground cayenne pepper
½ teaspoon black pepper
½ teaspoon salt
8oz heavy cream or half & half (see note for dairy-free options)
⅓ cup grated parmesan cheese
Instructions
Cook and season pasta
Bring a pot of water to a rolling boil. Add 1 teaspoon salt to the water. Add pasta, and boil for 8-9 minutes. Drain pasta and return to pot. In a separate smaller saucepan, heat 1 tablespoon oil, saute garlic, and once fragrant, pour over pasta. Add a dash of salt and toss to flavor, and coat. Cover the pot and set the pasta aside.
Make the sauce
In a deep skillet or shallow pot, heat 2 tablespoons olive oil on medium heat, and saute onions and garlic until fragrant (it should be a minute or two). Pour in vodka. Turn the heat to medium-low and let it simmer for 5 minutes.
Turn the heat up to medium-high again, then add canned tomatoes to the pot, parsley, garlic powder, paprika, crushed red pepper, black pepper, and salt. Use a potato masher to mash tomatoes or an immersion blender to smooth the sauce. Let this simmer for 10 minutes on low heat.
Pour in heavy cream or half and half milk and grated parmesan. Stir until the parmesan has melted into the sauce. Let simmer for about five minutes until the sauce looks creamy.
Add pasta to the sauce a little at a time until all the pasta is coated. Serve and garnish with grated parmesan and fresh parsley.
Storage:
Store leftovers in a glass dish with an airtight lid. Storing in a plastic container will leave a reddish stain on your container. Reheat on the stovetop or microwave until the sauce is melted again.
Notes
Use your favorite jarred pasta sauce in place of the canned tomatoes. One standard size is 24oz. One standard-size jar plus half more would be 36oz.
Different shapes of pasta may be used in place of penne. Preferably pasta with ridges.
Swap regular pasta for gluten-free or chickpea pasta. Use coconut milk or cashew milk in place of heavy cream.
Pin it for later!

Pin it for later!