I didn't intend for the title of this post to rhyme, but it has a nice ring to it, doesn't it? And everything in the title is true. This pasta dish is easy because the ingredients are readily accessible at almost any grocery store and it's super creamy due to my uncle's secret ingredient. Oh yea, this is my Uncle Junior's famous baked ziti. You might remember him from this post. He's been asked to make trays of this baked ziti for small get togethers and holiday feasts. It's a crowd pleaser and incredibly decadent and rich. I remember for my brother's engagement we were all so tired from decorating and preparing for the next day's events that we didn't stop to eat. My uncle brought over two large aluminum foil trays of this pasta with some salad (no one ate the salad) and we were all in heaven. People thought we ordered it from the local pizzeria because it had restaurant quality taste.
After trying baked ziti from other people, I could see why his stood out in my memory. It was moist, and remained that way even when it got cold. I've made this my own way before and it always came out dry. I realized it's because prior to putting the dish into the oven, the pasta has the right amount of sauce, but as it bakes, some of the liquid evaporates leaving it dry and undesirable.
What's different about this baked ziti?
To keep this a quick and easy meal, my uncle uses jarred sauce and jazzes it up with fresh parsley, oregano, basil, garlic and onion.
He doubles the amount of sauce for the amount of pasta, so when some of the sauce evaporates, the pasta is still moist and decadent.
He adds a block of Philadelphia cream cheese to the sauce. This is where most of the creaminess comes from.
If you don't want it very creamy, use only half the amount of cream cheese.
My uncle's long time co-worker (an older Sicilian man) gave him a tip to toss the ricotta with the warm pasta before adding the sauce. This way the ricotta doesn't get completely lost in the sauce.
You'll notice the sauce is lighter from the addition of cream cheese. Did I mention it makes it creamy and luscious?
Pour into your favorite appropriately sized casserole dish or a standard size aluminum foil pan. Top with mozzarella cheese.
Bake until bubbly and brown.
Make it your own:
Add shredded rotisserie chicken, sausage, or ground meat.
Add red and green bell peppers to the sauce for extra flavor.
Adjust spiciness by leaving out the cayenne and crushed peppers.
Make your own sauce, but make sure it equals 48 ounces.
Use any type of sauce you like, combining them works well, too. For this recipe I used a combo of roasted garlic and marinara. I also prefer Bertolli or Barilla brand.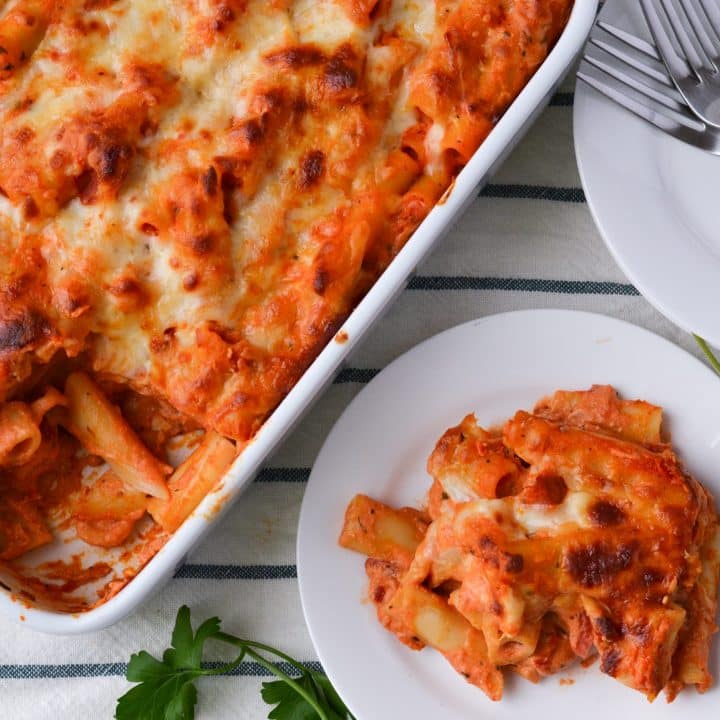 Easy Creamy Baked Ziti
Yield:
1 standard size aluminum foil pan
Ingredients
1lb ziti pasta + 2 tsp oil + 1 tsp salt for water
1 15oz container whole milk ricotta cheese
48 ounces jarred pasta sauce (2 jars)
1 tbsp fresh oregano, finely chopped
1 tbsp fresh parsley, finely chopped
1 tbsp fresh basil, finely chopped
3 garlic cloves
½ medium onion, finely diced
½ tsp cayenne pepper
¼ tsp crushed red peppers
½ tsp black pepper
¼ tsp salt
1 8oz package cream cheese, chopped
1 cup mozzarella cheese, shredded
Instructions
Boil pasta according to directions on package. Add salt and oil to boiling water. Drain well.
Add pasta back to pot, add in ricotta cheese and coat completely. Set aside.
Prep sauce. Pour sauce into small pot. Chop herbs, garlic, and onion. Add salt to sauce. Stir in dry spices. Simmer on low heat for 12-15 minutes to cook onion and garlic.
Add in cream cheese cubes. Stir until it melts into sauce.
Pour sauce over pasta. Coat completely. Stir in a few handfuls mozzarella cheese.
Pour pasta into foil pan or casserole dish. Top with remaining mozzarella.
Bake uncovered at 350 degrees for 40 minutes or until cheese has browned.
Notes
If you'd like it less creamy, use ½ block cream cheese or substitute plain Greek yogurt. If spiciness is a concern, omit crushed peppers and cayenne pepper.